POV Holder:
Alec
Next POV
March 23rd
POV Used
NO
POV Ceremony
March 18th
HOH Winner:
Gary
Next HOH:
March 21th
Original Nominations:
Tom & Liza
Current Nominations:
Tom & Liza
Last Evicted Houseguest
Aneal
Have Nots
Jillian, Emmett, Talla and Alec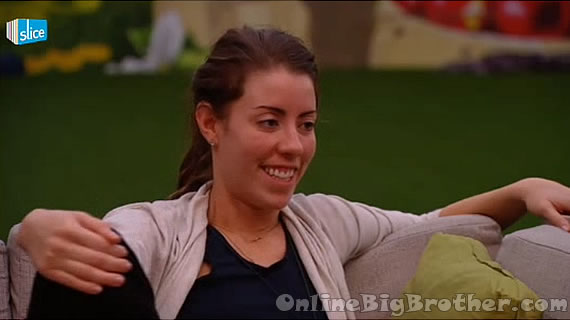 9:41pm Backyard Liza and Peter
Liaz thinks the perception versus the reality is switched with Peter and Alec. Liza thinks that Alec could be the nerdy quiet person and Peter is the outgoing guy with the confident swagger.
Liza: "Alex is fragile.. I don't think you are breakable.. I don't think you would have cried last night"
LIza: "Last night they played Rihanna love in a hopeless place and Tom winked at me.. Oh Tom.."
Liza: "3 out of the first 4 are from Toronto.. they don't even have to fly us home.. maybe that was part of the plan save money on the budget"
Liza: "F**** Gary, Topaz and Aj are all that's left from Toronto"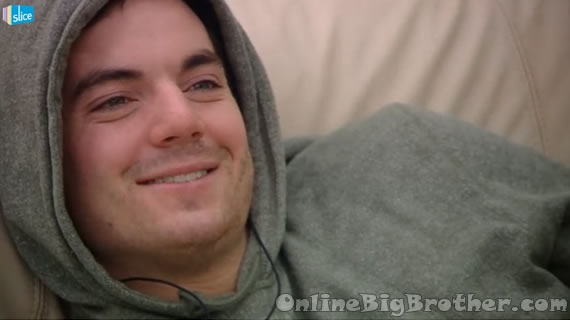 10:03AM Bathroom Tom, AJ and Jillian AJ is cleaning the shower stalls glass. He's never done it before Tom and Jillian are giving him pointers.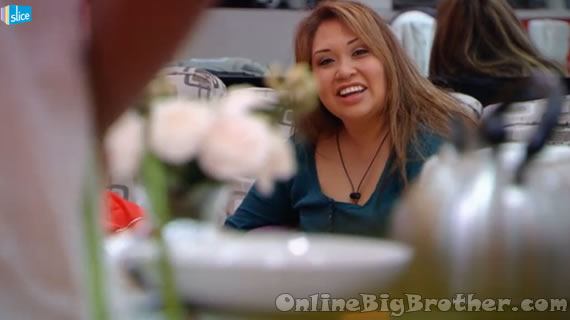 10:24AM Liza and Suzette in the Kitchen
Liza telling Suzette that Alec and Topaz told Tom if he's forbidden to be seen around Liza until the Thursday. If they catch Tom and Liza they will evict him.
Liza: "Can you believe them.. Topaz and Alec"
Suzette: "oh my that is too much"
Liza: "they won't even let me spend the last few days together"
Suzette: "Ohh that's not right"
Gary enters the kitchen, liza goes up to use the HOH bathroom..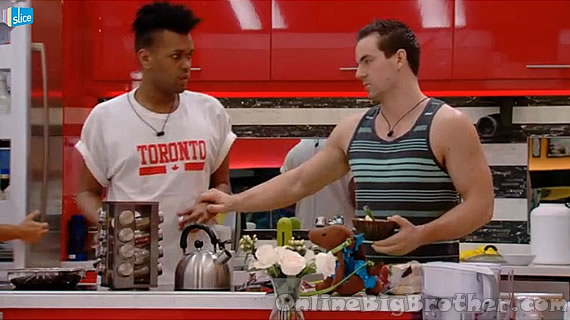 10:30AM Big Brother: "Houseguests please go to the backyard"
Tom joins Gary in the kitchen
Gary is cooking first before he heads to the backyard most the other hosueguests are still outside waiting for production. Tom tells him he's not sleeping with Liza anymore. Tom says he's talked to over with Alec he thinks everything will be alright between them.
Gary: "They're people that still hate you for what you did"
Tom: "I know Topaz does"
Tom heads outside.. Big Brother gives them another warning. Gary: 'Big Brother I need 2 seconds"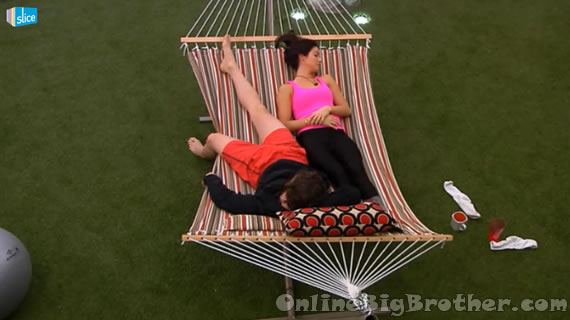 10:35AM Hammock Emmett and Jillian
Emmett tells her he really wants Liza to go home. Asks Jillian what her take is. Jillian cannot trust Liza or Tom, She thinks if Liza wins HOH she might go up as a pawn. Emmett doesn't trust Tom 100%.
Emmett: "My legs are getting smaller..Sh!t"
Jillian: "Me two Emmett… and I love my legs"
Jillian tells Emmett that she knows how to fight a coyote because at the schools she teaches there is a huge coyote problem. She explains that you grab their front legs and pull them apart because coyotes have very weak sternums.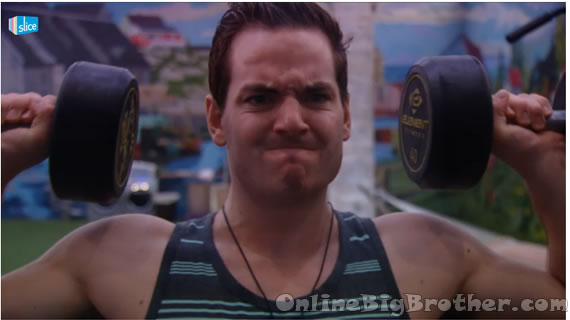 10:55AM Tom and Emmett
Tom says in the middle of the night he told Liza he can't be close to her inside this house.. Tom: "I said Liza you need to wake up in your own bed"
Emmett: "Just make sure everything you do make is as sincere as you possibly can.. it's the only way to win people back"
Tom: "I only have a couple days". Tom says he never really liked Topaz from day one he thinks she's a sleeper.
Emmett: "You have to mend things with Topaz.. if Topaz wants you to stay she'll convince Gary"
Tom: "Peter won't vote for me.. he's stabbing the alliance" Emmett thinks he has the votes he just needs to really play it smart.
Emmett leaves Talla Joins Tom
Tom says Alec walks around around like a playboy, he never thought Alec would get so upset about happened. "He's walking around like a playboy with his shirt off flashing his a$$.. "
Talla: "You talked to Topaz:"
Tom: "ya I still fu**** hate her "
Tom thinks Alec, Topaz, Suzette and peter will vote to keep Liza he's getting confident that he has Talla, Jillian, Emmett, AJ and Andrew.
Talla says Emmett has become so close to Alec now. Talla wonders why the two showmances haven't gotten people worried. Talla adds that Gary is talking about Liza poisoning him when it was Alec adn Topaz that ended up poisoning his HOH.
Talla: "Emmett did you wrong and he knows he did you wrong.. if you stay you still have me and AJ"
Talla says that Jillian is not even playing the game, she does whatever Emmett says. Talla: 'you have to stay this week" Tom: "I know babe… i'm trying to lay low babe.. I know all the truth about what she did Babe .. how can I site around her babe" (LOL Tom ends every sentence with Babe now )
Tom tells Talla he would not vote against Emmett and if he had POV he would save Emmett. Tom would vote out Jillian though. Talla says she really feels bad for Liza so does Tom. Liza: "If I win HOH on Thursday let me do what I want to do.. " TOm: "I won't vote out Emmett" Talla: "I know.. there plenty more fish in this game"
Tom says if he stays he'll throw the HOH comp to Talla.

(Video uploading)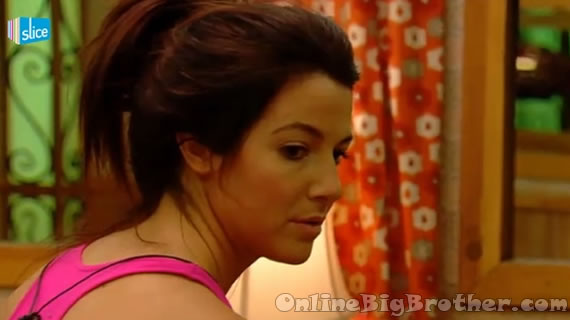 11:15AM Have nots Alec and Emmett
Emmett is telling him Tom is better to stay than Liza because if Liza stays in the house she will be targeting the showmances whereas Tom will Target Gary. Jillian joins them..
Alec says if they leave Tom there is the suzette factor who they suspect is coming after them. Alec argument is regardless of who stays they have a person coming after them.
They have a argument about Liza's targets. Jillian thinks Alec and Emmett will go up with Topaz being the replacement nominee. Alec thinks it'll be him and Topaz up with Emmett being the replacement nominee.
Alec: "Either way the entire house wants Tom and Liza out"
Alec thinks if Talla wins HOH she'll put up Liza. Emmett doesn't think so. (Emmett is correct)
Alec tells them not to worry Topaz and Alec will keep them safe. Emmett: "What if two of us are on the block" Alec: "then we'll save one of you"
Emmett and Jillian are really worried about Liza. Emmett asks Alec if Peter can talk Liza out of hating him so much. Alec thinks so he tells them Peter is really close with Liza.
Alec: "Look we're safe with everyone else.. and they are all going after Liza… I just don't like Tom"
Jillian wonders if Double eviction is this week they could get Tom and Liza out. Alec doesn't think this week is double eviction but if it was they could get them both out.
They start speculating about the Diamond Power of Veto. Jillian thinks if it's out there Gary has it. They briefly mention Big Brother 12, Jillian calls Matt the "Brain guy" says he won the DPOV. Alec never watched that season too closely.

(Video uploading)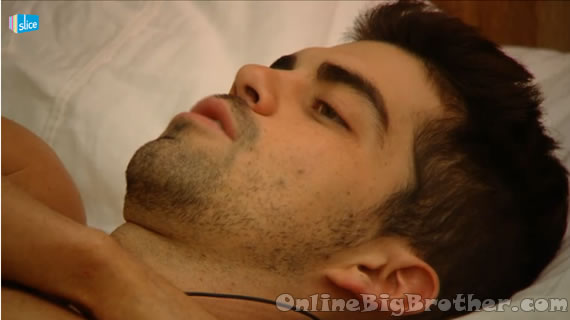 12:05PM Have nots Room Suzette, Topaz and Alec Alec talking about his wiener being exposed and how it wasn't right. Alec claims that after Tom did it he was walking out the bathroom and went to high-5 Andrew. Topaz says that she lost it on Liza yesterday. Topaz had heard that Liza said "instead of getting evicted from the house she would rather punch topaz in the face and leave"
Alec thinks the doors in the shower should be locked so something like that would never happen again. Suzette asks if Tom's apologized. Alec: "not really.. kinda.. he says I always walk around with my shirt off.." Suzette: "it's hot in here". Alec says he got a little emotional and he feels like he overreacted a bit. Alec: "The one thing I didn't want to do is jeopardize my position… My family was watching "
Suzette: "I think it was cute that you were really upset.. nobody would hold itr against you for what did cause it truly was disrespectful"
Alec says when tom was doing all those mean things to Suzette "They" were kinda on Tom's side and he feels sorry about that. Suzette says respect a bunch of times..
Share it YO!!
Tweet