POV Holder:
James
POV Competition
Aug 29th
POV Used
?
POV Ceremony
Aug 31st
HOH
Vanessa
Next HOH
Sept 3rd
Original Nominations:
Meg and James
After POV Nominations:
?and ?
Have Nots
Johnny Mac, Julia, James, Meg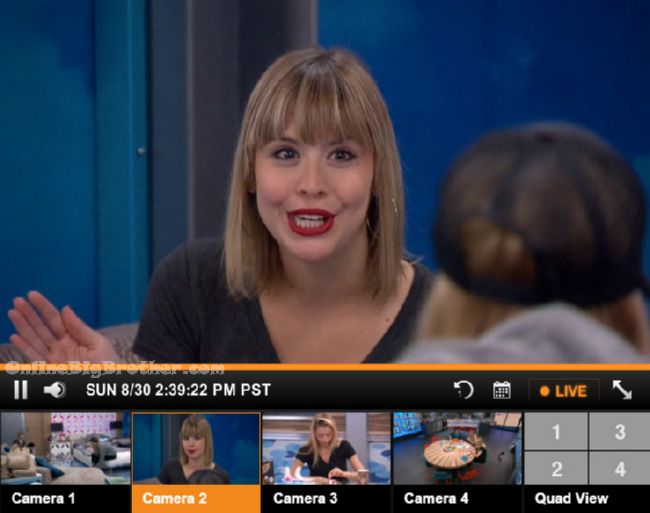 2:34pm HOH Meg and Vanessa. Meg wants to know where Vanessa head jis at. She says she's preparing herself in case she goes home she wants to make sure everything is clear "I would enver want something unsettled"
Vanessa – With me there's never anything unsaid..
Vanessa says that James was making fun of her
Meg smiling
Vanessa – sorry was it funny
Meg – It's funny ya you called James and I king and Queen, You know how our relationship is you're' my king/Queen.
Vanessa – OK
Vanessa – I'm getting so much blood on my hands because I'm not sugar coating it
Vanessa – I would be stupid to take a 4-2 situation over a 5-1
Meg saying if she wins HOH she's open to have a conversation with Vanessa on the target, "I'm not going after you.. I'm open"
Meg points out that she's not very good at competitions.
Vanessa says she remembers something involving James agreeing to JOhnnymac that he'll throw ready set Whoa
Vanessa – Johnnymac was targeting me, Austin had his reasons James didn't I felt betrayed by that..
Vanessa starts going on and on about being solo in this game, "If I could make everyone happy in this game I would do it"
Vanessa – I have a big heart really big heart
Vanessa says she thinks she can handle Johnnymac in the short term says they've talked about the differences he had with her.
Vanessa – the way I play the game.. Instead of putting myself in situations where I'm hoping people are telling the truth I'm going to go where the hope coincides with their incentives..
Vanessa- Johnymac says he's not targeting me and that coincides with the logic in my hand it would be stupid for him to come after me
Vanessa says if Meg wins HOH she thinks Meg will get rid of her.
Meg says it's not in her best interest to get Vanessa out.
Meg – If I win HOH I will keep james safe Of Course.
Vanessa says if Meg
Meg – Vanessa when I'm in the final 2 .. and they ask what did you do I will say I made up pot Ball.. If I want to win this game I have to do something
dramatic.. (The two biggest things would be take Vanessa or split up Austin/Liz)
Meg – I'm very open to what will happen if I do win HOH.. I am very open to working with anyone in this game right now..
Vanessa says james was up in the HOH last night and he started the conversation with a insult, "You're playing this game too hard"
Vanessa- he's insulting me with how I'm playing the game
Vanessa – I was hurt so badly
Vanessa – please see it from my side it wasn't a easy game to play
Vanessa points out that being Gay made her a outsider she was a little different than everybody else.
Meg – how you play is a lot different with how I played
Meg – I've lost a lot of people in this game a lot of really close people.. that is why james and I have become so close he's seen me go through it all the time.. I'm insanely alone in this game and everyone is against me
Vanessa – everyone of your people went home for 6 weeks straight you survived that you escaped going home without winning a comp you must have done something right
Meg – that's not how I want to end the game though
Vanessa knows James will use the veto, "Whoever I put up You should Campaign"
Meg says she knows if certain people go up she'll go home
Meg – It is what it is.. I'm going to fight but I'm not a idiot
Vanessa – we'll I was a target on the block and never went.
Meg – I know
Vanessa – there's always hope in this game
[envira-gallery id="131327″]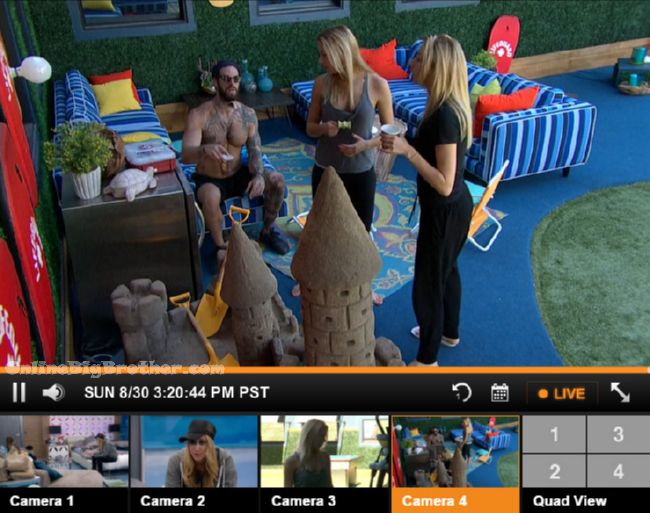 3:13pm Backyard Austin and Liz
Austin says they aren't going to be able to flip Steve
Austin says James is going to sell our the Brass tacks
Liz – BRass tacks didn't do sh1t for us we've been winning every week
Austin says If Steve flips he's got Vanessa, him and Liz coming after him which are stronger players than James, Meg and Johnnymac
Liz says Vanessa is dead set on getting out Meg
Austin says Meg has already proven herself a liar. Julia joins them.
Julia – I'm nervous
Austin – we just need to figure out what to say to Johnnymac and Steve about Brass tacks because that is what they are going to try and sell
3:31pm HOH Julia, Austin and Vanessa
Julia – I'm nervous about every conversation because I'm on the block
Vanessa goes over parts of the conversation with Meg, "I'm not a bullshitter"
Liz joins them
Vanessa continues about the conversation.
Austin – If Meg and James try to flip Steve and JohnnyMac they will bring up the brass tacks
Vanessa – Steve knows
Vanessa- say it was a fake alliance that everyone made to make me feel good.. it wasn't real
Austin – it was bullsh1t
Vanessa will tell Johnnymac
Austin – Steve not going to flip
Vanessa says James is going to put her on the block but if she can survive that he'll be reasonable.
Austin says he's going to protect hi girl just like James has to protect his girl. "Let not take this personally"
Austin says Steve told him "Austin there's nothing they can say"
Vanessa again telling them not to worry Steve will not flip
Vanessa upset that the goblins were making fun of her speech.
They all start mentioning how shitty JAmes' speeches are compared to Vanessa's speech.
Vanessa POV ceremony Speech – "To keep the Chess analogy going.. this would be a checkmate"
Julia saying that the entire house is target James next week once Meg leaves.
Steve comes in says he was talking video games with Johnnymac.
Austin playing up the Steve is his BOY and Meg is the grandma – Your grandma is going away for awhile.. she's not coming back soon
Steve – she's coming back in a month
Austin – She's dead son
The twins say the goblins think she's putting up Johnnymac
vanessa – I'm not bullshitting them at all, I said putting up Johnnymac isn't logical
Austin and the twins say Meg role in the show is to make fun of people.
[envira-gallery id="131334″]
3:55pm Steve trying out the "Fun Dip"
Steve – OHHH, this is pure sugar
Austin – What did you think it was cocaine
VAnessa – coloured Cocaine
Steve – I'm eating powdered sugar from a stick made of sugar
3:37pm Steve and Johnny Mac Studying and Chit chat
4:06pm HOH Steve, Twins and Austin
Austin mentions how he talked game to Johnnymac today when they had their 2 hour workout it went well.
They talk about the Battle of the block not being the best twist.
Austin says it adds an extra layer of complexity on the game. "Create a whole different level of strategy those first 4 weeks"
Steve – 4 out of tht 5 BOB evictions are backdoored
They agree the BOB is way better than the MVP
4:18pm Julia and Steve
Steve says he's met Rachel and Jeff before
Steve telling her Jeff will meet her during the finale.
Steve says Rachel had a bachelor's in Chemistry
Liz – Wow.. chemistry is hard… what would you do with a masters in chemistry..
Steve starts tickling Julia's foot…
4:20pm James and Meg
Going over her conversation with Vanessa.
Meg – She wants to split us up.. Game move
Meg – I dunno can't read her with stuff..
Meg – She said I feel like I can never compete with your social game you're the cool girl and I am not
James – she said that
Meg – ya .. .when on earth am I the cool girl
Meg laughs
Meg – We'll see what happens I did stand up for myself.
James- that's good
James brings up telling Vanessa that sending Meg home is personal. Vanessa disagreed with him, "This was during the fight"
They agree it sounds like Vanessa is getting Meg out because Meg had a friendship and Vanessa didn't
James says Vanessa wanted him out this week.Meg agrees. JAmes tells her about Vanessa explaining to him how she was looking for his Veto during the competition yesterday
They agree Vanessa's HOH are always messy
James – Pick one target Vanessa and Leave it alone
Meg – she's trying to do that this week but kinda did the wrong thing
Meg thinks the house is wanting to keep them safe, "THat is why they are up there "
James says Austin and Liz do not want Julia up. He thinks Austin is fighting to get Johnnymac and to keep Meg, "For Austin's game it's beneficial for you to stay"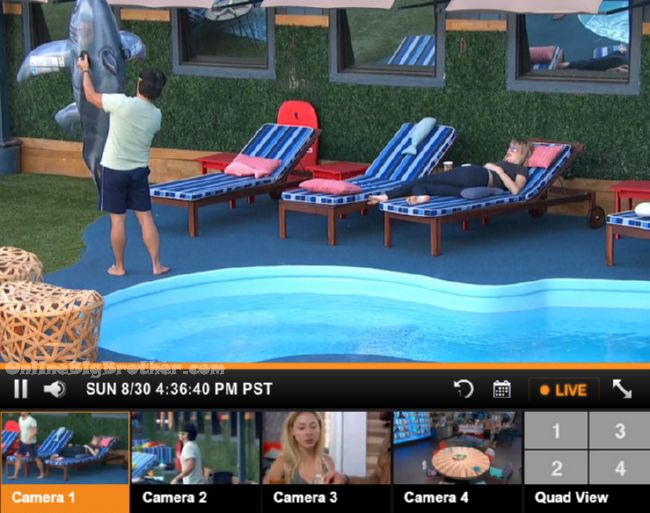 James changes the subject says him and his friends go catfish fishing.. Tells her some of them are almost as big as the inflatable shark they have.
James – I'm going to do my speech in a bandanna Austin will know he's f*cked..
James says his HOH will be the first where he tells them his decision is made no point coming up and talking to him.
Meg hopes James wins the HOH, says Double will be the week after this one.
James- Vanessa can't play that's one less brainiac
James back on wondering what Austin is doing to get Johnnymac up, says maybe they don't want to press it too hard with Vanessa.
James – I'm putting her up next to Austin.. to ensure she goes home.. and if he wins Veto guess who goes up Lizy
Meg – you'll piss Julia off less if you put Austin up
James – I'm going to have to power my way through this game.. I have to win Vetoes..
Meg agrees..
Meg hopes she finds out tonight who will go up.
Help support all the live feed updates we provide.
Show your support by making a donation. Any amount is greatly appreciated!
ALLIANCES:
"Goblins/Gremlins" = James and Meg
"The Generals" = anyone allied with Becky
"SOS" (Students of Sound) = Steve and Vanessa
Rockstars = Steve and Jmac
AUS-Twins = Austin, Julia and Liz
"Austin's Angels" = Austin, Liz, Julia, Vanessa
"Brass Tacks" = Gobins and Austwins
The new "Brass Tacks" = Aus-Twins, Meg, James + Vanessa
"Freaks and Geeks" "The Scamper Squad" = Aus-Twins, Vanessa, Steve
"The new Freaks and Geeks minus Vanessa" = Austin, Liz, Julia, Steve, Johnny Mac
"The Authority" = Austin, Liz, Julia, Steve
[polldaddy poll=9046808]