POV Holder:
James
POV Competition
Aug 29th
POV Used
?
POV Ceremony
Aug 31st
HOH
Vanessa
Next HOH
Sept 3rd
Original Nominations:
Meg and James
After POV Nominations:
?and ?
Have Nots
Johnny Mac, Julia, James, Meg
5:01pm hammock Liz and Austin
Liz – we haven't had a hammock date in forever.. you don't try and romance me anymore.. not that you have me
Liz – It's our 12 week anniversary
Meg and James are poolside chatting, Steve is playing pool with Julia. Meg yells out at Liz and Austin that James is asking her where she likes to buy underwear, "Who asks that..,"
They laugh
Liz – Victoria secrets is the best
Meg agrees but says it's expensive.
James – It's a good question if we every date.. some girls like walmart
5:15pm Meg saying that Austin looks just like Bob Saget
5:20pm Still on the hammock Austin saying he wants them to be on Bold and Beautiful for their halloween episode.
5:41pm Everyone but Vanessa in the backyard.. chit chatting about phones. Steve has a Samsung note, he packs 3 batteries with him every day and charges them at night.
They get into a debate about Iphone Vs Android..
[envira-gallery id="131356″]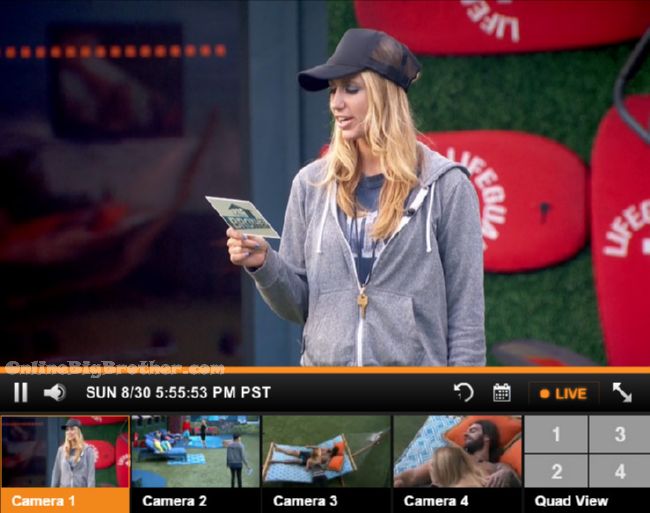 5:55pm Big Brother Photo Booth … We want to see your side eye
6:24pm Kitchen James and Meg
James – why won't Austin just tell us
Meg – they are awkward
Jame s- or working together
Meg – It's so stupid, If I go home this week.. whatever
James – America knows you didn't do anything wrong
Meg – I know
Meg doesn't think it's time to take out people for no reason.
James- Ya, do you think people are acting differently
Meg – I dunno, I don't think the girls are but he is
Jame s- maybe they don't know.. Maybe they don't know what she's going to do and they're a little worried themselves
Meg – that means i'm going home
James – probably if Julia is up there.. cause Steve ain't going to turn
Meg – Yup, is was it is
They're agreeing the twins and Austin will take out Vanessa.
James – Vanessa isn't winning this game anyways.. she makes it to final 2 nobody will vote for her..
Meg – Yup
Meg – I'm going to be the one saying I made 8 place but it's really a 7th place.. I was 7th place for 10 minutes.. not even.
James – what's the deal with Austin and Liz
Meg – they're intense
James wonders if Liz and Austin are going to be together after the show. James doesn't sound optimistic that Austin/Liz' love will last.
Meg – You got to learn your days
James – too late I'm just going to go for the veto
James – If I win that HOH I'm going to yell TAXI CAB DRIVER BANG BANG
James – She's probably looking at us with the camera (Vanessa HOH cam)
Meg – for sure she is
James – I don't come out for nothing; eat, shit, shave and COMP
James – I gotta fight my way out of this..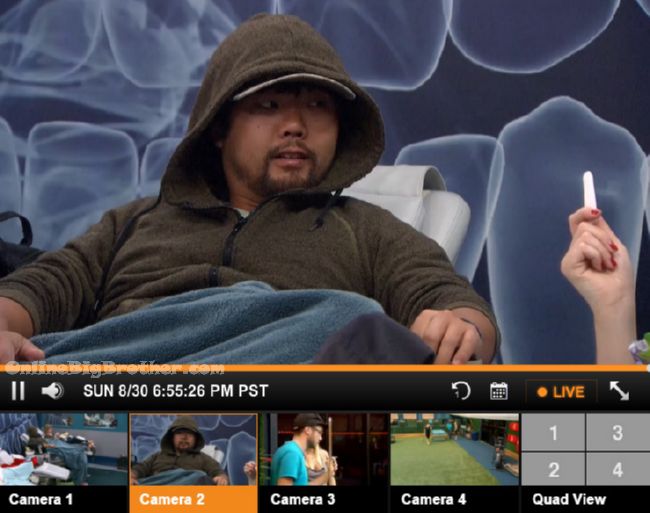 They head to the have nots room to form what's left of the goblin circle.
James starts saying he's thinking of putting Liz and Vanessa up if he wins HOH. If the POV is played Austin goes up. "BAM"
Meg – who would you want to see win
James – Johnny mac he's the most deserving to win
Meg – he has a social game we didn't know about
James- Austin played a good game two
Meg – My final 2 I would like to see is you and him, you'll win
James- he'll win he's never touched the block
They agree James will have Becky, Meg and Jackie campaigning for him in Jury
James – I have a lot of vote in there
Meg says the twins won't vote for James
James says if Austin wins he will spend his money on wrestling equipment and ropes.
James says he's playing this game for his daughter "I don't want my little girl to grow up not having much"
James- I'm going to lay it on thick, I just want to make sure they are going to have a good Christmas this year"
Meg – you better send me something damn ass nice
James- I'll pay your rent for a year
Meg – that's too much
James – I wish they're was a way I could keep you, I've always tried to keep you safe as long as I could, I've never said anything bad about you
[envira-gallery id="131365″]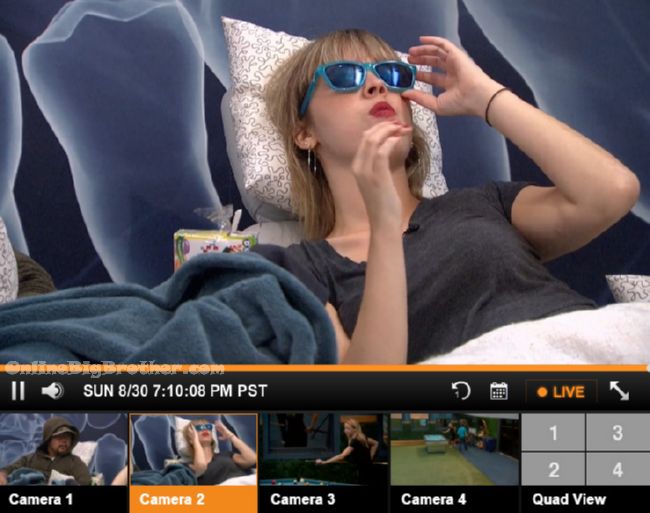 7:06pm havenots Meg and James
Meg mentions that Vanessa told her she was intimidated because James was wearing his sunglasses and hood.
They laugh.
James is getting them pillows blows out a huge fart. Tell Meg you know they are best friends when they can do that in front of each other.
James saying they should think she's going home so if she does it's not a big shock.
Meg – I really do think I'm going home
James – OK
Meg – She's putting Julia up
James – I think so
JAmes – I think you are going home to…. DAMN that really sucks
Meg laughs "Thank you"
Meg – you are going to invite me to your wedding some day
James- Whoa pump the brakes on that. You're going to be invited you are going to be the bride.
James says if they can survive being on this show they can make it outside.
James – You're weird and I'm weird, I'm from the country you are from the city.. you like camping i like camping
Meg – I hate the outdoors you need the outdoors
James – I've been out here for 98 days I survived.
[envira-gallery id="131372″]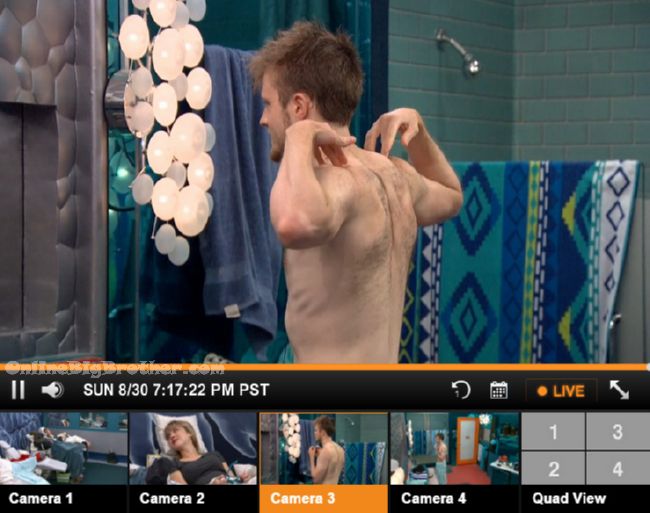 7:17pm Jmac – I'm getting traps that's a first
7:22pm – 7:45pm HOH Austin and Vanessa
Austin says he wanted to tell Vanessa about what he really was talking to Jmac about in the backyard.
Austin says he's feeling really good about jmac right now. Austin doesn't think he can win the next HOH he's safe.
They agree if James is out of the HOH Austin can throw it.
Austin – worst case is you and me on the block together, we can't veto each other
Austin is going to talk to James – "We straight shot each other since week 3"
Vanessa says Meg doesn't think she's the target this week.
Vanessa says Meg and James did good to last this long in the game their entire group went out one after another.
Austin says that entire group was always so loud keeping them up
They start talking about the Austin/liz relationship
Austin says Liz has expressed interested in moving to LA it has been something she's wanted to do. Austin says they are going to be apart for a bit maybe visit each other in their home towns. They want to spend some time with family after the show.
Austin mentions some of his fears about the guys during the wrap parties "There's predators about"
They bring up levels of trust with cell phones. Austin says he always had issues because his friends text him. His 5 friends are always texting him messed up stuff "Imagine 5 Jeff's texting you sh1t"
7:25pm Hot Tub Twins
Liz says Julia isn't going home "Vanessa wants Meg out so bad"
Julia – She's such a fake person (Meg)
Julia says about Becky's HOH "She shot herself in the big toe… because of her power trip"
Julia – Someone like Johnny Mac is a pawn I'm not a Pawn
The twins are agreeing vanessa is now their pawn if they win HOH.
Liz – we're out of numbers I don't want to use steve.
Julia – Sorry
Liz – Not sorry
Help support all the live feed updates we provide.
Show your support by making a donation. Any amount is greatly appreciated!
ALLIANCES:
"Goblins/Gremlins" = James and Meg
"The Generals" = anyone allied with Becky
"SOS" (Students of Sound) = Steve and Vanessa
Rockstars = Steve and Jmac
AUS-Twins = Austin, Julia and Liz
"Austin's Angels" = Austin, Liz, Julia, Vanessa
"Brass Tacks" = Gobins and Austwins
The new "Brass Tacks" = Aus-Twins, Meg, James + Vanessa
"Freaks and Geeks" "The Scamper Squad" = Aus-Twins, Vanessa, Steve
"The new Freaks and Geeks minus Vanessa" = Austin, Liz, Julia, Steve, Johnny Mac
"The Authority" = Austin, Liz, Julia, Steve
[polldaddy poll=9046808]