POV Holder:
James
POV Competition
Aug 29th
POV Used
?
POV Ceremony
Aug 31st
HOH
Vanessa
Next HOH
Sept 3rd
Original Nominations:
Meg and James
After POV Nominations:
?and ?
Have Nots
Johnny Mac, Julia, James, Meg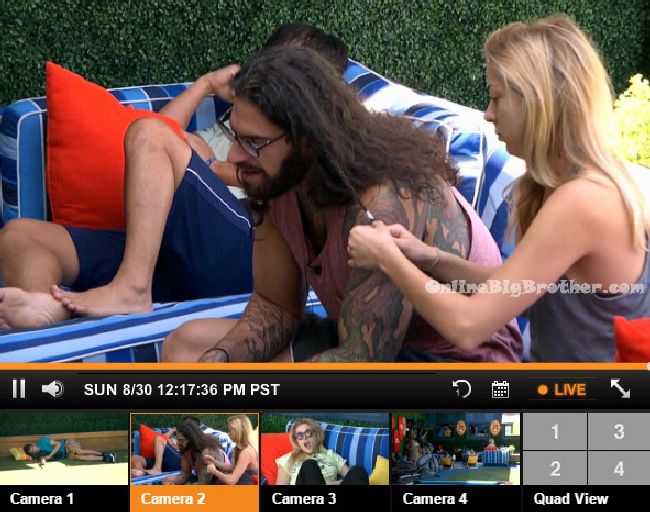 Watch the last month of the feeds for ONLY $5.99! Try it 1 week for FREE!

12:15pm Backyard lock down – Austin says it will probably just be a short lock down. James says the doors might open and there might be something crazy in there. James asks would any of you resign your contract to stay in here for 5 years for 5 million dollars. Vanessa says that's a really good question. Meg says she wouldn't, what if you died in here. Julia says she would do it. You would never have to work again. Austin says he would blow through that in a day.
12:25pm Big Brother blocks the feeds and when the feeds return the house guests talk about how there's a surprise in the storage room. They head inside to look. In the storage room Big Brother has put out the live feed voting choice – fun dip for the house guests. James says "Fun Dip!" Julia says what a joke. Austin says What?! Julia says fun motherf**king dip! James says Live feeders we don't need fun dip! Julia says thank you live feeders we would rather have cinnamon rolls but whatever. Austin asks did the boy come in? He would love that! Johnny says if the live feeders want us to eat fun dip we should eat fun dip! James says that was a lot of excitement for some fun dip Julie!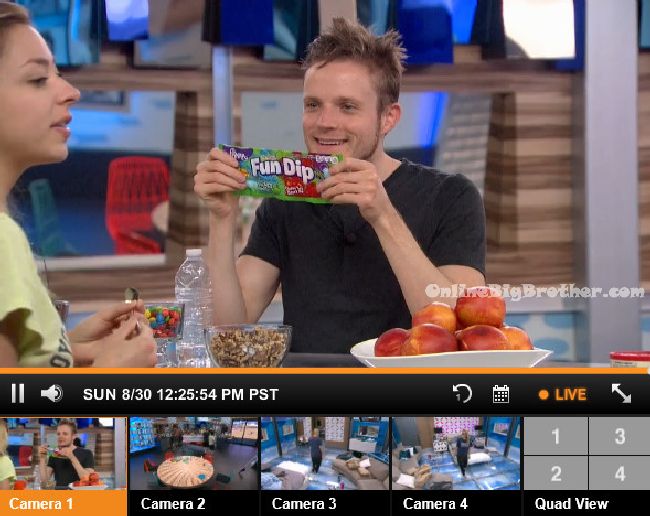 12:30pm – 12:40pm Backyard – Johnny tells Vanessa he will come up to talk game with her later. I think we're on the same page. Vanesssa agrees and says people have no idea. Its working. He says to James and Meg I have to throw Austin under the bus and to Austin and the twins I have to throw James and Meg under the bus. Vanessa says and you can throw me under the bus. Johnny says And I have to keep throwing Steve under the bus which is ridiculous. Vanessa says oh you have to and its working. James commented on it. Everything will be okay this week. Julia has volunteered to be the pawn. Johnny says awesome. Vanessa says they're on board with it and they feel its best for them. SO that looks like its going to happen. Johnny says whatever you're saying to Steve its working because he said I needed to calm down about you. Vanessa says this is a great scenario because its a great opportunity to get Meg out. Otherwise she would always stay over any of us. Vanessa says that Austin asked me to ask you to agree individually to not put him up if you win HOH. Johnny says I like that deal. I will talk to him later. Vanessa says he wanted Steve to tell the girls he would vote to keep him and you to tell Julia you will vote to keep her. Johnny says wow this is good. I'll do that. Vanessa says If you can make it good with you and him, that's all you need to worry about. Johnny says I will have a talk with him. Vanessa says that's pretty much the plan where we're at. It was a lot of work. They wanted Steve up when I said I wouldn't put you up. It was amazing when they agreed to Julia going up. Johnny says very good! Vanessa says just so you know if you make that deal with Austin .. he did the analysis if he won HOH next week .. he would keep that deal with you. Johnny says this is great.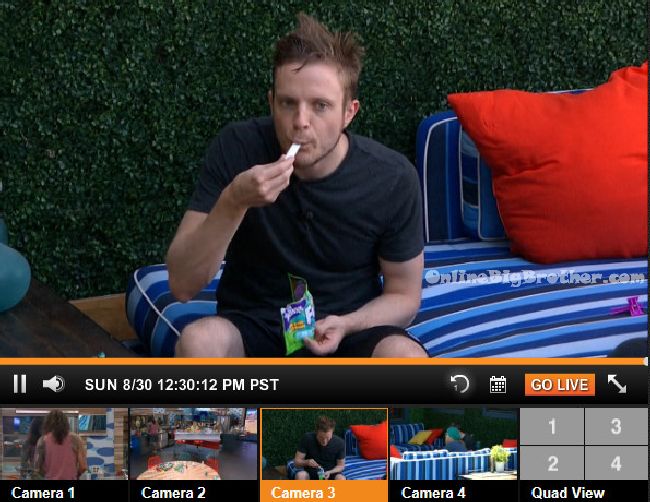 1pm Kitchen – Austin, Julia, Liz, Meg are talking about the veto competition. They wish they could play it again now that they've thought of better hiding spots. Austin wonders if he could have hidden his under the centre post of the table. Or if that would have been considered too hard. Johnny Mac comes inside and says he just had the fun dip and can't feel his face now.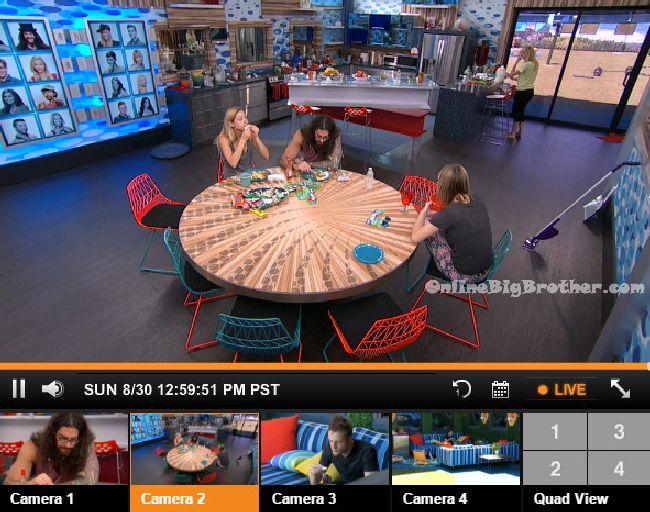 1:05pm – 1:30pm Havenot room – Meg joins James. James says I don't know what she is going to do. We had a good talk yesterday. Meg says that doesn't mean anything. I feel like she is going to send me home. James says well that wouldn't be good for Austin's game. I think in order for her to ensure you go home .. she would have to put up Julia. Meg says yeah she said that was an option. And I'm not happy about it. James asks Austin told you? Meg says no Julia but that was earlier when she told me. The only thing I can say to her is that her thing is to not get more blood on her hands but sending me home would get more blood on her hands than sending Johnny Mac home. James agrees. Austin and them know if they send you home I am going to go renegade! That's it! BAM BAM whatever! And Johnny Mac .. there will be two rogue people that don't have any loyalty to anyone. Anyone of us win HOH.. SORRY. Meg says I don't want to talk to her. James says Vanessa told me I have to tell her not to tell anyone when we have a conversation otherwise she can tell anyone. James says he said oh I didn't know that. She (Vanessa) kept bring up that fact that she really really wanted to work with me. She said her and I could have gone far in the game but that I chose the other side. She said if I win HOH she wants to talk to me. She says she has info to tell me. Meg says that's why I am telling you she wants to get rid of me. James says whatever you do don't insult her. Meg says oh I won't. James says I kind of want to go up every week because I'll win the veto. Our competition isn't that good.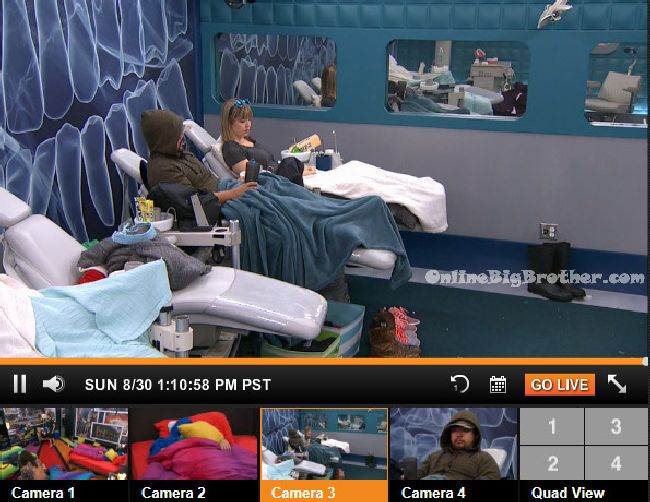 1:10pm – 1:35pm Kitchen/HOH room – Vanessa talks to Julia about going up on the block. Julia says at first she was scared to do it but Steve confirmed he would vote to keep me. They head up to the HOH room. Julia says anyone that's gone up next to Meg has gone home and the only other thing I am scared of is a twist or something and I go out. Vanessa says if you went home I would give you $10,000! Like literally out of my pocket. Out of my stipend. You heard me say it. Vanessa says if James win HOH the only thing we don't want is for him to put me up next to one of you guys. Julia says I can act mad that you put me up. Liz joins them. Vanessa says I would never put you girls on the block if there was even a 1% chance the vote would flip. I got Steve and Johnny Mac to promise to keep you and if they don't they will have 4 votes against them in the jury house. Liz says it will make James more at ease because he can't campaign to us. If we put Steve up as the pawn he would really feel used. Julia says if Meg is gone it will put a damper on his game. Vanessa says he will be weaker. Liz says last night James was so nasty out side before he talked to you. Vanessa says he revealed how close he is to her.. does he think I am going to keep his numero dose in the game. He said I was playing hard and I told him I have no other choice to play hard. He needs to take a walk in my shoes. He came up here and took a dump on me. Does he not realize it is up to me whether Meg stays or goes. Why would I leave Meg in the game if it strengthens him. Liz says I told Austin not to tell James anything any more. Vanessa tells Julia again .. if it goes wrong I am telling you I owe you $10,000! Vanessa gets called to the diary room.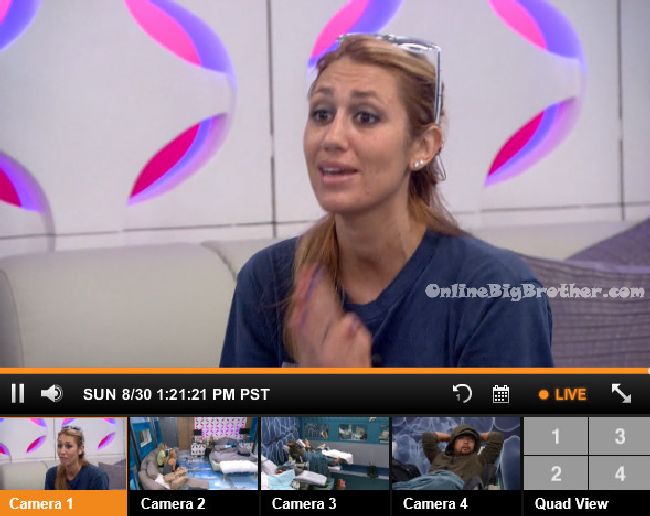 1:37pm Liz says hearing Steve last night he has the best intentions. It is the best decision to have you up. You can't get mad at her. Its doing her a favour. Julia says she is going to sh*t bricks when she finds out its me. She will know she's done! The only thing I don't like is that I'll be in that room with them. But you know I haven't won anything so I'm not a threat. What if there's a coup d'etat. Liz says that's for the person going home.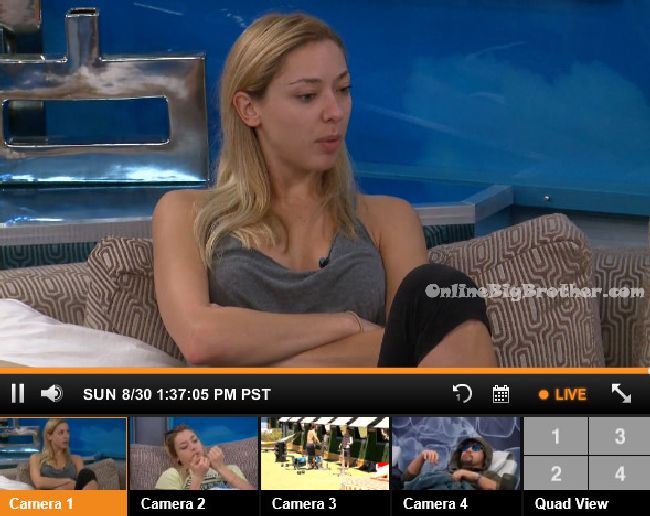 1:40pm – 2pm Vanessa returns. Big Brother blocks the feeds. Liz says it was an expression like I am not letting your a$$ go home. Vanessa says I just got spanked. When I said that thing about 10K it wasn't in seriousness. It was meaning like there's a 99.99999% chance you're safe. It was an expression I could have said a hundred thousand, a million dollars. That's how safe I feel like you're safe. Liz says you a freaking gambler, what do you expect. Vanessa says I know I'm not allowed to offer prize money. I am not trying to get a spanking or break any rules. I just wanted to make that clear. Liz says every week James needs to go up on the block. Vanessa agrees and says he might as well because pretty much from here on out everyone plays in the veto. The two part deal with Johnny mac is he has to tell you in front of everyone he is keeping you and the second part is if he wins HOH he goes after James. Vanessa tells Julia she appreciates her going on the block. Steve joins them. Steve jokes that he is going to vote Julia out. Julia says too soon to joke about that. Steve apologizes and tells her that she 100% has his vote this week. You have my vote. Vanessa says and Steve won't tell you that unless he's serious.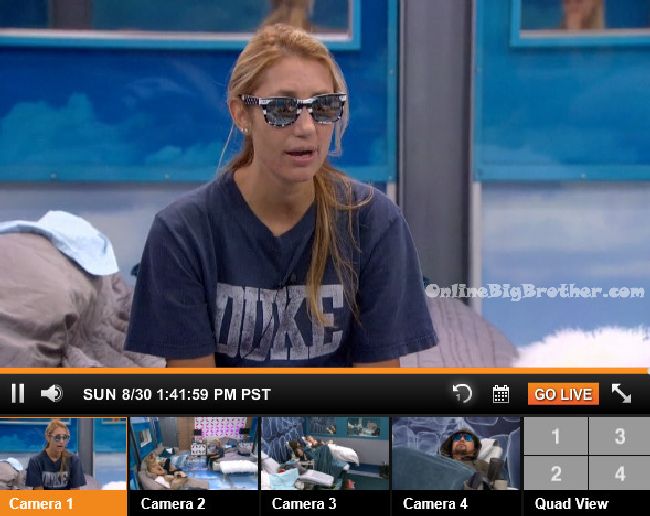 1:40pm Backyard – Johnny says if James does go, you and I are the biggest threats. Austin says I was talking to Vanessa about how if Liz has to choose she would always choose Julia. I would expect it. If we were in the final four to let drop out and not let that happen I would do that but then again how could I go home and face my family. That I just gave up 500K to her who may be my future wife. It would be dumb. I am open to making deals for just myself and I need to make that clear. And if I'm not on the block I can try and help them. Next week I am definitely down to make that deal to keep each other safe. Johnny agrees. And says if James does go then you and I become the physical threat.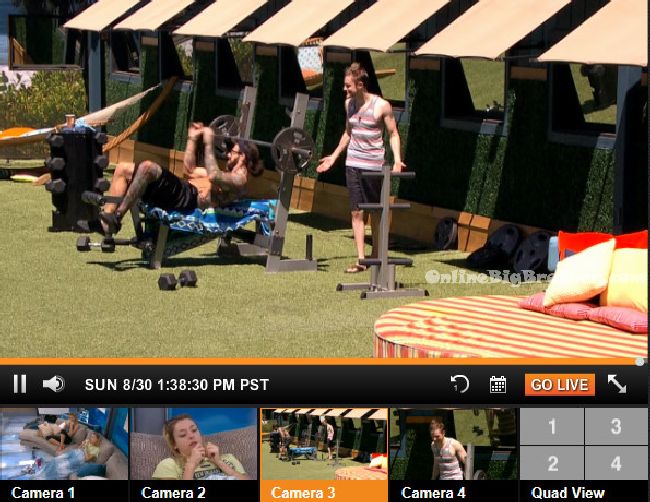 2:05pm – 2:15pm Havenot room – Meg asks what did you say in the room the other day to Austin about us. Saying that you have to protect me but that its not a showmance. People will love that. Meg says if I go you better be in the final 2. James asks if I get there do I have your vote. Meg jokes no. James says if I get to the final 2 I will break you off a little chunk! Meg says I like a little surprise .. it doesn't have to even be that expensive. James says I'll get you a fun dip and a card. James says he wants to take a nap. Meg says we have four days left and you want to take a nap?! James says I want to make the most of it, we should go camping.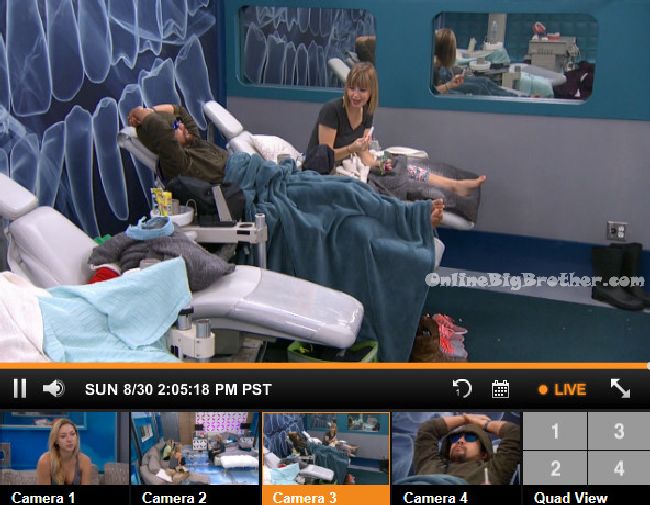 2:15pm Storage room – Steve tells Liz that its done. He is 100% voting to evict Meg. Liz says I love you. I made sure you didn't go up again. I love it that Meg can't even campaign to me. Steve says I will report everything Meg says to me to you. If they come to me can I just tell them out right its not happening. Liz says no listen to them. Say your mind isn't made up. Steve says okay to get information.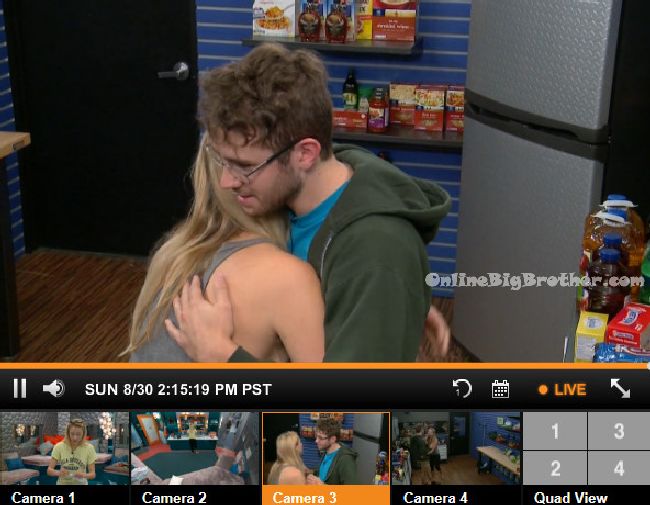 ALLIANCES:
"Goblins/Gremlins" = James and Meg
"The Generals" = anyone allied with Becky
"SOS" (Students of Sound) = Steve and Vanessa
Rockstars = Steve and Jmac
AUS-Twins = Austin, Julia and Liz
"Austin's Angels" = Austin, Liz, Julia, Vanessa
"Brass Tacks" = Gobins and Austwins
The new "Brass Tacks" = Aus-Twins, Meg, James + Vanessa
"Freaks and Geeks" "The Scamper Squad" = Aus-Twins, Vanessa, Steve
"The new Freaks and Geeks minus Vanessa" = Austin, Liz, Julia, Steve, Johnny Mac
"The Authority" = Austin, Liz, Julia, Steve
[polldaddy poll=9046808]