POV Holder:
Nick
Next POV
Done
POV Used
?
POV Ceremony
?
HOH Winner:
The Brothers
Next HOH:
Finale
Original Nominations:
Tim and Cassandra
Current Nominations:
? and ?
Sign up for a 6 month subscription and watch the rest of Big Brother Canada 4 AND Big Brother 18 with HideMyAss VPN.
ALLIANCES IN THE HOUSE
There will likely be a lot of alliances during the season – keep track, read our alliance help guide.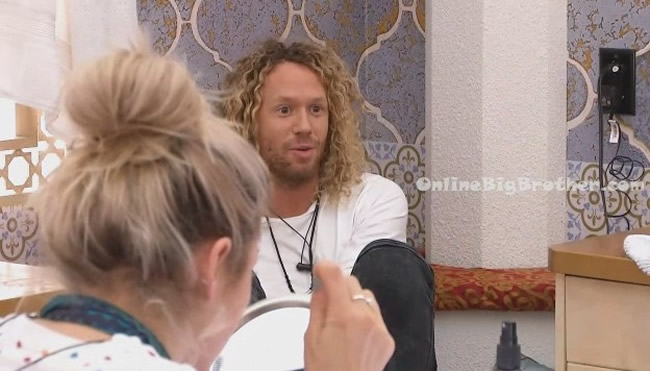 In the bathroom – Tim talks to Kelsey and Phil. Cass comes into the bathroom. Tim says good morning. Cass doesn't say anything. Cass leaves. Tim says she hates me. If she wants to play dirty this week.. I've thought of something that will undo her entire game. Tim says I am prepared to go and tell her what I will tell you guys. Its not nice at all.. she did something last week and abused something. Kelsey asks last week .. was it something with Joel? Tim says no. Kelsey asks you? Tim says no, someone who's still here. Tim says no, I'm not saying anything ..its if she says stuff trying to tell lies.. I will tell the truth and she will not like that! I'm not the enemy. Tim tells Kelsey it was about Nick. That was leverage that she specifically.. Kelsey says I don't know what she did though but I could probably figure it out. Tim says yeah .. the decision to keep her. Kelsey asks and it was bad? Tim says no .. it just was not very nice. Kelsey says well its not surprising because that's the way she plays. Tim says if she wants to stay by lying about me .. or trying to turn you guys against me. Tim says he started to see her do it… I was like Cass why undo the good part of this whole game working together ..our friendship.. when its not my fault you're sitting there. I was actually getting pretty upset that it is going to get ugly. She just doesn't see it that I have seen her as a friend.
10:50am In the kitchen –
Tim, Kelsey and the brothers are talking. Tim comments on how he doesn't know if his friendship with Cass was even real. Tim says even if she leaves this week ..she will laugh and say HAHAHA.. we're still friends that was just me trying to save myself… and I can't deal with that. Phil asks what was that thing you said the ends justify the means. Tim says yeah the ends justify the means. Kelsey comments on how its one thing if you do all these terrible things and win but its another thing if you do all those things like Maddy and don't win.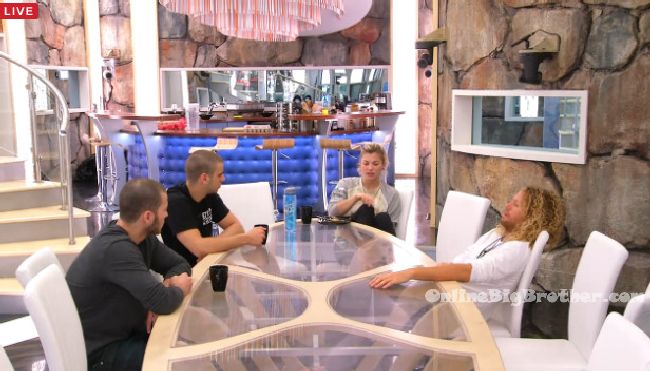 LIVE FEED LEAK of Marsha The Moose!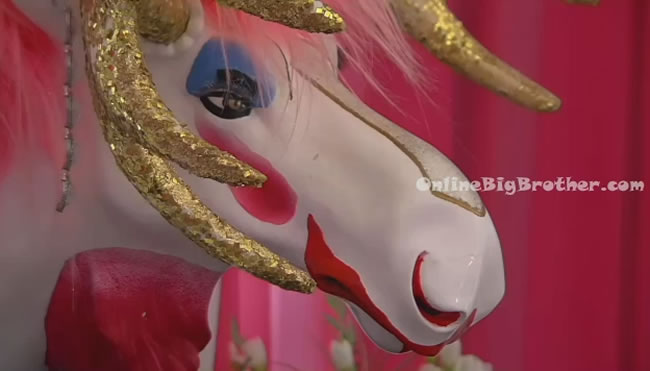 12:20pm – 12:30pm Cass is isolating herself from the others. At one point she came out of the HOH room to ask Phil about a song and said sorry to interrupt the final 3. Tim joins Cass in the pink bedroom. Tim says well it doesn't say anything on the screen in terms of the power of veto (ceremony). Tim asks Cass if she is going straight back to work after this. Cass says she doesn't know… and then says I will need to since I'm not winning any money. Tim says its not over yet. Cass gets called to the diary room. Cass says I probably wont be talking to you or you probably wont be talking to me when I get out.. Cass leaves the room.

Tim tells Kelsey and the brothers .. if I have to give plea ..something about Australian spiders.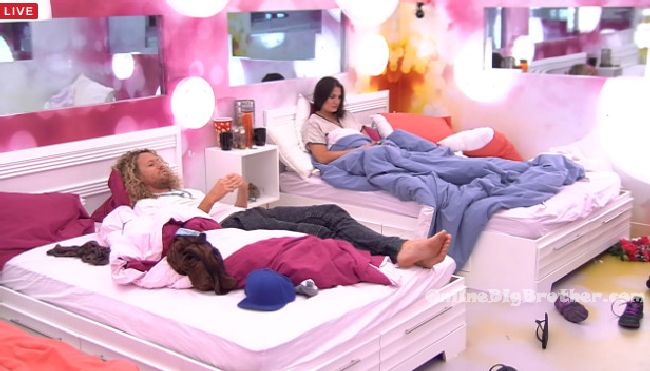 1:15pm – 2pm Cass asks Tim What his plan is moving forward for the final 3. Tim says he doesn't know yet. Cas asks am I going? Tim says I don't know, I'm not voting. Cass says he knows. Tim says my plan has always been to get to the finale. Cass says that Kelsey has lied throughout this game. Tim says well Cass isn't on the block so I don't know why you're talking about this. Cass says if you knew or felt you were going home this week you would have fought way hard in the veto. Tim says I did fight hard in it. Tim says I could still go this week. Cass says I'm going, you made a final 3 with those guys. Cass says I just am regretting working with someone that doesn't get this side of the game. Cass says Tim made that treaty deal. Tim says that treaty was to get you to this week. Tim and Cass start arguing about the timeline of when events happened. Tim then goes to grab Kelsey to clarify the facts. Phil comes back with them. They argue about the time frame. It turns out that Tim was wrong but says that it doesn't matter. Its more about how Cass was securing her own security over the Threeak Show. Cass says I don't want to be friends with someone who doesn't recognize anything that I've done. Tim says I am not saying that. Tim talks about how he likes Cass but not the way she's played the game. Kelsey says I could say the same thing .. I would say that I love you Cass but I would also say I can't trust you. Tim tells Cass that he is worried that she will try and make him the enemy. Cass says no, because I know you made that treaty. Cass says it just hurts that you think I played this dirty game. Tim says no! A smart game… one that I wasn't prepared to do.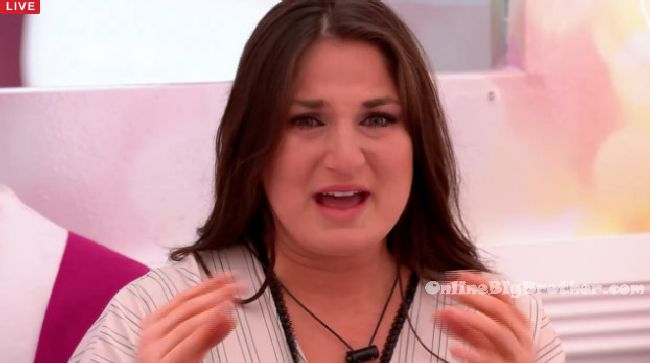 Cass under the covers.

2:05pm Big Brother blocks the feeds.
2:18pm The feeds return with the house guests out in the hot tub room. They've got smoothies, popsicles and other snacks.
3:30pm Big Brother blocks the feeds.
4:40pm The live feeds return to the house guests getting ready in the bathroom.
Arisa tells the house guests that in less than an hour one of them will be leaving … welcome to a surprise eviction.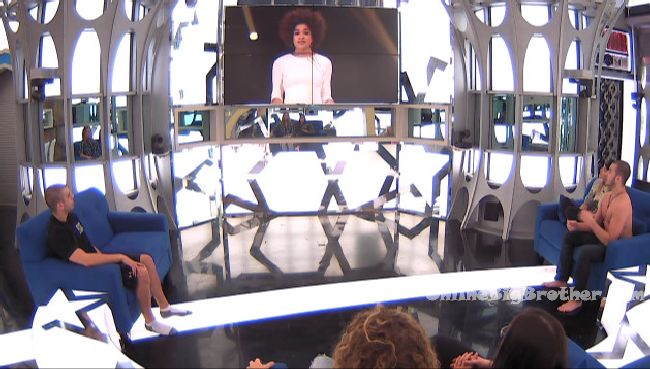 Help Support Online Big Brother
Show your support and appreciation by giving a TIP! Any amount is greatly appreciated!
[polldaddy poll=9410499]
[polldaddy poll=9404266]