HOH: Sarah Beth
HAVENOTS: DX, Ky, Tiff
Nominations: BIGD Xavier and Claire
Power of Veto Players: Azah, Alyssa, DF, Xavier, Sb and Claire
Power of Veto: Xavier
Power of Veto Ceremony:
Big Brother 23 Houseguest Rankings – – RANK THE HOUSEGUESTS –
View the previous day ranks on the – Ranking Grid
Big Brother Spoilers – DX going up. Fun times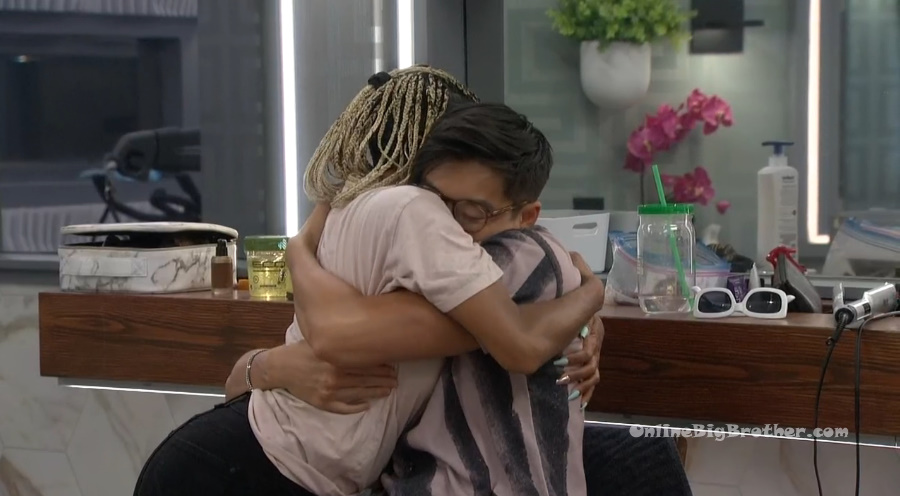 10:12pm – 12:57pm The feeds were blocked for the house guests to get more BB bucks (?).

In the bathroom –
Tiffany gives Derek X a hug. Tiffany – that was not a goodbye hug that was a your a$$ better fight for it. Derek – no I will. Tiffany – this is me going to beat your a$$! Derek – taking left hooks, taking right hooks .. I'm bobbing and weaving. Tiff – he's bobbing and weaving! Tiffany leaves. Hannah joins Derek. Derek – should I talk to Alyssa? Hannah – yeah it can't hurt. It's not like we're doing anything today. As far as the rest of the house goes, if you end up going on the block.. where do you expect your votes to come from? Derek – you. Ky is telling me I have his vote but that is a game time decision. Hannah – okay. So you might have to work on Ky. Derek – he is telling me I have it but, there are three days between.. Hannah – so you pretty much know that you're going up. Derek – no, I don't know for sure if she's made up her mind but it would not be a surprise. Hannah – yeah, it would either be me, you or Tiff. I don't see her throwing anyone else up. Derek – if she put up Azah that would be crazy. Hannah – but she won't. Derek – I know but that would be amazing. I think I could have Azah. Hannah – I think you would. Derek – I honestly think just on a game level I might have Tiff because if I leave the house.. what does yours, Tiff and Claire's game become? Hannah – the floaters. Derek – I think it would be KY and X, Alyssa and SB versus… Hannah – Us three and then Azah and Big D. Derek – kind of. I think at a game level Tiff might keep me. Hannah – I would work on Ky the most and Tiff the most.. and then as far as SB and Ky.. what should I say to them? Derek – one thing you could do is just not talk to them. Hannah – yeah to foster distrust. Okay but I haven't talked to them and you don't go on the block that is going to look really sh*tty. They're going to be like she doesn't care.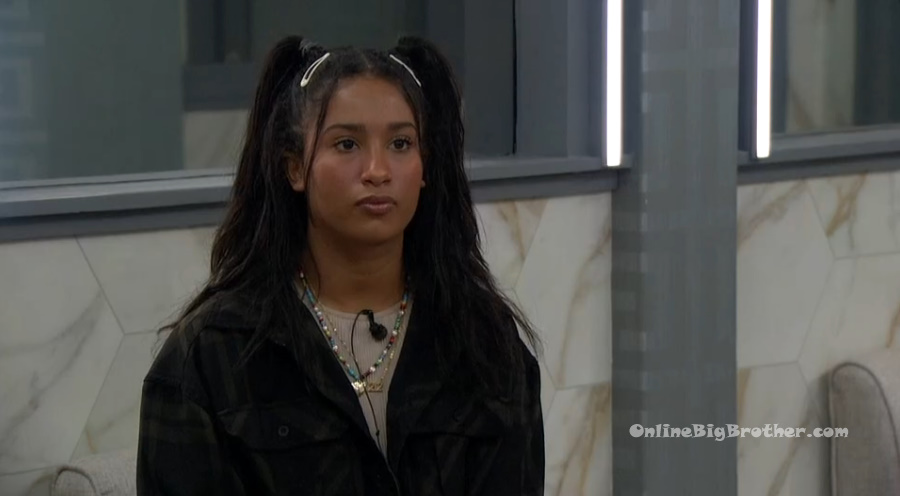 1:50pm Living room. Big D, Claire, Alyssa, Azah Xavier, Tiffany and Sarah are chatting about random things.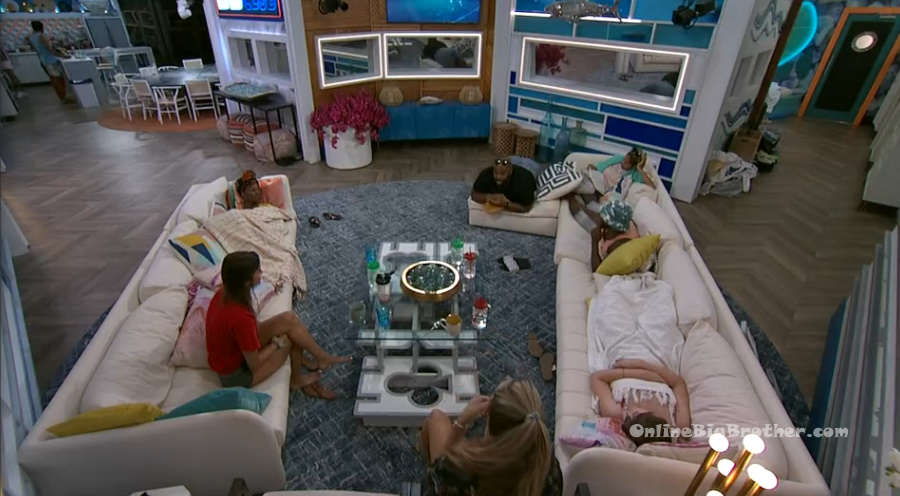 2:06pm HOH room – Hannah talking to the live feeders.
Hannah – here is the deal.. this week either DX or Claire has to go. Alyssa and SB both have safety. SB has safety because she's HOH and Alyssa won the chopping block roulette. So for my personal game I would prefer it for Claire to go this week but I understand why DX has to go this week. DX is a hard person to beat and he has enough BB bucks to play … as far as DX is concerned of course I want to keep him around because he would never target me and never even think about putting me on the block. He think that I am his number one. But next week DX has enough money to play in the anonymous HOH ..if its him Big D and myself competing… I feel like he has better aim and hand eye coordination. Now I wouldn't be concerned about the member of the cookout going home next week but DX would be safe next week and then what if the following week he wins HOH and then what if the following week wins veto.. my point is its kind of the same situation as with Christian. The cards lined up everything was in place to take Christian out so we had to seize that opportunity. This week DX didn't get a chance to compete in the veto to save himself, so it is what it is. I am so sad about it.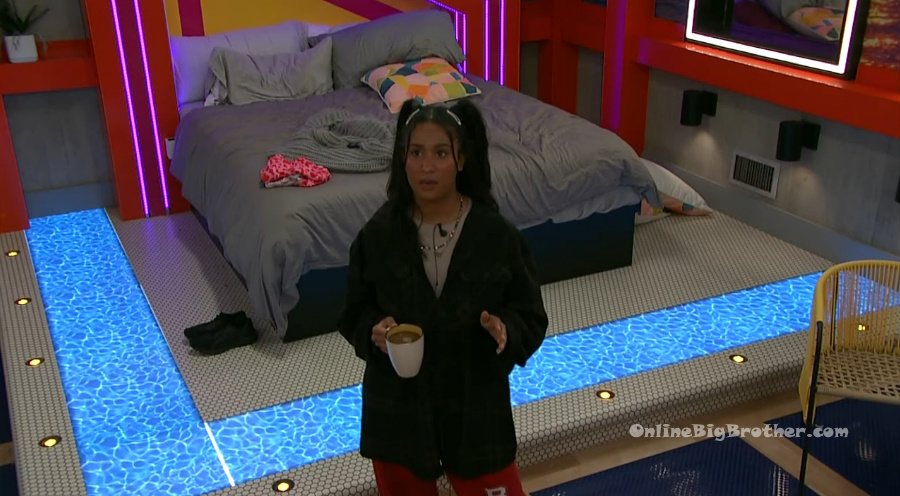 2:09pm – 3pm Havenot room. Big D and Kyland.
Big D – this is what I am thinking, we have the coin of destiny.. Ky – you have the coin of destiny. Big D – well three people can play it. Ky – I don't think so. Big D – I think so. Ky – Hannah and Tiff? Big D – Hannah and Tiff. Ky – but they have to get $100's.. they've been getting $75's. Big D – if she gets one more $75 she can play. Ky – no she will only have $225. Big D – or Tiff. Ky – but Tiff spent some of the money the first week. Big D – I don't know if she did. I don't think she did. Ky – She would need to get $100, honestly I think Chaddha is more likely to get $100 than Tiff. Big D – so two people or whatever. I am hoping to luck .. if I can win the HOH and still play in the coin of destiny and what I would do is first throw like you as a pawn with Claire. And then the coin of destiny would be played and I would do you and SB. And then X is sitting there or no? Ky – Chaddha and I were running a lot of scenarios with the third nominee and it might make more sense to do me and Alyssa at the start and then Alyssa can't play and pull X off. Big D – ummm.. okay. Ky – and I could pull myself down too if I win. Big D – then if you come down I got to throw up Tiff or Hannah. Ky – what's the reasoning? Big D – Claire tried to flip the votes and you put me on the block. I couldn't put up Alyssa because I don't have a reason and she took me down and sh*t like that. I feel really confident to win the coin of destiny, I'm going to take things the same size to practice with. Ky – yeah you could do me and SB. Big D – I would switch out Claire and do SB instead. So it would look like.. because SB knows I have enough.. and it would look like it was coming from Tiff or Hannah. And that is why I need to make sure they know how to play their roll but it can't look like it came from me. Ky – she doesn't feel confident that other people have the money.. maybe Chaddha. So I can bump that up. Big D – it has to because otherwise this plan won't work. Ky – everyone needs to be winning to take the shots that we need. At this point I'm going to have to be the one to send SB home.. because people are so unwilling.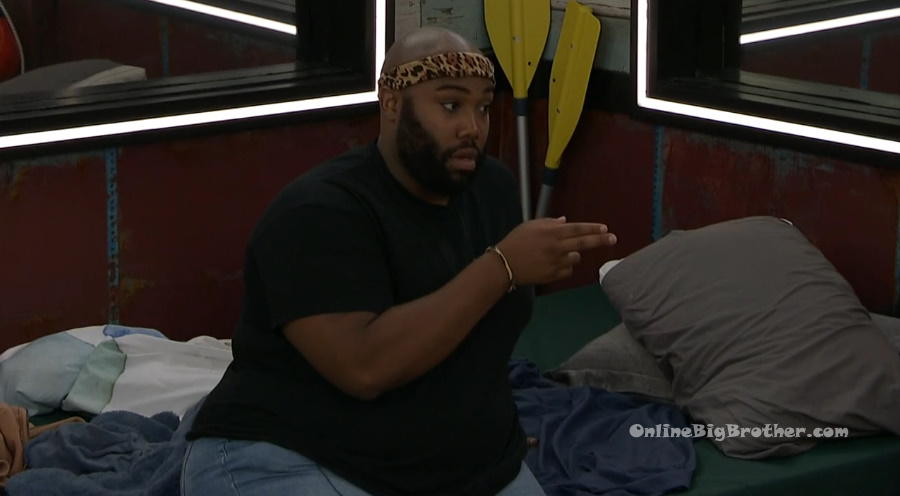 3pm HOH room. Hannah and Xavier.
Xavier – why does he always talk for so god damn long in these meetings. I know the way he processes things he has to take a minute but ..I don't know if that should result in hour long conversations. Hannah – well Ky loves to talk and Big D likes to talk. Big D also loves to interrupt people so you know Ky can't finish his thought so he keeps going back. Xavier – 100%! Hannah laughs and says that Big D thinks he's the biggest target in the house. He was almost crying. Xavier – wait, for real!? Hannah – its like Big D you can't win anything. Xavier – well you're the ultimate pawn and you did just win $7500 and you weren't honestly quiet about it.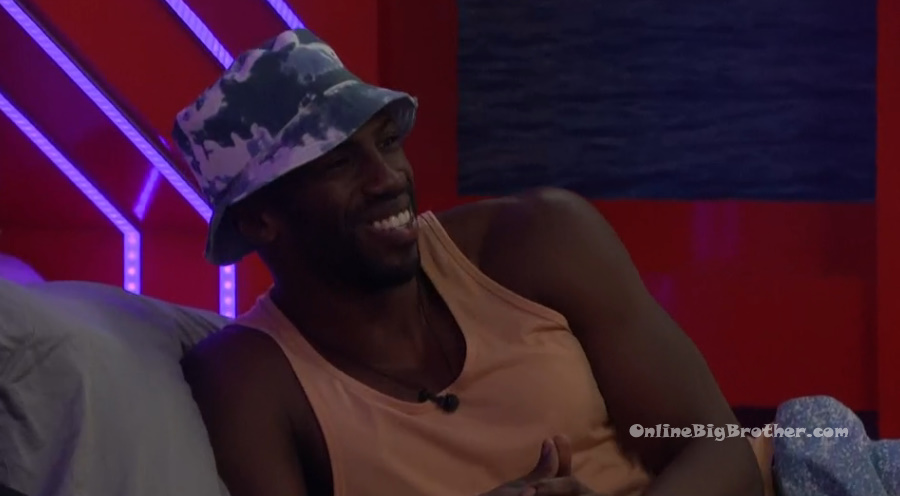 HOH room. Sarah and Tiffany.
Sarah – X really surprised me but .. he earned it! Tiff – I heard 3 minutes and I was like what!?! How are you feeling? Sarah – I am feeling okay. It was a little disappointing .. like I finally won HOH but it doesn't even feel like I've been in power because of the twists. Tiff – so you never had full control of your HOH. Sarah – which is why I wanted to gun for the veto because I wanted to feel like okay I decide. What was your time? Sarah – 6 minutes.. Tiff – so you would have been next. Sarah – I've been really open about it and DX knows he's an option. Tiff – okay. Sarah – so we'll see what happens. Tiff – I trust you. Even though you're a KING, you're a queen. You got this. Sarah – thank you.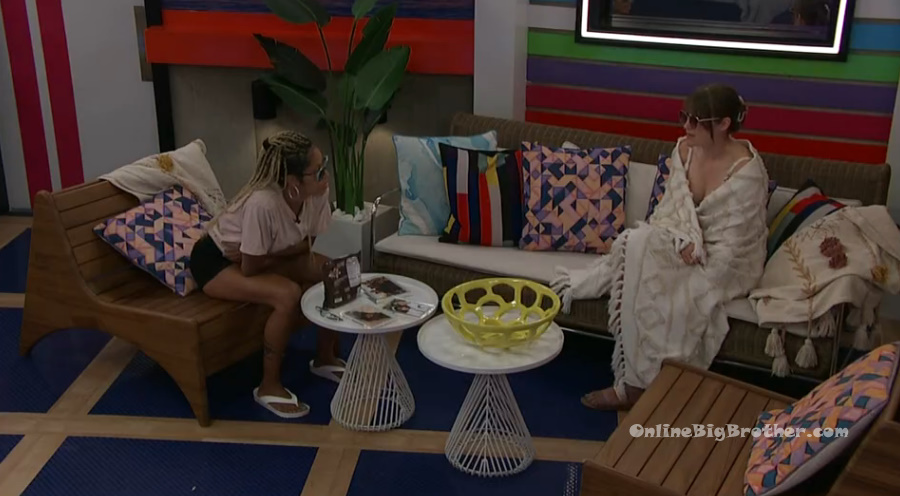 3:50pm – 4:15pm The house guests have the backyard back and are relaxing talking about Godzilla and how they would get away from him. Azah would just die. Tiff – just let Godzilla know that I am on his f**king team.. whatever he wants I got you. I will blow whatever up that you want blown up. You go left, I go right .. I got you!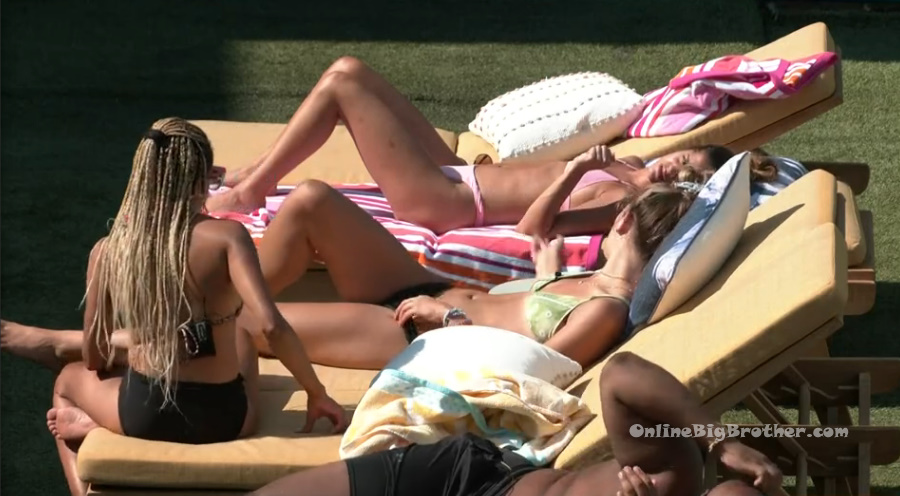 4:20pm – 4:30pm Bedroom. Claire and Hannah.
Claire – have you talked to her (SB)? Hannah – no, I was going to talk to her tonight or maybe this afternoon but I don't even know what I am supposed to say to her because its Me, Tiff or DX that is going up. I am so sorry that I didn't win it (veto). Claire – at least you tried. I do appreciate it. It would have been nice if both of us could have had safety. Hannah – and then either DX or Tiff would have gone up.. so I feel like this is my fault. Claire – we would never have been able to have all of us safe. Hannah – I feel like DX is going to go up because why would SB waste her HOH me or you? And DX is a viable option .. he is the biggest threat in this house. Claire – have you talked to Ky? Hannah – no, I don't know what to say to him. If I say don't put me up then DX goes up or Tiff goes up. Hopefully there is a battle back and we can be reunited. Claire – its a very weird week. Hannah – its just a game… right .. even though this game has become my life. They talk about how Big D always says he wants to make it to 5th place. Hannah – 5th place is 5k, 4th place is 7.5k so he basically already got 4th place (because he won 7.5K in the veto). Claire – honestly if Big D gets to the f**king end I am voting for him. You played the game that you had to play.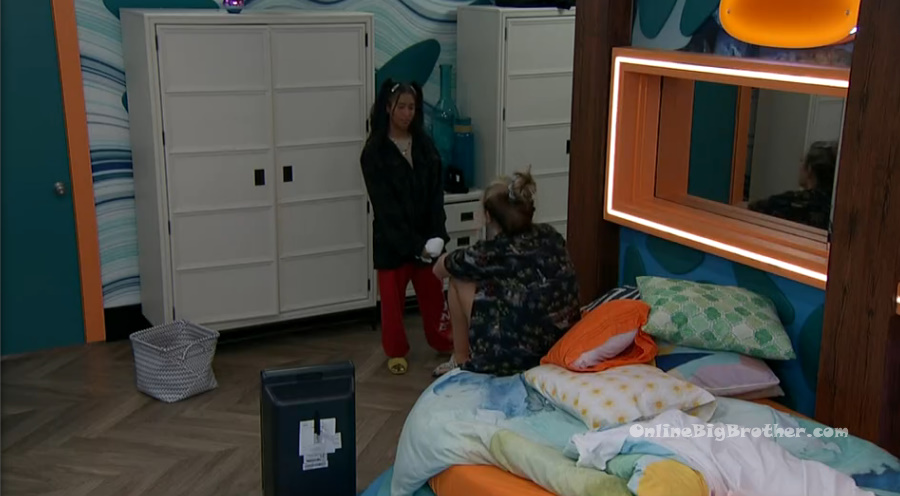 5:15pm Hammock – Kyland and Sarah.
Sarah – I cried a little and then I felt better. Ky – what did you cry about? Sarah – its just a lot.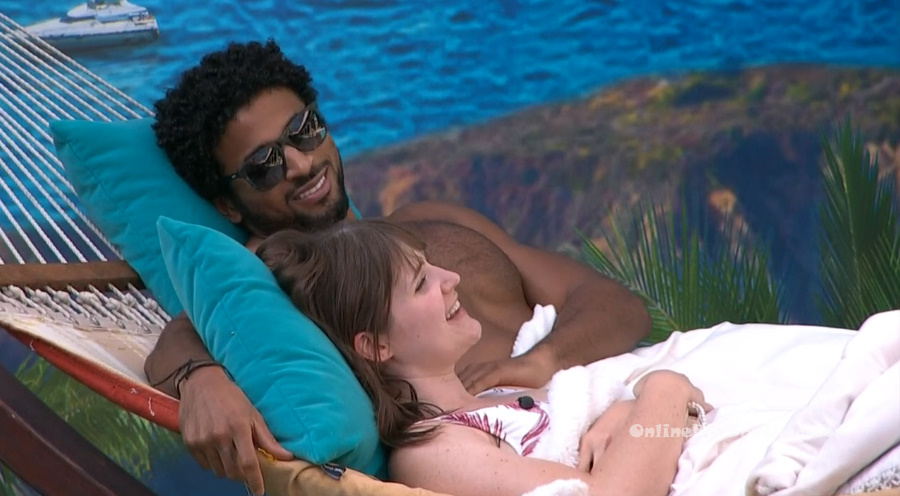 5:20pm – 6:15pm HOH room – Hannah and Xavier are running their "Hot Takes" show with Big D as a the guest. After hot takes with Hannah ends Big D leaves and Hannah and Xavier laugh about how Big D said he was the leader of the house. Hannah – he was saying you don't know I what I've done for your game. You don't know what I've done in this house. Xavier – leader of the house.. DOG you've been on the block! You've been on the block twice! Actually I can't talk I've been on the block twice. Hannah – but you just pulled yourself off .. you're not up because someone wanted you up, you're up because of chance and you were able to pull yourself off within 24 hours!

6:40pm – 7:27pm
Hannah has the video cam. She's going around asking the house guests questions..
7:36pm – 7:50pm Bedroom – Kyland and Xavier.
Ky – did she (SB) mention that she wanted us four to sit down tonight? Xavier – yeah, what time did she want to do that at? Kyland – after girls night. And then next week.. I was trying to run the numbers if it would be better for you to win next week.. I think it might be better if you win this week. Xavier – I think so too. Ky – that way it will take less votes (when Xavier has to go up as a third nominee the following week). Xavier – I think if I can win this upcoming HOH I can take out Claire and I am thinking the noms could be Alyssa and Sarah Beth or vice versa. And if I win the power of veto .. they stay the same. Ky – people need to be willing to take the shots that need to be taken. Xavier – if you're a part of the crew, you have to start showing it. Ky if someone wins and takes a shot at SB .. then that frees me up a little bit. They talk about how they can't be the only ones taking the shots. Xavier – ya'll got to step up and win something. You have to be able to take the shots. Ky – you don't get to be friends with everyone.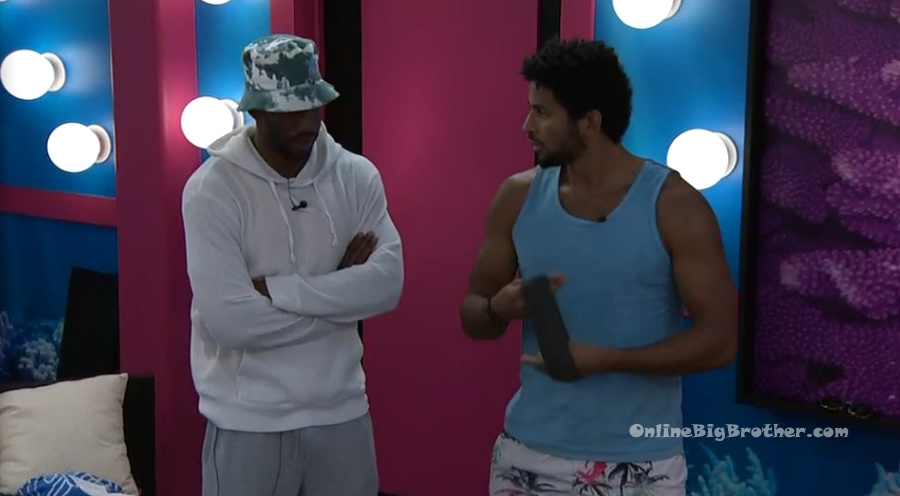 Show your support 🙂 Without your support this site and these spoilers wouldn't be possible.
Please consider a donation to keep the madness going.