HOH: Sarah Beth
HAVENOTS: DX, Ky, Tiff
Nominations: BIGD Claire and Xavier (High Roller random nom)
Power of Veto Players: Azah, Alyssa, DF, Xavier, Sb and Claire
Power of Veto: Xavier
Power of Veto Ceremony:
Big Brother 23 Houseguest Rankings – – RANK THE HOUSEGUESTS –
View the previous day ranks on the – Ranking Grid
Big Brother Spoilers – DX going up. Fun times
8pm Bedroom – Derek X and Tiffany.
Tiffany – I really was so willing to share my secrets with you. I have never even done that to this day with anybody else. Derek – That's what I was telling them (production), I owe my entire game to Tiffany. Tiffany hugs Derek. Tiff – you are amazing! You are supposed to be here. You're so dope! I was like I bet he knows math! Chaddha (Hannah) is very smart. She is a little strategic. Its almost like I would rather you try to convince SB to put Chaddha on the block. Instead of you being on the block trying to campaign. Derek – Chaddha said that she is willing to go on the block. Right now I just have to focus on me not hitting the block. Tiffany – we could make everyone thinking that we're voting out Claire but then we could vote for Claire to stay. If you touch the block, you're probably going to go so you have to convince her to put up Chaddha. Unless you want to keep Claire and Chaddha goes home. They talk about how Derek could come back in a battle back. Derek – if I leave, I honestly think its going to be one of you… you, Chaddha or Claire.. Tiffany – that's coming behind you. Derek nods yes. Battle Back is at 4? Tiffany – Yes, you would beat Britini, Me and Claire. Derek – I don't want to compete against you. I want you to be in this house. Tiff – If I can't beat you, I can't beat them.. so you bring your a$$ back in and take them out. If I win over you then I win but if I don't.. Derek – I can't, I just cannot leave this house yet. I just can't let Ky, SB and X and Alyssa win this game! Tiff – this is your game.. if you want something to be in SB's head the way you see it you need to be the one to put it there. You cannot let him (Ky) put information in her head for you. Its the telephone game.. remember that.
8:20pm Bedroom – Tiffany, Azah and Big D.
Tiffany is impersonating Sarah Beth in a really annoying high pitched voice. Big D – you about to go on the block!
8:24pm HOH room. Derek X and Sarah.
Sarah – I think it would be one thing if it was just one thing like I think he can beat me in comps but I meant it when I said I think you have better connections in the house. I know that Tiffany, Claire and Chaddha are all more loyal to you than they are to me. I feel like I have a good relationship with Azah but she is going after Kyland which ultimately means she would probably be more loyal to you than me and that scares me .. like starting next week 3 votes is a tie. We are getting to the point in the game where you only need a few people to be die hard to you for you to skate through and I think you are way more well positioned for that than I am. So that is something I am thinking about a lot. I thought about that and I started thinking about the possibilities of who you could have sat beside on eviction night this week .. I think you would have stayed against the majority of the house. I think Claire and Tiff are the two most likely people that could have sent you home and that is really scary! Like you're a good player. You've done really well. Derek – well I am sitting in this seat right now so I don't know. Sarah – well a lot of that came down to luck this week. Derek – no that is totally fair. Do you think there is anyone else that has stronger connections than me? Sarah – I think should you stay with the intentions of working with Ky and me .. I would say no. Because you would have me, Ky, and whoever remains of Claire / Tiffany and Chaddha… and maybe Azah depending on where votes fell for the eviction.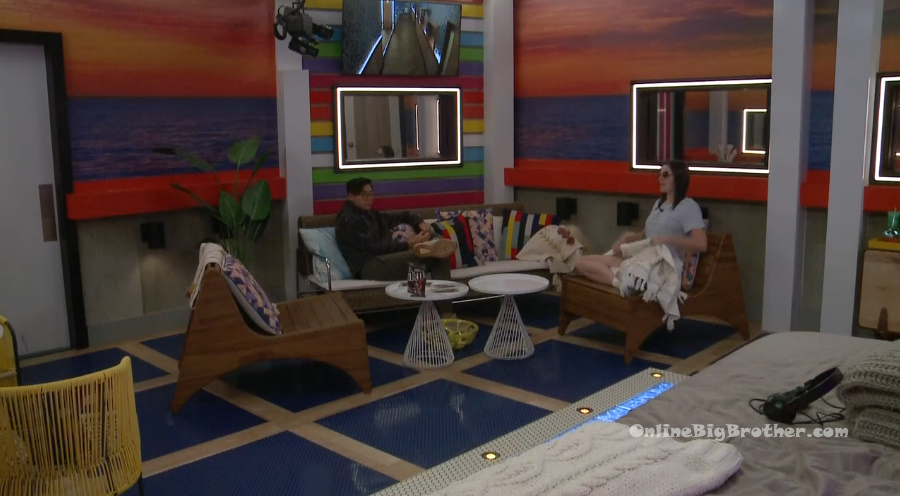 Derek – where is your head at with next HOH and coin destiny? Sarah – I think I am in danger but I would be in danger regardless of who goes this week. I think a lot of people are putting me up so I don't think it makes a difference. I am not totally convinced that Big D would come after me should he win it after having a conversation with him today that I thought went well.. But I am not sure that he is the only other person that has the money. There could be somebody else. There have been two competitions played but those didn't tell you everyone that played or not. People could be telling me they played and then they didn't so they could have the money. So I could still end up on the block with coin of destiny. And I don't think I have a lot of control with who I send home this week that will make me significantly safer going into next week. Derek – so even if I am here and I can win coin of destiny and can make sure you don't hit the block. Is it a question of whether or not you think I would stay true to that? Sarah nods her head yes. Derek – I see. This is hard because I can't just say I won't break that because there is no reason for you to believe that. Sarah – I think it did give me a bad impression last week that you would have preferred to see Big D stay … ultimately you did vote out Britini. But the more I talked to people in the house its become very clear to me that she was campaigning that should she stay and had won this HOH it would have been me and Kyland that would have been on the block.. and even though you knew that you still prioritized what you thought would be your game .. which I understand and I respect that as a player but is that a player that I want to put trust in and work with? Maybe not! Derek – yeah that is fair. What I will say is that when I was 60/40 was before I talked to her on my one on one she never told me that she was going after you two.. but after I came down and talked to other people it was made clear that she had told other people that.. which was definitely a factor in my ultimate decision but fair enough. I see where you're coming from. Sarah – I know you asked to know if anyone is throwing you under the bus and I can say that nobody has. The only people that have talked to me are Claire and Tiffany and both of them just wanted to know where my head was at and didn't campaign or push for anything. Derek – okay. Sarah – well besides Claire and for herself. Derek – Do you think you have a smaller list of names that you're debating on now? Sarah – yes, I really never intended for Claire to go home this week and I would really like to have a better relationship with Claire and Tiffany. I don't want to put up Tiff. And regardless of who I put up, I don't want Claire to go. Derek – do you see a possible world where me, you, Ky, Tiff, Claire work together? Sarah – maybe.. I'm not sure and from my perspective I don't know how much Claire or Tiff really trust Ky or want to work with him. That would worry me. And like I said you just need 3 votes so I think both of them would be more loyal to you than either of us and so whenever someone got to the point of wanting to flip .. that would just mean me or Kyland going home. Sarah tells him that she will think about it and let him know.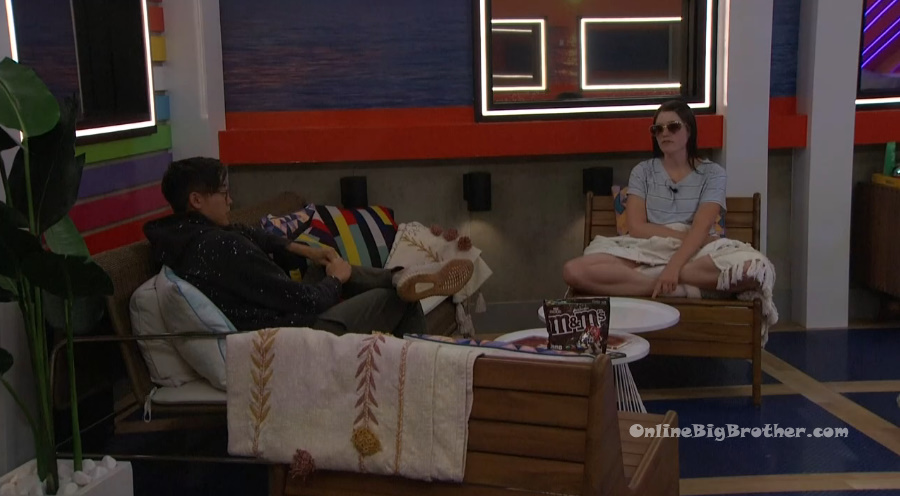 9pm Dinner time..
9:12pm – 9:45pm Hammock. Azah and Derek X.
Derek – do you think I have a chance against Claire? Azah – Its going to be a vote that.. lets look at these votes? Tiffany and Hannah where would they vote? Derek – lets say I have Tiff and Hannah. That's not guaranteed but.. Azah – okay so you need four votes… 10 people in the house 4/3 … you need two more votes. So you would need me and Big D. I got to think about it and that is only because I usually go with what the HOH asks. I've done that with you, I've done that with everybody. The only person I didn't do it for was Ky and that was just as a f**k you and I didn't want him to leave with a unanimous vote. Big D .. you never know what will happen in the course of these 7 days. I will tell you that I will very seriously consider because I really do love you. Derek – thank you. AHhh.. I don't want SB to win this f**king game! Azah – she will not win this f**king game. Derek – its her, Ky, X and Alyssa they probably think that they can just run the house. Azah – if you won HOH next week who would you put up? Your game not mine. Derek – if SB doesn't put me on the block.. I can't put SB on the block. Azah – that is the agreement you made with her? Derek – that is what I am trying to but I am not promising. Does it matter if I win HOH next week though because there is still the coin flip. Azah – I mean, I asked that because you have a very high chance at being the winner of that coin toss. Derek – If I do end up staying the weeks votes will show where I need to point and I think I will have a very high chance at veto once I take that shot. Do you have a preference? Azah – SB .. yeah SB. In this veto she came second. I already know she is strong in comps. I see how .. this is someone who was supposed to the target the first week of jury and has managed to escape every freaking time. She (SB) is like the little monster that I thought was like .. she is just a little monster. (LOL) She is like a cute little furby and then has turned into this monster.. I am like what the f**k. Derek – I know right. Azah – SB and KY are the two.. SB first. But that is just me. Derek – I don't want to say too much before I hit the block but I will feel way more free to talk if SB puts me on the block. Azah – yeah. Derek – Y'all really about to send me to just with Britini waking me up at 7am.. I'll be like where is the alcohol. I am going to lock my door! Azah – don't say that. Yes she does scream in your face when waking up in the morning and throughout the day .. but she is good company. Azah – I don't want to put any hopes or anything like that .. and I need to talk to him (Big D) because you need four. Derek – yeah.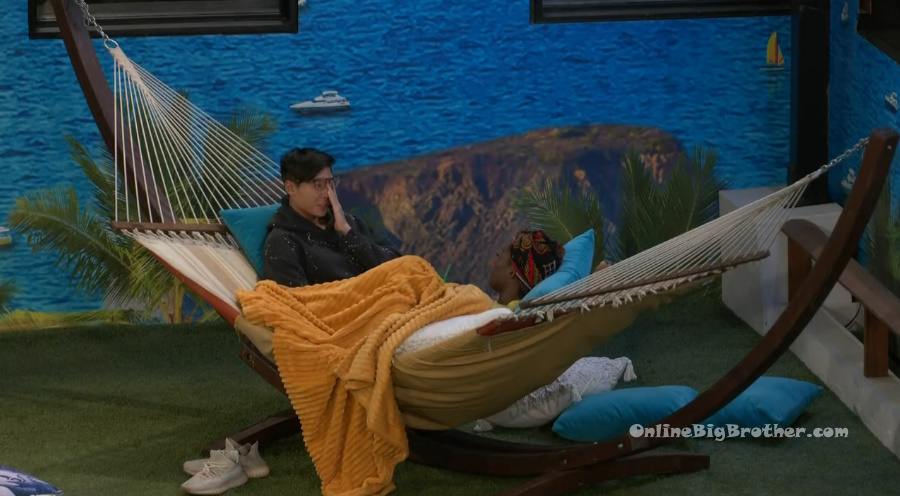 10:30pm Derek X and Xavier are tossing an egg back and forth.. Xavier throws it and it hits the no risk / no reward sign and breaks.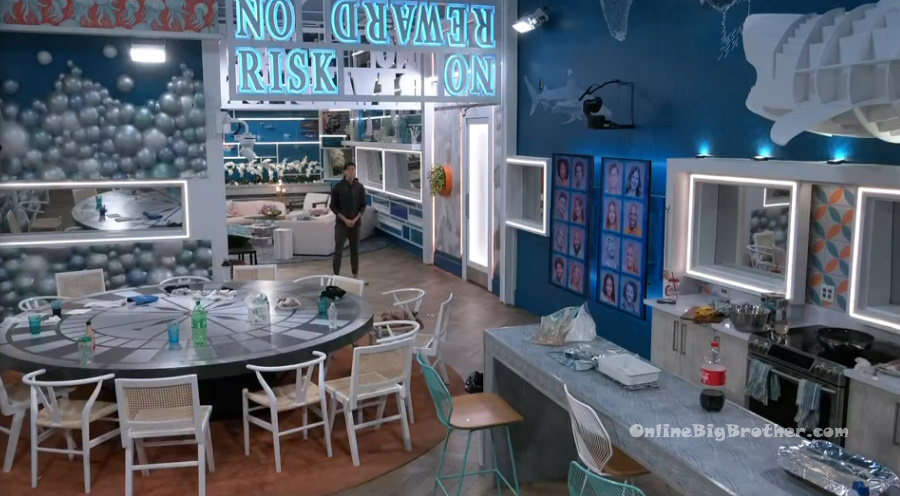 10:37pm HOH room Girls night starts..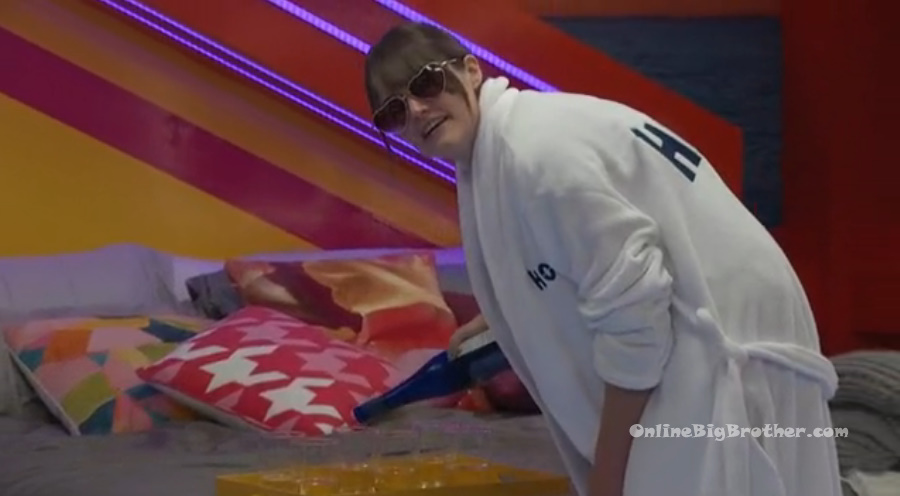 10:50pm HOH room. Claire does a toast for girls night – its been really really fun to be in the house with so many amazing girls. I definitely when I came on this season wanted to play with girls who were ready to win and play hard and I think all of you are and its been super super fun and I am glad that we all got to get together .. GIRLY GIRLS! They all cheers.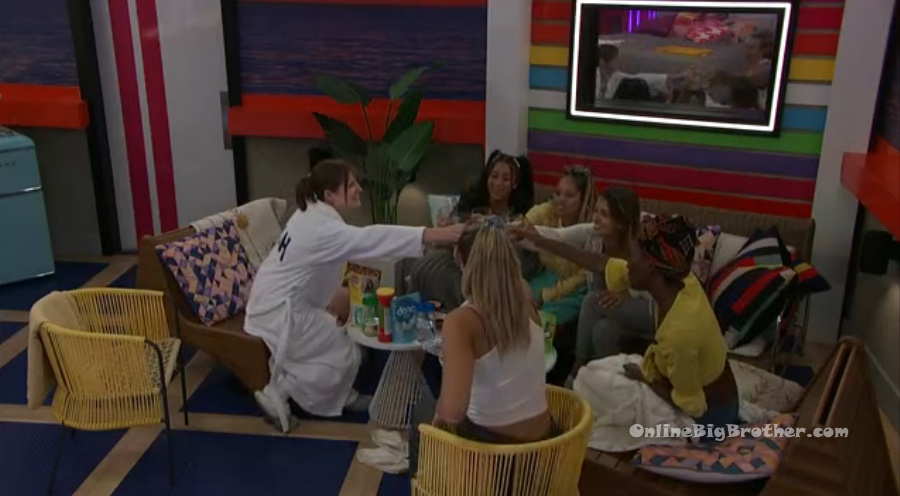 11:15pm – 11:30pm While the girls have a girls night .. the guys plan a scavenger hunt for the girls. The guys plan to hide the alcohol with a trail of riddles to decipher where the alcohol is hidden.
12:08am The plan is in play..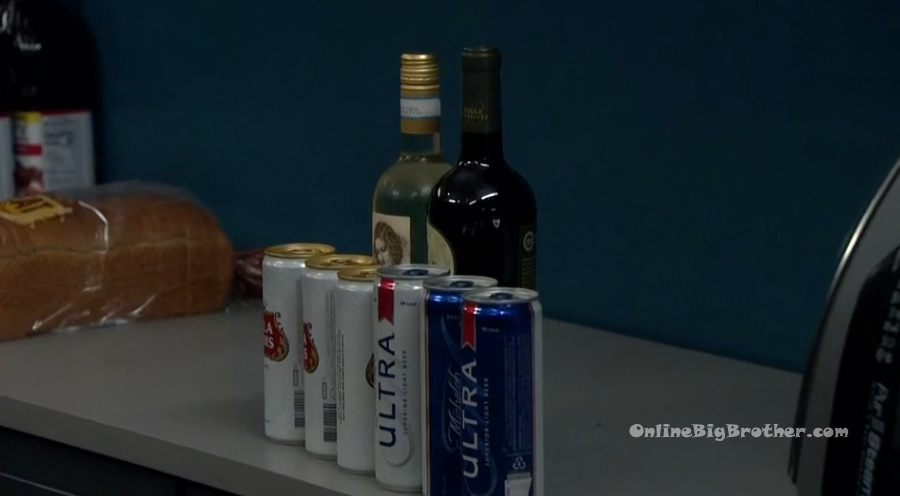 The girls chase Derek X (the distraction) as Big D tries to block them.

Storage room – They enter into the storage room and find Xavier. Alyssa – I don't want to drink anymore. He tells them a riddle that sends them to the havenot room
Havenot room. Derek X send them to the land under the sea. (Coral room)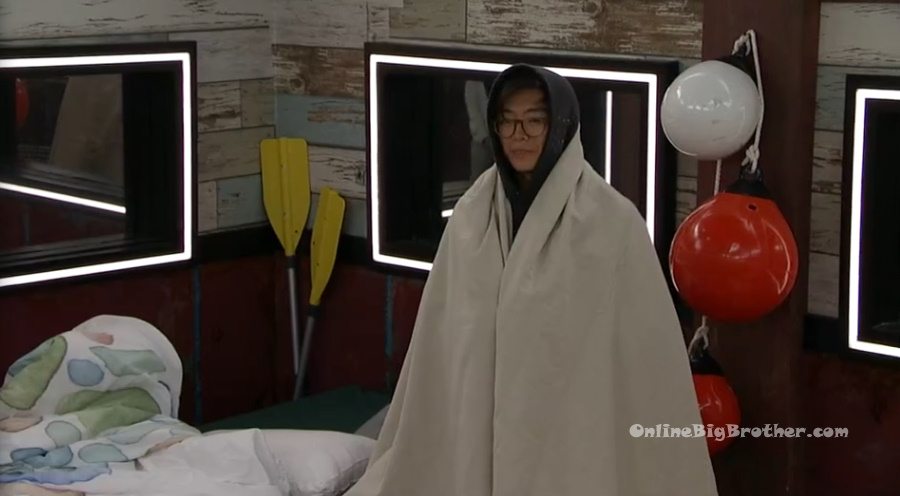 Coral Room. Kyland – you're looking for the liquids that bring you joy?!
They end up at the backyard bar where they find the alcohol. The girls say they all had fun.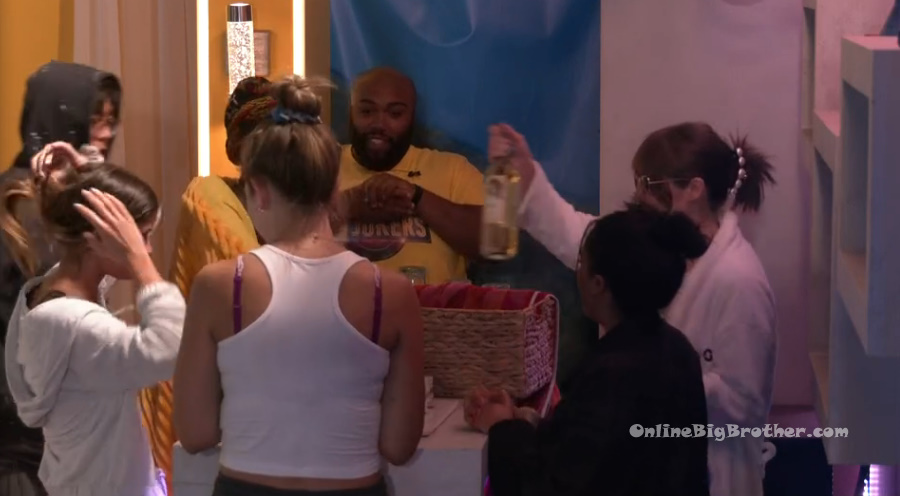 12:30am – 12:40am Big D, Xavier, Sarah, Alyssa, Claire and Hannah. They chat about random things. Kyland, Tiffany, Derek X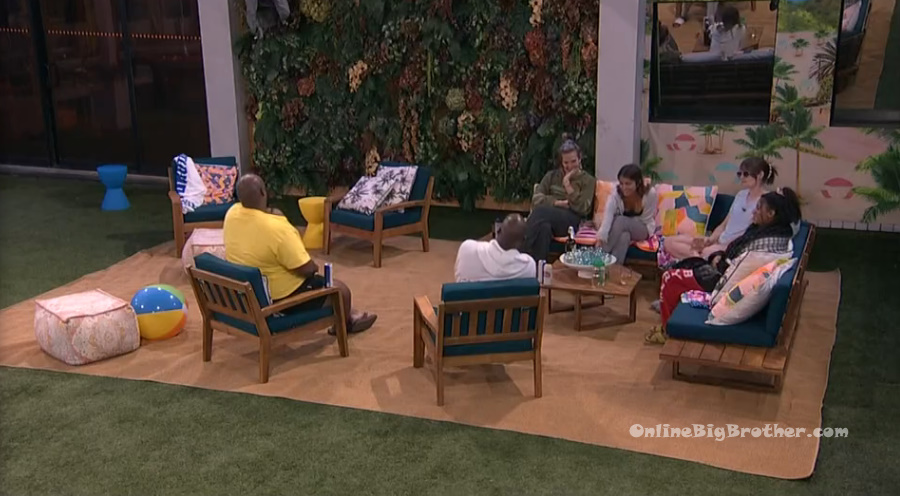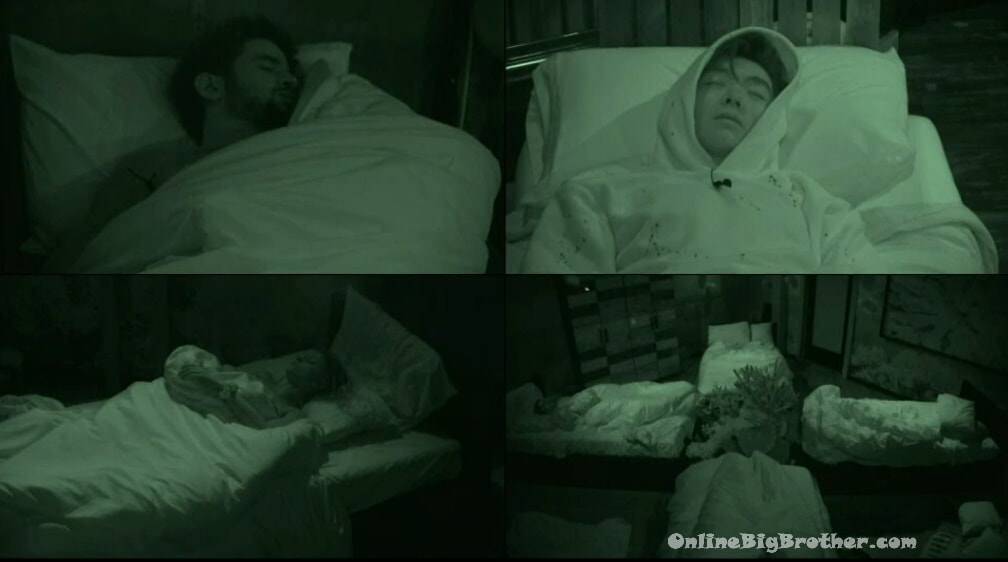 5:00 am DX still going up today.
8:55 am zzzzzz
9:59 am zzzz
10:03 am Houseguest getting wake up music.
Show your support 🙂 Without your support this site and these spoilers wouldn't be possible.
Please consider a donation to keep the madness going.