HOH: Xavier
SAFE: Christian, Alyssa and Sarah Beth
HAVENOTS: Claire, Kyland, Tiffany
WILDCARD Competition Winner: Tiffany
Nominations: Brent & Britini
Power of Veto Players: Xavier, Brit, Brent, DF, Whitney, Christian
Power of Veto: Christian
Power of Veto Ceremony:
Big Brother 23 Houseguest Rankings – – RANK THE HOUSEGUESTS –
View the previous day ranks on the – Ranking Grid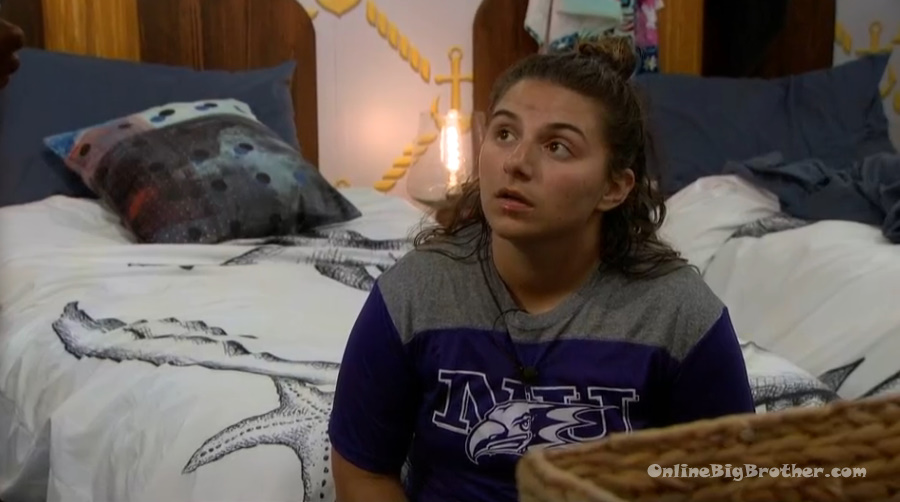 4:40pm Bedroom – Azah and Brit
Azah – I don't think you should be making any promise. I think making a promise is going to screw you over. I really do. We have no idea who is going to be in power next week. And what people might say to whoever is in power is that Britini promised that she is going to go after so and so .. you know what I'm saying?! Brit – yup! So my points are I was up here as a pawn since the beginning. You said there would be the potential of taking me down so that I don't have to sit up there the rest of the week. I don't feel comfortable sitting up there next to Brent because he is a master manipulator at this game and there is a possibility that he could swing the whole house to get me out. Do I have any other reason to take me off? Azah – I think what you're saying is good. Then you ask is there a possibility of taking you off. Honestly, we're at the mercy of them. We have no collateral. Nothing that we can give them. If Big D had the veto or I had the veto or somebody else that is with us it would be different. But the people that have the veto are the people in power. The HOH and Christian. So coming to them.. can't be .. because we don't have anything. We're at the mercy of them. Do you get what I am saying. Brit – You know what though.. I can't believe this thought crossed my mind but it did.. after last nights comp I could very easily put Kyland and Tiff up if I win. Azah – you could and its something you would be able to consider. Brit – I could say Kyland, you put me up on the block and I am returning the favor to you. Tiffany, I didn't even think about putting you on the block until ____ wildcard and then did the exact opposite 10 minutes later and you made me look like a damn fool. Azah – its true. I think its focusing on you staying here this week and then focusing on the HOH after. Brit – what I can do is talk to Christian by himself and promise him safety next week because that I firmly intend to keep! Christian is not my target. He is not who I want to go. Azah – I would recommend no game talk about promising this or promising that until we see who is HOH. Everyone wants Brent out. I have not heard anything otherwise and I would tell you if I did.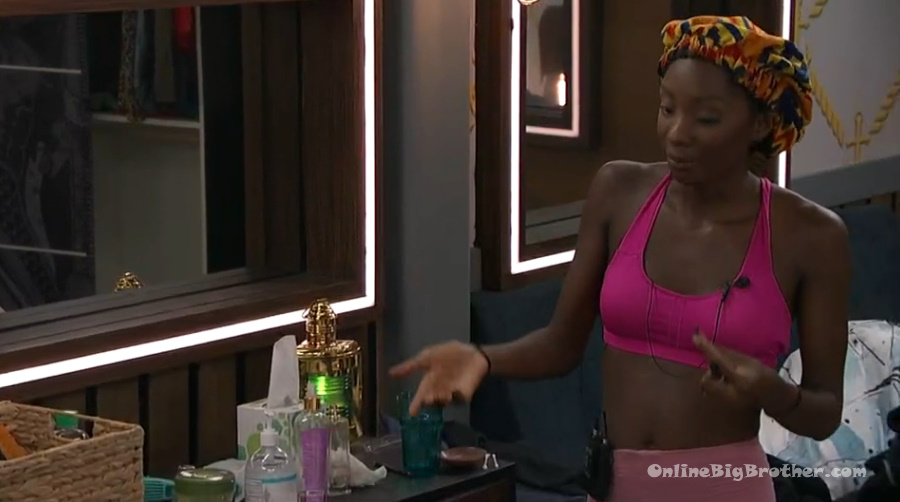 Bathroom – Tiffany talking to America.
Tiffany – Brent is going home. He is trying to work his case but the kings and the queens and 1 ace up our sleeves which is ultimately our royal flush are like this (fingers crossed). And Whit she is cute and all but she is probably next to go and of course we've got our six and we've got to keep them together as best we can to make sure one of us gets to final two. I don't know if I should win HOH… I mean its a game and we all have to show our cards at some point however I am trying to be really low key. If I win I would probably have to put up Whit and Brit. Sorry Brit, I wouldn't want her to go home but she would probably be pretty upset with me and I would have to fix it later. I'm the fixer. I can fix anything so .. I don't like hurting peoples feelings but its the game and somebody is going to be mad.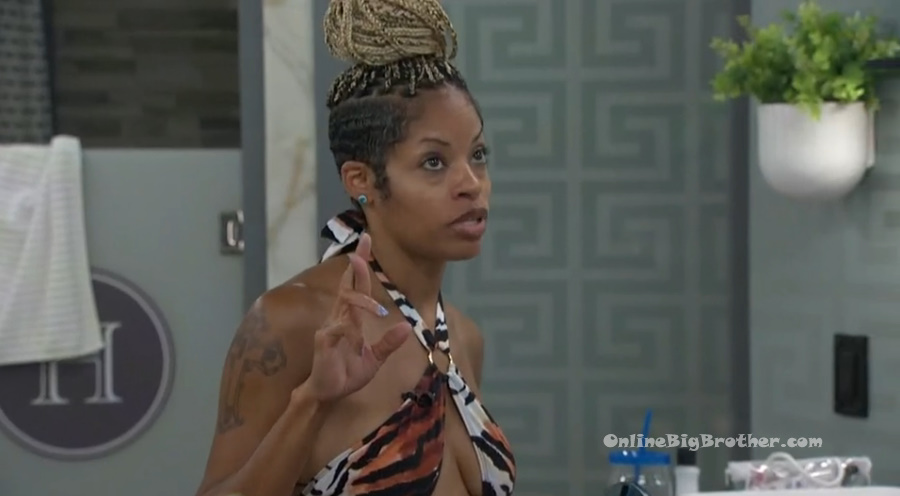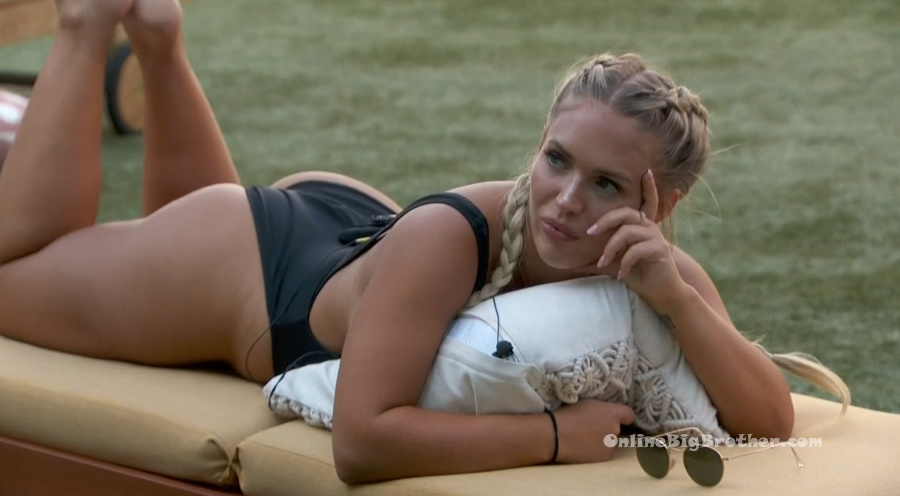 5:35pm Backyard – Big D and Whitney.
Big D – even when I talk to my teammates they're all like Brent and Christian. Whitney – they like Christian? Big D – no out. Like that is why I am surprised your name.. Whitney – I am going to be honest because I love you. And I am all for being honest with friends.. I was told that you considered myself or Derek X as somebody potentially and somebody else out of the queens. Saying that you would put up myself or Derek and then also put up someone from the queens. Big D – I didn't even consider you. I considered Derek but that was a long time ago .. that was a long time ago that conversation. Whitney – that's why I wanted to talk to you about it. I think this person is trying to put ideas in my head because in my head that doesn't make any sense. Big D – I had that conversation week 1. Whitney – I know when he (Derek X) said and did sh*t. I know. Big D – they're going to try and make scenarios to make another target.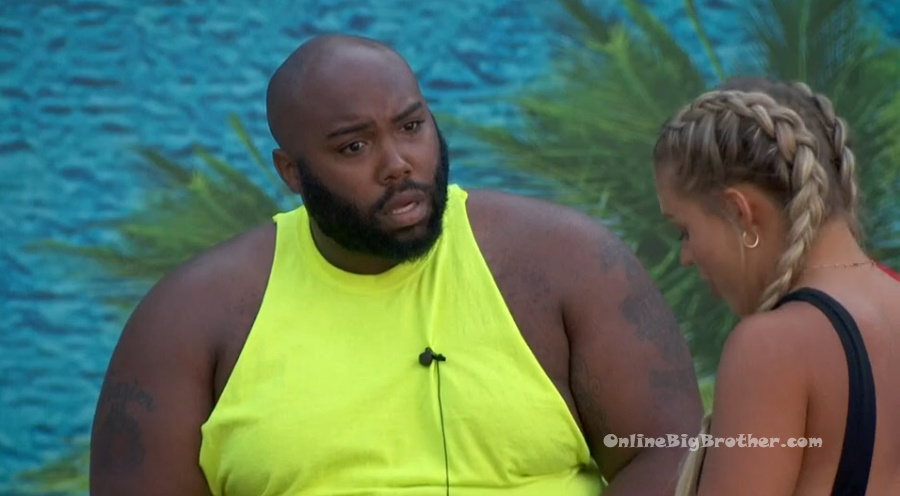 5:50pm Bathroom – Alyssa and Christian.
Alyssa – it makes sense for me to take out Azah because she is not a threat and is not a big teammate of someone else's that are going to come after me. No one is going to be mad about Azah, other than Big D. No one is going to be mad if I take out Azah. Two, I don't want Azah in jury. She is a very emotional player. I would rather take her out before jury. Three, Azah has never talked game with me once. So if the team wants me to be the person to do it, then I think everyone should respect for my personal game its better if I take out Azah first. Then the Queens take the next shot and take out Whitney. And we're still good with the Aces. Does that make sense? Christian – yeah. Alyssa – If I have to be the one to take the shot at someone first out of our alliance then it should be what I want and I think that is fair because no matter what we are taking out someone outside of the alliance. Christian – true. Alyssa – I would still put up Whitney and say that she is the pawn. Christian – do you think she would be cool with that? Alyssa – no, but she's the pawn.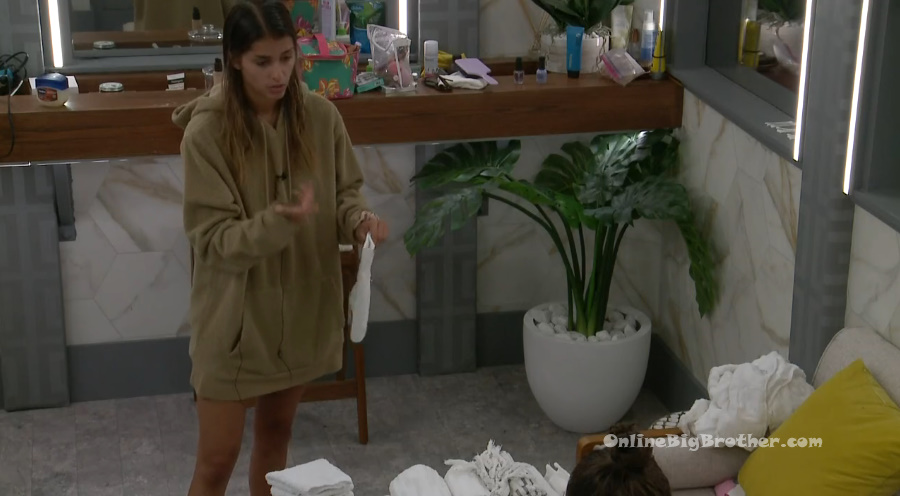 6pm Backyard – Christian and Big D
Big D – a guy has to win or we're f**ked. We're in trouble. I'll tell you that. I haven't heard your name and I've only talked to X and Ky so of course we're not talking about us. A girl has to go up. And here is the thing would you rather keep Alyssa or would you rather keep SB (Sara) it they're going for your team? And you've got to take the feelings or whatever out of it. Christian – I will answer this question and justify it. I think Alyssa is better to stay because SB already won a comp and Alyssa hasn't. SB is seen as the sweet old thing and she is and Alyssa and if I get put up most likely its me and her together and she is a potential shield. Big D – so I need to win that HOH next week .. or you do. Or X or Ky need to. Or Derek X. Christian – I can guarantee if my team wins you're not going up. If anyone on my team wins. Big D – no that wouldn't be smart. Christian – if my team wins you know you're good. If your team wins, I know I'm good. Big D – if Brit wins she is going to be mad at the people that put her up. Christina – so that's X. Big D – I am going to try and stop her from putting him up.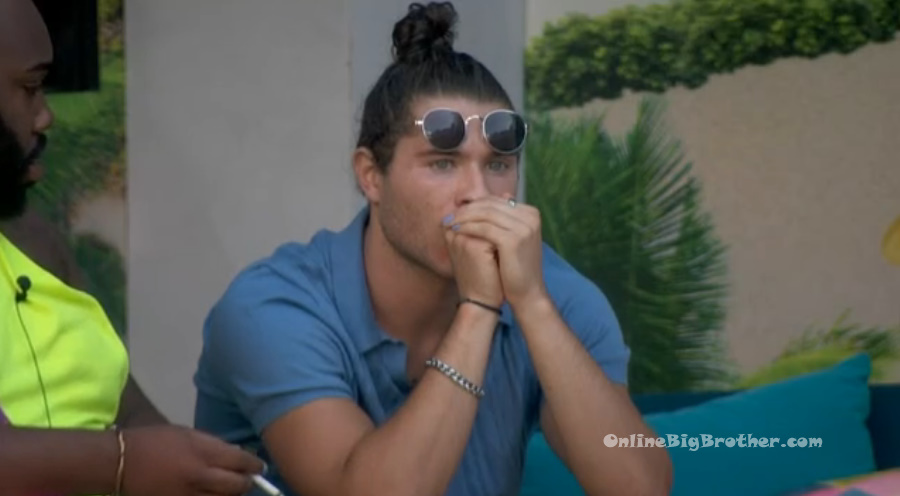 7pm Derek X is going around with the camera asking questions and taking videos.

7:15pm – 7:30pm Bathroom. Xavier, Christian and Alyssa.
Xavier – so did you guys come out to the camera as a showmance? Alyssa – nope, because we're not one. Christian – because we ain't. Xavier – okay?! You're right. Alyssa – it doesn't really F**king matter at this point. Honestly I was really annoyed yesterday. Xavier – what happened yesterday? Alyssa – I was just annoyed about it in general. Christian – if anyone else lays in the hammock its not a big deal. Alyssa – but if I do this on his feet ..its suddenly a showmance. Its just not fair. Xavier – to the extent that I can, I will keep down playing it. Alyssa – everyone still wants to make the jokes. Everyone else can do it but if we make lunch together… oh my god. There is really no point to give a f**k ..we're still going to downplay it but I am not going to worry about it at this point. Alyssa – it makes sense for us to win it because if the queens win it they're going to show that they're working with us because why aren't we up but again who cares, sooner or later people are going to figure it out. I am fine winning it, only if Azah is the target. If we get out Whitney, it starts where I'm the target and people will come after me. Kyland joins them. Alyssa asks do you mind who I put up as long as its not someone in our alliance? Kyland – no.
7:38pm Havenot room. Kyland and Xavier
Xavier – ..Bri, Big D and Azah. Like her logic behind it is very valid. And I am like how do we streer.. Like she doesn't want to take a shot at Whitney because her and Whitney are good. Basically she wants a guy to take a shot at Whitney. Like if she wins she doesn't want to take a shot at Whitney she wants to take a shot at Azah. Kyland – but no one in the house trusts Whitney. Xavier – that's what I .. if we can maybe steer the conversation to get her on board. I don't know what changed but at the beginning of the week people wanted me to put up Brent and Whitney. Kyland – here is what is happening.. Whitney is running to everyone to try to find a life boat. Xavier – Big D said that Whitey said if she won HOH she would target Alyssa. The thing is I don't know how long ago she said that. We need to figure out who she would target. Kyland – 100% Whitney would target the kings. Xavier – so if she is targeting the kings, Alyssa you need to go after Whitney. Kyland – exactly. Brit and Whit are the two leading voices in the house. Xavier – that are things that we need to know because right now Alyssa is hell bent on going after Azah. Kyland – the most imperative thing this week is that an Ace or Joker does not win. As of right now Claire and Derek X are fine with Azah going to jury. As it is right now she should absolutely not trust Whitney. What it comes down to is who is the bigger threat, Azah or Whitney?! The best kept secret in the house is us, the other best kept secret is the flush. No one knows about that. Kyland – Brit said day one that her dream wasn't to be here, it was to do what her grandfather told her and get her masters and be a teacher. She did that. Let her go live her dream. Xavier – I feel that. I think she is getting more and more incentive to come after people. Whit or Brit need to go next.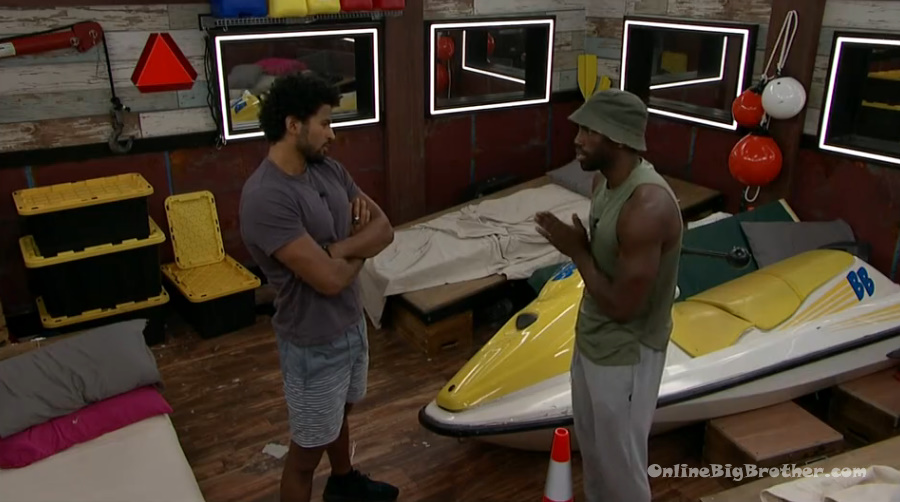 If you like these spoilers and read this blog regularly please consider a donation to keep the madness going. We accept donations via paypal How to support OBB