HOH: Xavier
SAFE: Christian, Alyssa and Sarah Beth
HAVENOTS: Claire, Kyland, Tiffany
WILDCARD Competition Winner: Tiffany
Nominations: Brent & Britini
Power of Veto Players: Xavier, Brit, Brent, DF, Whitney, Christian
Power of Veto: Christian
Power of Veto Ceremony:
Big Brother 23 Houseguest Rankings – – RANK THE HOUSEGUESTS –
View the previous day ranks on the – Ranking Grid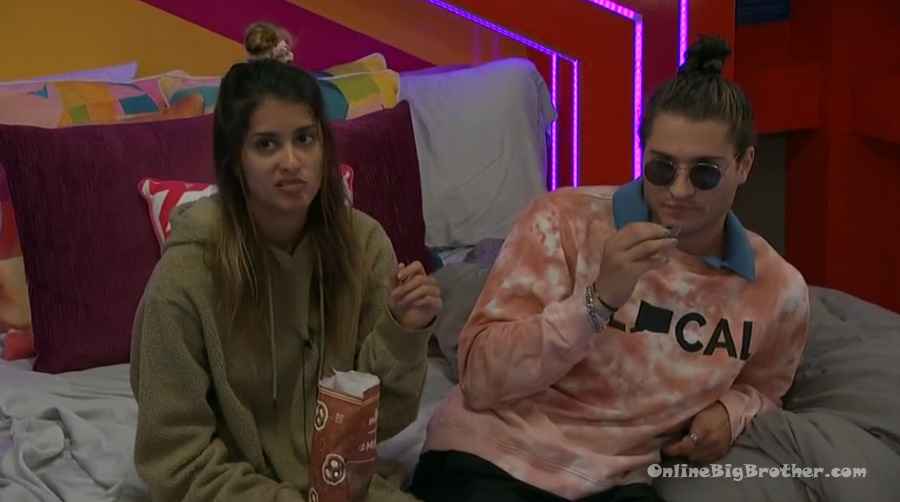 7:52pm HOH room – Sarah, Xavier, Alyssa, Christian
Xavier – I just want to get a general idea of how to proceed with these meetings so we have the jokers up first. And I want to start off that meeting by publicly apologizing to Britini. Christian – you know Derek F is probably going to drop some attitude on you. Xavier – oh yeah. Alyssa – I am going to zip my lid for that one and for the Aces because Brent will be in here. Xavier – I think all of us will zip our lids when Brent is in here. Let him do the talking because he's our leader. Alyssa – I also found out that I do whatever he wants so … Big Brother blocks the feeds. Xavier – I am already planning to talk to all the Aces without Brent. I've already talked to Whit and Hannah. Alyssa – and we are keeping them (noms) the same? Xavier – yes. But technically we can't disclose what we're going to do yet. Alyssa – I just wanted to make sure we were all on the same page? Xavier – yes, its staying the same. Does anyone have an issue with that? Alyssa – no. Xavier – does it benefit anyone to tell them that? Alyssa – I would feel better knowing in her (Brit) position to not feel like there is any hope or paranoia but that is not really our problem. Xavier – I will tell them that we are still considering it until we have met with every team. Then after I will tell Brit one on one that its not being used and I'll just deal with her on that.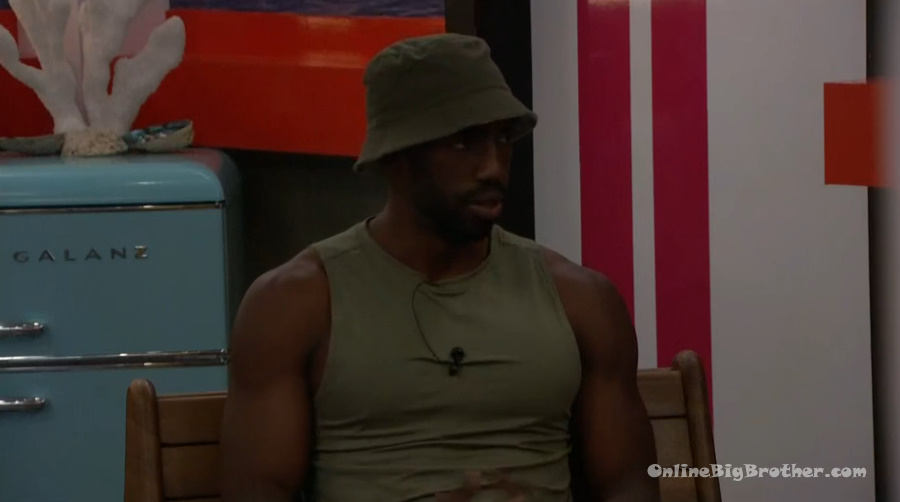 First meeting with the Jokers.
Xavier – first and foremost I wanted to apologize to Britini. I know this week has been miserable. This is not something that I enjoyed doing or that I was happy to do. It was just something that I felt to get the real target out of the house .. it was something that I needed to do. I do want to apologize for any stress or emotional stress that I've caused you this week. I promise you, nothing is going to happen with you. You're not going anywhere. It was to keep the intended target off the scent of what I had planned. I just wanted to say it in front of everyone. Big D – so that is the plan for Brent to go .. if something happens and he doesn't and Brit goes home… expect me to be coming. Xavier – I would expect nothing less. Everyone knows Brit that you're not in any alliance and that your loyalty lies with your team and that's likely it. Everyone knows except for the target (Brent) that you're not the target. It should be a unanimous vote. We will meet with everyone and then decide what we do with the veto. Brit – I wanted to talk to you (X) and you (Christian) because I wanted to talk to you two specifically. Xavier and Christian agree to meet with her after the meetings. Xavier – everyone knows you're not the target I just had to present that so that he would feel safe but he is going to get a rude awakening on eviction night. Christian – he is prepared for a unanimous vote for you to go so when he sees … yeah its going to be insane! The jokers leave.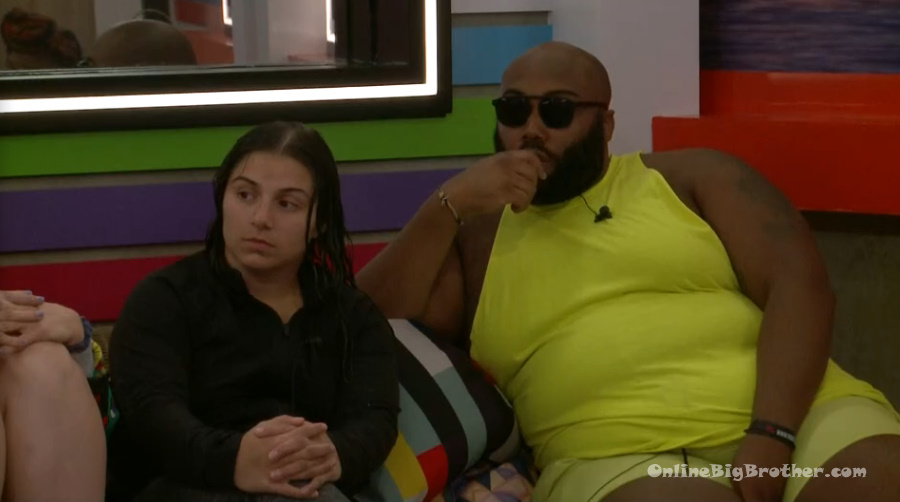 8:10pm Bedroom. Brit, Azah and Big D.
Brit – Why am I even going to go talk to him? Big D – you don't have to if you don't want to. Brit – Oh my god it literally just hit me right now that they're not using it. They literally just said its going to be a 12 – 0 unanimous vote to send him home which means they're not using the veto. He doesn't want to put anyone else up which means I'm staying on the block for the next three days and I have to pack my sh*t. Like F**K! Come ON! Like I am going to tell him straight out the veto isn't getting used. Like what!? Like I didn't just hear that!? No, No, NO! Now I'm HHHHHMMMMMMmmmm.. I am going to be like you just said in the team meeting that you did not decide what is happening with the veto but then one of your teammates said its going to be a 12 – 0 vote. And he is thinking its against me. SO your not using the veto and I am staying up! Is that what you're saying? Even though I don't feel comfortable being up against him, he's had my name in his mouth in the past two weeks and he's said nothing nice about me and will continue to say nothing nice about me for the next three days and the fact that I was used as a pawn. I did my due diligence, why am I still up!?!?! Why can you not put someone else up from his team and just be honest with him about how this week is going to go!! Like why are we trying to hide this outcome? Azah – Girl that's the thing I've been trying to figure out. Brit – I don't get it! That means I'm going to be on the block for the next three days. Big D – I think people are not good dealing with confrontations. Brit – you know what!? Too damn bad!!!! Grow up! If you're 28 years old and you're not good at dealing with confrontation, then you're screwed!! Like I am sorry!! No like!! Damn!! Azah – you hit the nail on the head .. people aren't good with dealing with confrontation. Brit – I don't care if your speech was true or not what I have a problem with .. the issue that I have is that you were able to say my name and all of that in the same sentence … because that has never been said about me in my life. So the fact that was said about me, you were able to put my name with that speech .. that is alarming to me! That is not okay with me!! No one in my life would say those kinds of words about Britini D'Angelo! That is not a thing that gets said about me. Big D – I understand that. So what do you feel would be best if you win HOH? Brit – I'm going for the kings! I don't care, I'm going for them. My nominees are X and Christian. Alyssa is the person going up if one of them come off. Or I go for X and Ky and Christian is my backdoor. I don't care. People joke about being on the block all the time and all I want to tell them is SHUT UP because none of y'all get it! Why is this hide and go seek war! I was your threat! I did my job! What you did was call my character into question and that I am not okay with!! That scares me! I'm like Damn! I am not okay with this! I feel so uncomfortable with being on the block with him. It really feels like my feelings are expendable.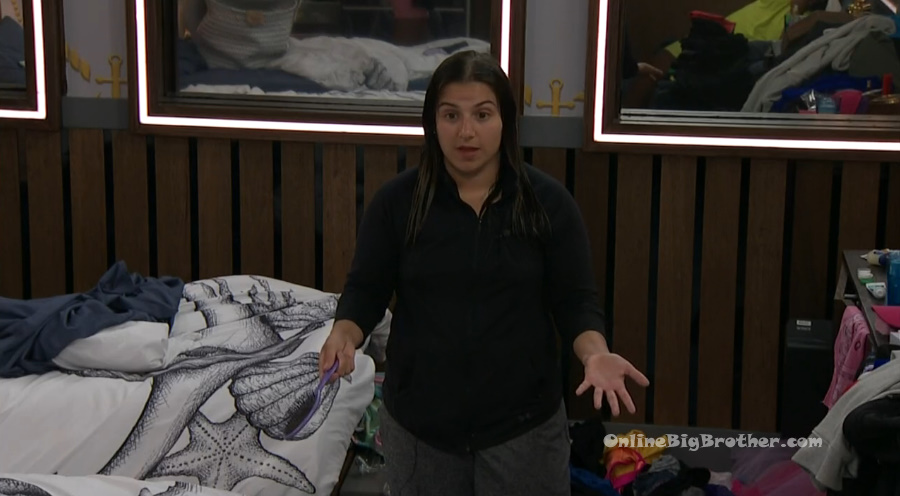 Second meeting with the Aces:
Xavier – I know you guys are probably confused and shocked so I wanted to clarify all that. With the veto competition – obviously Brit was going to choose Brent first so that he couldn't pull himself off. After that I picked Brent for multiple reasons one – you were dying. The sooner you get out the better so you could chill. You already knocked out Brit so you did your part. Two – why would I go for someone I am working with. This keeps people off the scent that we would ever work together. We're still meeting with everyone to decide what to do with the veto. Even if you do stay on the block you're not going anywhere. I hope you feel comfortable with that. Brent – yeah. At the end of the day the Jokers are just going to keep getting picked a part because of Frenchie association. So the radicals still have 8 people and if we just stick to the game plan lets still have 8.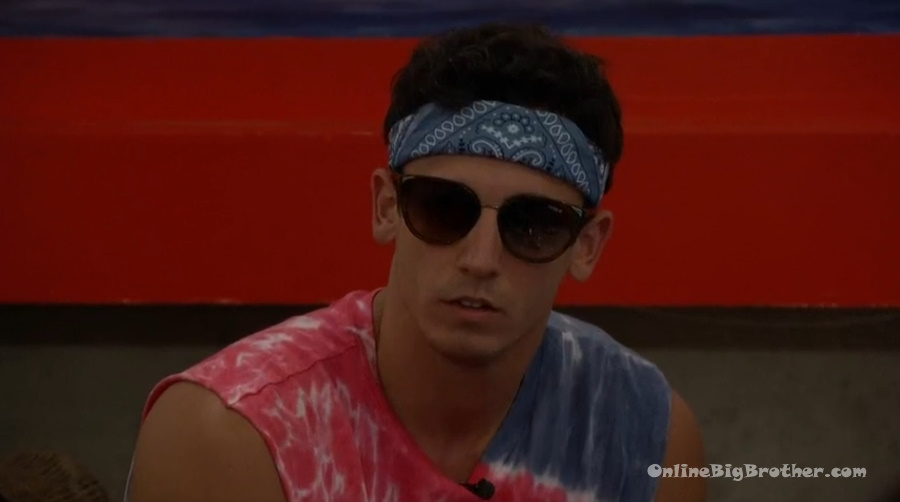 Third meeting with the Queens
Alyssa brings up how annoyed she is with being called out for being in a showmance. No matter what we do, people are going to say it. Tiffany – it doesn't bother me that you guys hang out. Alyssa – its fine. I was just venting. Claire – well should we start calling out a new duo?! Tiffany – like you and Whitney!? Xavier fills them in on the other meetings. We will all keep playing it up until he walks out the door. Everyone can come clean in their goodbye messages. That's what I intend on doing.. like no one likes you! You don't have to be d**ks, I don't plan to be. Alyssa – I think Brent thinks that he was his (X) target ..because he was talking to me and I'm his final two.. he does think he is not an idiot and that X wants him out but regardless he knows he has the numbers so he is playing it off as X made a really stupid move… we're still good with him but X won't be. He is not an idiot.
8:50pm Britini comes back to talk to Christian and Xavier.
Brit – how did the meetings go? Xavier – they were good .. they were meetings. With everyone but the Aces I was able to publicly say that we all know that Brent is the target. Everyone is still on the same page and that you're not the target. You being up this week was not to damage your game in any capacity. Brit – I appreciate that.. the first thing that I wanted to talk to you about was the speech because obviously I was made aware of the plan ahead of time .. but I never expected the speech to go the way it did. Only because that has never been said about me in my life and on the block you only have so much to go off of. Its just that fact that it was said in the first place. Starting off the week, that is why you saw me in tears. I knew I was going up but I never expected that to be the speech. And obviously I know that the house knows that its false. Big Brother blocks the feeds. Brit – I've been thinking about your situation about using it or not using it.. I understand both sides. Its just the whole thing is ..it makes it harder when the person you're sitting on the block with for two weeks has been trashing your name. It makes it harder and I know he has no problem saying anything about my name. That to me is the main fear of.. Xavier – he is not going to get to anybody. Brit – I don't know if there is a possibility of it getting used or if your plan is to have me stay up there the rest of the week. I would definitely like it if I could get a heads up on what is happening. I see both sides with not wanting to get more blood on your hands. I see you keeping me there if everyone already knows I'm safe and there is no target on my back .. I see you keeping me there. I also see that there are 8 people that haven't touched (the block) and it would only be 3 days and if you wanted me to avoid having to pack my bags again that would be cool. I am telling you all this because I trust you. Xavier – right now we haven't been persuaded to use the veto. So right now it won't be used. It wouldn't benefit me or my team for it to be used. Also next week if you were to win, and you were going to come at my team, it should be me that you come after. Brit – To be honest I haven't thought that far ahead.

10pm
Nomancing Shomance…
We're NOT a #BB23 showmance @bigbspoilers pic.twitter.com/FE289NgJMr

— Dawg (@DawgsBigBrother) July 26, 2021
10:15pm – 10:40pm The house guests are in the living room playing improv..
@bigbspoilers #BB23 pic.twitter.com/eP3d6plcqI

— Dawg (@DawgsBigBrother) July 26, 2021
10:47pm Tiffany – you should cuddle with me because no one cuddles with me. Brent – I can't cuddle with no one, it'll put a target on my back.. because I already have a huge target on my back. Tiffany – every time I try to cuddle with someone you tell me no. F**k that. We're f**king cuddling! I don't f**king care! This is my first cuddle! Its day 19!

11:15pm Hammock – Alyssa and Christian.
Alyssa – that was the most awkward DR I've ever had in my entire life. (About them kissing) Christian – really!? Alyssa – yeah. Christian – what is going on? Alyssa – well you know what it was about. The veto encounter. Did he talk to you about that? It was so awkward. Christian – that's what I talked about a day ago, two days ago. Did he try to make you say anything? Alyssa – no, he would ask me how it was. Christian – the experience overall. Alyssa – how you were. You better not have been saying something bad. Christian – I said all good stuff. Alyssa – yours was technically bad. Christian – not on you on me. Alyssa – why are they just asking me that. They make you look good and me look bad. Christian – I enjoyed it. I don't think they asked me if it was good though. Alyssa – it was so awkward. He said the situation in the HOH room. What do you want to tell me? You know!? It was so awkward. Christian – did he ask you about the extra incentive to win? Alyssa – He was like did you congratulate him and I was like yeah we played an extra game of got it under the covers and then our dad caught us.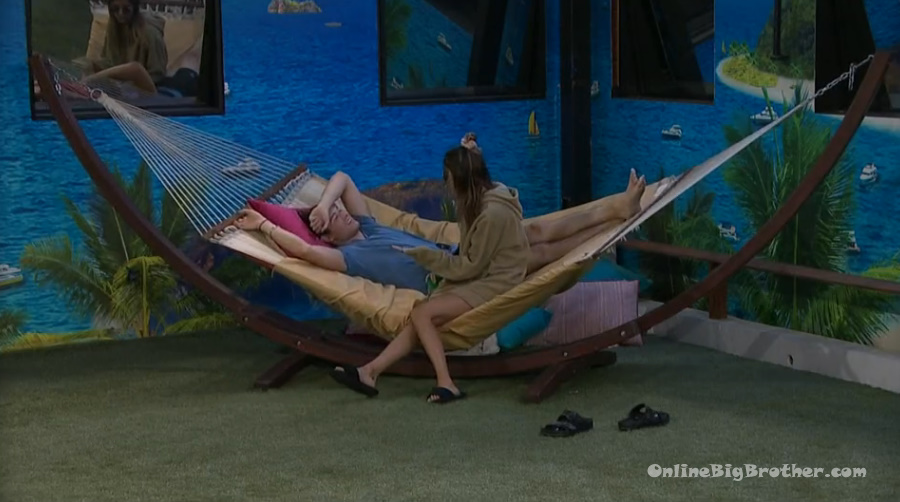 12am Hammock – Brit, Alyssa and Christian.
Christian – that's crazy, he (Brent) is really going to think its unanimous for you to go. Alyssa – Yo he is going to be f**king pissed! Like the fact that his team too. Christian – he is going to hear 11 – 0 and think its you. Alyssa and Christian tell her she is doing great. Alyssa – Azah is more upset than you. Christian – I'd be freaking out. You're doing great.
12:15am Whitney Pranks..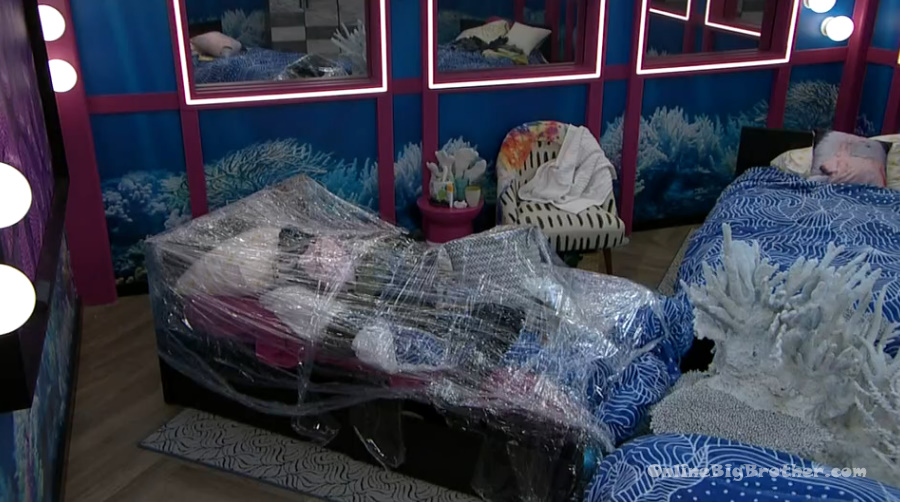 12:15am Brent talking to the cameras. Brent – hopefully it works. I'm in the mafia. That is Kyland's team and my team. I don't wan't Xavier to use that veto because I know he's going to use it. Take Brit down, put up Derek X. Make them choose.
I am going to have Kyland's team go up there and try to betray me.
Telling them to keep the nominations the same. And they're going to go up there and say that they're going to vote me out. But we'll actually have the numbers and the vote because the Mafia will win the vote and I will stay. Keeping the noms the same and keeping the alliance strong. Once that happens X can no longer compete for the next HOH. We have the numbers to win, we have the numbers to take out anyone else in the competition. Then we put up Christian and Xavier and we control the house. Make them pick and get out one of them. Then we control the house. I cannot allow them to use that veto because it will screw up everything so I need Kyland to really pull through and make them believe that they can vote me out if they keep the noms the same. Fingers crossed, stay tuned.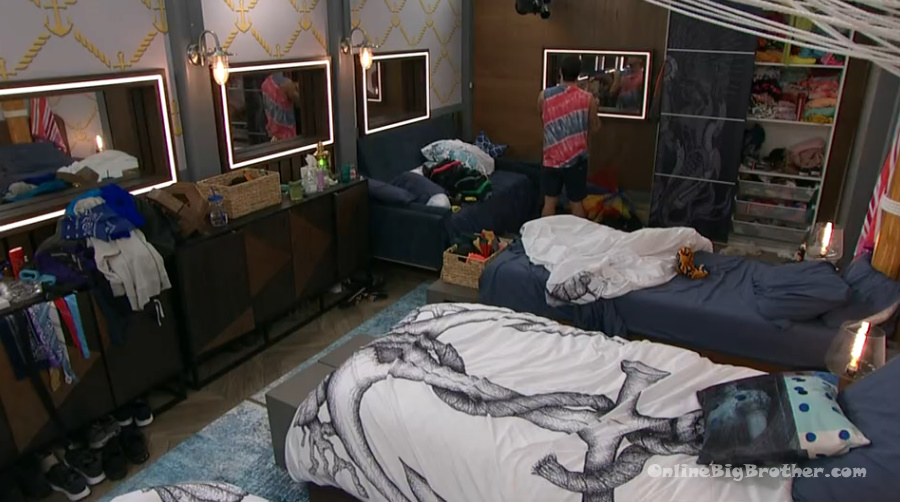 12:30am Hammock – Hannah and Brent.
They're talking about scenarios for next week. Brent tells Hannah his plan. This will tell me if Alysssa is really with me. And if she doesn't that would tell me that she really isn't with me because she is getting super super close to Christian. I would not really be shocked. Then I can use her thinking I don't know, gain her trust and then just betray her. I am tried of having so many sure things and then people just trying to go on their own and make a move that makes no sense. Hannah – that is the game. Brent – its such a stupid f**king move because we had the numbers and now its working in X's favor. Brent – yeah, its just annoying that I'm always the target.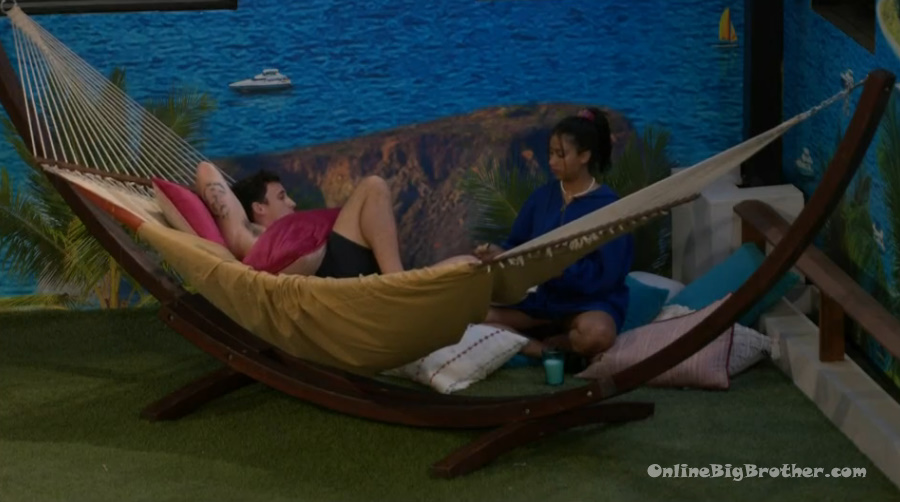 12:55am Alyssa and Sarah talk about how Whitney is wanting a showmance with Xavier. Xavier – she is very attractive. I didn't want to get into anything romantic while I was in here. Alyssa – why not in here. Xavier – it seems dangerous. Getting in a showmance sets you up for heartbreak.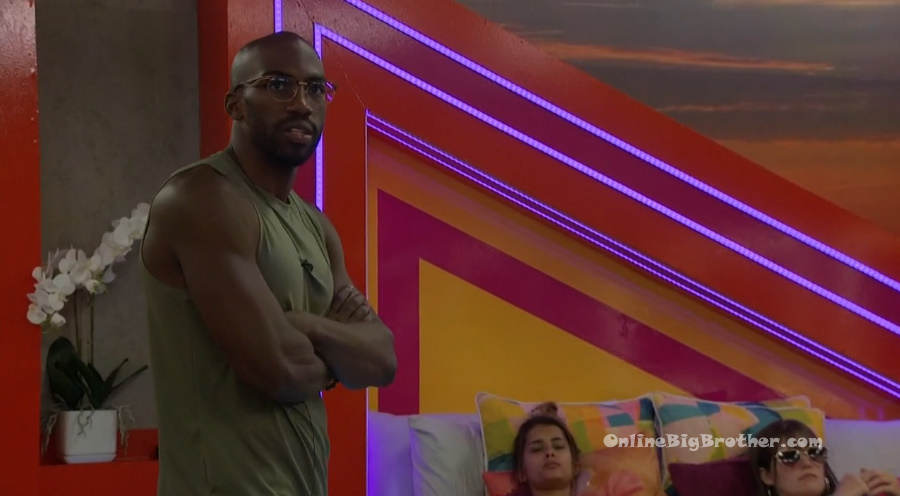 If you like these spoilers and read this blog regularly please consider a donation to keep the madness going. We accept donations via paypal How to support OBB