HOH: Kyland
Nominations: Hannah and Tiffany
Power of Veto: Kyland
Power of Veto Ceremony: Kyland did not use the veto.
Big Brother 23 Houseguest Rankings – – RANK THE HOUSEGUESTS –
View the previous day ranks on the – Ranking Grid
Big Brother Spoilers – Tiffany most likely being evicted.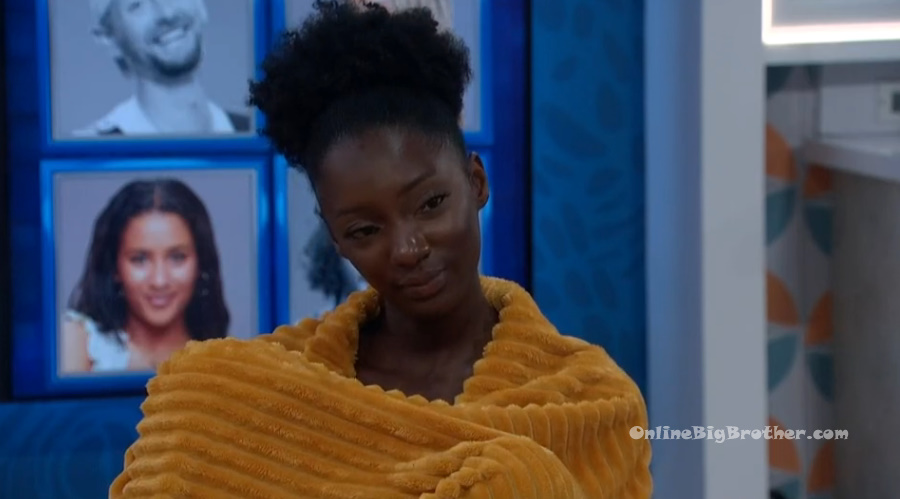 7pm The house guests are eating dinner and chatting about BBCAN. Xavier tells them about how this season was the first season BBCAN crowned a black winner. Ky – NO WAY?! WHOA! Big D – this year was the time I heard of BB Canada.
7:25pm Bedroom – Xavier and Azah head to the bedroom and lay in bed chatting about random things. Big D joins them with the BB camera. He rips the covers off them AHHHHHhhhhaaa! He talks about wanting to ask them super hero questions to go along with this weeks BB Comic theme.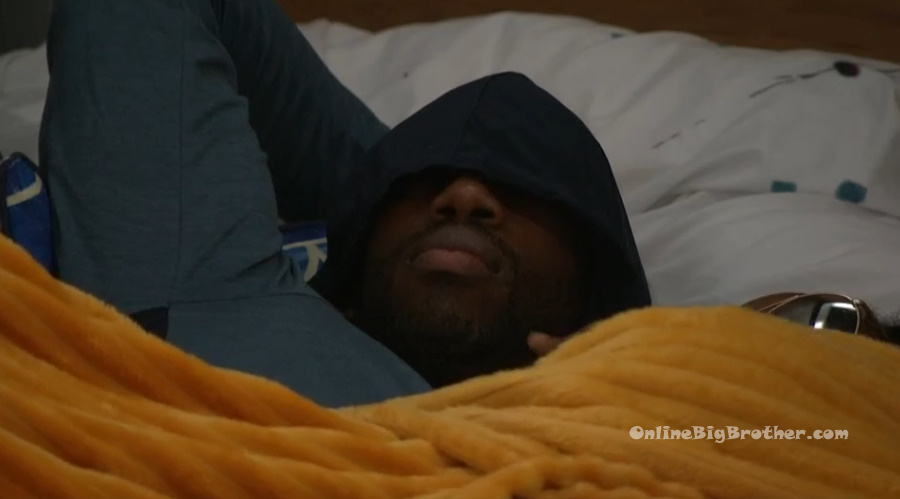 7:30pm Kitchen – Kyland and Tiffany.
Tiffany – Azah and Chaddha will never work together. Azah doesn't trust Chaddha. One thing that I have to let him (X) know is that Azah will never work with Chaddha the way that she will work with me. Azah doesn't trust Chaddha.. so even if he has Azah You would have Chaddha and DerekF. He would only have Azah. Keeping me assures him that he would have somebody that would vote the way he wants me to vote. Keeping me would make sure you have somebody on your side. He said I am glad you talked to me. Ky – I think also ….I think either way if he.. doesn't .. if he isn't able to .. win at four then he is his most vulnerable moment. Tiff – I said if you keep me and you want to play at four, I can play at five. I play at five and I take him out or we take out whoever you want but at least you get to play at four. I told him, I am obviously his (Ky) target.. if I stay I am still his target and if he doesn't want me here he is still mine. If I leave you're the next target. So if he gets Derek to win the next HOH, they're going to come for you. Why does Derek think he could beat X in the final 2? Ky – he says he thinks people will see it like him and X played the same game. Tiff and Ky laugh. Ky – I was like yeah!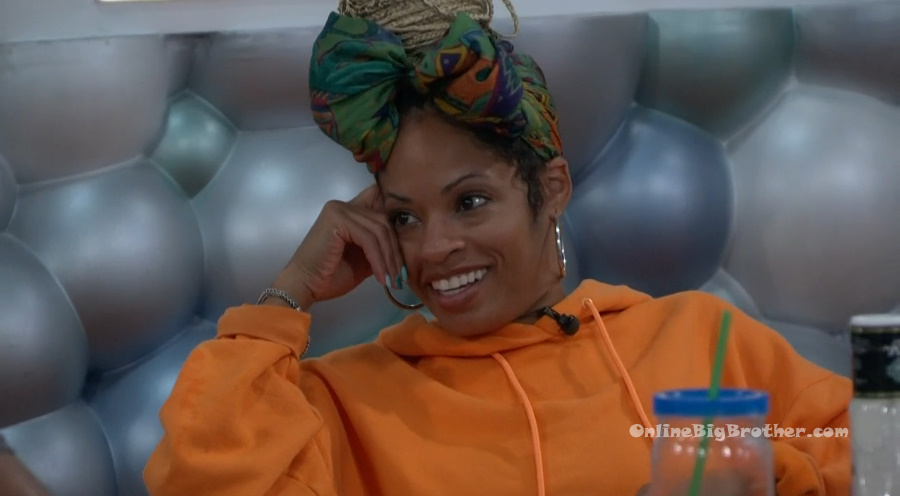 7:37pm Bathroom. Big D and Hannah.
Big D asks Hannah what super hero power she would want? Hannah – teleportation. Big D – Now that you have made it to the final six, how do you feel and do you think you have accomplished any of the goals that you set coming into this house. Hannah – of course I want to make it to final five … that is my immediate goal. The one goal that I wanted to accomplish coming into this house was to ensure that a Black person wins this season. And together with the cookout all of us have done our part and because of the hand that each of us has had ..all six of us have been able to get to the end and we know for a fact that a black person will win this season. So as far as I am concerned all of my huge goals have been accomplished. I would love to win just because I love this game so much and I respect the game a lot but even if I don't win, even if I don't make final two. I still consider myself a winner because of what myself and what the rest of the cookout have been able to accomplish. Big D – Amen!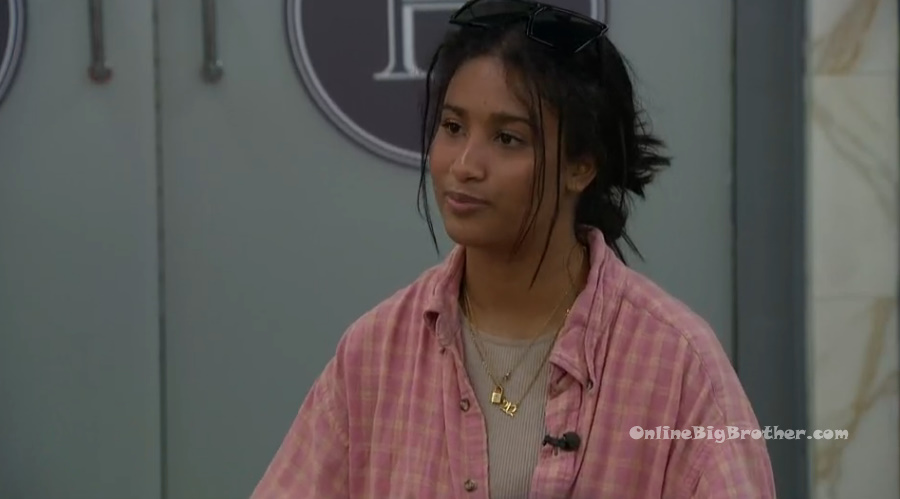 8:20pm – 8:40pm HOH room – Hannah and Kyland talk about the votes while looking at the memory wall. They start digging into all the info Xavier has told them to try to poke holes in his lies about his profession.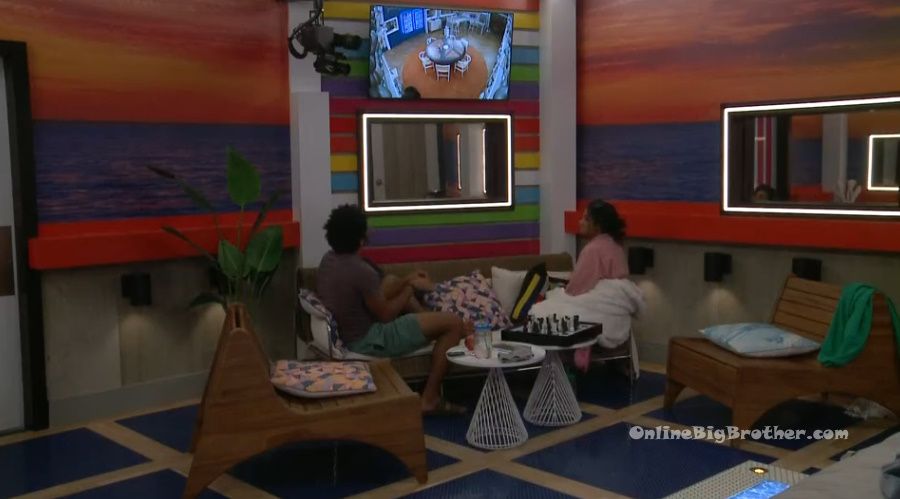 8pm – 8:40pm Big D is still going around asking the house guests questions.
8:55pm Big D, Xavier and Azah re-watch the videos on the camera.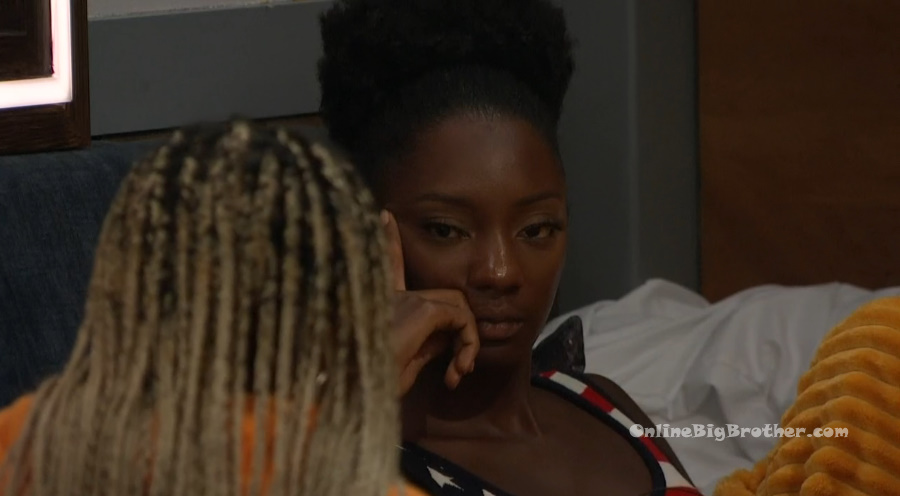 9:15pm – 9:45pm Bedroom – Tiffany and Azah.
Tiff – it is really hard to campaign against Chaddha but I don't want to say anything negative against her but I do want Hannah to know that we're at the point in the game where nobody owes anybody anything. We all got here together. Nobody has had to save anybody. Nobody has had to do any favours for anybody yet. Nobody is like I owe this to you because you did this for me. I think the person that he has the most on his side is you. I don't think anyone other than you have that kind of respect for him as you do. I think Chaddha likes and respects him but Chaddha really wants to win. She has told us from the beginning she is not playing an emotional game. I don't think she will hesitate to pull whoever she can beat at the end. I don't think its about loyalty / trust / relationships for her. I think its about winning. She is the one that told me that X is the threat and should go. I know she has something with Ky. If Ky feels safe enough for me to go and to keep her here. If I stay I would owe you. Who do you want to work with? If I stay Ky will always come for me. If I go that will be X.. if its not you. I think Derek feels I would target him .. which I am not.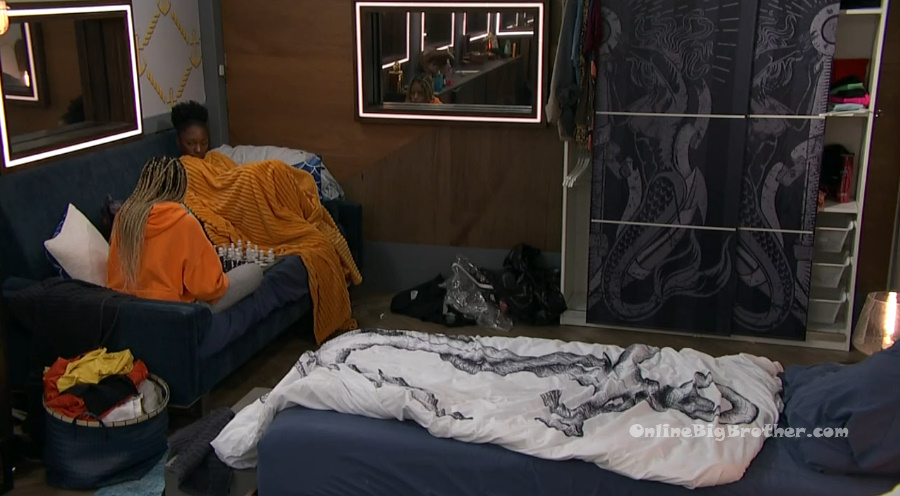 10:45pm Kitchen – Hannah, Big D, Azah, Xavier and Ky are sitting around chatting and laughing about past events of the season.
11:08pm Bedroom – Hannah and Tiffany.
Hannah – I think its going to be the seesaw one (comp). X holds his cards so close. No one knows what he is thinking. Ky was like X probably won't want to come after me because ..out of the two of us meaning me and him .. I would be more likely to keep him safe at final four. But he is probably assuming between me, Azah and Big D he is assuming he would win.. so I don't think he is too worried about you. X can win that last veto. That's what Ky doesn't seem to understand that he doesn't need you Ky. I feel like X's ideal final three is X, me and Big D. Ky's ideal final three is probably X, me and him.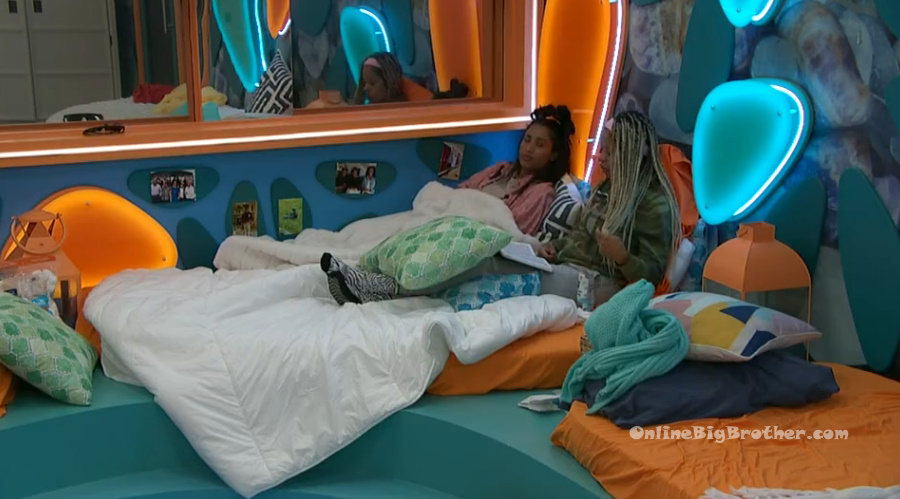 11:50pm – 12:35am HOH room. Ky and Big D.
Big D talks with Ky about telling Tiffany that he will be voting her out. Ky – I would rather just tell Tiff so that she can just enjoy her week. I will try to tell her tomorrow by like noon. Big D – Aazh can't win this HOH. It has to be Xaiver or me. Ky – and then one of us three have to win the veto. Big D – and then keep things the same. Ky – if the veto is used then one of us has to go up because there's only five people. Big D – but we're still safe no matter what. Kyland and Big D start studying the days / events of the season.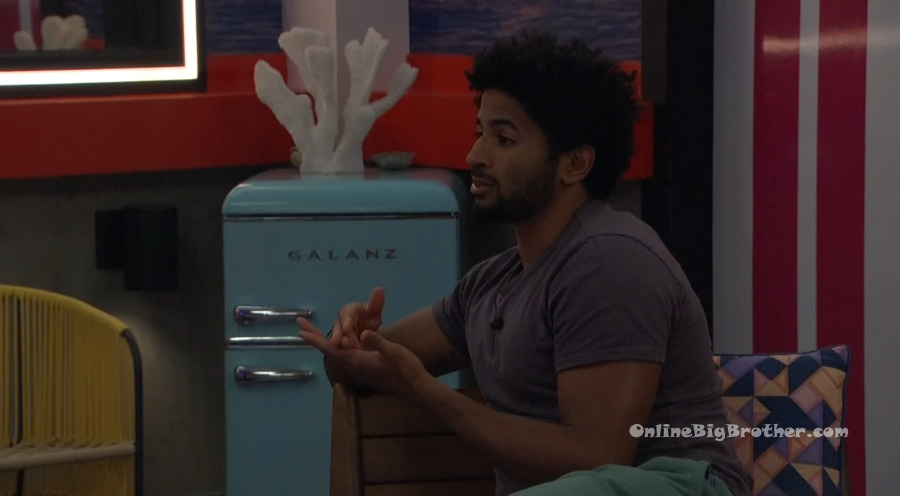 12:22am – 12:30am Hannah talking to the camera and using the chess board – Hi America, I am just trying to what I am going to do if I win next week. What my desired outcome is? How to best get there? And I don't want to have to go back on any deals this week to ensure my safety and so I need to figure out how to best protect myself with these deals if I find myself in a position next week. And how I can work these deals in the event that I do become HOH I don't have to break any promises. I can still honour those deals while still targeting someone. I am just going through different final 4, final 3's. My ideal final 3 would be Azah and Kyland. Kyland would bring me. Azah would bring me because I don't think she respects the way Kyland has played this game. I kind of figure that Big D doesn't want to take me far in this game. X has never had to show his cards. That is the most dangerous player. If I win next week I want him to at least have to show his cards. I think I have a good chance at winning against anyone other than X. Azah joins her and they both go to sleep.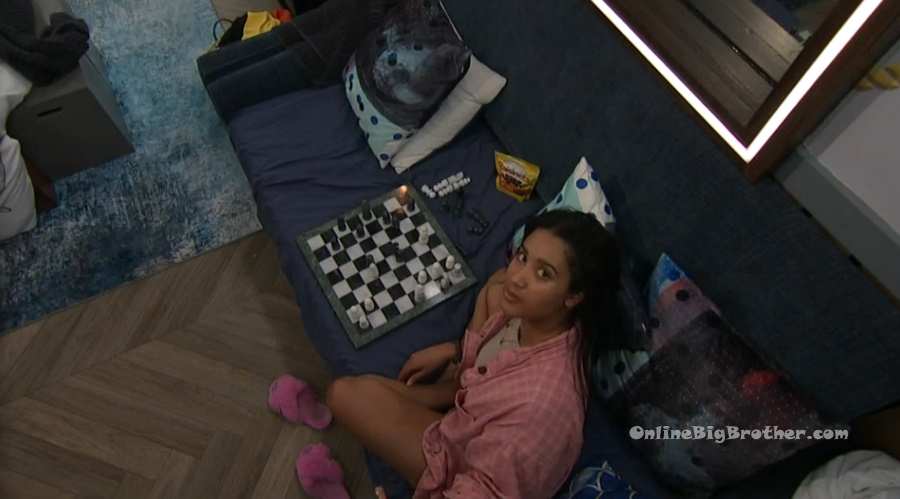 12:40am Tiffany, Azah and Hannah are all sleeping.
12:43am – 1am HOH room. Xavier and Kyland.
Xavier – we're playing this game and its fun, we're so close. Ky – I know I just want to f**king win this thing… and this veto. I was just telling him we have to put the girls (Azah & Hannah) up because if we don't win this veto it could force two of us up. God it is so close. Xavier – then its you and I versus Big D.. which no disrespect to him.. I love him.. but either one of us wins. Ky – its there .. its in the chairs. Xavier – and truthfully at final 3 I know he is not going to be bitter when one of us cuts him. Ky – I agree. He is going to get more than AFP (America's Favourite Player). Xavier – he is definitely getting AFP. Ky – but even if he doesn't he is getting more than AFP. Xavier – facts. Ky – of 5 short. Xavier – we just have to win. Ky – we were just going over days. Ky talks about how Big D, Azah and he are going telling Tiff they are voting her out. They start studying the days / events of the season. Xavier then heads to bed.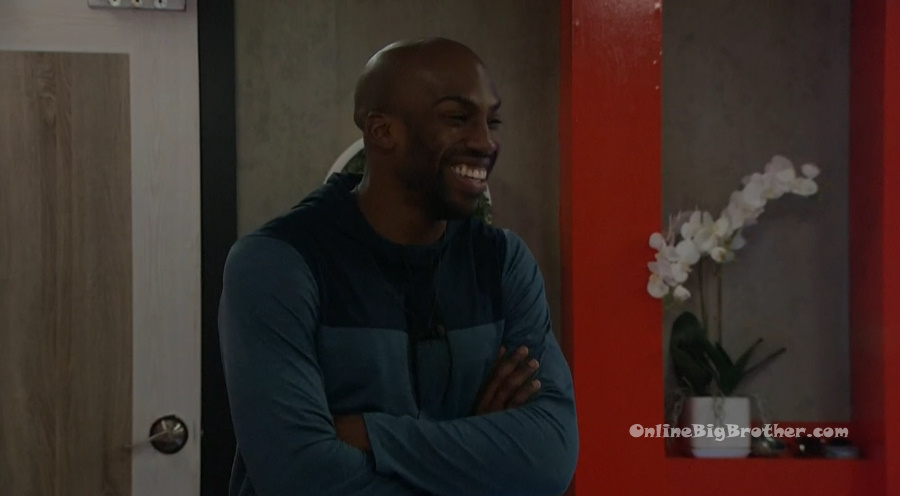 1am Azah is now up again and studying with food in the sea bedroom. Xavier joins her and they go through scenarios together. Azah – are you dead set on Tiffany leaving this week? Xavier – yes. She gave me a pitch and I am considering it but I am leaning towards keeping Chaddha. Azah and Xavier head to bed.
1:16am HOH room. Big D and Kyland studying the days / events of the season.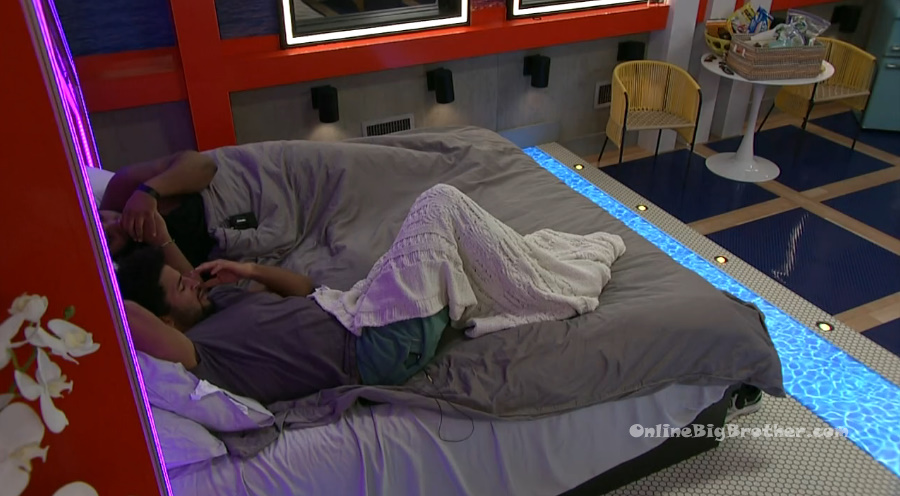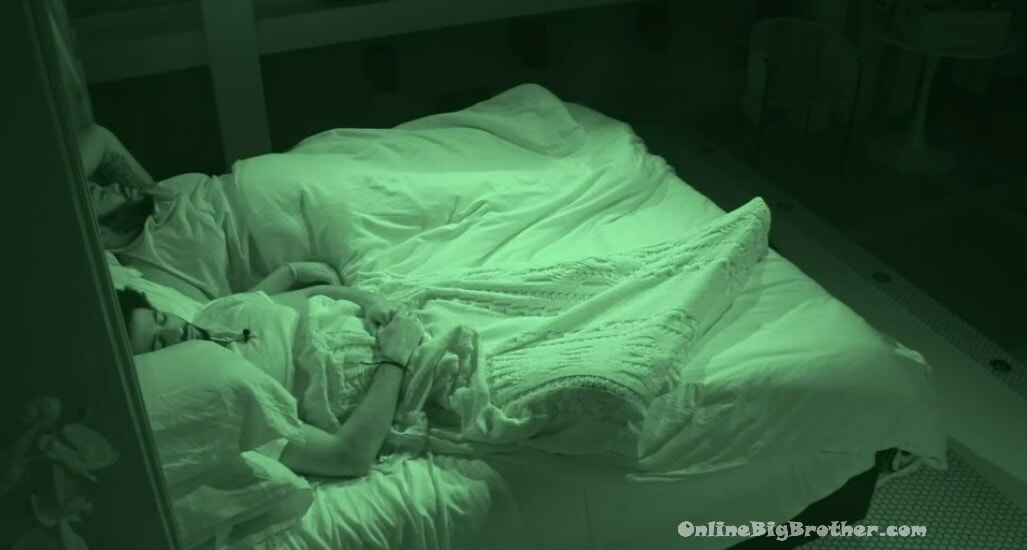 2:30 am Zzzzzz
Show your support :) Without your support this site and these spoilers wouldn't be possible.
Please consider a donation to keep the madness going.