HOH: Kyland
Nominations: Hannah and Tiffany
Power of Veto: Kyland
Power of Veto Ceremony: Kyland did not use the veto.
Big Brother 23 Houseguest Rankings – – RANK THE HOUSEGUESTS –
View the previous day ranks on the – Ranking Grid
Big Brother Spoilers – Tiffany and Hannah got their suitcases today and proceeded to campaign to everyone. From what I am seeing this afternoon the campaigning didn't change the votes with Derek and Xavier. Tiffany will be evicted.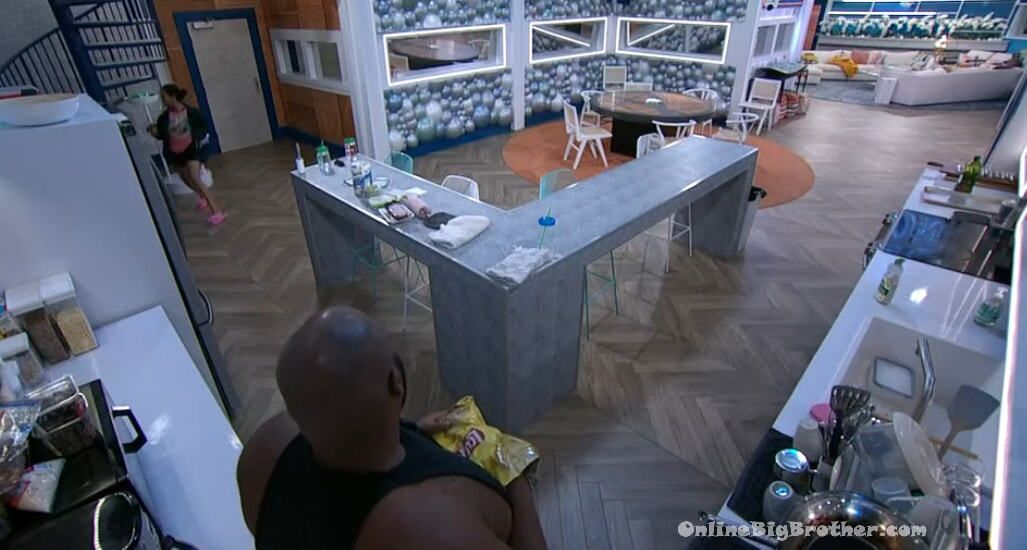 1:20 pm Hannah and DF
DF – I have to make up my mind and try to figure out things.. Figure out what is the best scenario
DF – it's not this week I'm thinking about its next week.
Hannah – I think we are all stressed and pressed about next week. In the event, I stay. I'm in the same boat as you
DF – of course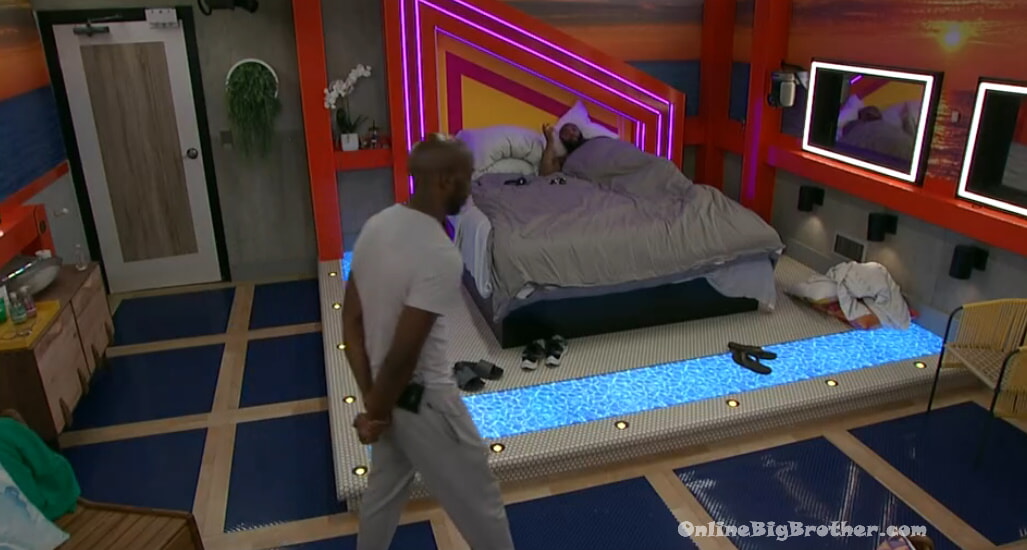 2:35 pm Derek and Xavier (pacing)
DF – this is what I told Hannah .. In Hannah's conversation, I let her know that once again you boys are definitely going to go at it because of that whole thing.. how y'all talk to each other.
DF – Hannah also let me know me sitting next to you, You win. Me sitting next to Ky, Ky wins. She said she's not coming after me and Azah next week. She doesn't know where your heads at. Ky didn't take any of the deals she offered her.
DF – Umm…. She's got a lot of respect for this game. She knows that umm.. she feels as though it's best for her to be here.
DF – I told her the goal for me was to make sure the boys go at it.. If the boys go at it I sit there and look pretty. I did tell her I'm leaning towards her for staying. X, Y, Z that was my conversations with her. I told Ky, I'm telling you so you all know.
DF – Tiff just came to talk to me.. TIFF once again saying she is the target. Her staying would be better. She would owe me, she wouldn't come after me.
X – did she give you an offer if you kept her she would give you her life in this game?
DF – YES YES. Also, she doesn't understand why we would take Hannah cause Hannah is a mental threat she's not a mental threat. She said 40 minutes 9In the bbcomics)
DF – I also told her you beat Hannah in NFT's you also beat Ky bb bambinos
DF – I told her I'm leaning more towards Hannah, I haven't talked to X. I don't know where Azah is.
DF – these two are trying to mind f** me badly
X – Tiffany and Hannah?
DF – mmmhmmm.. my thing is this at the end of the day I'm trying to make sure all three of us get to the end.
DF – Azah this morning.. she wore me out this morning. She comes up here.. Number 1 I feel like you are ignoring me.
DF Azah I have made a deal with X and a deal with KY I have not made a deal with you and Hannah.
DF says Azah is worried if she is on the block then Ky will take down Hannah if he wins veto. Which he will not do.. She doesn't know about us three. So she flipped out about that this morning
DF – She is telling me the only thing I have on my resume is I played an honest game this whole time.
X – you've never been nominated.
DF – She's played an honest game and never been nominated.. OKAY. If we're supposed to play this game fair how am I supposed to sit here and say… sitting next to her and at the end she played an honest game I did all the.. which is me, you and KY. we did all the manipulating and lying and JuJU to get here.
DF – led on people .. told them no to their face which allowed her to be the person to say No I'm not voting for you or this and that.
DF – I made sure she didn't get herself in a situation where she had to lie because she's not good at lying.
Df wonders if Azah would have made it in the game without it. "they could have put you on the block next to one of us if I didn't do what I was supposed to do"
DF – there is no week I didn't have a part in.
X says if they all played the same game as Azah they would have all been taken out except for him and Ky. 'Because we can compete.. we would be on the block every single f**Ing week.. that is the only reason why Ky and I would be here.. maybe Tiff.. one of us would compete and win"
DF – the girls are playing a game.. they are trying their best. This is what Hannah told me.. "I don't mind sitting next to you at the end because I know sitting next to you I have a fighting chance"
DF – now did she give you something different?
X – Different, her and Tiffany are giving me the same angle..
DF – she said to Ky if she sits with him in the end they would have it split down the middle.
X – they are tailoring it based on what they think of each of us.. They are making similar arguments.
X – I said Tiffany winning that Second HOH cost her 750000 dollars.
DF – Tiff.. ugh.. She.. Tiff going for.. if we kept Tiff..
X – NO
DF – I would know for a fact that two of us are ending up on the block.
DF – Azah explained to me .. I don't know why we aren't getting rid of Hannah because Hannah is the threat.
DF – This is what I'm thinking in my head. Azah if I keep Tiff then you and Tiff are going to work together. I then have to worry about you and Tiff.
X – FACTS
DF – When I need you to focus on over here. Tiff will put me and X on the block.
X – Tiff is presenting something along the lines of me, Tiff, and Azah.
DF scoffs. "She is working it.. she just came up here and said Me, Ky, Azah, and you"
DF – Tiff has never wanted to work with me what would I benefit her for.
X – Tiff is under the impression that Ky had Hannah more than I do.
X – If Hannah were to win she's looking at Azah and potentially Ky. I think one thing that is clear with all these discussions is Azah and Hannah are at odds. Which means if either of them wins HOH they will look at the other person first.
DF – that is what we need.
DF – Tiff told me to my face I don't think you should keep Hannah. Hannah and Azah will never work together. Little does she know that is good for my game cause I don't want them working together.
DF – if the goal is to take out all the girls why do we want them working together?
X – From the conversations I've had with the both of them, it's solidified me that Tiffany is going. I never really wavered from that.
X says he had a conversation with Hannah and he's thinking she will be looking more at Ky than the two of them.
DF – it's you me vs Hannah and Azah next week. If Azah wins Cool. Mentally I know X you can beat her.
X says if Hannah wins the HOH they get her to put up Ky and Azah. "we know where we vote. So she's not even in a position to split a tie"
DF – mmmhmmm
X – We don't see the block. If Ky wins Veto one of us goes up. Azah goes home. The worst-case scenario is Azah wins the veto.
DF says he's got things to say if he's in the final 2 with X or Ky and maybe Hannah. "I love her but you're female and I feel like the females are going to go more towards you"
X – you have to stop with that.
DF – sorry, how do I say that
X – say based on her relationships in the jury she will get more votes than you.
X says him saying that the girls will vote for girls in the jury "demeans" that women can think on their own.
DF – that's not the case I just think it's GIRL POWER
X goes to explain why DF saying the girls will vote for girls is problematic.
DF – I don't want it to come off like you said belittling.. thank you for telling me that I don't want it to come off like that.
DF adds he would feel the same if there were a lot of gay men in the house.
X – I hear what you are saying the same reason for the cookout exists.. we want a black winner.
DF – ok I'll avoid that.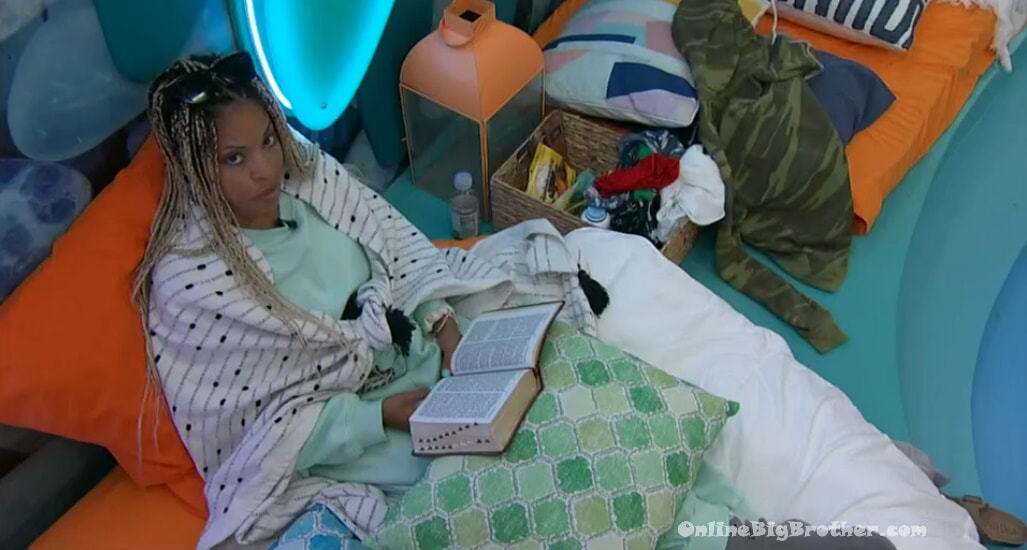 2:53 pm Tiffany to the camera
X has a great potential to win this game. I'm not mad at it at all. I never wanted X to leave based on emotion or anything personal. I just think that X is a HELL of a competitor. IF he keeps me in this game I will like to go to the end with him. Earlier this week I was hoping I could get Kyland to keep me. Kyland nominated me. Kyland did not use the veto on me, He did not accept the offer I don't owe him anything. He might be trying to get BIGD to vote for me but as much influence as he's supposed to have his influence is not great enough.
If I get the votes myself to stay here I don't owe Kyland anything I think I will still be Kyland's target. He thought initially everyone would be OK with me going. You put an animal against a wall. Back them up against a corner they will come off fighting. I am not different I just fight differently. I fight with my words. that's why I read so much. I'm too small, too old, and too wise to fight with my body. I'll fight in competitions I have to convince people that I am easy to work with and I'm better to work with.

3:28 pm Derek and Xavier
Tiffany was in with them chit-chatting about games they will play tonight after she leaves.
X – I'm about to vote your a$$ out I don't care anymore..
DF – this f***ing actress.. I'm too comfortable right now..
X – I feel better with Hannah than I did before that is why I'm not worried about Hannah. I'm keeping Hannah
DF – I'm keeping her X I'm just worried Hannah is playing us
X – she may be
DF – She might be playing us because she knows she's got no one else dog.
X – it's good she feels like she has at least one of us.. If Ky sees the block and the nominations stay the same we have the votes. We can make it where she can't even break a tie.. you see what I'm saying?
DF – I'm just hoping these nominations and HOH comp is tomorrow.
DF – Oh my god Azah came up here this morning.. Is X okay he was really really horny.
X – No I'm not okay
DF – I'm like he's going through it.. she's like interesting I was just taking it all in
X – what the f** does that mean
DF – I dunno she won't let me that far BRO
X – I'm trying to figure out how to get people out of this f***ing house and I'm sexually frustrated.
X leaves to find out what the plan for games is.. comes back "BIGD at 3:45 we're playing cops and robbers"
They talk about whether the eviction is tomorrow. Nothing official but they speculate because the suitcases have arrived for the nominees.
X – if we were are doing a surprise eviction would they tell us?
DF – no
X – they did say out of fairness because other people have been able to keep their suitcases that it was only fair that Tiffany had hers.. Hannah has had her since week 4.
DF – they wouldn't tell us about a surprise eviction you know why? THE WORD SURPRISE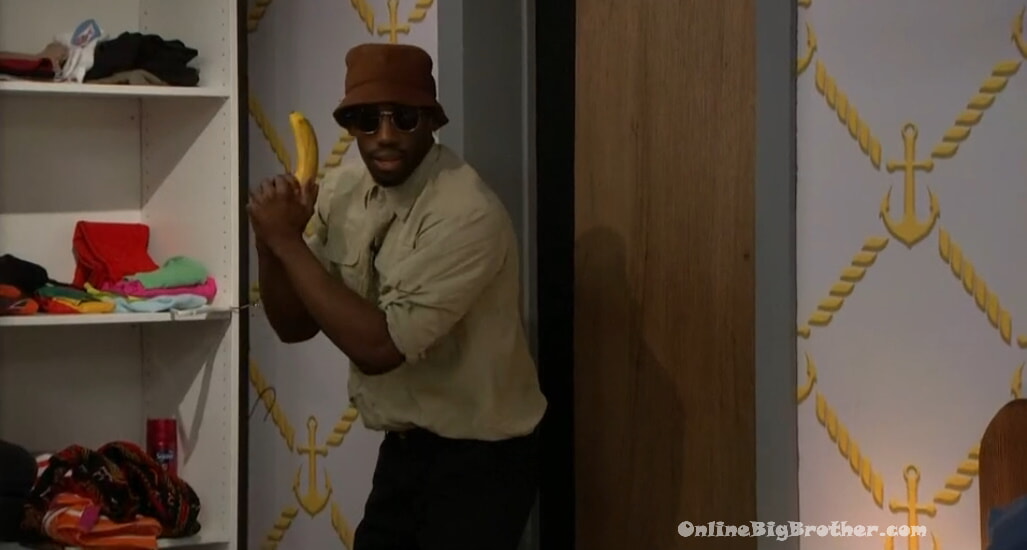 4:08 pm – 4:45 pm Cops and robbers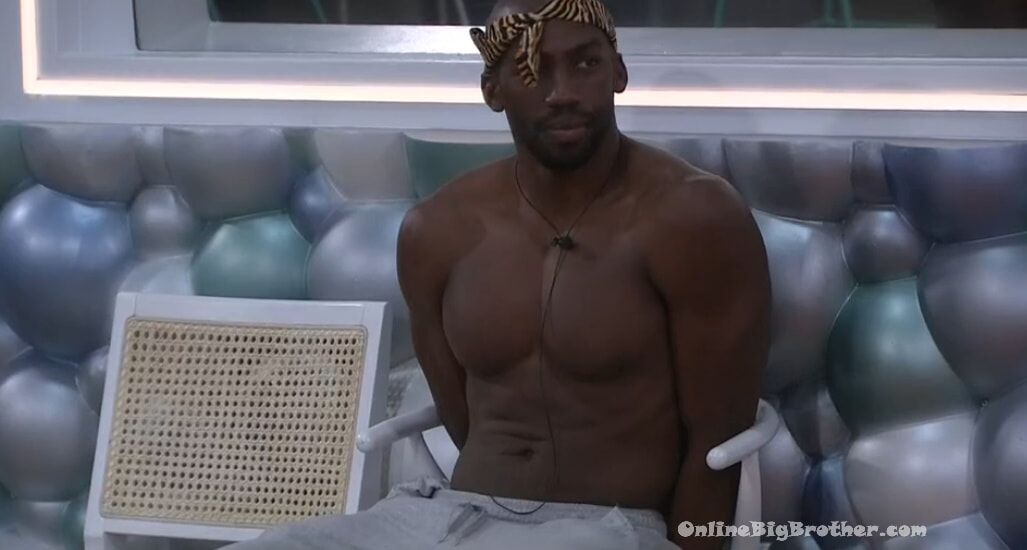 4:50 pm COp and robbers still going on this time X is the robber.
X – I ain't telling you nothing PIG.. you ain't getting nothing from me Straight up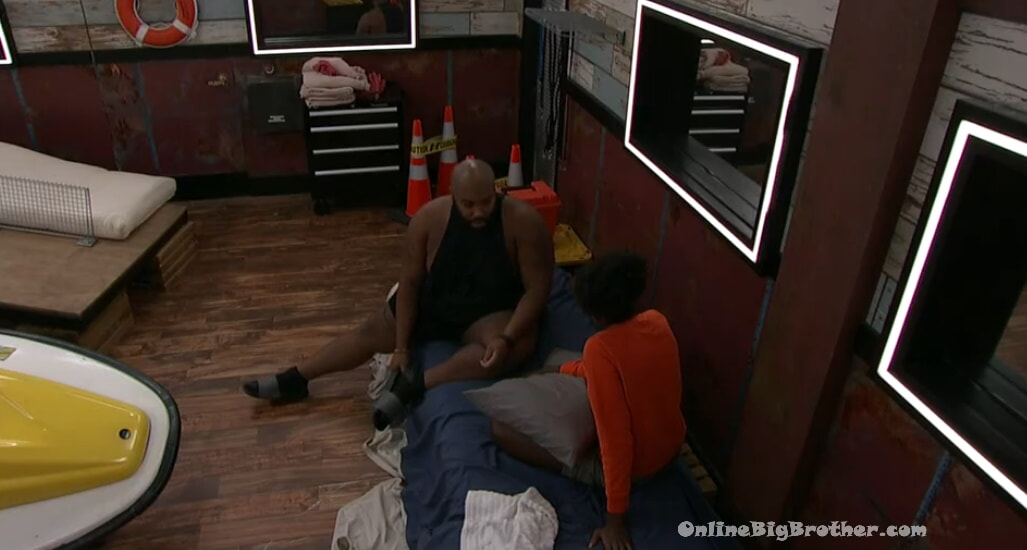 5:30 pm Azah and DF
Azah – do you have a deal with Ahnnah
DF – NO where did you get that from? I don't have a f***Ing deal with Ahnanh I'm trying to get her the f** out of here..
Azah – somebody told me that you have a deal and somebody told me that Kyland told them you have a deal
DF – with Hannah?
Azah – yes
DF – I don't have a deal with Hannah I promise.. I ain't stupid I don't have a deal with her.
DF – I made a deal with Kyland I made a deal with Xavier and you and me have an understanding we've been together a long time. that's why I can't go after those two boys. I'm hoping they go after each other. I don't have a f***ing deal with Hannah
DF – She's very lucky.. I could vote her out this week but I can't
Azah – Hannah is tricky at least with Tiffany you know what you're dealing with.
DF – when Tiff talks to me she only talks about me, you, her, and Kyland working together.
Azah – she talks about whomever she needs to talk about. With me, she talks about you, me, and X.
DF – she's gotta go next (hannah) and the reason why She's probably dropping these little seeds is becuase….
Azah – I don't know who dropped these seeds I'm not denying that it was Hannah.
DF – keep that suitcase packed.. don't unpack it. Cause she's next plain and simple. the only reason why Tiff is going out this week is because of the fact that I don't feel comfortable with her, X doesn't feel comfortable with her. If we sit there and keep Tiff basically we're saying to C F*** you and I'm not going to do that to him and he wouldn't do that to me.
Azah – I would never suggest that without you guys, you know what I'm saying.
DF – she [Hannah] just told me she's not coming after you and me.
DF says Ky is on the same page the four of them are taking out Hannah next then the three of them with Ky or Xavier move forward after that.
Azah – did you tell Tiffany you had a deal with Hannah
DF – I told Hannah before the HOH comp that I wouldn't get rid of her.. Yeah, I told Tiffany that.
DF – I told Tiff I'm leaning more Hannah's way
DF – at the end of the day it's Hannah VS. Three people and in veto four people.
DF – if these mother f**ers don't clash they can take each other and picked between me and you and then we're f***ed. When I talk to Ky he wants Hannah when I talk to X he wants Hannah.
DF – Hannah we can't keep around.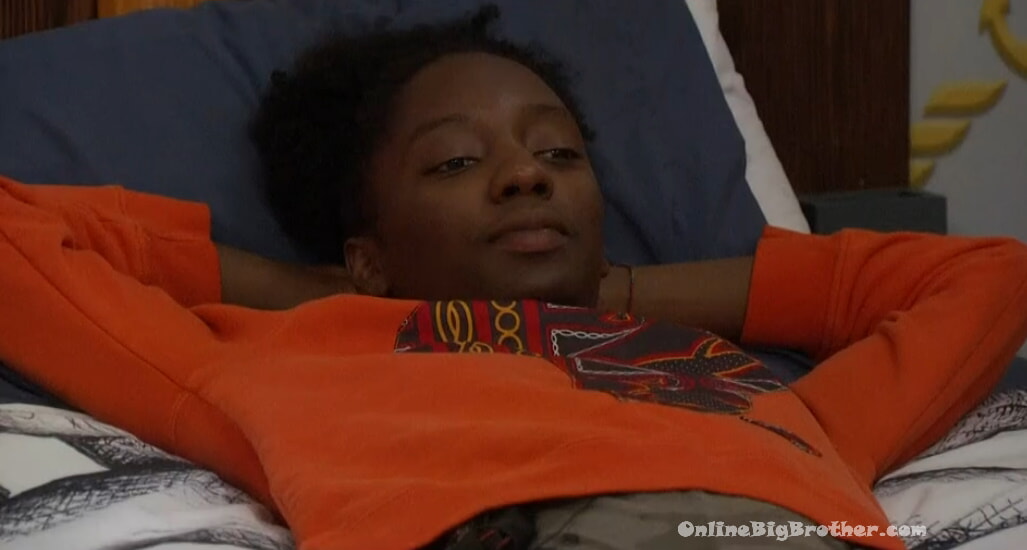 6:07 pm Azah and DF
Azah – let's talk about MR U [X]… I want to hear what he told you?
Azah – I'm lonely in this house I just want to hear things
DF – He's very horny he just wants to F**** something. he's ready for like.. he's like whoever gets some of this is going to get it. He's like it'll be 24 hours.
They laugh
Azah – what did he say after that?
DF – he wants to be with someone he knows. We just had guy talk
Azah – did he say something else?
DF – no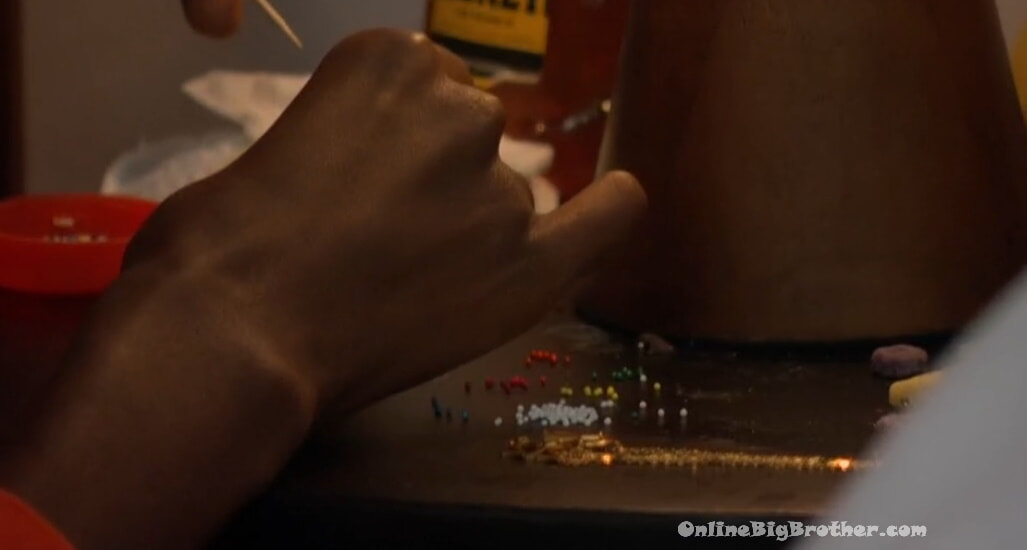 6:36 pm Azah studying.
She's joined by Xavier and Hannah who want to lie down.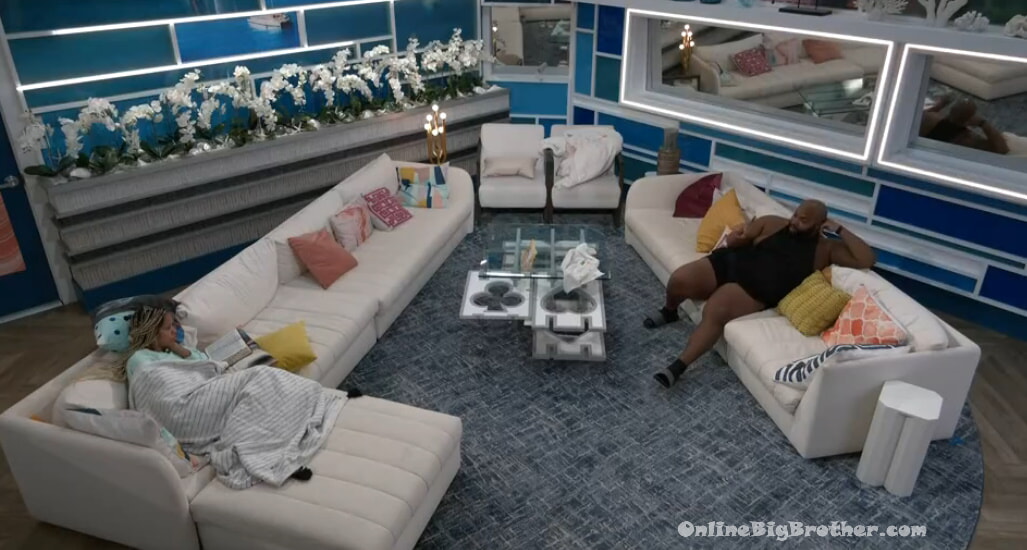 6:44 pm DF and Tiffany Chit chat
Tiffany – America is not going to like you guys.. out of all the people seriously they got rid of Tiffany.. We liked the cookout until they did that.
DF – damn Tiff is taking all the fans.
Tiff – Y'all going to take some backlash. They already told y'all Hannah who?
Tiff – no one will be mad they don't know who she is
DF – you're right they don't know who she is
Tiff – nope