HOH: Xavier
SAFE: Christian, Alyssa and Sarah Beth
HAVENOTS: Claire, Kyland, Tiffany
WILDCARD Competition Winner: ?
Nominations: ??
Power of Veto Players: Xavier, ?, ? , ?
Power of Veto:
Power of Veto Ceremony:
Big Brother 23 Houseguest Rankings – – RANK THE HOUSEGUESTS –
View the previous day ranks on the – Ranking Grid
Big Brother Spoilers – – The nominations will probably be Brent and Whitney. Brit's name is also beign thrown around.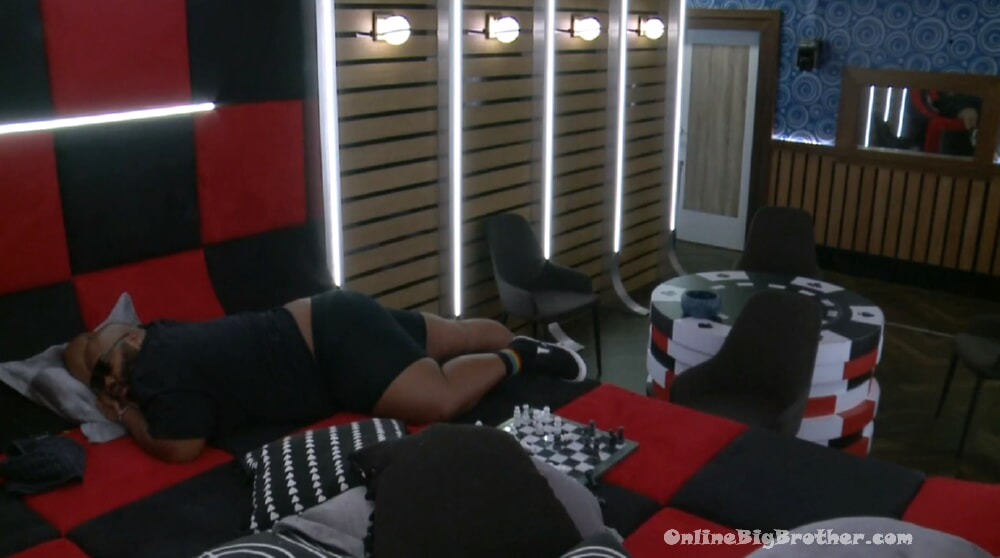 1:20 am Waiting for the HOH room reveal..
1:21 am Xavier gets his HOH ROOM
1:55 am
Brit, DF and Azah
DF – I can understand why you are saying Christian for next week.. I'm looking at Whitney, CLaire. Tell you the truth I'm also thinking DerekX
DF – I know we're at the top of their list of people they want to keep around
Azah – we all have different people
DF – of course I will do what's best for us because we're a team.. I would look at Whitney and Claire on the block. I lie SB I believe she has our back
Brit – you think Whitney and Claire are bigger threats than Christian and Alyssa?
DF – I understand we're all here to play a game right He's not going to come for me I feel like I have a good relationship where I can be like Hey we're good.. He talks to me.
DF – If I win HOH why would I get rid of the one person not coming for me. Keep in mind If I felt as though he's a threat to your game I will keep that into consideration I won't be selfish
Brit – I think he's a threat
Azah – Christian is on a lot of people's radar when I look at myself in the game right now I really want to do it this week. Next week I feel OKAY about everybody
Brit – I promised Ky and DerekX safety for this week. That was it
BRit adds if she wins HOH that's her move. (Ky and DX)
DF asks if they have considered some of the girls in the house taking shots at them
Azah says she's comfortable with SB and even talks a bit of game with her.
Azah – SB has been spilling everything to me
DF – DerekX, Tiff, and Claire seem like they're all really close cause they were whispering for a very long time when we were in the living room
DF – they're not on a team together
Azah says she heard some of the conversations they were whispering trying to figure out what X will do. They already know what X is going to do.
Brit – there are four guys crushing on the same girl. one of them she might be in a relationship with.
Azah – do you have a crush on somebody?
Brit – No I just think someone is very nice
DF – is that your way of saying..
Brit – it's not going to happen
DF – even if we know it's not going to happen we feel some type of way with someone
Brit – guess who it is.. (It's Chrisitan)
Azah laughs
Brit – we have so much in common he's a nice person because he's head over heels for Alyssa so therefore it ain't going to work. HE doesn't see me that way I get it most guys don't they see me as the friend. That's how most guys see me so it makes sense.
DF – Whitney and Alyssa would be the best two to put on that block
Brit – as much as I think Christian is a nice person, Number 1 he's head over heels for her and he does really like her which I'm cool with Go have fun I'll be the friend next door. Everyone likes her, Him, DerekX, X, Brent that's four people.
Azah – I mean honestly is that bad for our game?
Brit – could be if people don't want to take a shot at her
Azah – I don't think it's bad for my game
DF – if I was HOH I would put up Whitney/Christian, Christian/Christian, or Christian/somebody else.. that's me just throwing scenarios out there.
Brit laughs "Put Whitney and Alyssa up if Whitney comes down Christian goes up"
Azah – I told myself no showmance no distractions Stone cold killer
Azah – Kyland is beautiful he's got a beautiful face such a nice guy really nice. Great frame. Xavier just makes me OHHHHh
light out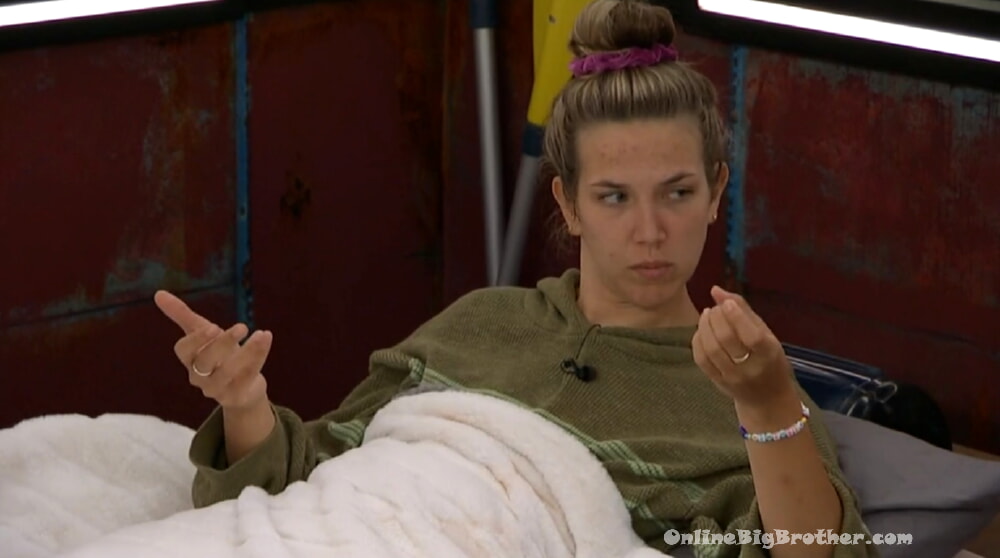 2:03 am Claire and Tiffany
Tiffany – I have no desire to sleep on that jet ski (sea-do)
Tiff – I really wanted to get into DerekX's head and see where he was going with those chess pieces because he wasn't done
Claire – we need to do it again
Tiff – he's thinking FAR ahead. He doesn't.. I feel and this is just my feeling about it. I think he's not comfortable with the kings having all four players when we're all down to three.
Tiff – he's looking at the next move. They will be the strongest team in the house and they can win HOH again
Claire – They are the strongest team
Tiff – they have bonded
Claire – they are physically strong, They have bonded TIGHT the first week
Tiff – they consider everything as a team which mean I wonder when teams split they will still be together
Tiff like their group with them, Sarah Beth, DerekX and Ky
Claire – I like that too. I think I have a few reservations I need to have more one on one game conversations with him. This week I think we will so all is good
Tiff – Frenchie scared the crap out of DerekX and made him realize he's talking too much and to too many people
Claire corrects what she was meaning she hasn't had a one on one with KYLAND since week one.
Claire – I have no reservations about DerekX
Kyland comes in.
Tiff – are you sleeping on that thing
Kyland – just the first night to get it done
Tiff says she's saving the space next to her so he doesn't have to sleep on the sea-do "I don't want you to be uncomfortable"
Kyland – I'm sleeping next to you two how would I be uncomfortable
Tiff – there are very few times I am at a loss for words.. you know what to say to keep my quiet.
Kyland – I'm glad we're up here this week..
Tiff – we can talk..
They agree nobody comes up to the have nots and when they do you can hear them coming.
Kyland adds that he can see how being a have not can through you off your game so it's a good week for them to be thrown off.
Ky – the kings for them.. Hey, we have to make sure our team gets to jury that's three votes so we have no reason to turn on our group at least for the next 3 weeks.
Ky – they'll ride with the group at least until then.
They want to try and take their Royal Flush + and an Ace to jury
Tiff – DerekX has Hannah and I think we have Hannah too
Tiff – we need three more evictions to get to Jury. If it's Brent this week
Ky – everyone agrees with two.. it's the third one we dont' know where people are at. (Whitney is 2)
Tiff warns they can never say anything about Britni in front of Azah. Britini is Azah's.. person
Tiffany – we have to start thinking about who we can BEAT when it comes down to that third person that has to go I don't know what are options are. It's not Alyssa, So BRitni?
Claire – leaves Hannah
Kyland – the jokers
Kyland – who to beat I feel least tight with Britini
Claire asks out of the Kings where does Arah Beth sit with them.
Kyland says the Kings are a tight group.
Claire agrees was meaning about after the team twist
Kyland – good question
Tiff – we should never say anything to SB exaclty about the kings.. so really all we got is our three right here
Claire – and DerekX
Tiff brings up how hard Frenchie was trying to stir stuff up between her and DerekX
Tiff – Frenchie freaking had DerekX in tears
Kyland – ohh yeah in the beginning of it
Clair e- you were there
Ky – yeah.. when he first started crying
Tiffany was looking for DX to offer to work with him. She walked into the HOH and Frenchie had him scared as sh1t.
Tiffany pulled him in ever since then. "I got you"
Tiff says she really trusts DerekX "He's a really cool dude"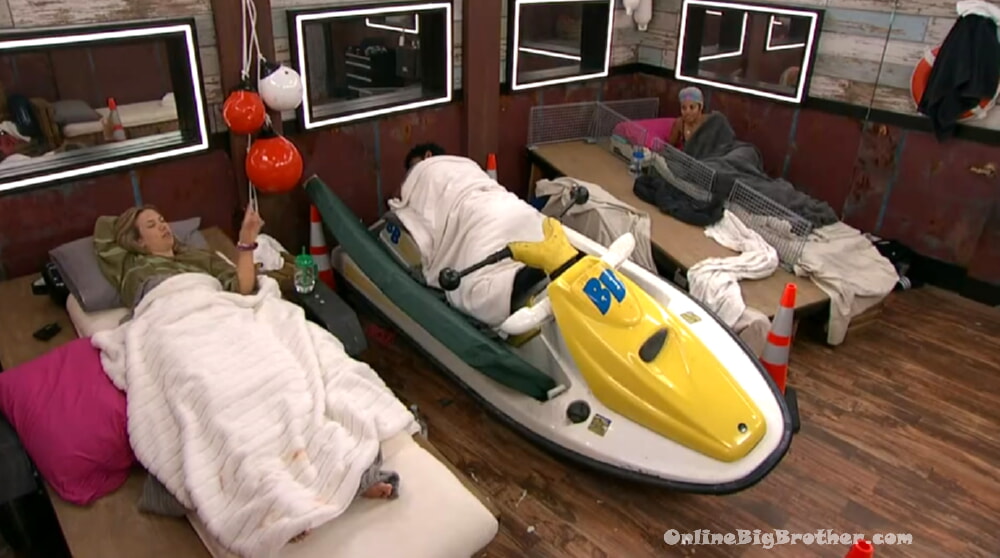 2:23 am Claire, Kyland and Tiffany (Gawd I feel sorry for Kyland having to sleep on that)
Tiff – Hannah really wants to play this game. I don't know how long she would keep us in order to win this game.
Claire – she will always make the optimal move we have to be the optimal move. She talks game to Whitney, DerekX.
Tiffany doesn't think Hannah will care if Whitney or Brent leaves.
Tiff – She's not team Alyssa, She's not team Christian her and X are close. She doesn't talk game to Britini at all.
Tiff – she's consistent with who she talks game to.
Tiff – when we look at the kings we're still 4 and 4.. that is why we have to get BRent out this week.. or Whitney
Kyland says imaging they can get their entire royal flush to top eight plus Hannah whoever wins at 10 gets Hannah she'll move to that.
Claire agrees. Says it will be wild if they get a run like that. It happens before but usually, you lose a number "If there's a lost number it's not coming from the queen"
Claire – who knows In 3,4,5 weeks.
Tiff – the jokers could switch and start coming after us
Ky – if we grab them now. the jokers
Tiff – Azah is good, Brit will go anywhere..
Ky – that's why I don't want to trust her
Tiffany – with Brent outta the house who will the Jokers want? Will it be Whitney I think they would go after the kings.
Claire – they would go after the kings
Kyland – yeah the four
Tiff – we've been pretty good with the jokers but you put Britini on the block.
CLaire – BIGD is looking for whatever he said I could work with the girls.. BIGD there's no girls alliance
Tiff – Oh my god
Kyland – that's not happening
Tiff – In Fnrehcie's mind.. BigD believed everything Frenchie said. Azah did too though
Kyland – you're right
Tiff – I couldn't speak freely about Frenchie until he left.. I started cracking on him and she had to leave
Kyland – I get that you don't want to be seen that way
Tiff – Ok I'm seen that way
Kyland – she was on his team.
They talk about how the Jokers were pissed they lost a team member but week one when it was the queens losing a member they handled it.
Tiffany – we went through the same thing and nobody looked at us to consider we lost a whole player
Kyland – that is because our player was cool with it and made everyone feel ok
Tiff agrees says Frenchie made everyone uncomfortable.
Claire mentions how in week one they were told no pity votes but in week two people were talking pity votes.
Tiff – I hope X knows what he's doing.
Tiffany says X is not doing one on ones "It's way different than Ky did it last night"

They talk about taking the royal flush to the end "Who would be the last three we would want?"
Claire – Hannah, Azah, and BIGD that's who we are saying are the three.
Kyland – unless you feel tighter with Britini
Tiff says she doesn't know what Britini will do she says Azah, BIGD, and Hannah.
Claire – that's who we talk with more
Tiff – I haven't talked any game with BIGD
They bring up how scared BIGD was today.
Tiff – I didn't tell you this last week he was scared when you were HOH
Claire brings up BIGD's money problems.
Claire – Whitney said she makes 200 an hour.. She said 'I'm losing money here'
Tiffany – every time Whitney opens her mouth about outside this house it's a TON of money being spent and made.
Kyland – she was on the couch with BIGD and he asked her straight up would you rather go home or to Jury She said Before Jury
Tiff – She wants to be with her kids.
They talk about the speech to send Whitney out pre-Jury
Kyland – I feel bad because you are losing money
Tiff – You make 200 dollars an hour.. you good girl..
Tiff – she tells all of of her busiens.s. I'm like how much of this game have you seen? I almost want to ask her what kind of car do you drive.
Claire – she would tell you. She always says she has a small apartment and she wants to get a backyard for her kids
Tiff – then stop spending 2500 on your hair
Claire – that's a lot
Ky – I thought it was 1400
Tiff – she told me tonight on the couch the hair cost 2500
Ky – ok ok
Claire – to be fair it is her business
Tiff – she has a very successfully
They agree it's not "playing the game" it's "Bragging"
Tiff – Claire we have to figure out about the wildcard .. I want you to be safe next week and I don't know what is going on. I also want to be safe next week.
Claire – the game will be totally rearranged.. With BRent and Whitney going on the block. Our cards will be shown this week. their cards will be shown, who knows where their target will be Wntihey or BRent.
Tiff – you want to save your safety
Claire – I guess..
Tiffany will play in the wildcard.
Claire says Brent will be blindsided and Whitney was planning on throwing the HOH today
Tiff- she he will be too, Britini is supposed to play in the wildcard tomorrow.. DerekX, he's playing he doesn't want to win it
Kyland – it'll be between Whitney and DerekX.
Tiff – If I go for it I'm playing to win it can easily be another safety
Claire – it could be the team is safe. It could be you get to put up a nom. We don't want her to have that power.
They get ready for bed.. KYland has to sleep on the Seadoo
Kyland – it's important for me to sleep on this straddling instead of in the crack
Tiff – that's a good way for you to sleep.. very sexy too
they laugh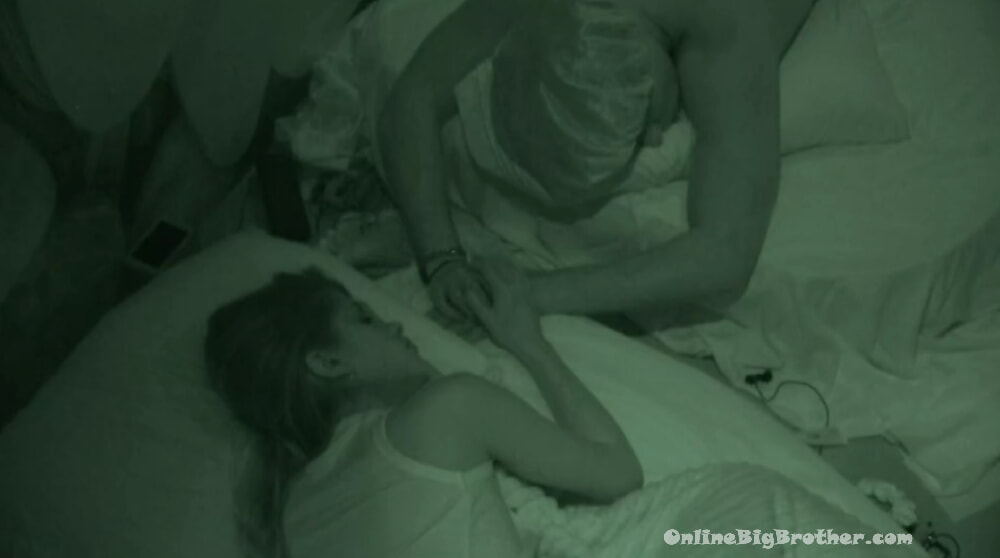 2:54 am lights off .. Showmancing
5:04 am Zzzzzzzzzzzzzzzz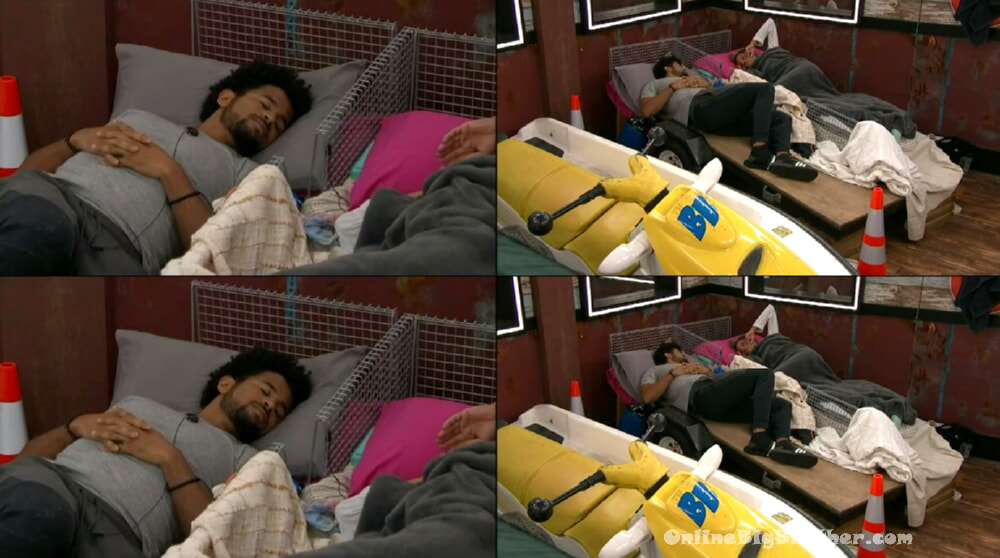 9:00 am Houseguest waking up.
If you like these spoilers and read this blog regularly please consider a donation to keep the madness going. We accept donations via paypal How to support OBB