HOH: Xavier
SAFE: Christian, Alyssa and Sarah Beth
HAVENOTS: Claire, Kyland, Tiffany
WILDCARD Competition Winner: Tiffany
Nominations: ??
Power of Veto Players: Xavier, ?, ? , ?
Power of Veto:
Power of Veto Ceremony:
Big Brother 23 Houseguest Rankings – – RANK THE HOUSEGUESTS –
View the previous day ranks on the – Ranking Grid
Big Brother Spoilers – – The nominations will probably be Brent and Whitney. There's chatter that Brit could be a possible nom. Nothing really concrete yet.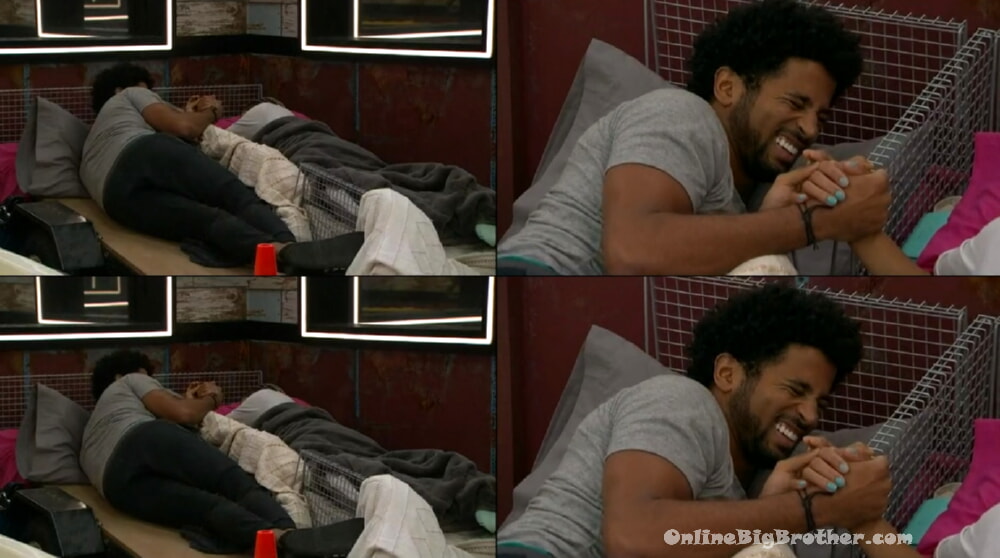 9:01 am Tiffany and Kyland
Tiffany – out of our numbers if you and I sit next to each other that's a win-win situation overall for Culture for show, for me, for you
Tiff – I wouldn't feel like I lost even if I did win. I think it would be a hard decision it won't be a unanimous vote. I wouldn't be mad about it it would be genuine.
Ky – I feel the same way
Tiffany – so are you saying we should do a final 2?
Kyland – if you think we should, You're my coach
Tiffany – I would love to.
Kyland – I would be honored..
Kyland kisses her hand
Tiff – that's great
Ky – people name Final 2's right?
Tiff – it would be the ultimate ..
Tiffany – thank you for saying Yes
Kyland – thank you
Tiff – I'm going to let you name it.. Do we go with the gambling thing.
Tiffany – that means I fully trust you
Kyland is trying to figure out a name
Tiff- you are a movie fanatic there has to be a guy-girl combo.. besides Bonny and Clyde
Tiffany reassures him how she will not tell anyone how close they are. She and Claire know how close Kyland is to DerekX but that's only because they are all tight.
Tiffany says she only talks to that she trusts will not repeat anything is Claire. "Everybody else I listen"
Tiff – I don't give anybody's business I may share my thoughts but not my deepest thoughts and Ideas. I do bounce Ideas off DerekX he was the one person that was out there until 3 in the morning with Claire when we were putting the pieces together.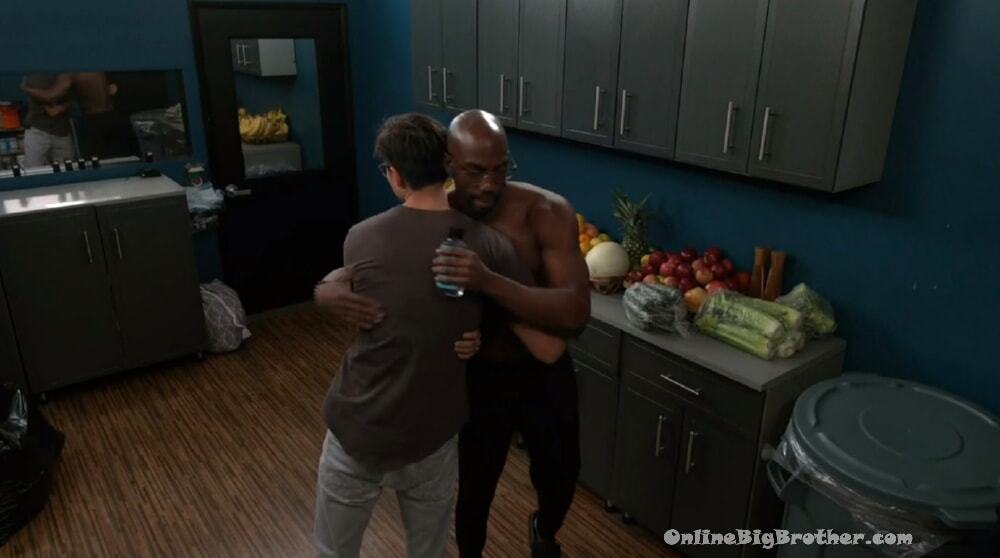 9:20 am DerekX and Xavier
X – how able would you be to convince your team to play in the wild card competition
DX – very
X – try to swing that if you can it'll be very beneficial
DX – what if Whitney is down to throw..
X – I would rather it be you
DX says it'll be him.
X – you are someone I trust.. there are very few people I trust on that level.. YOu and Ky
Dx is worried about maybe it's a competition he can't throw.
Xavier is hoping it's a competition where the others can't watch.
Xavier – I'm meeting with teams I am going alphabetically. Aces, Jokers then Queens. I'm starting at 10:30.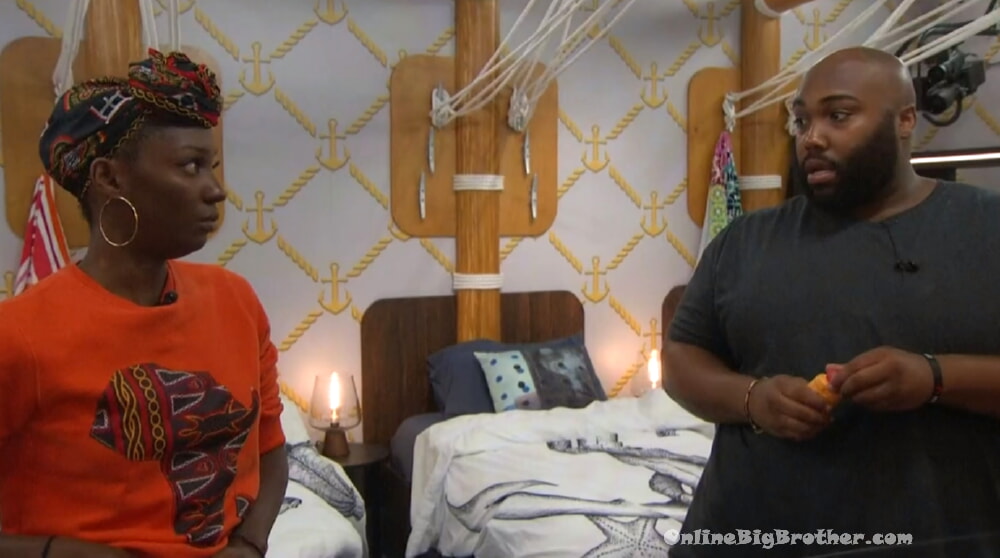 9:24 am Azah and DerekF
DF – Hannah
Azah – she only knows the name of the alliance I'm cool maybe without her. Just for now.
Azah – if y'all want to meet with her cool
DF – she knows but she doesn't need to know the details.
Azah – Frenchie tried to start an alliance with the girls I think she spilled the beans. By process of elimination. Tiffany was there Claire was there.
Azah – she was the one that said something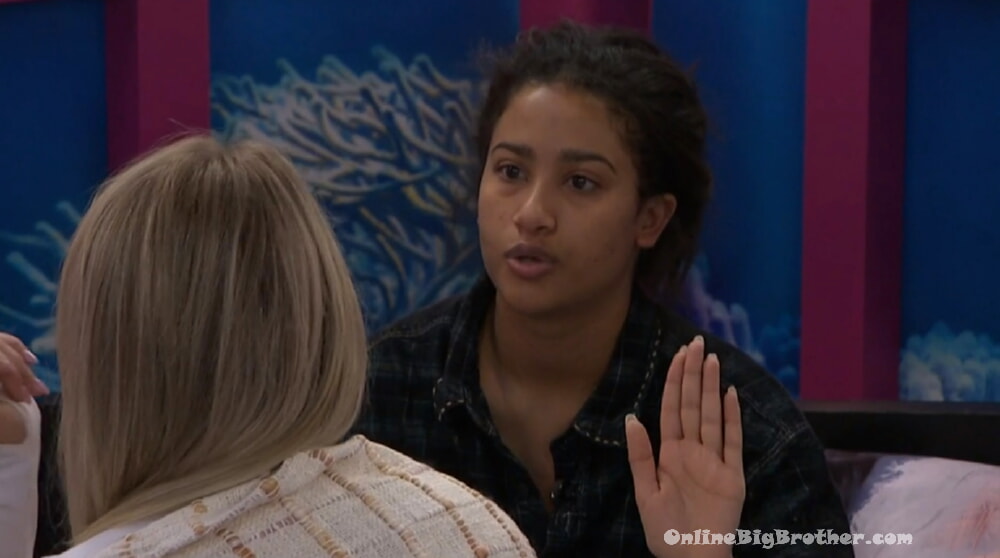 9:26 am Hannah and Whitney
Whitney – you and I can do a decent job of persuading the kings to do certain things. My one talk with Alyssa was so easy
Hannah – you can be in Alyssa's ear I can be in Christian's ear
Whitney says instead of them getting Chrisitan and Alyssa out right away they can use them to get out a different target, 'they are so easily persuaded"
Hannah doesn't want Alyssa, X, and Christian all in Jury they'll vote for the same person.
Hannah – Alyssa is the link.. she's the glue if we are going to get out one person Alyssa or Christian before Jury
Hannah says if Brit goes up against Brent they can convince Brent that he is going up on the block to make sure they can send Brit home. It'll stroke Brent's Ego saying that Brit is a comp beast and they needed a comp beast to make sure she didn't win veto.
Hannah – if he finds out he's the target he's going to explode.
Hannah – it sucks for Britini that she'll have to see the block again.
Whitney asks how do they take out Alyssa before Jury and not have the kings target them.
Hannah thinks the Queens will do it. She had a conversation with Tiffany and Claire. They are all worried about 3 kings ending up in Jury.
Hannah – Britini would do it, Azah would do it.
Hannah – we can even take out two of them before jury
Whitney – _ Like X as a person but I see him as more of a threat than Christian.
Hannah – REALLY
Whitney says X is so smooth if he made it to the end.
Hannah – he would win
Hannah says if Christian and Alyssa keep staying attached to the hip then when they do end up on the block it's not coming out of left field.
Hannah – yeah yeah yeah you guys are safe don't worry if you like her go after her
Whitney – he can be easily persuaded.
Hannah – unless he's some super-secret genius (he's very much not)
feeds cut..
Whitney – I would like to work with Ky and DerekX
Hannah – when tiffany looks at me and says she has my back.. I can tell. Tiffany reminds me of my family it's the same look my auntie Trish gives me the eyes and everything
Whitney – My thing with Claire is. I was talking to her about the situation with Travis cause I was close to Frenchie and I knew what Frenchie was doing and I said I think this is going to happen. She said well that sucks he's (Travis) on my team. I was like ohh sh1t at that point I couldn't remember all the teams.
Whitney adds she told Claire no to go talk to Frenchie about this. Claire reassured her she wouldn't "Literally 30 minutes later she went up to Frenchieadn it was she, Frenchie and Travis sitting on the couch together.. 30 minutes after she was like no I would never"
Whitney -that is what makes me cautious about Claire
Hannah – Tiffany has Claire locked in.
Hannah says when Tiffany says she has her back and said CLaire does to "I believe her"
Hannah says Tiffany and CaLire are each other's number one
Hannah – Tiffany is someone I want to work with going forward. Plus her and Kyland are close
Whitney – so it's our team and their team.
9:46 am Tiffany and Claire
Tiffany saying they have to win HOH next week and show their cards. She says she's never talked game once with Whitney "Love you as a person but in this game, if you don't talk game then you ain't playing with me. You can come to me with that BS we have some sort of understanding because we're moms"
Claire – she the best move next week but she's not the best move for a lot of people
Claire says they have to talk some game with Whitney this week.
Tiff – if she asks us who are our targets I'm going to have to lie and say Britini and Azah
Claire – don't say Britini to Whitney say I don't like saying names that much I think there are some strong people in this house not only physically but socially maybe we should look at them. Make her thinks Alyssa.. or Britni
Tiff – maybe BigD .. nobody sees me talking to him and I could easily say we have no connection in this game. Maybe she'll believe that
Tiffany says once Whitney is on the block they'll comfort her and support her "If she wins HOH next week hopefully she'll remember and not look in our direction and if she doesn't we'll take a shot"
Claire- we'll have to look at the board again
Tif f- see if she is the better option and hopefully someone else can get it (HOIH) And take the show
Claire- I never wanted to take out someone that will work with us
Tiff – I know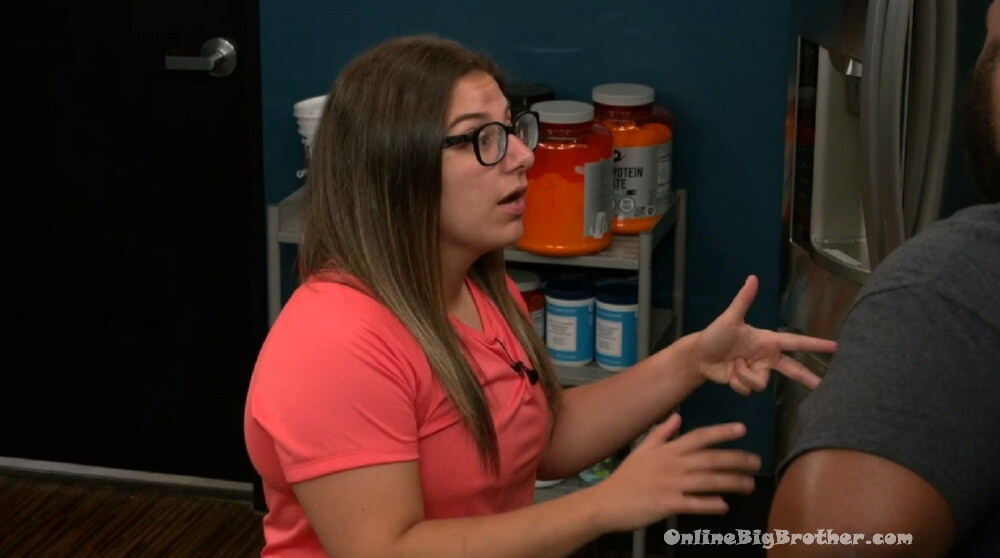 9:53 am BigD and Britini
BigD says he's cool with getting the guys out but is worried about himself in that event. He's scared Hannah starts an all girls alliance and they take him out. "Next week I'm sorry a girl has to go I'm not going to feel comfortable"
BRit – take the shot.. you know what the shot is .. you're best shot is Whitney and Alyssa together
BIGD – what about that damn Hannah
Brit – if you want to keep it in the team go Whit and Hannah. I already told you I'm worried about Hannah
Brit – trust me, Claire is not coming for you, Tiff's not.. Neither is SB, trust me..
Brit says she doesn't care which three girl goes home Alyssa, Whitney, and Hannah
Brit – out of the three of them right now Alyssa is the biggest move she's covered on all sides. If you go for Alyssa that's a shot..
BIGD mostly ignores her says "yeah yeah ok" and keeps hunting down bread.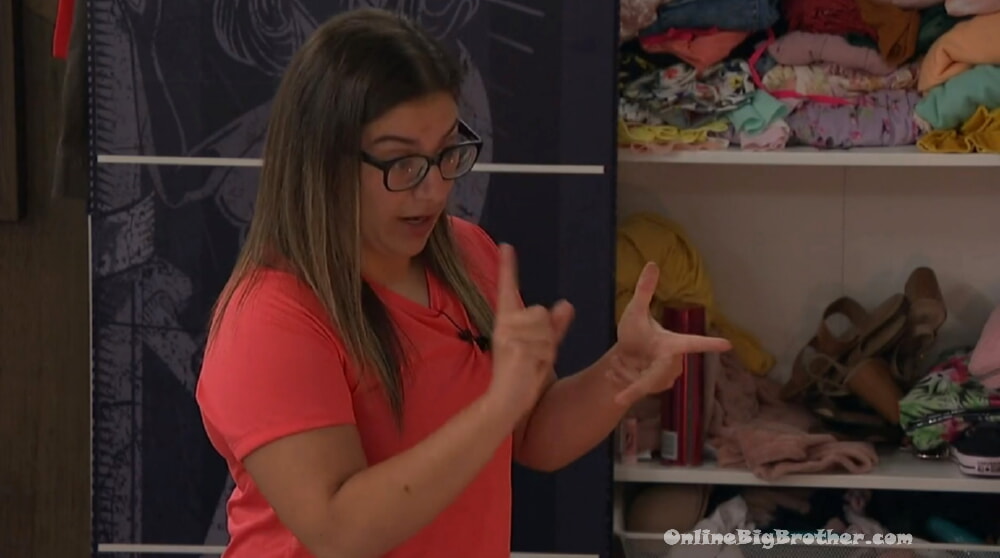 9:56 am Brit and Azah
Brit – I'm not putting Claire on the block screw that.. If you go for Claire.. You have three options You have Whitney, Alyssa, and Hannah
Azah – if you want to make that move you have to win HOH
Azah says it's for her game to get another guy out.
Brit – between Whitney, Alyssa and Hannah what's the biggest shot
Azah – Whitney
Brit – you think so..
Azah – Whitney or Alyssa
Brit – Alyssa, she's covered on all sides.
Azah says she came into the game to go after guys and she thinks it would look really "Petty" if she went after the one that all the guys like.
Azah – I'll put up Christian and Alyssa..
Brit says she'll put up a girl and a guy "Everyone knows that's the shot next week"
Brit – for our game I don't have a preference who goes. If you take away Alyssa he comes with us
Azah says Christian will be an angry scorn man and come after them if they take Alyssa out before Jury.
10:00 am Feeds cut to pound puppies
1:00 pm no feeds
Possible Wildcard players
Aces- Whitney, DX
Queens- Claire, Tiffany
Jokers- DF, Azah, Brit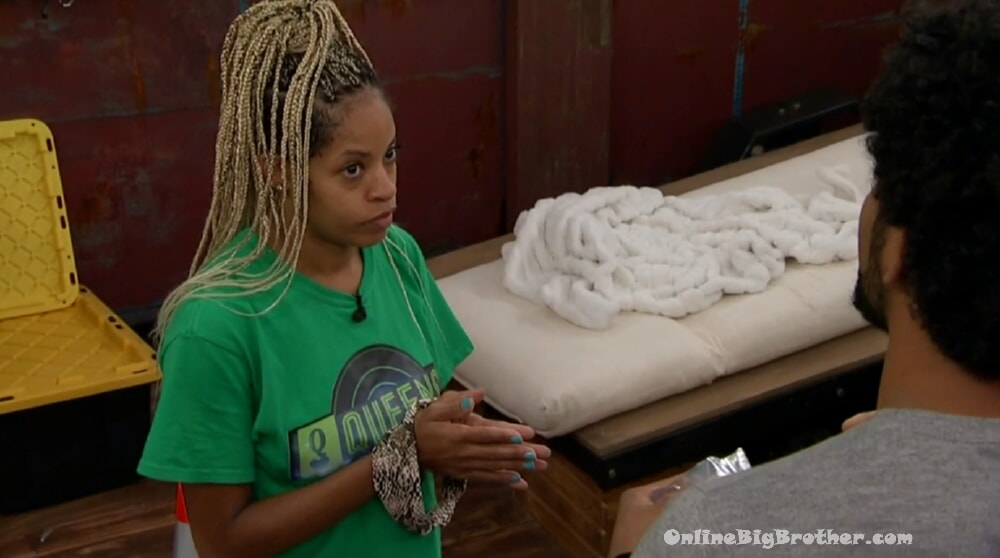 1:42 pm Feeds return Tiffany won it. Sounds like Britini, DF, and Azah are pissed.
Brit – I'm frustrated .. I'm so frustrated.. that was my COMP.. I was going at the best speed.. Backstabbed.. They both want me gone right now.
Brit – I'm pissed.. I'm pissed.. I'm so pissed..
Brit – My heart Broke..
Brit – you can't win when it's two on one.. I was by myself.. that sucks..
If you like these spoilers please consider a donation to keep the madness going. We accept donations via paypal How to support OBB