HOH: Kyland
HAVENOTS:
Nominations: Claire and DerekF
Power of Veto Players: Kyland, Claire, DF, Alyssa, Azah, Brit
Power of Veto: Alyssa (OTEV winner), Kyland (High Roller winner)
Power of Veto Ceremony:
Big Brother 23 Houseguest Rankings – – RANK THE HOUSEGUESTS –
View the previous day ranks on the – Ranking Grid
SPOILERS
Kyland plans to take Claire off and put up Britini. Alyssa plans to not use her veto. As of right now, Britini is the target to go this week..
*** AT the veto ceremony KYLAND will have to decide to use his veto first, then Alyssa will decide to use hers or not. Tiff "Alyssa won the real veto"
12:10pm
Xavier and Alyssa are working out and talking about Big Brother 7.
12:20pm Kitchen – Big D and Hannah.
Big D – that's why I get worried because you see how Tiff is. So I am like how am I supposed to feel safe on Thursday? And you're the only one that talks to her… so how am I supposed to.. Hannah – to keep it in check? Big D – MmmmmhhmMM. So I get scared. Hannah – so maybe my lack of emotion helps. Big D – yeah I think that's what it is.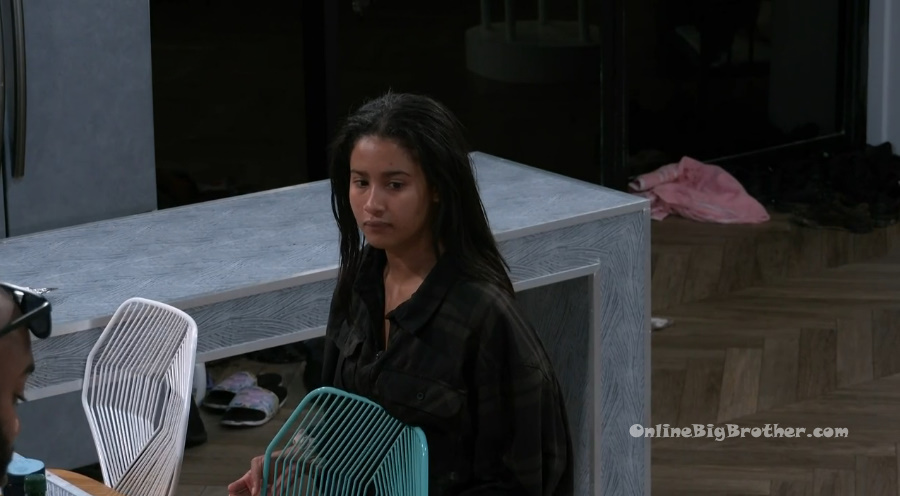 Meanwhile in the bedroom – The other house guests are chatting about podcasts.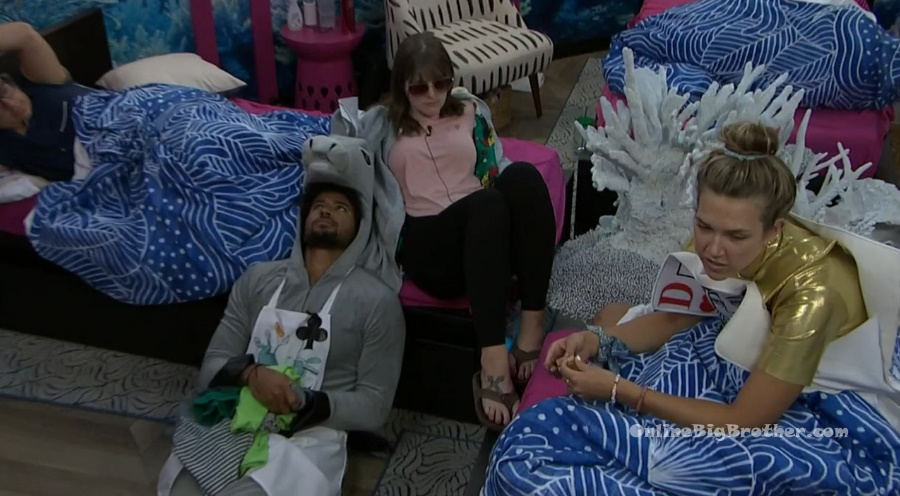 1:12pm HOH room. Kyland talking to the cameras.
Kyland – I am taking Claire off the block. She would have to say something crazy .. like I don't even know.. I can't think of what that would be so.. I mean I guess I could but it shouldn't happen. It would have to come from DX basically. DX would have to tell me why we have to send her home. The three of us have had the power to .. and influence to make major decision in the house.. and the other three have not. And honestly what that comes down to is that some of us are looking at the greater strategy and others are only looking at what is in front of them. Whereas, others are looking at other peoples game. Basically what I am trying to figure out right now is how do I bring everyone together to show why not everyone should make decisions ..because probably decisions that I make are wrong but like I am checking on them and looking at options that a lot of people would miss.. And I am in the know of a lot of information that a lot of people wouldn't be.. and I am out of the loop of a lot of information that a lot of people may know so I think a concern is that we should want to solve our problems and not everyone here does want to. When Azah says that she does want to work with me and then refuses to answer any questions to give me information to help me make a decision. It feels like conflicting. I think a greater issue is that I need to make sure that we're all on the same page as the six. So what I am going to do is I am going to bring in people to review their answers to the questions on the board and then with the six I am also going to ask them .. actually I am going to have Chadda (Hannah) watch the clock. I want to make sure that no one is in here longer than 20 minutes… 30 minutes. So 10 people, 5 hours.. hopefully less. 10 people, 20 minutes .. 3 hours and 20 minutes. Big D understands sh*t, he realized that next week we can't use pawns. Chadda realizes that there is a way to do it because she has influence over DX and that is a concern in the game at this stage because he is the one that can't afford it. Alyssa will probably be able to afford it too. I need Xavier and Alyssa in the same room to chat about this.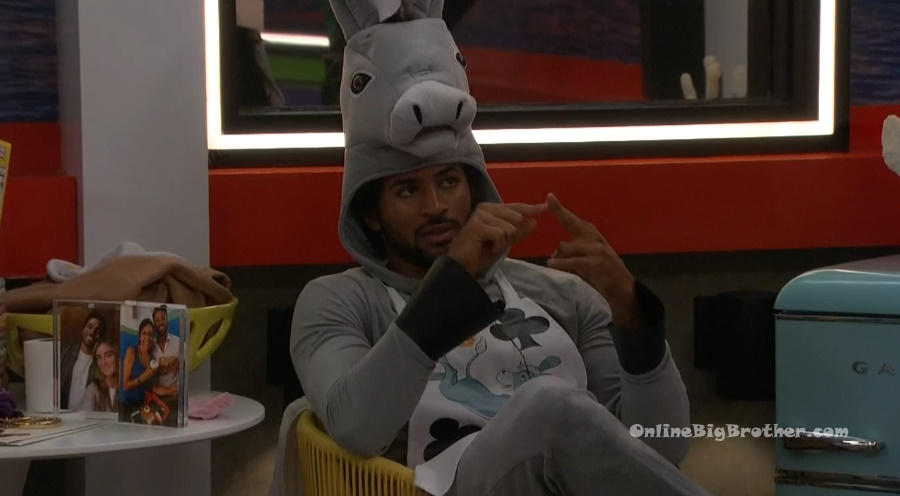 1:30pm Bedroom – Tiffany and Derek X
Tiffany – the emotional aspect of her going up .. I mean she is so not a threat. I don't want to pick a game move over how I feel personally. I mean that would require you to do a lot more cooking in this house. Derek – it would. I agree. I don't know what Ky said to Big D last night but it really calmed him down he is cooking a full breakfast for everyone. Tiff – Britini is way more strategic. Derek – yeah I agree. Tiff – She has a lot more motive for putting up you and Ky. Derek – 100% 100%! Tiff – with those factors in place and her having that larger power .. she has a lot of power to do something next week that is out of our control. I think that is dangerous. Britini is a perfect pawn. I do think that. She is a little gullible. Notice that she has a lot of control over the jokers and they almost can't function in the game … DerekF is always so concerned about her. Derek – I think if we get Brit out this week we could bring Azah in as a number.. not officially in any capacity. They laugh about how Ky breaks your trust so he can earn it back. Tiff – X is like we have trust, as long as we don't break it we always have it. Derek – I see why women hate men!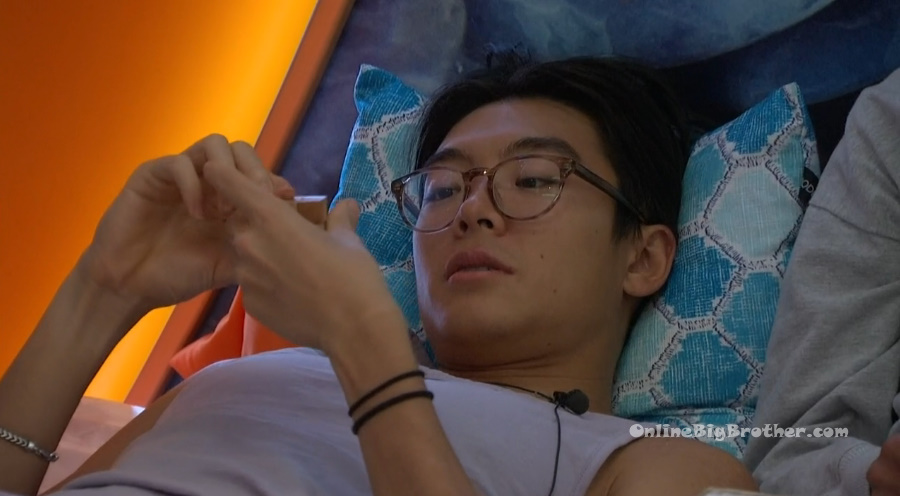 2:40pm Azah is cleaning the boat bedroom. Meanwhile Hannah and Derek are practicing their multiplications with Tiffany. Alyssa joins them.
3:09pm Bedroom – Hannah and Derek X.
Hannah – SB, KY and Big D are in the middle. Derek – so X would definitely take a shot at me. He would have to. He has no one else to target in this house. Hannah – If X and Alyssa were actually working with KY and SB then yes. Derek – and if they're not.. they would target Ky this week. Okay so they are definitely working against me. Ky asked Alyssa after he called her up for the veto meeting.. he said he was going to use his (veto) and he asked her are there any people that you definitely don't want me to put up and she was like X and SB. So the fact that she said SB .. they're definitely working together. Hannah – so X and Alyssa probably wouldn't target Ky and SB right now but I think the link between X and Ky is entirely through Alyssa and SB. Like if SB were to go home, I don't know if Alyssa and SB would continue to work together with Ky. And if ALyssa went home, I don't know if I could see Ky and SB continuing to work with X. I don't think X trusts Ky. WE have to start thinking about jury management so you can't make another deal and then break it. Derek – yeah. Hannah – if I were to win HOH next week with roulette .. I would probably put Ky and Sb on the block because as of right now they have $0. I would then use the veto on Ky and backdoor Alyssa. Derek – damn. That would be a crazy vote. Hannah – next week you only need four votes. You, Tiff and Claire could vote out Alyssa. Derek – I don't know if Tiff and Claire would. Hannah – oh right, maybe I would have to use the veto on SB. I really want to win next week. I really want to take that shot and make her cry. Just kidding I don't want to make anyone cry.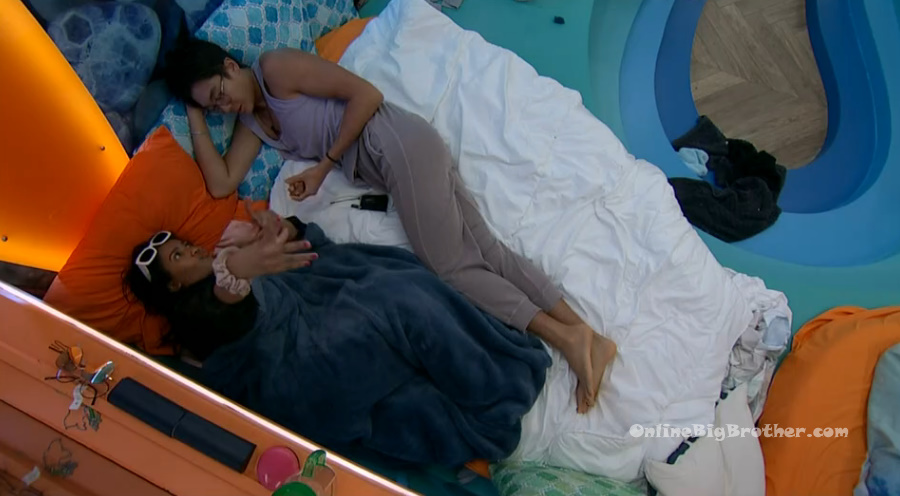 3:10pm Backyard – Alyssa and Tiffany.
Tiffany is going on and on about the day she wanted to talk to Brit and Azah and Big D followed her up and wouldn't let her talk alone.
3:55pm HOH room – Hannah and Xavier
Xavier – I have talked to everyone in the six with the exception of Big D and we want Ky gone first. Hannah – okay. And who would your idea final four be? Xavier – me, you, Tiff and Big D. Hannah – Okay, that is what me and Tiff are thinking too. And then at that point whoever wins that power of veto wins and gets to decide because there is only one vote. Xavier – Yeah I think Ky goes first, then Azah and then .. me you Tiff and Big D battle it out. And the reason I think Big D because any of us three could beat him. Hannah – watch him win the last won. Xavier – I think Big D is the only one that wants Tiff to go first. Hannah laughs – he is playing his own game.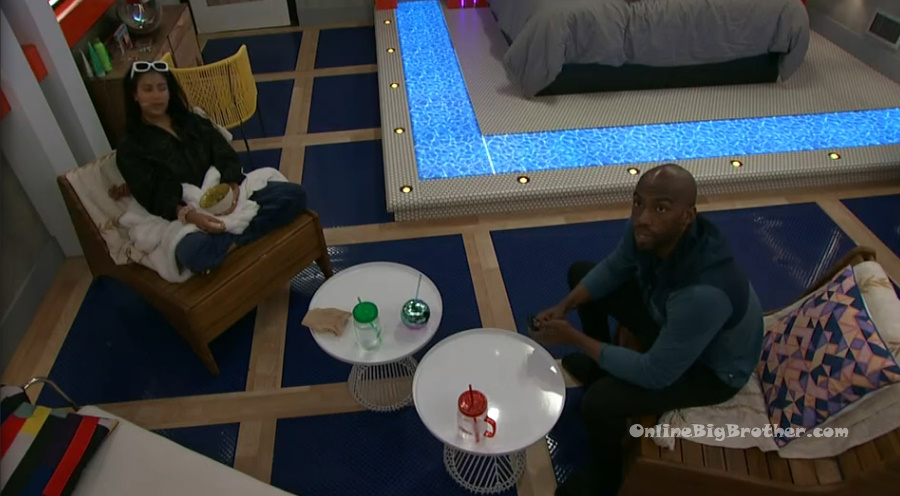 4:10pm Bedroom. Derek X and Claire.
Derek – is this the first time a single white man did not make it to jury? Claire – yeah and its the first time winner of the game being a woman or person of colour or both. Derek – Wow! That's incredible. Claire – its really cool. Its weird when you cast .. well its such a different game.
4:40pm – 5pm HOH room – Hannah and Xavier doing their Hot Takes show and talking game.
Xavier – best case scenario you or I win (HOH). That's the way I see it because that way the powers would be under control and things would probably run the smoothest. Hannah – Yes! Yes! I think Azah would be all over the place. Tiff would be all over the place. Big D would also be all over the place. Xavier – and Ky as HOH is all over the place. Hannah – plus he can't even play. Xavier – so one of us has to win. I know Azah wants to win but until I hear her plan .. but as of right now I don't feel super confident with anyone else winning. Hannah – and see Azah might have a plan but based on her emotions and personal relationships with people she might be less willing to execute that plan even if she knows its the best for the six. Xavier – I think she may be too honest with people. Hannah – not even may .. I think she would be too honest with people. Xavier – If Big D wins what the hell is happening. Everything I know is a lie! Hannah – if Big D wins hats off to him! Xavier – I just know out of the six I can trust you the most. Hannah – that is how I feel about you too. Xavier – so best case scenario is you or I win HOH. We both need to gun for it. If it get down to you and I, I will throw it to you. Hannah – okay. I was just going to ask. Xavier – I want a woman of colour to be the first HOH this season. I think that would be great! Hannah – of just a female to be HOH before you can get two. Xavier – a female to be HOH would be phenomenal. So if it is down to you or I, I will give it to you. And then the next week I have to take out Baby D.
5:07pm Chess room – Big D and Azah.
Big D – I am protecting you at all costs. Azha – do you have to do that? Big D – I have to do that because I need you here and I need you to toughen up. Because when its time for you to be in charge and take some strikes, I need you to take those strikes. Okay?! That's why I didn't want you being a pawn. Because you being a pawn and being how you are … you are already HOT when the motherf**ker didn't let you win. So can you imagine you being a pawn? ..After that.. NO! Our whole thing would have blown up. I never wanted you to be a pawn. I would rather put myself at risk for you so you can go further. Azah – you don't have to do that. Big D – but I have to do that.. because if I don't win this game.. I don't want any of these f**king men winning this game. I would rather a woman win. That's why I am trying to get it. And it needs to be a POC woman.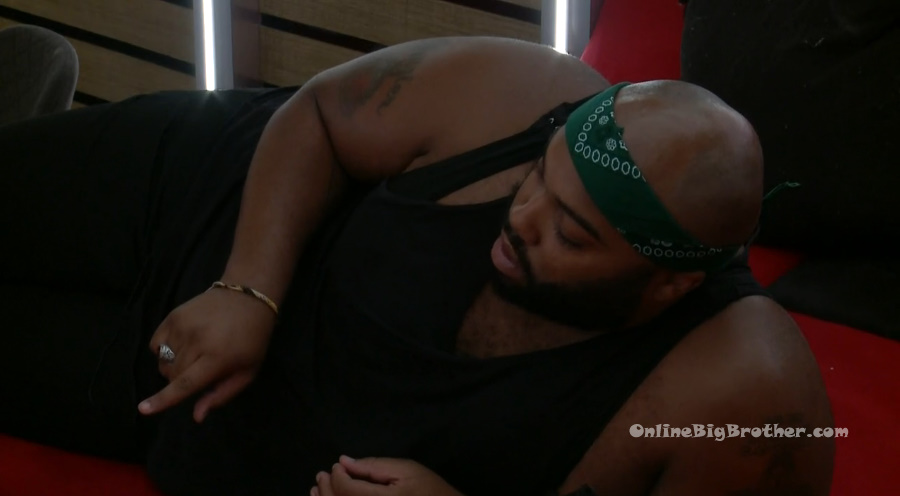 5:20pm Bedroom – Tiffany and Hannah.
Tiffany – I was doing something about the six.. Azah don't trust Ky. She don't trust you neither but she's trying to. She told me that you were saying her name so she doesn't trust you. Her and Big D .. she likes Big D .. but she probably doesn't know how far he is going to go. This morning she was working out with X. I think she is trying to get close to X so that he can bring her to the two with him. Hannah tells Tiff about her conversation with X and how he said with out her saying anything he wants Ky to go first, then Azah.. I want final four to be me, you, Tiff and Big D. Tiff – you think he has a final two with Big D? Hannah – I think everyone has a final two with Big D other than me and you.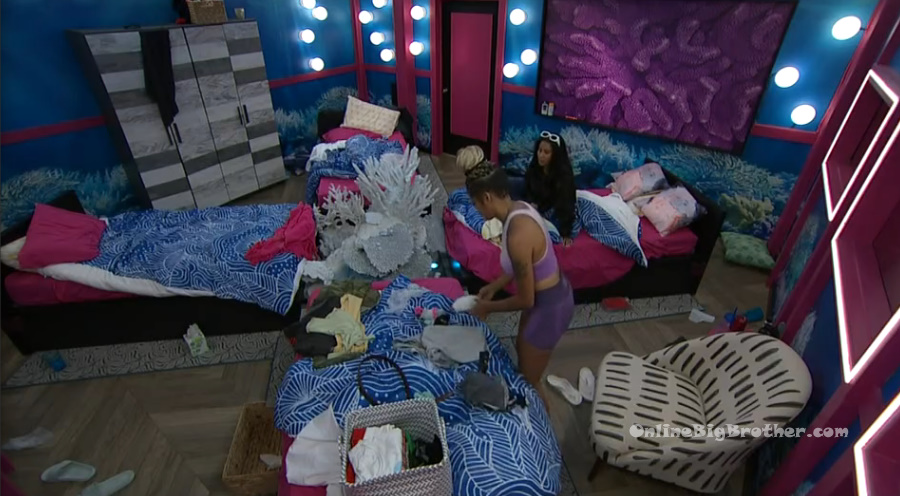 Show your support 🙂 Without your support this site and these spoilers wouldn't be possible.
Please consider a donation to keep the madness going.