HOH: Kyland
HAVENOTS:
Nominations: Claire and DerekF
Power of Veto Players: Kyland, Claire, DF, Alyssa, Azah, Brit
Power of Veto: Alyssa (OTEV winner), Kyland (High Roller winner)
Power of Veto Ceremony:
Big Brother 23 Houseguest Rankings – – RANK THE HOUSEGUESTS –
View the previous day ranks on the – Ranking Grid
SPOILERS
Kyland plans to take Claire off and put up Britini. Alyssa plans to not use her veto. As of right now, Britini is the target to go this week..
*** AT the veto ceremony KYLAND will have to decide to use his veto first, then Alyssa will decide to use hers or not. Tiff "Alyssa won the real veto"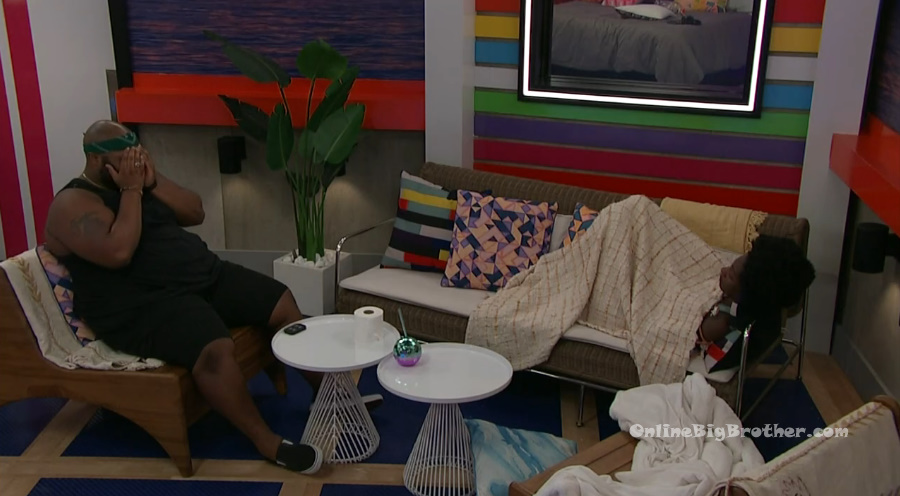 5:20pm HOH room – Azah and Big D.
Big D tells Azah about how Britini is going up as the replacement nominee as the target. Big D – if we would have won (veto) we would have been calm and collected because guess what Alyssa would be going up. But Alyssa won, so Britini is not going anywhere.. she's not going home. She will go to jury and we will have time to spend with her when our time comes. You never know she could go to jury and I could be the next out spending time with her. We never know… but I don't think that is that case. Azah – my struggle is I am doing this and I am trying to play my part in this.. Big D – I asked myself last night .. do you think you're a villain? Azah – yeah, I feel like there are two things that I am struggling with .. I honestly empathize with Nicole F.. because Nicole F did that to Da'Vonne and I didn't agree with it and now I am doing the same exact thing. Same exact sh*t! I used to get on her .. why are you crying about it. I can't cry about it and then send her home. Big D – but you're not sending her home. You're not, you're voting for her to stay. You're sending me home.. there is a difference. I have to rely on everyone else to vote for me to stay. Big D – technically I am not doing this to her, you're not going this to her.. Ky is the one who is in charge. Azah – this is the second time that everyone in the six have put their differences aside and voted objectively for the six. Meanwhile Kyland has done what is best for his game. This is the second week. And we can sit and be quite about it and keep going but we need to hold him accountable. He needs to held accountable. And that accountability will not come from me but he needs to be held accountable.. and it is not right!!! Big D – I think Azah you're missing it right now SB is his person. If I won and Ky had Brit on the block… I would take Brit off the block.. that is DUMB!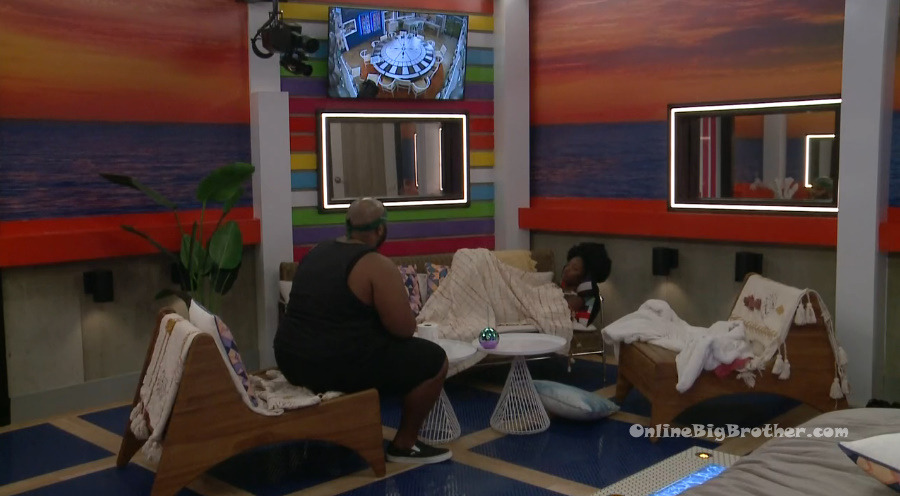 Azah – I am having doubts whether Christian was coming after me because when I think about it Christian had no reason to come after me. Big D – I don't know if he was or not. The only person that would know the truth is Alyssa. Azah – if Kyland put that in my head because he needed votes for SB to stay.. then that is operating in self interest. Big D – Oh my god! I am getting so frustrated because I don't know what to think! I don't know what to do and I don't know what to think. When Ky comes up here, you me and Ky will talk. I need y'all to be on the same page. What would convince you? Do we need to put SB on the block and send her home!? So that we can get better, because we need to get better. How can we get better?! Azah – I told him that I need Ky to show me that I can trust him. Big D – So SB on the block and going home would be the best case scenario? Azah – no because that would make no sense to anyone in the house… everyone would be like what is going on!? Had Kyland just said to me Azah I had a selfish lapse of judgement I got scared and was only thinking about myself, I am sorry. I would be fine! Big D – because he won HOH? Azah – because he kept picking me (in the HOH comp) repeatedly.
Alyssa joins Azah and Big D in the HOH room.
Big D – talk to him (KY) and figure out what is best for your game (to use the veto or not). Because you're here by yourself, and playing an individual game. Who is the best shield for you? Alyssa – my whole thing is I have to see what he is wanting because I go second and if I do something he is not wanting.. even though he might not want X out .. he could put him up because I am doing something to ruin his HOH. Big D – Oh of course. Alyssa – I had no idea that Christian was going up and I was wanting to use the veto on SB last week ..and imagine if I won it and did that and Christian went up!? So I have a little fear of using it because of what happened last week. Big D – at the end of the day I still wish SB was going out. I don't know why she is here. Unless you're able to make some kind of a deal? Alyssa – but I don't want to risk making a deal for X to then go up. He was the only one that was on my side with the vote. So if I do something that Ky isn't a part of and want me doing he could easily go like Okay here you go X! And then the HOH doesn't trust me either. I am more on the side of not using it but if it is something he wants me to and X won't go up then I am open to it.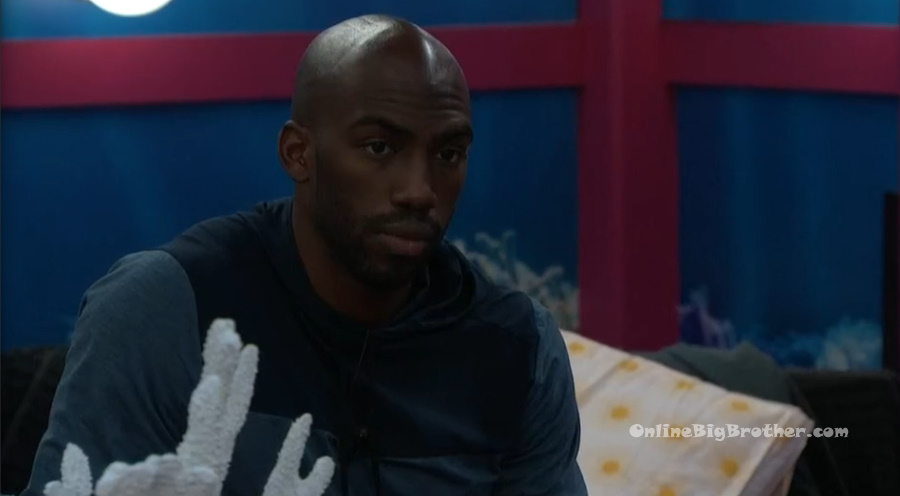 5:45pm Bedroom. Xavier, Tiffany and Hannah.
They're talking about jury management and whether or not they expose the cookout to the people going to jury. Tiffany is worried about not revealing it in her goodbye messages but if other people do people will feel betrayed that they didn't hear it from them.
Xavier thinks they need to acknowledge the cookout because its a big part of their game how they navigated to the end.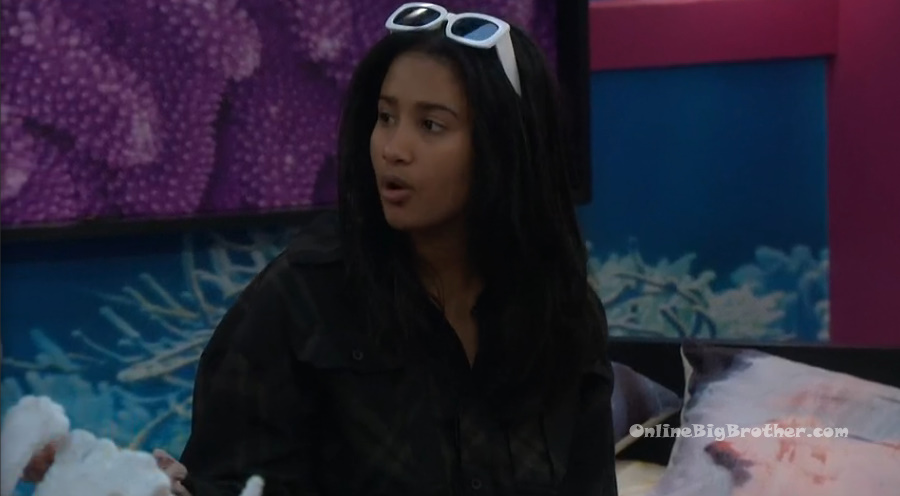 6:05pm HOH room. Big D and Kyland.
Big D tells Ky about his talk with Azah making her aware that Brit is going up. Big D – I just wish you hadn't made that deal. Kyland – OH MY GOD! When I make a deal it is like hey You do this and I'll do this. Does that work? That is a deal! Saying something in passing and saying this and that… Big D – Ky I know! Ky I know! I wish.. Kyland – I wish she could be a f**king adult! Big D – I think you just need to break it down to her. Why not just say I didn't want you to f**king win!? Ky – we already said that! This is stupid! Big D – I know, I know.. but.. KY – I am not going to talk like this in front of her. Big D – I know, I get that. We just don't have communication like in past seasons. Because we're not communicating it is causing us to.. KY – sorry I just spent 3 hours in the DR and I want to speak more quickly than this and I don't mean that in a rude way to you. I just want to .. I understand that ..we're not talking about communication. If Azah is still stuck on that from that competition then she needs to come up here and talk to me. She just needs to be honest and say I am stuck on this. If you're bringing it up or she is bringing it up then we need to figure it out ..so lets do that and then figure out the other stuff. Ky – she says that she wants to be involved in the decisions but then when I call you up here (Azah) and I ask you five questions and you tell me you don't have an opinion for all five of them .. then what do you want!?! I gave you the thing that you want and you decided not to participate. That is on you! Big D – Correct. That's a good point. Ky – so she needs to come up here and figure it out.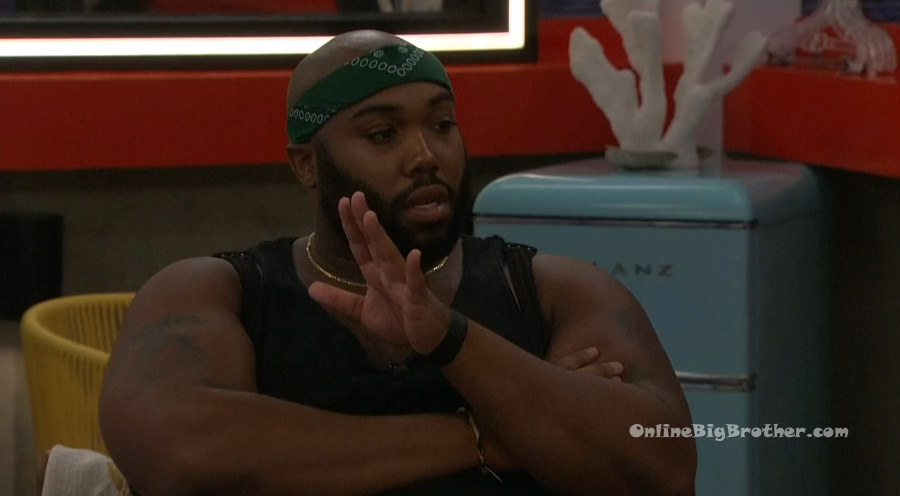 6:40pm Havenot room. Azah, Xavier and Tiffany.
Azah is clearing the air with all the issues she has had with Tiffany and their relationship. They rehash the fight where Tiffany wanted to talk to Britini about the Christian vote and Big D and Azah followed her up to the room.
7:20pm – 7:35pm Havenot room. Azah, Xavier and Tiffany.
Azah – I am going to accept my piece in this .. at the end of the day this is what makes it really really hard when you have friends that you really care about. But you all are so much more important and I .. I hate that I am crying. She is someone that is very special to me and I am sorry that she might not have meant it. I am sorry that I believe things from her over you and that is something that I really shouldn't have done because you're my sister. I am really sorry about that. Tiffany – Its okay, don't! Azah – I am sorry that I am crying man.. my god! I might have misgivings with you or stuff like that but that is really foul of me. Tiffany – no we don't know each other Azah. We are all new and learning each other in this house. Tiff – us just blindly trusting each other is very big of us because that is something that we would not even do in the outside world. But we do need to have trust in this house to move forward. I genuinely care about Claire. I have cried in that place (DR) about her own game and how guilty I feel knowing that if I stand a chance in this game .. she doesn't. I am with you regarding how you feel about Brit is how I feel about Claire. Azah – I shouldn't have stepped to you like that and I am sorry. Tiff – I would have handled it differently outside of the house. I love you like my sister. We have to respect each others mind, stick together and talk about what is bothering us. You keep sweeping stuff under the rug and it is only so big. Azah – I agree with you completely on that. Tiff – I am never going to turn my back on you. They both agree that they're happy to have had the conversation.
7:40pm Big D, Tiffany, Britini, Cliare.
They're sitting around making fun of Ky talking. Big D – talking to ky is like taking a math class. Ky am I the target?! AH UMMM… AHH Ummm.. I don't really know, there's a lot of people. This is an individual game. And Um I got a lot of thinking to do. Brit – the AND UmMMm's. Big D – I am sitting next to Claire. I'm a little confused, is Claire the target!?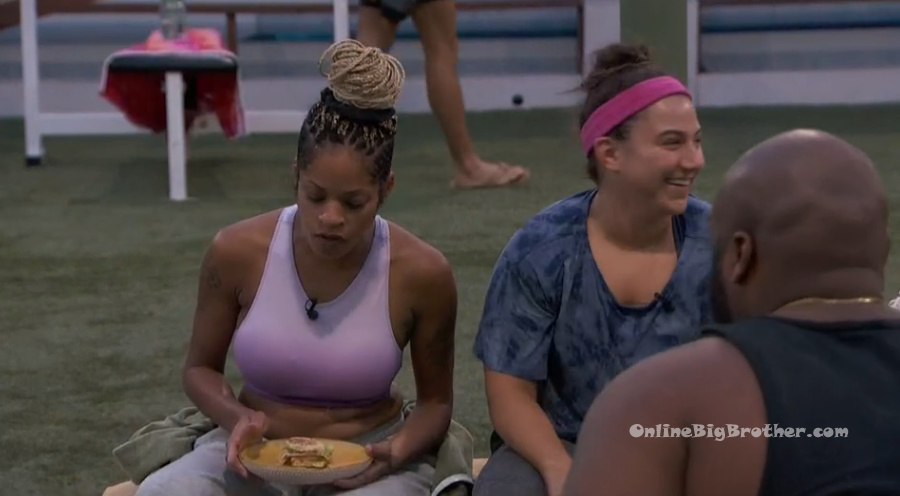 7:50pm Chess room. Alyssa and Kyland agree that as of now they think its best for Alyssa not to know who Ky is putting up as the replacement nominee tomorrow. Alyssa – If I didn't know its easier to say I didn't know with out seeming like I am lying.
7:58pm Havenot room. Xavier and Alyssa.
Alyssa tells Christian as home about her winning the veto yesterday and all the stuff she took for him from the comp. Alyssa – what else do we want to tell him? I laid in the hammock today alone. Xavier – In other news I dealt with some black people sh*t so that was fun! Alyssa – yeah you've got to update me on that.. Big Brother blocks the feeds.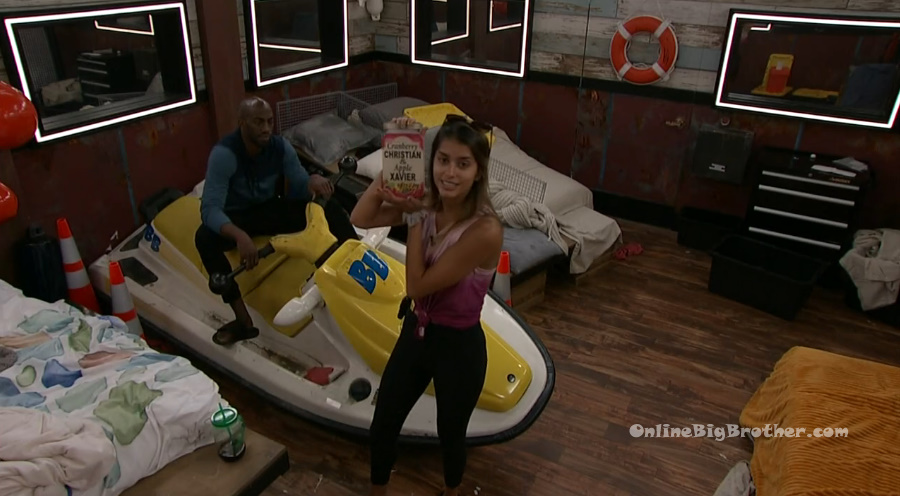 8:40pm Storage room. Xavier and Tiffany
Xavier and Tiffany talk about their conversation with Azah. Xavier – there was a lot of misunderstandings. Tiffany agrees. Tiffany – you're a great mediator. Kyland joins them. They fill him in on how Tiffany and Azah cleared things up.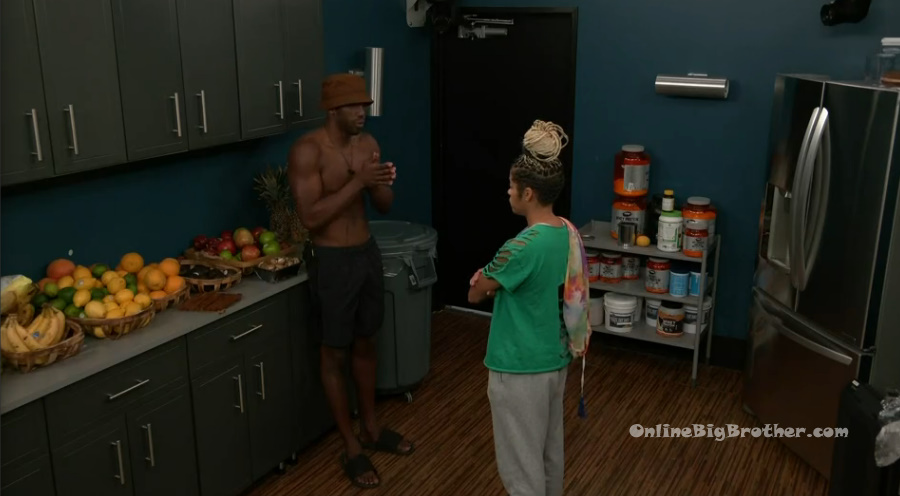 8:54pm Hammock – Alyssa and Sarah.
Alyssa – Even if its a no from people you might as well go through everyone and at least you can say you tried. What pisses me off is people giving him hope for no reason. I don't know if you're feeling this way but after last week but no one is wanting to talk game with me. And I don't know if its because the kiss made people feel more guilty you know .. like oh this is why she wanted him to stay. Sarah – or I wonder if people didn't know if at first Ky would go after you or not so maybe they didn't want to be associated with you. Alyssa – I think that. That's true. People are shocked that people aren't going after me and X. Sarah – I know even last week that's not what people wanted.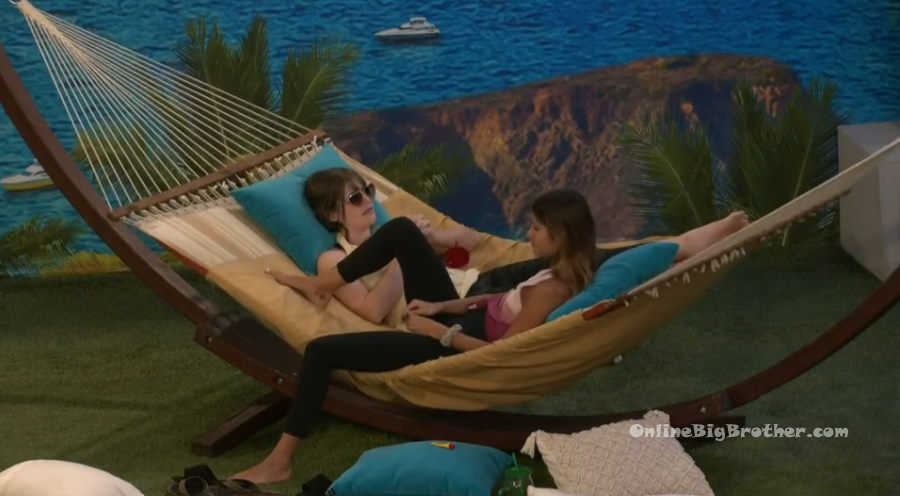 9:20pm – 10pm Chess room – Alyssa and Derek X
Alyssa – I know I want to make sure you know ..like when you said I am not backdooring Christian why would I do that because then I wouldn't have your jury vote. I want to make sure you know, last week I do not take personal. I respect the move. I am a huge fan of the game. If you are the better competitor at the end I am voting for you. I don't want you thinking I take this game personal. I am upset but I am not upset at you. Derek – I feel no type of way if you want to target me. That is your right. And you do that and that is great for your game. Do what you need to do to go far in this game. I just want to explain my reasoning behind it and I don't know if it was best for my game. Going into the week there was a lot of pressure to put a king up on the block. I did not want to do that. You and X did not cross my mind. I didn't want to put up Christian. So I was like what if I put up a king that is not the target. (Claire) It was fear that made me make the decision to take the shot before he could take it at me. I think ultimately that is the reason behind my decision. Alyssa – right, I totally understand and at the same time it was your game move. I know he was expecting it. At the end of the day everyone was coming after you and Christian. He could have been on your side. Alyssa – I am willing to move past it and show you that I mean it. Like if I win HOH, you don't have to worry if it is reciprocated. If we did have like a trust type of thing like us four I probably would still continue that .. because why wouldn't I go after you. And you could act the same way… so just continue that. Derek agrees. I was surprised that you weren't targeted this week. Alyssa – that would have been the easiest move to target me. Derek – I felt good with Ky but this week he is literally not telling me anything. Alyssa talks about how she doesn't want to even know what Ky is doing with the veto this week.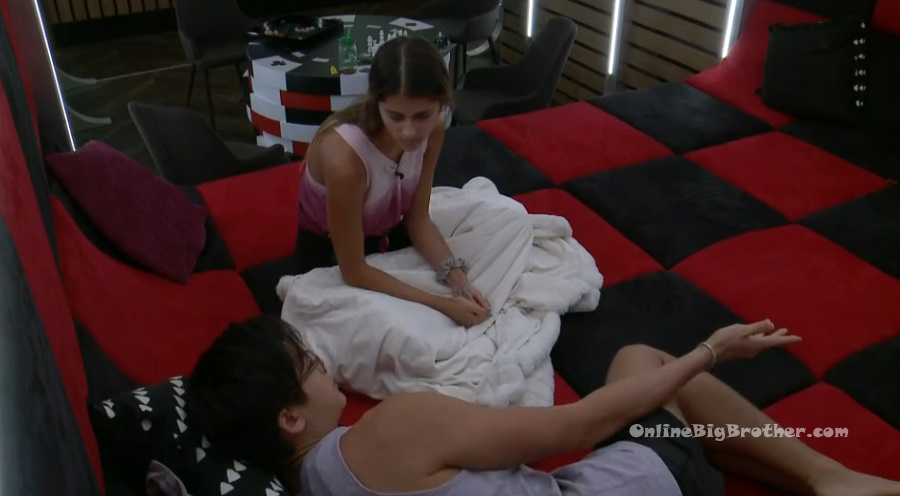 10:09pm Living room. Xavier and Alyssa
Alyssa – We were talking and I meant it but oohhh.. whatever and I looked at Christian and said.. No but I didn't mean it like that .. I love him but.. I knew you were going to do that. You know I don't mean that, come on now. I was going to say I love you but he wouldn't have won that HOH comp. Xavier makes a face. Alyssa – no that wasn't what I meant. Don't do that .. I don't want him thinking that. I said I love you Christian but you know wouldn't have won that comp. Xavier – oh you know he is definitely proposing to you on finale night. Alyssa – I've done that before where I accidently said I love you but I didn't mean it. And then they said it back and I couldn't take it back but I didn't mean it.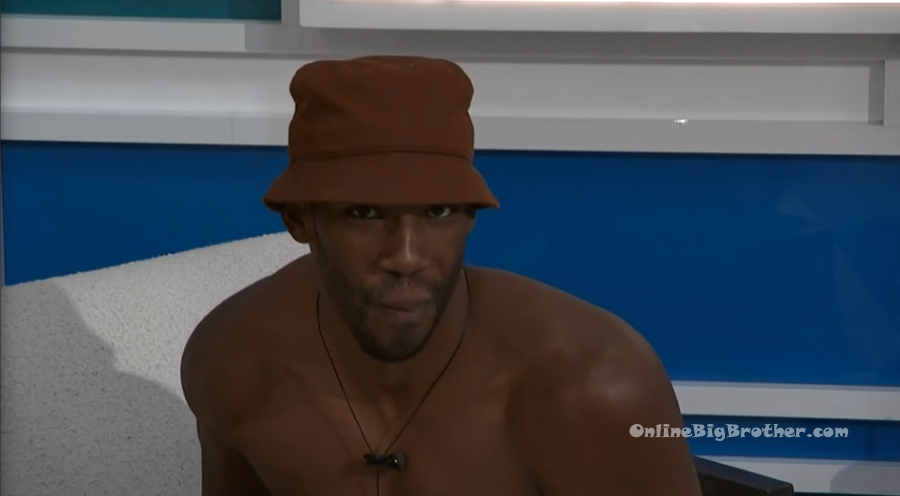 10:20pm – 10:40pm HOH room. Kyland and Claire.
Kyland – so my plan is to do one on ones tonight.. and for that same reason I am not going to ask you those questions so you don't have to feel.. Claire – no good! I will tell you what I have been telling people that I don't know what he is going. He is keeping his cards close to his chest. Kyland – I am okay with that if you're okay with that and its not challenging for you. Claire tells Ky that she speech will just be the general vibe.

11pm Xavier and Derek X put on the donkey costumes
HEE haw #BB23 @bigbspoilers pic.twitter.com/SRw3bLf2rn

— Dawg (@DawgsBigBrother) August 16, 2021
Tiffany – why would you let them do this to me?!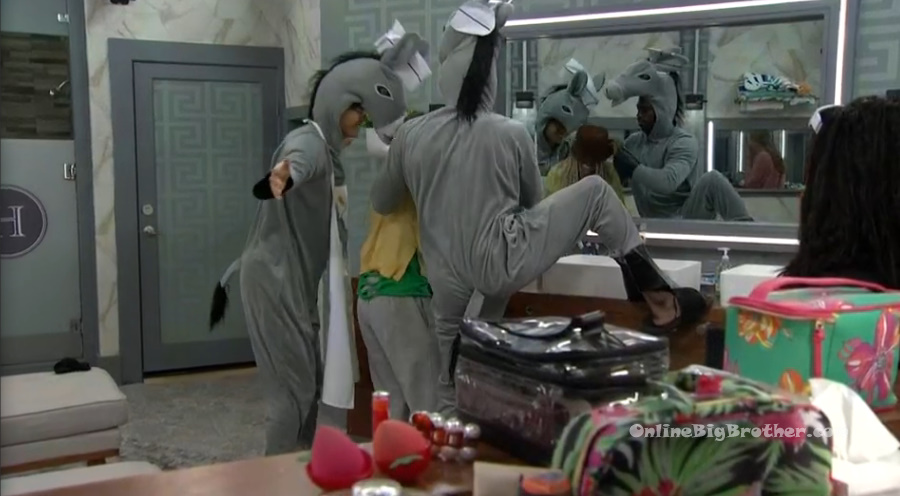 12:10am HOH room – Kyland setting up for his one on ones at 12am…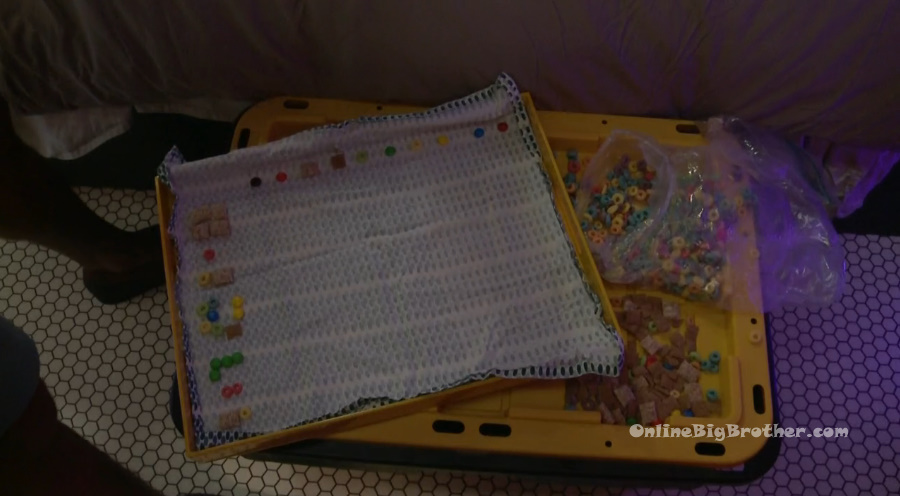 12:13am Chess room – Derek X and Hannah.
Derek – If I made a deal with Alyssa and X I would keep it. I wouldn't go back on an explicit deal like that. Hannah – okay. Derek – especially with Jury. Hannah – okay. Derek – and I would want you to keep it too. Hannah – yeah, so I would have to go after SB. So how do we trust that? If they win the following week that they're not going to take a shot at us. Derek – They fully would, they just wouldn't have a jury vote. I feel like X is loyal. I feel like X wouldn't. I want to make a deal with X, I don't want to make a deal with Alyssa. Hannah – I am not worried about X. Derek – I want to cut a two week deal with them. Hannah – if he puts Brit on the block and she doesn't go home she would become Brit's number one targer.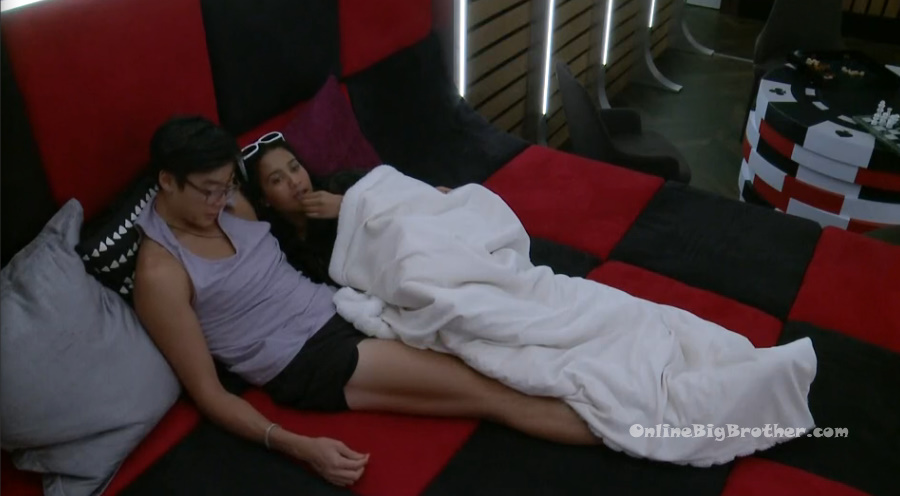 12:17am – 12:30am Bathroom – Xavier and Azah
Xavier – Like what the f**k were you (Ky) doing all day!? You had plenty of time to do all these one on ones.. Literally ALL DAY! F**k your plan! Azah – I agree with you completely. X – oh now we have a plan?! And you gonna try and get us all on .. what plan?! When you try too hard it just comes off as obvious.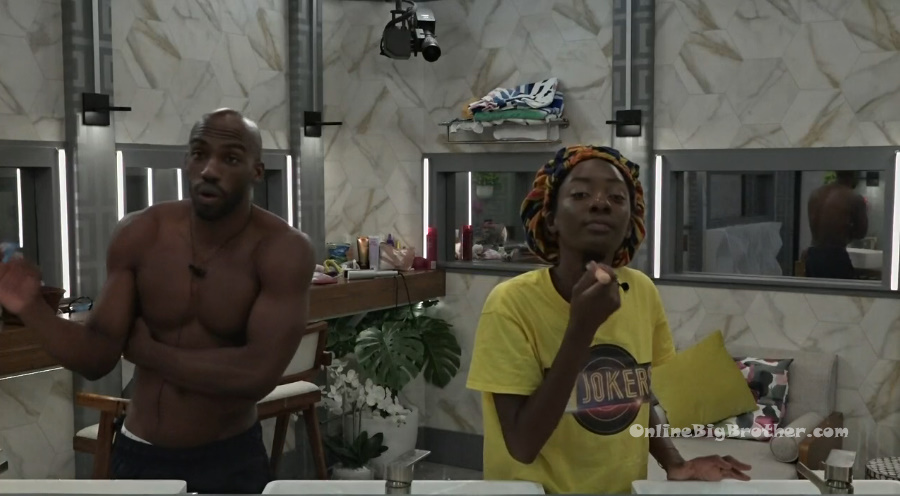 12:40am – 1am HOH room. Kyland and Tiffany.
Kyland – if we were to narrow it down. First I wanted to revisit some of the questions that we talked about before. This is to get a sense of what you see in the house. Who is the most influential person in the house. Tiffany puts hers on Kyland. Kyland – Who would you find to be the most threatening person to your game? Tiffany puts hers on SB. Kyland – If you had this be your HOH, who would you put up? Tiffany – It would depend on who the Cookout saw as a threat. I would probably do SB and you.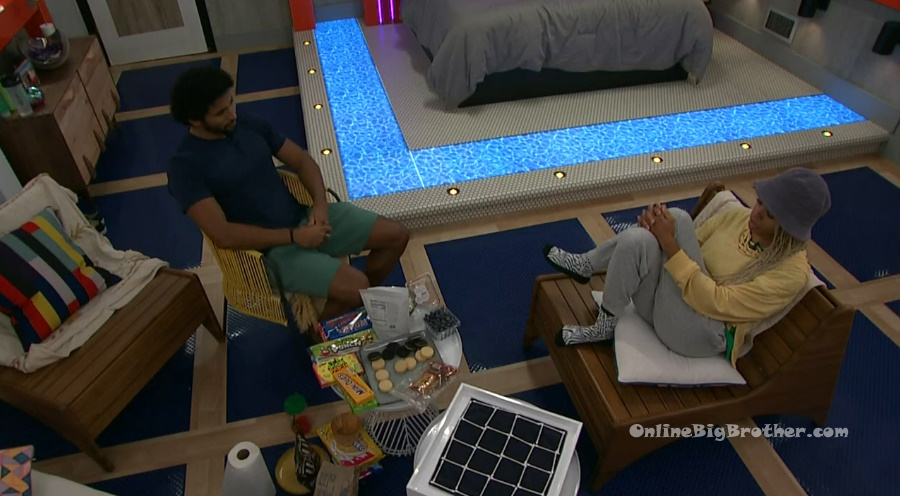 Show your support 🙂 Without your support this site and these spoilers wouldn't be possible.
Please consider a donation to keep the madness going.