HOH: Tiffany
HAVENOTS: BIGD, Alyssa and Claire
Nominations: Alyssa and Xavier
Power of Veto Players: Xavier, Alyssa, Tiffany, Hannah, Azah, BIGD | Host : Claire
Power of Veto: Alyssa
Power of Veto Ceremony:
Big Brother 23 Houseguest Rankings – – RANK THE HOUSEGUESTS –
View the previous day ranks on the – Ranking Grid
Big Brother Spoilers – Alyssa and X are nominated. Alyssa is the target. Alyssa winning Veto could bring some drama.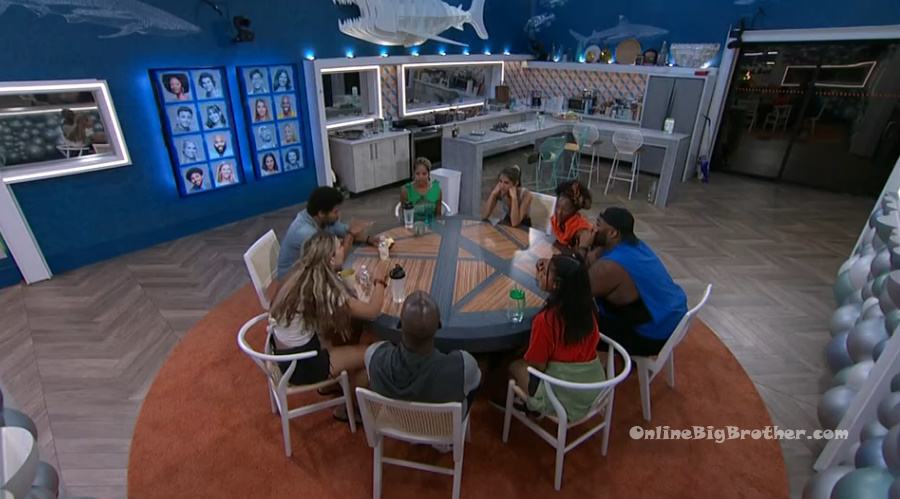 1:45pm – 4:45pm Big Brother blocked the feeds for the Power of Veto Competition.
Alyssa WON the VETO!
– Since it was the tiny veto comp, Alyssa has a tiny veto as a bracelet instead of the regular sized veto.
They're all in the kitchen talking about the competition. It was a relay type competition. It sounds like it was the tiny veto comp where you have to stack tiny items with tweezers. Tiff – I thought this was like my comp. She says that her hand was super shaky from the beginning. Hannah – I cannot say that, that was a fun comp but congratulations Alyssa. Well deserved! Tiff – hopefully you get a real sized veto. Alyssa – I don't know if its supposed to be a bracelet but..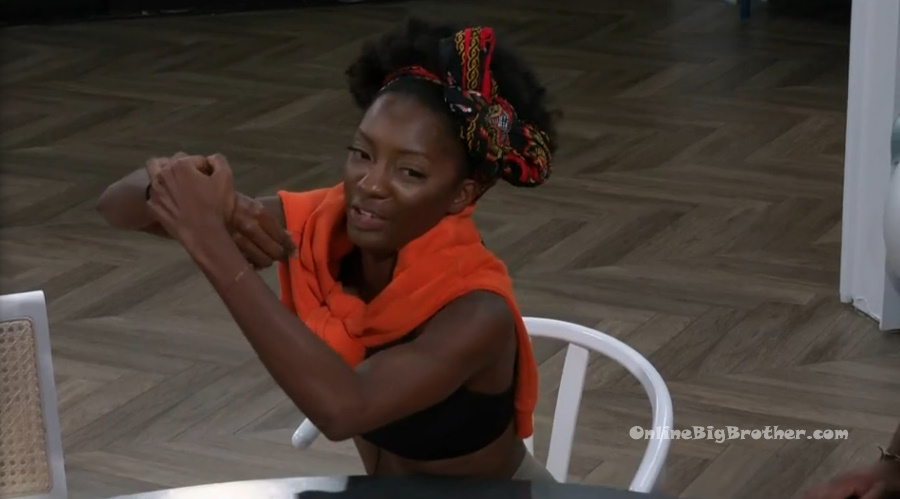 Bedroom – Big D talking to the cameras. Big D – So if I end up on the block that means she is trying to send me or Xavier home. So the only person that can go on the block is Claire. Azah joins him. She asks him how he is doing. Big D – I am just bummed because I almost had it. Are they going to put up Claire? Xavier joins them. Xavier – the way I see it she has two choices: She puts up Claire and if she ends up in final two she might still have 4 votes. She puts up another member of the cookout whatever four other people go to jury if she makes it to final two she just lost four votes. Think about it?! Big D – I know. Its just a lot of pressure because its like.. Azah – its a lot of possibilities. Xavier – I will talk to her and figure out if there is some way to twist it.. Azah – how?! Xavier – just let me think. I already had an idea before. Azah – okay daddy! Big D – if Claire goes up Alyssa knows next week she is next… for sure she is next! Alyssa is going to know she is next! Xavier – how am I the one on the block and I am the one that is the most calm right now. Azah – I am actually calm. Alyssa joins them and they talk about the comp and Zing-bot.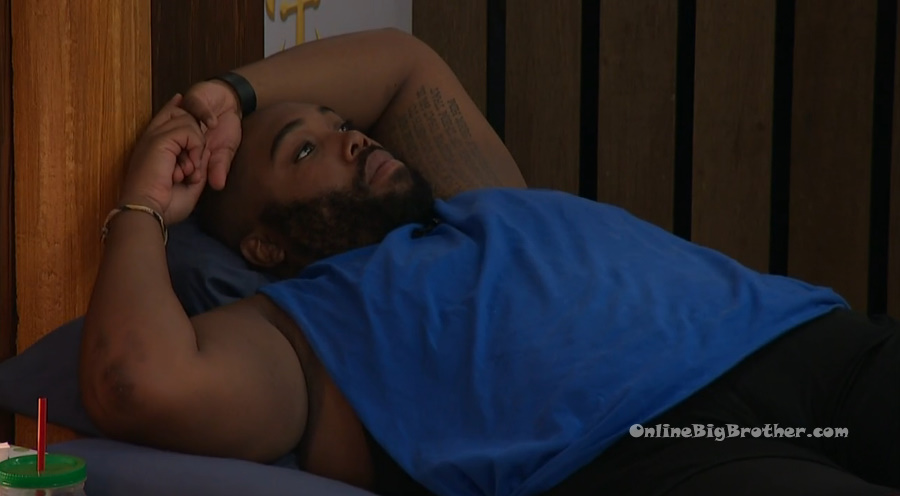 Kitchen – Kyland and Tiffany.
Kyland – we all know that the plan is to avoid it. Tiff – avoid her using it on him? Kyland – yes. I think that is where I would go with it. Tiff – you ask him. I won't. Ky – you ask her. Tiff – well you got to talk to him first. Because y'all be like her person and so y'all don't want anyone talking to your person. Ky – but you have to talk to the veto winner.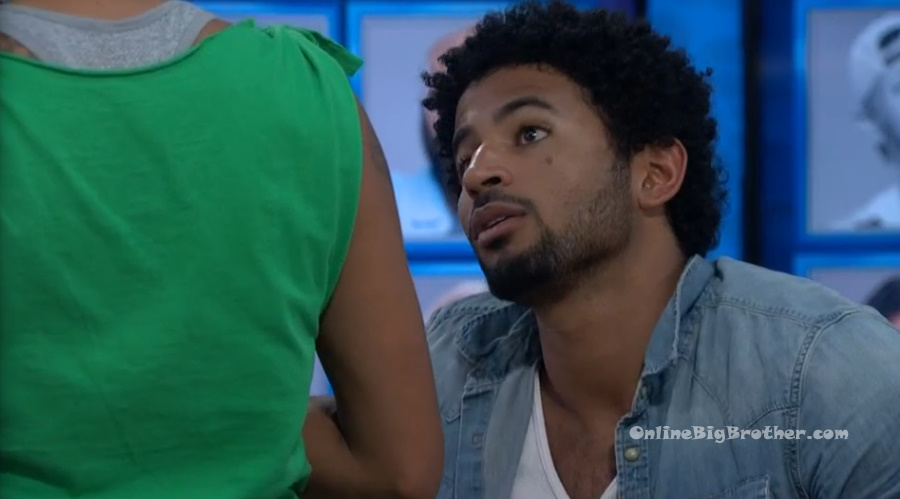 Bedroom. Alyssa and Xavier.
Alyssa – the only options for people to go up are Big D, Azah and Kyland. Big D and Azah do not want to see the block. If we tell Big D and Azah to go up to Tiffany and beg to not be put up and they will vote out you then she will put up Kyland because she knows she will have the votes regardless. And then she won't get extra blood on her hands putting up Big D and Azah. If they both go up individually and say I really don't want to go up .. I am not coming after you .. and now that we know that Alyssa is staying.. we have the votes.. me and Azah are fine with voting out X. If you don't mind putting up Kyland. Its the best case scenario. Xavier – alright, I like it. You just won OTEV and ZING-BOT. You're a comp beast! Alyssa – those are two really cool wins. We should tell them the plan tonight so that way they go on their own and they don't see us talking to them.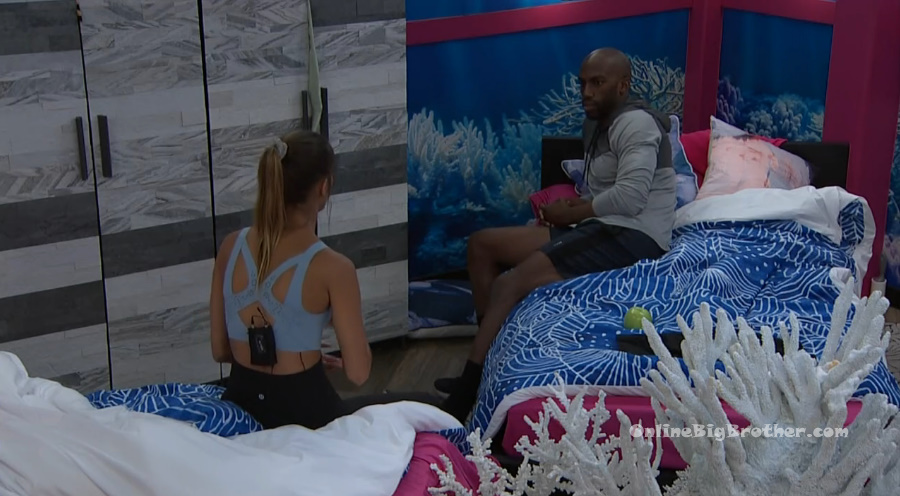 HOH room – Tiffany and Hannah.
Tiff – Ky should talk to X about the idea first before so that maybe it would help X consider.. Hannah – X doesn't trust Ky though. Tiff – so should I talk to them first? Hannah – do you want me to talk to them or no? Tiff – I am just going to talk to both of them about it. You said that X doesn't trust KY so who should talk to him? Hannah – I'll talk to him before you talk to both of them. Tiff – because otherwise I just have to tell Claire I made a deal that I would not put any of you guys up.. and I try to send Alyssa home. Hannah – yeah that would have to be your default unless we can pull this off. Tiff – Alyssa wants to keep X then she can keep him but she has to be convinced that he is going to leave. Here is the thing.. I think there is a lot of spite involved in people's decision. I think there is still a lot of salt in the wound that Tiff jumped out there and won HOH. Nobody wants me to have what I want. Even if the plan is feasible. He does not want Alyssa to go. If Claire has to go, she has to go.. that is fine. If I tell her about a deal.. I don't know if it raises her awareness about the six. Hannah – you could frame it like .. I made a deal with X, Ky, Azah and Big D .. this week .. that I wouldn't send any of them home. Don't tell Alyssa about the Cookout obviously in case there is a battle back. Or you could say I made a deal with those four people that I wouldn't put two of them on the block at once and I plan on sticking to that because I do want to see my brothers and sisters get far in this game. I did want to send Alyssa home but with her winning we have to rewire that deal. I have to put you up because I don't want four people coming after me.. Between Azah, Hannah and Ky, you (Claire) have the votes to stay. I wish we could get Alyssa to use the veto on X but she is a big enough fan of the show to know that if you win the power of veto .. you use it on yourself! Tiff – I believe if X was on board with that plan I think she would believe him enough to do it if she felt she had the votes to stay and we would send Big D home. The only rebuttal to that is if we are going to send Big D home why not just put him up next to X and send him home but X would never stay over Big D. Hannah – because Ky isn't voting to keep X and Ky is the swing vote.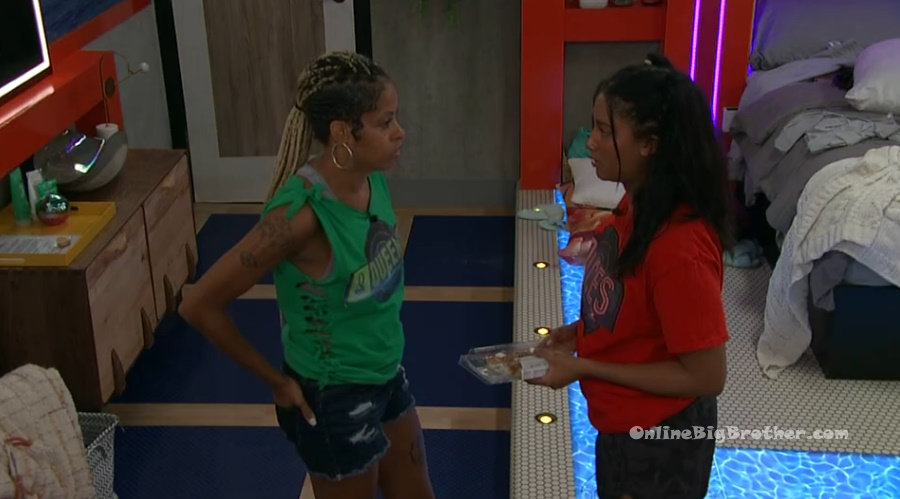 Bathroom – KY and Xavier.
Ky – as of right now she wants try to get Alyssa to use it on you. Xavier – that is not going to happen. That is bullsh*t. Ky – I am just telling you. She said that right now? Ky – yeah. I'm just giving you the heads up.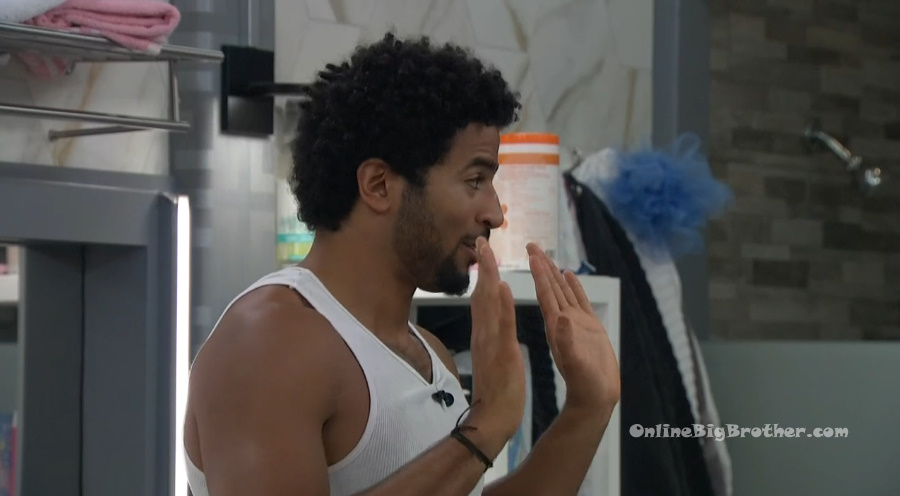 5:25pm – 5:45pm Bedroom. Xavier and Big D
Xavier – I am sitting up on the block and you're still trying to figure out who to put up next to me because you don't want to put up Claire. Tiff, you wanted to make a legendary move of winning two HOH's in a row .. that came with the risk of exposing blowing your sh*t up. She told me that night that you would put up Claire if you have to. You Now have to! Now you're pissing the rest of us off! I am telling you if you put up someone else in the Cookout and I am still here… she better make sure I am not here anymore. Big D – that's how I am going to feel. Xavier – If you put someone else up you better make sure its someone I am going home to. Here is the thing, if she had put up Azah next to me.. Azah would be going home and then she's got me, you and Ky all coming for her… and Alyssa. Big D – Mmmmhhmmm. If she pulls a selfish move.. BRAH! BRAH! Xavier – she just blew a part the whole culture. Big D – I would flip this whole house upside down and drag her every which way. Xavier – in my gut I think she puts up Ky next to me. And if she puts up Ky, Ky is going home. Big D – I know that.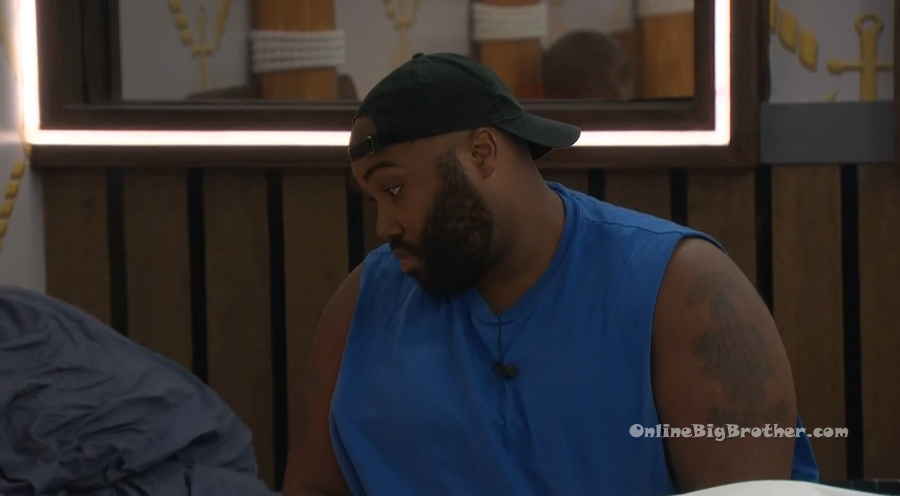 5:52pm Bedroom – Big D and Xavier.
Xavier – what is wrong? Big D – I just came outside and Tiff was like I know you're happy! Xavier – why is she coming out with that energy. Big D – like what are you talking about. I am not happy that you got to put your friend down. She is just being like a sore loser. Like you just made this whole speech like you are a team player. Xavier – she is upset right now because she is up sh*ts creek and she ain't even got a paddle. But she brought this sh*t on herself. Big D – Like I didn't say that I was happy.. I didn't even do anything. That type of energy is not needed. I feel like I am her punching back and I can't punch back. I just don't like that. It makes me really uncomfortable. Kyland joins them. Xavier – any idea that Alyssa has involves putting you (KY) up. I already have a plan for who is sitting next to me that ensures they go home. I can't say who .. but we know who that person is.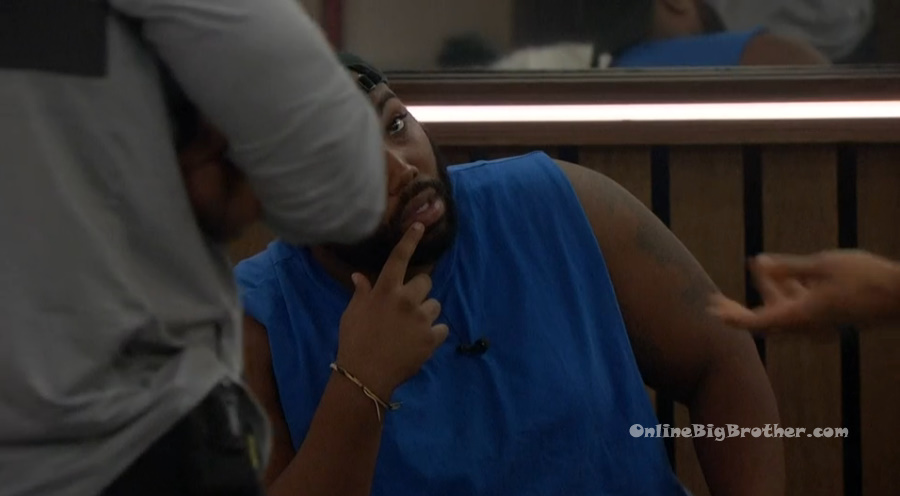 6:30pm – 6:40pm HOH room. Tiffany and Xavier.
Xavier – I am trying to figure out a way of you doing it without it biting you in the a$$. I don't want your game being blown up in any capacity. I think I have an idea that could work. I assume that Claire thinks that you were cool with either me or Alyssa going. Tiff – Mmmmhmmm. Xavier – so if Alyssa comes down then I would be the next option for someone to go. In order for me not to go you would need to sit someone next to me who would for sure or more than likely vote against me. So to make it make sense for her (Claire) going up .. you would have to break down every other reason as to why everyone else is not an option. You might think this is stupid.. Ky has the idea that you made a deal that you wouldn't put Big D or Azah up. They start going through the options. Xavier – I am sorry that you're in this position. Tiff – man, I put myself in this position. Tiff comments on how she doesn't want to say that she won't put up others because of a deal. Xavier – it makes it easier to understand if you say you made a deal. Tiff – so this week I put Claire up and she goes home.. Next week what happens. Xavier – We send out Alyssa and I will probably have to see the block for the fourth time. Tiff – by me sending Claire home this week.. I don't want to touch the block next week. Xavier – okay. If Alyssa needs to go out .. then I will go back up. Tiff – I don't want to be the replacement nominee … if I have to suffer through this week of sending my person home. I feel that I don't need to touch the block to send anyone else's person home. Xavier – okay.. I wouldn't lead with that. I can work on it for the other people in the cookout. Worst case scenario everyone has a reason to put up Ky.. so if everybody didn't feel right about putting me up for the fourth time they could put up Ky.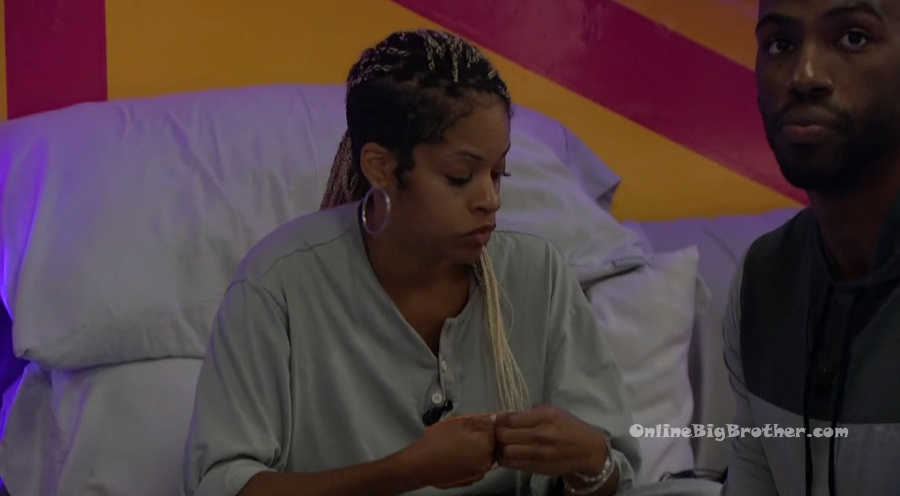 Tip jar 😉 Without your support this site and these spoilers wouldn't be possible.
Please consider a donation to keep the madness going.