HOH: Tiffany
HAVENOTS: None
Nominations:
Power of Veto Players:
Power of Veto:
Power of Veto Ceremony:
Big Brother 23 Houseguest Rankings – – RANK THE HOUSEGUESTS –
View the previous day ranks on the – Ranking Grid
Big Brother Spoilers -They have their envelopes with them. They can't open it until the enter the High Rollers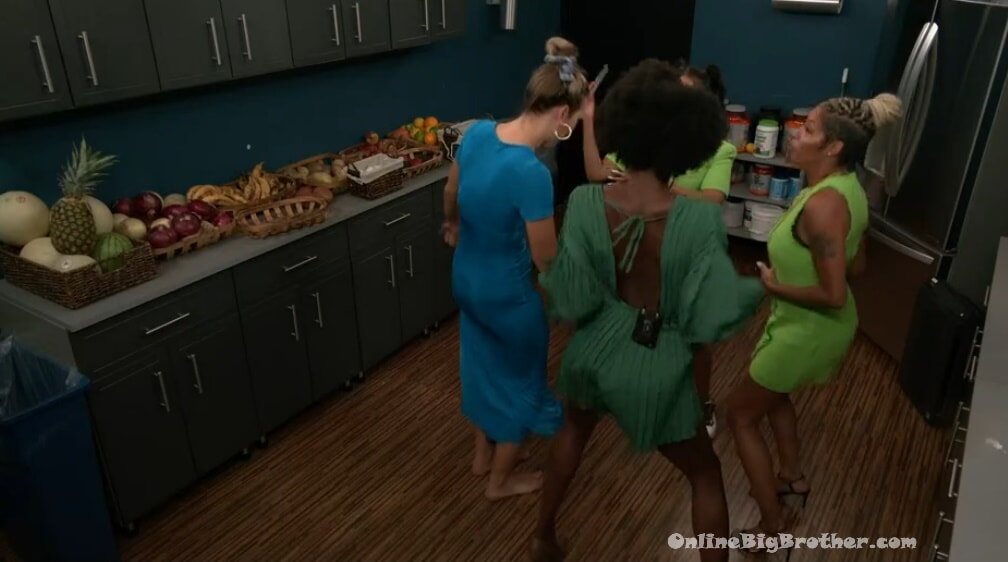 6:07 pm Girls dancing and celebrating
"we're freaking safe.. we're freaking safe"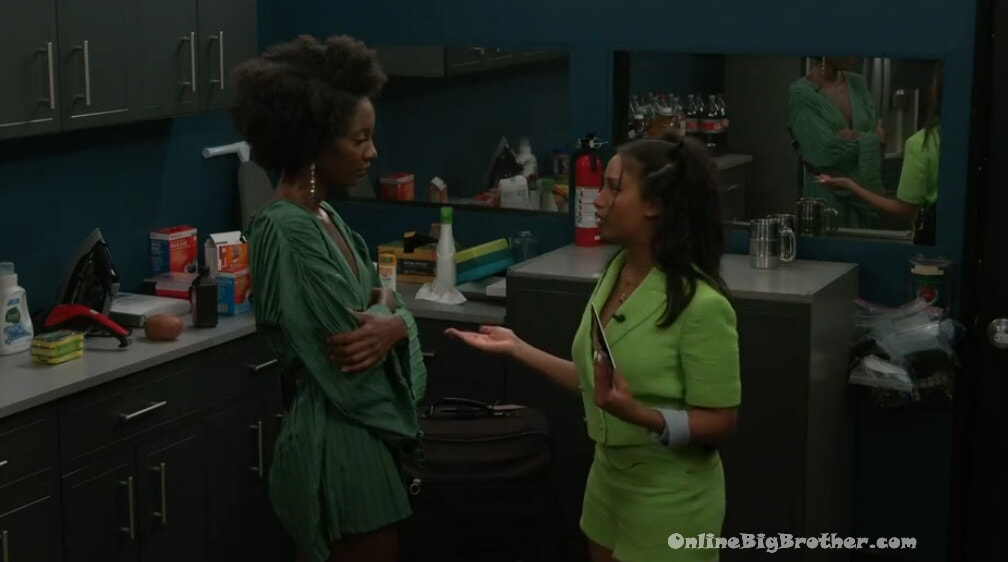 6:11 pm Hannah and Azah
Hannah says Sb will need to get 100 from the envelope and 100 from the fans for her to be able to paly
Hananh – I don't see America giving her 100 dollars. It's pretty unlikely
Hannah says Even if Alyssa gets 100 she can't play regardless "Claire is at 100 .. "
Feeds flip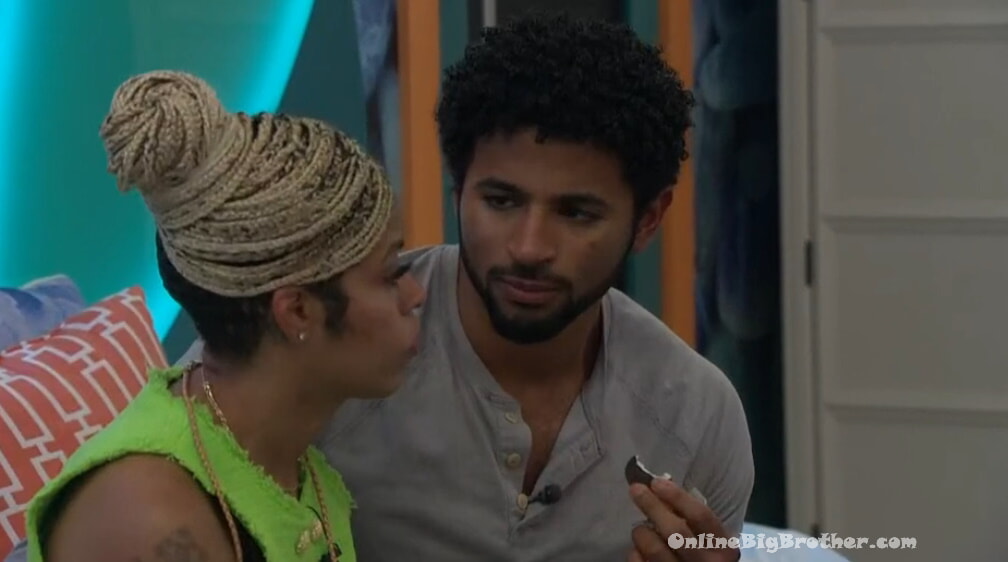 6:14 pm Kyland starts the creeping.. Tells her she's fine (in regards to the twist)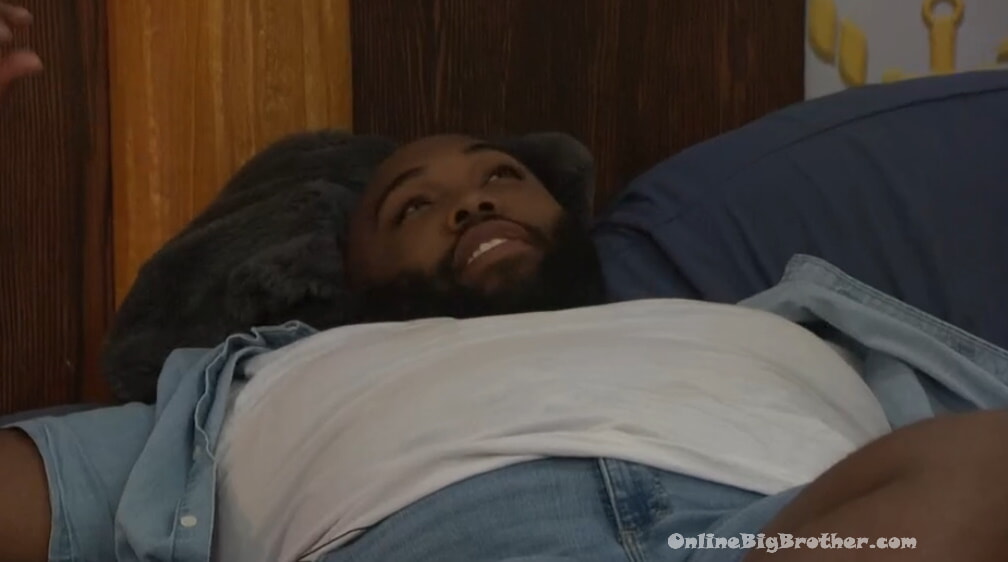 6:20 pm DF and Azah
DF says the boys have to win next week to take out Claire.
Azah – claire has never mentioned you her and Claire are like this.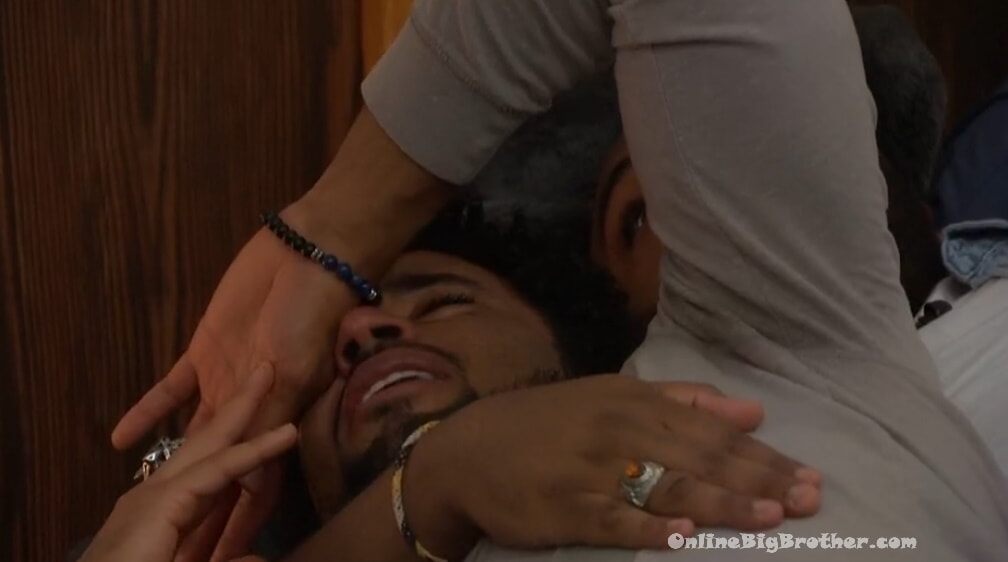 Kyland joins them.
Ky says when DerekX left he said to him "obviously I like working with you is there anything I can do for you in the jury house if you don't end up coming there"
Ky – I said yeah I appreciate it I hope everyone stays as non-bitter as they say and then I said is there anything I can do for you in here.
Ky – He said Hey just take of Hannah
Kyland cries
DF – he'll understand when he sees everything.. stay focused
Ky – she's (Hannah) more protected than you know..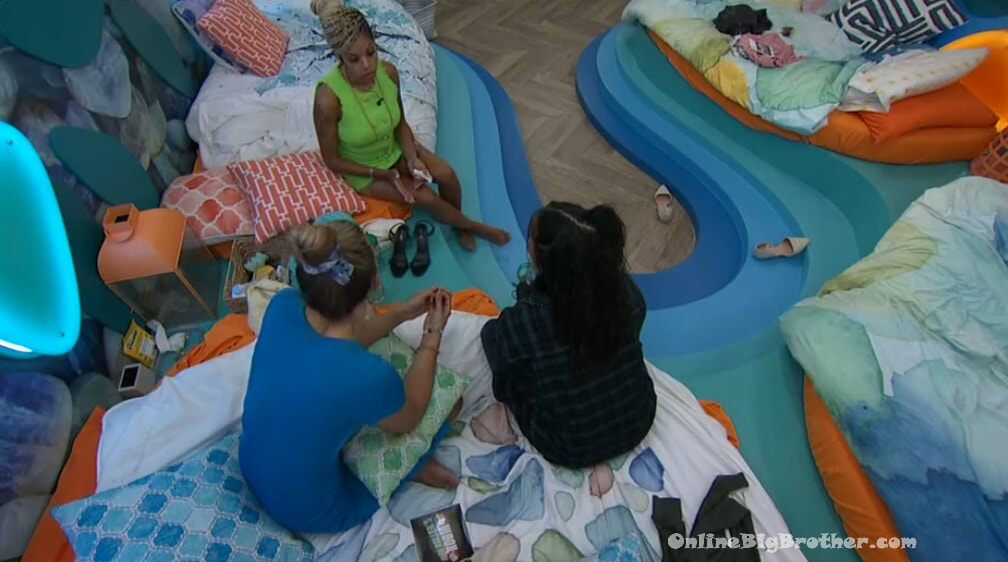 6:25 pm Tiffany, Hannah and Claire
Tiff – we got to get information. Ky has been the best Information getter. I do want to get him with to see how I should go about getting information.
Tiff – I want to talk with Alyssa to see what she's thinking where her head is. What she would do if she wins Veto. I believe some good seeds were planted in her head.
Hannah – Her and X are talking in the bathroom right now. Alyssa is doubting SB (Ohh poor monarchy gone already)
Claire – SB is sort of throwing Alyssa under the bus
tiff – I just told Ky I'll have to put him up next to her
Tiff says as long as SB stays on the block after veto it's fine.
Hannah – She (Alyssa) will use it on X. It's a good thing X is on the block we don't have to worry about Alyssa.
Hannah – lets say I win would you prefer I use it on X or keep those three up there
Claire – keep those three up there
Tiff – that way everyone has to be fighting for their life.
Hannah – make them sweat
Tiffany wants Alyssa to show them where her loyalties lie X or Sb.
Hannah – Ky has been feeling awful comfortable in this house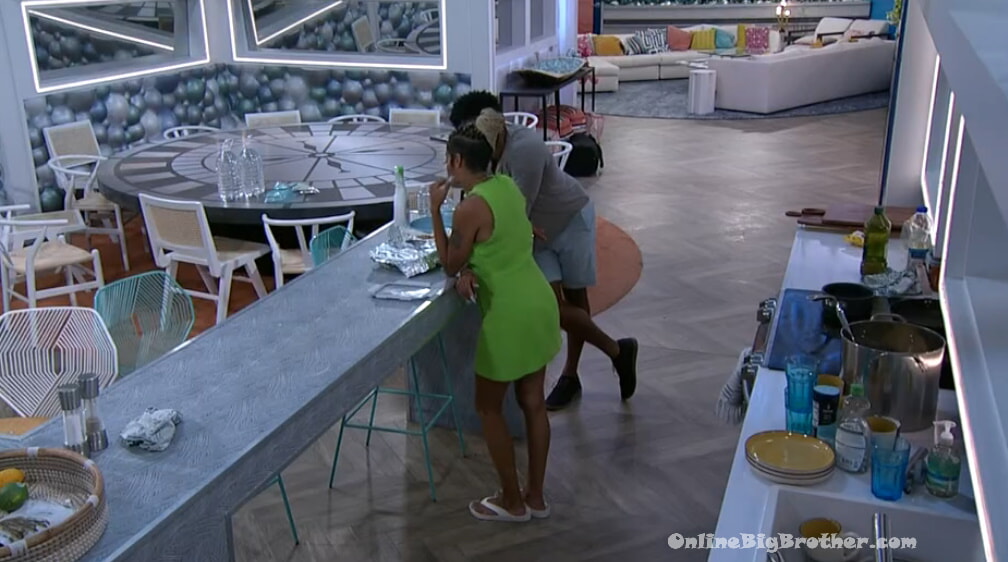 6:32 pm Tiff and Kyland
Tiff tells him she wants to consult with him about how she should conduct her meetings (5 hours long 1-6am every day of the week)
Tiff – Unless SB wins the freaking Veto that why I need you.
Tiff – then next we just have Claire and Alyssa then whatever else happens happens.
Ky – once Sb leaves I can do anybody
Tiff – that's a lot of HOH for you though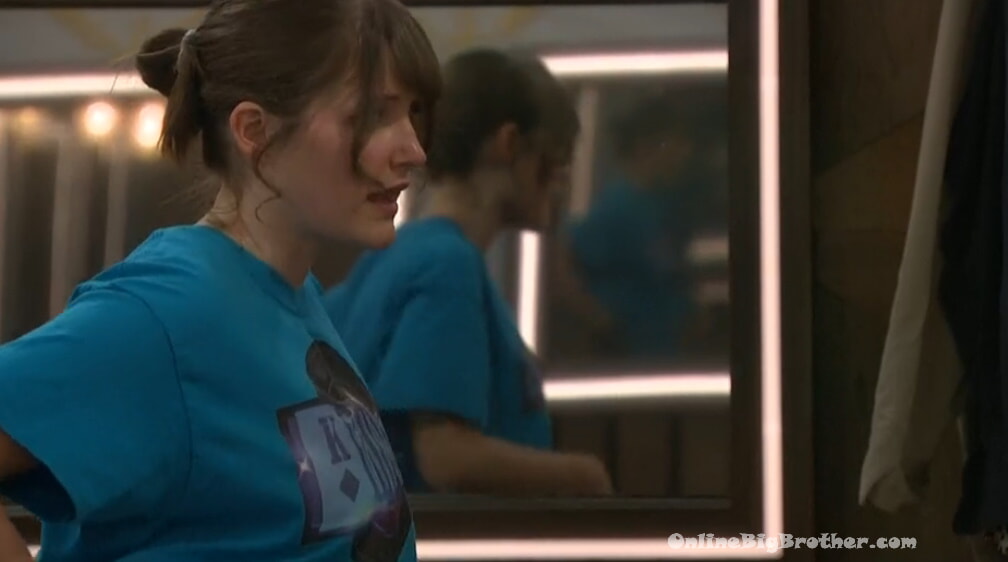 6:42 pm Sarah Beth ans Azah
She tells Azah she has to pee "have you ever held it so long you did have to"
Azah says she doesn't like holding it she's scared of getting a UTI
SB – I use to get a lot of UTI's then I stopped taking baths..
SB adds she started drinking less Soda..
(yikes)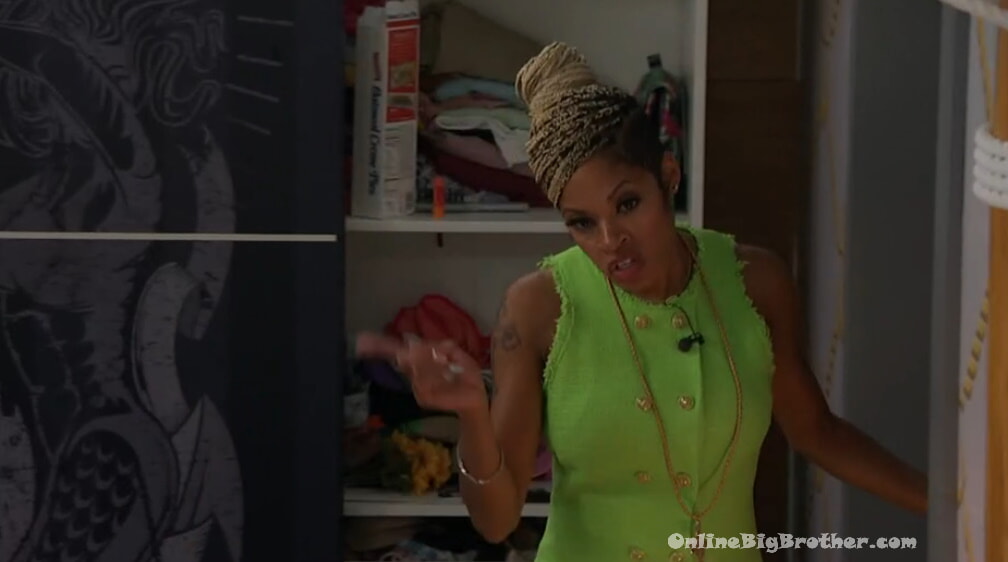 6:46 pm Tiffany and the jokers
Tiffanys – nomination speech "You sent my friend DerekX home I told you that was a mistake but your goddamn heat glasses on"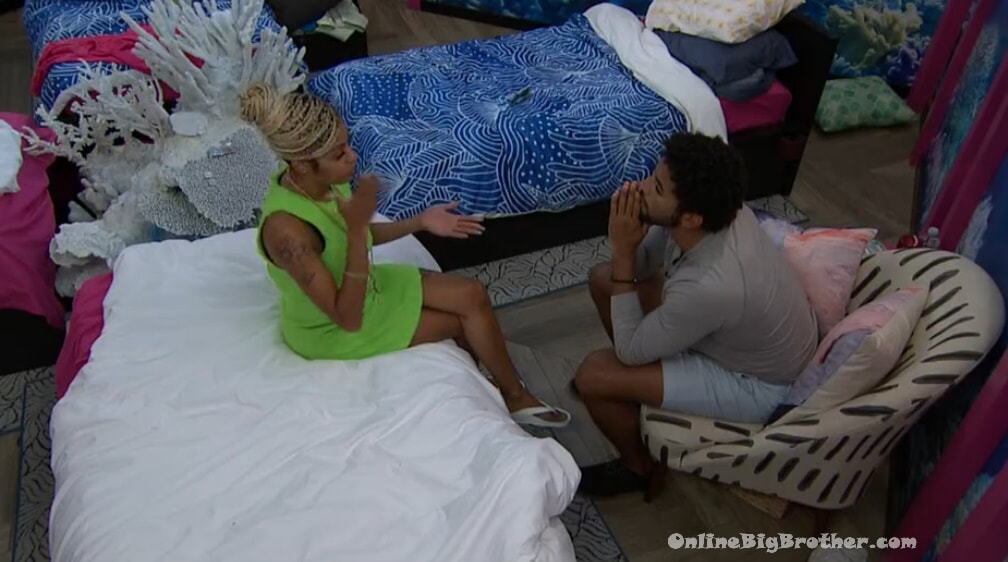 6:48 pm Tiff and Ky
Tiff tells him she wants to keep X on the block to lock down Alyssa.
Tiff – I do want her out it has been my mission for a long time. I want you guys as the real men that you are to help me weigh all my options to see if I'm missing something.
Ky – Claire wants X to go out over the other four of us that is what she's telling me. Shew says her numbers ones are X and BIGD is that true
Tiff – I think so out of the cookout. Claire wants Sb and Alyssa.. She's on the outside trying to figure out
Tiffany – when we get to six me and you are number one targets.
Ky – I need to know who I am the target of as far as I know you are only BIGD's target so I don't know who's target I am besides maybe Azah. (bless Azah)
Ky – I still wonder for Azah if it still makes sense.
Tiffany says it will be a beautiful thing when it's just the six in the house.
Tiff – there is two strong power couple in this house one of them is already on teh block I would like to put the other two on the block.
Feeds cut.. When we're back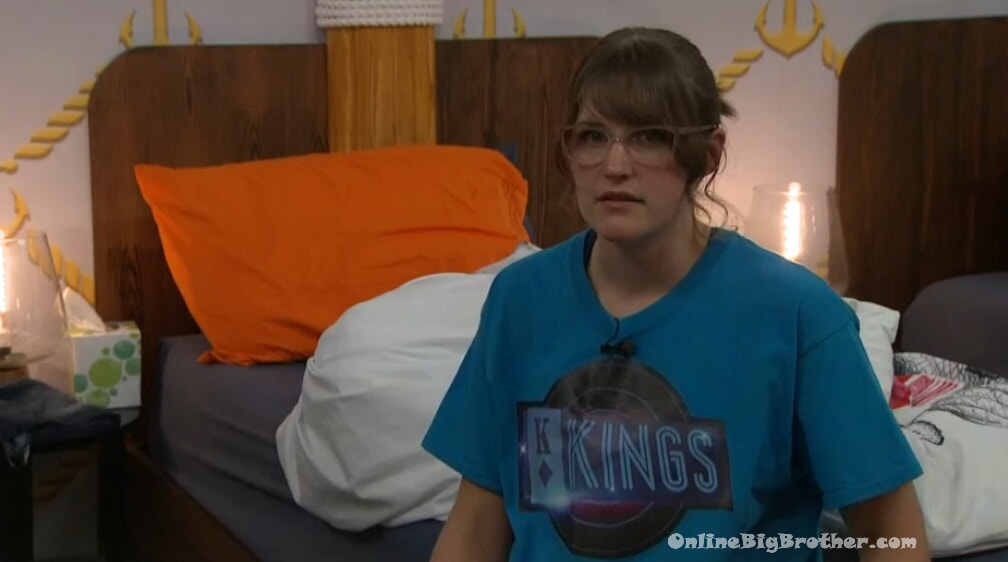 7:00 pm Sarah Beth and X
SB – I really don't know how to feel
X – I know she can't nominate me I'm already up there