HOH: Derek X
HAVENOTS: Christian, Xavier, Alyssa
Nominations: Britini Christian and Sarah
Power of Veto Players: Sarah Beth, Britini, DX, Claire, KY, Alyssa | HOST: Hannah
Power of Veto: Britini
Power of Veto Ceremony: Britini used the power of Veto. DX nominated Chrisitan in her place
Big Brother 23 Houseguest Rankings – – RANK THE HOUSEGUESTS –
View the previous day ranks on the – Ranking Grid
Big Brother Spoilers – Christian is the target. Alyssa and Christian are working hard campaigning but it's not going anywhere. This vote won't flip unless Tiff has another dream tonight. Feeds are being blocked a lot again today.

1am HOH room – Derek X, Kyland, Sarah and Hannah.
They talk about the accents they've done and how if anyone is going to get "cancelled" it would be Tiffany. Hannah – pretty much the only ones I did were the Indian one which I am Indian and the west African one which my mom is from Africa. And then I did a bunch of European ones but I can't get cancelled for that. They may try but.. So I feel okay! Derek – but as a totem pole of getting cancelled Tiff is at the top. Kyland – and Big D. They're both shields. Sarah – Tiff doing the German one was top! Kyland – did she say "I am hitler"? Sarah – yes, yes she did. Hannah – I have no recollection. Derek – I won't repeat the phrase. Sarah – I've already forgotten. Kyland – I may have misunderstood her. Hannah – No… ah yes. Anyway. Kyland – so votes? You said you are feeling good. Sarah – yeah I feel good. Pretty much everyone has told me that they're keeping me. Big D and Brit told me that they're going to tell Christian that they're keeping him but that they don't mean it. They're keeping me. Ultimately even if they are lying to me.. I should have enough votes with everyone else. Derek – I did just talk to Brit and she said that the jokers were getting badgered all day today. Brit is getting really annoyed with them (Alyssa and Christian). So honestly don't add to it. She is getting really annoyed with Christian. Let them dig their own grave. Hannah – there is just not a lot of self awareness going on.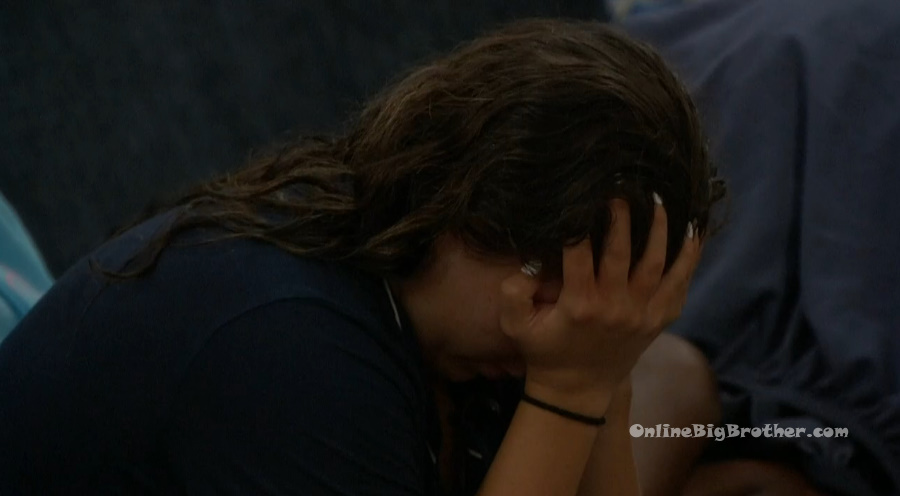 1:15am Bedroom – Azah, Tiff and Brit
Tiff – he asked me again for my vote because he thinks he has yours. I am only going to to be forced to say Brit is not voting for you because I am not having him chasing me around this house thinking that all he needs is a vote from me and Claire to stay. Azah – that is putting her (Brit) in a difficult position. Tiff – THAT is putting me in a position. He is telling me and Claire that he just needs us to vote because her and Big D promised him their vote. He believes he has four votes. He is either looking for a vote from you or he is looking for a vote from me and Claire. I have already told him I need time to think about it. I don't have an answer for you. Azah – that is the answer I am giving him as well. Tiff – he thinks he has an opportunity to stay and he does not! He thinks he has an opportunity to stay because he needs one vote because they promised him their vote. I am not going to have him keep chasing me around. It makes him think that he has an opportunity to stay but no one is voting for him to stay. I gave you the story to tell him. And the only thing that is going to happen is Alyssa is going to be pissed. The only reason I am not telling him yes is because I still got to live here and so does Alyssa. Alyssa thinks y'all are voting for him to stay .. how is your damage control for that.. or do you not care? Brit – at this point its two people .. we have the damage control ready for Alyssa no matter what happens. Tiff – you got to break it to them some time between now and Thursday. I am sorry, I wanted to vote to keep you. I thought that was the plan however I like this game, I still have to live here and respect DX .. he nominated you to go home .. I am trying to get on his good side. I don't want to get nominated again. I can't vote for you to stay. Its not like he is not going to know. He thinks he needs one more vote .. but he needs THREE more votes but he doesn't know that. He is pressuring me thinking I am the swing vote and I am not. He doesn't have the votes period. If he does want to have that meeting I will tell him .. Christian these people are not voting for you, your vote doesn't just rely on just me. Brit – I get that. I don't want to be in this position either. Tiff – so what is your plan are you just going to vote him out and not tell him? Brit – that was one plan. Tiff – you know he is going to keep asking tomorrow. Brit – I know, today was hell for me I got pulled 8 times! Tiff – that is why you just have to say no. Brit – I agree with you Tiff, I do. Big D joins them. Big D explains that Christian has told him that he has Tiff and Claire's vote. I've told him I don't think you do. I am telling him the same thing that you're tell him. Brit – no you're not because I'm in Tiff's story.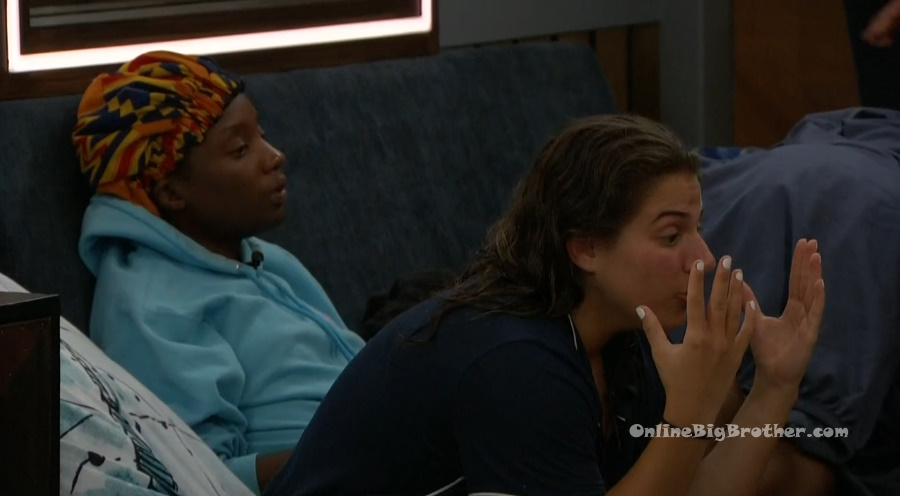 Tiff – I just want to be able to get to the end of this together without any promises. Brit – I am going to get the fire. Tiff – you're not going get the fire Brit. Brit – yes I will! Azah – I think we should just go to sleep and we can figure it out tomorrow because I don't know if we are getting anywhere with this discussion right now. Big D – we can just call a spade a spade and call him in and tell him he is not getting anyone's vote. I have no problem doing that. Tiff – I really don't. Big D – we can do that, if that's easier. Brit – I don't know who I got into this position. I don't understand, I don't get it. I don't like it. I have been running away from him all day. Big D – I have no problem telling him to leave you alone and to give you time to think. Brit – if you need me to tell him, I will. Tiff – that is not what I am saying. You don't have to do anything. Brit – I will tell him.. oh my god. Azah – I think you should take some time and go to sleep. I think its a lot. Big D –
1:35am – 1:50am Brit, Tiff and Claire.
Brit starts crying – The craziest part of this damn week is I am campaigning for people that would rather see me up. Tiff – that is why you don't owe them anything. Brit – I know, I know. No one wanted me to come off. Why are they putting so much pressure on me. I legitimately don't want him to go but I can't beat him. I don't want to put y'all in jeopardy. Tiff talks to Brit about how to explain to Christian that she isn't sure if she can keep him. If you're telling her yes, and then its a no.. she will have a reason to target you. Brit – oh my god. Tiff – you have to change your answer from a yes to an I don't know. I know I said I would vote to keep you but you guys cornered me after nominations.. I know I said yes but I may have spoken too soon. I need time to think about this and I am sorry.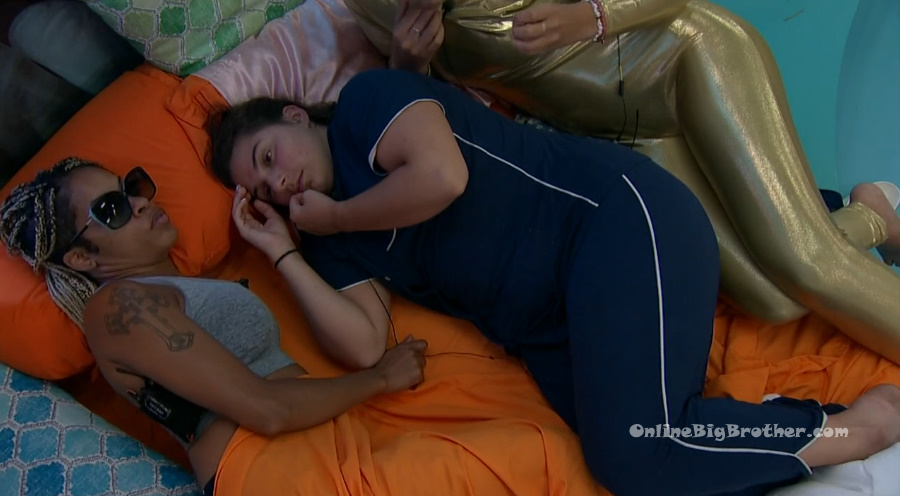 1:58am Backyard. Azah and Big D
Big D to Azah – so my mindset right now is that I am going to go to each person and tell them that I don't want to be a part of this alliance anymore. Azah – don't say that..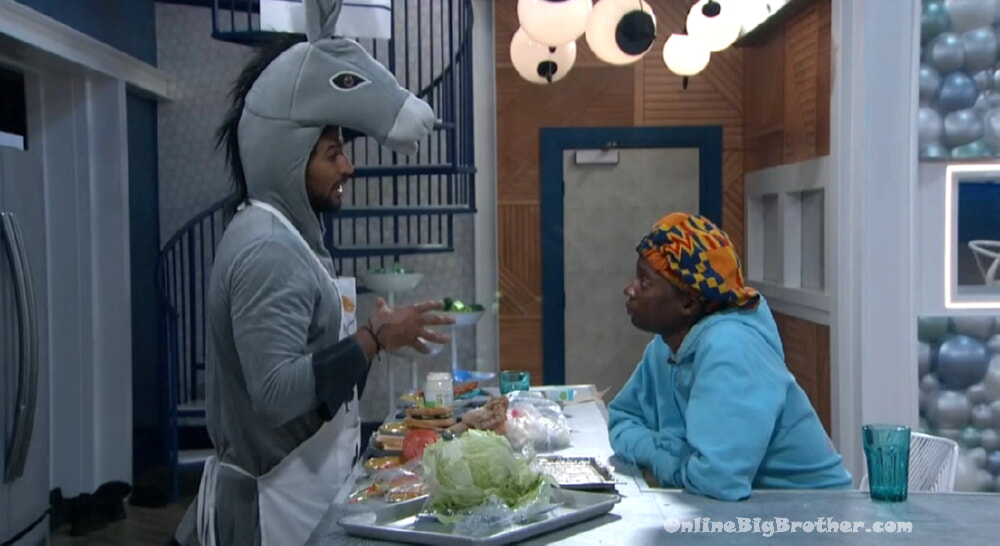 4:00 am Azah and Ky
(Discussing the cookout)
Ky explains this week how they were trying to make Alyssa feel safe so if she won't the Veto she would use it and they then would put Christian up.
Ky says DX had no intentions to send out Brit.
Ky says Alyssa thought she was working with the queens.
Azah – I don't care who is working with whom whatever.. With all this you have two cookout members that have no idea what is going on
Ky – I agree
Azah – they are trying to figure out stuff on their own
Ky – I agree
Azah – They were told up there (HOH) that the noms need to stay the same… i'm like that makes no sense why the noms need to stay the same.
Azah doesn't like that Tiff is "gamming her now"
Azah – there's no need
Ky – clearly I am with you
Azah – I'm pissed. you have Christian running around trying to get votes. Tiffany barges in the room and tells Brit.. You need to tell him [Christian] you're not voting or I am going to tell him.
Ky says it's hard for Tiff to stop worrying about votes in jury.
Ky explains that Tiff needs brit to tell Christian she's not voting for her so when the vote comes out 3 to 6 she can scoop up Alyss'a jury vote.
Ky adds that she also wants to stay in good with Alyssa. Points out that X and Alyssa are the closest
Ky – she is looking to be Alyssa's second choice for a jury vote.
Ky – she wants the vote to be 6-3 and she doesn't want to risk that vote coming from anyone other than her.
Ky – I feel comfortable telling her personally that's not OKAY. A) that is prioritizing your game above teh six.
Ky – I don't think any of us should try to get Jury votes right
Azah – I get is I understand it's a game whatever like I said what I don't like don't try to game me
Ky says the only advantage Tiff will get from what she is doing is a personal advantage at the expense of the 6.
Azah – I'm telling you now I was trying to work things in the beginning I have good relationships with everybody but I'm not working anything.
Azah says someone [Tiff] is trying to make decisions for her game.
Ky mentions how a member of the 6 is being dishonest. [TIFF]
Ky – I feel like this is dangerous to say.. I feel like there's only one person that is doing that. I do still agree with the layout with the 6 it strategically makes sense.
Azah – was the plan from the beginning to get out Christian?
Ky – yes
Azah – who
Ky – Derek personally
Azah – he came up with the plan himself
Ky – he came up with the plan himself
Ky says Hannah might have something with Tiff and Claire which takes him back to his previous point "If you are part of something outside of the 6 I think we should know.. that's the ain conversation we're having"
Ky – it's not a plan we would have enacted if he didn't feel he had support..
Ky says the Cookout isn't sharing information like their new side alliances. He thinks the 6 needs to share everything they have "cooking" on the side.
Ky – do you agree
Azah does agree she doesn't have anything on the side.
Ky and Azah agree it's too early for members of the six to working so hard for Jury votes.
Azah says Tiff told her in front of Brit that "we never talk game so that's why when I'm with you we just talk"
Azah – in front of Brit that's messy
(To summarize. DF and Azah are pissed at Tiff for not respecting them or Britini. They're pissed that Tiff is making side plans and alliances that are a mystery to them. Kyland more of less told them about the royal flush and hinted that Tiff is making alliances and trying to collect Jury votes. DF has now said that he wants TIFF out first out of the cookout. The cracks between the Cookout are getting wider by the day)
5:00 am feeds cut..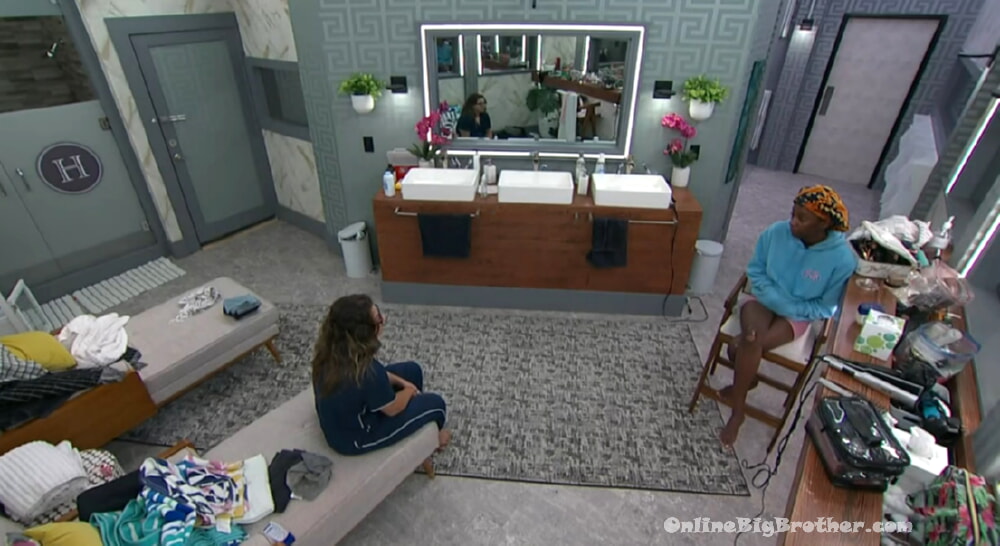 6:30 am Azah and Brit are in the bathroom. Brit is still stressed about this weeks vote.
Sorry folks there will most likely be no updates until later in the afternoon.
Show your support 🙂 Without your support this site and these spoilers wouldn't be possible.
Please consider a donation to keep the madness going.