HOH: Derek X
HAVENOTS: Christian, Xavier, Alyssa
Nominations: Britini Christian and Sarah
Power of Veto Players: Sarah Beth, Britini, DX, Claire, KY, Alyssa | HOST: Hannah
Power of Veto: Britini
Power of Veto Ceremony: Britini used the power of Veto. DX nominated Chrisitan in her place
Big Brother 23 Houseguest Rankings – – RANK THE HOUSEGUESTS –
View the previous day ranks on the – Ranking Grid
Big Brother Spoilers – Christian is the target. Alyssa and Christian are working hard campaigning but it's not going anywhere. This vote won't flip unless Tiff has another dream tonight. Feeds are being blocked a lot again today.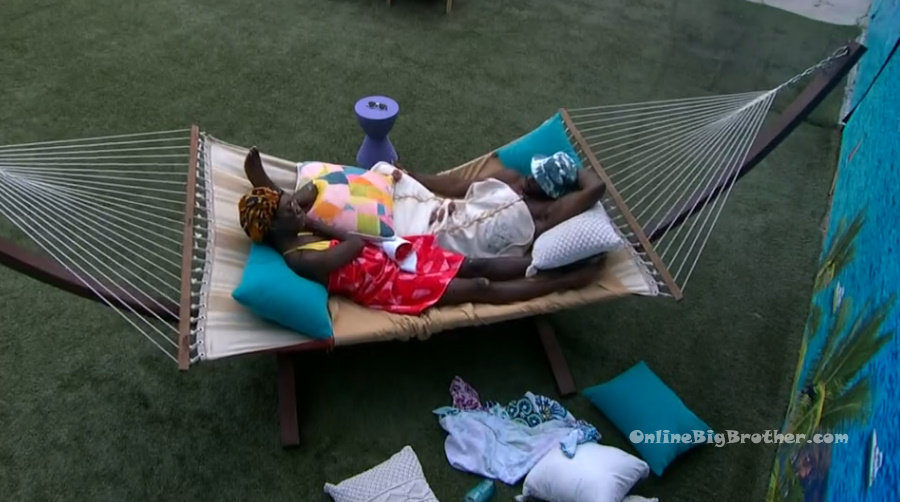 7:15pm Hammock – Xavier and Azah.
Xavier – whoever the group feeds is the best to take out in the best interest of the cookout.. then that's who needs to go. If its Christian.. what have you guys been telling him? Azah – the same thing I said before. He has a yes from Big D and Britini and I told him I've got to think about it. Xavier – okay, gotcha.
7:55pm Hammock – Britini and Azah.
Brit – Alyssa brought up a really good point this morning .. that keeping Christian is best for her game. Azah – yeah. Brit – but we need to.. Big Brother switches the feeds. Britini – its crazy to think about .. like Covid, I don't even know what its like in the outside world. Azah – exactly. Brit – like in here we're fine, we can roam around. Its like we're living normal lives again. They we're going to leave here and be like what!? Azah – its going to be the world has fast forwarded 3 months and we were frozen in time. There could be some crazy stuff that happened by now. Like Beyoncé had another baby!?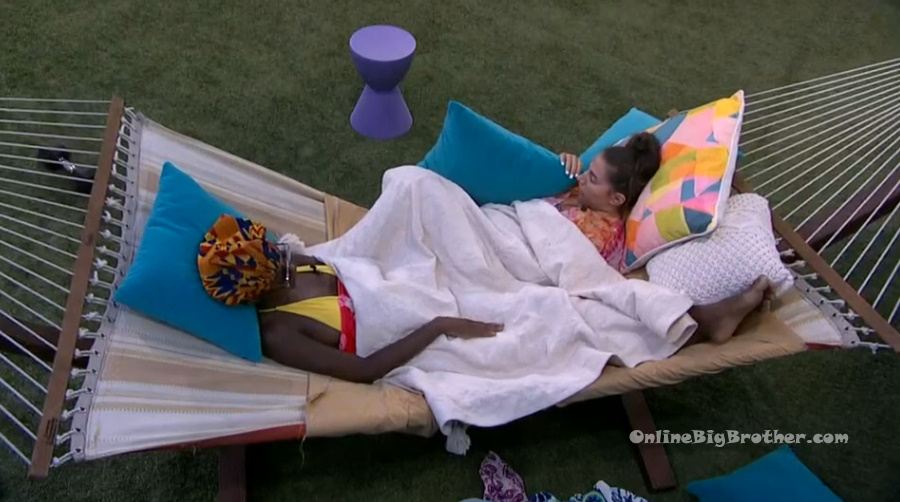 8:20pm Derek X has the camera and is asking Brit, Claire and Azah questions in the backyard. What their catch phrases are? He asks them their favorite comp? What they would do with the money. Azah – build her hot sauce company and buy her parents a house. Brit – Buy her dream truck, take her family to Disney Land and get her masters degree. Hannah – I would invest in a mansion to perpetually sleep .. no I would pay off my education and my sisters grad and undergrad education.. and then I probably wouldn't have any money left.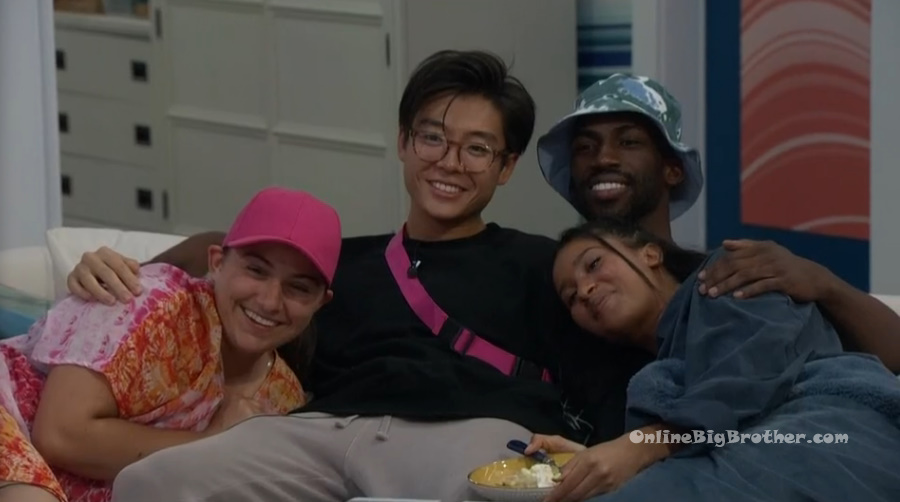 8:32pm Living room. Xavier and Alyssa.
Xavier – literally everyone is waiting to see what the jokers will do .. what the jokers do is what Tiff and Claire are going to do. Alyssa – but its not even the jokers, its literally just Azah. That is all we need. Like if he goes.. its not even that it will upset me .. it is sucky that she (Azah) is still here. She f**King played us like fools! If her or Ky win .. then its probably me and Hannah going up. Xavier – yeah possibly. Xavier – if she puts us up then no one can trust her after that. Alyssa – they're just going to be happy with taking me out. Xavier – What benefit do they get by taking you out? Alyssa – because if I win then I would take a shot at them. And I think they know it. Alyssa – when you or I win HOH .. that is going to be s f**king funny. I will tell you right now if I win that duo is going up. Xavier – Ky and SB? Alyssa – yes.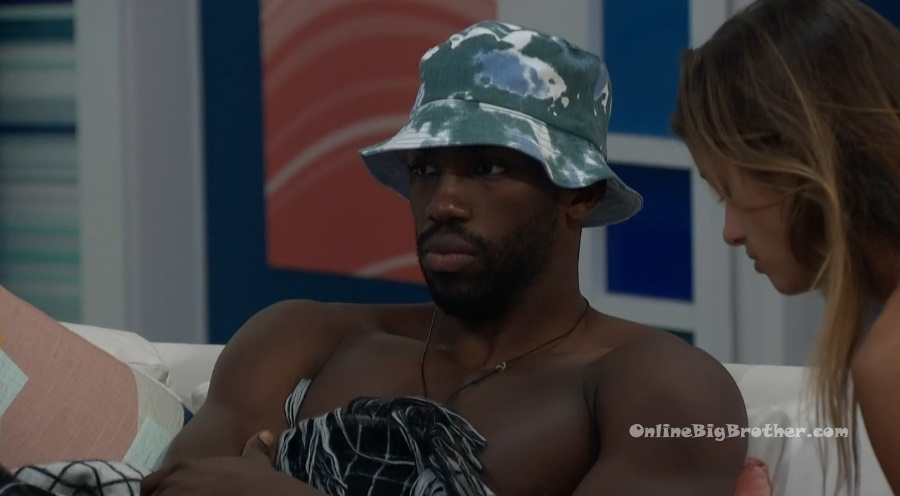 9:46pm Hammock – Alyssa and Christian.
Christian – Honestly if I go home with everything I've tried .. there is nothing else I could have done. Except that little coward could have let me play. I've been calling him a coward in the DR for a few days now. Alyssa – really? Christian – He took me out on a week that I couldn't even play. Alyssa – its like you couldn't even show or do anything. Christian – I said honestly smart because I would have kicked your a$$ if I did play. Honestly I hope that he doesn't accept the deal and I stay.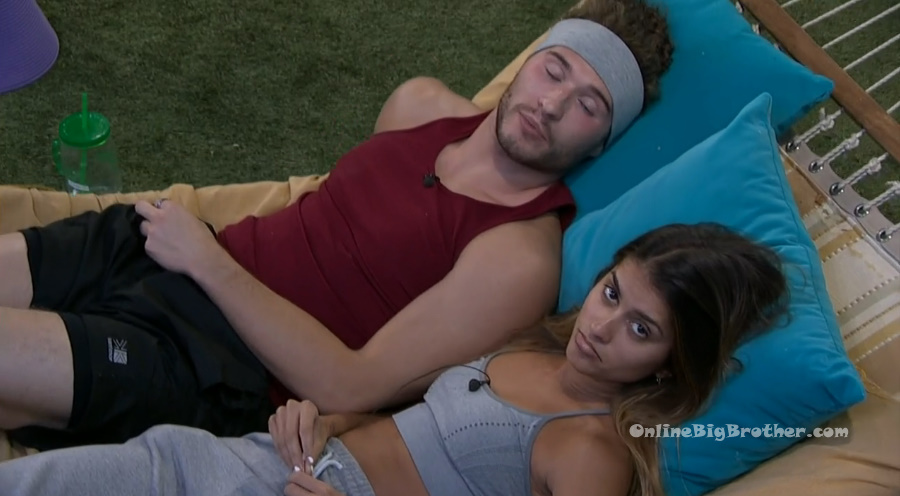 10:28am Hammock – Brit and Christian.
Christian – anything from Azah? Brit – we talked but I don't want to press her. She still said that she is thinking about it and wants to take the next couple of days really think about it. Christian – the next couple?! Brit – like, like tomorrow. She said that she would think about it and then talk to you more on her one on one. Christian = that is fair. Do you think it would help knowing.. I figured she would want to vote as you guys. Just because it could potentially be a bad look. Isn't it a bad look to not vote as a team? Brit – for sure. Azah is someone that is very big on voting on her .. if it aligns with the team that is great .. other she will vote how she wants. Christian – since she is the swing vote .. I was going to ask if it is okay with sharing so that the Queens are on the same side of the vote as the majority. Brit – The last couple votes have been house vote stuff .. I think you have a better chance of getting that information from her. Christian – I am happy she will vote how she wants because there are way more benefits for me to stay this week. I just have to wait to here her say it.
11:14pm Bedroom. Brit and Azah.
Brit – I need to have a conversation with DX because she (Alyssa) does not want me here. But also we can't let a powerful duo go in jury. And we don't want the noms changed this week because the enemy is up there. I get both sides, I get it but if she wins, I am here target. I just can't see bringing him to jury. Apparently he has a plan Z going into place tomorrow .. that will egg on Tiff's paranoia. Azah – its just a game remember that. d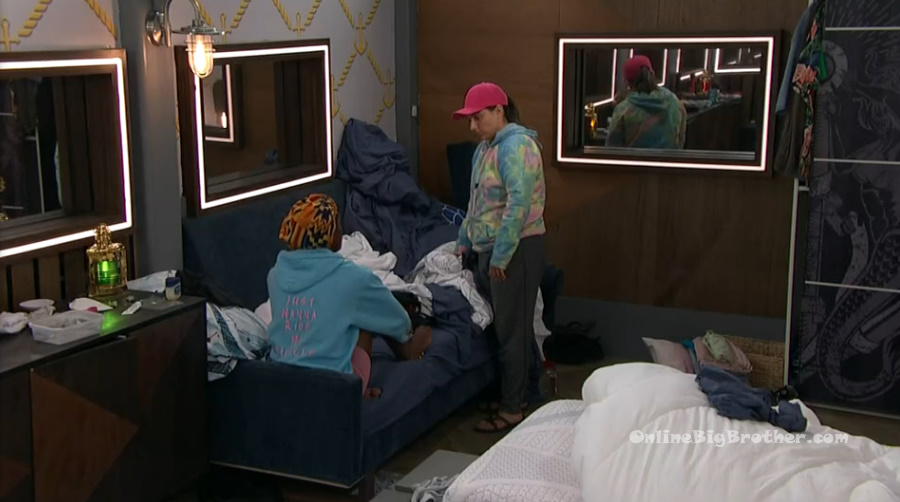 12:27am HOH room. Brit and Derek X.
Brit – they are fully convinced .. which works in your favor ..that SB is the reason why Christian is up and not you. Derek – let them believe that. Brit – oh yeah, I am egging it on. They high five. Brit – Yes of course she was! Derek – I think we are good. SB is not looking at you. I think if Alyssa won she would target me. Brit – I was thinking .. there is NO WAY I don't vote him out. The plan worked way too well. I feel like these next couple days I am going to need to hide. Derek – you can hide up here. We can play chess.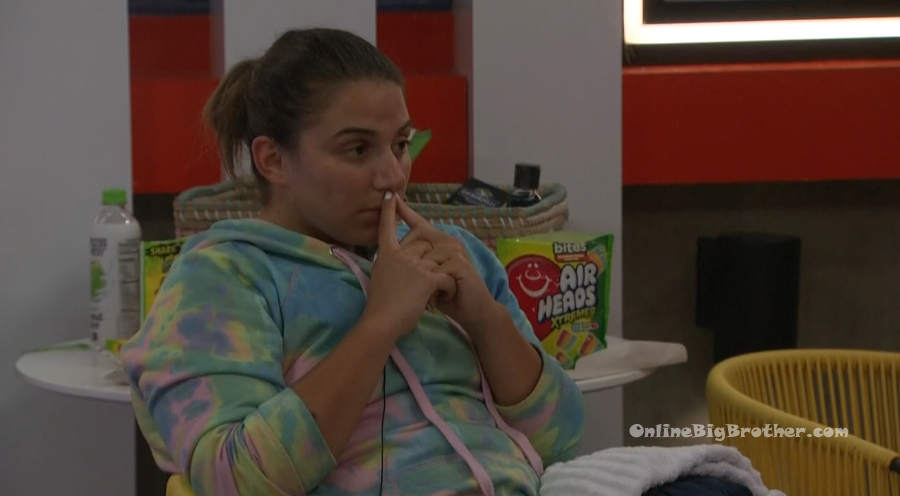 Show your support 🙂 Without your support this site and these spoilers wouldn't be possible.
Please consider a donation to keep the madness going.