POV Holder:
Steve
Next POV
July 3rd
POV Used
Yes
POV Ceremony
June 28th
HOH Winner Team 1:
James
HOH Winner Team 2:
Jason

1


Nominations 1 :
Steve, Jackie
Nominations 2:
Becky, Johnny mac
Battle of the Block Winner
Becky and Johnny Mac
Next HOH/ Next BOB
July 2nd / ?
Original Nominations:
Becky, Johnny, Steve, Jackie
Current Nominations:
Jace, Jackie
Have Nots
Austin, Da'Vonne, Liz, Vanessa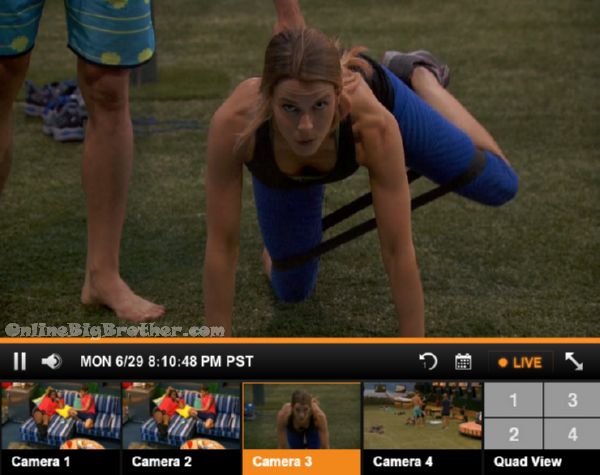 8:11pm Clay, Vanessa and Shelli Working out
8:11pm Backyard Jason, DAY and Audrey
Jason says Vanessa looks at him with a bad look when they were chit chatting in the bathroom
jason – "It was like someone just farted in her mouth.. looks at me like I was trash"
Jason – "It was like someone had sh1t on her.. I was like damn what did I do"
DAY leaves.
Jason says it's been really boring today "Feeders are asking for their money back"
Jason brings up talking to jace where he was grilling him about how past seasons worked with bringing back evicted housegests and flipping the house.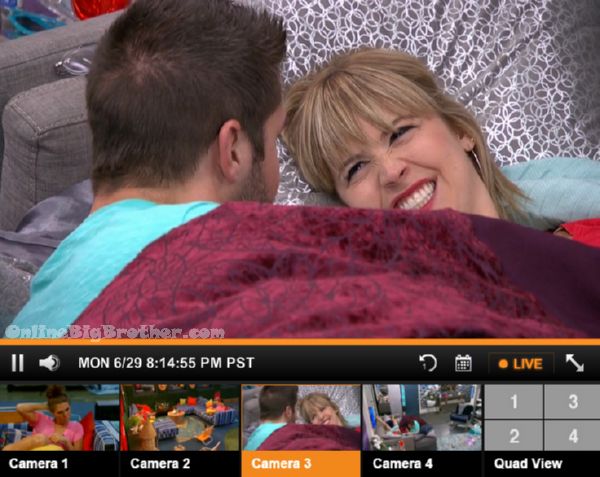 8:20pm Bedroom Meg and Jeff
Talking about Audrey knowing she's screwed up her game up when she called that 6AM meeting they all got to see she's crazy. Jeff says they have to do something about her because she'll rip their group apart. "We can't have a rat"
Meg says she likes Jackie
Jeff – Jackie's cool .. she keeps to herself.. I don't talk to her much though
Meg – Lies (About talking to her)
Becky joins them. They start talking about worrying of a "Slip" when they sleep. Meg and Becky both started wearing bras when they went to bed.
Becky says she's worried about being the Jordan of Big Brother. (in regards to the amount of slips Jordan had season 11)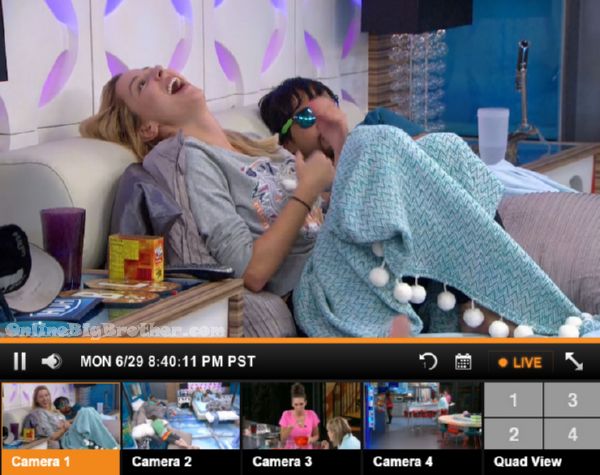 8:40pm HOH JOHNNYMAC, Jeff, Liz and James (Jeff and James are joke flirting with Liz. Johnny mac is just hanging out)
Jeff says him and James were really jealous of Liz' showmance with Jace.
Jeff – You're boy Jace is done
James – there's a chance

Liz – you're not fooling me
Jeff – we're thinking of keeping Jace
Liz – No you're not
They start talking about the nip slip of Becky
Liz – it was a nice nip slip though it was beautiful
Liz says she had forgotten their code word all he could hear was James saying Pepperoni.
Liz says she showered with Becky "Beautiful t1ts"
Jeff wonders how many 'CC' they were
James – I'm going to ask her are those t1t1es fake
Liz says she has silicon implants and So does Jackie.
Jeff – Meg is one of the few (Without them)
Jeff wants them to get Steve to grab Liz' t1ts and then Meg so he can tell the difference.
Jeff the whole reason we brought you up here we had a talk who was the biggest freak in the house
Jeff – this is more of a hands on experience.. no i'm kidding
James – all the guys just want clarification that maybe you're a possible closet freak.. soi like we're just trying to figure it out.
Jeff – have you always liked boys
Liz says she never swings that way, "I'm straight as they come"
They ask her about tattoos
Liz says she doesn't like tattoos "You don't put a bumper sticker on a bentley"
Jeff calls her a 98 Toyota Corolla
JohnnyMac – Their a respectful vehicle
they joke about it being a reliable car.
Jeff says they have a lot of fun with Meg but they've kinda "Passed her around" and she's not fun anymore. They want Liz now.
Liz leaves
Jeff calls Meg a Mitsubishi Gallant
Jeff calls Shelli a white range rover
James – white newer model Tahoe
(Johnny mac mostly quiet)
[envira-gallery id="117640″]
9:09pm Audrey, Shelli
Audrey telling them about her competition dream (Audrey trying hard to adjust to no game talk She's been having a lot of dreams lately )
9:21pm Pool table Jeff, Meg and DAY
Day says Audrey is coming after Jeff, she's been saying they have to take Jeff out once they get rid of Austin.
They start talking about getting rid of Audrey. Jeff says she's trying to get them turning on each other. Jeff wanted to keep Audrey around to do some dirty work but she's causing too much trouble now.
Audrey joins them.
9:24pm Jason, Meg and DAY
DAY going over Audrey saying that MEg and Jeff are getting too close. Jeff has got to go.
Meg points out that Jeff is one of the few people that hasn't formed something with Audrey and that is why she's doing this. They agree she's got to go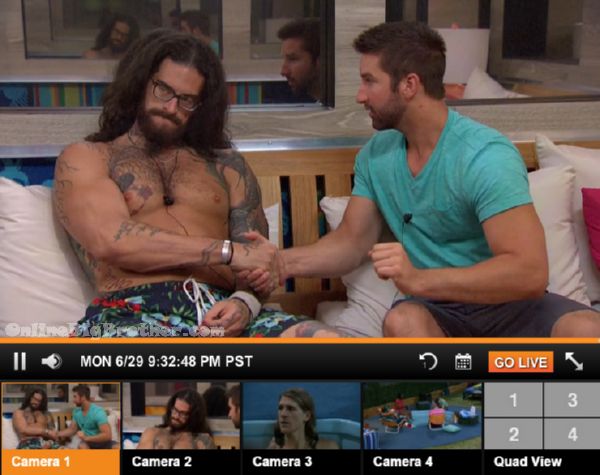 9:28pm Lounge Room Jeff and Austin
Austin did she make a 5 person alliance with you
Jeff says she did at first but then she stabbed him in the back and he broke away
Austin says she made a 5 person alliance with him
Austin – There's an underground movement that wants to get Audrey out
Jeff says Jace is going home because of Audrey.
Austin says Audrey is working very closely with Clay "Everything we say to him goes to Audrey"
Austin – everything Jace told Clay went straight to Audrey he figured it out.
Jeff brings up Audrey going around telling people that he's got a showmance with Meg.
Austin – there's a crew forming
Jeff says he's done beating around the bush if he wins HOH he'll be going after Audrey.
They agree Clay and Shelli cannot be trusted right now.
Austin – "James got worked by Audrey him putting JAce up is not good, She's f**** him over"
Austin – This is the underground movement of the house this season
Jeff says Meg, James, Day are all onboard everyone is but Clay.
They agree to work together to get Audrey out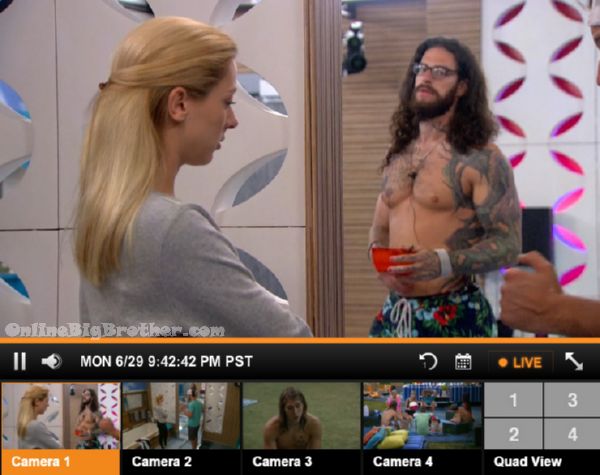 9:42pm HOH Liz, Austin and Jeff
Planning out how they are going to get Audrey out.
Austin – This is the revolution.. there's only three of us
Jeff – I don't believe her i have to get rid of her I won't f*** you guys over I promise.. I'm getting JohnnyMAC
Austin – you getting Meg involved
Jeff – yes I'm getting Meg involved
Austin she's your showmance
Liz – we need more numbers we need Jackie
Jeff says he's got Jackie
Austin leaves. Liz tells Jeff she can trust him. Jeff wants Liz to keep an eye on Austin because he thinks deep down that he wasn't him out.
liz says he doesn't.
Liz says they can trust JAcki, JohnnyMAc and Becky
Liz – If I win HOH I'll do your dirty work.. you can trust Austin he's awesome
Jeff – he threw me under the bus
Liz – ya..
Jeff – I don't have a showmance with Meg.. she's a good friend in the house.
Jeff points out that Audrey knows she's over extended herself that is why she's been sleeping all day
Jeff now says it's because of him that Liz is not the target and everyone is targeting Audrey he's got 5 people now.
Jeff – we need to get rid of her she's a f****g problems She's a psycho..
Jeff – if she wins HOH WE'RE F****D