POV Holder:
Steve
Next POV
July 3rd
POV Used
Yes
POV Ceremony
June 28th
HOH Winner Team 1:
James
HOH Winner Team 2:
Jason

1


Nominations 1 :
Steve, Jackie
Nominations 2:
Becky, Johnny mac
Battle of the Block Winner
Becky and Johnny Mac
Next HOH/ Next BOB
July 2nd / ?
Original Nominations:
Becky, Johnny, Steve, Jackie
Current Nominations:
Jace, Jackie
Have Nots
Austin, Da'Vonne, Liz, Vanessa
Watch the first week of the live feeds for FREE with the 1 week trial!
Click here to ensure your live feed subscription supports OnlineBigBrother.com at no extra cost to you.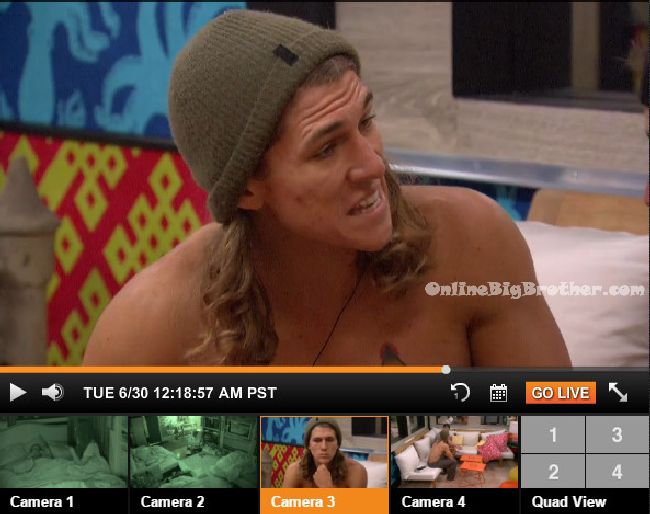 12:15am – 12:30am In the cabana room – Jeff is talking to Jace. Jace asks Jeff are you and Jackie close? Jeff says I never cheated on her.. we never really dated. Basically what happened with me and Jackie was along with the blind date we had on Amazing Race .. I think she thought it was more than it really was and we went back to our real lives we both realized we were just friends. I think she got bitter towards me. Not to say that it ruined any kind of relationship that we had or friendship but it kind of put a damper on it. Coming in the the house we came in on kind of awkward terms. I never dated her in the real world. I only trust her because I know her outside this place. That's the only reason but there are people in this house that I would like to trust more. Jace says you do realize that Audrey is in her hear. I guarantee if I go home this week she is going to F**K YOU! I'm telling you bro .. I'm not going to f**k you! I don't have anything against you. I am telling you, if I stay in there I am gunning for those people! I am gunning for Audrey and the people behind her who are gunning for you. Trust me, it was not Austin. People were in his ear saying things to him and saying the same to you. Even though you already have a friendship with Jackie .. is she going to take you to the end. I will. If you vote against her, she is never going to know its you. Jeff says you know Audrey is the single handed reason why you're leaving. I was in an alliance with her. Jace asks why, why me?! Jeff says dude because she is f**king crazy! And now she is gunning after me. I don't even think I can trust Clay any more. I tested him and he failed. I'm pissed at him right now. Jace says I had a dream last night ..Clay was the person that f**ked me. If you keep me here we can f**king battle! Do you want to F**king battle and take control of the house?! Or do you want to stay 2 weeks and get screwed up you're a$$ because you trusted someone that you thought you could trust.. when they're f**king you over. They f**ked me over! I need you bro! Jeff asks do you mind if I sleep on it. How many peoples votes do you have. Jace says 3 or 4. Every time I tell Shelli something she runs to Audrey. I've been testing her. Jeff asks did you ever have an alliance with Audrey? Jace says yes James and Audrey pulled me in. Jeff says I want to work with Austin but he's thrown my name under the bus a number of times. Jace says why because of Audrey. Jeff asks who's the puppet master? Jace says Audrey and Clay. Jace says we have to take control of this house and start a revolution! Is Jackie going to protect you? Jeff says I have a lot to think about. Jace says do you really want Audrey to win this game? After Clay stabbed you in the back do you want him to win? If I stay I WILL win HOH and we WILL flip the script! Jeff says give me a day to think about it.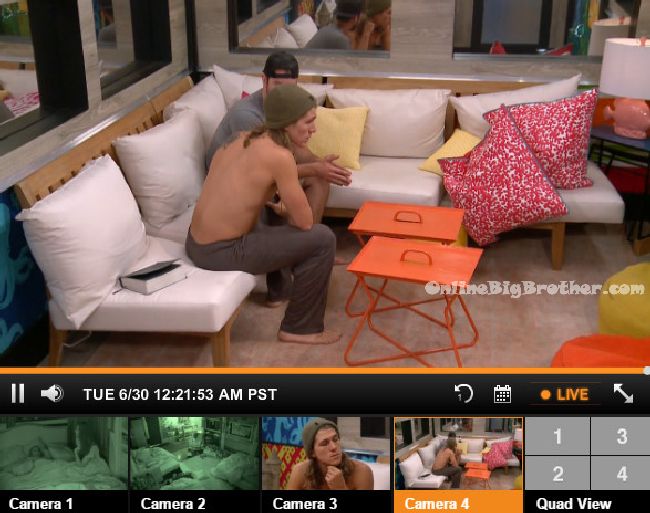 In the havenot room – Jace talks to Liz and Austin. Liz tells him to go out with a bang. Austin says f**king do it! Go out with a bang. They put their hands in together and then Jace leaves the room. Austin tells Liz if Jeff is considering flipping .. which I think he might be. Liz says she doesn't think he will vote out Jackie. He might to get Audrey out. Austin says if Jace wants to bring us into a meeting there is nothing we can do. We can say we were brought in. Steve is going to be scared to make a move like that. I've been really confiding in him. Liz says I have no idea what is going on and when you tell me things. I have no idea it happened. I am completely out of the loop. No one tells me anything.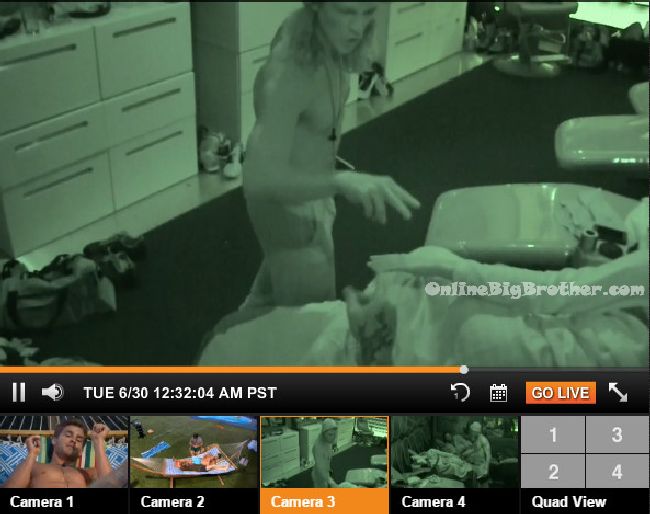 12:45am In the bedroom – Shelli says I feel that he is very mature and the way he caries conversations is much more mature than a 23 year old. Shelli says that the interest that Clay pays to our conversations is nothing like a 23 year old. The only time I notice a 23 year old is talking about game. Audrey asks but do you think he could take good care of you out of here. Shelli says when I saw him in finals I thought he was like 26. And that if he was still in college .. that could be a problem. And he's in gradschool. Shelli says I'm not looking at this like there is a relationship that will flourish outside this house. I trust you and Clay. Audrey says well if you do get married I could be a bridesmaid. Shelli says yeah obviously and then laughs. Shelli comments to Audrey that Clay being 23 is as low as he could have gone.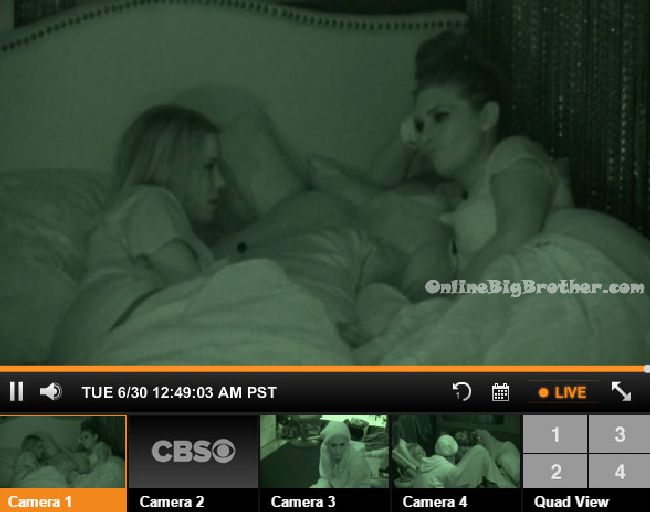 12:50am – 1:10am In the storage room –
Jeff and Clay are talking. Jeff says that Audrey is starting a lot of sh*t. Clay says you're going off assumptions. Jeff says a lot of people are on to her. Jeff asks what makes you trust her so much. Clay says because she's given us … me a lot of information that can help us in this game. And you too. She gives us sh*t that if we exploited it she would be f**ked. Jeff asks would you rather trust me over Audrey. Clay says you over her .. 100%. Jeff says you know she told people she's gunning for me right. You know she's told people in our alliance she's gunning for me? And just so you know she actually did start that rumor. I just wanted to see if she would admit it to you. Clay asks really. Who did she tell. Jeff says she told Day and Jason. Jeff asks you didn't think it wasn't weird that whole conspiracy theory that she had against Vanessa that was obviously not true. Clay says yes I did. Jeff says she's been like a saboteur. Remember when I asked you not to directly ask her about the rumor. She's the one that started the me and Meg rumor. They head to the cabana room. Jeff says that Audrey is the master puppet in this house and she is playing everyone. Everyone in the alliance except you know that we're going after her. We are about to strike her out. Everyone was afraid to tell you. Everyone knows you're like this with her. You cannot say a word about this conversation to Shelli or Audrey.. in fact don't tell anyone. I am trusting my game with you. I am telling you Audrey is not here for you she is not here for anyone. She will f**k you over. I just don't want you to go down with her. Clay says you have to tell the group that I am down with it. Everyone in the group has shunned her. During that 6am meeting she was trying to save Jace and get me put up. But I demolished her and steam rolled her.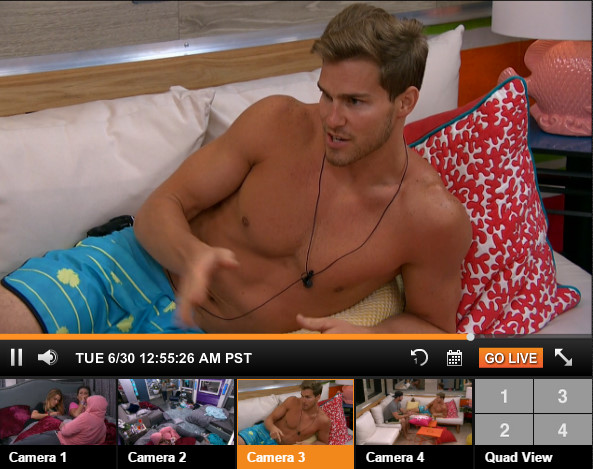 1:20am – 1:30am In the cabana room – Jace, Jackie and Jeff are talking. Jace says I don't want to say too much but there are a couple people playing everyone in this house. They're tricking everyone and they're really good at. Jeff says I think you should expose the main person that f**ked you. Jace tells Jackie that he isn't campaigning against her he's campaigning for himself. Jackie says and you should, that's what I'm doing. Jace says I have nothing against you.. you're a sweet girl, your pretty to look at and you have a good heart. Jace leaves. Jackie cautions Jeff to be careful.
Audrey and Shelli confronting Clay on what he and Jeff talked in the storage room for so long. Clay thinks them questioning him means they don't trust him. Audrey says no one is questioning your integrity. Clay says I do not care about my integrity. Clay says I am upset about the why you question me .. you question me and then try to see if I'm lying. Audrey says we are just trying to figure out why Jeff is tell you something different than what he is telling us. Clay says I would never approach you like that amd question you like you're lying. Shelli says she's sorry about the way they approached it. It just looked sketchy that you and Jeff were hiding out in the storage room and then in the cabana room.

Shelli asks Jeff what is the deal with you and Austin. Jeff says I just asked him if he wins HOH would he come after me. I asked him if he threw me under the bus and he did admit to it. He said he cracked under pressure and was just trying to save his friend. It says a lot about his character but I am still considering going after him. Jeff says that he wanted to keep Austin on his side to do some dirty work for me. Audrey asks what kind of dirty work. Jeff says I was going to use him like a pawn because he might win HOH. Audrey asks What kind of dirty work? Jeff says basically anyone I want to get out later in the game. I could manipulate him. Audrey asks what Jace and Austin were talking about "a bloodbath"? Shelli says I think thats just about Jace. Steve comes into the room and stands above them as they talk. Clay asks what's up Steve?! Just eavesdropping?! Steve says yeah just standing right here in plain sight. Steve then hides behind Jeff and says shhhh.. I'm not here.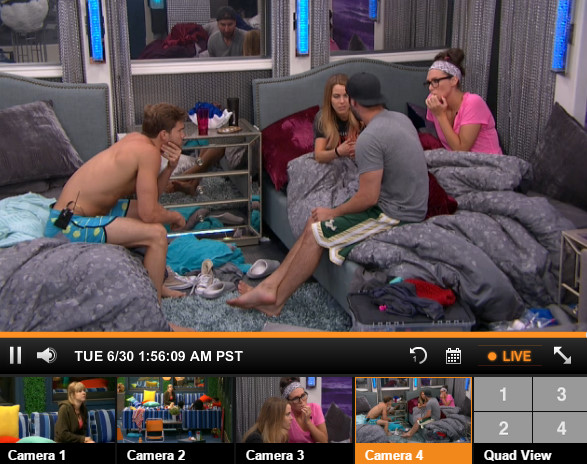 2:10am – 2:25am Jeff, Shelli and Clay are in the cabana room. Jeff comments on how theres a reason Audrey fixates on such small details. Jeff tells Shelli that he's hesitant about telling her anything becaseu he doesn't know how close she is with Audrey. Jeff tells Clay that he didn't like being brought in on that. Clay says it wasn't me. Jeff says we need to tell Shelli now. Clay tells Shelli that this can't get out because it will f**k him (Jeff), me and you. Audrey is f**king everybody in this house. They're coming after her. Jeff says even people not in our alliance are gunning after her. Jeff says that whole Vanessa thing she made up. Jeff says everyone in the alliance but Clay and you had a meeting about going after Audrey. They tell Shelli about the nomination song that Audrey leaked. Jeff tells Shelli that Audrey is going down and you don't want to go down with her. Shelli questions Jeff about him and Austin. Jeff says that we're not good .. we just agreed to put aside our differences to go to battle to get out the same target Audrey. Shelli wonders if her and Clay are next because they weren't included in the talk to get out Audrey. Jeff says why would they include you when you're always up Audrey's a$$. Clay says I'm not up her a$$. Audrey comes into the cabana room to crash their conversation. Clay and Jeff switch the conversation to talking about Jace and the blow up he is planning. Audrey joins in the conversation talking about how Jace is going to call out the 5 Alive alliance. Audrey says she doesn't care, she'll tell him to sit the f**k down.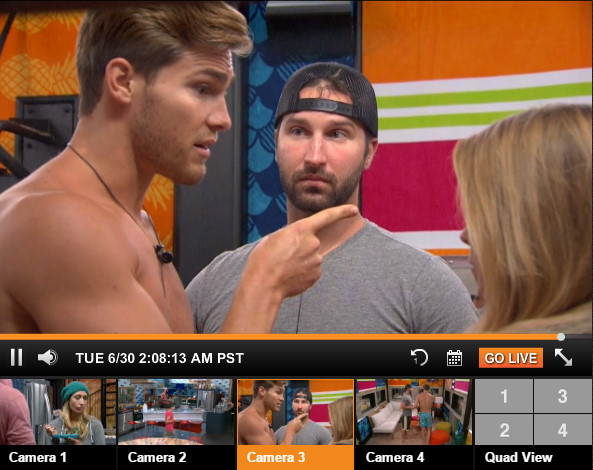 2:30am In the bathroom – Jeff tells Clay she (Shelli) cannot say a F**KING WORD OR I WILL FLIP THE F**K OUT!! Clay says that he'll talk to her. Clay talks to Shelli when she comes out of the washroom. Clay tells her that he promised Jeff this would not get out. Jeff tells Shelli I know you're nervous I can see it in your face. This is good for you game. Right then Audrey crashes their conversation again. Audrey wants to go get Jason and Day. Clay tells her we are not doing it tonight. I'm tired. I don't want to get into it tonight.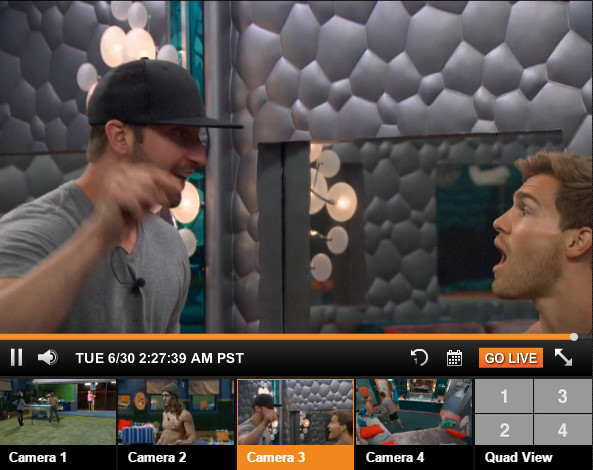 2:35am In the bedroom – Shelli tells Jeff that she's been suspecting things too and it helps for him to tell her these things. Jeff tells her that he and Clay are really close. He tells her to just go with it.
2:40am HOH room. Audrey runs upstairs to the HOH room. She wakes him up and says let me catch you up to speed. Jace is once again making everyone uncomfortable. I think I know what he is going to do .. he's been working on a speech. I think the people he is going to try and exploit are you, me and clay. I think he is going to say why he feels so betrayed. I wonder if it would simplify things if we just told him it wasn't a spur of the moment decision. James says if you think he is insane now wait until he hears it was the decision since day 1. James says I say we don't make any moves until we talk to the group. Audrey leaves the HOH room. James says LIAR! She's so full of SH*T!!!!
2:50am – 3am Backyard. Jeff is talking to Jace. Jace says that no one is campaigning for me. Clay says I told you I would do everything I can to try and get votes for you without jeopardizing my game. Jace says if I have your two votes I will stay. Jace says I am getting played. Clay says I'm being played too. I just found out some sh*t tonight. Clay asks give me your word that you won't say anything about what we've talked about. Tomorrow we'll talk more about it. Jace says I'm not blowing anything up until wednesday. I'm not stupid.

3:15am Out in the backyard. Jason says she (Audrey) makes Ronnie look respectable. James tells them that Audrey just came up and wanted me to take the fall for everything. Jace asks James will you f**king save me now that you know. I will be forever indebted to you. Day says he doesn't have a vote. Jace says the house listens to the HOH. I took enough bullets. Jace says I'm not asking you to save me because that's not fair to jackie. All I ask is that you tell the house that I was not the one that lied. Day says if it doesn't work, you can't be made at him. Jace says I won't be mad I just want to to be fair and be between me and Jackie instead of the guy that lied to the HOH. James says if we do it .. I think we should do it tomorrow.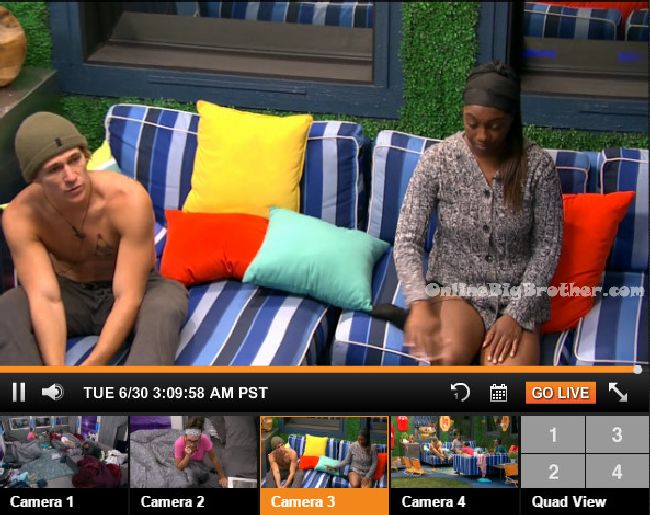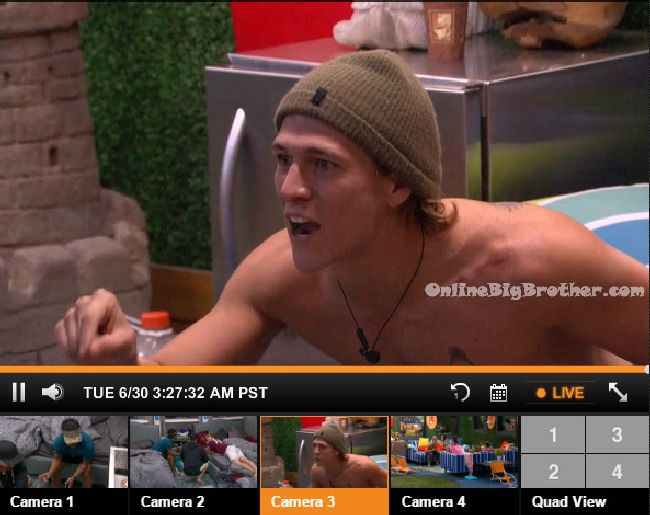 Watch the fight using the FLASHBACK Feature: Big Brother 17 Live Feeds – 1 WEEK FREE Trial
3:25am – 3:30am Audrey comes out into the backyard and confronts the group. Audrey says I just wanted to talk to other people about it because I don't think it's fair that James gets all the heat because I feel like there's this uncomfortable elephant in the room and I just want to be direct about it. Because 1 I am tired of just taking the heat for this and the truth is everyone knew about this. Jace asks about what? Audrey says about the fact that you're going. Jace says I don't believe that for a second. Jace says I do believe that you are the reason I'm going, if I go. And I'm going to make the whole house know that you're not going to get away with anything. Audrey says Jace everyone knew about 5 alive. Jace says you're not getting away with anything. Audrey says I'm not trying to get away with anything dude!! Everyone knew you tried to backdoor Jason. Everyone knew about the conversation up there. Everyone was trying to backdoor you because you make people feel uncomfortable. Jace says okay I just want you to know that I was never trying to backdoor Jason. I heard that was the plan and I've already spoken to Jason about that. It was never my idea. Audrey asks well whos idea was it then. Jace says I don't f**king know Audrey. AND YOU KNOW THAT FOR A F**KING FACT! Quit lying!! Audrey says dude I just sat in on a conversation and I didn't say anything and so did Clay dude! Jace says stop making me look like the bad guy with Jason when I like Jason. Audrey says I don't even think you're a bad guy… I just think you lack self-awareness. Everybody wants you out. Every person has known about it because you make people feel uncomfortable. Jace says I think you make people feel uncomfortable .. why are you yelling at me. Jace asks just curious have I made you guys feel uncomfortable? Day says talk talk talk.. Jace tells Audrey that the whole house is against you. Audrey says you're going to look like the biggest moron. You need to get your head checked!! Jace says you're ridiculous. Audrey says you're making everyone feel uncomfortable. Audrey says you need to look in the mirror and reflect. Jace tells Audrey you're crazy. If I don't go home this week I am gunning after you. They end the fight and head inside.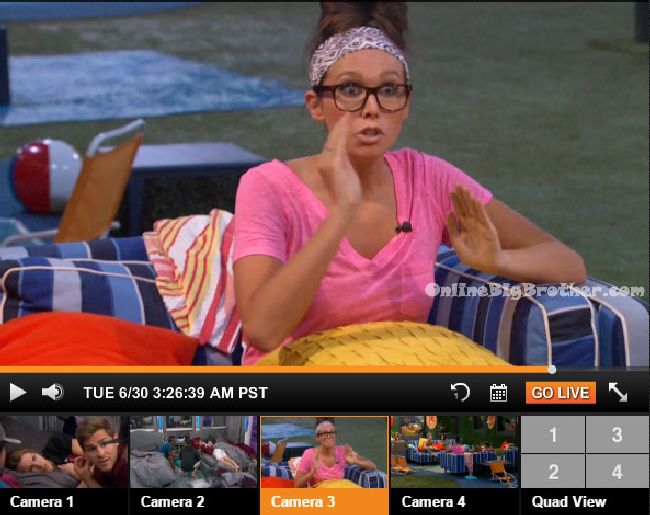 3:35am
In the kitchen Jace convinces James to call a house meeting tomorrow. Jace asks James to just say something like you made a mistake, you had someone in your ear and that I was put up under false pretences. Jace heads to the bedroom. James talks to Jeff about how Jackie isn't going to be happy if we call a house meeting. James says that if we don't Jace is going to keep going off. He'll probably call his own house meeting. Jeff says let him. After we can pull everyone aside and say it was to keep Jace calm. James says that Jace still has to go this week. They agree that they need to get Audrey out next. Jeff says great now he feels like he has a chance.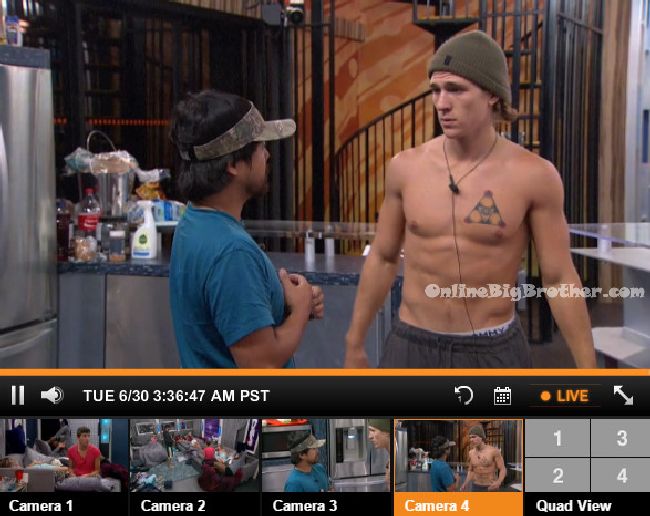 3:55am – 4:10am James says I am going to try and correct the situation but if I name her the I'll be the target next week. Meg says he can't name her because if she wins HOH next week then he could be put up. James says I will let everyone know. Jace says everyone I've spoken to is afraid to go against the house. James asks can I have a sick day tomorrow. Jason says she was picked to be the prime manipulator. Clay joins them. Jace asks James to make Clay aware that it was Audrey who lied to you and spooked you to put me up. James tells Clay it was Audrey that lied to him which made him put up Jace. Jace tells Clay I hope this will affect the way you and Shelli vote. Clay tells Jace he needs to bite his tongue the next couple days. You can't fight fire with fire.. because no one will have sympathy for you if you do. You have to have her true colours show.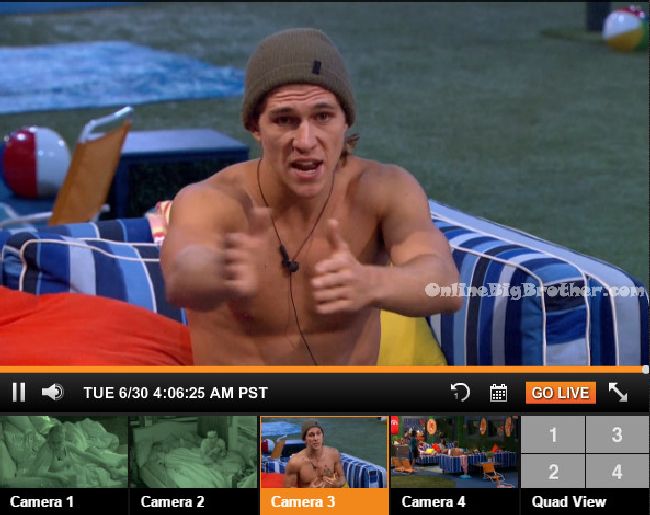 4:20am – 5:10am Backyard couches. Meg, Jason, DaVonne and Clay are talking. Meg talks about how she doesn't understand why we're fighting with each other. Meg tells them how she told Audrey everyone else sleeping are safer than us. Meg says that Audrey replied how do you know they're not starting something. Meg says Audrey is crazy town! Shelli comes outside. And asks what's going on. I'm in the worst position. (Being close to Audrey) Jason asks I want to know where they found her.. she is the prime manipulator. Is there a manipulator boot camp because we need to go to deal with her. Shelli says that Audrey said she thinks there's a twin in the house. Audrey asked if anyone knew a Mathew. I told her well I have a twin and Jeff has a twin named Eric. Shelli says that Audrey then said in her diary room session they asked about a Mathew. Big Brother blocks he feeds. When the feeds come back – They continue to connect the dots showing how everything about Audrey doesn't add up. Jason says I told you she hand her hands in the cookie jar and she would get caught. Shelli & Clay head over the hammock. The other house guests head to bed. Audrey joins them and questions them about what happened. Clay talks about how the decisions been made that Jace is going home. He tells Audrey to lay now.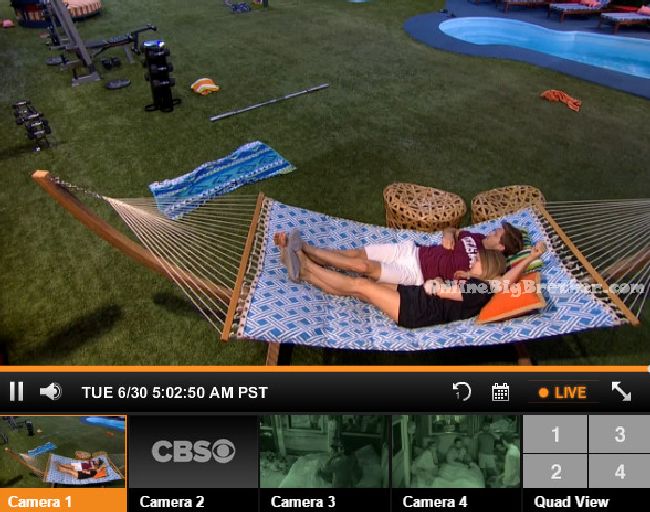 Live Feed subscription gives you CBS All Access thousands of archived shows. Live Shows like Big Brother, all the Big Brother Seasons, and 24/7 coverage of what is happening inside the Big Brother House. Plus there's flashback that lets you go back to any second of the feeds and rewatch what happened. Simon and Dawg will index the season just watch the parts worth watching.
All this for $5.99 a month try it out 1 week free. Support our efforts and get your feeds via a link on this site. Live feed subscription Sign up

[polldaddy poll=8954355]