POV Holder:
?
POV Competition
Aug 27th
POV Used
?
POV Ceremony
Aug 29th
HOH
Nicole
Next HOH
Sept 1st
Original Nomi1nations:
? AND ?
After POV Nominations:
? AND ?
Have Nots
?
Watch the next week of the feeds for FREE – 1 week Trial!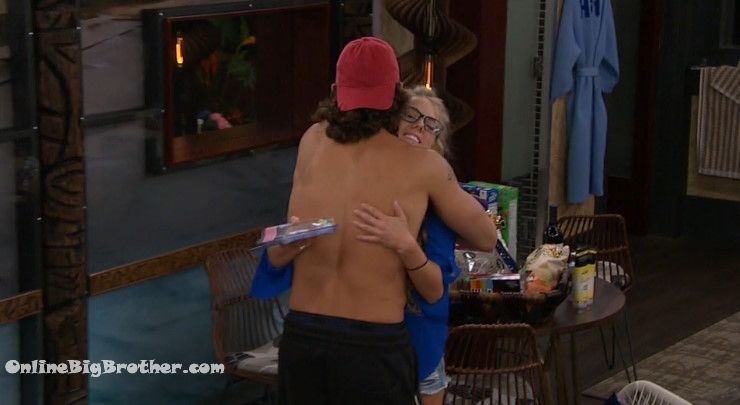 1:34pm HOH Victor, Corey, Paul, Nicole
Talking about how James was about to drop last night he was "begging" (their words not mine) for deals because he was spent. Nicole says she's thinking of putting Paul up as a pawn her target is Michelle
Paul – put me up tomorrow.. Let's get Michelle out..
They start talking about Michelle being smart.
Nicole calls her a dictionary
Victor says her dad is a tank engineer
Paul says he's biased but Michelle isn't smart
Nicole says after she voted out Da and didn't tell Michelle they stopped talking to each other.
Paul – lets do it
Nicole – lets do it
Victor We shouldn't name it (Jinx)
Nicole – we need a name it to make is official
Corey – I want it to be a legit alliance
Nicole – this isn't going to be a NO joke alliance
Paul – this is the golden four I've been looking for
They agree the alliance name is #FINAL4
It's sealed the alliance is set (until Veto is played ;) )
"FINAL 4" #BB18 @DawgsBigBrother @REALKillerk pic.twitter.com/C2oGcvAP0X

— OnlineBigBrother.com (@bigbspoilers) August 26, 2016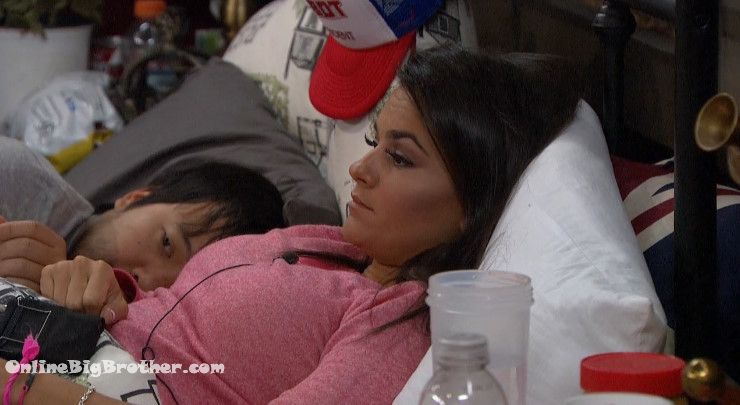 1:56pm Natalie, James and Michelle London room worried.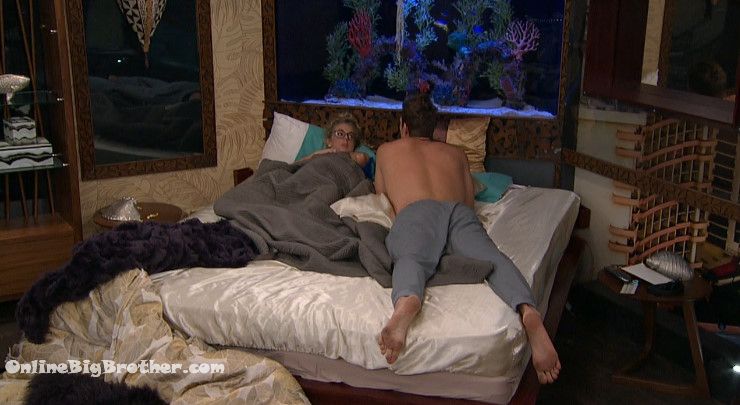 2:30pm HOH Nicole and Corey
Corey – dude lets put up Michelle and Natalie
Nicole – that's an option
Corey says they can tell James "hey here's 5 thousand dollars you're as pawn"
2:32pm James, Corey and Nicole HOH
James- i'm at y'all mercy.. I've been a team player for long while.. I've' never done you wrong.. James – I've always came through… whenever i said I would do something I did.
Nicole says she's going to take another swing at Paul and see where it goes.
Nicole – Michelle doesn't like me that much either.. My target you know who that is..
James is wanting Victor and Paul up.
James uses the word 'Strategically and emotions a lot
Nicole is pushing that if Victor isn't nominated he doesn't have to play
Nico – everyone wants paul out at this point
James says Victor will be a little sad at Paul going but he wouldn't be pissed
Nicole – exactly
They talk about Corey being able to give the 5K to Nicole. Corey thinks he can.
James starts working the angle that Victor didn't get the care package he fought 2 times to get back in so America must want him out.
Corey and Nicole giggle saying "if they want Good TV they will keep your boy up here.. I'll get a little frisky up here" (LOL this is a BB first )
Corey – NO HAVE NOTS good TV .. HAVE NOTS.. bad TV
James agrees.. .
Corey – Balls in your court production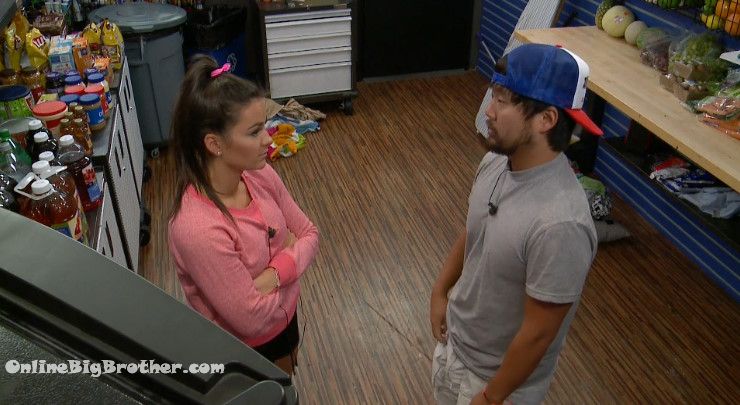 2:53pm Storage room James and Natalie
James says that Nicole told him they are not going up and she's not being backdoored Jaem says Michelle might go up along with Paul.
Nicole comes in.. Natalie is peddling her have not pass for safety. Nicole leaves..
James says they are putting Paul and Michelle up they have the 2 votes that's all they need. James adds if Paul comes down they will put up Victor.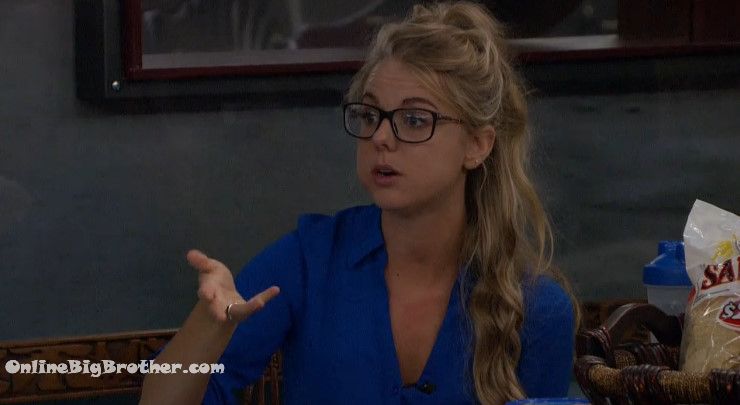 3:03pm HOH Nicole and Corey
Nicole – the way this game goes by the end of the week we'll be crapped on
Corey – stick to the plan send Michelle home
Nicole says james will be very sketched out if paul and Victor don't go up
Corey asks if she's banking on Victor winning the POV
Nicole says she is she's baking on paul coming down.
Corey – if I was James I would be sketch out that Paul is going up against Michelle.. I'm sorry james isn't stupid..
Nicole says Victor and Paul are not that close..
Corey says Victor might not pull Paul down.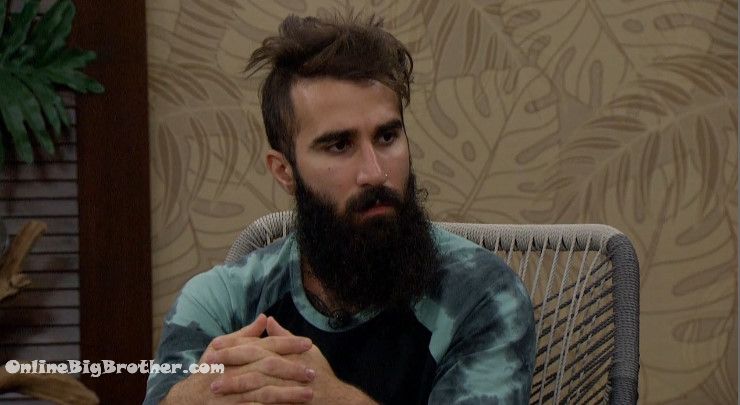 Paul comes in..
Nicole says the other side thinks Paul is the target.
Paul tells her if he doesn't go home he doesn't care if he goes up , he won't hold it against her
Corey – Vic lied to my face said he wouldn't put me up and he put me up I don't care.
Nicole asks him if he's ok being the pawn
Paul – I trust you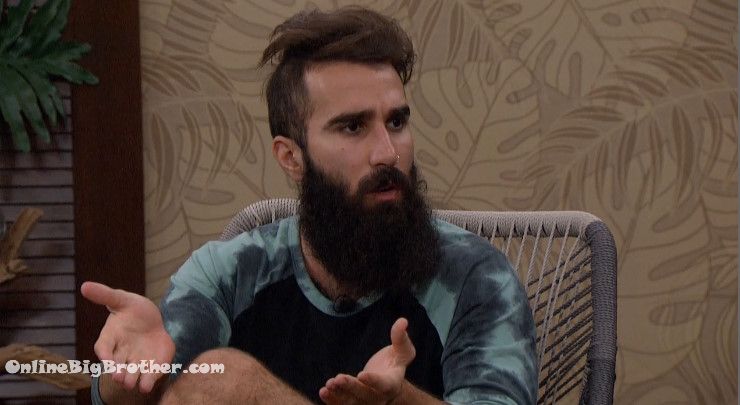 3:17pm Nicole and Paul
Agreeing that james, Michelle and Natalie are very worried. They are freaked out because they might lose one of their numbers. 3: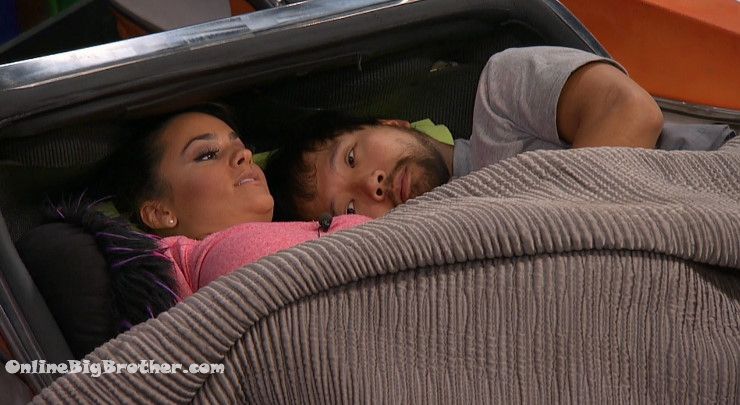 3:21pm James and Natalie
James is moaning that Victor and Paul can't win the veto otherwise they are up on the block. "Strategically"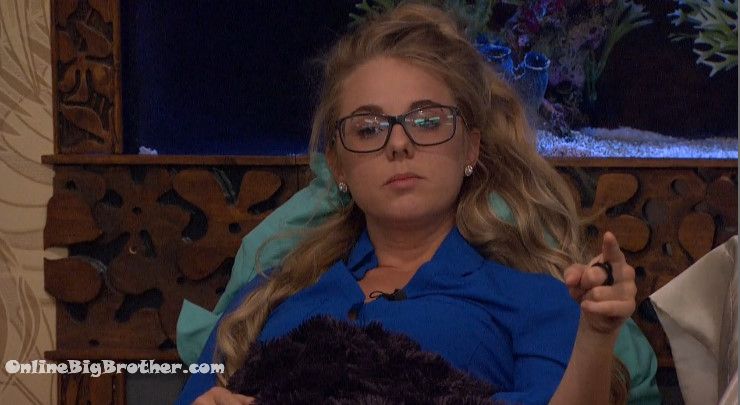 3:28pm Paul and Nicole HOH
Nicole says at this point she would be surprised if she won in the final 2.
Paul – my only argument with Victor "i survived the house I was never evicted"
Nicole tells him that Corey is not Keen on working with James. Corey didn't like how James was acting during the comp.
Nicole wants him to know that Corey is with them.
Nicole – its not good for my Game for you to go home
Nicole tells him she hates the fact she has to put him up as a pawn, "I have to deplete one of their numbers this week"
Nicole explains to him she would rather a chance to get to final 4 then be with a team that is sketchy and she might not make the final 4.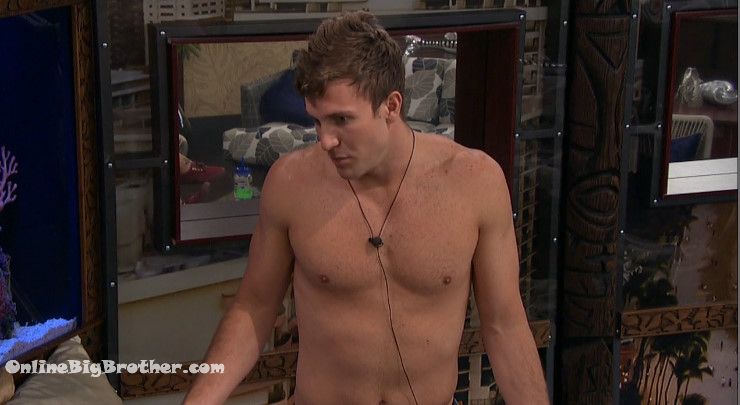 Corey comes back
Nicole – what did you learn about the 5 G's
Corey – It goes into the next HOH comp
Corey – I'm going to old on to it as long as possible
3:47pm
Nicole talks about next HOH she has 3 'Strong" people playing in the HOH .
3:43pm HOH Paul, Corey and Nicole
talking talking talking …
Nicole – we're all good lets just roll with it.. I want to keep it hidden I think it's more fun that way…
Nicole says Michele is the most dangerous person for her because "Strategically" Michelel is her tatrget
She wants to go to Jury
Nicole – I get that Natalie and James are a thing.. I feel that goign into a competition that is mental or physical .. I feel better goign against them
Nicole – She(Michelle) irks me in some sort of a way
Nicole – Honestly , being honest.. you are a threat to my game.. honestly
Paul leaves says he trust them .. everyone says "GOOD TALK"
Paul leaves..
Nicole – this is HUGE COREY
Ncioel says Paul is acting a little bit weird.
Corey says Paul is fine, Corey is down with teaming up with Paul.
dying.. #BB18 @DawgsBigBrother pic.twitter.com/nkbAvKBPWj

— OnlineBigBrother.com (@bigbspoilers) August 26, 2016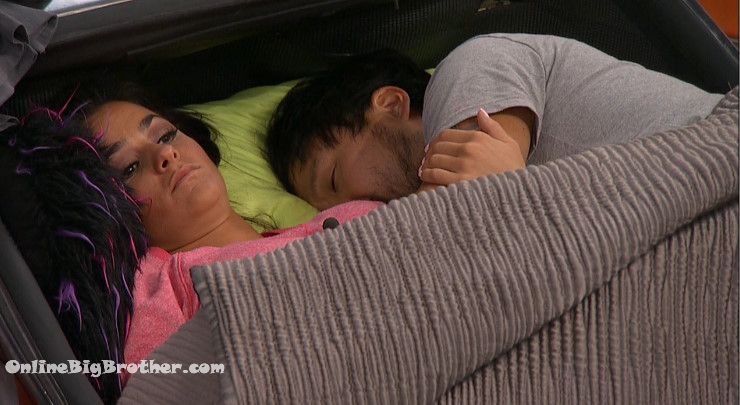 4:00pm Worried…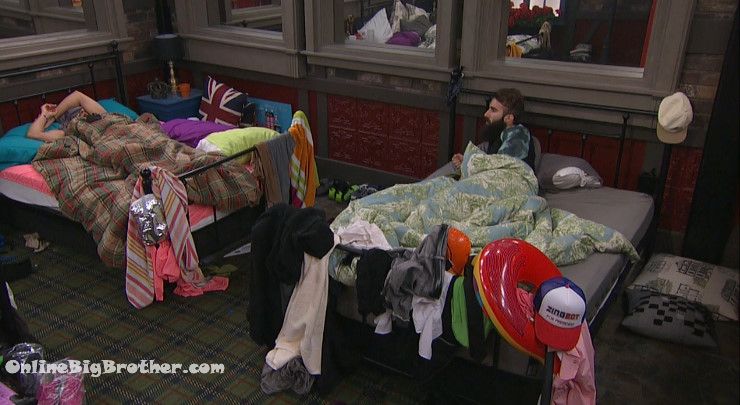 4:03pm Paul and Victor
Paul and Victor say they trust Nicole and Corey. Paul is more worried says he trusts Corey and Nicole too but they still need to win this veto.
Victor – I'm relaxed right now
Victor says James is stupid he tried to get Victor out he came back. Now James is in a worse position he was before. They wish James stcuk to the plan.
Victor – what are the odds…
Paul – America hates you and I (Canada might love you :) )
They agree they are better off making a solid deal for a final 4 then what has been goign on.
Victor and Paul agree if Nicole/Corey keep them safe this week they are locked final 4.
Victor – I'll go to bat for them.. I'm tired of having to hop ship..
Vic – Like that the fuck
Paul says that Nicole offered him if he didn't feel comfortable going up on the block that she would put Natalie up.
Victor – I've been waiting to work with them for a long time, I'm excited.
Vic- I've never been this calm
Paul and Victor agree they trust Corey and Nicole 100% and they will take out who they want. "They don't have to worry)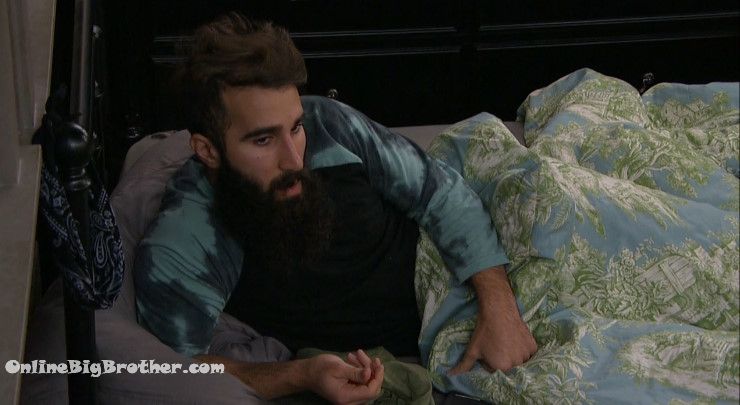 Paul leaves..
IN the HOH Nicole and Corey going through all the options..
Nicole says James is not smart, "Out front saying Natalie wants you out yesterday.. he doesn't think at all"
Nicole – I really need VIc to win this.. the one veto we want
Corey – the 1 veto we want him to actually win
Nicole – he won't even play… (That would be the luck of it)
4:23pm Nicole and Corey going over Nicole's nomination speech.
Nicole gives Corey shit for not "wanting to cuddle" Nicole moans "Love for you to come over.. I hipe you get o hang out with nme all week… "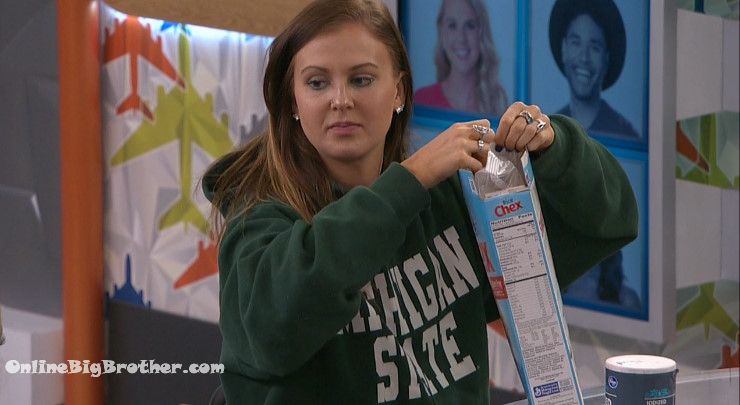 4:26pm Kitchen MEECH BIG FU****G MUEECH, Natalie amd Victor
BIG MUTHER F****G MEECH says she think it'll be Paul and her up.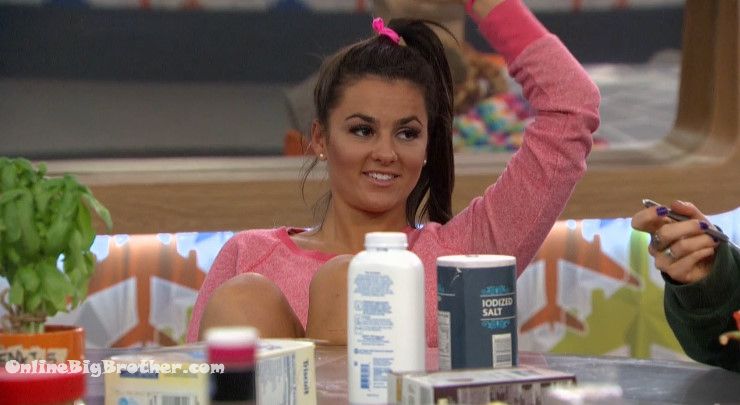 4:38pm Victor brings up the sitcom 'Fiends"
Vic – I love friends.. I've seen every episode of friends… (Build your Kraken shrine save Victor)