POV Holder:
?
POV Competition
Aug 27th
POV Used
?
POV Ceremony
Aug 29th
HOH
Nicole
Next HOH
Sept 1st
Original Nomi1nations:
? AND ?
After POV Nominations:
? AND ?
Have Nots
?
Watch the next week of the feeds for FREE – 1 week Trial!
"BB BRIBE" = Corey
WEEK 5 – August 25 to August 26th
The winner gets $5,000 to bribe one house guest. Bribes my influence voting, competitions, vetos or nominations. The bribe can only be given to one house guest, for one action, within the week leading up to the next eviction.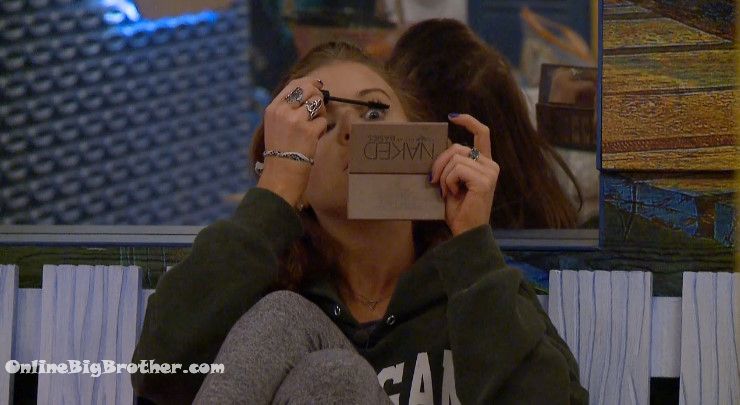 10:55pm Natalie putting on makeup everyone else sleeping
11:00pm Natalie, Nicole and Michelle Makeup time..
Talking about their dreams..
Natalie dreamt about Paulie and Amber being in the house and they were in a showmance.
Michelle – I dreamt that snoop dog tweeted out for James to get the care package..
They are nervous about the Care Package.
Michelle says she made sure to change her mic after him to avoid Paul, "No interaction is good interaction"
Michelle says the Jury house feels like a fun place.
Meech – doesn't it make you feel better than Nicole said james can put up the nominations..
(LOL what)
Michelle says paul was up in the HOH for awhile last night
Natalie – act chill
Michelle – best case scenario Corey gets it..
Natalie saying that Paul talked all this sh1t about Corey and Nicole and now he's buddy buddy with them now.
Nat – he (paul) talked so much sh1t
Meech – yup, that's his game.. He's playing Vanessa's game.. He goes into groups gets information and then when someone is in power tells them everything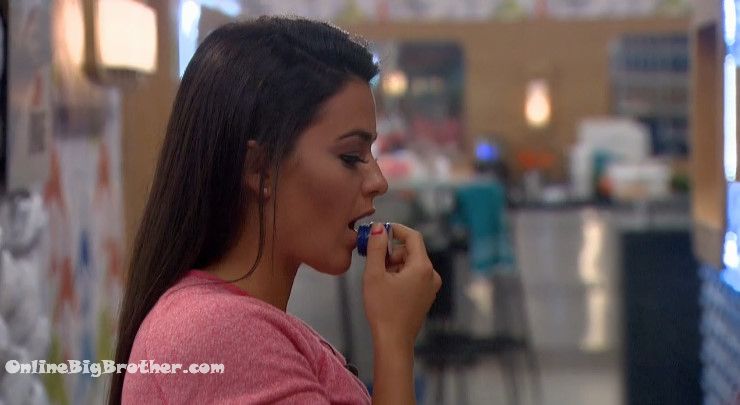 Natalie – it was a perfect comp for james
Meech – why did he drop.. Final 2 with Nicole.. I mean this is big Brother..
Natalie – I'm having anxiety
Meech – he really trusts here for some reason
Natalie agrees.
Meech – you didn't ask him about it though
Natalie says he did what was best for his game..
Meech laughs "he goes up this week"
Nat – Vic and Paul are feeling really chill
Meech – yup
They go on about Paul talking sh1t about everyone since day one.
Natalie – how was calling someone buzz lightyear a joke in good fun
Natalie is worried that Bridgette Hates her. Natalie mentions during the HOH competition Bridgette yelled out that she's done a lot of thinking about Natalie while in the Jury house. Natalie is worried Paulie is telling her things.
Natalie – honestly if I go home this week thought it just wasn't meant to me..
Natalie going on and on about Paul being a liar and sh1t talker
Natalie – they might want to split me and James up that would be a strategic move..
Natalie – Victor will want to keep you
Meech – REALLY!
Nat – he will
Meech – I wonder what would have happened if Nicle was on the block and Nicole went home..
Meech brings up that James told her he would vote anyway she wanted he said those exact words.
Natalie mumbles something about they did the right thing.
Meech – we begged him though.. We said that is what you wanted.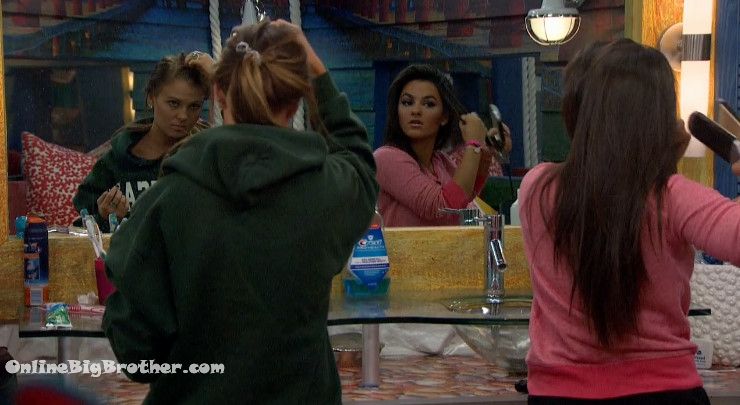 Meech – I have nightmares about Paul
Natalie – why are they building that's my question.. Maybe they aren't doing the care package this week..
Feeds cut..
Natalie says paul and Victor are best friends now.
Meech saying she wanted NIcole up and Natale wanted Corey up. James voted to keep Corey you would think they weren't mad at him.
Natalie – it's part of the game you have to act stragtecially I geuss.. We have a house full of COMP beasts
Michelle says next week is a double 99%
They start going on and on about how "everyone" else in the house has perfect lives and good upbringings.. "They have all these name brand things.."
Natalie – I don't get Jealous
Meech – I get Jealous (love you and hate you meech)
Natalie – I'm always happy for people
They chat about Natalie and James having sad stories from their childhood. James being adopted. And natalie growing up in venezuela, Natalie says they bonded over it.
She's a bit worried that she opened up too much with James on the feeds.
Michelle says Natalie's mother did a fine job raising Natalie she turned out to be a beautiful person.
Natalie tells her to stop fighting with Paul because it makes Paul more evil and helps him.
Natalie – we gotta win HOH again..
Michelle – maybe we should go talk to COrey and Nicole
Natalie – you should..
Natalie adds that she plans on talking to them after the care package.
11:42am
Natalie – I'm shitting myself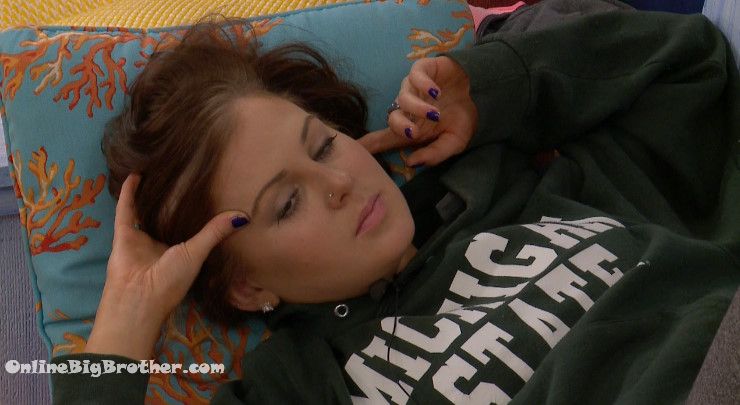 11:45am Kitchen Michelle and Natalie
Natalie continues to pour scorn on Paul. Says when Paul was tight with Paulie he was throwing competitions and last night his ass was on the line that is why he fought.
Natalie claiming she can read bullsh1t a mile away.
Natalie bring sup how Paul would mention his arm having surgery. he would use that as a excuse when he dropped out yet he never talks about it inside the house and when his ass is on the line he's not bothered by it.
Natalie – I was never a big gossiper the game took me out of my element
Meech – how big was your high school
Natalie – HUGE
Corey comes in.. "Y'all got DR's coming up soon"
Meech and Natalie – YUP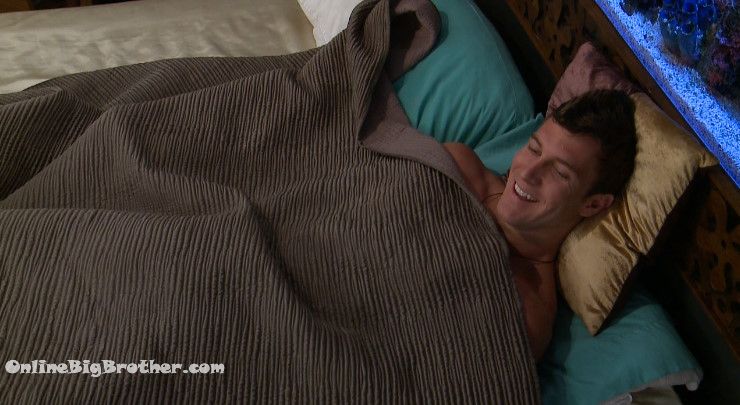 11:51pm Nicole and Corey
Nicole saying she wants the care package to be a HOH takeover. When she was on the wall she wanted to put up Victor and Michelle.
Nicole – I have to see what this is and I can decide..
Corey – man I'm nervous..
Nic – why because you don't know if you want it
Nicole wants it to be something that make it so she can't put up Paul and Victor
Corey wants it to be "Just safety" so he doesn't have to do anything.
Corey says they need to use Victor to do the dirty work..
Nicole – it makes me sad how excited Victor was to work with us..
Corey – he had tears..
Nicole – I can't put him up (Victor) .. James .. I promised .. dang it .. If I have to put people up we're going to burn bridges that don't need to be burned.
Nicole and Corey wonder if it's best case her winning. Corey says it was 100% Nicole isn't sure.
Nicole says the house could have ganged up on them again.
Nicole – I'm starting to trust Paul more than James.. how sketchy he was about the vote.. what the heck.. He held socks over his eyes.. that's weird
Nicole – Natalie whose supposed to be in a alliance with us wants Victor to stay.. it doesn't make any sense..
Nicole says for a hot minute Corey was going top get evicted last night.
Nicole and Corey agree whoever sits next to Victor gets second places. Corey points out Victor has already been evicted twice he doesn't deserve to win it.
They talk about Paulie really struggling during that competition. Corey – He was pissed
12:30pm Nicole and Corey HOH
Going through their options. Nicole is leaning towards Paul and Michelle to be nominated.
Nicole – I'm playing way more strategic and harder..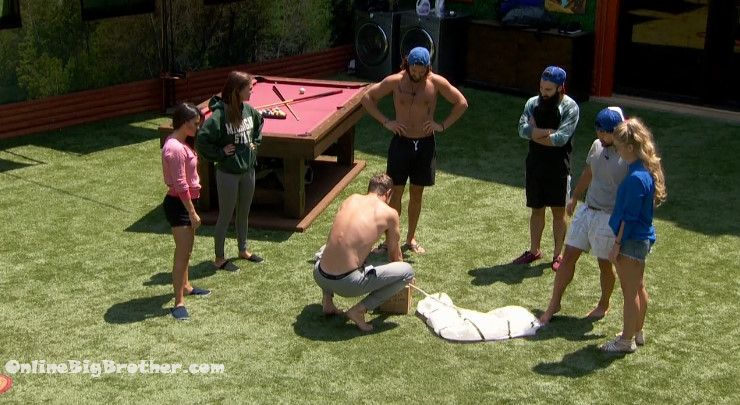 12:38pm Feeds go to Fish
Over the Speakers you hear "Special delivery get to the back yard.. "
HAHAHAHAHHAHAH Corey wins..
12:49pm Nicole and Corey joke that she'll nominate him to flush out the 5K..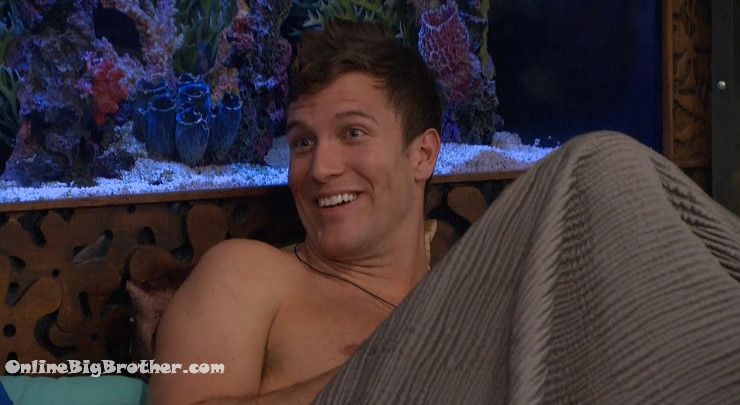 12:51pm Nicole and Corey HOH
Corey wants to give it to James to not be mad at him for being nominated.
They really don't know if they can use it.
Nicole says it would have been great if Paul or Vic had won it cause they could have bribed us to not put us up..
Corey – we want Michelle out right..
Nicole – I don't know what to think
Nicole says he needs to hold onto it.
Corey is going to talk tot he Diary room.
Nicole says she's thinking about putting a person on both side with the goal being Michelle.
Nicole saying maybe she needs to send Victor home
Corey against it says they can trust Victor and Paul they can't trust James an Natalie
Nicole agrees says she doesn't want to break the trust with Paul and Victor by putting them up as a pawn. He needs to really talk to them.
Nicole is wondering if the care package going to Corey means that America wants her to put up Victor and Paul.
Corey says he wishes he could just keep the money and not use it.
Corey – this is a good package cause I don't have to do anything
Nicole – I thought they would give it to someone that needed it.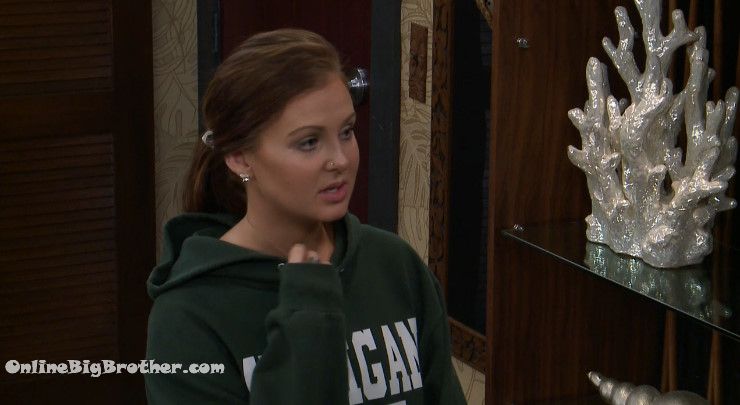 1:03pm Michelle comes up tells them if she goes up no hard feelings.
Michelle – I'm so happy you go tit.. it just show people aren't fond of him
Corey – ya … for sure..
They all start scratching their heads why did Corey get it he's not in trouble they would have thought the fans would give it to someone in trouble to make things exciting to watch.
Michelle says Paul was really disappointed he was banking on it.
Michelle leaves..
Nicole – I'm putting her up.. that's easy for me..
Corey says he'll tell James he'll use the 5K to secure the votes.
Nicole – NO JAMES IS NOT going ON THE BLOCK
Corey – Last night you said Michelle and James
Nicole – I WILL NOT PUT JAMES ON THE BLOCK
Nicole says she wants Paul to stay calm cool and collective
Corey and Nicole agree they will throw the POV to Victor have him use it on Paul and they will put Natalie up.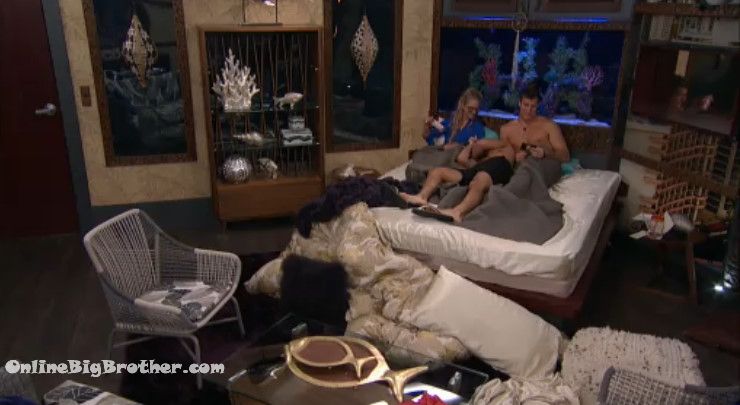 Victor and Paul comes up ..
Paul suggesting Corey bribes Nicole to put up James and Michelle
They also suggest Corey save it until after the Veto. Nicole and Corey agree.
Nicole tells them she wants them in this game..
Nicole – I think Michelle is the bigger threat
Paul – that's fine.. that's valid..
Nicole says she really wants Michelle gone this week
Victor – we support whatever you do..
Nicole – we would bribe someone to not use the veto on her..
Nicole says she wants to use Paul as the pawn.
Paul says he'll do it as long as Corey will vote for him
Corey says he will he can count on Corey's vote.
Nicole and Corey say they were "secretly wishing" the care package would go to Victor and Paul
Nicole says their loyalty lies with Victor and Paul.
Victor says the same is with them, "You don't understand the excitement I have working with you guys.. "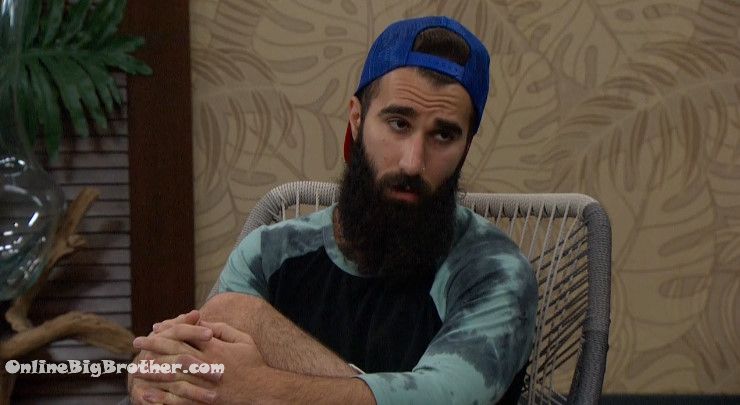 Paul – I'm trusting you f*** it lets do it.. F*** it"
Nicole – you sure
Paul – F*** it lets do it
Corey tells him he will not change his vote his vote is locked. brings up that James stabbed him in the back 2 weeks ago.
Paul reminds them that side was selling them on Paulie, Corey Nicole up until they tried to get Victor out.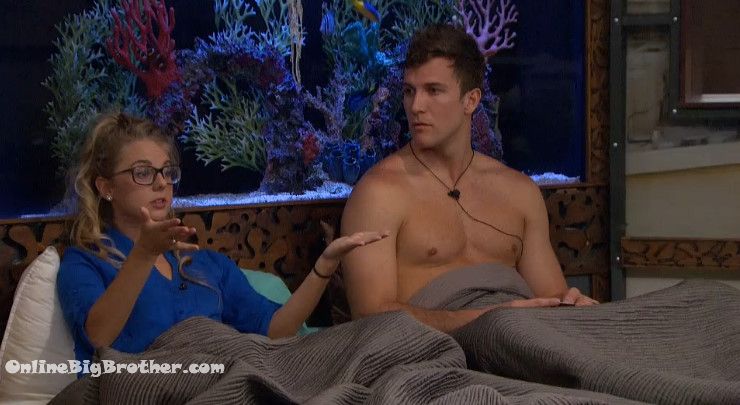 1:21pm Corey says he wants one of them 4 to get the 5K
Nicole wants to make sure Paul is cool with being the Pawn.
Paul – I play the game I don't pussy around sh1t if this is the plan I don't play around I trust you
Paul – put me up next to Michelle
Corey and Nicole assure him he's safe.
Paul warns that Michelle is smart. says Natalie was crying last nigh tin the London room scared if they got the the care package.
Nicole says if Michelle wins the veto than James or Natalie go home.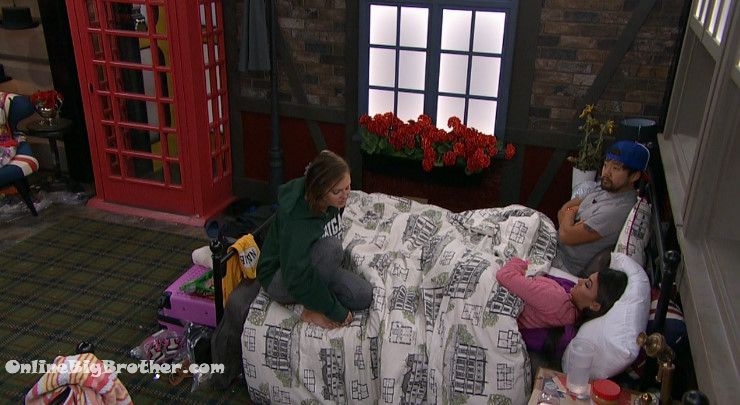 1:25pm Sad :(