Head of Household: Beth
Nominations: ????
The Power of Veto Players are: ?????
POwer of Veto Winner: ?
Power of Veto Ceremony: ????
Have nots: ?????
Big Brother Spoilers – Beth is going to nominate Tera and Ro. Ro is the primary target. If Ro comes down Vic will be the replacement and target. Beth seems to be very much into the idea of taking out Vic and using Ro to go after the boys. Tera and Vic on the block will be crazy fun. Beth is taking Ro to wendys to see if she can use him to go after Jed/Ty.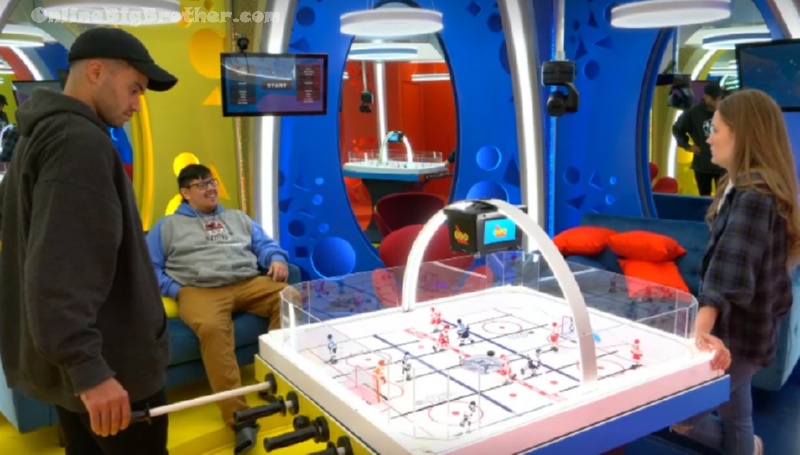 1:20 pm Beth, Jed, Kief
Kiefer saying he doesn't think Ro is as smart as he thinks he is. Kiefer tells them about Ro asking him if he thinks he might go up.
Beth – I'm glad people wonder like that
Jed – what do we do if Ro and Tera are up and Ro takes himself down
K – do we want to make a big move or not
B – we need to talk about this
J – I just talked to Tina and Tera and they are pushing hard for this (Vic Backdoor)
K – You would have the support to do it
B – There would be a blow up
Kiefer says there will be a blow-up and they will all suffer the consequences
They agree this conversation needs to be "so tight-lipped"
Jed – if Ro takes himself down what are his plans moving forward?
Beth – that is what I want to know
K – Ro needs to go over our second option (Vic)
K – We can't waste this HOH on somebody like Tera
Jed – exactly
Beth – NO
Beth is telling Tera she needs to chill out she's going up but is not the target.
Kiefer says right now getting rid of Vic would be the biggest move in the game.
Beth – if I get Tera out it's such a weak HOH. I have the numbers to do what we want to do. I don't want Tera to go. Even if we don't personally get a long I don't care.
They talk about Vic acting "So kiss a$$"
Beth – out of .. crazy
k – Nowhere
Jed – shows she's scared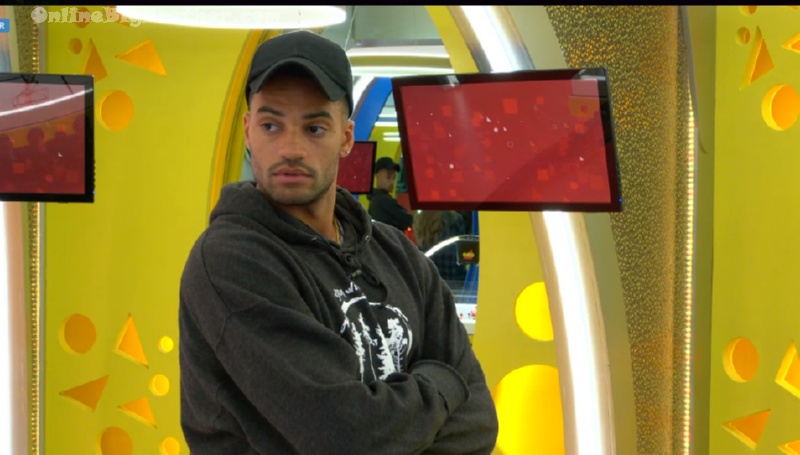 Jed – if Ro doesn't win he goes if Ro wins Vic goes.
Beth says even if one of them win the Veto they still can do something with it "It's an option I'm just saying it's there"
Jed suggests if he wins the veto go to Ro say I'm going to use this on you so Vic goes up but if Ro wins next week he's not to touch them.
Jed – that could be a conversation s well
Beth looks at Kiefer ands says she know he hates that idea
K – as long as it's ain't us
K – I think he's coming after you guys no matter what
B – what if I say something like.. so he doesn't put you guys up against each other..
B – Ro is too sketchy to bring up V at all
K – Tina will never vote against Tera even if I was sitting next to Tera. I would stay and Tina's vote wouldn't matter
Beth – telling Ro today I want to take a bigger shot..
Kiefer says she should be tight lip.
Jed asks if Ro knows he's going up. Beth plans on telling him.
K – there are too many players to be putting Sunsh1ters up.
Beth – no no..
Kiefer – If Ro goes we stop planning week to week and start planning end game
They all agree they would be worried if Vic won HOH
Beth – She's crazy, with Ro you can maneuver around .. ish
Jed says Ro will put them up in the short-term like next week but Vic won't put them up next week.
B – She wants to be with you and Ty since the start. I'm just in it because if with you. That's why she got Latoya out
Kiefer – it worked out pretty good for her.
Beth – yesterday all day Ty I love when you give attention
K – for me Ro is a much bigger target
Jed agrees
Keifer – she thinks she is in more with you guys than I am with you guys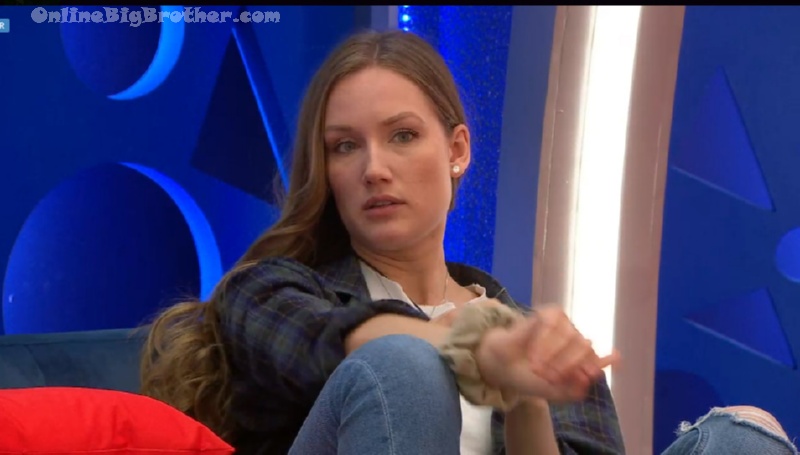 Jed reminds them that Vic could have f***ed them last week with the HOH.
Beth agrees says she could have easily have put them up and blamed Ro on it.
Beth – same thing it's Ro and her same sh1t
Jed – Put up Tera and Ro. If he comes down put up Vic
They talk about how Tina isn't really close to their group
K – She doesn't have those in-depth game talks
Kiefer – This is our game to lose really … I'm getting goosebumps thinking about the final 4..
Jed – that's what I'm saying
Beth – at least we know our Noms they are clean and fine
Jed – Ro, and Tera
Beth – yeah. I am going to say to Ro we do have a bigger thing..
K – I've been doing work with Vic about Ro..
Kiefer – I think I've made her think he's rich
Jed – why does it matter he's rich?
Kiefer – it matters to a poor person..
Jed agrees says it's a good move
Kiefer – I'm poor too I can smell it
Beth called to the Diary room for Wendy's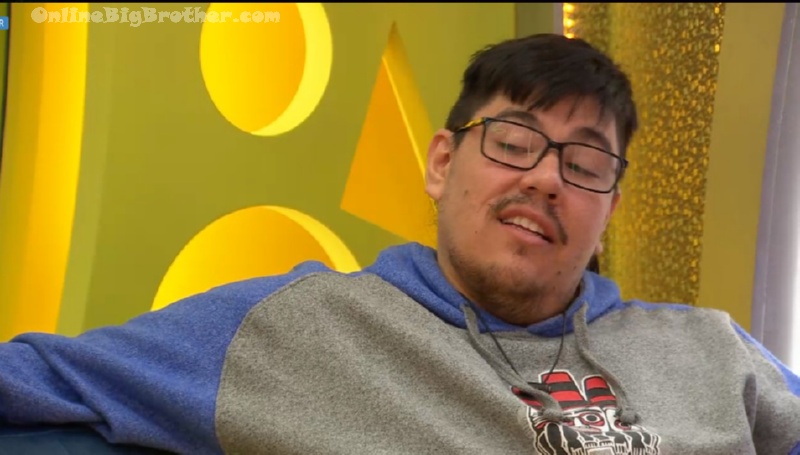 Kiefer and Jed talk about how much they like Breydon. They go on about how they got this after Ro is gone they have no competition.
Kiefer says it will break Tera's heart if he wins POV and not use it because she thinks he's really close to her. Adds that all he'll say is if he uses the veto Beth will put Tina up.
Jed says that won't look good for Beth
Kiefer – we're playing with Dynamite here.. this sh1t might blow up
Jed – we can't let Vic know anything. If Ro comes down she can't think this was an option
K – I don't know where I can hide.
J – Tera is worried what she said about Vic will come out and Vic will come after her hard
Kiefer says Tina thinks Beth wouldn't make a big move. Kiefer goes on about how he tried to tell her if Beth is HOH a sunsetter isn't touching the block. They can't understand why Tina doesn't think the sunsetters are solid.
Keifer says day 2 they established "this sh1t"
K – me, you LT and we were like you can get Ty. ME and LT got Tina. then you got Beth..
Keifer – we're going to watch back just like how they talked about the pretty boys and stuff they are going to talk about us like that
K – we're going to have little sunsetter cartoons and sound effects and sh1t..
Jed – it'll be so sick
K – pretty boys 2.0
Jed – funny how they ask you about your strategy then when you are in here it's out the window
K – not mine, My strategy was align myself with the best-looking people in this house
Jed – are you serious?
K – yup.. I wrote it down
they laugh
Jed – why?
K – look where I am I'm doing pretty good.. Best-looking people stay the longest
k – if we get Ro out we're in the end game. It doesn't matter what happens after that. Breydon isn't touching us, Vic ain't touching us, Tina Ain't touching us.
2:15 pm Tera crying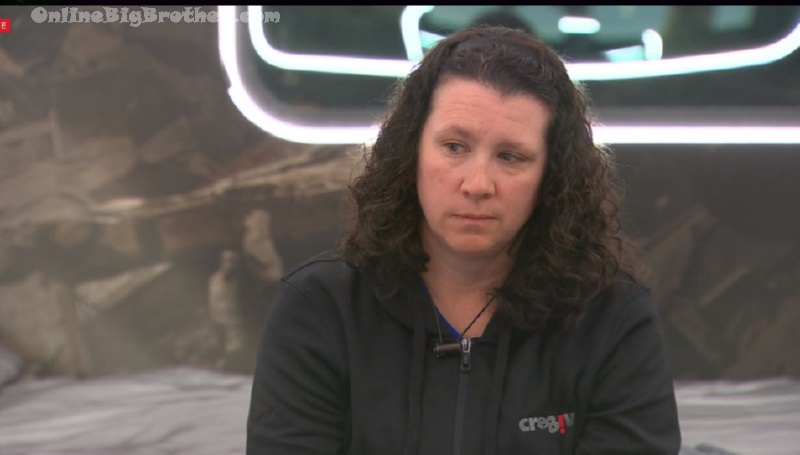 3:42 pm Kiefer and Tina
Kiefer says he's certain Beth is going to backdoor Vic, "It'll be a bloodbath"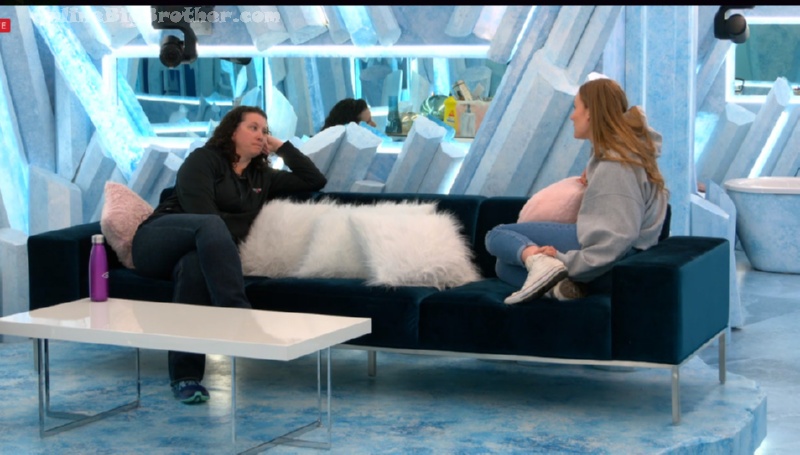 3:38 pm Beth and Tina
Beth says she's told Tera and Ro they are being nominated.
Beth brings up the conversation about backdooring Vic.
Tina says if Vic hung around to the double she could be dangerous
Tina says her vote is where Beth wants it.
Tina – if Ro wins POV he comes down… do you think?
Beth – it would be SO scary
Tina – you know what for your game that is probably going to be the biggest move of the season for your game.
Beth – that cannot get out at all (LOL everyone knows now except for Ro and Vic)
Tina – listen my lips are sealed
Beth – the second it gets out it's really bad for Tera's game because she is going to blow up
Beth – I need you to keep Tera calm. If you get picked for POV I need you to F**Ing gun..
Beth – I need Vic to stay as calm and safe as possible I need her to feel like the safest person in this house.
Tera thinks she's the target because Ro got to go to Wendy's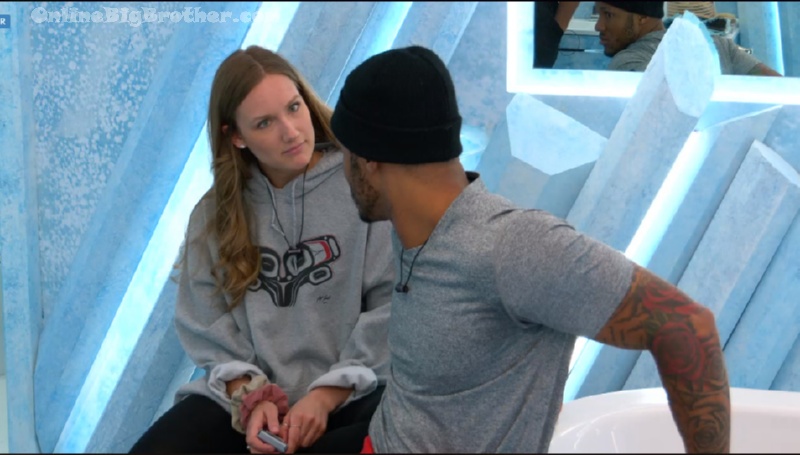 5:25 pm Beth, Ty and Jed
Beth goes over her conversation with Ro during Wendy's.
To told her he would promise at least 2 weeks of safety if someone uses the Veto on him.
Beth says Ro knows she's willing to make a big move this week. There's a bigger plan in play.
Beth – Tina knows, We know, I don't think I'm going to tell Breydon. He doesn't need to know. The worst-case scenario is if Vic wins the Veto.. (hard to hear with the water running in tub)
Jed – she won't use it
Beth – Ro might say some sh1t
Ty – so this is the plan? vic is the plan?
Jed – Yes, Ro assumed the bigger plan so he knows
Beth – he has to know to offer you guys a deal
Jed – if he doesn't come down he'll expose it.
Ty – there's nothing to expose
Jed – that she tried to backdoor vic
Ty – but she never said anything
Jed says if Ro gives them the safety deal he would feel more comfortable with using the veto.
Beth brings up Ro warning her that other than Jed and Ty the entire house is targeting Beth.
Beth – Ro was like just so you know you are next.. he's not saying the name of the person..
Ty – I'm just wondering if they are setting us up to take out Vic for them as of now Vic is a number for us
Beth – they are taking a HUGE chance they are going on the block
Jed – they are going on the block regardless if we backdoor VIC it helps them more than us
Ty is worried this is a setup says Vic says a lot of sh1t.
Jed – why are we so confident Ro isn't taking a shot next week?
Ty – he's not on outside
Jed says Vic is on their side right now
Ty wants to take Vic out during the double
Ty – if we want to take her out we can if we want to take out Ro later
Jed – we can't
Jed says Ro, Tina, and Tera have something.
Ty – we're certain Ro is coming for us.
Beth – I think he's going after Kief
Jed – why
Ty – give me one good reason
Beth – think?
Ty – because Kief put him up? Is Ro the type of player that will take someone out because he doesn't like her
Beth – Ro said everyone thinks Jed and Ty are the moves of the season and they aren't He said a lot of people win up against Jed ant Ty
Beth explains that Vic staying is better for Jed/Ty's game and Ro staying is better than Beth. They go back and forth about what they should do. The boys trying to convince Beth that Vic isn't coming for her and Beth trying to convince the boys Ro isn't after the boys.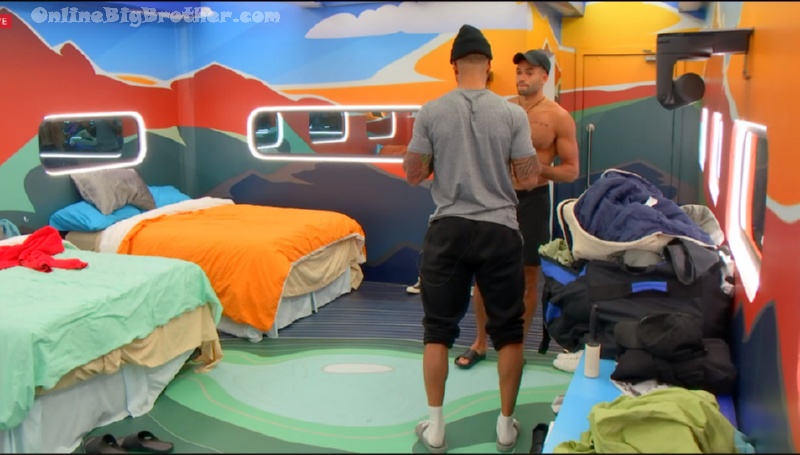 6:20 pm Ty and Jed
They're not down for getting Vic out they think Ro, Tina, and Tera are together and are trying for Vic to go out this week.
Jed – I am not down
Ty – I'm not sold
Jed – he will do what he needs to do to stay.. keep his word? absolutely not (Ro)
Jed – if he's on that block I'm voting him out.
Ty points out everyone is against Vic they should keep her as HOH for next week. Ty wants to tell Vic about the Backdoor plan so she doesn't find out from someone else.
9:00 pm Feeds return after 2 hours.

12:30 am Kiefer, Ty, Beth, Jed
Back and Forth what they want to do.
Keifer, Ty, Beth, Jed.
Jed – so basically Breydon told a bunch of tea about Vic last week for when he was campaigning to her for why he should stay. So she was like okay give me names right now.. Who would you put up? Next week you said you would take big shots.. Who would you put up? As a default he just said me and you. Beth – he told me that you knew that though straight up! Jed – yup and he said who would you put up? Jed and Beth. Ty – he said me and you? Beth – Breydon did. Jed – and Vic said she would put up me and Beth. And she said oh I shouldn't say that be but yes Jed and Beth. Aside from that she went up to him on the day of the vote and said that everyone was flipping except for her. She said you got me, you got me no matter what. She was balling her eyes out to me and Austin the night before saying that she felt so bad. She was doing some sketchy sh*t. Beth – and what I just told Keifer .. lets just say Roh stays this week. And wins HOH and puts you two on the block. You go home .. lets just say .. he has pissed off me and you. Beth – he can't play HOH the next week. He is pretty much going home. Ty – or you show your loyalty card again to Vic. Keifer – I would rather it be Roh because se wtill don't know what these. Beth – but didn't you just see that we were trying to sh*t talk everyone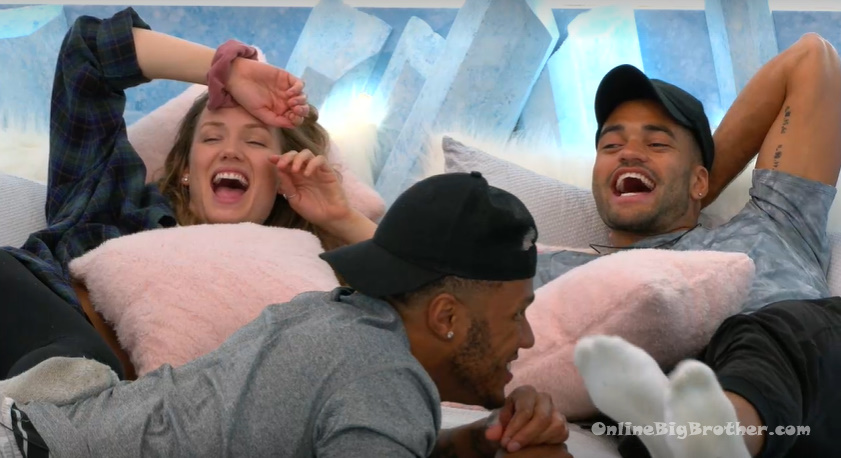 .