POV Holder:
?
POV Competition
Sept 3rd
POV Used
?
POV Ceremony
Sept 5th
HOH
Victor
Next HOH
Sept 8th
Original Nominations:
James AND Natalie
After POV Nominations:
? AND ?
Have Nots
? and ?
Watch the next week of the feeds for FREE – 1 week Trial!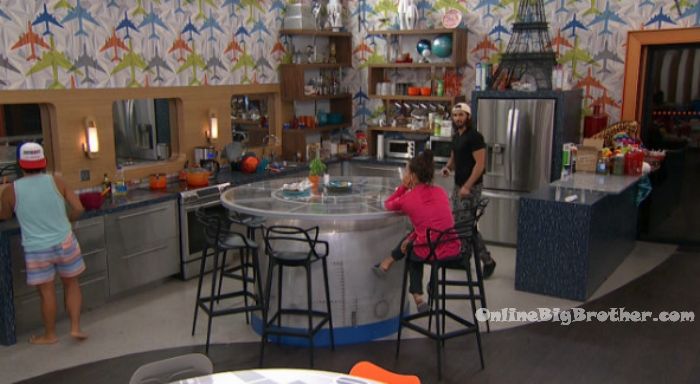 Vic Nominated: James & Natalie
5:10pm – 5:55pm Big Brother blocks the feeds for the nomination ceremony.
5:55pm – 6:50pm When the feeds return – In the kitchen – Nat says it pays off to not sh*t on people. Vic says that's not my style. James says that's not my style either. Vic says I put you up. This is why. It's that easy. James says I appreciate that. Nat tells Paul I really do like you. I do like you guys. Vic says I thought I was done on day 23. Nat says I back stabbed two people. You guys had my back and I back stabbed you. Vic says that's alright, its the nature of the game. Nat says I thought Paul was coming after James. Paul says I was not. Vic says that's the nature of the beast and of the game you just don't know the information you get. Nat says I apologize for doing that to you guys. If I go home this week I just wanted you to know that. James says you're not going home. Nat says you don't know that. If you win the veto, I'm going. I learned the game being in this house and I have so much appreciation for it. I surpassed my expectations in this house. Paul says we were caught with our d**k in our hands the first few weeks. James and Nat start playing a game of dominoes.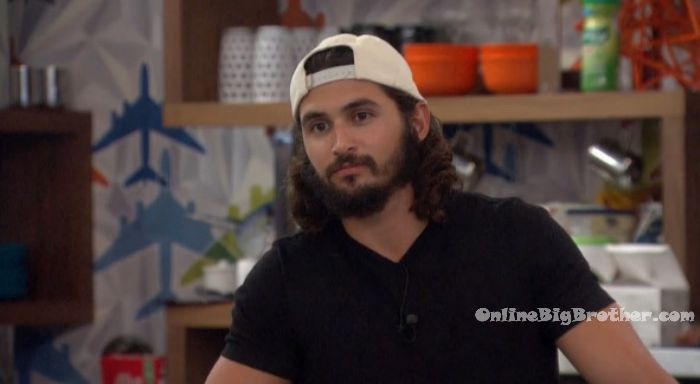 5:55pm – 6:20pm Nicole and Corey are in the bedroom talking. Nicole says she said a lot of stupid things in the last 24 hours. I keep digging a deeper and deeper hole that I don't know how to get out of. I just need help to get out. I need an even playing field. Corey asks what do you want me to sh*t on you? Nicole says yes. Corey says I'm not that type of person. I wouldn't say the things that you say to me. Nicole says ok first off that's not what I meant by an even playing field. You're a jerk. Corey says thanks. Why am I a jerk?! Nicole says you said something that you knew would hurt my feelings. I don't know if I want to cry or laugh. Nicole says I would never say those things that you've said to me.. REALLY!? What are you referring to? Corey says you know? I'm just kidding. Nicole says you're not kidding. You get so like. I try to say sorry. And you keep saying I don't care. I don't want to talk about it. Corey says because you continue to act weird. Vic and Paul join them.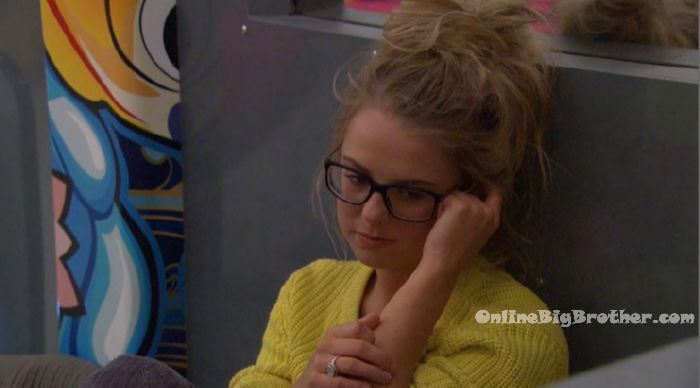 Try the Live Feeds FREE for 7 DAYS! Click here for your: BB18 FREE Trial
6:25pm HOH room – Nicole says to herself – I still have to win the veto to be safe this week.
6:50pm Big Brother blocks the feeds again..
7:10pm – 7:25pm The live feeds return – James is napping. In the HOH room – Vic and Corey are playing dominoes.
7:30pm – 8pm Nat tells James you better win that veto. James tells Nat she better win it. Nat tells James I know you got bribed to drop out of that comp. James says no I didn't. Nat asks why do you think no one is talking about it. Nat says we're on the block together. Nat says one of us are going home. James says I'm actually excited to get the hell out of here. James says I'm going to say vote to keep Natalie because if you keep me I will come after each and everyone of you. Nat says you always trusted and defended Nicole and Corey. James says I would have followed you into the dark. James tells Nat that she's staying. Nat says no I'm not. James says I'll tell you a secret. I'm throwing the veto. Nat says at least try and win it. James says I'll try and win it an not use it. No matter how you play it one of us is going home. If I come off, you're going home. If you come off, I'm going home. It was my fault for saying that we should trust them, so why should you take the blame. James says I'm not going to beg for them to keep me. I'm going out with strength and honor. Nat says I'm sad about this. If you go home this week.. I am going to gun, gun gun to win these comps. Nat says I want to pick who wins that half mil. The only people I would vote for is You, Vic and Paul.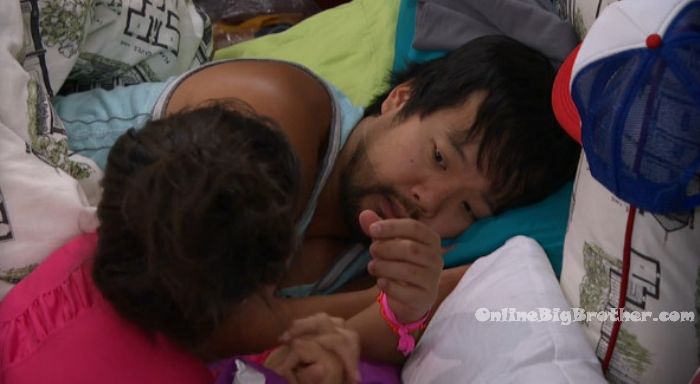 8:10pm – 8:55pm Bathroom – James and Nat. Nat says I don't even give a sh*t any more. The only reason I want to stay is to win the HOH and put Nicole and Corey on the block. I should never have back stabbed Victor. James says I should never put Frank up. He was never coming for me. Nat says but Frank was coming for me. And Paul was coming for you. F**ked up our games. Our games are blown up. James says my game is blown up. You still have a little game left. I'm actually the target. Nat says they have a final four, if you go I'm next. Nat says oh if you keep Vic he's going to win the game. Now they're working with him. Those little betrayers.
9:05pm James & Nat head to bed in the london bedroom. Nicole and Corey just used up to get inside you know? James agrees.
9:10pm – 9:20pm Tokyo Bedroom – Nicole tells Corey thank you for being my best friend. Corey says thanks for being mine. Nicole says I'm definitely glad I had you in this house. I am super grateful for you. Corey says thank you. Nicole says I think Natalie is going to do something weird. She always tries to name everyone a bad person to get them to be the one to go home. No one is here is a bad person. Those are strong words.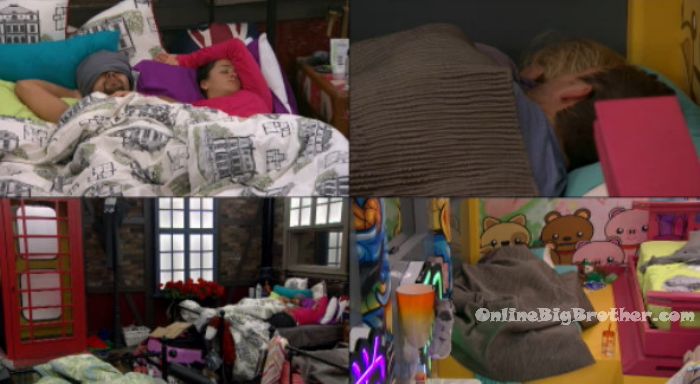 9:30pm – 10:50pm Lots of sleeping and this on the feeds..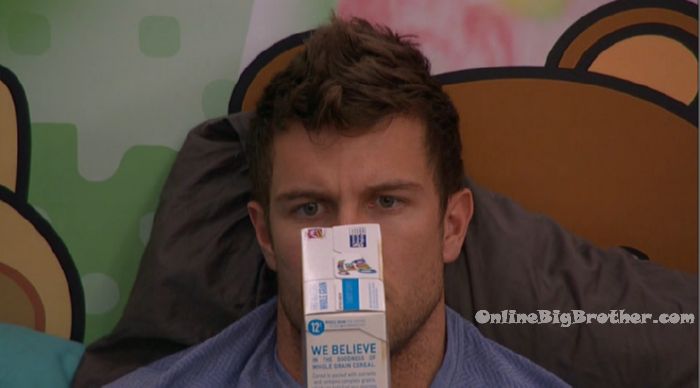 10:30pm Natalie is telling James about about how much Paul and Victor will be gunning for the vetos from here on out. Nat and James head to the store (storage room) to grab food to cook. (Natalie said she was never going to cook in the house again after she "almost burnt it down and almost killed them all")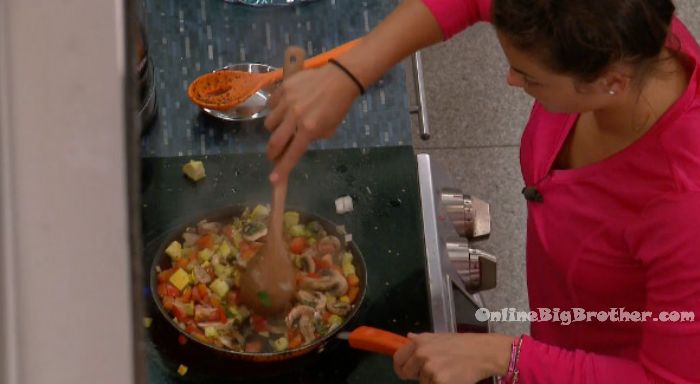 11:10pm – 11:55pm Corey asks Nicole what her biggest regret was growing up. Nicole says playing more sports. Corey asks if she is good with the ball. Nicole says I'm not bad. Nicole asks Corey what his biggest regret is? Corey says probably not taking school serious enough. They head to the kitchen to make food.
12:10am Paul is cooking fries …
[polldaddy poll=9511194]
[polldaddy poll=9512103]
Show your support by making a donation.
Donations support this site more than anything. If you dig our spoilers please find a way to support us.