POV Holder:
?
Next POV
July 25th
POV Used
?
POV Ceremony
July 27th
HOH Winner Team 1:
Jackie
HOH Winner Team 2:
Vanessa
Nominations 1 :
James & LIz
Nominations 2:
Clay & Becky
Battle of the Block Winner
James and Liz
Next HOH/ Next BOB
July 30th / July 24th
Original Nominations:
Clay and Becky
Current Nominations:
?
Have Nots
?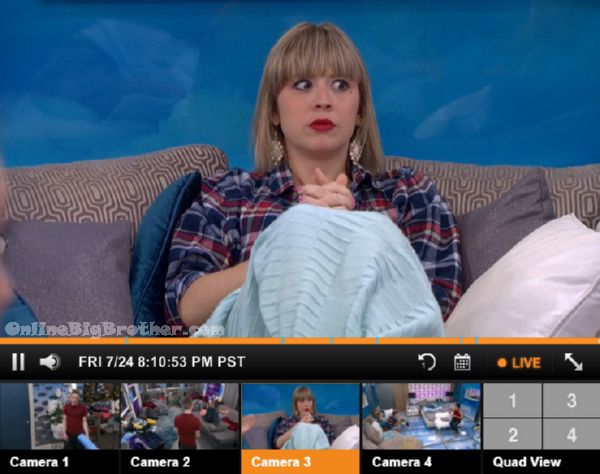 8:00pm HOH Jason, Meg, Vanessa and JAckie
They bring up LIz and Austin are in the full showmance. Jason says they are like Brendon and Rachel because she jumps in his arms after they win things.
Jackie saying how they all have to do their part they've all spent time on the block. (except for Vanessa)
8:11pm Bedroom Steve and JOHNNYMAC
jmac – it's not hectic but shits about to go down in the next couple hours. Get up
says it's really "vibey" out there, "It's interesting"
Steve says it's going to keep getting worse .. Strange Nominees
Jmac – I want cookies
'Steve – Johny one conditions we have to dip them in cool whip
Jmac – don't break my arm
Steve – why would that break your arm
Jmac – you don't have to twist my arm to do it.. I said it wrong … my bad..
(John and Steve are awesome)
8:17pm HOH Becky, Jason, Vanessa, jackie
Becky telling them about the BOB Competition. Sounds like the messed up with the spelling of Jocasta they had it as Jocosta (It's great that the pair everyone thought was a given to win lost)
8:18pm Clay and AUstin
Clay saying Vanessa main is becky secondary steve
Clay would rather Steve gone
Austin – I know … I don't trust him he's throwing everything he's a waste of space we can't count on his vote
Austin – definitely need to get you off that's the thing
Clay – we got to make sure even if he does get drawn for POV he needs to throw ti
Austin wonder is JAckie is the target. Clay says they have to talk to Vanessa.
Austin – ideally we get Steve out
Clay asks him if he thinks James threw the BOB.
Austin thinks he might have.
Clay says he had no idea James was throwing the competition. AUstin mentions Liz saying James was dragging his feet.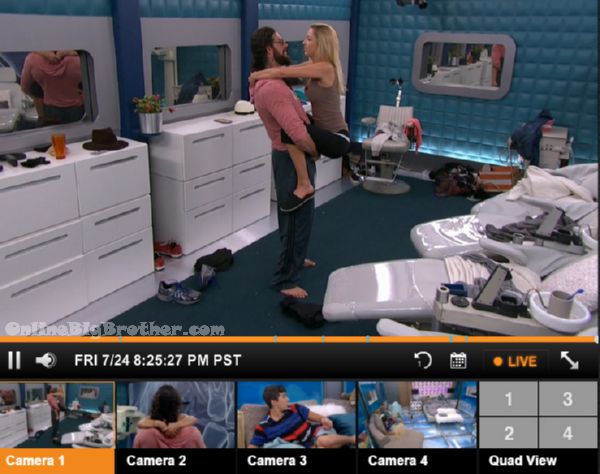 8:23pm Have nots Austin and Liz
Austin says Clay was asking him if he thought James threw the competitions.
Liz asks why he would ask that.
Austin says Clay is nervous, "something's up"
Austin – "I'm so proud of you how did you do that it's so crazy"
Liz says no one saw her and James competing it they saw her they would all know James threw it.
Liz says all she could think of was jumping in his arms she was thinking about the competition, "The secret just thinking about it"
She's pissed that James threw it. Point out Meg and James are up in the HOH right now talking to Vanessa.
Austin – Jackie's not HOH anymore doesn't matter.. they are all freaked out..
Austin – I just want to save Clay
Liz asks if she should feel bad because Vanessa didn't want to be HOH
Austin – No

Liz about Becky – she's the biggest sour puss
Austin brings up trying to give her a hug and she pushed him away.
They agree would be good to get her out. Sounds like they want to take Clay down and get Meg up to vote out Becky. (Thats their best case))
Liz – "James didn't help me at all .. it was literally all me"
Liz – I'm off the block I don't care.
Liz brings up that Julia is getting so close to Johnnymac "She' so dumb"
Austin – she does her own thing when she's in here
Liz – Becky looks scared
Austin – Oh she looks so scared
Austin – They tried to screw us this week, they can't beat us.
Austin – I looked at Vanessa said James threw it went downstairs and Clay is asking about JAmes throwing it ..
Austin wonder how it got out so quickly.
Austin – We beat them.. every week we beat them they had Jackie in power and they lost it.
Liz – f****g idiots
Austin – we have to get Clay off the block
Liz – Clay is in the way of 500K
Austin – he's on our side
liz – I know 100%
They agree Shelli was "So PIssed" at Clay for losing the HOH
Austin and Liz agree there's something up with Shelli and Clay
Austin – it's us against the world in here
Liz says they have to go up to the HOH and talk to her. Austin say they can't right now they'll do it later tonight.
Liz – I felt like Frankie doing it all myself.
[envira-gallery id="123844″]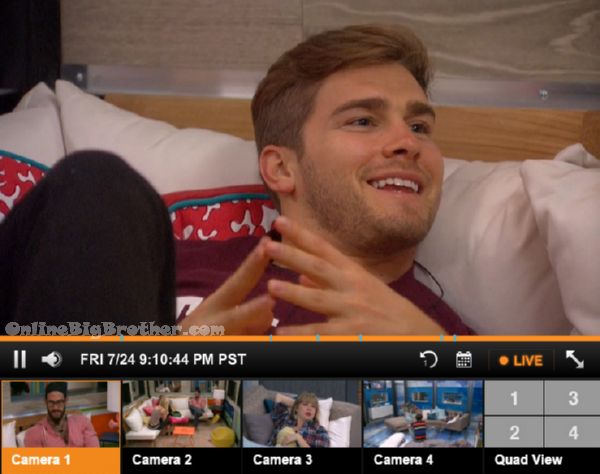 9:02pm Clay and Austin
Talking about Winning out the season bouncing back and forth winning competitions.
Austin – as long as we have the veto we have the votes we have the power.
Austin is really pushing for Steve to go home this week says he's sick of Steve doesn't want to see him in jury.
Clay asks if Austin though Liz was a target
Austin says from Jackie's point of view she was the target. (Mentioned he loves Liz and the other is alright)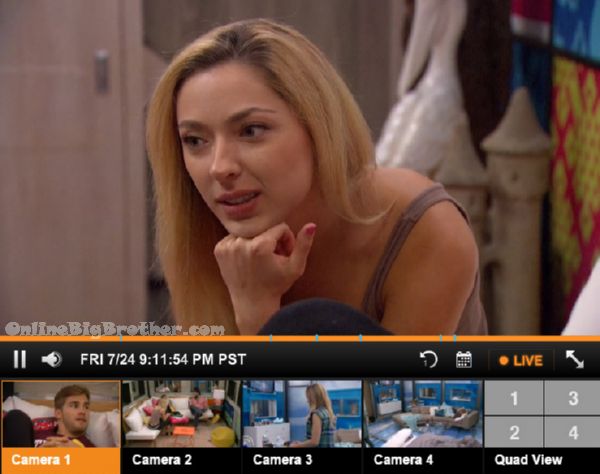 LIz joins them says James threw the BOB.
Austin brings up how James is acting :"Not HAppy" about winning it
LIz confirms he was not thrilled he won the BOB
Clay's eyes light up says once Julia comes in they have 6 voters they control the house.
Austin – we're going to win HOH again we have the numbers
Clay tells them the main goal is to get Steve out.
LIz leaves.
Austin says Meg, JAmes and JAson have been buddy buddy in the HOH
Austin says it's not clear cut this week there's a lot of wrinkles.\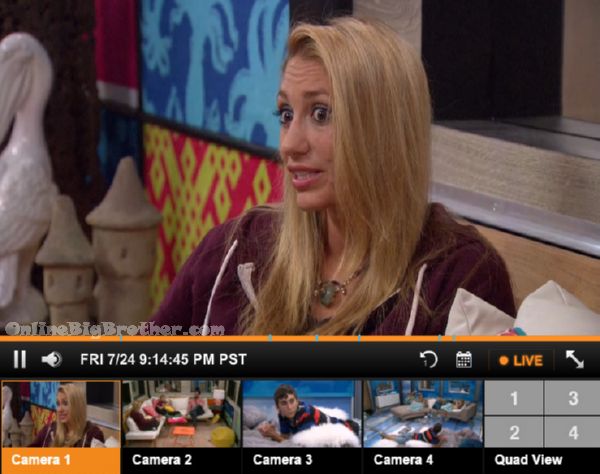 Vanessa joins them says her face is exploding with sores. She leaves..
Austin says if LIz went home and he was left in the house he wouldn't be able to function in the house.
Austin tries to bond with im because they are the only people that are going through the game in a showmance.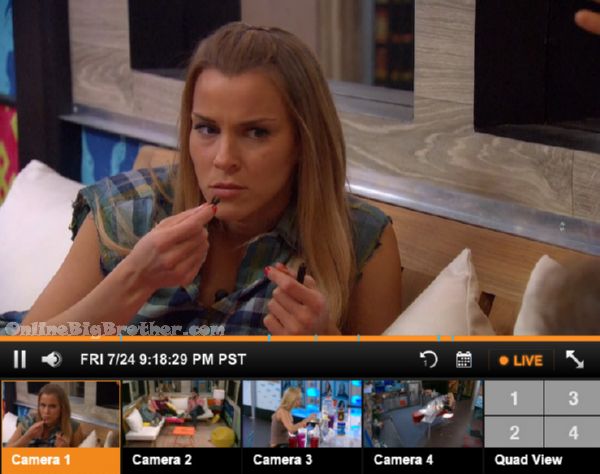 9:17pm Shelli joins them.
Clay says this situation worked out the best Julia comes in this week they have 6 people
Austin – we're golden .. thursday.. it's happening we did it
Shelli says Vanessa is taking a nap she needs time alone.
Austin says he wants to play in the POV wants to save Clay so they can get Steve up.
Clay doesn't think anyone won't use it
Austin reassure them if the nominations stay the same they have the votes
Clay – we need to keep Steve calm.
9:33pm Austin telling them he was told Julia and Liz liked him he originally thought Julia liked him.
Shelli says she really like Julia. Austin "really, Glad someone does"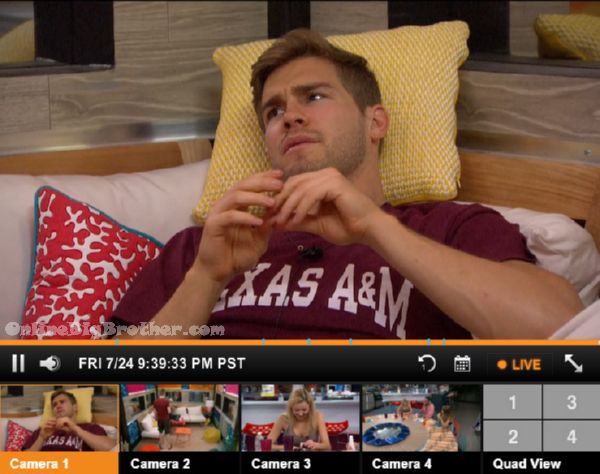 9:40pm jmac and Clay
John saying at this point they just see who get picked for Veto and take it from there.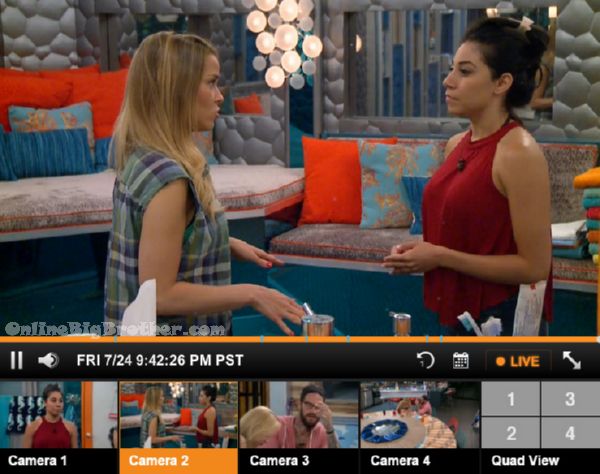 9:40pm Shelli and Jackie
Shelli saying that Austin has no idea what is going on he's saying the twins come in next week. Shelli comments how weird it is that Austin wants a twin out before Jury.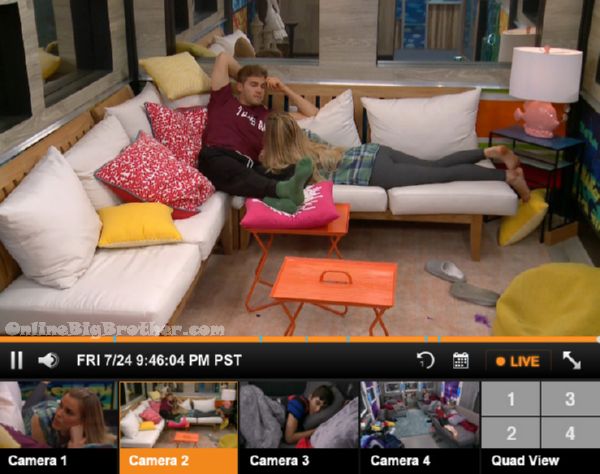 9:45pm Clay and Shelli
Shelli tells him not to pick Austin if he gets Housguest choice. Clay thinks Austin would use the veto on him.
Live Feed subscription gives you CBS All Access thousands of archived shows. Live Shows like Big Brother, all the Big Brother Seasons, and 24/7 coverage of what is happening inside the Big Brother House. Plus there's flashback that lets you go back to any second of the feeds and rewatch what happened. Simon and Dawg will index the season just watch the parts worth watching. All this for $5.99 a month try it out 1 week free. Support our efforts and get your feeds via a link on this site. Live feed subscription Sign up
[polldaddy poll=8994045]
Share it YO!!
Tweet