POV Holder:
?
POV Competition
Sept 3rd
POV Used
?
POV Ceremony
Sept 5th
HOH
Victor
Next HOH
Sept 8th
Original Nominations:
James AND Natalie
After POV Nominations:
? AND ?
Have Nots
? and ?
Watch the next week of the feeds for FREE – 1 week Trial!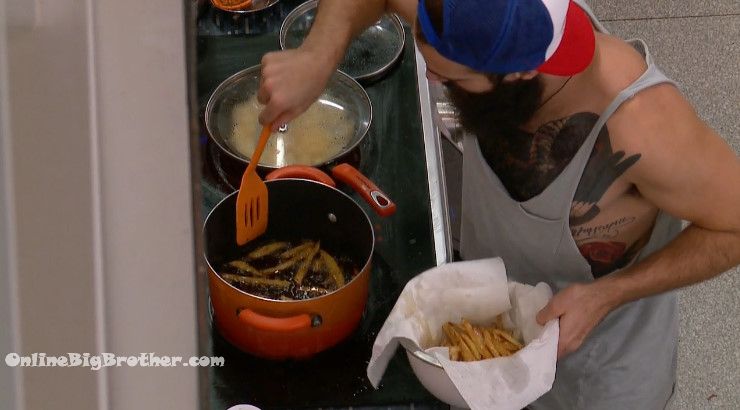 12:11am FRIES!!!!!!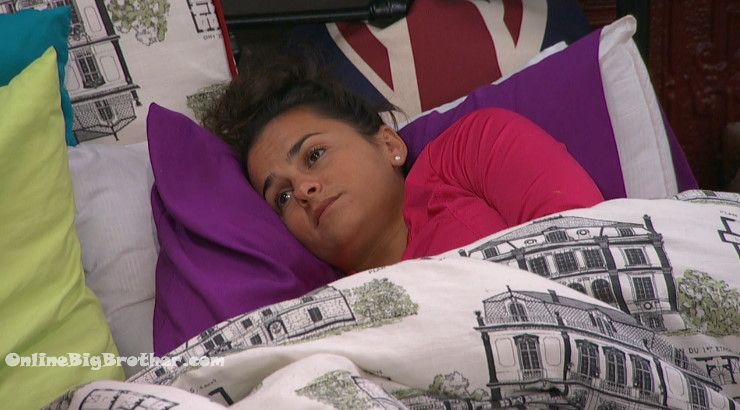 12:23am London room Natalie and James
Natalie says if James goes this week nobody will talk to her.
James says she can "lay out work out"
James – it's only 14 days after thursday..
James – 1 of those days will be double.. Errr I mean tape eviction..
Natalie – so this wednesday
James- not this wednesday.. Could be this wednesday I could be going home ..
James goes on explaining how he'll be going on wednesday and someone else will be evicted Thursday
JAmes- I think that's how it goes I'm not 100% sure.. Somebody has got to home home.. 2 people have to go to get the numbers right..
Natalie – you better win the Veto
James – don't get me wrong I'll try and win it..
Natalie – I'm so sad now..
James- we're almost done
Natalie – just sucks out game blew up by trusting the wrong people
James- I'm going to try and make it right.. Give you another shot..
Nat – it's not your fault
James- it is my fault I voted Victor out..
Natalie doesn't like being on the block together with him and doesn't like that the other people in the house are not talking to them.
Natalie – I feel uncomfortable in this game..
James- that's normal..
Natalie – my heart hurts.. When is this chest tightening going away
Natalie asks if James has told Victor she didn't want to do the final 4 deal with Nicole and Corey
James – I didn't have enough time I did say you wanted to keep him and I voted against you
James tells her to have a heart to heart with Victor
Nat – i'm scared.. It's an emotional roller coaster .. it upsetting that NIcole and Corey wanted to take Victor out and we took the heat now they are best friends.. I feel so played out we were doing so well me and you.. People trusted us..
James- looks at the camera.. "What's up America.. "
They have "GT" time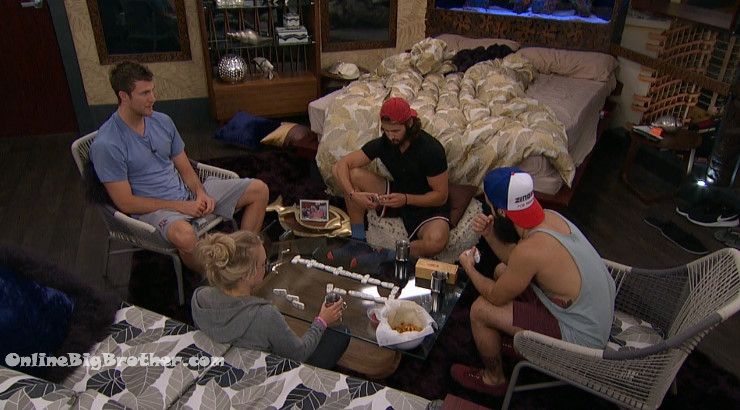 12:52am HOH Final 4 DOminos..
Victor – series of 7
Nicole – series of 7 shut your pie holes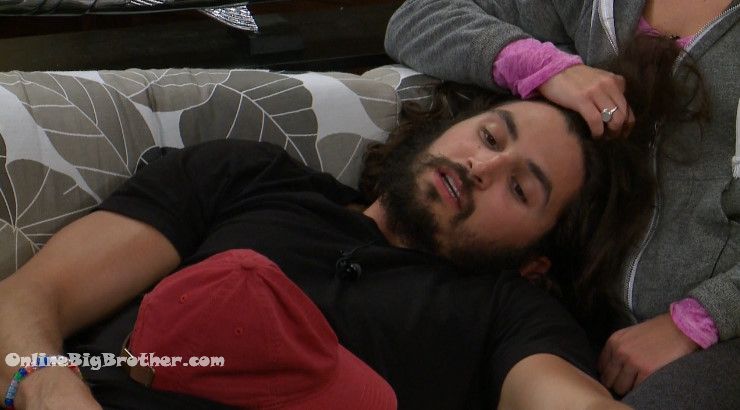 1:58am HOH Final 4 minus Corey who's in the shower.
Paul saying that Natalie keeps saying "I almost won the HOh I almost won the HOH "
Paul – I was like yeah and the tables would be completely turned.. Did you hear that..
Paul – as if she wouldn't put Victor and Paul up..
Nicole says Natalie wanted Paul out so bad.. After he won the Veto "Pisssed"
Victor – they got power hungry that week..
Victor – before everything was a mistake today .. Sorry for backstabbing ..
Nicole – at least she finally admits..
Victor – that she backstabbed us
Paul – she didn't want me gone she wanted 1 of us gone..
Victor – everything backfired..
Victor – they got so excited they had HOH a hint of power… f*** everybody else.. Complete backfire.. Meech gone.
Nic – Meech was bawling 'I just want Paul gone before I do I don't care about anything else'
Victor – that's what she was say about you and Corey
Paul – I don't want them to beat me..
Paul – 18 days after tomorrow
Nicole – we got to get some good rest tonight.. We need that W
Nicole asks which one is worst on their own. (Natalie or James)
Paul and Victor say Natalie is worse on her own.
Nicole points out that Natalie almost won that egg comp.
Victor says that is why he likes mental comps against her because she will crumble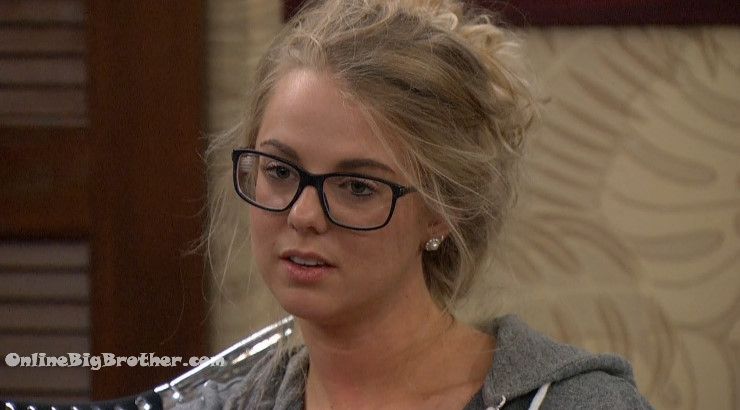 2:18am HOH Fianl 4 ..
Talking about BB16 rating being really good and BB17 being poor. they hope this season is doing well in ratings. Corey thinks it is..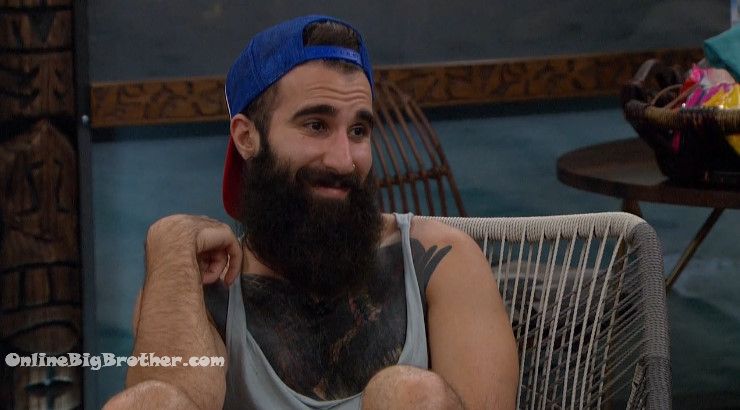 2:45am HOH Paul and Victor
Paul – Natalie wasn't only shitting on me she was shitting on you trying to get me out..
They talk about music they listen to when they have s$x.
Paul – I can't concentrate .. I can't listen to music and study or read..
Vic – I get real sensual.. get really into it..
Paul says his brain is listening to the components of the music.
Vic – I'm listening to the music and working the body..
Vic mentions James telling him he didn't want to be in a showmance again for the wrap party.
they laugh that he's in a showmance again.
Victor – I abandon ship in 4 days.. (broke it off with Natalie)
Paul – good thing
Vic – it hurt me at first.. the whole eviction.. talking sh1t..
paul – yeah it f***d you up.. bet she wished she never abandon ship
Vic – she didn't have a choice.. she wanted to hang out
Paul – of course she did.. she wanted to find a strong guy to latch onto and that is what she's doing..
Paul – she can deny is all she wants.. she tried Corey .. she tried you
Vic – no thank you … and I'm the a$$hole..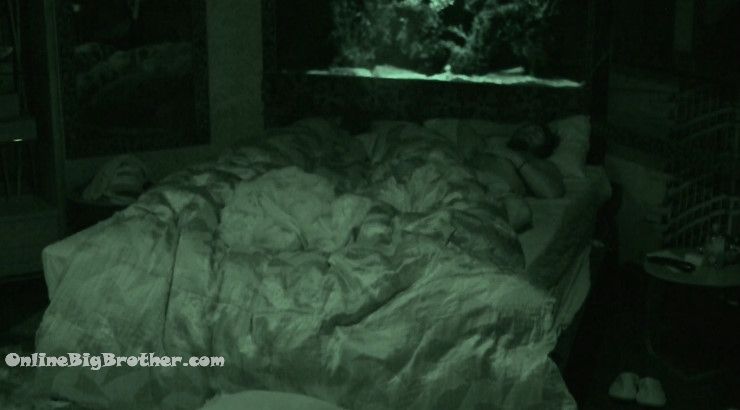 3:30am HOH Paul and Victor..
Paul says for the past 2 weeks Natalie and James have not been sleeping in the same bed.
Paul says she's already jumped ship "She knows what she's doing"
POaul – we had a feeling about James and Natalie since the beginning.. first James than after Natalie started acting weird..
Paul – we were right from the f****G get go.. 70 days later they ended up f****g us
Vic – that's why revenge is so sweet bro
Paul snuggles in on the HOH bed "Fool's co-HOH"
They laugh about Paul sleeping downstairs and Natalie crawls in his bed. Paul says he'll come up to Victor and say "Dude she's changed"
PAul – I swear to you she's had a crush on me this entire time.. she's good for our game I promise.. her t1ts are real dude..
Vic – she comes right back to me.. I come back to you.. dude I made a mistake in the beginning .. we can trust her now it was my fault all along it
paul – it was my fault I as wrong all along..
Paul – goodnight G
6:46am Zzzzzzzzz
8:33am feeds have been on fish for awhile..