POV Holder:
?
POV Competition
Sept 3rd
POV Used
?
POV Ceremony
Sept 5th
HOH
Victor
Next HOH
Sept 8th
Original Nominations:
James AND Natalie
After POV Nominations:
? AND ?
Have Nots
? and ?
Watch the next week of the feeds for FREE – 1 week Trial!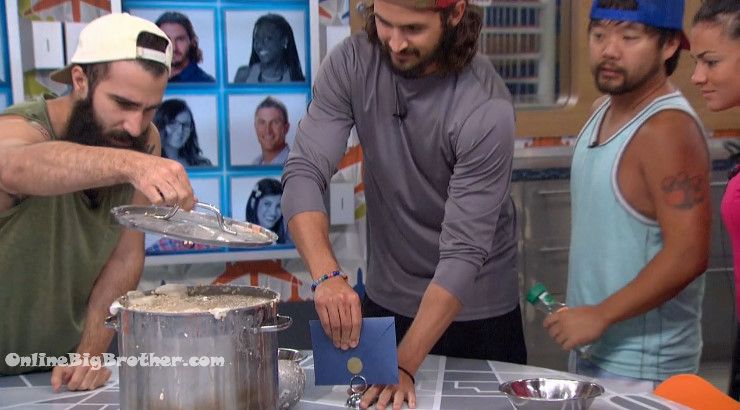 8:40am Have nots..
Paul – bandaids and slop…
Victor reads.. This week the have nots are the houseguest that did not place an egg in the basket during the poached egg competitions that means Natalie and I are the have nots
However because I won HOH and Natalie has the never not pass there will be no have not this week so put the slop away and enjoy the week..
Nicole – I don't get the bandages..
8:44am James and Natalie
Natalie talking about Nicole and Corey always claiming they didn't know anything the week Natalie was HOH.
Natalie says James knew Michelle was going home and he was fine with it as long as it wasn't the two of them.
James says he wasn't fine with it and he didn't know Meech was leaving until the very end.
James- if she's not going to fight for herself why should I Fight for her..
James- I started to campaign at the very last minute cause I thought she was going home.. I was catching all the heat.. Paul and Victor were looking at my face when I was talking to Corey like f****
Natalie – you voted to keep Corey..
James says Victor wants James out "if I'm stuck on the block my ass is going home and I'm OK with that.. "
James- you can't fight fate
Natalie – I wish i had won that HOH..
James – that's OK stop beating yourself up so much.. You take a lot of things out on yourself..
James – win or lose you gotta hold your head up high..
Natalie – yup..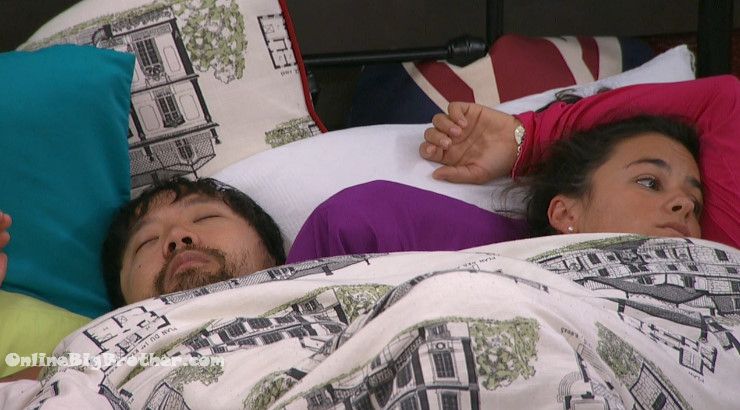 9:39am James and Natalie
James – you're going to be OK
Jame – you OK babe
Natalie – yeah I'm good..
James – don't beat yourself up OKay. .it's like playing dominoes you don't know what the other person has..
Natalie – I do feel though if Meech campaigned and we were socail to Nicole Meech could stay .
Natalie – you don't think so..
James – no.. Nicole did not like Meech
Nat – she wanted her out.
James – I mean we campaigned pretty hard at the very last minute.. I pulled Corey's arm.. Pretty much and they didn't budge..
Nat – they said Nicole wanted Meech 10000 percent.
Nat – if they were working with us they would have been OK ..
Natalie – he loved using that line I'm going to stick by my girl..
Jame s- he only said that cause I said it ..
Nat – They used us to get where they are now. . Now they are sitting real pretty.
Nat – just promise me if you stay don't be the next one to be evicted. Just promise me
Jame s- I told you that
Nat – do everything you can to stay
James – I am, you worry wart..
Nat – if I'm staying.. You don't know how hard I'm going in these comps..
Natalie – it sucks I hurt 2 people that were loyal to me, that kills my life.. I put 2 of my friends up on the block that I could have trusted.. (Paul lied about fries)
Nat – I thought Paul was coming after you, I literally betrayed 2 of my friends for 2 people that didn't have any good interests for me in mind at all..
Nat – and now we're both on the block because of it..
Nat – Nicole and Corey never wanted a final 4 with us
Jame s- they did.. If it was convenient for em ,.. At the time it was convenient for em but now it's not so they don't need it..
Natalie – I put my butt on the line for her and Corey and YOU
Natalie – I made a huge game move..
Nat – i'm ready to tear it up
James- we gotta start by winning the veto ..
Nat – I know I'm going.. It just sucks..
James – I want you to be content because i'm content.. You can't fight fate.. It's your cards embrace it. It'll make you feel better.
James – i'm leaving
Nat – you're winning the veto over me let's get real..
Nat – they bribed Paul.. that's why Paul, Corey and everyone were gunning for Victor to win that HOH..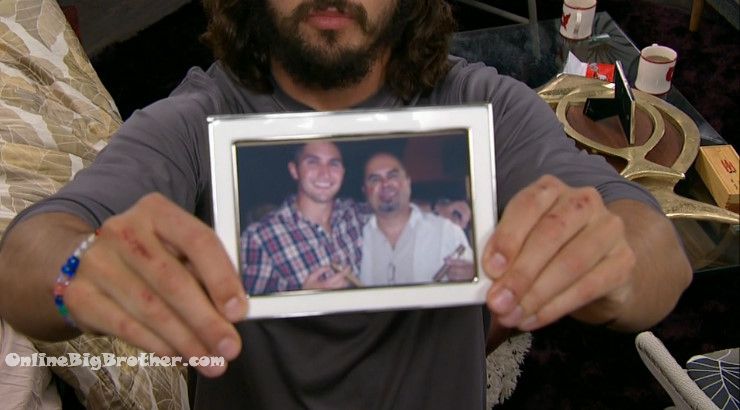 9:53am Victor and Paul HOH showing picture of Vic's dad.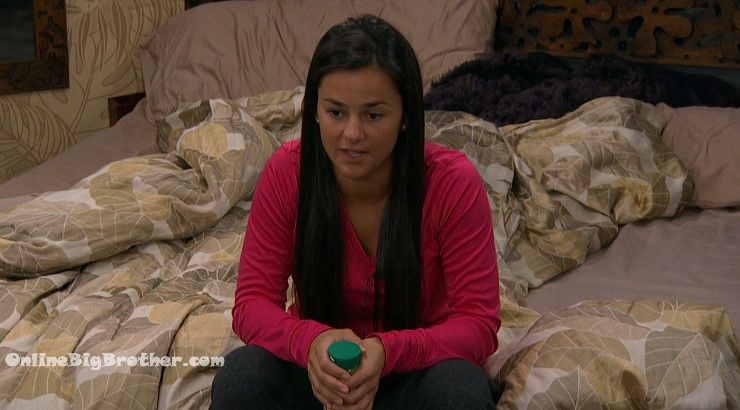 10:02am Natalie apologizes to Victor and Paul..
Natalie – sorry I backstabbed you guys.. I really trusted James and his opinion.
They thank her and say they appreciate it.
Victor – at the end of the day it is a game..
Paul says he thought they had a good thing going ..
Natalie says she believed the wrong people and she betrayed the people that had her back..
Natalie says she hopes they make it far "You've been the underdog since day 1"
Paul – you to we've all been shit on..
Natalie says her and James made the wrong decision..
Nat – I'm not giving up.. I'm really pumped for you guys to make it far..
Paul – just don't close the coffin just yet you might be there too.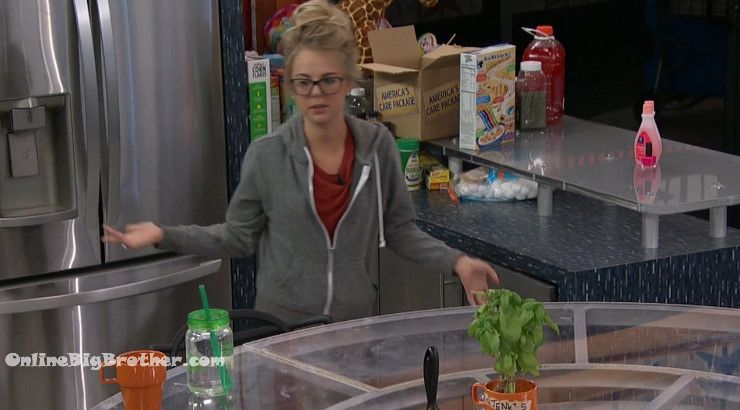 10:12am Cam 3-4 Corey and Nicole..
Nicole is wanting to vote out Natalie.. She's pissed that she's up there talkign to Victor and Paul while James is sleeping in the London room.
Nicole – I'm shocked..
Corey – i'm not shocked at all I would expect none the less..
Corey – after what she said 1 hour before out date.. lost all respect..
Nicole – nobody knows that stuff..
Corey – I know..
(the week before the feeds went on)
Nicole – that was 1 hour before
Corey – yup..
They agree if Natalie was smart she would team up with Vic and Paul.
Corey – Natalie will never have my vote in Jury..
Nicole – if she won… I would not be.. you don't even know..
Nicole – flirting and flaunting yourself is not a strategy for Big brother I don't care.. (ZOMG)
Nicole – anything else can be but that's not to me.. she liked you first than Victor than you than James.
Nicole says she's sad that James is sleeping while she does it..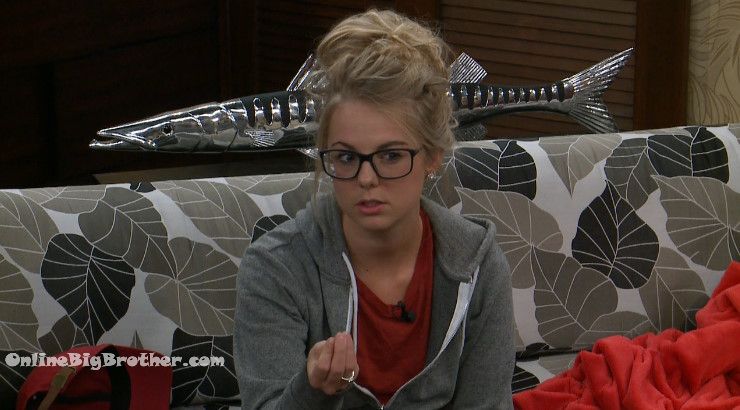 10:30am Final 4 HOH
They fill them in on what Natalie was saying..
They say that Natalie is now blaming James for the back stab on them while before she was blaming Nicole and Corey.
They start talking about how Natalie used James.
Corey wants to send Natalie to go.
Paul says he's telling James that Natalie sold him out.
Nicole – he'll deny..
Paul – it's just sad to see that..
Corey – that's super crappy
Nicole – she'll crap on anyone at this point.. like he protected her
Corey – that leaves a bad taste in my mouth
Paul – some people came into this game not giving a f*** what they do.. the fact she has to tell us she's a good person hides the fact she's not a good person .. constantly defending
paul – you haven't done anything to show you are a good person other than say you were a good person..
Paul – in some weird world if it's me and Natalie final 2 I will spend my speech shitting on Natalie
paul – we win this comp next week and we send her home..
Paul – when james leaves she will try to attache to Victor and I
Nicole – she will
Paul – we don't want you to get worried.. I will visibly show I don't give a f**.. Victor is nice.. he never carried.
Paul – I show I don't care.. Victor save its he's smart about it I'm not..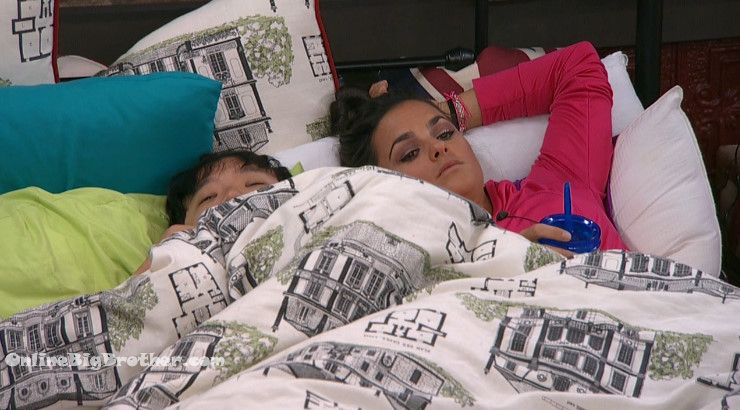 10:30am Natalie and James
Nat – I'm not campaigning against you .. I'm just telling you what I said..
Natalie says she apologized for backstabbing them and told Paul she was told he's targeting James.
Natalie – I put my trust in the wrong hands..
Natalie hopes that the 4 of them aren't making fun of her for apologizing..
James doesn't think they will..
Natalie tells him they had a group sent from heaven .
James says if Victor never came back Corey and Nicole would have been loyal to them 100% they knew Victor wins comps "Lets link up with these guys"
10:55am
Natalie – was nice in my apology but live feeders will never know what they did wrong..
James says "Zero f***s given" the game isn't worth stressing out.
Natalie – but I betrayed 2 people that were loyal to me I wanted them to know.. I'm sorry..
James- 6 place is awesome for me.. last time I was nominated 3 times before I went home and I met a cool person.. made some cash on the side.. it's cool i'm content.
James- this game just wasn't in the cards for me this season.. maybe I'll get a call Survivor and Amazing race.. I fuc*ed up..
Natalie says James had its easier because he had siblings that wanted to work with him and super fans that wanted to work with him.
James says there was 3 weeks where the vets were targets..
James – we were such easy targets at first and even Big Brother knew we were easy targets.. it it was a free for all.. shit.. would be Frank/James.. Da/Nicole (on the block)
James pretty much saying he's given up.. says that he survived all the drama the whole Paulie thing it was a good run. "it's been a good summer"
James- if both of us lose the veto.. for me I'm ecstatic about it..
James says there might be a "secret" eviction on a Wednesday (ohh this is the gut talking again)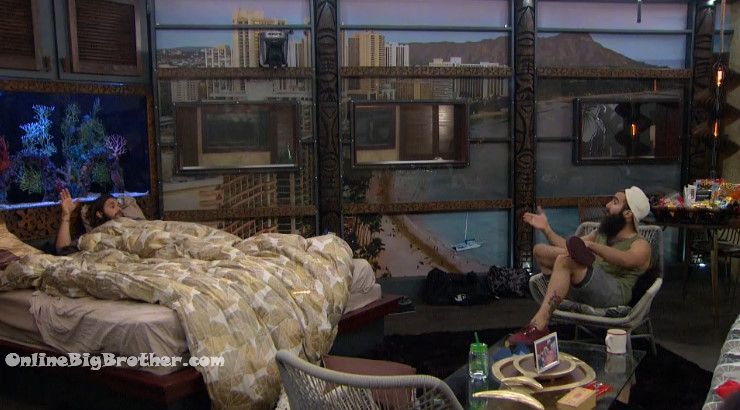 10:40am HOH Paul and Victor
Paul – if she does latch on to us we're good..
Paul – we need to convince her that we'll take her to final 2..
They agree they do not want to turn on Nicole and Corey but in some strange world that Natalie wins the next hoh they want to stay off the block..
They repeat over and over they don't want to be sketchy with Nicole and Corey ..
Victor doesn't want to get too close to natalie.
Victor says even if Natalie puts Nicole and Corey
Paul says Nicole and Corey technically did a wrong to Natalie they have not .
Paul – we are in a good position if she wins..
Vic – let's not run that risk if we have to..
They agree if they take natalie to the final 2 they will lose Jury votes..
They joke about production just clueing in about the sitting ducks.
Victor says he had to explain it to them it's been their final 2 for the last 3-4 weeks.. "Don't you guys watch the cameras.."
Paul laughs says he thought maybe he was getting "boned" and Victor was never talking about it because the DR seemed to ignore the sitting ducks they had no idea what it was..
(LOL this is funny .. production is busy with showmance bon$rs.. )
Paul – we were targeted the most.. 5 you evicted twice..
Victor laughing "the frustrations.. they put us both up.. they come back.. it will take them 3 times to get me outta this house.. had to put you on the block 6 times"
Paul – you had to swing 6 times hommie..
Paul says they've had a exciting ride he really hopes one of them win it they deserve it.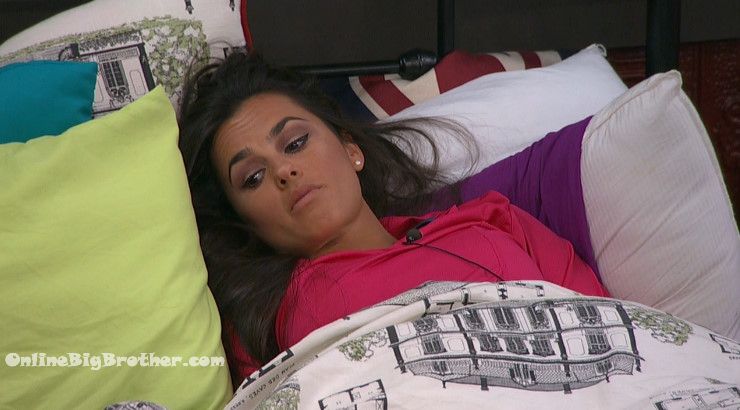 11:30am Natalie and James
Natalie – they didn't care about us..
Jame s- they cared about themselves.. they f ***d us both
Natalie – it could have worked.. I kept saying I don't trust them..
jam es- if it wasn't for that damn jury buyback
Natalie – why would I want tto ride it to the end with 2 people I didn't trust
James- I wouldn't now..
Natalie – they would have still backstabb us
James- if they had the chance..
James- the best way to get people out of this game it not by your hand..
James- dude I made sure Corey felt secure.. and Nicole tried to be like well.. we had all this tim and y'all never talked to us
Nat – they played us out
James- I was like Nicole first of all you had Victor and Paul up your butts 24/7
Natalie says Nicole and Corey used them.
James says he's going to try and catch Nicole and Corey in as many lies as he can "For shits and giggles" (Please do James)
Natalie doesn't want to talk to Nicole and Corey.
James- I voted Victor out over Corey to save her boyfriend and I gave Nicole that HOH..
James adds that he would have battled harder in the HOH "A lot longer" if he thought Nicole was going to put them up.
Natalie – you would have put Paul and Victor back up
James – NO I told you Corey and Victor.. and if one of them went down "Hopefully Victor" then Nicole would go up .
James- we had 3 shots at Corey and Nicole..
Natalie is goign to call Nicole and Corey out.
James- we've done a lot for you guys.
James says she should ask Nicole and Corey to give him an apology.
James- be like James was always sticking up for you never said anything bad and you played him out..
Natalie – you back stabbed him and I need up betraying my 2 best friends for those 2 that didn't care about me.
James – Nicole has been called out all season might as well call her out again. (GO JAMES GO!)
James goes over some things he'll say on eviction night he'll tell Victor and Paul he should have "Rolled with you guys"
Natalie – Nicole is secretly really catty too..
Nat – I was trying to be her friend soo much why did I try to be friends with her.. I save her off the block.. WOW..
11:48am
Natalie – it's going to be all of them against one of us..
James is going to tell everyone in his speech if they leave him in the game he's coming after everyone one of them..
Natalie – don't say that James..
James – why .. it's a good ender..
Nat – what time will we have the veto.. ohh it's only 11 55…
James – they won't have it until 1 .. 2 ..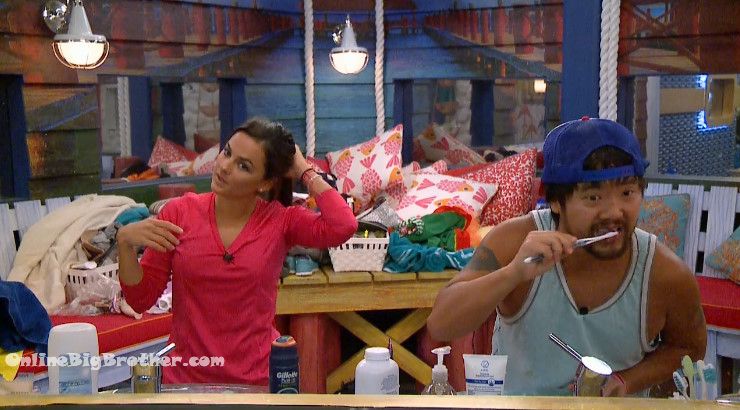 11:55am Natalie and James
Nat – "I know i'm not winning this veto competitions.. I can sense it"
James – we made it on a lot of episodes.. 32.. and there's 40 episodes…
Natalie says she going after Corey and Nicole and wants james to say that.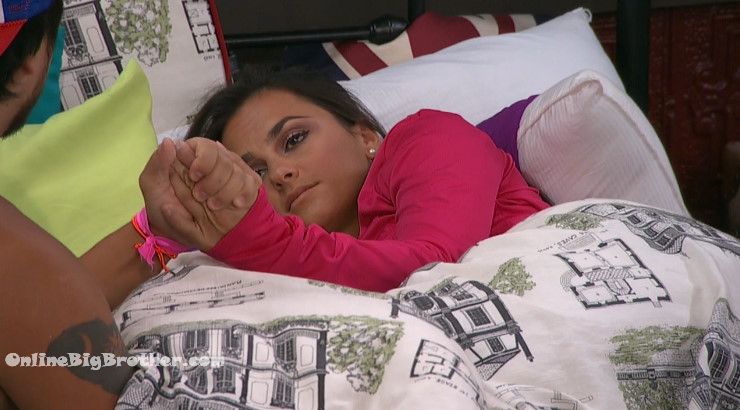 NOON Strength and honor..
Natalie saying Nicole and Corey are smelling the money ..
James says Corey and Nicole will not win against Paul or Victor.
Natalie – they are all best friends they are all making fun of us..
James says Only Zakiyah and Paulie will vote for Corey or Nicole in the finales.
They agree Nicole and Corey made no big moves in the game.
They are planning on "shitting" all over Corey and Nicole's game. (Team James/Natalie again.. LOL .. roller coaster season )
James – they know I'm pissed.. I keep my cool but I attack with vengeance.. i'm just like Victor.. his social game wasn't there at first but now it's there.. Victor is really good game player now..
Natalie – very good.. I honestly hope he wins the game.
James having second thoughts on calling Nicole and Corey out. "I've lied I've back stabbed people..
nat – yeah but you never lied and back stabbed people ..
Natalie is hung up on Nicole and Corey "painting" themselves to be good people when they weren't
Nat – Nicole knew you were the target Corey knew you were the target this week.
James- ya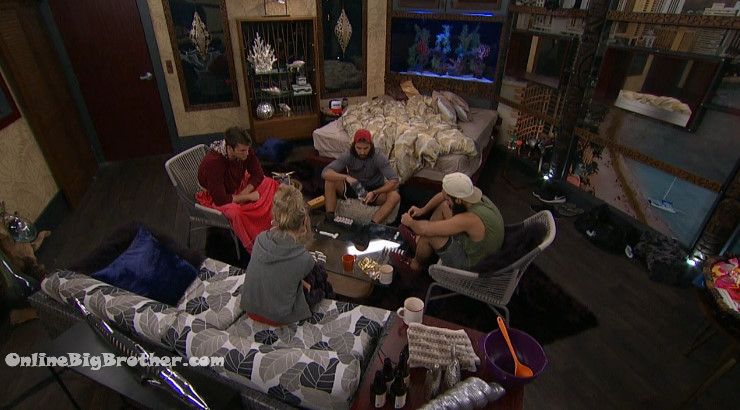 NOON Thirty
Dom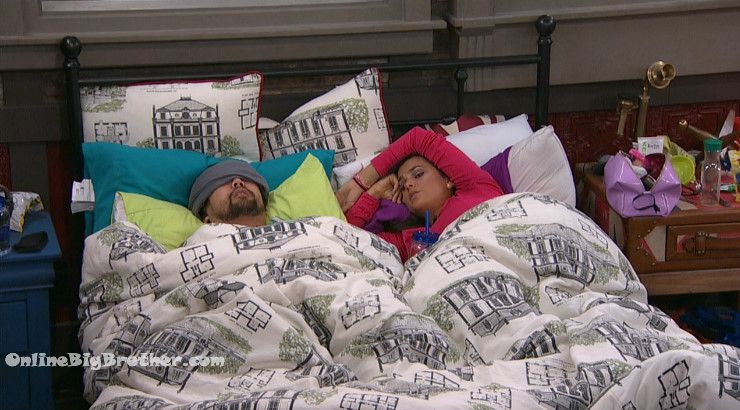 12:54pm James and Natalie
Talking about the comic book Veto
James – honestly I kinda hope he wins (Victor) locks the noms up I'm going home..
Natalie – Nicole and Corey are loyal to you over me
James – they are loyal to their group
James- they are going to vote me out you have nothing to worry about.. and even if I won the veto, I'm using it on you.
Nat – shut up no you are not..
James- yes I am .. that I will..
Nat -t hat's what I want to do and you said no
James- you have a better shot at winning..
Nat – you don't know that Jame you're great at this game you got called back for another season.
James – Yeah I got called back because I was a funny guy I pranked people.. America liked me.
Nat- it really stinks being on the bloc with you..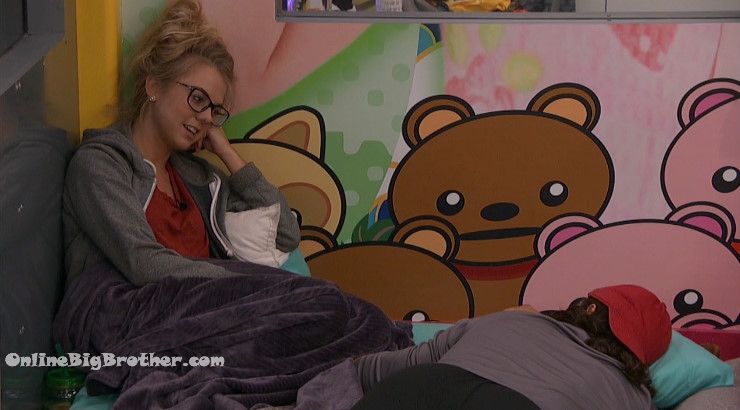 1:20pm Tokyo Nicole and Victor..
Victor teasing Nicole that she's "nasty a$$"
Nic – I'm only going to snap chat you gross things
Victor teases he'll send her pictures of snakes.. "Hey I found Nicole .. she's in New Orleans.. whats up..
Nicole – I picked Nicole up at the airport..
Nicole about being called a snake "out of all things.. out of all people"
Nicole says this week was the hardest thing she's had to do all season.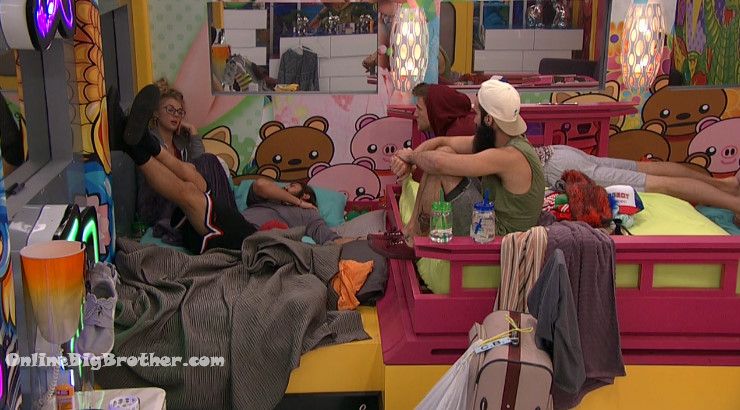 1:40pm Final 4
Nicole saying she got a call from price is right but they "Shut it down' says there's a long story about it..
Nicole says she was sad after she got the call. adds that she broke up with Hayden 2 days later.
They joke around about Hayden sounding like a cool chill guy.
Victor says they are getting ready for the POV because everyone is getting called into the Dairy room.
Show your support by making a donation.
Donations support this site more than anything. If you dig our spoilers please find a way to support us.