POV Holder:
McCrae
Next POV
?
POV Used
POV Ceremony
Sept 9th
HOH Winner:
Spencer
Next HOH:
Sept 11th*
Original Nominations:
Gm and McCrae
Current Nominations:
Last Evicted Houseguest
Aaryn, Amanda, Elissa
Have Nots
7:10pm Everyone but JUDD Kitchen
Spencer holds up a steak to the camera says he's going to devour that Mother F**** later this evening.
Andy says he's going to have veggie chicken nuggets
Spencer – "They might as well be called gay energy tablets"
Andy GM Laugh
Andy wishes he could go back into the Diary room and redo his superhero sound bites.
Spencer – "They asked me what kinda superhero I was .. I said I was a pu$$y crusher.. thats not what I said really.. "
Gm about Elissa photo – "Can we just cover it up"
Spencer says they should put up a vail over Elissa picture so they don't have to look at her creepy a$$.
Andy wishes they could get the paint from the ducks and draw a joint coming out of her mouth, blackout a tooth, give her a unibrow, goatee and horns
Andy tells them the time he accidentally spilled guacamole all over ELissa's memory wall photo.
Andy says he was panicking, he wanted to clean it up before she say it because it would enrage her.
Spencer – 'She would have taken that as a direct attack'
McCrae mentions that Elissa photo was the only one with a defect (? not sure but something was wrong with it) When McCrae goes down to look at the photo he finds out it's gone. Spencer thinks she made production fix it.
Spencer – 'you know the things I hated about her.. Her b!tch attitude her b!tch lifestyle and her b!tch face'
McCrae- "ya"
They all agree ELissa is open target to bad mouth even if she's not in the house. Andy – "Because we weren't able to do it when she was here"
Andy – "there was so much seething hatred flowing through all us to her.. I'm surprised she didn't explode.. I'm surprised it didn't channel to her like a energy force"
Andy says when Elissa would enter a room he would be sad. McCrae would always try and blow her head up with his mind.
Spencer says he feels like in the movies when dead people are around and the rooms get cold.
They start joking that Elissa was really a ghost.
7:35pm Living Room McCrae and Spencer
McCrae says he spoke with JUDD and he's pissed off because they have a final 4 and he thinks the reason GM is so happy is because she's staying.
MC – "Thats what he's pissed off about"
MC adds that JUDD thinks Spencer gave him the drill sergeant punishment to wear out before the power of veto competition.
MC thought that JUDD, Spencer and Andy had a final 3 but JUDD said they didn't.
S – did you really think that
MC – kinda
McCrae explains he thought they didn't have a final 3 he just thought they all had a final something, "Ohh sh!t I'm on the bottom of the totem pole"
Spencer – "No no no.. I told you i wanted us to play down our relationship"
Spencer tells him even if MC didn't win VETO MC was safe.
MC – 'Oh of course"
Spencer – 'he's begging me to put Andy up… well i'm just not going to do it"
MC – "No"
Spencer – 'if we were considering getting rid of GM then yes.. but since it's up in the air i'm going to put him up so we have the option"
Spencer adds that a benefit of putting Andy up is he won't freak out like JUDD is doing. Spencer – "I told him dude you do not need to freak out.. it's the worst thing you can do"
Spencer – "he's taking aggression naps"
Spencer say with JUDD it might be better to handle him in small groups. He mentions how Andy is in the cockpit with JUDD right now and if both of them went in there it would give JUDD anxiety.
Spencer- "If you get everyone in there he'll feel like the odd man out.. when you are on the block you feel like you have the scarlet letter"
Big Brother 15 N*de flashback times here
8:10pm Everyone Living Room
Ian had told them there was no vegas reality bash this year. Apparently Ian told them they couldn't get the funding.
8:14pm Kitchen
GM pulls a cake they had with pictures of all their faces. She asks them what they should do with Elissa's face. Spencer – "put it in the toilet we'll pi$$ and sh!t on it" They also have Aaryn, McCrae and Amanda.
GM cuts away all the cake leaving just the icing part and proceeds to go to the toilet. Andy tells them to stop says it's in the rules that they can only put toilet paper in the toilet. They decide to wait for McCrae and JUDD to finish their smokes before they agree on who to deface Elissa cake face.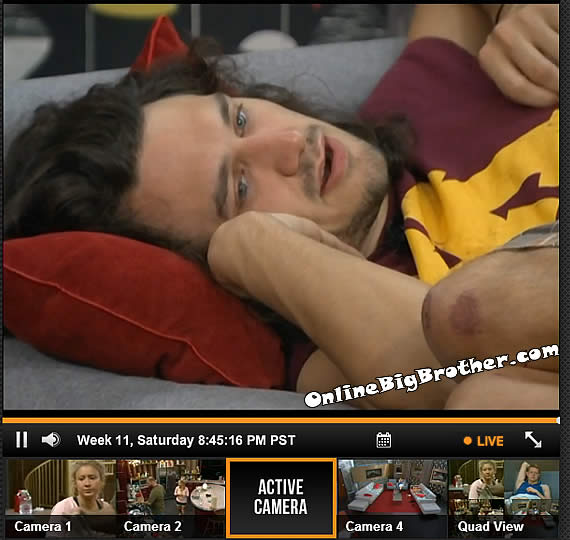 8:46pm Living room everyone
JUDD thinks Dan's the best player not Will. McCrae seems to disagree.
JUDD – 'GM is the only girl that doesn't fart in here'
Andy says Helen would always fart in front of him she would lift her leg up.
Specner- "Did she really do that"
Andy – "NOOOO"
They all agree that Helen had the worst case of HOHitus.
JUDD points out that Elissa was pretty decent during her HOH. GM – "Thats because she was locked up in her room the entire time"
Andy says he's really confused about what Elissa was trying the days before she was evicted. Andy thinks all her scheming was supposed to frame him and screw him over going into the next week. Andy jokes asks them if someone else is trying to frame him.
JUDD = "McCrae put a vodoo doll in your bed"
JUDD was surprised that Elissa was so happy to see him when he came back into the house.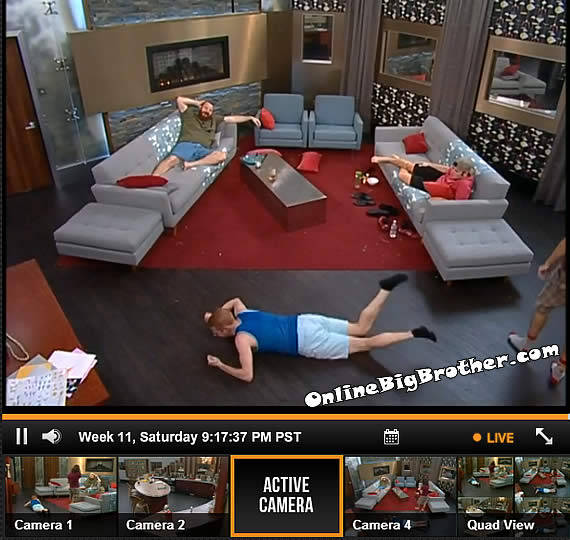 9:20pm Andy teasing McCrae having a temper tantrum about Amanda making chicken not halibut.
9:37pm SPecner and Andy tell McCrae that it's nice they now get a chance to talk to him.
Andy says Amanda was usually on the ball with people except for Howard she got him totally wrong.
9:48pm
Talking about the brenchel army. JUDD had never heard of them before coming into the house. Spencer is amazed there is a group of people like that.
Andy -'It's been a long ridiculous journey"
Spencer – "Y a"
MC – "It seems like it just started"
Andy doesn't want to knock Aaryn but a lot of the things she won were not difficult tasks, 'Was she that amazing.. don't get me wrong she did beat me"
GM walks in "No they were all f***ing luck.. didn't have to break a sweat once"
MC gets called into the diary room.
Spencer – 'Did you all think her big t!ts fit too low on her torso'
GM and Andy both agree.
Spencer- She had mid torso t!ts"
Andy – 'MTTs'
Production over speakers – Spencer you are not allowed to talk about
Andy – Amanda's mid torso t!ts."
Productions over speakers "productions"
Andy tells them the exterminators were responsible for the biggest move in the game and he's really proud of it.
GM and Spencer both agree that Jeremy had some cool tattoos. Andy says JUDD is the last tattooed guy in the game.
They talk about how dirty McCrae is. Spencer tells them McCrae lives in a rats nest with a bunch of friends, mentions they pay only a 100 each a month rent. Spencer says rents cheap in Arkansa. GM says the rent in New York is so high you need two people working full tilt to pay for it. Spencer Thinks there must be some perks about living in New York otherwise everyone would live in Arkansas.
They start chatting about gas prices in their home towns. Spencer calls Obama a F*** head he wonders what he is up to.
10:37PM
They start doing shout outs to random people. JUDD gives a shout out to Britney Haynes. Andy says Elissa hated Britney she claimed to not know her at first when Andy talked about her.
GM is struggling with the the Origami McCrae does it for her. Andy says the Origami instructions are really confusing.
Spencer comes out of the Diary room- "OK everybody.. who is ready for a luxury competition…. Meet me upstairs in your underwear"
11:00pm
A piece of cake with Elissa's face on it. They are taking turns say things about Elissa before they smash the cake face up.
MC – Elissa All i can say about you is good riddance to bad rubbish
GM – ELissa ummm. thank you for doing my hair but also thank you not for being so crazy in the house.
Andy – Whatever
Spencer – I don't even think about you.. Elissa I couldn't imagine living with a bigger lunatic in this house It was insane living with you and I hated every second of it.
11:32pm HOH Everyone but GM
Spencer says he tried one time to j$rk 0ff but it never really worked out he's too paranoid to get caught on camera. Andy says he almost did last night but figured he's lasted 80 days the last thing he wants to do is have a j$rk 0ff video now all over the internets.
McCrae says he's super worried about the stuff out there.
McCrae leaves
JUDD tells them he got a little paranoid earlier today thinking they were trying to tire him out last night. Spencer says production told them to do that.
11:37pm cockpit GM and McCrae
GM says she thinks JUDD is going up. She doesn't know what the boys have planned. SHe says she's not going to bug him out trying to get his vote at this point he's gotta vote what's best for his game.
Gm just doesn't want McCrae to lie to her about his vote. McCrae say there is still a lots of time and he won't lie to her.
MC mentions how he cannot believe JUDD quit the competition. GM is pissed that he did that, she points out that JUDD smokes and he gets easily frustrated. GM knows MC smokes too and he won the competition.
MC "I smoke way more than he does"
MC wonders if JUDD is acting this way because he wants them to think he's weak. MC doesn't know thinks it would be a really risky scheme.
GM – 'I just don't like him quitting."
GM _-"He's going to put up JUDD.. if it's a tie breaker Spencer will have to make break it "
GM says he's worried about her knee. MC thinks the competitions will be less physical and more mental.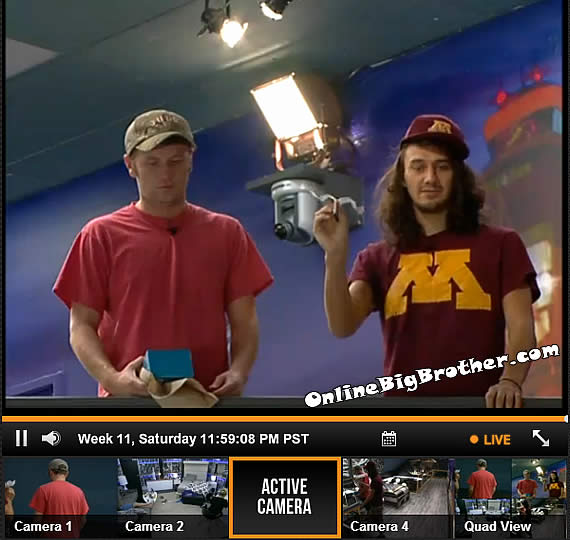 12:00am flying paper airplanes
12:10AM no booze yet. Spencer suspect something is going on tonight. McCrae say the person he talked to said something is going to happen tonight. (not sure if he's serious there was some laughing and feeds cut)
Andy comes up from Diary room tells them there is no Alcohol tonight.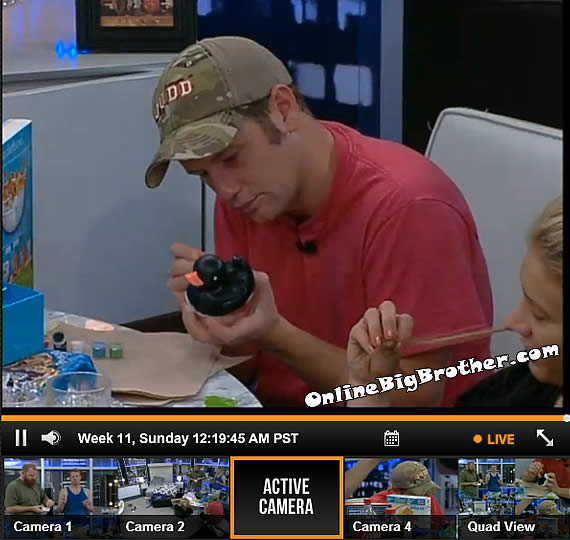 12:20AM Everyone in the HOH
JUDD and GM doing crafts, Andy munching on chips and Specner/MC talking about Nirvana nevermind.