POV Holder:
McCrae
Next POV
Sept 7th
POV Used
POV Ceremony
Sept 9th
HOH Winner:
Spencer
Next HOH:
Sept 5th
Original Nominations:
McCrae and Ginamarie
Current Nominations:
Last Evicted Houseguest
Aaryn, Amanda, Elissa
Have Nots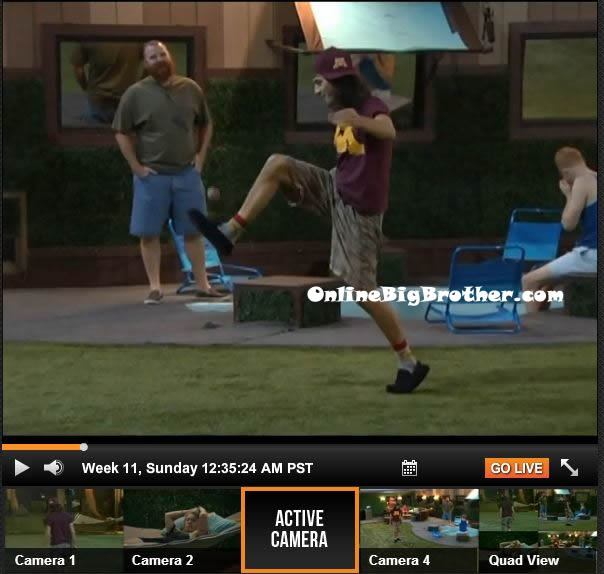 12:30am Andy, Ginamarie, McCrae, Judd and Spencer head out to the backyard. Judd says the feeders are pissed that I've been b***hing about Elissa all day. Judd says what if someone was allergic to Elissa? McCrae says yeah. Big Brother cuts the feeds and when the they return all the house guests are inside.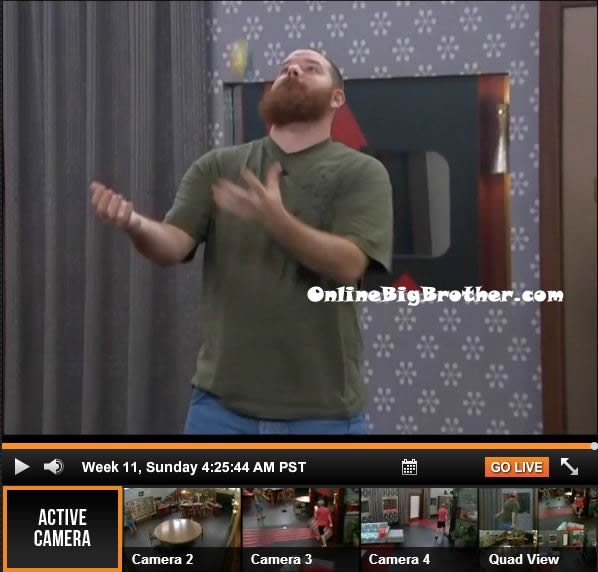 12:50am Spencer heads up to the HOH room and talks with Andy. Spencer says if we keep Judd, I don't have to worry about next week ya'll keeping me. Andy says yeah. Spencer says you see what I am saying because that is a fear of mine. If Ginamarie goes on, I mean I hear what McCrae is saying and I'm not stupid. Andy says I swear up and down that I would take you over her. Spencer says I know you would but it might not be your option, I might not be your choice. Andy says yeah. Spencer says if Judd goes I know McCrae would take me over Judd. Andy agrees. Spencer says that's why I am torn this week, this could be my biggest decision of my game. Andy says yeah. Spencer say I can't play for HOH. If he wins it, that's fine he doesn't get a vote. Andy says I really do think he would take you over Ginamarire. Like he really does want to send Ginamarie to Amanda. Spencer says yeah I do to but I don't think he is going to play personal at this point in the game. Andy says but I also think he thinks he can beat you in the final two. Spencer tells Andy he can't beat Andy. Andy says well it doesn't matter anyways because we are going to be there at the end. Spencer says no matter what I am playing for second place, there is no time left to make a big move. Spencer asks would you send McCrae home next week if you could? Andy says yeah.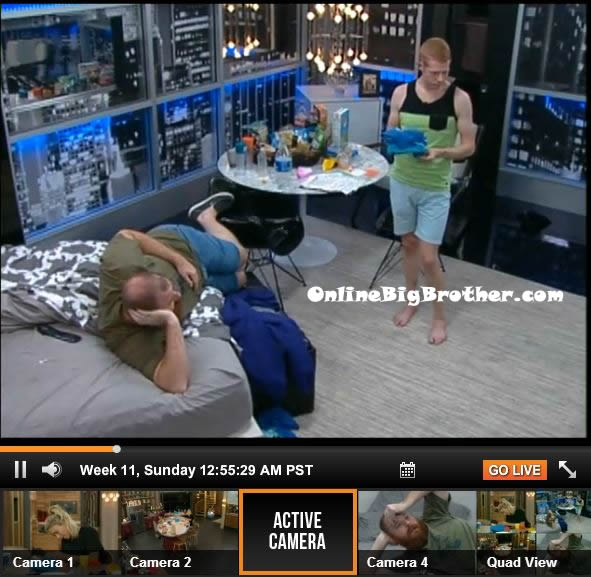 12:55am Judd joins them in the HOH room. Judd says I know I am being a little b***h but.. Andy says I know I understand. Judd says every hair on my head is turning gray. Judd tells Andy and Spencer that he is down with getting rid of McCrae. Andy says yeah I know you don't even need to tell me. Andy heads downstairs. Spencer tells Judd that he and Andy were just talking about next week and Judd was involved in it. They all head down to the kitchen. McCrae says what would be a shame is if they brought back Elissa next season. Spencer says although I would like an entire new season to hate her just as much as we do. They talk about Candice and think her "My words, my mouth" saying caught on outside the house. Judd asks what does that mean? Spencer says I'm Candice and I'm a b***h and this is what I am going to say because I am going to irritate the f**k out of you. Spencer says my most memorable parts of the season would be how annoyed Judd got at waiting for competitions to get started.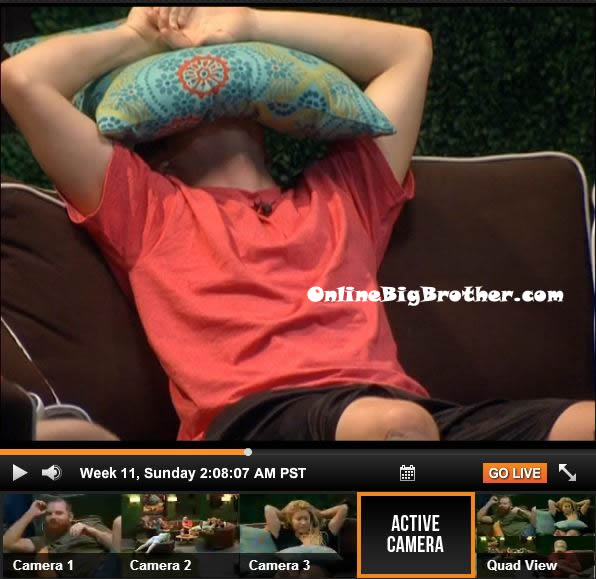 1:40am – 3:50am The house guests are allowed back outside. They all sit around talking about random things and past events of the season. They talk about how annoying it was when Elissa would give shout outs to her Elissersize webside. Andy says yeah you go there and it actually makes you gain weight. Gina says you go there and you get a computer virus. Spencer says and all proceeds of Elissersize.com go to help spread STD's throughout North America. Andy says I thought that they went to the Adolf Hitler foundation. Gina says yeah and to the United Negro College fund. Na I'm just kidding. Gina laughs. Judd puts a pillow over his face and says GINAMARIE!! They talk about how they think the next couple weeks will play out. Andy asks McCrae so you think the finale will be on the 18th instead of the 25th? McCrae says yeah I think so. Andy says I thought Amanda was positive it went to the 25th? McCrae says I think that was the day you have to take off till. Like make sure you're open till the 25th. Judd tell Andy and McCrae I am trusting you guys. Andy asks about what? Just kidding. Andy says well Ginamarie offered me $10,000. Judd laughs and says I don't want to aggravate the piss out of you guys because I know how it is but I am going to ask every so often. Judd says but both of you are 100%. Andy and McCrae say yeah. Spencer joins them. Judd asks McCrae how long he will wait before he moves to Florida? McCrae says probably a month. They continue to talk about random things.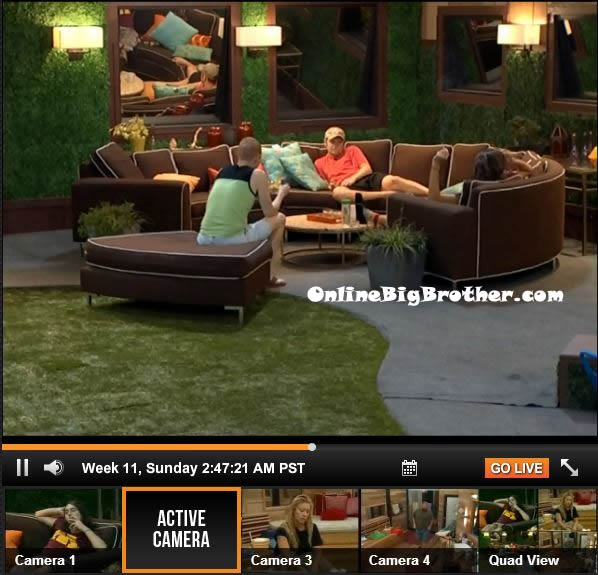 4am In the rainbow room – Judd talks to Andy. Judd says I wanted to talk to you and Spencer tomorrow. I have a deal to offer ya'll. I mean I know we are all together and I trust you but here's my deal and its good for you and Spencer. Judd says if you go up instead of my, I am obviously going to keep you, right but not only that I will be so mean to McCrae that I will be his number one target. Andy says yeah. Judd says so if he wins the next HOH, then I will go up on the block. If he wins the veto and it was me and you on the block he would vote me out. I would be a running target. Like a living hell. I'll do it! Like I will completely terrorize him. Andy says yeah but I don't want to go on the block. Judd says but I'll keep you. Andy says I'll keep you. Judd says I know, I know, I know you will and I trust you 100%. Andy says you have to. Judd says I know, this is just an offer I am giving because I am freaked out. Andy says I was just on the block two weeks ago and you haven't done it yet. I know I would stay but a part of me is, I just did it. Judd says um well I did go home but whatever. I want me, you, and Spencer to talk about it tomorrow. Andy says you have to understand why. Judd says yeah I do but game wise it would be good for ya'll too if I threw a huge target on my back like that. Judd says I am sure he's tried to make deals with you today. Andy says well we talked but. Judd says he's going to head out for a few more minutes. He says just don't mention it to McCrae. You can to Spencer though.


Big Brother 15 Live Feeds FREE TRIAL: FLASHBACK FEATURE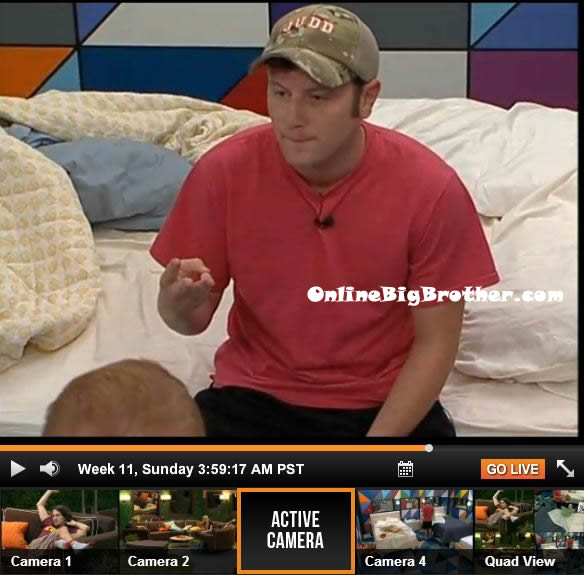 4:05am Judd heads into the bathroom. Judd tells McCrae this is going to be a stressful week. Don't let anyone change your mind. McCrae says yeah, I won't. I just don't see any benefit to keeping GInamarie here. Judd tells McCrae not to listen to what anyone says because I am probably going to have to say stuff you know what I mean. McCrae says yeah.
5:55am McCrae finally goes to sleep after reading the bible out on the backyard couch.
9:45am All the house guests are still sleeping..
10:40am – 11:10am Big Brother wakes up the House Guests. When the live feeds come back – Ginamarie is sitting on the living room couch inspecting / cleaning her wound on her knee. Andy walks by and says awe cute. Okay, I am going back to bed. Judd comes in for being out in the backyard to brush his teeth and shower. Ginamarie goes back to bed. Meanwhile – Spencer is up in the HOH bed still sleeping. Gina gets up again to go to the storage room to grab aspirin for the pain.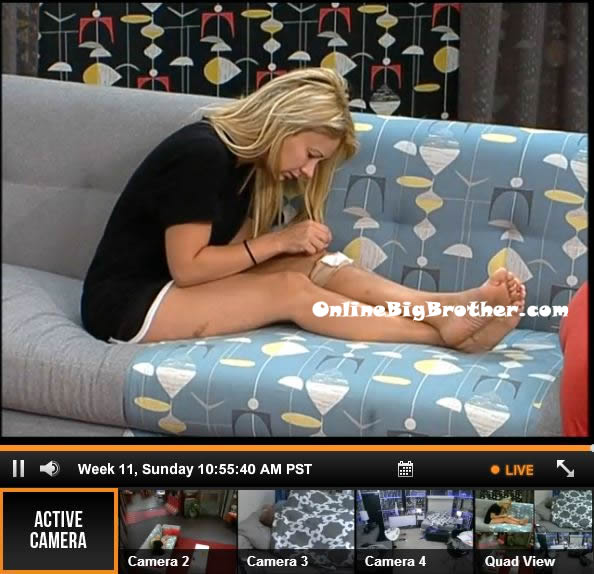 11:45am – 12:05am Judd is wondering around the house. Ginamarie gets called to the diary room and Judd asks her if she is getting her shot. Ginamarie says she doesn't know. Ginamarie heads back to bed. All four cams on Ginamarie in the rainbow room sleeping and Spencer in the HOH room sleeping.
12:20pm – 12:50pmJudd heads up to the HOH room and knocks on the door. He wakes up Spencer and says sorry he didn't know he was still sleeping. Judd says he is just doing laundry. And says I'll go back to sleep too if you're still sleeping. Spencer tells him to give in a bit so that he can wake up. I will find you in a little bit. Judd says no problem and heads downstairs to go back to bed. All the house guests are sleeping..
1:25pm – 1:40pm Judd doing laundry. All the others still sleeping.. Judd heads back to bed.
2pm Judd is back up again. He sees Andy up for a second and begs him to stay up because he is so bored. Andy says he is going to sleep for another half hour. Judd then makes a couple hot dogs and head outside to eat.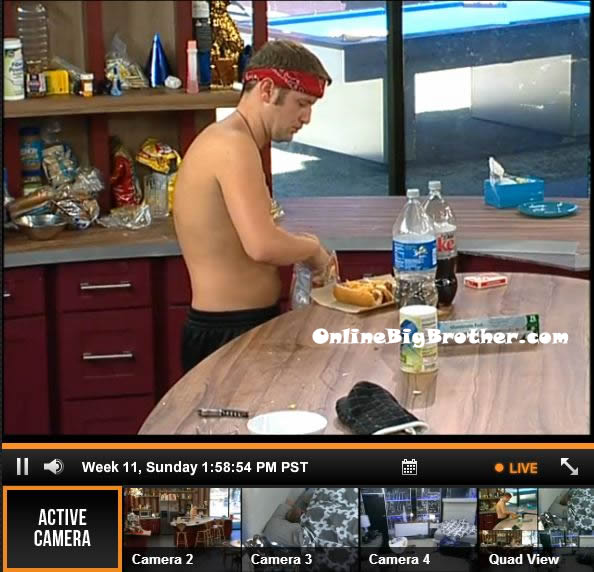 Please consider donating. Simon and I work 24/7 all season long to bring you all the live feed updates and spoilers. ANY amount is greatly appreciated, your donations go directly to paying the server and bandwidth fees needed to run this site.
[polldaddy poll=7375044]
Use the Big Brother Live Feeds to FLASHBACK to SEE what they can't show you on TV:
BB15 N!p Sl!ps / N*des
Share it YO!!
Tweet