POV Holder:
?
POV Competition
Aug 13th
POV Used
?
POV Ceremony
Aug 15th
HOH
Victor
Next HOH
Aug 11th
Original Nomi1nations:
? AND ?
After POV Nominations:
? AND ?
Have Nots
?
Watch the next week of the feeds for FREE – 1 week Trial!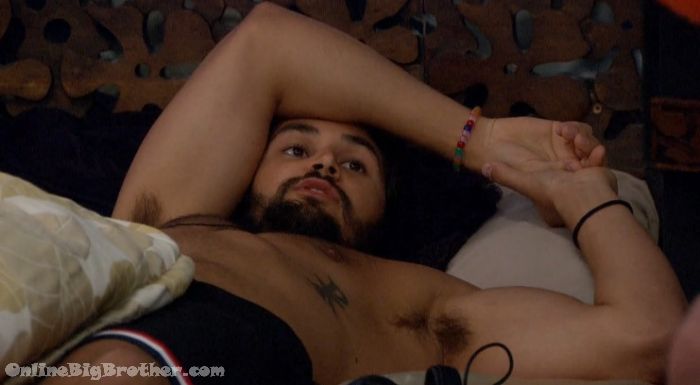 1:07pm HOH Vic and Paul
Agreeing that Corey and Paulie have to go up and one of them have to go home.
Paul says he straight up trusted Paulie a lot and to find out he was playing him the whole time.
Victor says they were planning on backdooring him during the double. If they had gotten rid of Michelle Victor would have gone during the double.
Paul – thank you Natalie and James if they hadn't told us me and Victor would have been gone.. he used me as a backup plan.. it was you or I"
Paul says he's certain America will send them a care package, "We've been the underdogs since day 1″
Victor points out he's won so many competitions but is still on the bottom.
Paul – I've been next week.. next week. literally I've been dodging bullets.. legitimately bro your name is mentioned every week either as a pawn or a backup plan"
Paul – If we can get rid of those 3 we're final 5
Victor – you think we can do a final 4 with James and Natalie
Paul – they already talk about that .. but who do we take to the 3rd spot
Victor and Paul say – Natalie
Victor says he's not good at acting fake so when Paulie is up in the HOH talking he feels paulie can tell.
Paulie comes in.. says the only 2 people that may have gotten that care package is him and Nicole. Because of what has transpired over the last week (Of Course)
Paulie says they have to make sure they win the veto and send Michelle home.
Paulie – I get piss when people slander my name.
Paul – if one of them comes down we'll have to put someone up
Paulie – put James up there.. sorry Vic you put whoever you want up there
Paul says Michelle knows she's Boned because she stormed off and went to bed after that whole care package
Paulie – If James wins the veto and pulls Natalie down like a DEEHA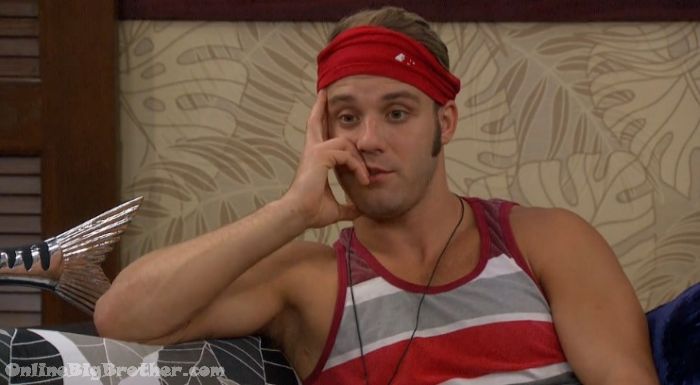 1:26pm
Paulie has prepared a speech that he'll get up and say during the nomination ceremony to Michelle
"Look Michelle Da'vonne tried to put me in an alliance.. You tried to put me in an alliance, you failed to mention they're is 1 alliance that has been going down for a hot minute. I'm sorry if you felt I never spoke game to you that was because there was no game to ever speak to you and taht is why you were always pissed. "
"Why do you think Victor came to me right after you whispered to him, why do you think james came to me right after you whispered to Zakiyah because we've been all working together and that's why you're get picked off"
Paul – she's going to cry again
Paulie – to tried to blow my game up last week you've blown nothing up
Paul warns Paulie that Meech has nothing to lose this week she'll f*** sh1t up if he starts throwing grenades
Paul – if you keep it civil she might keep it civil but if you p rod and poke…
Paul – it's up to you bro
Victor says he had a straight up conversation with Natalie and squashed it.
Paulie – I want to have a straight conversation and squash it all (With Michelle)
Paul – she was on the block back to back and survived that's f****g crazy
Paulie says he was expecting everyone to be friendly like Cody's season he didn't think there would be so much drama.
Paul mentions that is what Nicole said
Paulie wants to call Natalie and MEECH out. Paul is trying to calm him down.
Paul – ya bro mull it over for your own peace of mind.. There's a way to do it
Paul leaves.. "Friendship"
Paulie – Friendship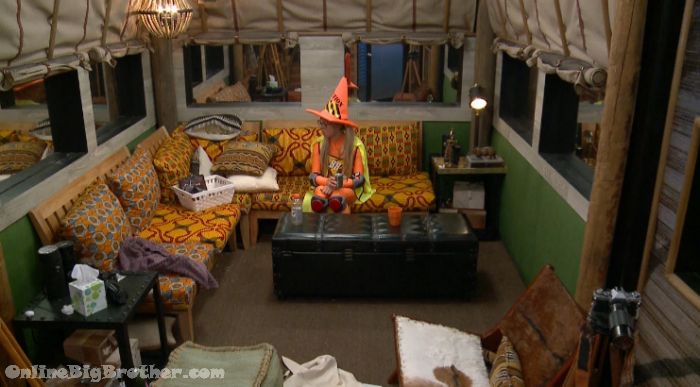 1:35pm Safari room Nicole in the safari room alone
"It's James, Michelle, Natalie , Paul and Victor"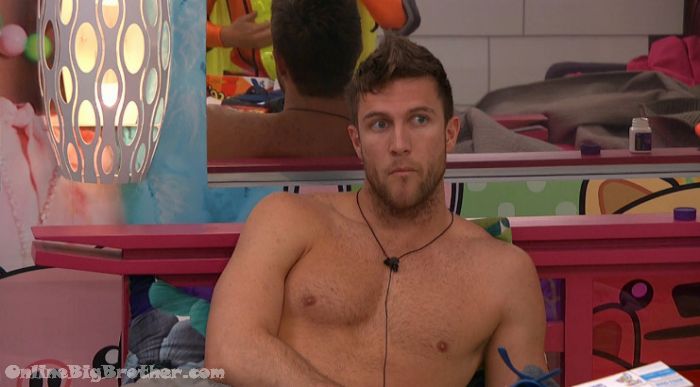 1:37pm Tokyo room Corey and Nicole
Corey I think James is still on our side
Nicole – he's not.. He's not..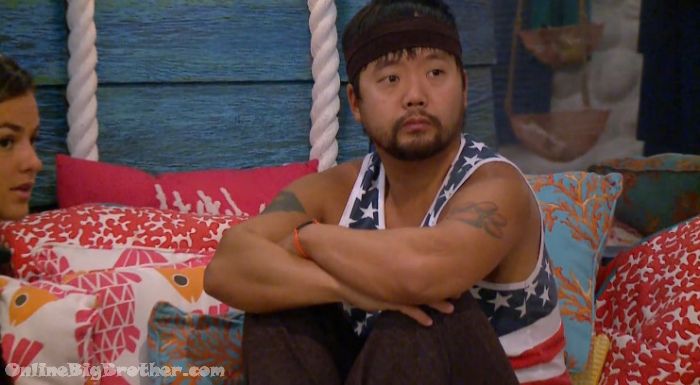 1:43pm Bathroom James and Natalie
Talking about their relationship and how they will deal with it outside the house.
James – I just want you to know I do have strong feelings for you
Natalie – I do to
James – I feel it.. I'm trying to suppress a lot of it so it's not too overwhelming in this game
Natalie – I'm going to ask my cousin if I can stay for a week or 2 here.
James – shoot me an email one day when you think i'm cool drop me a phone number (they are teasing around)
Natalie – you'll get my phone number
Natalie says Nicole and Corey are trying to be James friend, "They are trying to get Victor to do their dirty work for them"
James – they are crooked like scoliosis.. I see why they got rid of Nicole her season she is s snake
Nat – I knew it.. The first week..
Natalie says she wants to go head to the London room for a nap. They start walking.
James – there's tampons all over the place
Natalie – I know (Paulie did this see the last post)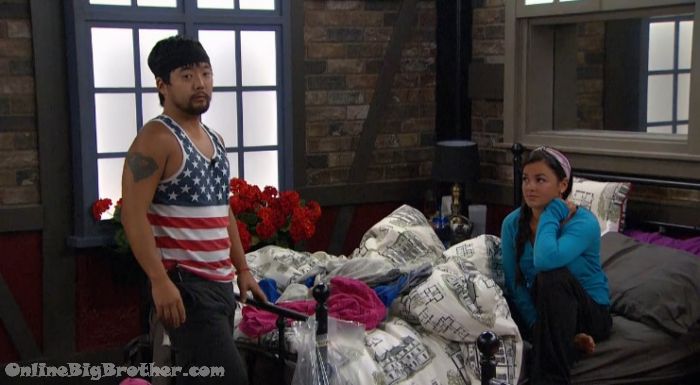 At London room Paul tells them Victor is 100% on board with the plan Corey and Paulie going up
Paul – 1 Million percent
James – i'll tell you what happens Nicole's got safety, They will pitch for me to be backdoored or put straight up .
Paul says not paulie's play is for Natalie and Meech to go up
Paul brings up what Paulie said "James can't win the veto because he's a DEEHA and if he does he'll pull Natalie off"
Natalie – it's funny because they are trying to get Victor to do their dirty work
Natalie – Corey is telling James lets go have beers later
Paul – what a sack of shit
James – Nicole she knows something's up she'snot talking to me at all, we're literally passes each other so I think they are telling her you have to take a shot at James
The three of them are convinced Victor will stick with them.
Natalie – they think they are fine now
Paul – ya, look at them Nicole has safety
Paul – it's going to be a shit show I hope Y'all are ready
James – Meech will throw fuel on that let her sleep she needs it
Paul – and he's still talking about Michelle… still He can't get over it.. can't .. he's like BRO I've had migraines these past 2 days my head hurts i feel weak"
Paul – she fu*ked him up (MEECH)
James laughs – BIG MEECH
Natalie – if you can't take the heat stay outta the kitchen
Natalie says she was hurt in her heart that Paulie said those things
Pauli – he's a conniving piece of sh1t
James – 2 faced.. no 3 faced. .
Paul – and now he's tossing everything on Zakiyah .. Michelle you f***d that dude up
Paulie walks in.. (HAHAHA)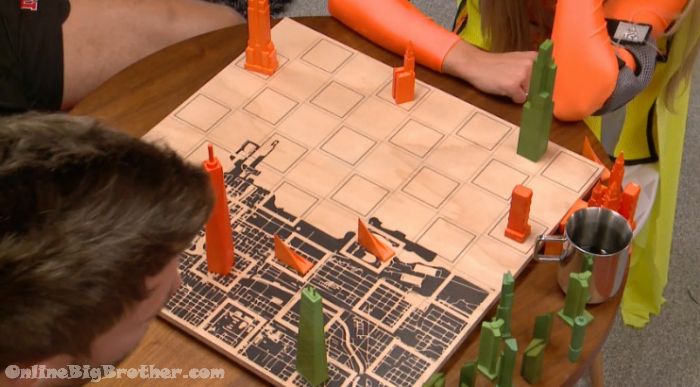 Safety Girl and Corey playing chess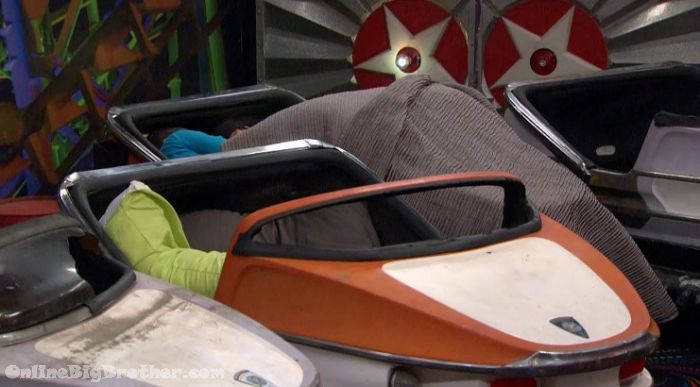 3:04pm Bumper cars

Natalie – Did you think I would make it this far, probably not
James – I did
Natalie – Nicole knows how to keep her imagine clean on the show
Jmaes – she's going to get really sad when she see's Corey on the block … really sad .. Paulie will see how loyal she is to him
James – Once Paulie is on the block he'll know if he doesn't win the veto he's done
Natalie – she knows she can trust Corey more than Paulie
James – if Corey and Nicole… they stay they better come to us.. Corey will leach onto me, Nicole will talk to you.
James- if Corey goes home Nicole and Paulie will be by themselves.. Paulie might try to get on my good side..
Natalie says that maybe Paulie will team up with Victor
James warns her about the Victor and Paul relationship they'll have to deal with that soon .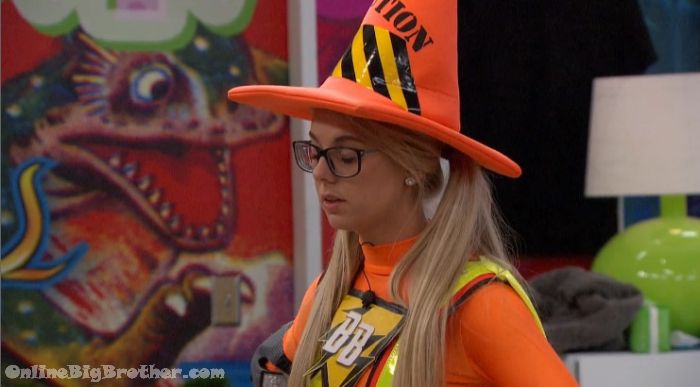 3:17pm Paulie, Corey and Nicole
Paulie – there's no doubt in my mind those two girls are going up (Delicious)
Nicole – We're going to be OK this week we are.. all three of us
Paulie – one of us is going to win the veto
Nicole – I have a very good feeling about this week it's going to be us three and James and Paul in the next HOH
Paulie – we win the veto we make it through this week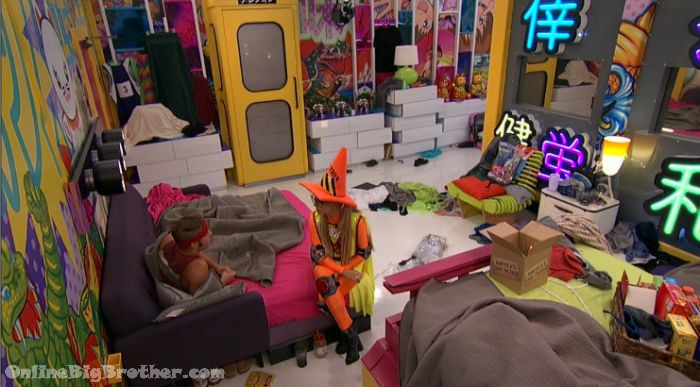 3:26pm
Nicole tells him they have to focus on keeping the 3 of them safe this week.
Nicole – one of us will win Zing bot
Paulie – I have faith that Michelle is the target
Nicole – I do to
Paulie thinks they can peel Paul off the other side.
Nicole tells him to be quiet this week "Don't blow anyone up right now"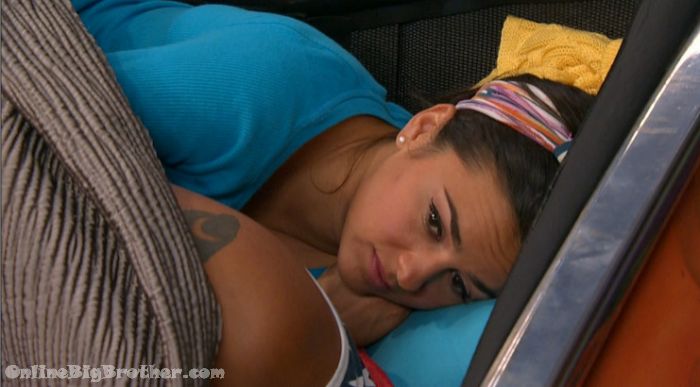 3:35pm Ntatlie and James
James – I wouldn't mind going up as a pawn I know Meech and paul would vote for me and you would
Natalie – ya
Natalie i shaving anxiety about the nomination
if this plan falls thru holy Macaroni and Cheese and if it does fall throw never listen to me again
James – my instinct tell me Paulie and Corey are going on the block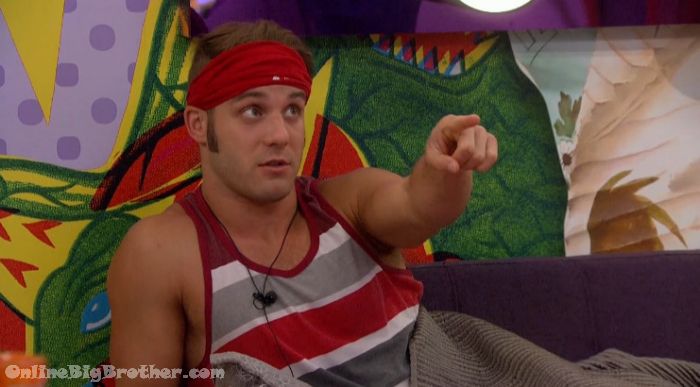 3:44pm Tokyo Room Paulie, Corey and Nicole
Corey can't understand why people aren't hanging out they are the 3 most loyal people in the house
Corey – we need to win HOH next week put up Paul and James
Paulie – Backdoor Vic he's the only one that can win
Nicole – I've never done wrong first (of course you don't)
Paulie is Claiming that BB17 had the worst ratings in the history of BB and that BB16 had the best rating because "Everybody loved Cody everybody loved Derrick .. if it wasn't for Michelle throwing us under the bus we had everybody .. I had Paul wrapped around my f***g finger"
(HOLY smokes Pualie has blown all the fuses in his fuse box..)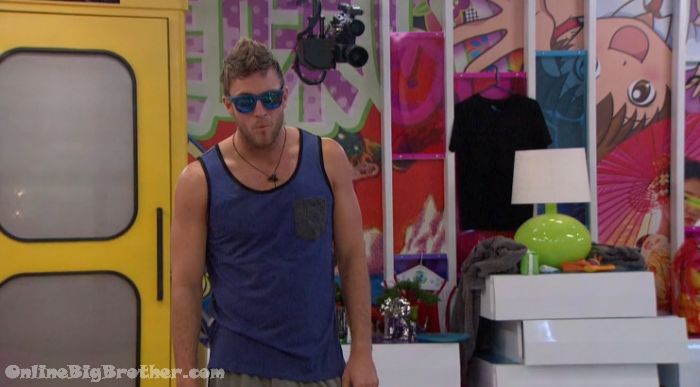 3:58pm Nicole and Paulie
they think james is scared and knows he's in trouble.
Nicoele – he feel sextra guilty becuase you kept them both safe..
Corey – ya he feels guilty, he brought up Tezxxas code southern code.. I was like that's no code
Nicoel – America saw they flipped on us
Corey – BRodgette was goign to go far
Nicole – I'm so ha[yu she gone because strategycually she was nothing for my game .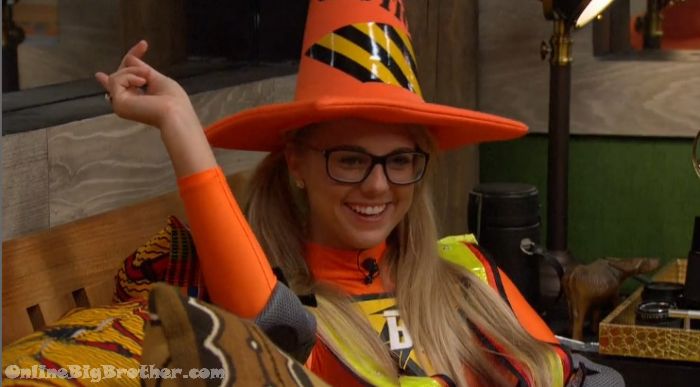 4:21pm Nicole and Corey
Nicole is saying that they need to keep Paulie he's on their side and is a sheild for them.
Corey – he had tears in his eyes when IO won
Nicole – we have to lift him up
Nicole says Corey taking out Bridgette was a BIG move it didn't ruffle any feathers it was strategic and the best move they could have made.
Cory agrees says he mentioned that in the Diary room he said it was a smart, strategic move didn't ruffle any feathers..
Nicole – it was The best move we could have done for this game and you handled it so nonchalant
(Did you all see the epsiode did you see Corey huddled down with the guys beging them to tell him what to do asking them for a final 5 guys)
Corey says Bridgette was nasty when she left, Nicole – you tried so hard to be nice to her (so hard)
4:34pm Paulie, Michelle and Natalie in the kitchen
Paulie – I wish this place had a punching bag..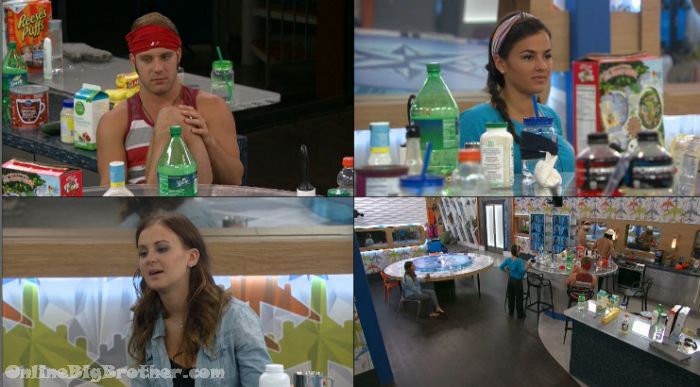 4:56pm Waiting for the Noms…
5:04pm Kitchen everyone waiting around for the Nominatoins ceremony.
They talk about Mihcelle being called a cat. Natalie asks where the milk saucer thing started. Corey explains it's becuase her name "MEEEEchelle" reminds him of Alley cat. "So i started feeding her" (HUH)