POV Holder:
James
Next POV
Aug 1st
POV Used
No
POV Ceremony
Aug 3rd
HOH
James
Next HOH
Aug 6th
Original Nominations:
Shelli and Clay
After POV Nominations:
Shelli and Clay
Have Nots
Austin, Liz, Julia
4:38pm Cuddles
4:45pm Julia and Becky have joined them. Becky says she had a flat butt and to work on it to build it up "Mommy didn't give me this butt"
She adds her German boyfriend taught her how to work her butt out.
4:39pm HOH James, Jackie, Meg, Jmac
Chit chat..
James – I had a girl squ!rt on me before.. it shocks you
Jmac – I didn't know it was possible
James – I witnessed it and I kinda liked it
Steve joins them.. Chit chat about phones..
5:05pm Becky, Austin and the twins working out
5:14pm HOH Meg, Jackie, JAmes and Steve
(Mostly chit chat.. I'll pull out some of the interesting things)
Jackie asks him to clarify how last week went down When Vanessa went back on the plan to take out Austin and took out Jason.
Steve says he found out the day off he thought Austin was going up.
Meg asks Steve who he is voting out. Steve says he doesn't know now this one is such a difficult vote. says Shelli and Clay are close to the same people.
Meg says Shelli has won more competitions but socially they are the same.
Steve – Clay will win comps
Meg as long as we have your back
Steve – you do
Becky comes in
Steve says in his time as a engineer and audio engineer it's been all men. IN his class of 12 11 of them are guys and the 1 girls is a lesbian.
Steve talks about his girlfriend who was a mechanical engineer at Cornell. He left her because he didn't like the way she was treating him but he really likes her as a person. Goes on to explain how great she was and how she got him out of his comfort zone more than anyone else ever has, "She was so spontaneous Overnight cuddling is the best"
Meg says the have nots dentist chairs are the worst part of the have nots experience. everyone else thinks it's the slop. Steve and Meg agree this years have nots is worse than last year.
Steve leaves
Meg – Steve grows on my every day
Jackie likes steve
Meg – i used to not have patients for him, when you talk to him you realize he has thoughts
Jackie – he has thoughts
Meg – no I mean when he walks around he's like a caricature
Meg asks them if their agreement last night was for this week or double eviction.
James – double eviction
Steve comes up tells them Clay is volunteering to go home.
James – you do what is best for your game
Meg says Clay is volunteering to go home to everyone.
James says the entire house will target Clay if he stays he's a meat shield.
James – this is the brass tacks shelli wanted you up.. Clay was there but she did the talking..
Meg and Jackie back this up.
James adds they made it clear to chelli they weren't putting up Steve so Shelli and Clay switched to trying to get Austin up.
James says Shelli will try and knock Steve out of the game "She's done it before.. if Clay stays you already know he's gunning for me"
Jackie – is he gunning for Austin
Meg and James thinks he'll put up Austin and James.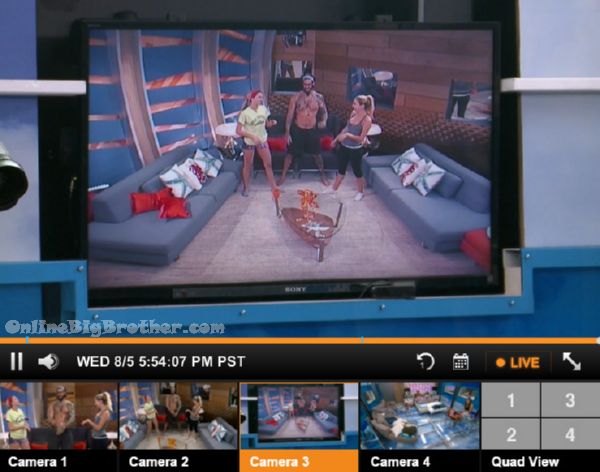 Steve leaves again… They are watching the TV screen at the twins and Austin exercising. Meg comments on how they have so much energy. "They make me feel old"
Meg brings up Vanessa's meeting last night.. Becky is pissed at Vanessa says she f***d their game up last week she wasn't even listening to Vanessa last night she doesn't consider her deal as valid.
Meg thinks if they put Vanessa and Clay up next week the twins won't be pissed.
Jackie – if we can get Clay and Vanessa out I will be so happy.
Becky adds Vanessa wanted them all to give her their word they wouldn't put her up. Now once they do she's going to bring that up to everyone.
James and Jackie say Vanessa is more dangerous than Clay. Meg wants to get rid of Vanessa during the Double eviction.
Becky asks if there is no double eviction do they put Vanessa up
James – no build trust with Vanessa
James and Jackie now agreeing they should stick to their word next week and set to strike Vanessa when it's double
Meg doesn't want to put up Clay. Jackie thinks they should stick to their word put up Jmac/Steve and Clay.
Becky says it's "Great" Steve knows so much about past Big Brother but they are playing Big Brother right now and they don't know where his head is at.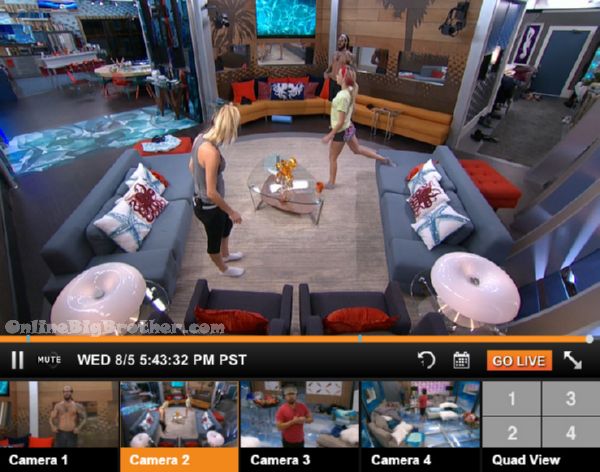 5:45pm Work out crew continue.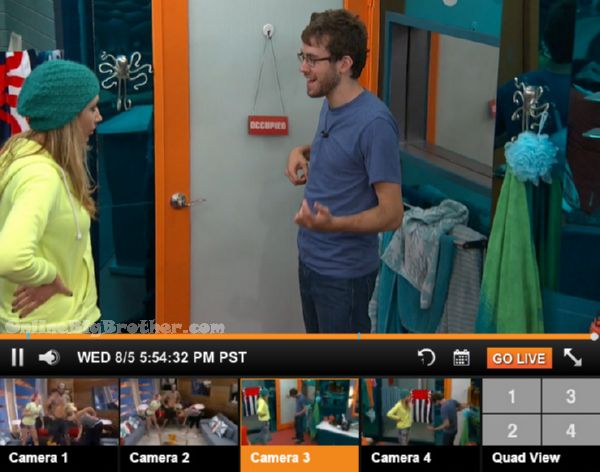 5:55pm Steve and Vanessa Bathroom
Steve about his conversation in the HOH – They are campaigning like nobody's business .. they want Shelli out
6:07pm 1/2 way party Feeds down
7:33pm Never no feeds
[polldaddy poll=9004995]