HOH: Kyland
Nominations: Hannah and Tiffany
Power of Veto: Kyland
Power of Veto Ceremony: Kyland did not use the veto.
Big Brother 23 Houseguest Rankings – – RANK THE HOUSEGUESTS –
View the previous day ranks on the – Ranking Grid
Big Brother Spoilers – Tiffany and Hannah got their suitcases today and proceeded to campaign to everyone. From what I am seeing this afternoon the campaigning didn't change the votes with Derek and Xavier. Tiffany will be evicted.
7:30pm Bedroom –
Big D and Xavier are studying the days / events of the season.
7:35pm – 8pm HOH room. Hannah talking to the cameras.
Hannah – .. you and I have played similarly in the sense that we've never been selfish. When it came to getting the cookout one step further, X and I were never involved in conflict. In fact we were probably the peace keepers of the cookout which is ironic considering we're the two youngest but that is besides the point. My pitch to Xavier was basically… you and I have always had a close personal and working relationship so lets continue that by you keeping me. I am pretty sure that is the direction that he is leaning towards but I have to check in again with him tomorrow. And I basically told him that when I evaluate what I feel the winner of this season should represent he kind of meets all of my criteria. So if it is not me that ends up winning, I would want it to be him and I am committed to helping further his game because I feel like he deserves it. That is true! But that also doesn't mean that I am willing to cut him because one thing that I have realized is that I can't move forward with both Kyland and Xavier. Kyland is hell bent on sitting next to X in final two because he wants the showdown of the century .. he probably feels like sitting next to me, Azah or Big D wouldn't be a worthy or respectable win because of his ego and I think that.. anyway. Ky is motivated to bring X as far as he can. X can really bring anyone far and probably still win next to anyone just because of how well liked and respected he is and how loyal of a game that he's played so with that being said I can't keep Kyland and Xavier in this game together. The other thing is those two are going to be hard to beat in competitions so I would rather worry about one versus two. That would be an uphill battle for sure if I found myself in a final 4 with Kyland and Xavier. If I win next week I am getting rid of one of the two. If Xavier, Azah or Big D win next week I think they would be more likely to cut Kyland than Xavier. So I just have to push them in that direction. I think the only way I can ensure I send Ky or Xavier home is if I keep one of them off the block. I would choose Azah in the end.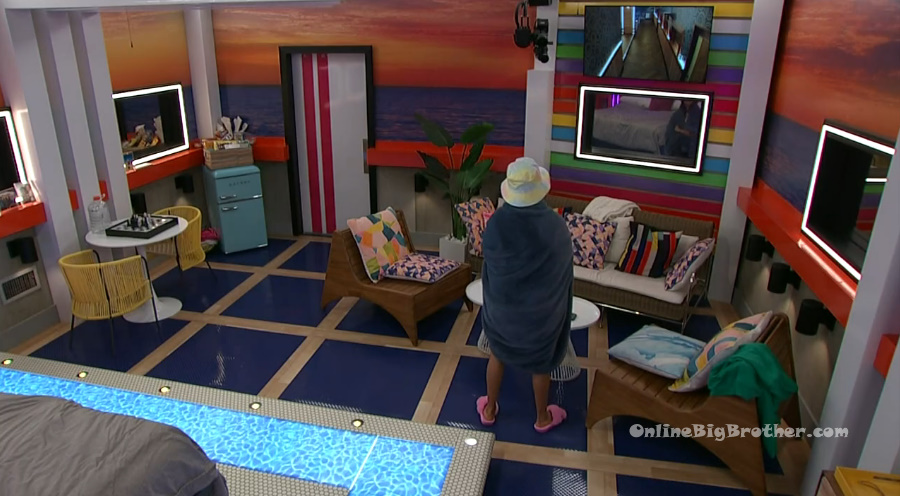 8:10pm – 9:40pm Dinner time.. The house guests are eating and chatting about past seasons of big brother and other random things.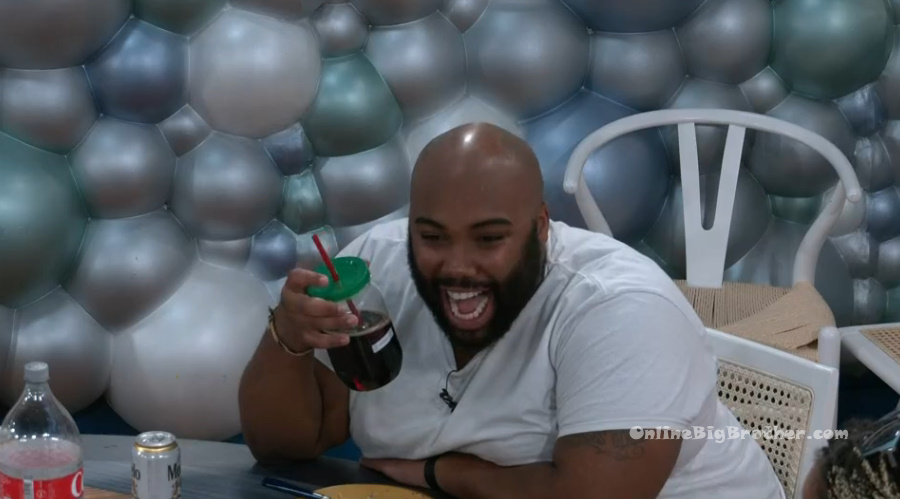 10:40pm HOH room. Xavier and Kyland.
Ky – I think I will just tell her (Tiff) that the first straight answer I got from Xavier is that you're leaning pretty hard towards voting her out. Big D said the same thing. I don't know about Azah yet. Xavier – you're going to tell her that tonight? Ky – yeah. Xavier – is it possible for me to talk to her first? Ky – yeah. Also, I am definitely going to .. Big D .. the pitches have gotten .. I am going to be playing down anything he's ever done. Just so you know and hopefully you do the same because he .. they were kind of getting in his head. I was like yo you have to remember just like with the cookout you're talking to people that don't know everything that was going on but regardless I am definitely pushing up his stuff and pushing down your stuff. Xavier – no I am doing the same. I've been reaffirming dude you have done just about everything that I've done. The only thing that Ky and I have over you (Big D) is that we've won a couple competitions. Ky – and this is one cherry that I've heard that the people in jury don't care about competitions. Xavier – yeah raw facts!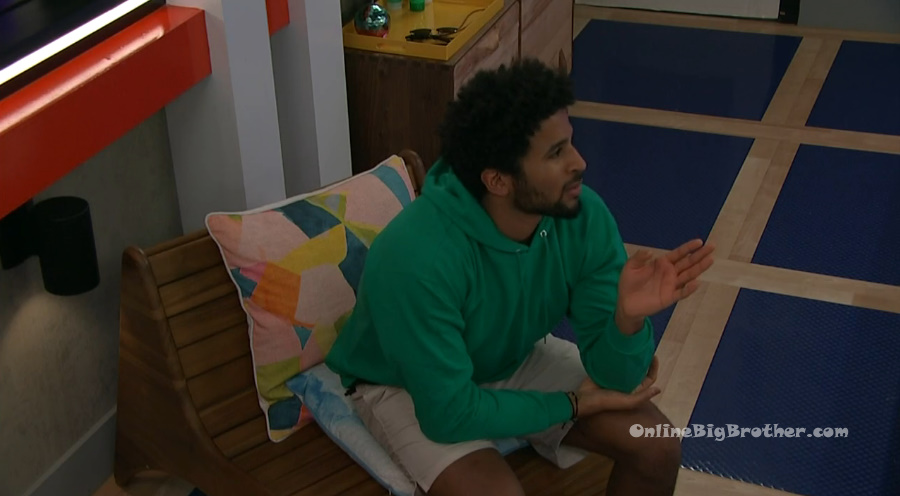 11:20pm Bedroom. Tiffany talking to the cameras – I pitched a pretty good case. I pitched to Ky and told him take me off the block and save my life in this game, then you've got my loyalty for ever. Well forever until this game is over.. we ain't got but more than 17 more days. I can be loyal for 17 days. Ky didn't take my deal. Doesn't mean the offer isn't favourable to somebody. He might still think that I owe him something but how do I owe anybody something that doesn't save me? How do I owe somebody that puts me on the block? How do I owe somebody that puts me on the block and I am in freaking jeopardy of going home?! I am a freaking target in here and you put me on the block!? You knew I was going to go home! Whatever! I take my deal and sweeten it.. Proposition X .. you've got me and Azah. Make it an even sweeter deal .. I am telling X something that I didn't even say to Ky. I am telling X, I want to see you in the final 2 seats. I think you're playing a phenomenal game. I would love to see you up there. I didn't say that to Ky. X I would help you get there.. I mean what the heck if you stuck with me. I mean and I want to get there .. then we both get there. If X doesn't keep me or doesn't vote to keep me over Chaddha, I know 100% she has not offered me any deal like what I did. So either y'all either all go something going… a kind of an alliance that I am not in or y'all promised to keep each other safe and I was excluded from that. So you don't know how to go back on it .. this is big brother ..deals are meant to be broken. Nobody is promising you anything X! I am actually promising you something.. a deal that I actually have to stick to because I am about to leave if I don't make any deals and I am not loyal to it. She (Hannah) is all over the place … I love her to death but.. they are underestimating her. She is going to trick their a$$es. They are going to be out of that money that they think they would have gotten if the kick me out. First of all I am not a mental threat… all the time. I am not a physical threat .. all the time. IF she is not offering any deals when are you going to send her home?! If no one wants to send you home and you don't even have to fight to stay .. then you are a threat.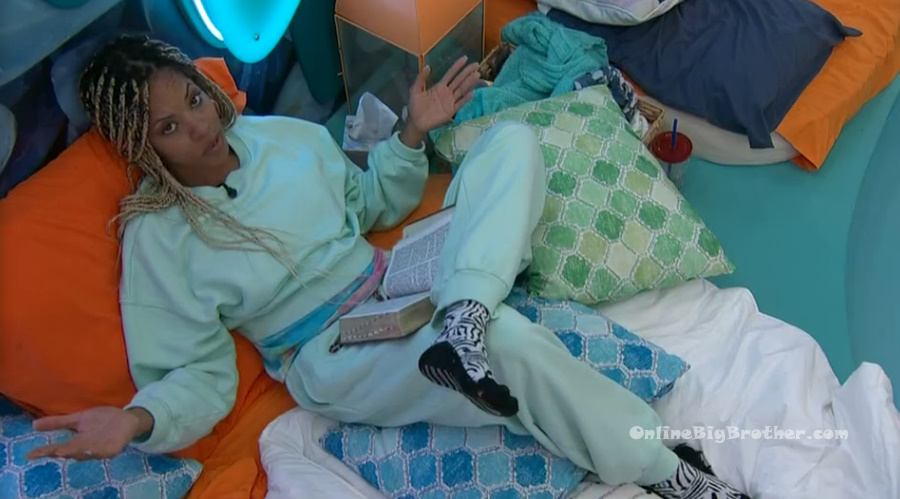 11:30pm HOH room. Big D and Kyland are studying the days / events of the season.
11:43pm – 12:40am Bedroom. Tiffany and Xavier.
Tiff – I ain't never vote against you. I am always going to be the target for Azah and Big D before you are. Especially Big D because he thinks he can beat you so he ain't scared to take you. Azah trust you more so she would keep you over me. I will never vote against you. You've got me vote. Xavier – why do you think that I can't work with Chaddha moving forward. Tiff – I am not going to say that you can't work with her and I don't think that you can't trust her. I think that you can work with her. She doesn't owe you anything. She doesn't owe anybody anything. I do though! She is not even in jeopardy of going home. She doesn't even think she is going to leave. Big D already said that he made a deal / promise with Chaddha. Xavier – truthfully everyone has a reason to come after me. Tiff – and they do.. so that is why would you need to keep someone here that would not come after you. Where would I go? I am going to go over to Ky that just put me on the block? Big D that said he is not going to vote for me? Azah? She is just a vote for me. I didn't offer anyone anything like what I offered you. Xavier – I think I lose next to you. Tiff – you think you lose next to me? You can't convince me of that Xavier and I am open minded. I think you just want to keep her and that is fine but it just doesn't make sense for your game but if you're playing with emotions .. then play with them… its playing with your money. Xavier – I am not playing with my emotions and I haven't to this point and you know that. Tiff – I'm waiting. Xavier – I am considering what I feel is best for my game moving forward and that's why I am leaning the way that I am leaning. Tiff – yeah. What about what America thinks? They're not going to be happy with you kicking me out. Tiff – did you know what his noms were going to be? Xavier – no, I thought he was going to put me up or backdoor me. Truthfully I thought he was going to put up Azah. Tiff – I used to respect his game so much. I am just ready to go home at this point. It just don't make sense to me. I don't get this weak a$$ big brother that people are playing. Ain't nobody playing sh*t! I guess everybody is playing me. Big Tiff. I just hope in my goodbye messages that you give me the real reasons why you are getting rid of me. So I have a whole other day to waste in this b***h.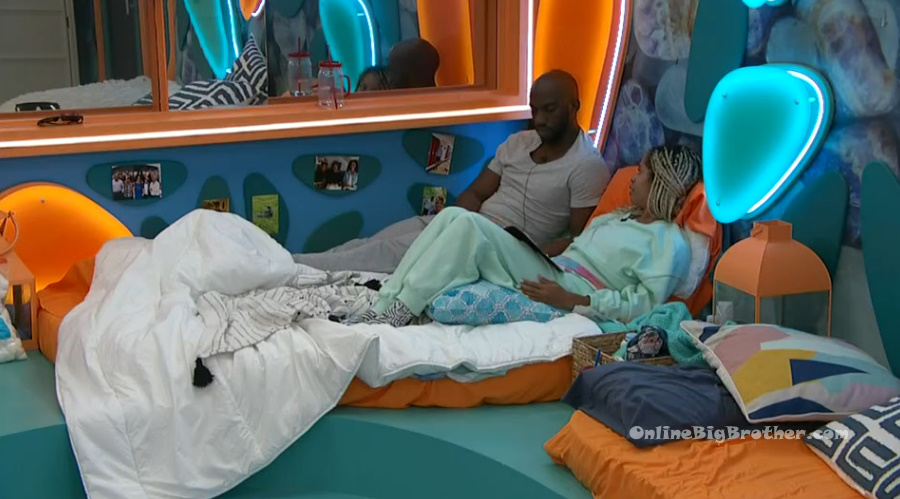 12:42am Bathroom. Tiff talking to the cameras / production – I hope in the f**k I do not have to stay here a whole other day. At this point y'all can do a live show and send me to jury to now. They want to keep Chaddha.. that is all I've got to say. I don't know what kind of Big Brother they're playing.. I don't know. Would I keep me?! Right now I don't give a f**k!! After 9 – 10 weeks of being in here… you can tell the vibe.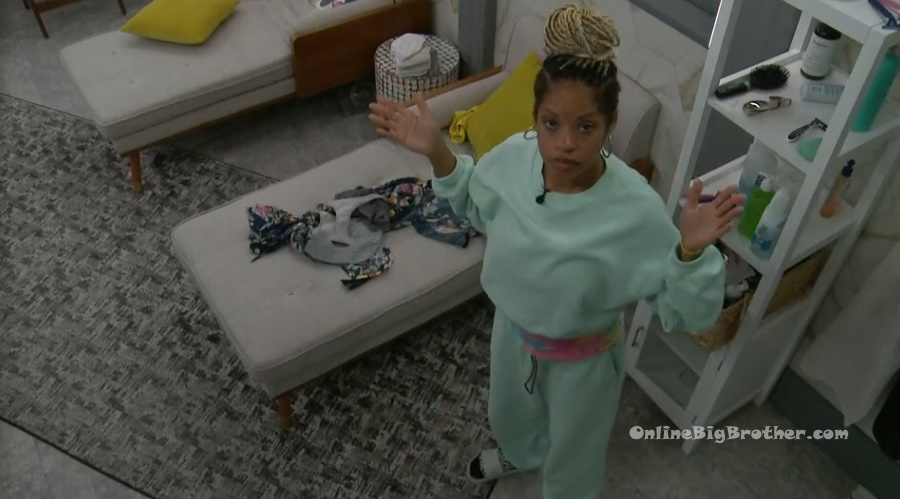 1:12am Tiffany lays down to go to bed and tells Big Brother to turn off the lights. Ky comes through brushing his teeth and mumbling. Tiff – I can't understand anything you're saying. Ky leaves. Big Brother turns out the lights. Ky comes back after brushing his teeth. Ky – I said did you still want to talk? Tiff – no. Ky – okay, did you want to talk tomorrow? Tiff – about what? Ky – in general. Tiff – I don't know. Ky – Okay .. then let me know. Good night. Ky leaves.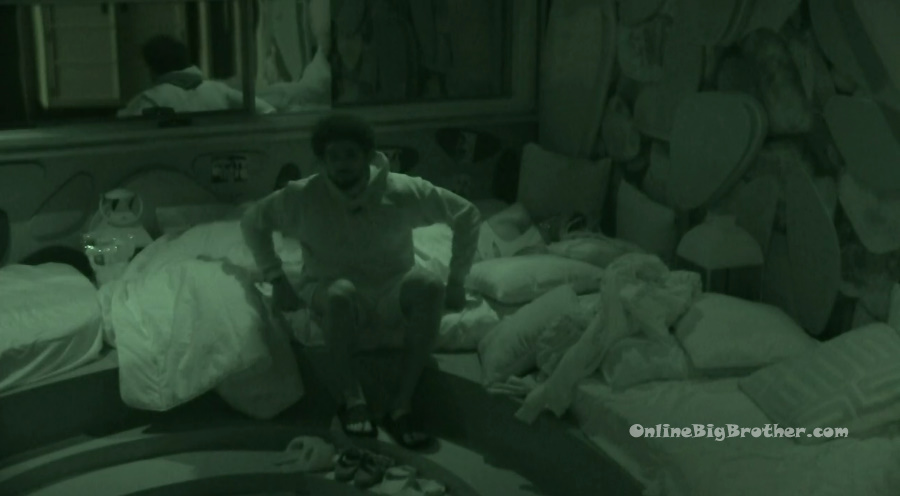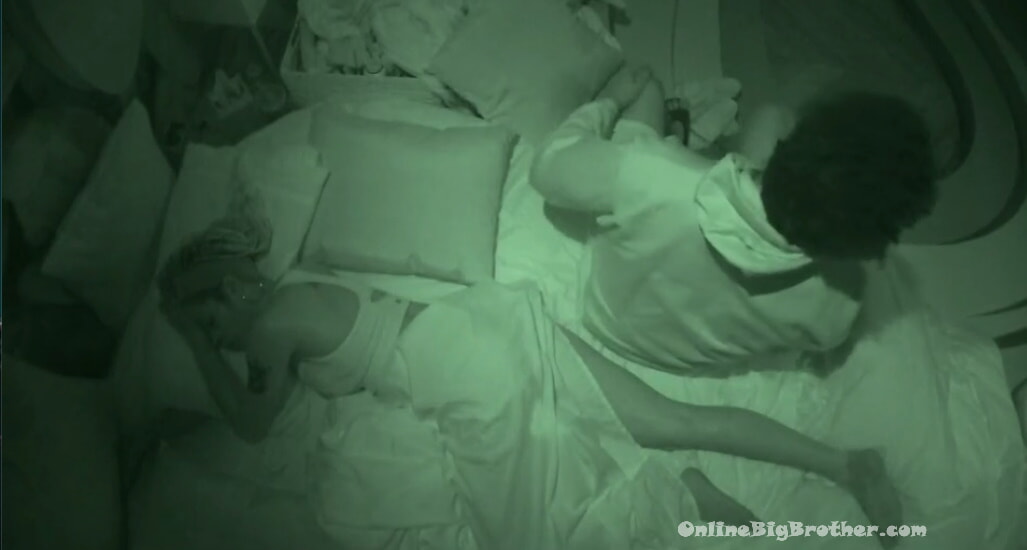 1:22 am Ky's second attempt to get Tiff to come up to the HOH
1:25am All the lights are out and everyone is in bed.
5:50 am Zzzzz.. no idea what is happening today feeds might go down for eviction they might stay up for more one on ones.. Who knows !
11:00 am Feeds down until Tomorrow after the live show.
Heads up, BB fans! The live feeds are currently down and will be back up after the West Coast airing of tomorrow's live eviction episode. And don't forget, a brand new #BB23 is coming your way tonight at 8/7c on @CBS
Show your support :) Without your support this site and these spoilers wouldn't be possible.
Please consider a donation to keep the madness going.