HOH: Kyland
SAFE: Claire and Tiffany
HAVENOTS: Brent, Derek X, Whitney, Hannah
WILDCARD Competition Winner: ?
Nominations: ? and ?
Power of Veto Players: ???????
Power of Veto: ?
Power of Veto Ceremony: WILDCARD Winner: The winner is safe for the week but in order to be safe they must switch teams.
Big Brother 23 Houseguest Rankings – RANK THE HOUSEGUESTS –
View the previous day ranks on the – Ranking Grid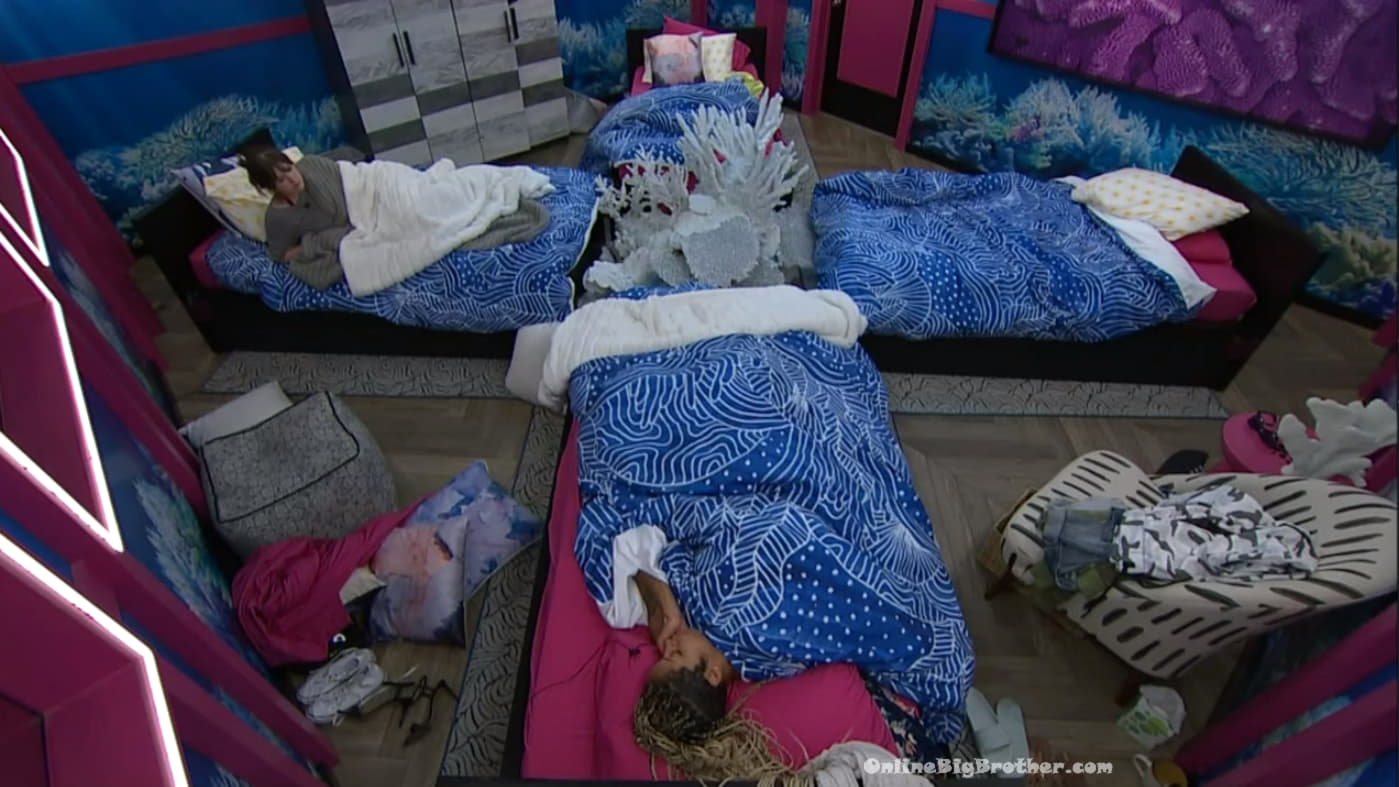 8:53 am Tiffany and Sarah Beth
Tiff – you know how you watch BB and you realize there's a big group and there's a big bossy group and the not cool people the other side of the house that's no in it that's where we are .. The only way for us to really have a chance in this is to get a BIGGER target outta this house. Now, this isn't my HOH I don't know how this week is going to go. I don't think in my head the HOH is on the bigger side either.. even if he thinks he is.
Tiff – today I am … I'm just going to be quiet and outsider. If I'm talking to anybody I'm really just listening I'm not talking
Tiff – I'm not going to be naive and think I am positioned in this house where I am not. It's important to know where you stand. Ky is in a really good position right now he's got the power. If he's able to see where he really stands in this house he has the power to change that. Hopefully, he sees for himself.
Tiff says she's really not comfortable with "one two three" (Whitney, Fry, Brent)
Tiff – I tried to talk to Christian last night I really like him
SB – me too
Tiff – I just don't know he knows his position. I have to remember Christian is 22 years old and he comes from a small town with 2 stoplights.
Tiffany isn't sure Christian has the skill to know when he's being bamboozled
SB – he's worried about Frenchie and he knows Frenchie is buddy-buddy with him and it's fake. He knows he can easily be the target this week because he was the target last week
Tiff – how do you feel about Brent
SB – he's never talked game to me.. I don't know what he will do and I don't trust him
Tiff – There's a two-headed dragon if not three.. one of those two evils has to leave
Tiffany says when she was up at the chessboard Frenchie came up 3 times. He's already been throwing out Claires name as a target. She's going to have to spend time with Frenchie to calm his nerves.
Sb says she would rather Frenchie win the Wildcard over BRent or Whitney
Tiffany doesn't want any of those three to win "You know who I want to win.. DerekX"
SB – I wonder if he will play? HE won't want to waste it he knows he's s target and he probably feels close to KY
Tiff – Out of the three-headed dragon.. that's what I believe it is NONE..
They chuckle. Claire is now with them.
Tiffany fills XClaire in on her plan to make Frenchie feel comfortable with him "I gotta get him off me I did a bad job last night"
They talk about Frenchie's paranoia because he got no sleep. He interrupted them lat night three times one time saying he went up there to play chess by himself.
SB – I'm going to stick with Alyssa today and hang out with her
Tiff – Watch for a minute to see if Alyssa hangs out with you
Tiff – if the wrong person goes home this week
Claire – we're in a bad spot
Tiff – we're screwed we're already at the bottom, the outcasts. We ain't the meat and potatoes of this stew we're the peas and carrots.
Tiff warns SB about what she says around Alyssa about Fnrehcie they are close.
SB says Alyssa thinks she trusts Frenchie.
Tiff – The three-headed dragon.. one of those heads gotta go
Claire – YUP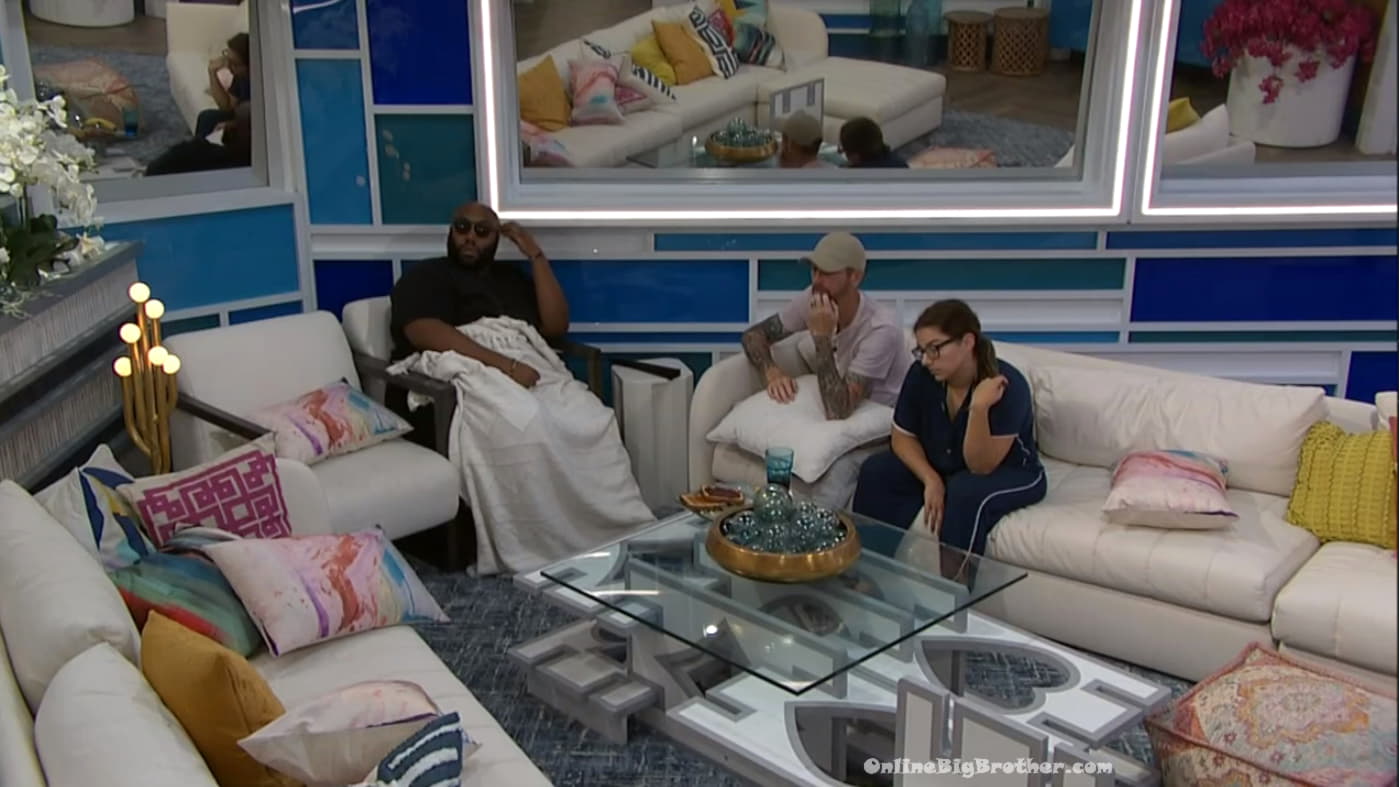 9:36 am Frenchie, Bri, and BIGD
They are talking about whether or, not they should play in the wildcard.
Brit – If BRent and DerekX both feel comfortable with KY neither one of them will play
DerekF – Ky is the one I don't know.. she's a wildcard.
Frenchie – he told me last night he's doing the same thing I did and not tell anybody about their nominations (ZOMFG you told everyone)
DF – I would feel more safe if Frenchie won the wildcard comp.
Brit – I think I'm okay with KY.. THINK key word.
Frenchie – I have a HUGE target on my back..
Frenchie says Brit should tell the house she is playing so when he plays at the last minute they won't see it coming.
Brit wants to play she leaves.
Frenchie – I don't trust none of them.
DF agrees "nop matter what Ky is going to have to put someone up from our team"
Frenchie – on our team?
DF – he doesn't have a lot of options. Think about it three of our alliance members are on that side. Hannah, Sarah Beth, Azah.
Frenchie – he's not putting up Hannah and Sarah Beth
Xavier joins them.
DF – I feel like he doesn't have a lot to pick from..
DF says it'll be a person from their team and Whitney's team "He won't put up DerekX"
Frenchie – I might let Britini play then (let her play?)
X – otherwise she's going up?
Frenchie – if Alyssa and Whitney play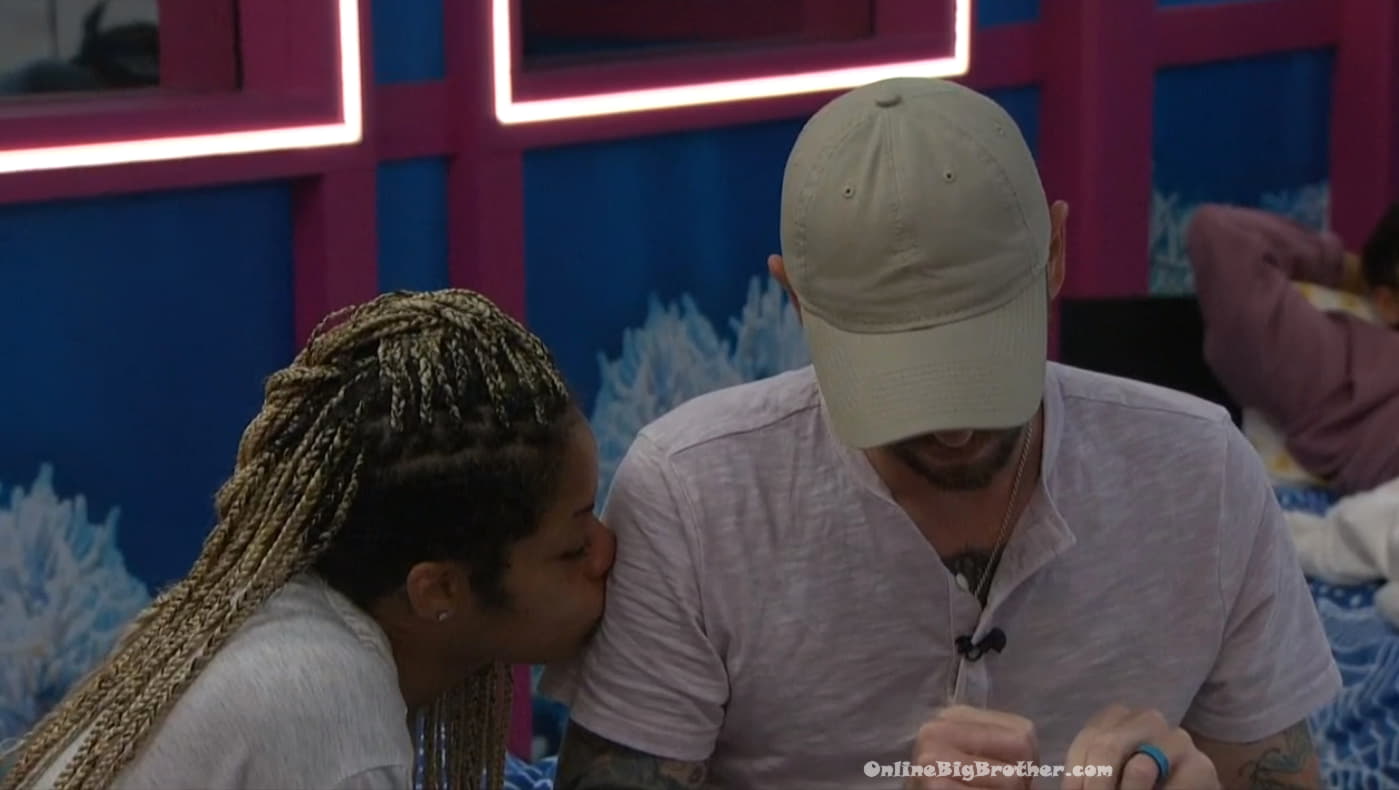 10:05 am Tiffany, Frenchie, Claire and DerekX
Claire and DerekX are having a conversation about random stuff. Frenchie is whispering to Tiffany
Very hard to hear what Frenchie says
Frenchie – no one in this house is a target. I'm the biggest target
Frenchie – I ain't going to go down easy..
Tiffany – I think he likes you I think he trusts you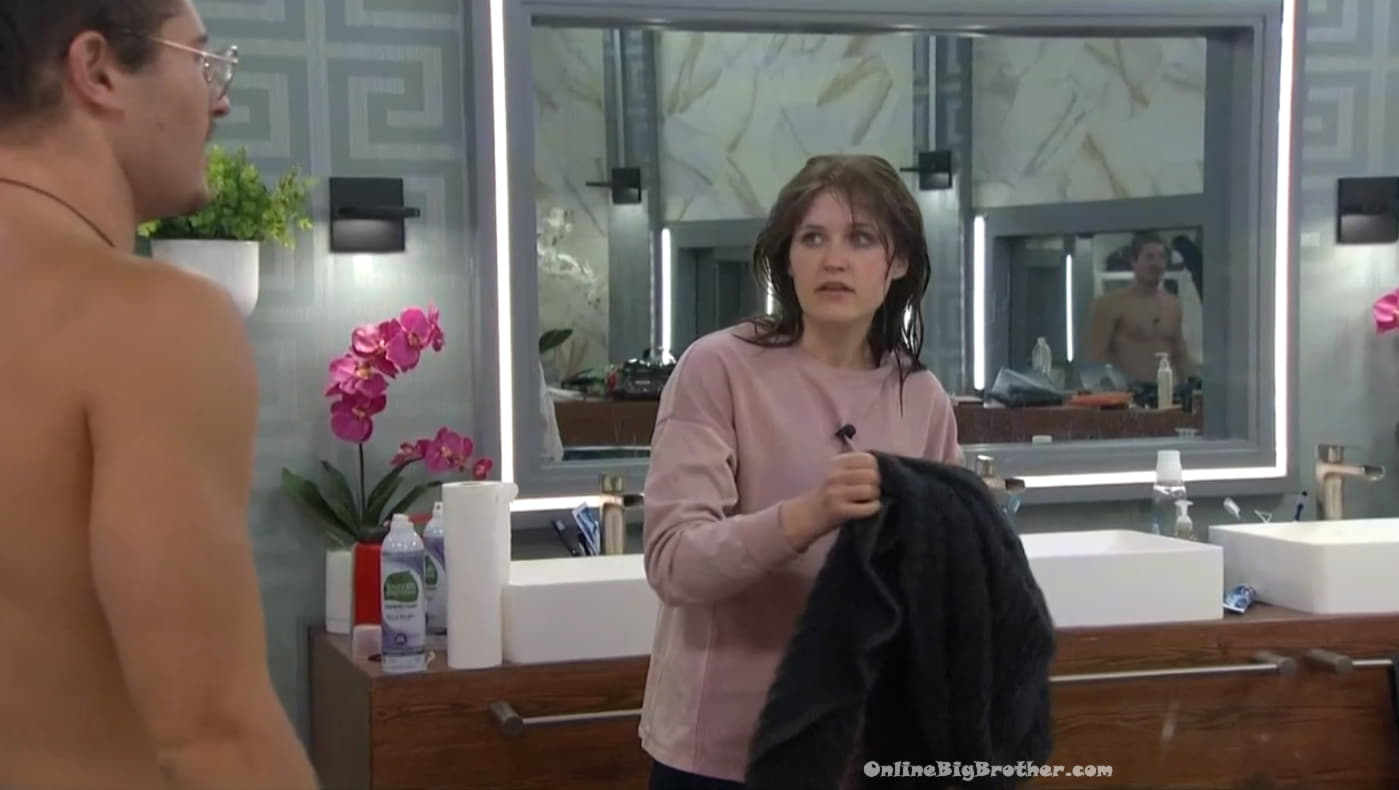 10:22 am Sb and Christian
SB saying that "She" (Tiffany?) thinks that there is a majority alliance already
Christian and I'm the target
SB – She's worried that you might be in the majority alliance but at the bottom of the totem pole and don't realize it
SB – she's convinced there's a big alliance She doesn't have any proof at least that she told me.
Christian – should I come to her?
SB – it benefits you to have her trust you if you wanted to touch base with her today
Sb tells him she wants to play in the Wildcard.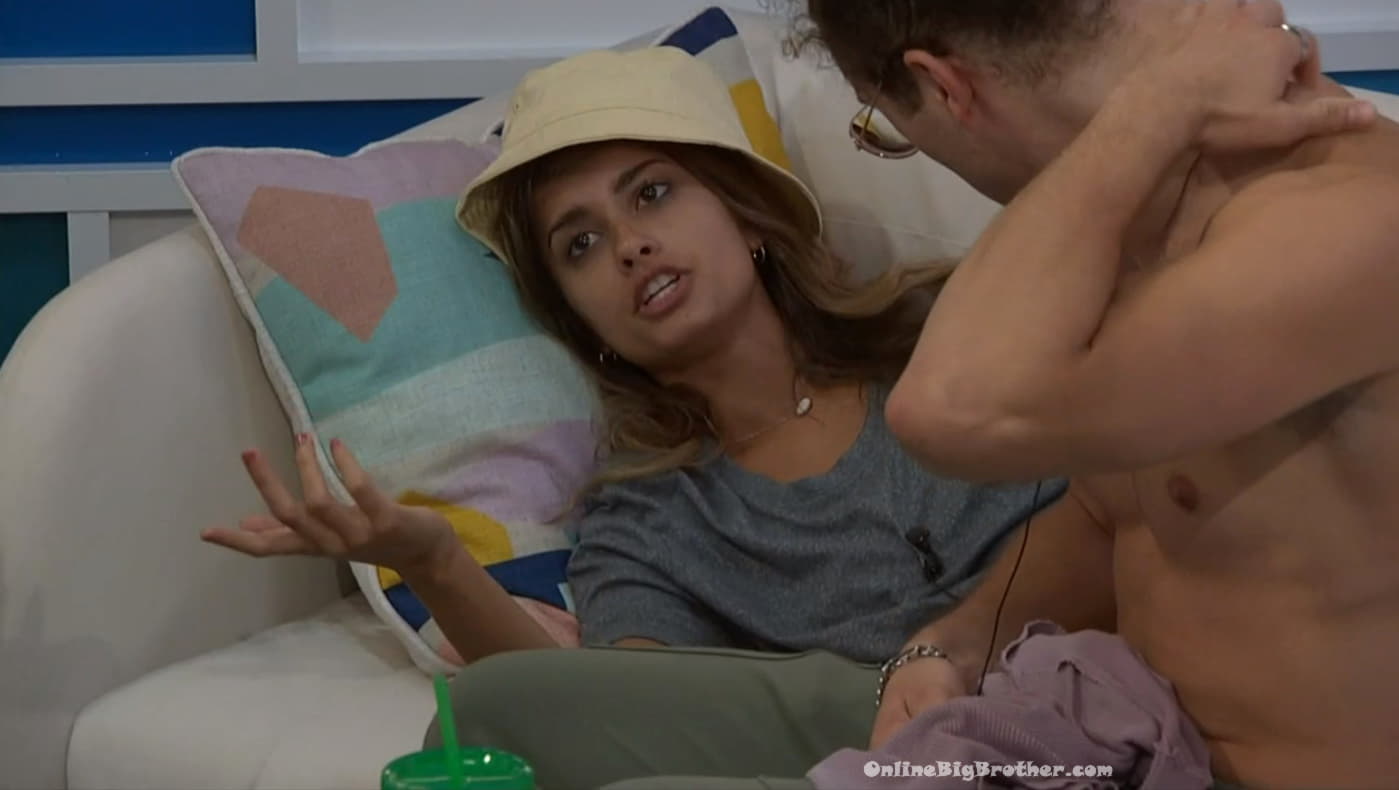 10:25 am Christian, Alyssa, Xavier and Brent
Talking about how is going to play in the Wildcard. Tells them Sb wants to play in the wildcard.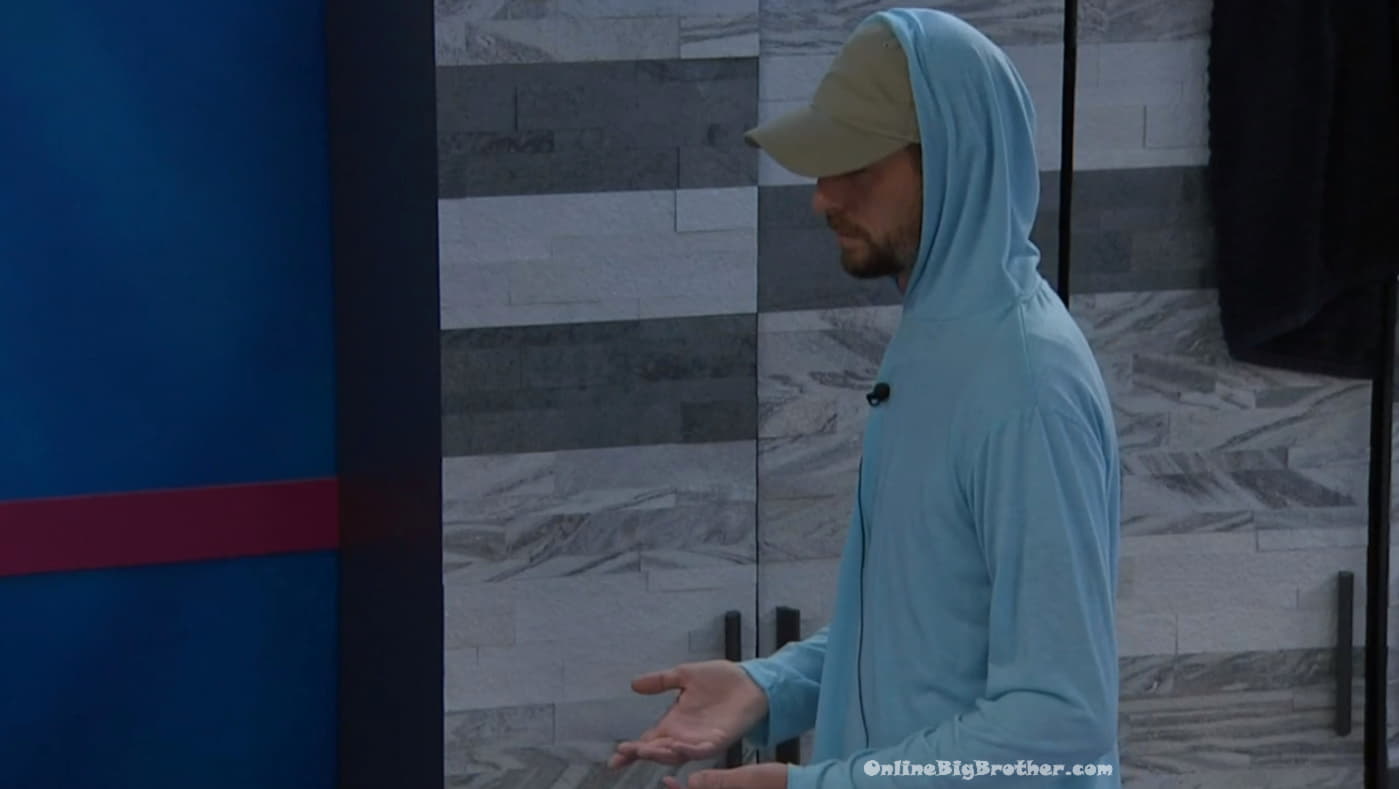 10:30 am Frenchie and DX
Frenchie – everyone was trying to set you up this week for a slam dunk
Frenchie – this is me telling you I don't care if you're close to KY or not I fell like you are going home this week. I don't think you will I'm just telling you this between the two of us because I have been nothing but honest with you this entire time.
Frenchie – if there's one thing you taught me all last week is you're loyal as hell. I always want to make sure I give you that respect.. I've been nothing but real with you.
DC – you helped me out a lot too
Frenchie – keep your eyes open and your mouth closed.. the people you think are close to you are not.
Frenchie – If you tell people that or try to find out about it it'll cause a whole lotta drama (loL)
DX – this week I'm laying low
Frenchie – I'm trying to sway it this way.. I have no sway I'm the biggest target this week. I'm trying to sway it
DX – away from you or both of us
Frenchie – both of us I wouldn't be telling you what I'm telling you. I'm telling you this because we've built that respect.
DX – is there a certain Direction I should be looking at.
Frenchie – make sure the people you think are the furthest from fro you have your best interest in mind the people you think are the closest don't
Frenchie – I've never told you anything that is completely wrong. this is just me being real with you I can't stand the fake sh1t in the house.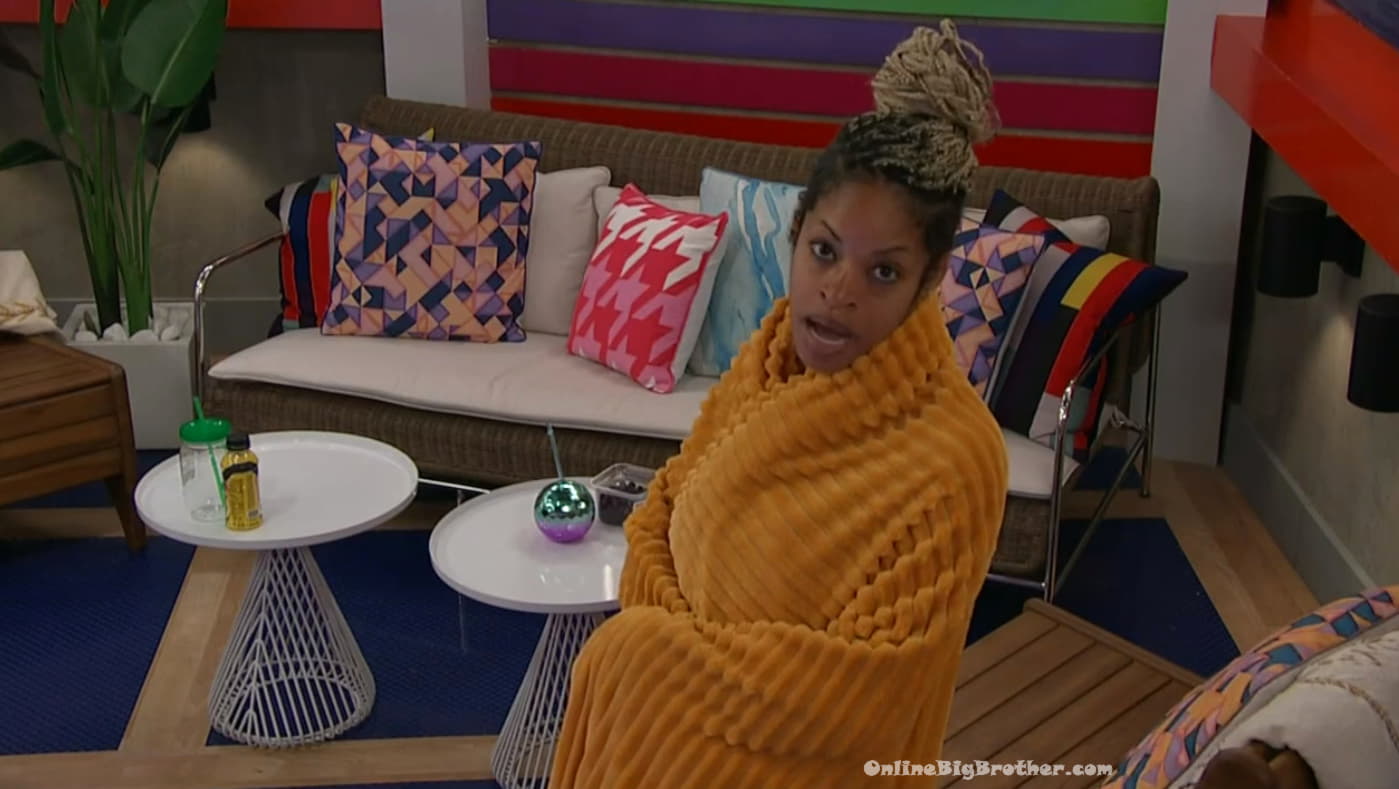 10:35 am Tiffany and Claire
Tiffany talking to the camera – there's a three-headed monster in this house.
Kyland comes in all 4 feeds flip to show downstairs.
10:37 am Feeds cut to pound kittens
1:17pm Feeds down yo
2:15 pm FEEDS NO!
If you like these spoilers and read this blog regularly please consider a donation to keep the madness going. We accept donations via paypal How to support OBB