Watch the feeds for free from the US using a VPN. We recommend HMA https://www.hidemyass.com/vpn/r16399/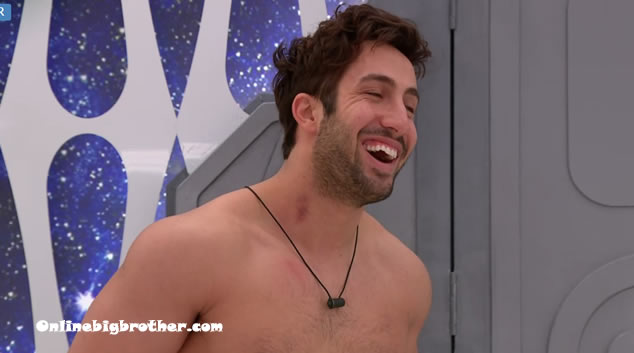 Bruno, Kevin, Ika and Demetres HOH
Bruno – right now there's 5 people in the middle that are laughing .. they want to pit you and Ika against me and Kevin
Bruno – we need to reset this week
Bruno – they want me and Kevin against you and Ika.. they're laughing
Kevin says before the HOH Dillon came to him and said "Win this thing so you can fire back at Ika and Demetres.. he was pumping my tire the entire time"
Kevin – we really need each other
Ika goes on claiming she never told Dillon to put them up she told him to go with his gut.
Ika says she never bashed Sindy.
Bruno really stresses that during the double after Neda called out their alliance they other players saw what they were doing.
Bruno says he's being straight with them, if either Kevin or Bruno go home this week one of Ika/Demetres will got home the following week. Points out how Dillon keeps saying in front of everyone how Demetres won 3 HOH's
Kevin says Jackie says 20 minutes after Jackie made the truce with Ika she told them in the have nots it doesn't matter if she wins HOH she's putting Ika and Demetres up.
Bruno points out there's 5 people that don't have to do anything and there's 4 people that are playing for their lives
Ika says William is annoying her says he thinks he's playing the Bachelor (LOL says the person in a showmance)
Ika says she never talked to Dillon until the night before the nominations and told him to go with his gut.
Kevin says Jackie is the worst for their games says they are so happy Demetres won because they've been working at pitting them against each other. Kevin calls Jackie poison.
Ika agrees mentions Kevin/Bruno has been hanging out with that poison "Are you guys poisoned"
Kevin says if he's kept safe this week – I swear on the live feeds in front of Canada on my mothers life I will put up Dillon and Jackie next week or if Jackie goes this week Dillon and Karen.
Bruno – I'll do whatever you guys want
Ika – guys we've trusted you so much in this game and it's not worked well
Ika doesn't think they can be trusted.
Bruno says they have no choice than to team up with Ika/Demetres
Ika thinks next week they'll run back to Jackie if she wins HOH.
Kevin saying there's only been 3 days of distrust with him and Ika.
Ika says it was a surprise that Dillon kept them off the block after hating them so much.
Bruno – who would have thought week 7 and Dillon's laughing
Ika – Jackie bothers me a lot
Bruno – they're laughing
Kevin thinks Jackie threw the "Rock Challenge"
Ika says Jackie slipped up "I don't even know If I want to win I don't know what to do"
Bruno – the 4 of us are at the Bottom.. we can come together and take things over like before
Kevin – I want Jackie, Karen Dillon out.. they are getting a rid to the end
They hug it out..
Ika gave Demetres a giant Hickey last night..
Karen comes up to the HOH and of course says she thinks she's going up.
Karen – Don't put me up
Ika laughs.
Ika says Bruno and Kevin are going up. It can't be Jackie and Kevin because if Bruno wins POV he'll take down Kevin.
Karen would rather Jackie and Kevin but understands Ika's reasoning.
Ika talking to Kevin and Bruno Bathroom. Says Jackie will turn on anybody.
Ika – we should have kept Sindy.
Ika masks the hickey with some makeup
Jackie in the HOH with Demetres and Ika. She sells out everything she can.
Jackie claims Kevin and Bruno were trying to talk her into putting Ika/Deemtres up but she was going to stay true to the truce (Lie)
She brings up the alliance Kevin made up between the three of them called the peasants and how the peasants were goign to over throw the queen Ika. (true)
Jackie starts to cry.. "What do you guys what to know about them.. Fu** them.. I will do anything in my f***g power to get those 2 out"
Kevin tells William about Jackie being pissed at him.
William and Dre Red Room
Talking about how yesterday Jackie was fine with Kevin and Bruno but now she's pissed. William says that Jackie was telling him that Kevin/Bruno threw her under the bus to Ika.
Ika joins them. fills them in on the Bruno/Kevin pitch, "They said you guys are sitting pretty"
Dre tells Ika that Sindy did trash Ika.
Dre bullshits Ika a lot in this conversation.
William and Kevin
Kevin gives William the low down of his and Bruno's conversation with Ika.
Kevin – Jackie, Dillon and Karen were the three names
William says Ika told them it was Jackie, Dillon and William.
William – I swear Dre didn't want Demetres and Ika to win this week
William doesn't believe Ika's version of the conversation.
William says Dre is playing a very aggressive game. Adds that Dre isn't as close to Ika as people think.
William also adds that Dre was ready to evict Demetres last week.
William says Jackie told Ika/Demetres her number 1 targets are Bruno/Kevin. After that it's Ika/Demetres.
William – to their face
Kevin – that's hilarious.. ohh Jackie..
Kevin – people respect your game.. you've never been nominated you've won 2 competitions
William says he can't lie.
William tells him Dre and him call themselves "the french Fries", Kevin says Dallas and Cassandra called them "the French Connection"
William says there's been a number of times they spoke Game in French in front of people. The only other person that can understand French is Bruno.
William laughs at the peasant alliance and how they are going to "Kill the queen"
Dre, Ika and Demetres
Talking about the times Demetres and Ika kissed.
Ika and Dre talking about dating black guys versus white guys
Ika says she prefers Black guys
Dre also prefers Black men says in this society "Black men are not loved"
Ika – I do like Black love..
They talk about Megan good and her husband. Ika doesn't think Jada Smith aged well. Says her face is hard.
5:00pm Ika and Dre
Ika thinks William is telling Kevin everything she says.

5:42pm Storage room Demetres and Ika
Demetres is going to nominate Kevin and Bruno
Dre comes in. Demetres says "We'll have chats throughout the week".. Bruno leaves.

Demetres continues the Conversation with dre saying that Bruno would put him up if he had won HOH.

Bruno takes the conversation to Ika in the red room

Bruno tells her it's 2 against 5 against 2.
Ika – we keep you guys then next week you guys put us on the block and we look stupid
Bruno goes back to the 2 Vs 5 vs 2
Bruno says in his first season the exact same scenario happened.

After Bruno leaves Ika and Demetres say they are still putting Bruno and Kevin up and they want Kevin gone. (Ika wants Kevin gone the Greek just parrots what she says)
Ika says she doesn't trust karen.
Demetres – I trust Dre.. Dre's not putting us up
Ika – Is Dre not trying to win
Demetres would Kevin out over Jackie
Ika doesn't trust Bruno calls him slime.
Karen and Dre

Bruno and Kevin nominated
12:18am Kevin and William Storage room
Kevin – we had that conversation and then only 10 minutes later someone came up to me and said you are already throwing Bruno under the bus. William told me. William – what?! Kevin – so apparently after that conversation you went and told someone that I don't trust Bruno anymore. Kevin – I have never ever said that. I have never said that. Kevin – cuz how do they know we were talking about Bruno? Like if you didn't go talk to anyone how did they know we were talking about Bruno? William – the only person that I maybe said something to was Dre and I said to Kevin don't trust Bruno… because that was real. Kevin – so maybe Dre went and told someone. William – maybe .. because honestly I only speak to two people and that's you and Dre. Kevin – I know. Kevin – the stuff you told me has not gone back to Bruno.
Ika and Demetres after the nominations. Ika – this isn't anything against new people but I think it was just kind of like wow two vets are up there and there is really only going to be left in here… and am I f**king myself over. And I'm not .. I'm not .. I don't know what to say. Demetres – I really don't think you are and I wouldn't put you in that position if I thought you were.. you know? Ika – Karen wants all the vets out of this house. She said it and I was like – you know I'm a vet right?! She said well you're the last one I want gone. Karen has a vendetta against returning players. Demetres – yeah. Ika – and she wants all of us gone so that she can say she outlasted these giants. Demetres – yeah, yeah, I know. Ika – is that what we're doing?! Demetres – no. I sat there in that room and I had all the people up there and it was so obvious that was the only move. Ika – it sucks and I don't like them but I just feel like I'm getting my own out. Demetres – honestly I have never once thought that. Ika – its just that there is no one else left and one of them is leaving. Karen has a vendetta. I don't know if I can trust Dillon. And you know what that video downstairs with Dillon's family saying oh Karen Bla Bla Bla .. that does something to people in this house and he will get closer to her because of it. Demetres – those noms were just like so hard to do. Ika – has Dre been lying about other things that William has been saying to make us hate these guys more. She didn't tells us about that deal they made. Ika – she didn't tell me how Sindy trashed me. Demetres – who do you trust more Kevin & Bruno or Dre and William? Ika – I don't know, I don't trust anybody. Ika leaves the room.
Ika – I don't want to hear about William any more .. because he is making you look like a liar. He has people looking at you sideways. Karen – wants all the vets out of this house .. so that she could say she outlasted all the vets. Ika – if Karen wins HOH she is coming after the vets.
[polldaddy poll=9729132]
[polldaddy poll=9729778]