Sounds like Mark will be the replacement nominations but Este is the target.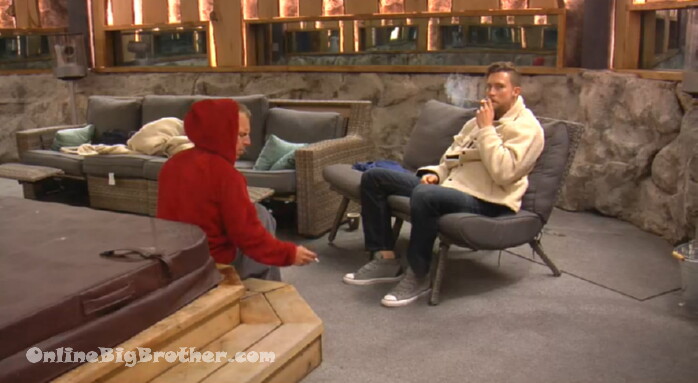 9:00pm Adam and Dane
Adam says everything he's told to Damien Este already knows.. She knows he knows she wanted him out when Mark was in power.
Adam plans to talk to Este right after rehearsal (they do a rehearsal for the eviction) This is going to be on of the biggest moves in the game does he keep Este or Mark.
They talk about who Damien would put up, Mark and Kyra.
Dane – I know that for a fact.. he'll put up Kyra and Mark which is perfect… Kyra would do the same.
Adam says Anthony won't put them up. Mark probably will put him and Damien up and say it's for some "story line"
Dane – Anthony will put up Kyra and Damien
Adam – I feel very good
Dane – same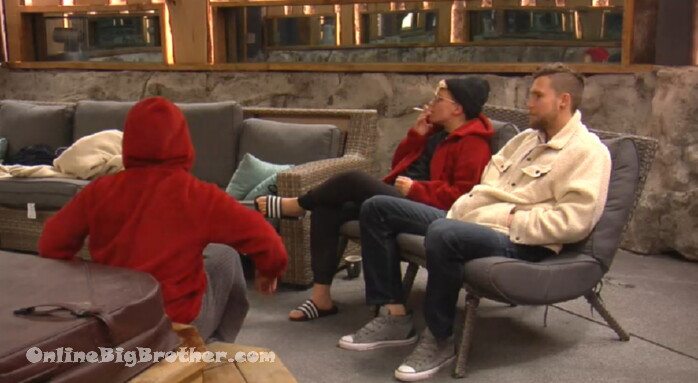 Kyra joins them
Dane – i'm on board with the plan but I'm giving a vote to Este
Kyra – we're in a very good spot guys .. very good spot
Kyra says Mark is the most tense out of all of them.
Dane – he's spinning in his heads..
Kyra – so you are telling Este she's safe?
Dane – 100%
Kyra – making her feel comfortable and everything?
Dane – yeah.. I've been hanging out with her
Kyra – the less people expect the better
Dane – ohh yeah yeah.. 100%
Kyra – first time in a long time 'm not paranoid
Dane – good ..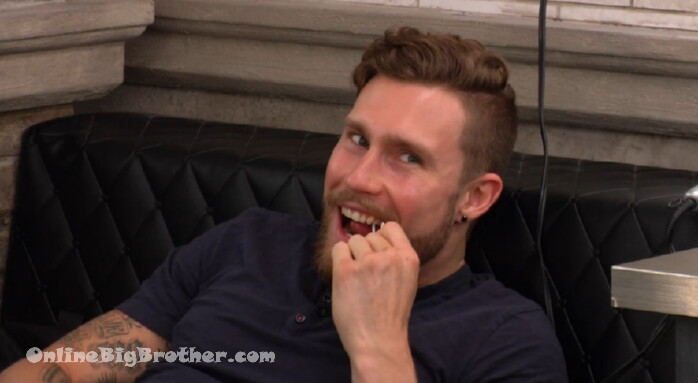 9:20pm Adam and Dane
Adam says that Kyra could easily wins the HOH next week. Dane agrees says Kyra is performing better in competitions now..
Talking about the name for their final 5 alliance with Kyra "Them and the boys"
Adam – if Damien wins and it's a triple
Dane – Kyra, mark .. you
Adam – he might even put up Anthony
Dane does think so says that Anthony "didn't vote for him to leave"
Adam – yeah .. I'll just tell him you are on board with her leaving and everyone else is on board
Dane – yeah .. I'll talk to him after you talk to him.. be like have you talked to Adam yet
Dane says after Este gets evicted he'll walk her to the door and say "I don't know what just happened I'm probably leaving next"
Adam – Imagine he changes his vote
Dane – Damien.. would be hilarious..
Adam goes on about what he will say Tomorrow during the Power of Veto Ceremony. The Pretty boys are playing up that Mark is the target this week but in reality it's Este.
Dane – Mark freaks me out because he's always scattered he really thinks he is going home .
Adam – yeah
Dane – like shut up man .. he's buying way to f*ing far into this roll
Adam – just like today ..
Dane about Mark – man grow a set .. (LOL)
Adam and Dane mention that Anthony told them they should have kept Cory because then they would control the veto.
Dane – she could have won the box game (the hoh)
They agree it's stupid to say that so much has happened since Cory left.
Dane – I'm going for every single comp now.. there's no point
Adam – yeah
They mention how Damien got a "heap of Confidence" since he won the veto
Dane – whatever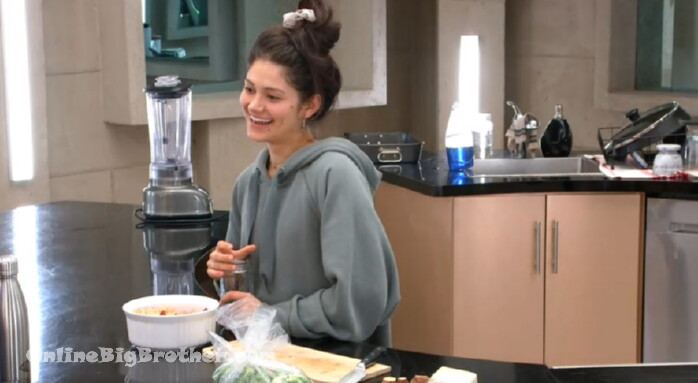 9:46pm Kyra saying how they like to surprise their partner with "little gifts"