Help support OBB by making your Amazon purchases through our link below. It doesn't cost you anything and we get a percentage of what you buy.
Amazon Canada
Amazon USA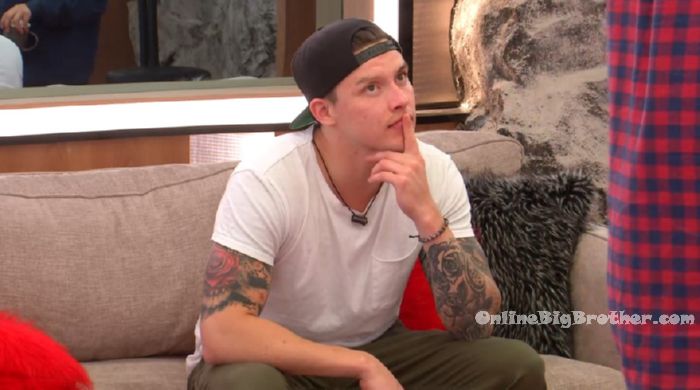 10:40pm HOH room. Adam, Damien and Kyra. Adam – congrats to you man. Damien – thanks! I needed that big time! Adam – it was a well deserved f**king win. Damien – yeah. Adam – I thought kyra had you man. Damien – me too! Adam – I though kyra had you .. I was like oh sh*t! But I thought Mark had it at first because Mark put down his pallets like.. snap, snap, snap. Damien – I just want to make sure everything lines up for tomorrow so I don't say anything stupid that doesn't match up with what's happening you know. Adam – We'll probably have a day to talk about it. Kyra – theres usually one day of nothing. Damien – oh yeah, okay .. right. Kyra – there was only one week that was back to back. Adam – We'll all talk about it tomorrow. They all leave the HOH room.
Peeping Dane @bigbspoilers #BBCan7 pic.twitter.com/riOoMoHrrl

— Dawg (@DawgsBigBrother) April 21, 2019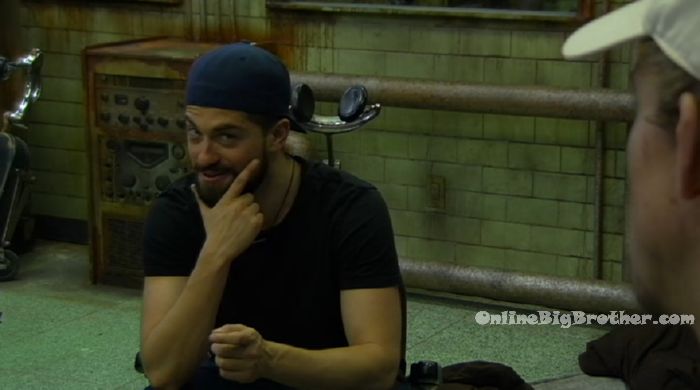 In the HOH bathroom the cameras zoom in on the bathroom stall door. The lock unlocks and then the door handle slowly turns downward. The door opens and Dane peeks his head out. He then sneaks out of the HOH room and heads down to the havenot room where Mark is. Dane – hey, I was just in the washroom and to make kyra feel really secure because they know that me and Adam are close… and they're close with Adam, we can say lets make a final 3 deal between the three of us. So its a final 5 but to make them feel good and very secure we'll go me, Adam and them. ..and then to make them secure we'll take out Mark and Anthony along the way. Mark – oh you're just letting me know. Dane – because if we don't they're going to be like what the f**k, you know. Right?! Mark double fist bumps Dane. Mark – the crazy thing is we just told Kyra about the Pretty Boys without actually saying the Pretty Boys. Dane – me Adam and them can sit down and make a final 3. So that they're not like holy f**k! I'm going against 4 dudes .. right. Mark – right. Dane – so that they can have the strongest competitor in Adam and one of the strongest competitors in Dane. And they already know that me and Adam are tight. Mark – but they know that you'll take Kyra and Adam will take Kyra. Dane – so that when we get to the final 3 .. they know that I will take them and Adam will also take them. So they won't have any suspicions about the four. Mark – right. Dane – this is going to work. Mark hugs Dane. Dane – we will just tell Adam and Kyra to go meet up in that HOH. Mark – they would never go against Adam. They would gladly say the words ..I vote to evict Anthony. Mark – if its a double I should win (HOH) and then you win the next one. Dane – yeah, I really want to see a video of coco. Mark – you get an academy award.. I know you could have done a lot better in challenge. Dane – dude, I did nothing. Mark – on a scale what would you day you did .. 40? Dane – yeah.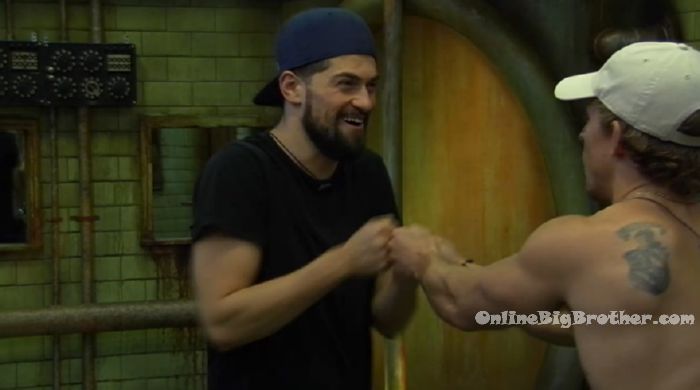 1am Adam, Esti, Kyra, Dane, Mark and Damien chatting about random things.
Show your support by making a donation.