POV Holder:
?
POV Competition
Aug 29th
POV Used
?
POV Ceremony
Aug 31st
HOH
Vanessa
Next HOH
Sept 3rd
Original Nominations:
? and ?
After POV Nominations:
?and ?
Have Nots
?
10:23pm Austin tells Liz he was just talking to vanessa about final 5, Final 4 scenarios
Austin – Meg and JAmes already told her about Brass tack it was the first thing they told her this morning when they tried to flip it
Liz calls Julia a idiot says she's not playing the game. (Julia was making a big deal about brass tacks and telling Vanessa too much)
Liz – you need to get your head in the game
Julia – Who
Liz – you
Julia- wait what did you say
Liz – you need to get your head in the game, you're so aluf it freaks me out I'm scared..
Julia – I'm sorry I won't let this consume my mother f****g life this life out of here and it's great
Liz – I'm done with everyone in this game except for you, vanessa and Austin
About goblins going up "I can't wait to see the look on their face" #BB17 @DawgsBigBrother pic.twitter.com/YyWnhjP6PT

— OnlineBigBrother.com (@bigbspoilers) August 28, 2015
11:03pm Vanessa reads out her letter from Mel
Vanessa – Yeah she still loves me
Vanessa got a new beanie
[envira-gallery id="130805″]
11:16pm HOH Austin, Twins and Vanessa
Vanessa saying Meg still hasn't congratulate her for winning HOH at least James has.
Austn – the vote won't flip me and the twins control it 3-2 whatever you want we're doing.
Vaenssa – that's the only option I will never put you guys up
Vanessa wants to put up the goblins with Johnnymac being the back door, "You have to fight for that Veto, The noms should stay the same"
Vanessa – they don't know I'm with you guys.. They bought it that we never buried that hatchet
Vanessa tells them she's loyal to them more than Steve.
Points out once they get James out they have no more physical threats in the house.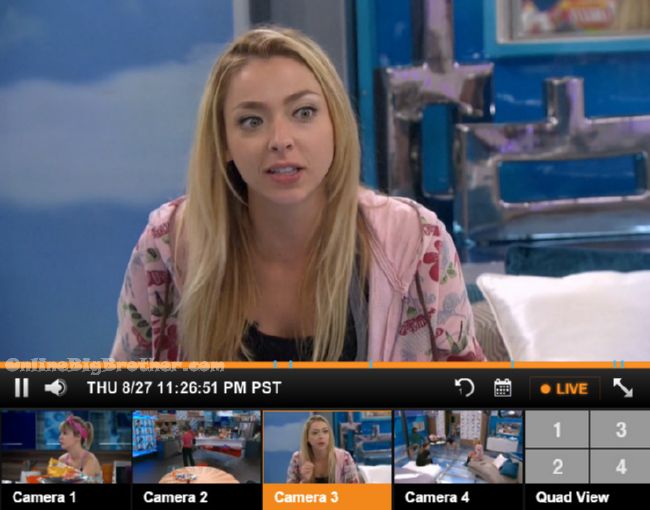 After about 30 minutes of vanessa telling them the advantages of keeping Jmac and getting rid of the goblins the twins are ready to join up
Julia – them two, Meg and James they were the ones telling johnnymac they wanted to keep him it makes us look horrible
Vanessa – of course they are going to say that
Vanessa – I think everyone was fighting today
Austin – except for Julia
Vanessa – we need reasons.. i need johnnymac to feel good about you guys he's really suspicious about the 5 of us
Boy comes back they ask him to start coming up with reasons to get out a goblin.
Vanessa – I want a smoking gun
Steve brings up stuff that happened week 1 with James and with him throwing the BOB.
Austin – right now they have the jury house.. you have all your friends in jury
Austin thinks that's reason enough it's a strategic move.
They agree Shelli was "acting weird" towards Vanessa.
Steve – I feel bad about him he's in a house with people that voted him out
vanessa says she will make a deal with jmac if he wins the HOH he goes after the goblins. If he doesn't accept the deal he'll go up
Vanessa says if she goes on the block next week they have to vote for her
The twins tell her they're not going to screw her like they screwed Becky they have Vanessa's back.
Vanessa – Brass tacks my a$$ stick a brass tacks uyp your a$$
Vanessa – I'm not going to warn them I'm just going to put them up ..
They all love their alliance because they win and the other side doesn't win 'Sorry not sorry"
Liz – these last three weeks have been epic me him and now you WHAT!
Julia – I hope the noms the same and James get to stepping
Austin – Meg's just as bad
They're now agreeing the next HOH will be questions James has no chance so getting rid of Meg isn't the worst idea.
Austin says they are going to act surprised about Vanessa's nominations they're going to maintain the ruse they are pushing for JOhnnymac and Steve up.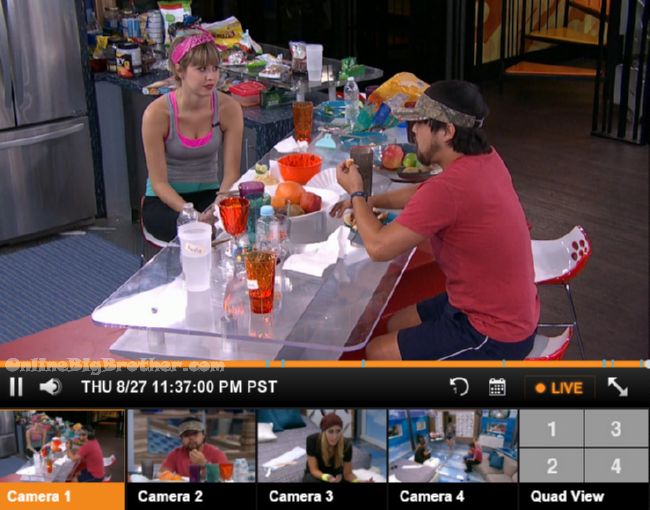 11:34pm Goblins
Talking about they're being two power couples in the house Austin and Liz and Liz and Julia. They have to get Liz out first.
Meg – I'm going to be pissed if they start targeting us we haven't been involved in anything with them.
James wonders if Vanessa will take the chance and take out a big player.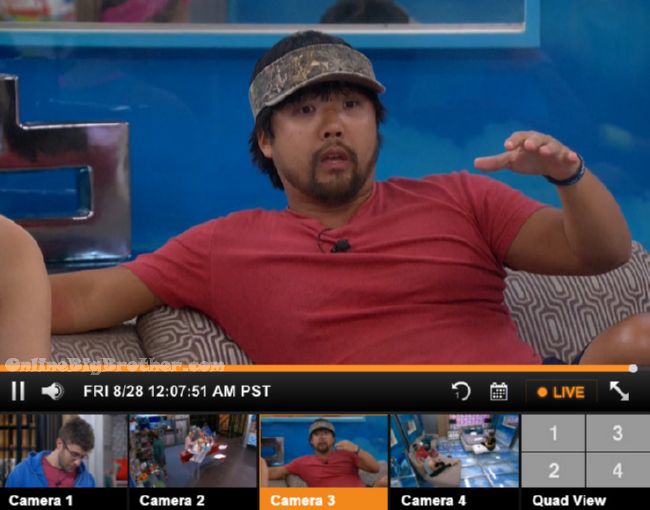 12:05AM Goblins on the HOH
Vanessa saying how last week everyone was coming after her but she saved herself by winning the veto.
Goblins start telling her if they had won the veto they would have kept the noms the same
The goblins say they had no idea there was a plan to backdoor Vanessa last week.
James – we never talk game talk to Steve or Johnnymac
Vanessa -My biggest concern is the amount of shit talking about me that went on
Vanessa- no one had the balls to tell me everyone was equally at fault you were all in a group with me.
Vanessa – how do you guys feel about being pawns
Meg – it's scary because the numbers technically could not be in our favour.
Meg suggests Steve as a pawn. Vanessa says Steve just went up it would look douchie if he went up again.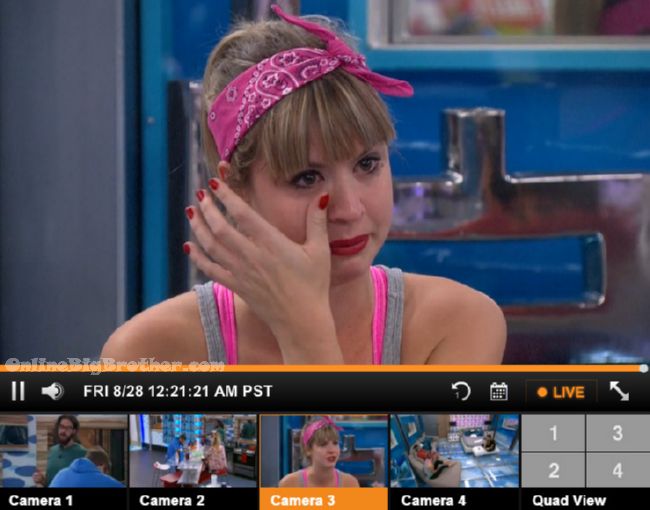 James volunteers to go up instead of Meg. Meg volunteers to go up instead of James.
Meg starts to cry
Vanessa tells them what type of deal will they offer her if she doesn't put them up as a pawn. James says he won't go after Vanessa points out that Austin and the twins have to be broken up. Adds that he loves Austin and the twins but from a game perceptive they have to go.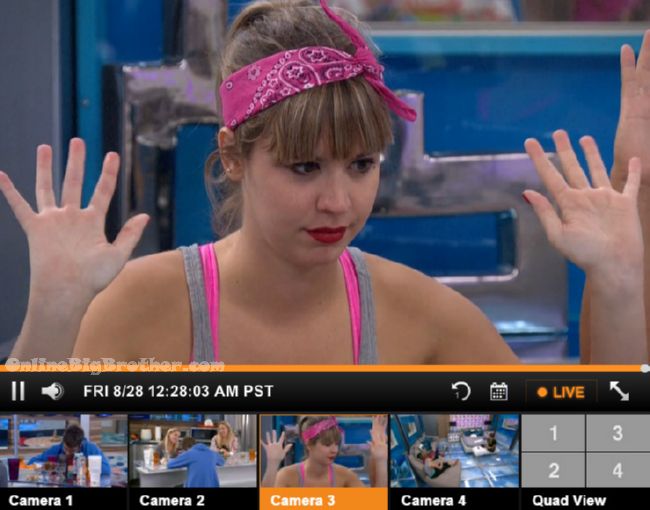 Goblins give Vanessa their word they won't put her up if they stay off the block.
12:29Am bathroom Austin, Meg and James
Wondering why Jmac is so popular. James says it's because of his Diary rooms that's what Steve told James. . Austin points out how the majority of fans don't see him sleeping all day.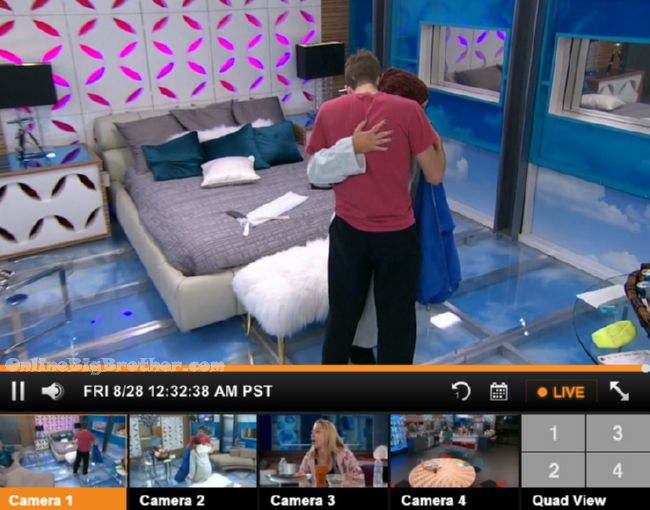 12:33AM HOH Vanessa and Steve She tells him he's her number 2, "You and I can go all the way in this thing"
Vanessa – The best option is James and Meg
Steve – YES
Steve needs to make sure things are OK between him and Johnny
Steve points out Jmac had a lot of applause
Vanessa can understand that people think he's funny she gets his humor the twins don't.
Vanessa says her ideal final 6 will be Austin the twins, her, Steve and Johnnymac.
She is confident they are stronger than Austin/Twins in competitions.
Vanessa says the goblins still think Johnnymac is going up and they were both fighting on who would go up as the pawn.
Steve laughs "Well they're better people than we are
Vanessa – oh my god they are so much better than us
ALLIANCES:
"Goblins/Gremlins" = James and Meg
"The Generals" = anyone allied with Becky
"SOS" (Students of Sound) = Steve and Vanessa
Rockstars = Steve and Jmac
AUS-Twins = Austin, Julia and Liz
"Austin's Angels" = Austin, Liz, Julia, Vanessa
"Brass Tacks" = Gobins and Austwins
The new "Brass Tacks" = Aus-Twins, Meg, James + Vanessa
"Freaks and Geeks" "The Scamper Squad" = Aus-Twins, Vanessa, Steve
"The new Freaks and Geeks minus Vanessa" = Austin, Liz, Julia, Steve, Johnny Mac
"The Authority" = Austin, Liz, Julia, Steve
[polldaddy poll=9046808]