POV Holder:
?
POV Competition
Aug 29th
POV Used
?
POV Ceremony
Aug 31st
HOH
Vanessa
Next HOH
Sept 3rd
Original Nominations:
? and ?
After POV Nominations:
?and ?
Have Nots
?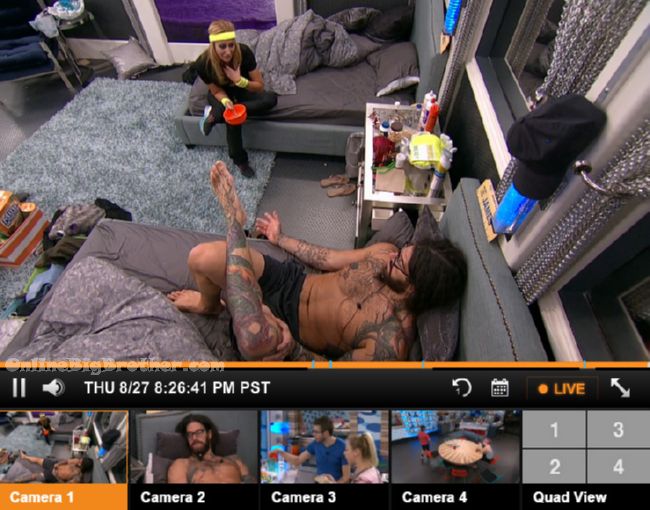 8:26pm Austin and Vanessa
Austin says he'll support her 100% whatever she does
Vanessa – I can't believe this.. you guys are my people and have always have been.
Liz joins them.
Vanessa says she's going to need reasons to do what she needs to do
Vanessa says keeping Steve and Johnnymac
Vanessa shows them how she held herself on the swing during the competition.
Liz says Becky called her a coward, "Because I told her she was a pawn"
Vanessa – instead of saying she's the target
8:38pm Bathroom Liz wants to confront Johnnymac about what he said "Obviously you made it clear you were coming after us"
Austin – we're going to be good next week..
Austin is going to walk up to Jmac tell him "Lets start over"
Austin – I'm going to go walk over there right now… why not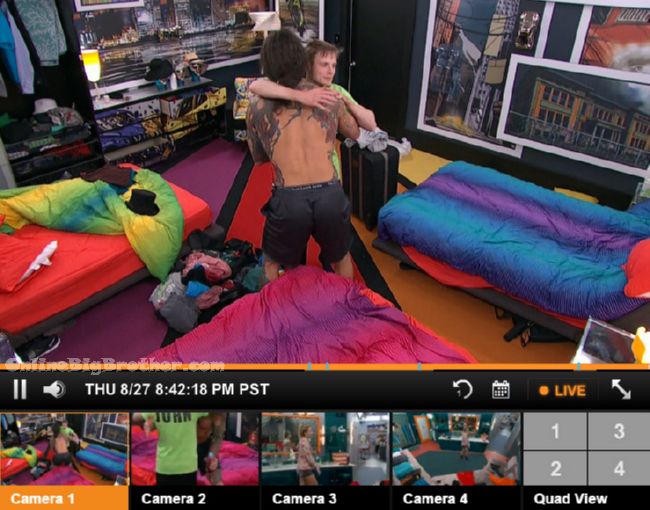 8:40pm Comic Room Austin and Jmac
Austin – I know you were coming after me with that comment
Jmac – RWWWWWAHAHAAAA
Austin – I'm hoping we can start over..
Jmac – YA ya ya
Austin – lets start over
Jmac – YA YUA YA
Jmac – RRRWRWWRRWRW
Jmac – you were in a situation you had a deal with everyone, and it sucked
They hug it out..
Jmac – Dude we're cool RRRRWAWHGJJHZXZ
Asuitn – we're cool
Vanessa comes in
They tell her they just cleared the air about last week "REset"
Jmac leaves

Austin – it's good to be the bigger person
Vanessa – Meg and James never said congrats the only people
JUJU Joins them
Julia – Did I congratulate you
Vanessa – you don't have to
Vanessa says it came down to her and all the jurors in the endurance competitions
Vanessa- it was 100% heart I wanted it
Vanessa tells them having Steve and Johnnymac in the game gives them all a layer of protection because they are a known pair.
Vanessa – I know you guys feel great about Meg and james But I don't
Vanessa – I hate targeting them but that's the better game move
Austin – Johnnymac can always be the back door
Austin suggest putting a goblin up with Johnnymac and tell him he';s the real pawn
Vanessa says that runs the risk that the other goblins wins the POV.
Vanessa – I know there's now way to come out of this HOH with no blood
Vanessa tells them the goblins were going to flip you them this week if Vanessa was down.
Austin – so they were ready to flip it
Vanessa says she's putting the goblins straight up says James lied to her
Vanessa – I can always say I made a deal with Johnny
Austin – why are yo not putting Steve up
Vanessa says james is the bigger threat.
Austin – So we have to get back on board with johnny mac for a week
Vanessa says she'll make a deal with jmac he doesn't go up if he target Meg next week.
Julia joins them
8:57pm Comic room Twins, Austin and Vanessa
Vanessa Starts telling them about James and Meg last week talking about Austin and the twins as targets.
Vanessa – "They were trying to read me to see if they could flip me"
Vanessa – if you think they wouldn't put you up if they won you are deluding yourself
Vanessa – we need to get rid of the strongest physical threats that's why going after James is the plan
Vanessa – Austin's Angels is the sh1t
Liz – next week you need to get this JUJU
Austin- well now we can all play
Vanessa – how did I win that.. I'm just a romantic I wanted to hear from my girlfriend
Vanessa – I'm actually OK if Meg goes and James stays, James won't win the next HOH, Meg is smart and her social game is super strong I don't want her to float to the end and take out a strong player.
Austin – That's a good point
Austin – Once they are by themselves they are F*****, there game is attaching to bigger groups that's been there game since day one
Vanessa – Jackie, Becky, SHelli, JOhn
Austin – They went BOOM BOOM BOOM
Austin tells Vanessa to put Julia and Johnnymac on slop so that they can bond "It's good for the team.. just leave me and Julia out of it"
[envira-gallery id="130777″]
9:26pm Comic room Vanessa and the twins
Vanessa is pushing for James to go home this week. Says nobody will beat him in the finals because he has a daughter.
Liz – words cant describe how happy I am you won
They agree Johnnymac coming back is better than one of the girls.
Vanessa tells them she wants final four with the twins and Austin
Vanessa tells them she knows how to count cards.
Julia – isn't that illegal
Vanessa – it's not illegal
Vanessa – counting cards requires a team
Vanessa says she got away with counting cards.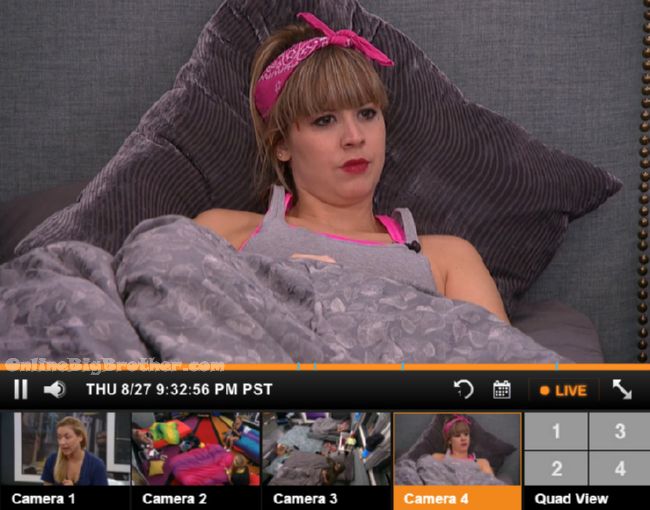 9:33pm Goblins
Meg says she feels closer to Vanessa than ever before "She finally gets me"
James tells her to do her thing but if it doesn't work make sure she give him a kiss walking out the door.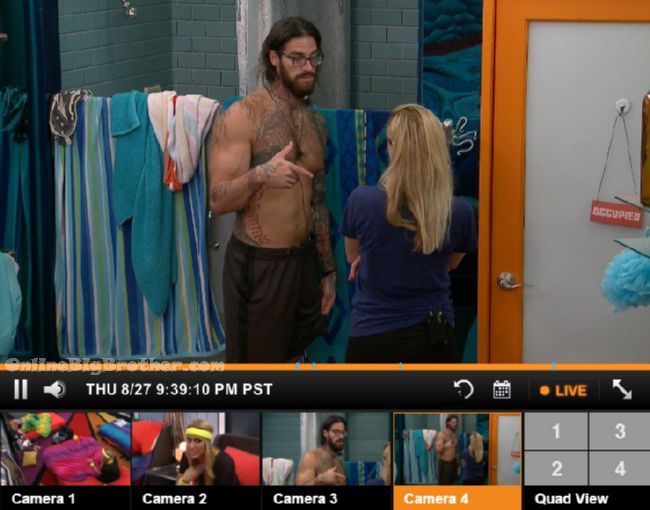 9:38pm Liz and Austin
Liz is sacred Meg and James are going to bring up stuff about brass tacks that don't include Vanessa.
Austin says it's going to be OK he's already talked to Vanessa.
9:46pm Twins and Austin
Talking about the goblins going up this week. The twins are worried the goblins will tell Vanessa about their alliance.
Austin – they are going to try and spin it like we're targeting her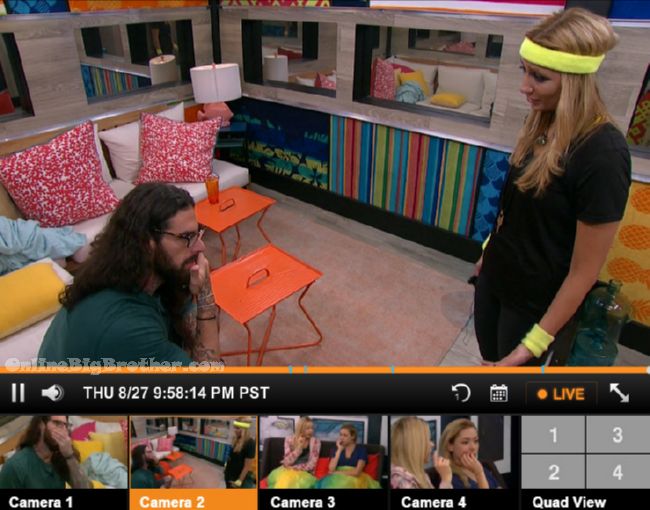 9:57pm – 10:22pm Vanessa and Austin
Austin – My HOH was the buffoon week.. I wonder that's what the people at home are thinking
Austin – something's not sitting right about Meg and James with me.
They agree Meg can't win sh1t. Vanessa is really keen on making some kind of gambling deal where she will take a percentage of the winnings gamble it and distribute the winnings to the house guests.
Vanessa tells him every single alliance she's been in has included Austin.
Austin tells her Liz will never go against her twins sister. If he scumbags Liz he would lose a lot of Jury Votes. Austin tells her he might just bow out of the final 3 if it's him, Liz and Vanessa in the final 3. He feels Vanessa would have a better chance of winning if she takes Austin over Liz to the end.
Vanessa – I have such a good feeling about you guys
Austin explains how the goblins were building up this big scene to him and the twins.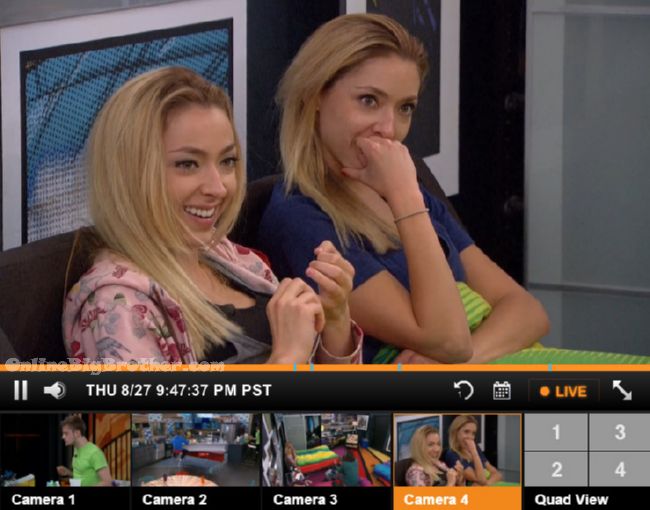 9:57pm Julia and Liz
Julia is pissed that Austin is too close to the goblins and by keeping James in the game he's going to take one of the twins out.
Julia is saying Austin is just here for his wrestling
ALLIANCES:
"Goblins/Gremlins" = James and Meg
"The Generals" = anyone allied with Becky
"SOS" (Students of Sound) = Steve and Vanessa
Rockstars = Steve and Jmac
AUS-Twins = Austin, Julia and Liz
"Austin's Angels" = Austin, Liz, Julia, Vanessa
"Brass Tacks" = Gobins and Austwins
The new "Brass Tacks" = Aus-Twins, Meg, James + Vanessa
"Freaks and Geeks" "The Scamper Squad" = Aus-Twins, Vanessa, Steve
"The new Freaks and Geeks minus Vanessa" = Austin, Liz, Julia, Steve, Johnny Mac
"The Authority" = Austin, Liz, Julia, Steve
[polldaddy poll=9046808]