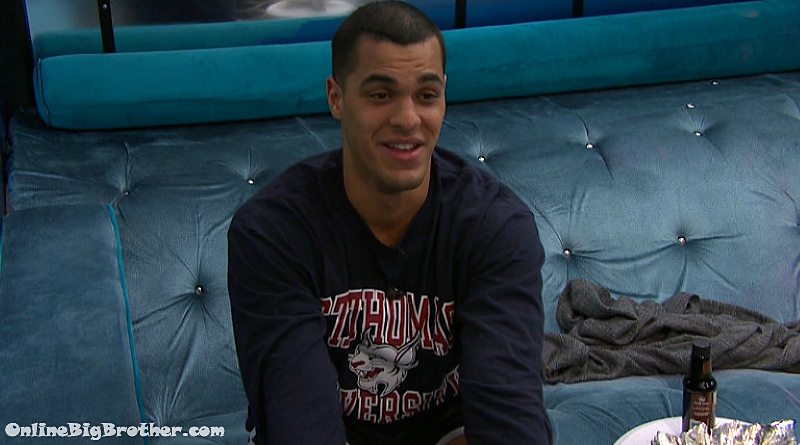 8:13am Meatball chat
J – I was thinking.. I can actually win this thing.. I can actually win
J – I had this dream for so long
J – if it wasn't for god.. I don't know if this would have happened. If I didn't have strength in praying and remaining positive and looking past what I was facing in at the moment
J – it was all worth it.. I made it to the end.. I stayed strong I remained strong and I was able to share my light (You're light?)
J – my mom was like .. share your light and share your positive energy
J – you never know who's watching you never know whose day you can change
J – I played my heart out, I'm happy at the way I played this game
J – I'm happy that I didn't give a crap
J – I was fearless
J – I remained myself the whole game.. I stayed true to my morales.. I stayed true to who I am
J – I had to lie here and there .. to Jason but that's the name of the game
J – I had to play the game.. and I think I played the best game as a rookie .. that I could have played not the best game in the house.
J – I won comps.. gave every single competition everything I have
J – I stuck loyal to Groundhog and Paul
J – I'm extremely happy with my game play, I hope that the fans and you guys see that (lol)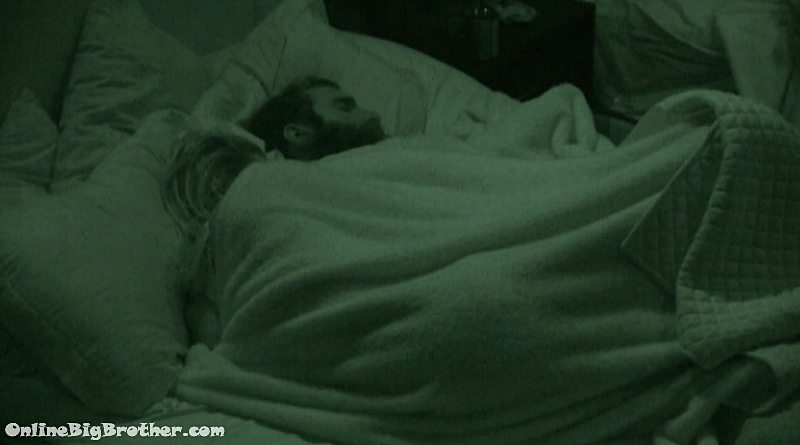 8:53am Zzzzzzzz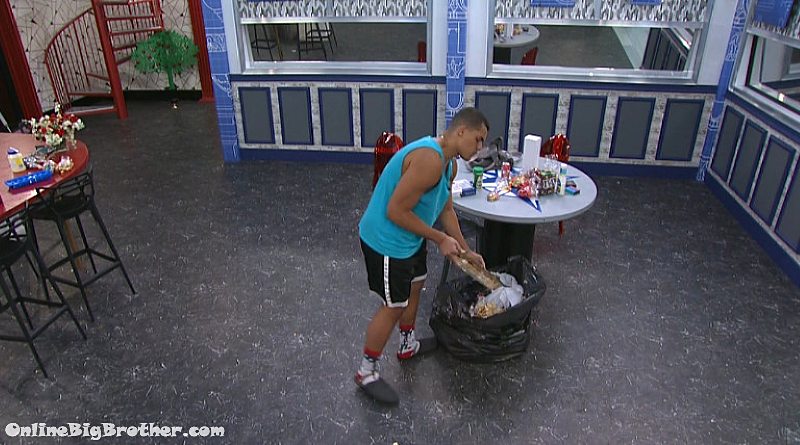 9:33am Josh has been up and is cleaning the kitchen,.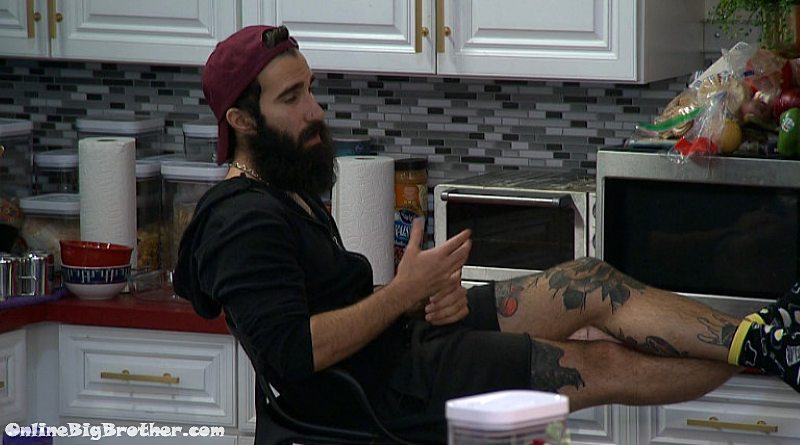 1:25PM Paul practicing his speech
p – had control of the numbers in the house nobody could take a shot at me
P – won 2 HOH's .. f* I should talk about that..
P – It was easy to always to make a target.. it was easy to make a house target that wasn't me
P – I pretty much controlled every HOH, the two that I didn't.. I was the one that flipped the house for Groundhog and I was the one that flipped the house for Josh
P – I flipped the house for my game.. I flipped the house for Groundhog day and Josh
P – after that first double eviction I knew I had to change my strategy because there wasn't a lot of house targets left
P – so I positioned myself between 3 pairs
P – my positioning was so perfect at that point that I didn't even have to win any competitions.. instead I let others win and they took shots at each other while I walked my way to the end and they did all the work for me
P – They took shots at each other.. the pairs took themselves down and I ended up with the final group Josh and Groundhog day
P – then I had to win myself to the top, I want the most important HOH to secure myself in final 3 and I won the veto.. then I won part 1 and part 3 of the final HOH.
P – I secured my spot right here and I got to choose who came with me
P – total of 10 competition wins and every time I won a HOH I won the veto to go with it, every time I was in power I had full control of my week. (except for when the HEx was used)
P – the second I walked through those doors I worked my a$$ off day after day.. I was the biggest target and the most obvious threat.. I made it this far without touching the block one single time.
P – That's not by luck and that's not by friendship (it's by productions help.. Kidding don't worry 😉 )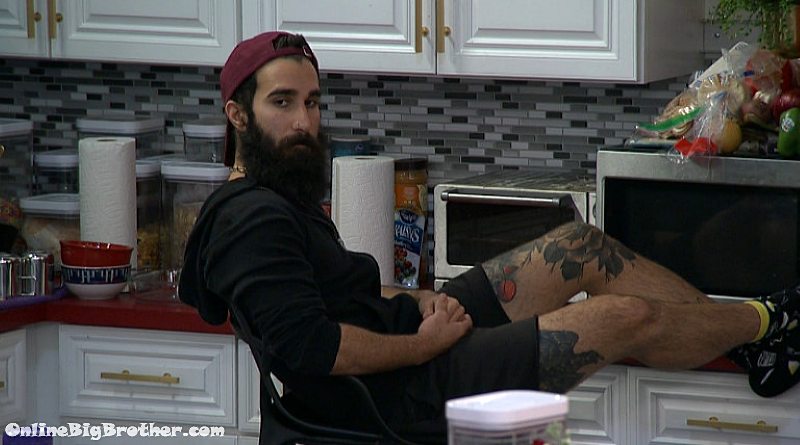 Paul continues to practice..
P – I dodged my way to the end..
P – I used my social game..
P – Houseguests I know at some point all of you thought about taking me out
P – the second I walked through those doors I was immediately put at a disadvantage
P – you all know who I was and how I played.. I had to play a completely different game
P – of course I didn't want the first HOH i had enemies I needed someone else to win and start creating enemies of their own which they did, Sorry Cody
P – I used my social game to get control of the numbers and I made sure there was a house targets and from that point forward everyone asked for my advice and it was easy to make a target in front of me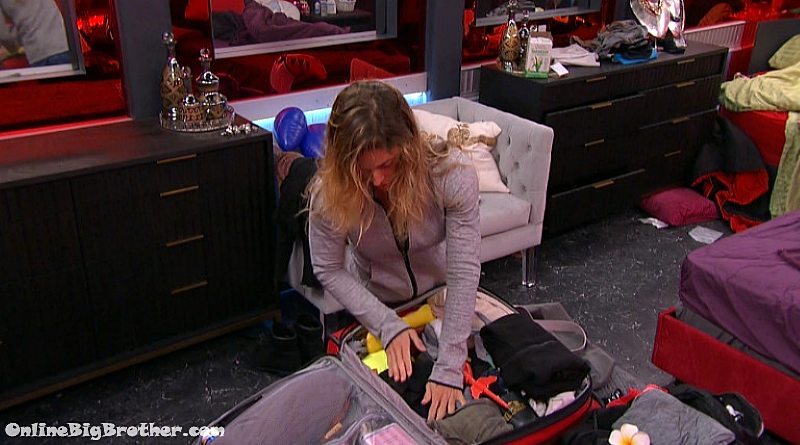 4:26pm Groundhog packing up her stuff..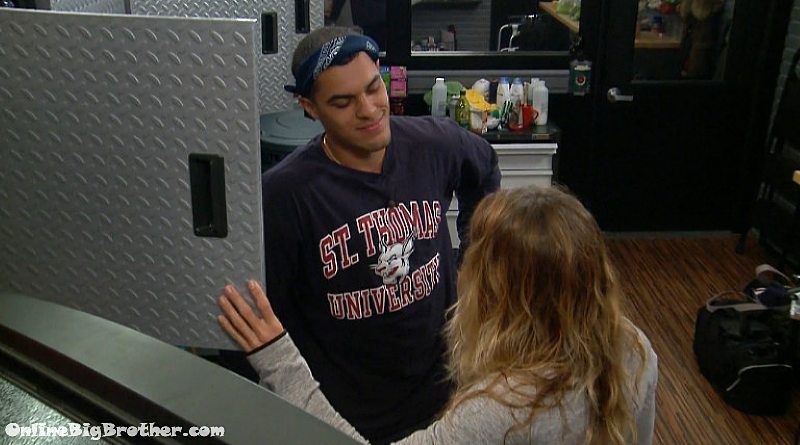 4:41pm Josh and groundhog
She telling him to not freak out today spend their last day enjoying themselves.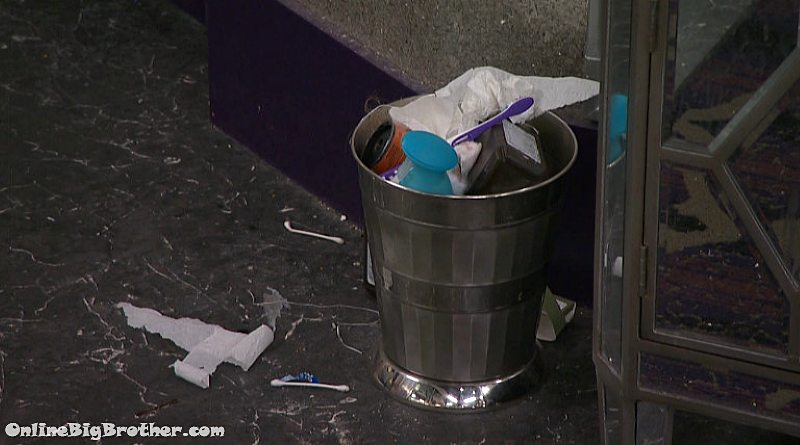 6:00pm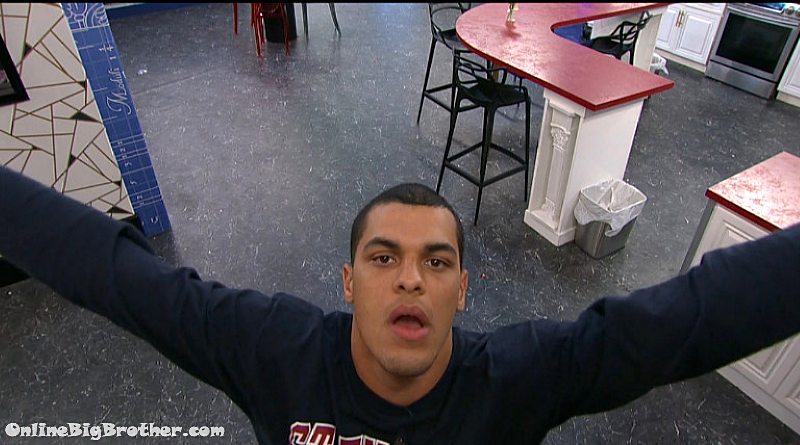 7:09pm Josh
J – I'm trying to cook a home cook meal for us because we're anxious and stressed..
J – I'm trying to figure out my speech… be able to explain my game in a minute
J – Hope I win man, this will change my life.. I mean it'll change all of our lives
J – it'll make our lives a 100 times better.. it would be great
J – i'm just happy.. it's a lot of emotion it's scary.. i've never felt like this.. ever
J – Paul's kinda scaring me because he's anxious and it's making me anxious..
J – he's been cool the whole game and now he's spazzing.. What the f*
J – 1 more competition tomorrow..
J – I've been thinking about who to take to the end.. .to be honest with you as crazy as this sounds umm, I'm going with Paul to the end.
J – because… yeah he's a vey and played a great game but I know jury doesn't want to see a vet win
J – I know that Raven doesn't want to see a vet win (zomg)
J – Matt doesn't, Alex doesn't, Jason doesn't, Friday the 13th doesn't, That's 5 votes
J – that's all I need.. I just gotta articulate my words.. is that the right word
J – I just got to make sure I break down my game and you know he's played a great game, an aggressive game and he played 24/7 but so did I.
J – From day 1 hour 1, I got off the trapease and I had to save myself and get safety because it wasn't going to be Camerons a$$ it was going to be me if I was up there.. So I've been playing since day 1
J – going from the golden apple to finale..
J – I've been on my toes, putting targets on people's back, Winning HOH, taking shots, being a pawn, going up on the block being a target
J – being loyal.. picking my allies wisely, sticking with my allies..
J – Going against Jason and Alex
J – I f*ing played a great game .. either I'm gassed up on it or i'm ummm thinking I played.. it's been a f*ing hurricane but I've played a pretty decent game.
J – To wear I feel good and confident enough to wear I'm standing.. if i'm sitting next to either or I could state my case. It comes down to who's more liked in Jury.
J – I think with Friday the 13th if she's sitting next to me in the end she'll beat me .. i think that she'll have cody, elena, marks, she'll beat me in the end.
J – I have to go against Paul.. we're kinda the most hated.. he played it safe he's played an aggressive game but he also hasn't made any moves (eck .. did Josh get dropped?)
J – I don't know 1 move he's made that's like.. like I think me taking out Alex was a big move me taking out Jessica was a big move me putting a target on Elena was a big move .. me putting a target on mark the whole game was Big
J – me… you know having the house thinking we're going after Kevin but we blindsided Jason was big
J – Picking my allies week 1 and sticking by them.. having their back and playing the game the whole way through.
J – putting the target on people's back.. calling people out.. just calling people out putting a target on their back..
J – Winning competitions taking shots .. played the strategic social game.. was a team player.. targets on people's back..
J – I played a fearless game.. played a mental game
J – Through Mark off his game, threw Elena off her game, threw Jessica off her game.. threw Cody off his game.. threw Kevin off his game
J – I was throwing people off their game left and right
J – when you play sports there's always a person running their mouth..
J – they couldn't zone me out this season.. they played themselves..
J – being underestimated..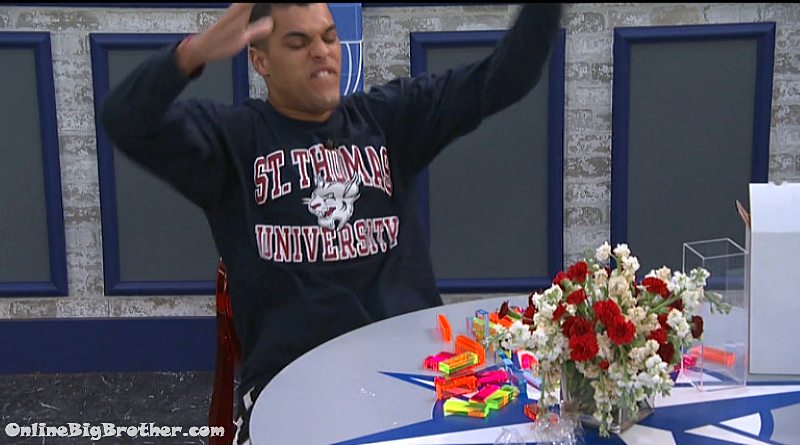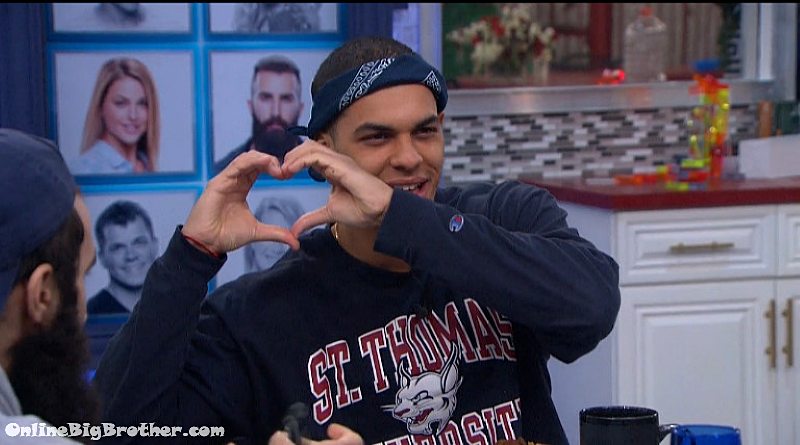 9:00pm Dinner time

9:35pm
After dinner the final 3 get in bed together. Christmas goes to the diary room. Josh – I'm going to be excited about seeing people I haven't seen. Paul – I'm excited to see Rameses. Josh agrees. And says Dominique. Paul – I don't think Dominique is going to give a f**k to see any of us. Paul – Ramese is going to be cool. Paul – Dominique isn't going to give a sh*t about any of us. She'll be like f**k yall you betrayed me. y show was lit. Josh – she's been gone for a minute. Paul – doesn't matter, she left salty. Josh – so did the hex girl, what was her name again. Paul – Yeah but I don't think she's the type to stay salty. Josh – Jillian will be cool. Paul agrees. Jillian and Cameron will be cool. Josh – I want to get to know Cameron, like for real we don't know sh*t about him. I was to know where he is from. Paul – he's from Illinois. Josh – he was here for a whole 5 minutes. Paul – Kevin will be cool. I think Jason will be cool. Josh – who do you think will be bitter in jury? Elena? Paul – no, she'll be ready to come out and drink and party. I don't think anyone will be bitter in jury. Maybe Raven. Josh – yeah Raven holds grudges.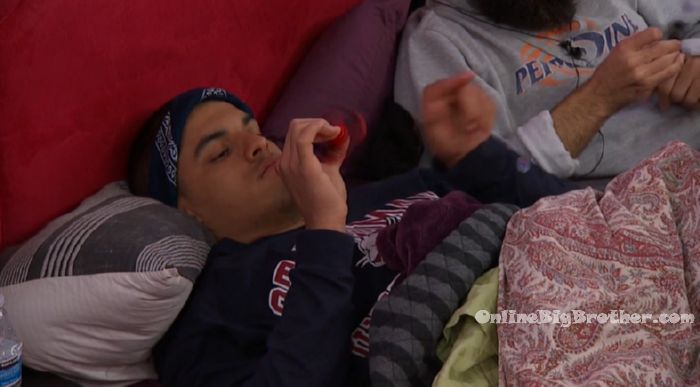 11pm – 12am Paul goes to shower. Christmas joins him in the bathroom. After they all head back to bed together.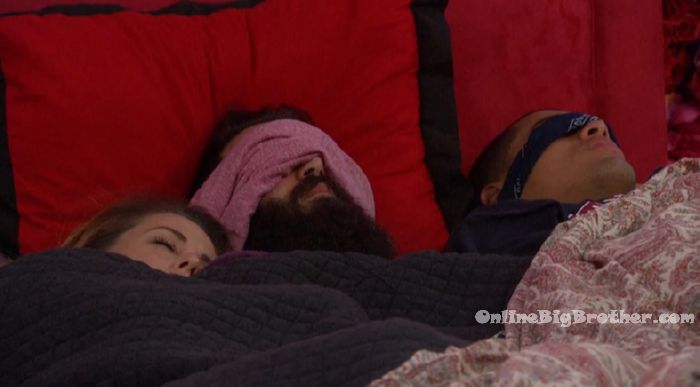 12am Paul and Christmas have gone to sleep.
12:30am Josh gets up to go to the washroom. He then does push ups and has a shower..
12:50am The final 3 have now gone to sleep for the last time in the BB house…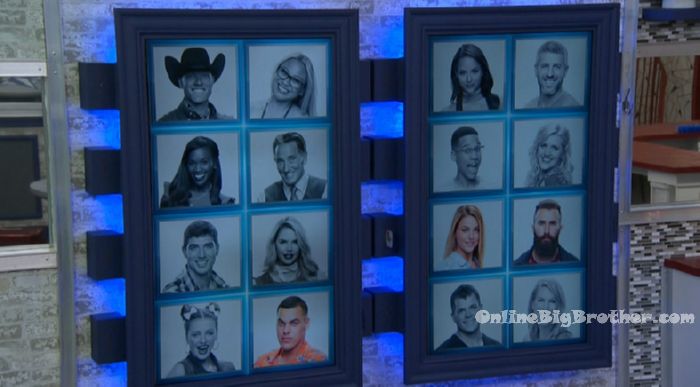 If you plan on buying anything from Amazon. Use this link Amazon home
Doesn't cost you anything and we get a small cut.
Links to the ranking system
Rank your house guests here
For those of you that like Statistics here are some expanded reports.