Head of Household: Tera
Nominations: BETH and JED
The Power of Veto Players are: ?
POwer of Veto Winner: ?
Power of Veto Ceremony: ?
Have nots : Beth, Ty, Jed
Big Brother Spoilers – Tera is nominating Jed and BETH.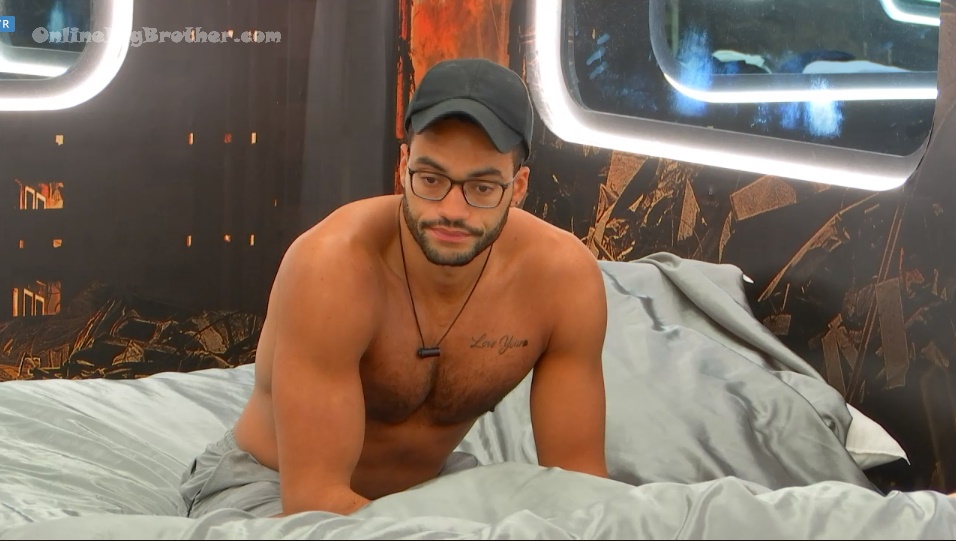 9:30 am Beth and Jed
Going over scenarios thinking there's a chance BReydon and Kiefer going up. Little do they know Production has their back so no need to worry go back to banging.
beth – I need to pull Kiefer aside today and say we have to fake a backdoor with you and Ty in order to do that Keifer and I need to go to Tera separately and pitch to backdoor the boys.
Jed – putting one of us against Breydon.. it would be trash if Breydon won. (VetO)
Jed – it's more realistic to put one of us against BReydion. If BReydon comes down we have options where we can try and get her to put Kief up
Jed – if you put one of them up against Breydon you are not burning bridges with any of them. If one of them win veto we send (he makes a pop sound) home
Jed – if she put up Breydon and Ty to try and backdoor me it would be better… wait never mind we would never vote ty out never mind..
Beth – the plan needs to be we're backdooring you because she wants that sh1t if we are suggesting things outside of backdooring you,…
Jed – putting up Breydon and Kief I don't know if she'll do that.
Beth – if Ty and Breydon were up there and you won the veto you won't use it out of fear I would go up
They think they can fool Tera into thinking they would vote Ty out
Beth – she promised on her kids I would never go up ..
Jed – that's fine then you aren't going up this week.. that's perfect..
beth – If I go up I'm bringing that up immediately ..
Jed – best case you win it, Second best I win it, or Kief because Kief will take me off..
Jed says it's almost b4etter Keif wins veto if Beth won't go up and Kief has a veto Tera's only option is Breydon.
Beth reiterates all they need to do is get Breydon "up there"
Jed – in every scenario you and me are good. as long as you don't go up all three of us are good.. if you aren't an option we're good. The veto will be used.
Beth – so I tell Breydon I want to backdoor you this week and Kiefer is onbaord
Jed – Tera's a wildcard she wants to do random sh1t (Yeah targeting you three buffoons is random sh1t)
Jed keeps saying "We have options"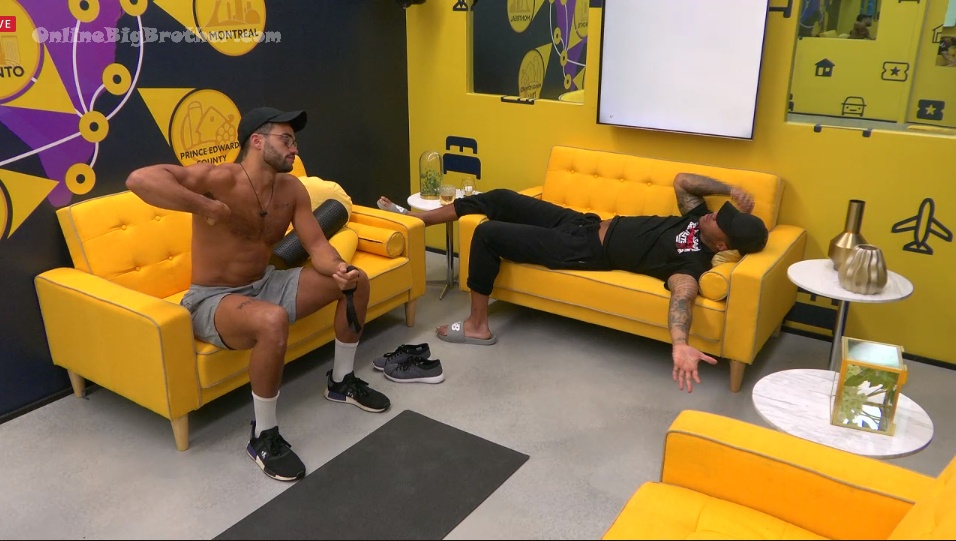 9:51 am Jed and Ty
Jed brings up the fake backdoor plan they can pitch to Tera. Put up Kiefer and Breydon with the plan to backdoor Jed.
Jed says the realistic scenarios is both of them or one of them and Breydon
Ty doesn't see just one of them going up
Jed explains that by putting one up doesn't burn all the bridges
Jed says Beth isn't going up
Ty – Kiefer is saying she puts up Beth.. Breydon doesn't seem to know
Jed says there's personal sh1t beth can say.. "the women thing.. this whole game Tera has been saying it's a boys game the boys will take you out they will steamroll you"
jed doesn't think Tera will put beth up because then she will be the cause of making this a Boys game because beth will be evicted if she goes up.
Ty – if she puts up Kiefer and Brey we can say we'll work with you to the end.
Jed thinks Breydon will use the veto on them "every scenario people will use the veto"
Ty – best case we pitch Tera final 4
Ty says they all need to make this pitch together and then once they start talking about snaking each other they'll do that separate (LOL good plan Ty)
jed – even if both of us go up we can still get out of it
Ty – we can I'm not that shook about it
jed – make her aware about the repercussions of certain moves because she can't play next week
Ty – I want to know what's in her head..
Jed thinks he's her target.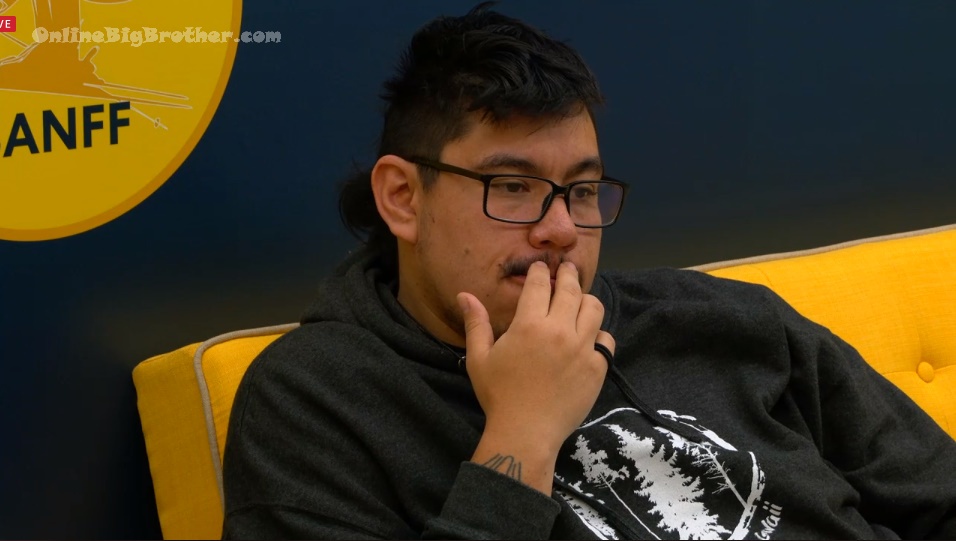 Kiefer joins them
Jed asks him if every scenario the veto get played
Kiefer – you guys gotta gun for it we're getting into the deep dark of the game..
Kiefer – if one of us win the veto the three of us will be here next week
Kiefer – I don't know what Beth does to be honest I think she might use it.. Final 6 the game feels different.
Jed – it is its intricate
Kiefer – Beth is still playing the game week 4 trying to make alliances getting people to turn on each other. The only way to get safety is to win. Take the game into your own hands now.
Kiefer – brey's going to gun hard he hasn't won anything. He might use it. If he uses it Beth will beg him not to . Beth will most likely be the replacement
jed – I don't know if tera will put her up because then she'll be the only female left in this game. She's all about this not being a boy's game.
jed – she's a wildcard..
Jed leaves..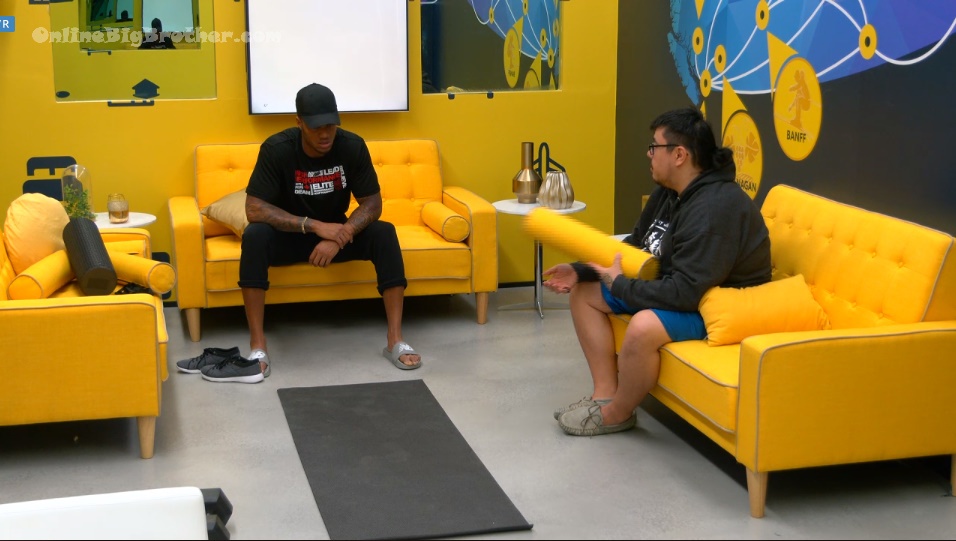 Kiefer – if Beth wins the veto does she use it?
Ty – no
Keifer – me neither I also don't think she wants to win
Ty – Best-case scenario in my mind is Jed and Beth are on that block. The reality is I don't think two of them can continue in this game. I think Beth has to go
Kiefer – I agree. She does too much
Ty – I know, She doesn't sit well with me.
Kiefe r- Breydon even said she's getting annoyed at what Beth is trying to do
Ty mentions Beth saying Tera swore on some "dark sh1t" her kids.
Kiefer – Tera doesn't care you leave that at the door
Kiefer – if you guys win the veto there is no chance sBeth doesn't hit the block.
Kiefer adds there's no guarantee Beth tries to win the veto
Kiefer says if Ty wins the veto it'll be Jed and Beth on the block Thursday.
K – if I win next week there's a zero percent chance you go up
Ty – Kief I would never put you up
They agree they knew the two of them were at the bottom of the group. Kiefer just didn't know he was so low.
Kiefer – it happened a bit sooner than I thought
Ty – I didn't see that coming
Kiefer – to save face with Breydon?
K – Breydon wouldn't have cared if he was on the block BlueLine would have still left. Why make an enemy out of me.
Kiefer – honestly it's going to send them home that one move keeping me. I'm not going to let them beat me.
Ty – Kief they showed you what it is. They made it clear they made it super clear.
Kiefer points out Beth was the only one not crying when they told him he's going up.
Kiefer – if I win that veto I pull your a$$ down if you're not up I don't use it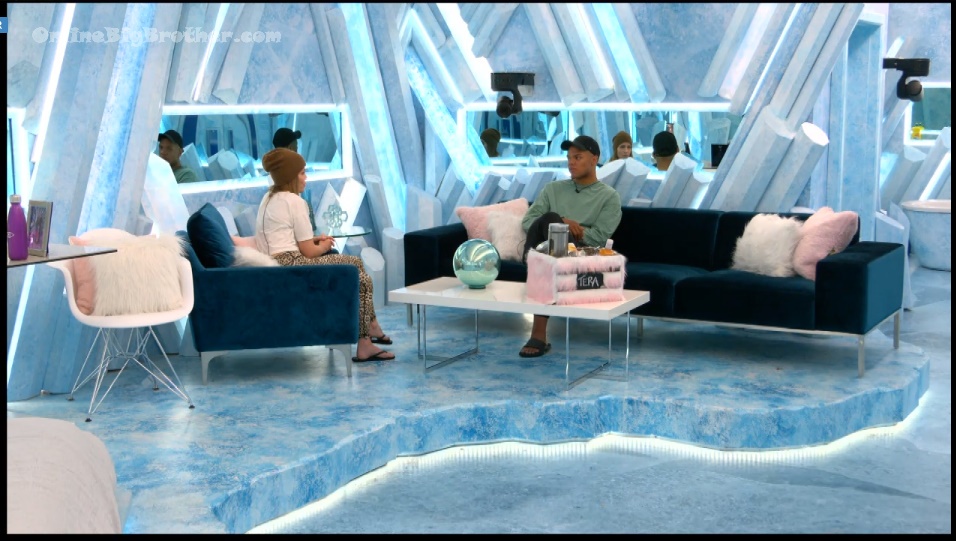 10:15 am Breydon and Tera
Breydon – best-case scenario is me or Keifer win (VetO)
B – do you think Beth is going to gun for it? I don't think she will
Breydon thinks Beth threw the HOH.
Tera – I don't really care which one as long as it's one of the trio.
Tera adds they can then hope the remaining two go after Kiefer.
They talk about Jed, Beth, and Jed practicing their Jury pitches on Tina hoping she would work for them in Jury.
Tear – I need you to gun for that Veto
Breydon – I will be gunning for it HARD
Tera – if Kiefer goes they're coming for me and you, they're coming for us hard
Breydon – of course.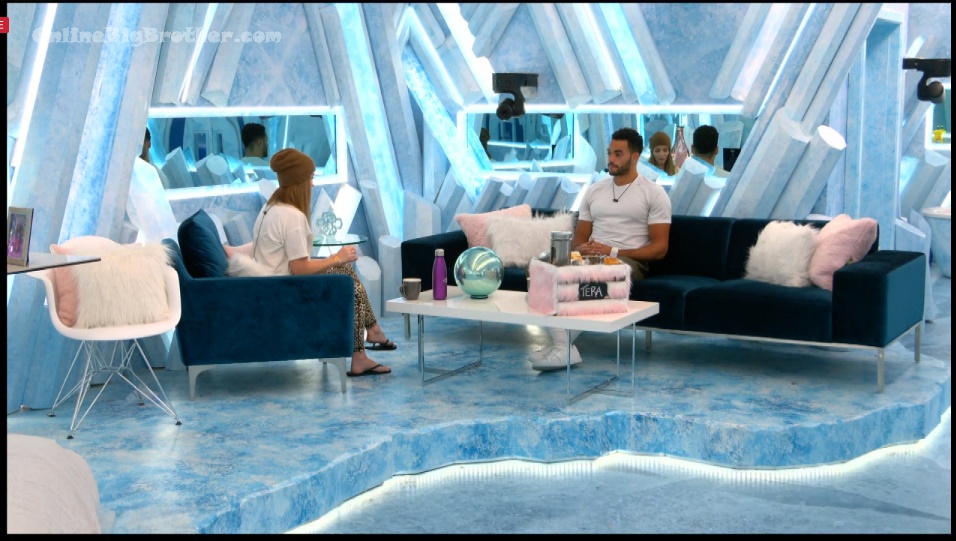 10:44 am Jed and Tera
Tera says if he's going on the block it's only because she wants him to win it and use it on himself, not on another person.
Tera – you are the only one that hasn't talked sh1t about any of them.
Tera – people gave Tina jury pitches she couldn't believe so many people gave her their final 2 speeches.
Tera – how are you giving jury pitches with 6 people in this game?
Tera makes it clear she's got no reason to go after Breydon.
Tera tells him again if he's on the block he's not Tera's "Big Target" she wants him to fight and win the veto for himself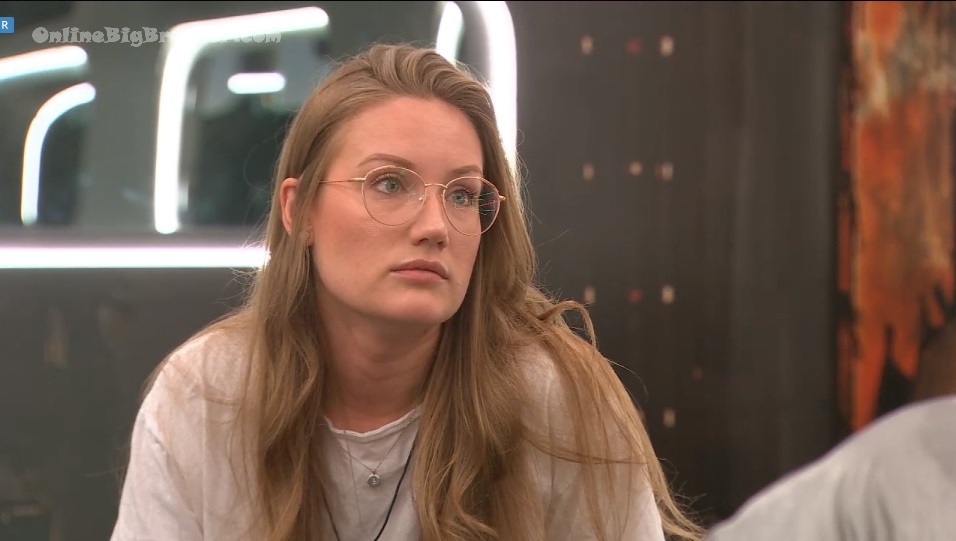 11:00 am Beth and Ty
Beth spiraling. They're going over what Ty should say when he goes up to talk to Tera.
Beth – I would go in there and pitch that we're all going to turn on each other
Ty – I can pitch the final four and then we'll all turn on each other and when we do it'll benefit you (Tera)
Beth – no even the final 4 say in the case you are in the final 4 whether if it's with me or Keifer or Breydon it doesn't have to be with the trio. Say I'm bringing you I can beat you
Ty – that's not a realistic promise I can make if I am final 4 HOH
Ty is trying to figure out how he can realistically pitch this to Tera
Beth – She's gone next week (Tera)
Ty – she's putting up one of us why would she put up Breydon
Beth – she saves face for next week.. She's a lone wolf. you are pissing everyone off next week so what do you do put up Keifer and have 3 boys pissed off at you next week.
TY – Beth, I don't think people make decisions moving forward based on emotion pissed off is not a reason to send someone home
Beth – she needs to set herself up.. you have to put it into her head that she needs to set herself up because you have nobody
ty – the problem is for that to work we all have to be on the same page.
Beth – she needs to think you and Jed are on the outs and me, Breydon and Keifer are planning
Beth – she needs to be fully f**ing convinced I want one of you two out this week
Ty – so on one hand we're trying to sell her that everybody will be pissed on the other hand you want to sell her that we're getting backdoored?
Ty – those stories are conflicting
Beth – you and Jed would never know you are getting backdoored.. EVER. You guys go in there like whatever. Me, Kiefer adn BReydon go in tehre and are like f*** yeah lets get them out
Ty – they have to be willing to go on the block for that plan to work (Breydon and Keifer)
Beth – Breydon has to go on the block 100%
Beth – Breydon needs to be like YEAH I'll go up as a pawn. (Good luck their Beth)
Ty – Breydon's not going to do that.
Beth – Breydon doesn't know what is going on
Ty – Do you think Breydon is going to volunteer to go on the block
Beth – if I go to RBeydon right now and say DUDE you have no chance of winning this game next to Jed and Ty this is our chance
Ty – I don't think … you'll he to have that conversation with Breydon to see if he's down for it
Beth is convinced they can get BReydon on the block and that is the best chance for the 4 of them to make it into next week.
Beth – I'll just say to Tera DUDE you never talk game to him put him up as a pawn It's easy. Keep me in your pocket keep Keifer in your pocket. you are fine with BReydon
Beth says Kiefer is acting funny "it's all we have we have to try"
Ty – I don't know if this is the move
Beth – what's the other move let her do whatever the f* she wants?
Beth says Kiefer wants to wait until noms but she doesn't want to they need to hit her now before wendy's (THey have to seel the pitch to put up Breydon)
Ty says he's worried about Keifer "I don't think he's the same guy now that the eviction ceremony is gone"
Ty – me and Jed you have to pull one of us down
Beth goes on that Tera has to truly believe she wants one of the two boys out.
11:33 pm Beth and Breydon
Beth continues being ridiculous. Beth brings up the idea they should backdoor JED.
Adds fun stuff like if they do this move this HOH his not on Tera's resume it's on theirs if they go into the HOH with the same story.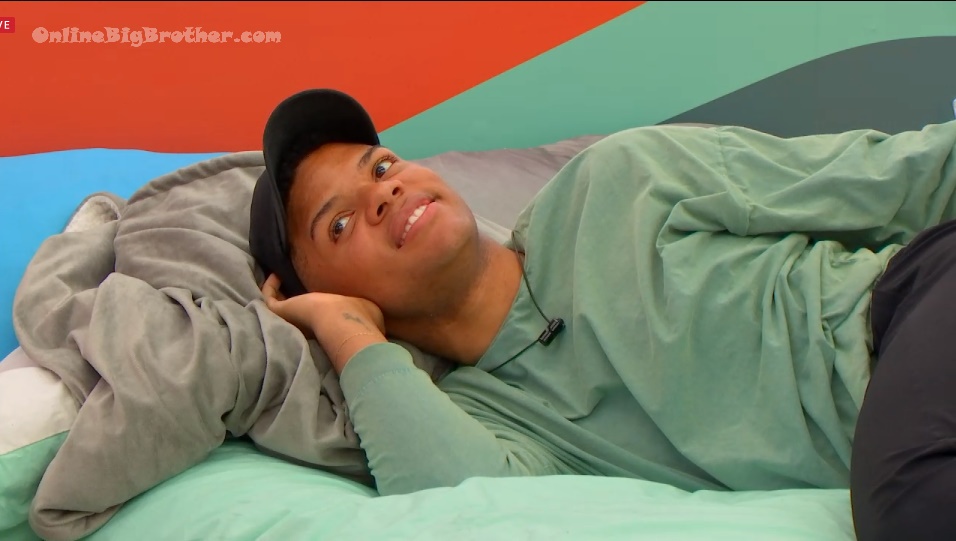 11:40 am Beth, Kiefer and Breydon
Beth tries to sell the backdoor Breydon plan. Breydon says he doesn't want to volunteer to go up as a pawn.
Beth leaves. Kiefer and Breydon roll their eyes..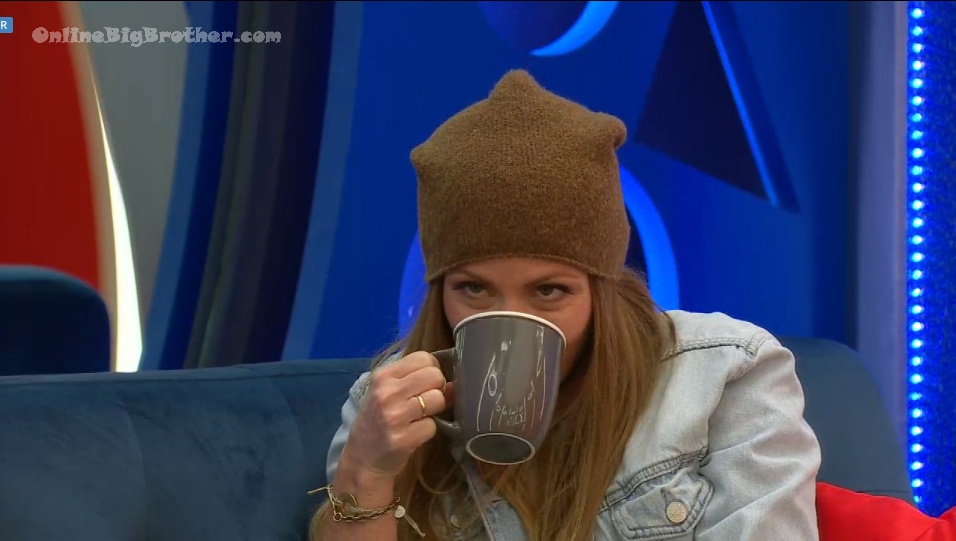 NOON Tera and Beth
Beth – I had a very serious conversation with Breydon on how this week should go
Tera – I let Breydon know I don't have a strong game relationship with you. You have not given me a reason not to trust you. Not to mention Breydon could be a target next week
Beth – I just see him sliding to the end because A, he's not really done anything
Tera – that's what I said when it was between him and Austin, Breydon is very dangerous he could slide all the way.
Beth – that's a reason to won this game. It's a strategy. People come into this game saying I'm going to float to the end
Tera – could that be a target somebody goes after next week instead of me? Maybe
Beth – I told him straight up.. I said DUDE you want to get far in this game I want to get far in this game you're going to think what I'm about to say is absolutely insane this is our chance with Tera and Kiefer to get Jed out (LOL)
Beth – he's like YES that's what we need to do. So I am surprised he hasn't come talk to you yet. If that's what you want
Tera – I want to avoid having to put you on the block
Beth – cause I go home
Tera – YES
Beth – if I go home you're done next week and it's the boys game we f***ing said
Tera – If I don't put you on the block If I did say put Jed and Ty I know they will be very salty about it umm.. if you won the veto would you use it on them?
Beth – I was going to talk to you about that because I know in the other room I said I would to save face for you and I but is it best we f**Ing leave it then we make the choice? Me, Kiefer, BReydon
Tera – YES, I would want yo to GUN for it
Beth – I am I need another win. Everybody would.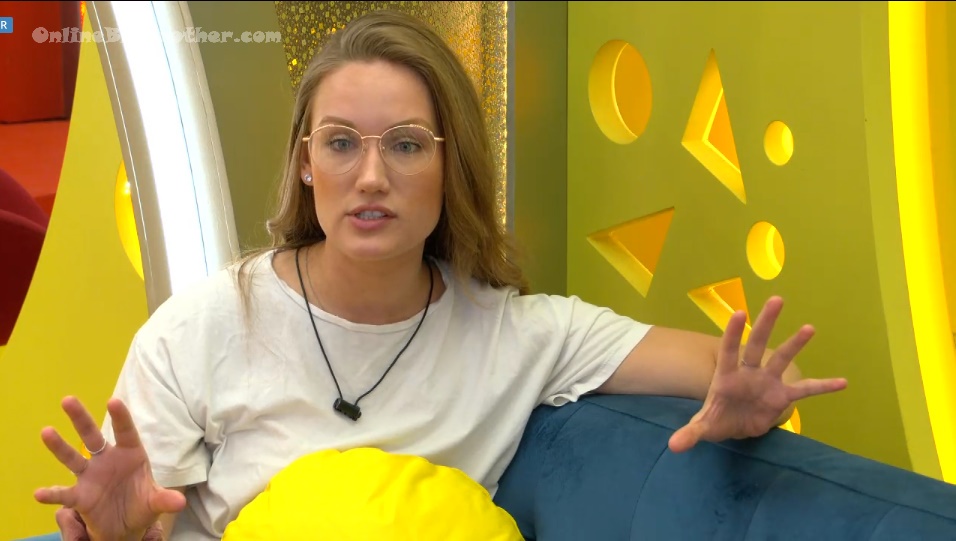 Beth – so if Jed and Ty are on the block Jed pulls himself off. are you putting Kiefer up? What is your relationship with keifer?
Tera – it's not my relationship with Kiefer. Kiefer is a very big target
Beth – HUGE and it's still a move if he goes home
Tera – I need to think of how I can survive this HOH next week. If I keep Kiefer around people will go for Kiefer
Beth – people will go for anyone at this point
Beth says Jed is number one and Keifer is two out of the people "winning the game"
Tera says there are two people the house says is winning "It's annoying.. it's day 48 there's still 6 people"
Tera says Kiefer is "cheesed" at the guys for last week
Beth – I told him let's backdoor Jed and he was like WOAH I was like let's do it.. So he knows
Beth says the boys think she will vote Breydon out over them "which is perfect"
Tera – I was told you threw the HOH
Beth – I would never throw that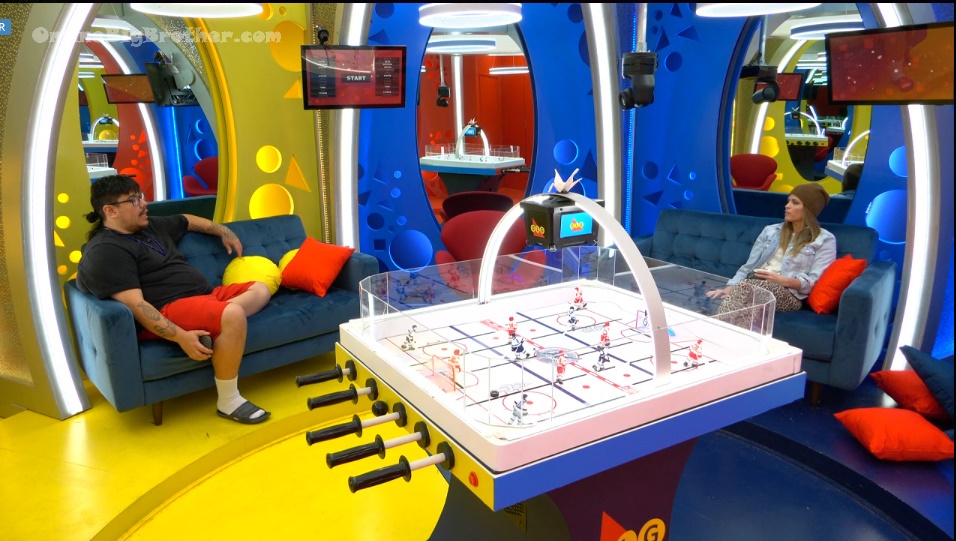 12:25 pm Kiefer and Tera
Kiefer says Beth's plan is to get him to convince Tera to put up Breydon and Ty so they can backdoor Jed
Kiefer – it's crazy. it's actually a plan to get Ty out
Tera – what!
Kiefer – yes
Kiefer – who is better for Beth's game Breydon or Ty?
Tera – if Breydon or Ty go up Jed wins Veto then Beth goes up
Keifer – no he doesn't he leaves it the same and we vote Breydon out but Beth says then we'll have a larger discussion about who's better for your game RBeydon or Ty?
Kiefer – Beth is doing way too much. Beth is working hard to keep Jed in this game harder than I ever anticipated and Ty is PISSED
Kiefer – the trio is done it happened way quicker than I thought. Beth went to Ty to get him to volunteer to go on the block
Tera – WHAT
Kiefer – yes this really just happened like an hour and a half ago
Tera – to be sitting next to Breydon why would I do that?
Tera – Jed is for sure going up. If he wins veto he's using it as himself
Kiefer – 100% Jed HAS to hit teh block. Ty is 100% done with them
Kiefer – Jed, and Beth are convinced you don't put Beth up under any scenario because of some woman thing
Tera – that's not true I'll do whatever is best for my game and Beth has been playing a stealth game I don't care if she's got a V or not.
Tera says the only reason she wouldn't put Beth on the block is because she doesn't think Beth will use the veto or try and win it.
K – I know Ty wouldn't use it he wants Bth gone.
Tera thinks he'll use it on Jed.. "Jed will beg him.. loyal to the soil"
Kiefer says Beth came to him this morning saying they "have to convince Breydon it's a backdoor against Jed.. we have to we have to I've been telling Tera I want to cut Jed forever. I'm not cutting Jed"
Tera – she said that?
K – YES
Tera – she's sketchy
Kiefer is pushing for Beth to go this week.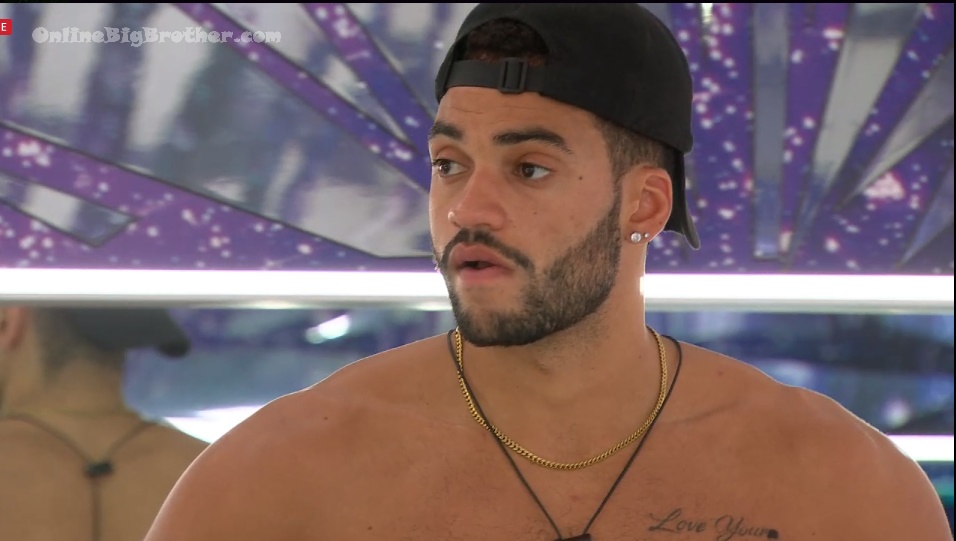 1:21 pm Jed and Ty
Ty says if he wins the veto he's using it on Jed but he'll make Tera think he won't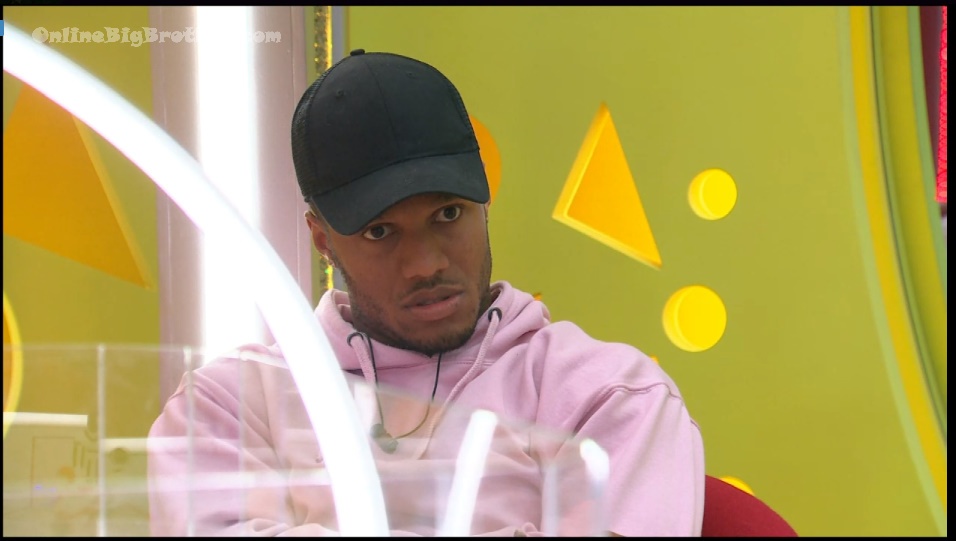 3:00 pm Ty, Breydon and Kiefer
Talking about all the crazy things Beth has said.
Kiefer says the Jed/Beth duo had three HOH's in a row because what he did was for them
Ty – then they cut you right after.. that's crazy..
Kiefer – it was 3 days after the double
Breydon says he's not shocked that Beth tried to push taking Kiefer out.
Kiefer – it's crazy how fast they turned. I thought it would be after noms when they turned but it's pre-noms
Ty – same.. I didn't think it would be this quick.. Damn already.
K – And they want to volunteer to get you out
Ty – I think I have sucker written on my forhead
Ty – Sucka…
Ty – I must have clown on my forehead or sucka.. sucka sounds better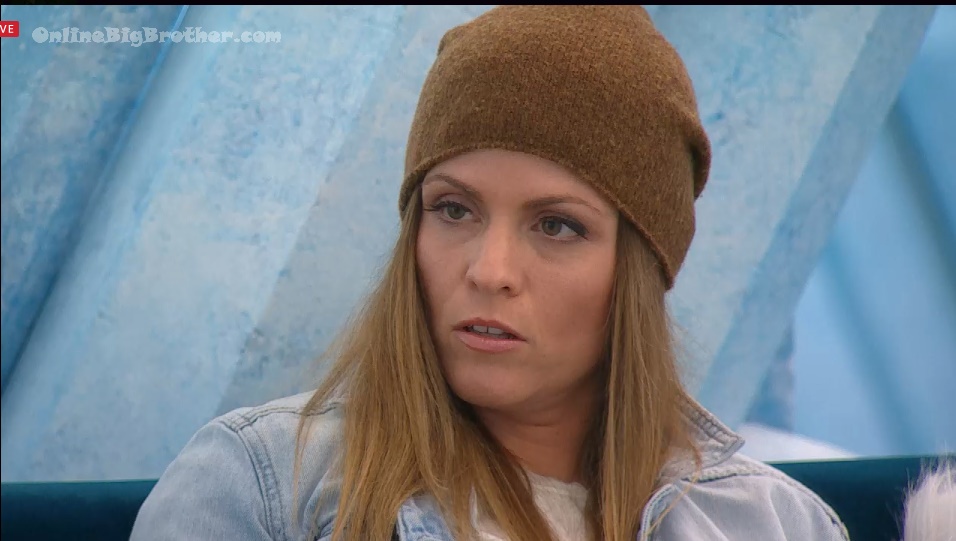 4:37 pm Tera and Beth
Tera tells Beth she and JED are being nominated. Beth warns her that the boys are lying to her.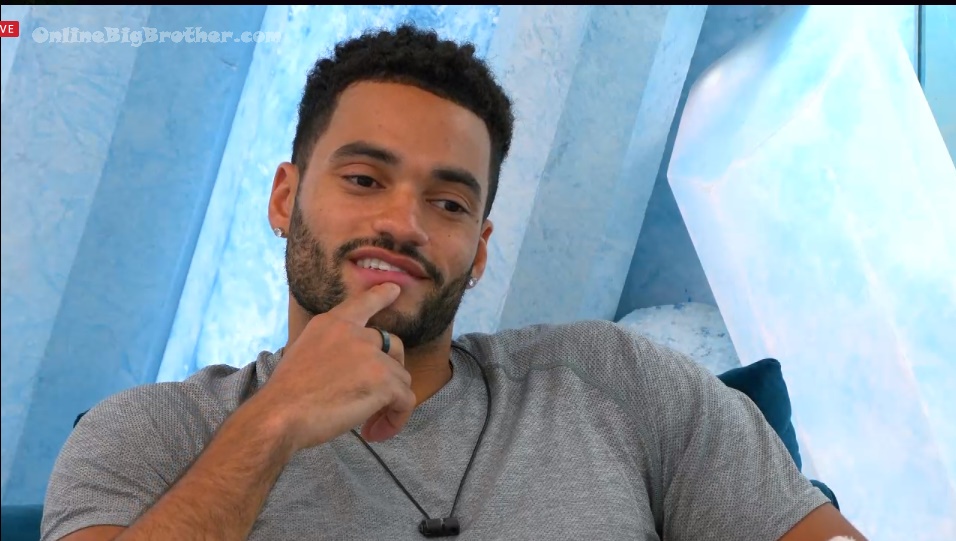 5:22 pm Tera and JED
Tera telling him he's going up with BETH they both put her up. She says he's strong enough to win veto and take himself off.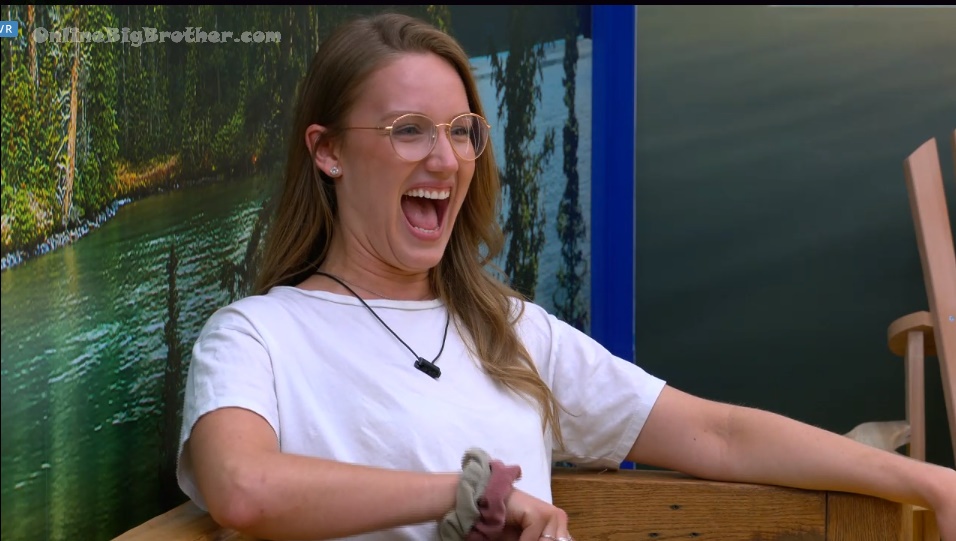 5:39 pm Sunsetters laughing at Tera and Breydon
Beth is extra salty tells them after the nomination she doesn't have to be "fake anymore" right?
Beth – I don't have to suck up to her anymore
Jed – she's putting us up for sure…
Kiefer – her minds is set

5:46 pm Kiefer and Ty
Kiefer says Beth has been talking so much sh1t about him.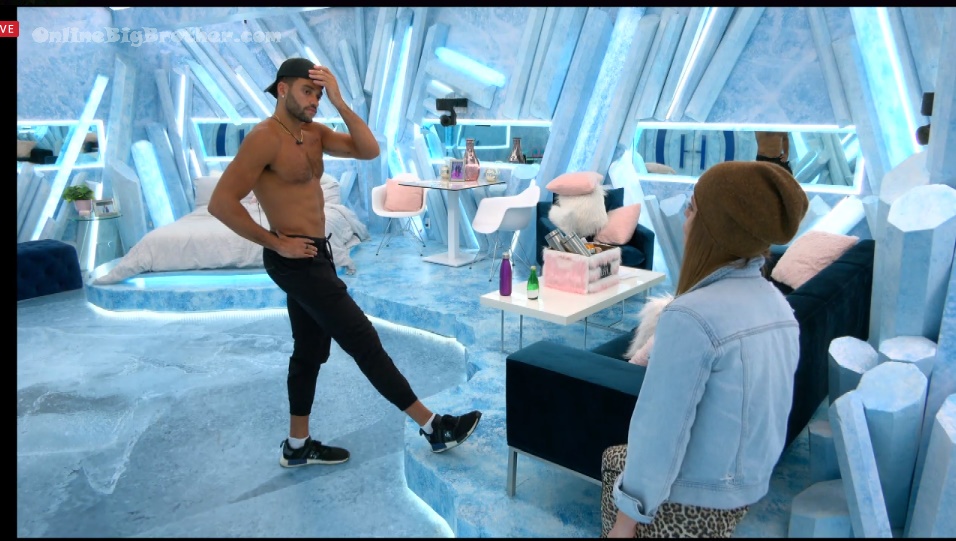 10:10 pm Jed and Beth are nominated.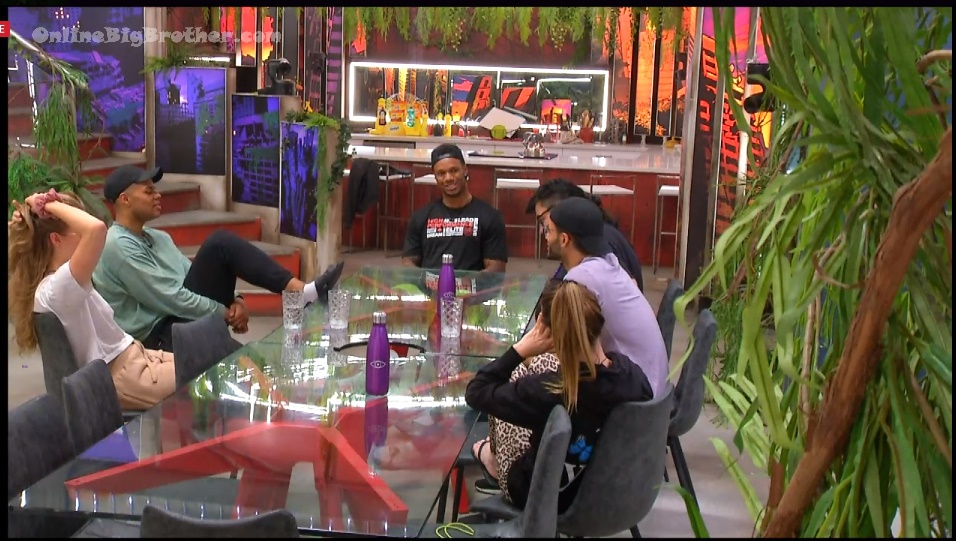 11:26 pm Family