Head of Household: Tera
Nominations:?
The Power of Veto Players are: ?
POwer of Veto Winner: ?
Power of Veto Ceremony: ?
Have nots : Beth, Ty, Jed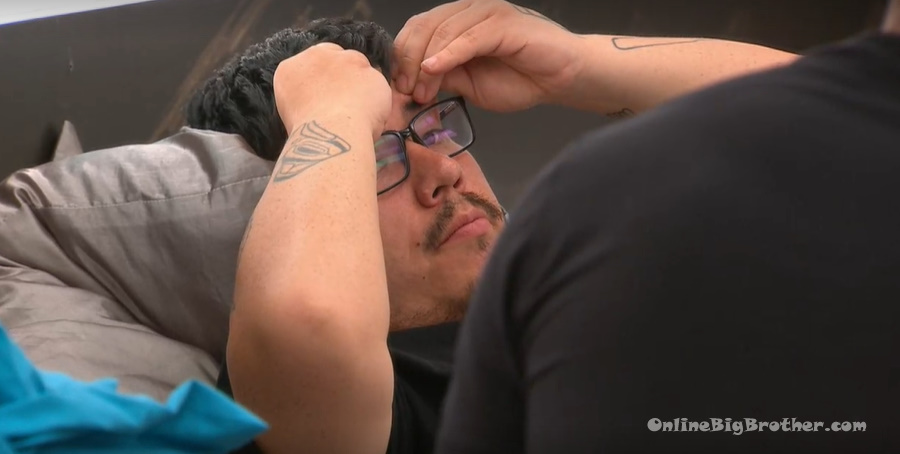 12:45am Bedroom. Keifer and Ty.
Ty – in your mind ..if you're a betting man who do you think goes home? Keifer – I'm afraid to say. Ty – just say it. Keifer – I'm afraid to say. Ty – what if you tell them? Ty – I don't tell anybody sh*t that you tell me. Keifer – I know.. you don't tell anybody sh*t. I know. Ummm.. My guess would be Beth. Because Jed is going to gun hard for that veto and I honestly don't know if Beth wants to win it. Ty – the veto? Keifer – yeah. She has been saying crazy sh*t out there man! I don't .. it could just be all smoke and mirrors.. but if 2% of it is true.. 2% of it is f**king nuts! Ty – everybody's counter moves make sense to me. Everyone's moves make sense. Obviously Beth or Jed could pitch to cut me. Keifer. I don't think Jed pitches to cut you. Ty – I think Beth does. Keifer – Beth does for sure! Ty – right .. she could pitch lots of things. Keifer – Beth needs to chill! Literally every week I say Beth needs to chill! What you need to say it Breydon can't hit the block. He is my only chance at ainninf the game. Ty – someone big has to go home this week. Keifer – someone big is going home. I just literally .. I just don't see a scenario where you go home.. anyway the cookie crumbles. If she puts you up, Ty – I don't think I go home.. Keifer – but you never know. Our luck has shifted. Its a classic case of Karma. Ty – I think so too. I don't know what the point of that was .. just to keep me. Ty – and show loyalty to Breydon. Keifer – Damn .. what a mistake! Ty – but its not going to pay dividends right now. Keifer – no it is not. But its not the end of the game. Ty – nope its not! Keifer – there is so much game left. Ty – A lot of game. Keifer – and I am excited for it. If Breydon wins next weeks HOH .. it could be best case scenario for you .. aside from you winning it. Because in my eyes .. I think he takes you. Then you can win the four and the three. Ty – it makes sense. Keifer – everything I ever did was for us. Ty – I know that. Keifer – I put my game on the line a lot and I don't know why it wasn't valued. Ty – People get crazy thoughts in positions of power. Power does crazy things. Keifer – even if I had won today .. I don't think I could have done it. That was brutal man.. I still can't believe I'm still here. Ty – yeah because you thought if you go up .. you go home. Why did he put me up? I've been with you guys since day one! Jed joins them. Ty – how did this motherf**king happen!? Jed – yeah. Keifer – down .. not out. Ty – how are we going to get out of it. Jed – we have iptions.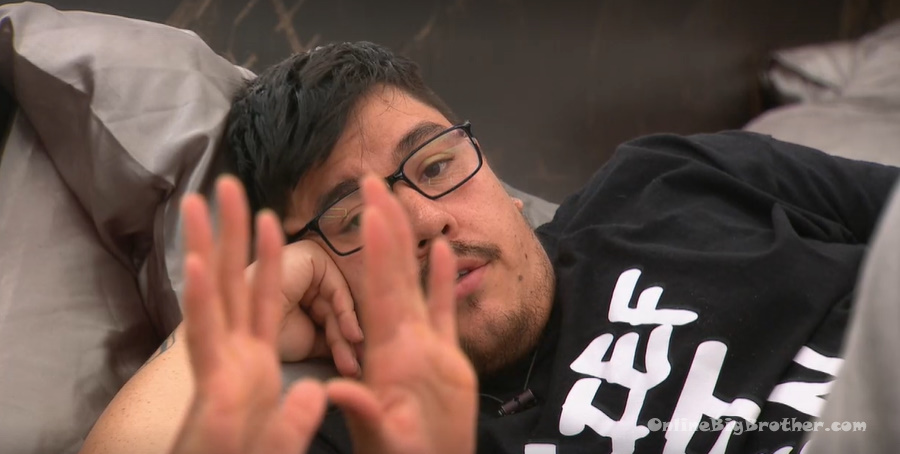 1:45am All the house guests are sleeping..