Head of Household: Tera
Nominations: BETH and JED
The Power of Veto Players are: ?
POwer of Veto Winner: ?
Power of Veto Ceremony: ?
Have nots : Beth, Ty, Jed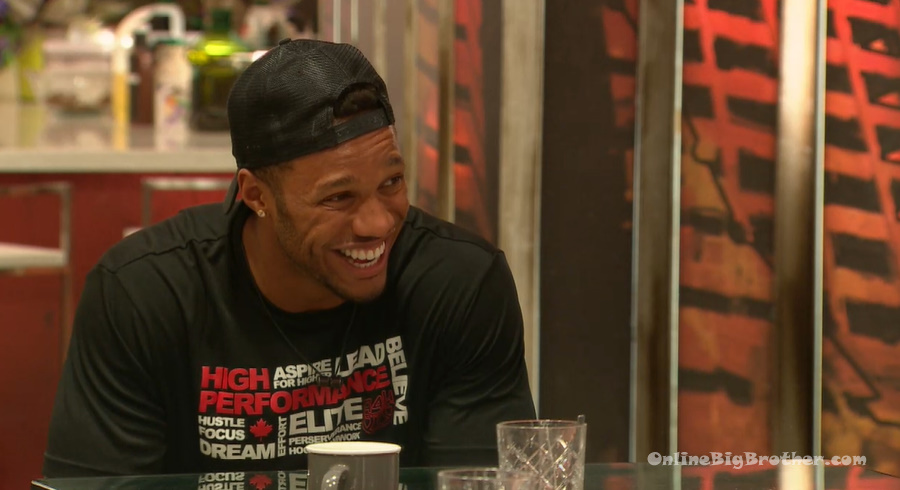 12pm The house guests are still stilling around chatting about what they were like when they were younger and sports they used to play.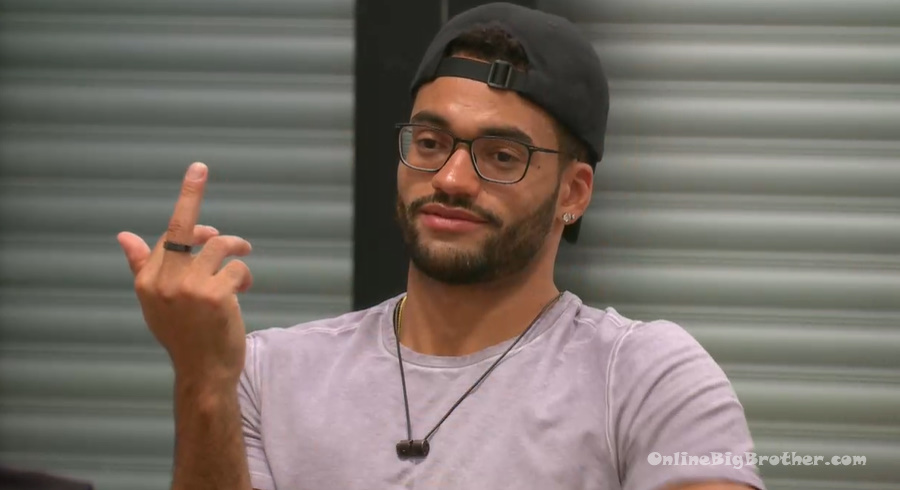 1:10am Bedroom. Breydon and Keifer.
Keifer – I don't think Jed takes me. Breydon – really? Keifer – not after this week. Breydon = depends .. I don't know. Keifer – if he (Jed) wins veto and takes himself down.. we're voting out beth right? Breydon – oh well yeah! Keifer – Oh I want nothing more than to be in the final 3 with you and Tera. Or Tychon. Keifer – good. Breydon – is water wet? Keifer laughs. Breydon – its interchangeable for me. Regardless to Defends (Defenders) in the end. Keifer – that is the goal my dude! And honestly .. if you get back to back here with the three.. Who's to say you don't win the game? Breydon – Potentially ..I mean it would be hard. Keifer – what do you mean you would have the same about of wins as I have. Breydon – yeah but come on now.. I wasn't a mastermind behind the whole game. Keifer – no one is going to think I had a mastermind. Breydon – of course they will. Keifer – you think? Breydon – if you pitch it. And everyone in the jury .. and everyone in the jury house would know. Keifer – they would know. Its the seeds of doubt start creeping in. Look at how much we accomplished in one day.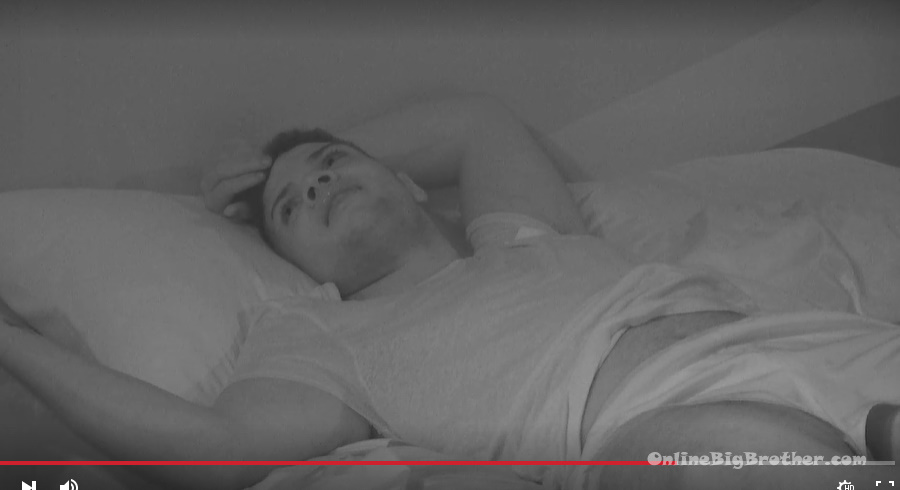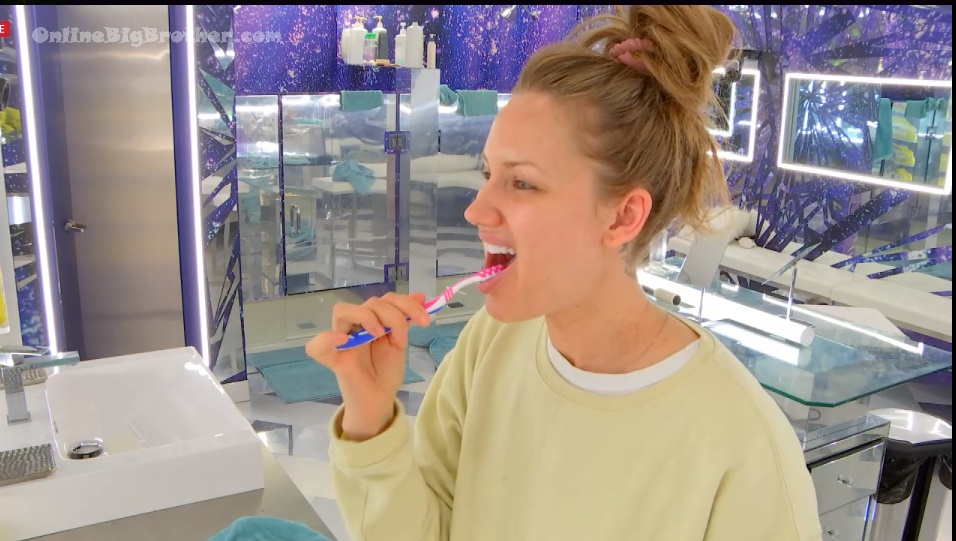 9:16 am Saturday morning. Houseguests getting up.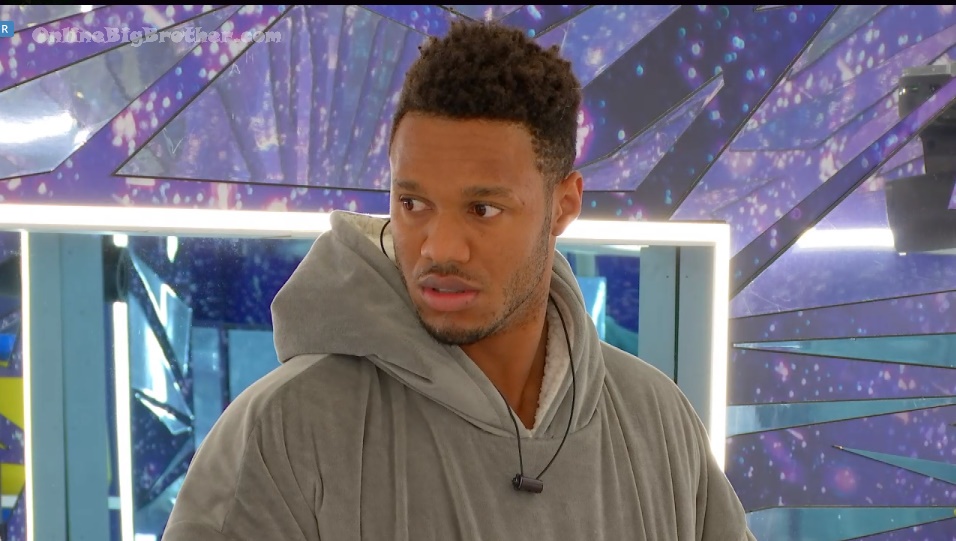 9:35 am Ty and Kiefer
Kiefer – we need a plan if Jed wins.
Ty – in what sense?
Kiefer – we need to be in his good graces because we're going to vote out Beth
Kiefer – Me and Brey are on the same page.
Ty – I wish Tera would put him up as the replacement then we will for sure vote out Beth (Brey)
Kiefer says Ty will be the replacement if he doesn't win the veto.
Brey joins them.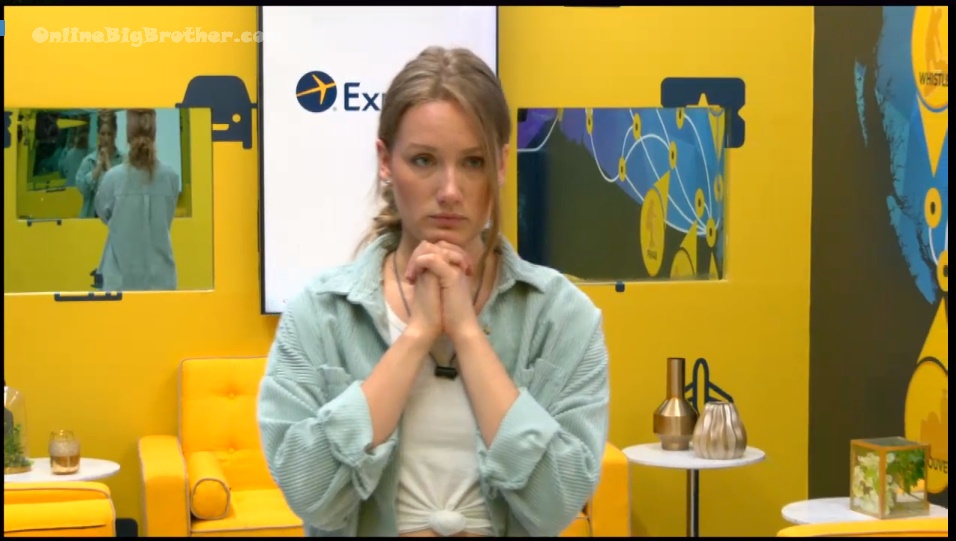 11:15 am Beth talking to herself..
She's listing off members in her family and friends.
beth – I am going to win this for my people.. I am going to win Big Brother Canada 9 I know it.
Beth – I will be the winner I can feel it in my bones and it's not because somebody else brought me there
Beth – I brought myself here I got myself here… I have made all the right moves I have made all the right plays.. I don't need Tera in here building me up I don't need that I don't want that
Beth – all I need in this game is myself. You need to make big moves Beth you are in the bIg Brother Canada house.
Beth – you have 20 days left here you need to make something of it.
Beth – this is one of the greatest things that have ever happened to you.. don't be weak don't be small
Bet – you have always fought for yourself No one has helped you get here no one has ever helped you get on your feet. This game is for me to win and I can win the veto pull myself down.
Beth – I don't need Tera to tell me I'm powerful. I am powerful. I know I am. But thank you.. thank you
Beth – I'm a bad b1tch.. I am doing a wonderful job.. this is for you Ashley you are a bad b1tch. I've never needed anybody for anything I never have I've always done it on my own.
Beth – I am powerful. I do not need anybody outside of this room in this house. I don't know anybody in this house.
Beth goes on and on about this.. "I'm not here to let anybody outside of this room take me to the end of this game"
Beth – I have you all tricked every single one of you.
Beth – I know you are falling in love with Jedson.. wrap it up, wrap it up, there are more important things going on in here. That can be dealt with later.
(Rich coming from someone playing your standard showmance game)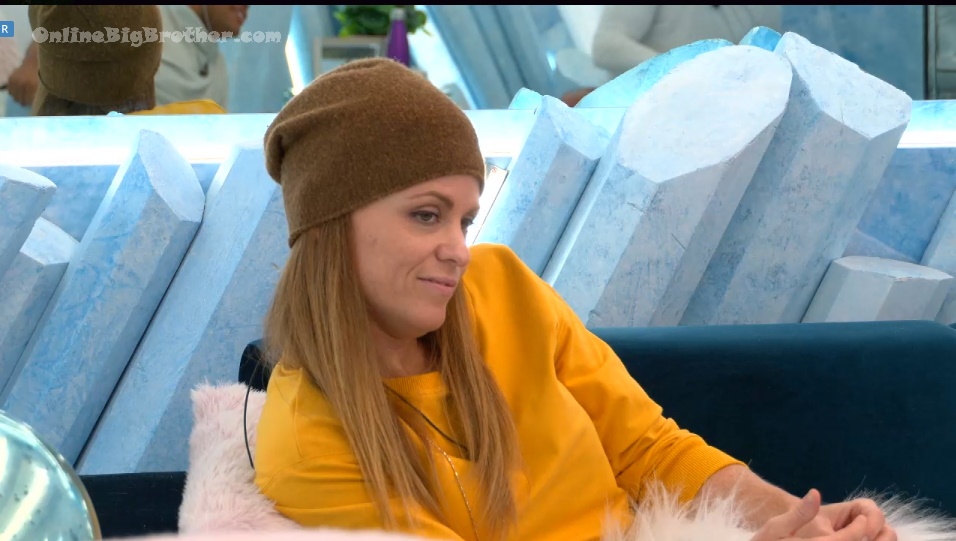 12:15 pm Kiefer, Brey, Tera and Ty
Feeds start-up mid-conversation.
Tera – it's going to be so hard not to celebrate
Breydon says everyone will celebrate for different reasons
They laugh that it'll be awkward if Ty wins the veto and Jed/Beth will be cheering
Breydon thinks they'll do the same if he wins.
Tera says Jed/Beth are under the assumption all three of them would use the veto.
Ty – yeah they're convinced
Tera – they were like you f***ed up
Starts impersonating Jed/Beth celebrating "TERA.. HOH for what.. HOH for what"
Tera – I'll play it up I'll be like Yeah Sh1t you got me.
Tera – Sh1t I tried my best
Kiefer thinks Canada is behind them on this.
Tera says all the "audio tapes" they heard were saying "Cut your alliance. Make big moves. trust your gut"
Breydon – if you are sitting still you aren't sitting pretty
Tera – Austin said everybody is shady
Ty – that was a big one for me.. what are they seeing that I'm not seeing? well they are seeing something
Tera – I just think it's so funny that they are banking for you to win after saying you're not going to win because you can't win
Kiefer – if any of us win it its called poet justice
They talk about how the entire jury will be loving it if they don't use the veto on the duo. Tera tells Ty if he does it Vic will be his biggest cheerleader.
Breydon – ohh 100%
Tera says Jed and Beth won't go too crazy after the veto isn't played they'll just stay in their rooms.
They agree Beth and Jed are in love and will take themselves to final 2.
Kiefer- sharing 120 thousand dollars going on vacation.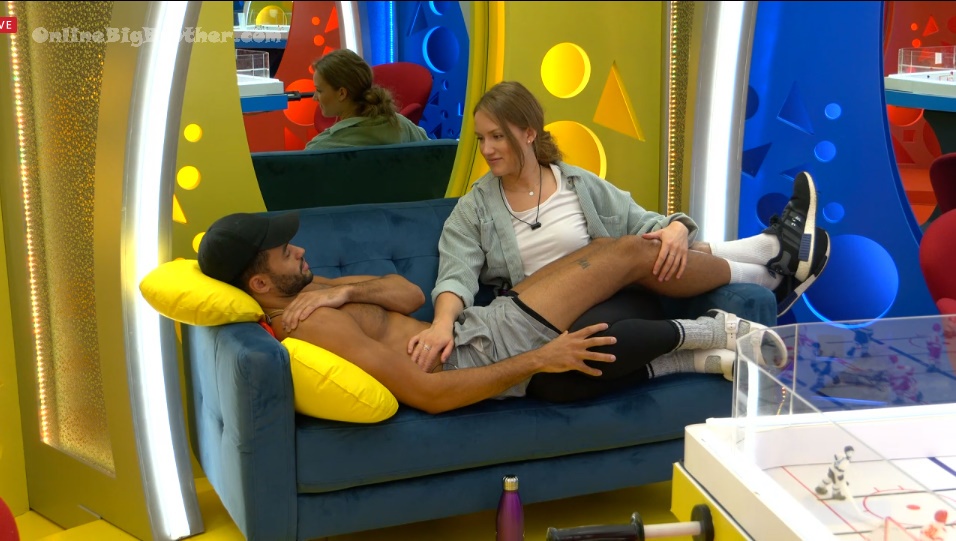 12:37 pm
Jed – how big will your celebration be if Ty wins?
Beth says HUGE.
Beth is pissed at Tera for talking to her about Jed being her biggest cheerleader in jury.
Jed – that girl's f**Ed what's wrong with that girl
Jed says Tera told him Beth was sketchy, "I'm like what is wrong with you holy crap"
Beth – it's just girls being girls
Jed – can't wait to see that look on her face when we all make it out this week. It'll be priceless
1:40 pm
Ty and Kiefer final 2 hug.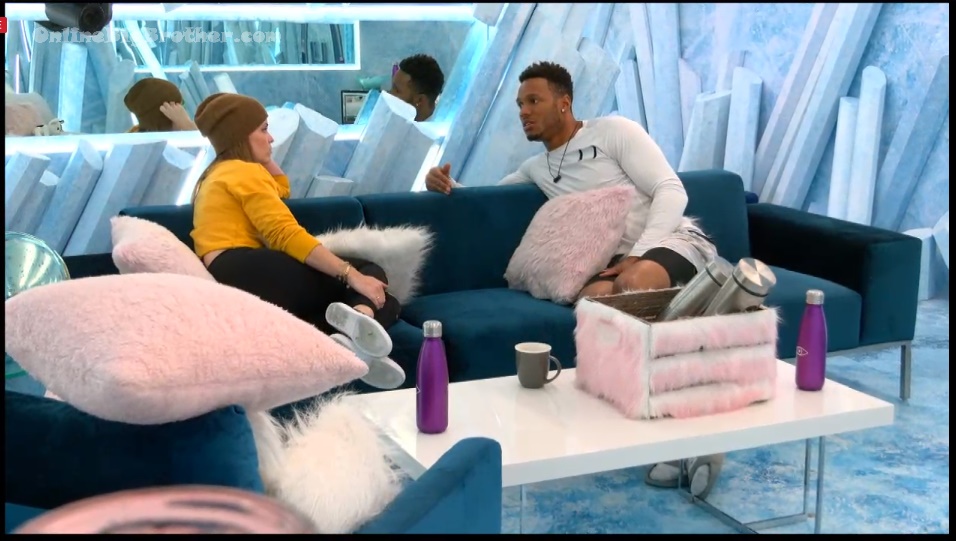 3:11 pm Tera and Ty
Agreeing that one of Jed/BEth has to go this week.

4:50 pm Pretty sure Power of Veto competition has started. If Veto is played and the winner if not Ty he will be the replacement.
10:28 pm no feeds for you
midnight no feeds
2am Still not back yet..
3am No feeds tonight..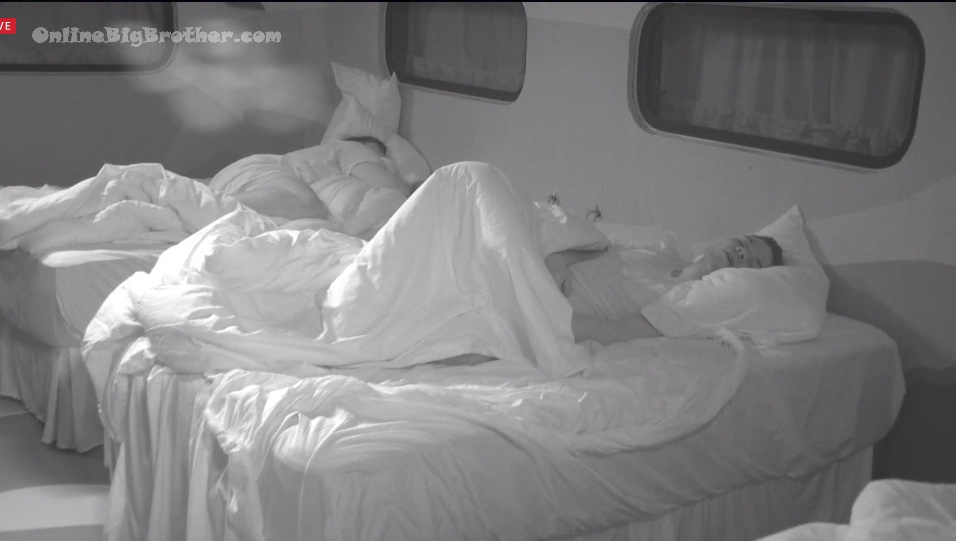 9:00 am Sunday morning. Feeds back but no idea who won Veto.