POV Holder:
James
POV Competition
Aug 29th
POV Used
Yes
POV Ceremony
Aug 31st
HOH
Vanessa
Next HOH
Sept 3rd
Original Nominations:
Meg and James
After POV Nominations:
Meg and Julia
Have Nots
Johnny Mac, Julia, James, Meg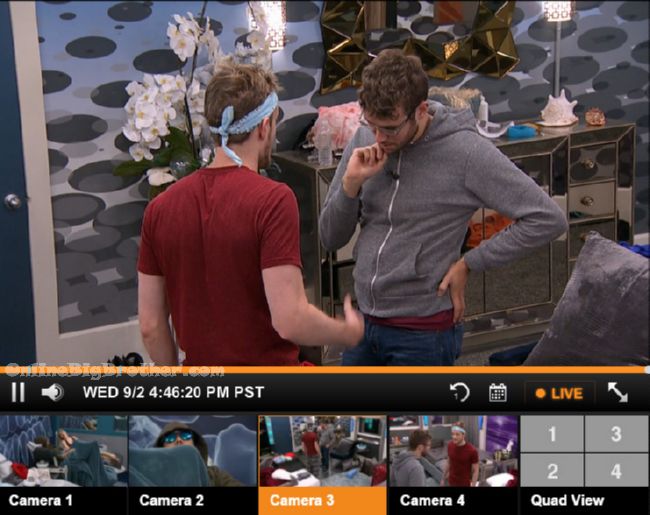 4:45pm Bedroom Jmac and Steve
John "Do we need to flip it, It's random whoever wins".. If a Austin wins the HOH they will put one of them and James up.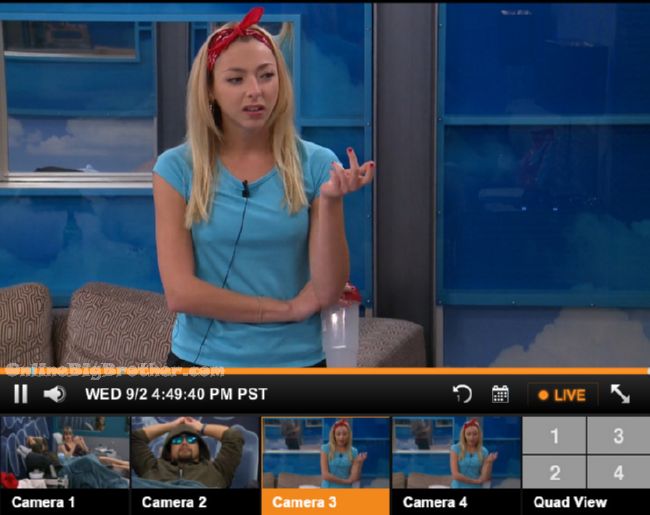 4:49pm HOH Julia, Steve and Vanessa
Julia complaining about james to Vanessa
She goes on to tell Vanessa but the feeds cut..
Julia – "He was so rude.. out of place.. i wasn't cool about it.. dude you are so immature.. why would you do that… "
Julia – I know he was making fun of me it was a slap in the face
Julia says the goblins have slept for 12 hours they are board and stewing in the have nots.
They start going over the competitions they were given to practice. Steve says Austin is going to get a high score.
Julia says she feels really good about it.
Vanessa says if Austin flips his vote Liz will kill him
Julia – he'll never do that..
Vanessa – did sounds like it to me
They start agreeing that Meg is really good at "Fluke" competitions like Beer pong and Pot Ball
Vanessa thinks Meg threw the practice Competition.
Julia leaves.. Steve tells her he wants to talk to her later.
Vanessa- why is something going on
Steve – no
Steve mentions that the goblins haven't come to him et. Vanessa warns that they'll strike tonight.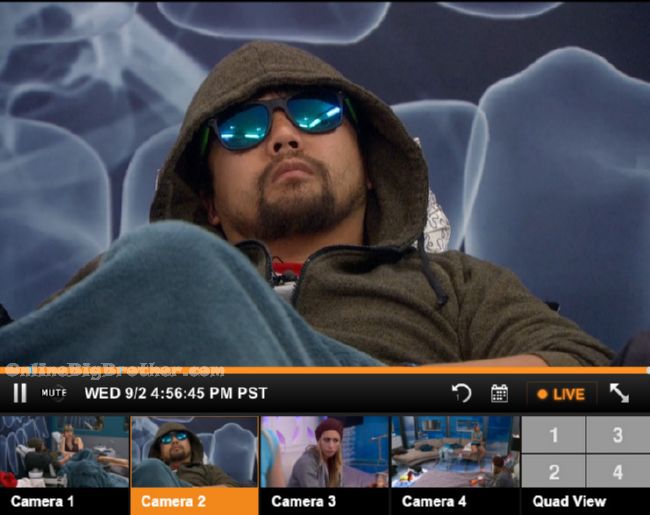 4:55pm Goblins in the Have nots
James is going to nominate Austin and Vanessa and put Liz up as the replacement. This way he can ensure Vanessa goes home.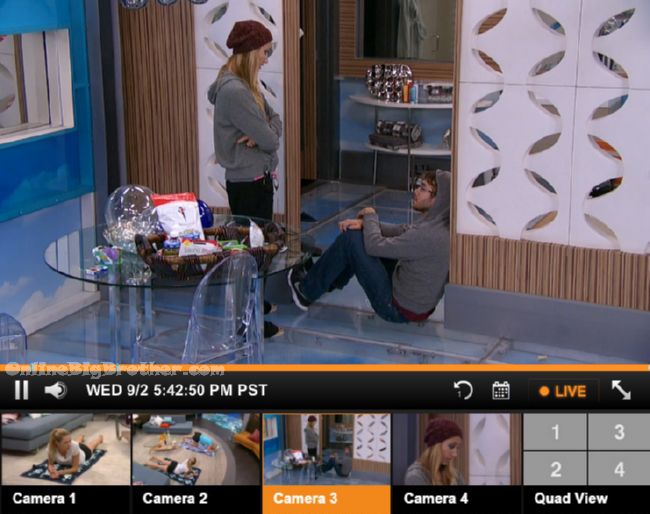 5:20pm HOH Steve
Talking to himself saying that he's not voting Julia out because then they're will be a James,Meg, Liz, Austin alliance.
Adds that James and Meg will not be coming after him if they win hoh this week.
Steve – Does Austin want Julia to go
Steve says if they flip the vote – Scamper squad is over..
Steve – I want to keep John as long as possible..
Steve keeps muttering "I need to keep John here"
Steve – here's the question…
Vanessa comes in 'Steve what are you doing"
Steve – I trust you 100% i['m taking you to final 2 .. I'm sorry about that shit that happened I f***D up ..
Steve – Do you agree if you have to win it's bad.. it's a situation we have to agree.. If we make it to final 5 with Scamper we have to win
Vanessa – yes.. we have to win no matter who we get to final 5 with, there's not a final 5 we can avoid winning
Steve – we have to put Final 5 in our favour, It's 2 vs 3 in that case that is bad.
Vanessa – Julia doesn't win comps.. Austin is sort of on our team because he needs them to break up.. It's kinda 3 on 2 (Austwins VS Vanessa/Steve)
Steve – Austin will never make a move on the twins
Vanessa – he'll throw it.. I got him today to say he can't go to final 3 with those two..
Vanessa- it's 3 on 2 you see that (Vanessa/Steve vs Twins)
Steve – I do
Vanessa – Austin feels very comfortable with you
Vanessa – we don't have a deal with Meg and James and leaving them Especially going into a chance comp
Vanessa doesn't want to keep Meg in the game.
Vanessa says just to get to final 3 there are 600 permutations of HOH wins.
Vanessa warns him if they keep James and Meg in the game he's putting them up
Vanessa doesn't 100% trust Jmac, tells him that she thought he was cool with her all game and secretly he was hating her.
Steve – I don't want to take Scamper to the final 5
Vanessa – I was fully prepared that the vote will flip.. I will adapt
Vanessa asks if he will try and flip the vote with Austin's blessing
Steve – Yes
Vanessa – liz
Steve- Nope
Vaness a- if liz wins HOH you are f****
Steve – I don't know who will Liz go after
Vanessa – you and Johnny for flipping the vote
Vanessa – if Johnny wins the veto you're f*** she'll put up Meg
Steve – I need three votes, You Johnny and Maybe Austin.. that would be risky
Vanessa – lets think about it
Vanessa would rather Meg goes and would prefer Liz as the first twin to go.
Steve – we both need JOhnnymac in this game.
Vanessa – I know everyone's plan as long as they are being truthful.. everyone is targeting james.
Vanessa says her steve and Johnnymac are better in everything over Austwins.
Steve tells her that james winning HOH if they don't flip is the same as liz winning HOH if they don't flip.
Vanessa says austin can be worked with "He wants to win.. he's in the same spot we're in.. he's the third man on a totem pole.. his incentive is the same as our"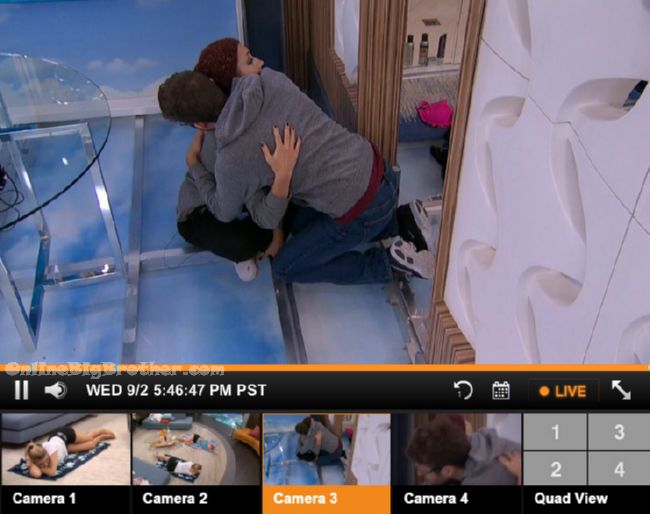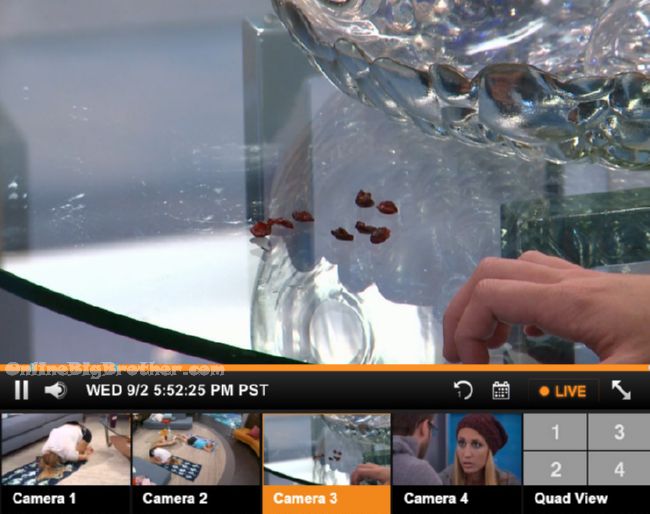 They start using raisins/cranberry to plot strategy
Vanessa – If Julia wins tomorrow she can take out james..
Vanessa wonders if Austin will put up a twin as a pawn
Steve – Maybe
Vanessa – we can't do it we'll get f*** Meg and James will hook up with Austin, I guarantee it
Vanessa – you gotta trust me on the social cues.
Steve wonders if they should make a deal with Meg and james
Vanessa- his word is no good he doesn't give a f***
Vanessa asks him if he's noticed the battle going on between them and the goblins jockeying for a position with Austin and the twins
Vanessa – we're good with Austin and the twins.. they are good people to work with.
Vanessa tells him nobody in this house wants to work with them because they can go all the way.
Vanessa tells him Johnnymac is the target after James
Vanessa says Austin will throw the HOH "I'll be you my life.. I'll bet you everything 100%, I understand how Austin's brain works I've played with him since the beginning.. "
Vanessa tells him she doesn't know how Steve's brain works she's surprised they are having this conversation
Vanessa tells him Austin talked to Johnny and he's fine if Johnny takes a jab at the twins.
Steve never heard this from Austin or Steve
Vanessa tells him if Julia goes, Meg, James, Austin, Liz will join up against them.
Vanessa says once Meg goes they can work with James he's not very strategic "Strategically when I talk to him it's like playing chess.. you play chess with him.. "
Steve realizes that Austwins have never put Meg and James up
Vanessa – JAmes and Austin are close.. James and the girls are not close.. it's austin
Steve – the guys guy
Vanessa- Meg goes with James, They fought me really hard to not make Meg a target
Steve – who do they want
Vanessa – John
Vanessa – if we take Julia out we're handing the game to Austin
Steve is still unsure Meg and James will turn on them if they save Meg.
Vanessa 100% think they will.
Steve – what if I just do it
Vanessa – you are a traitor with Liz and Austin they will make a deal
Vanessa thinks she can convince Julia to vote out Austin, "If I needed to I would, I could even get Liz onboard"
Steve – HOW
Vanessa – they need to play their individual game..
Steve – But Austin.. He's protecting them
Vanessa – he's doing them no good.. What about that deal with Johnny
Steve – where did you hear about this deal I never heard about it
Vanessa – both of them (Austin and jmac)
Steve doesn't buy it the twins won't turn on the Austin
Vanessa – Liz won't Julia might
[envira-gallery id="131835″]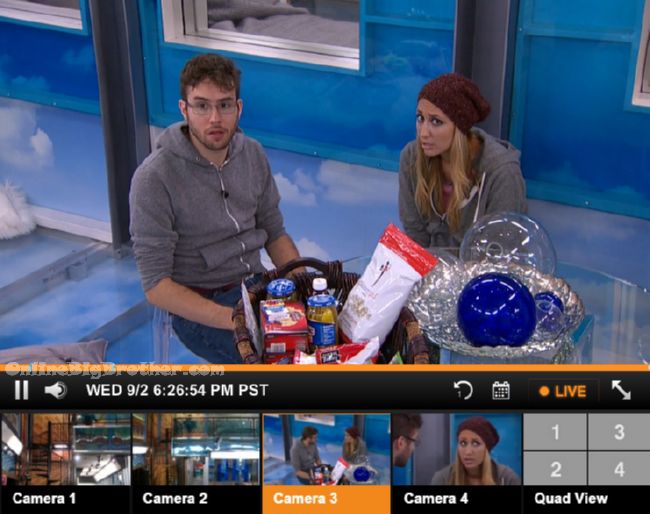 6:17pm HOH Steve and Vanessa
Vanessa wants to take someone really weak to the final 3 'Someone like Julia.. not James"
Steve – Johnny is the same thing
Vanessa – I'm scared to go against Liz and Austin in the final 3
Steve – You're not scared to go with me
Vanessa – I have a deal with you
Steve says he knows everyone is saying the twins need to be split up
Vanessa tells him it's not the right scenario
Vanessa – Johnny mac is open minded?
Steve – he is
Vanessa feels that Johnnymac will be easy to flip tomorrow
Steve – he is
Steve explains that jmac's fear is if Meg goes him and jmac will go up
Vanessa – you're staying
Steve – yes that's his problem not mine
Vanessa says taking out Julia means taking out one of their numbers and keeping one of his.. She points out that james and Jmac are closer.
Vanessa – we're dorks dude.. they (Meg/James) are social creatures.
Steve – you calling me a nerd
Vanessa – yes, more of a geek than a nerd
Vanessa – taking out Julia is the worst idea
Steve – damn you are right
Vanessa stress that John wants them to take out Julia it benefits him
Vanessa says if Meg goes Vanessa will throw the next HOH. She warns him that Austin is in the best spot he doesn't need to win to make it far.
Steve – that's scary
Steve – what if James wins
Vanessa says they will get the Twins nominated, "James really wants to work with Austin because that is the most similar person in the house"
Steve – I'm really worried james hasn't talked to Austin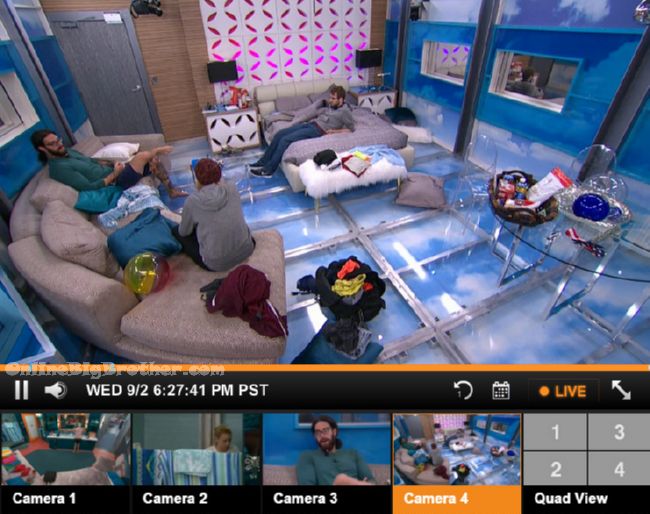 Austin rolls in 'There's the boy"
Vanessa – have you talked to JAmes
Austin says James isn't targeting him he thinks the twins might go up with The backdoor being Vanessa and Austin
(You can hear a camera persons cell phone ringing feeds cut)
When they come back Austin saying that the twins going up is good for him.
Vanessa – it'll let you fade into the background
Austin – I told the girls they need to win, My biggest fear is I go up with Julia
Vanessa says if he can talk James into putting the twins up they will owe him
Austin says he doesn't want to get to final 3 with the twins.
Austin says if they will keep it to themselves he'll try and get James to put up the twins.
Vanessa and Austin agree James is the favorite to win the HOH this week.
Austin – James and Johnnymac are the favorites (To win HOh based on the practice competition they had earlier today)
Vanessa – johnnymac looked terrible
Steve – 6 people competing 4 of them are scamper squad
They tell Austin if he's up with a twin they have his vote
Austin thanks them, "It potentially could happen"
Steve – If James wins HOH it will be chaos
Austin – he can go after anyone
Steve asks Austin who jmac will put up (Above Vanessa told him that Jmac and Ausitn made taht Jmac would ptu up the twins)
Austin says he assumes johnnymac will put up Julia and James
Steve – Julia is the pawn
Austin – yes
Steve – you talked to him
Austin – sorta.. we've been hanging out
Austin will talk to him in the hammock room 'He's sleeping now"
Steve – Of course he is (HAHAHAHA)
6:48pm Austin and Steve go to play chess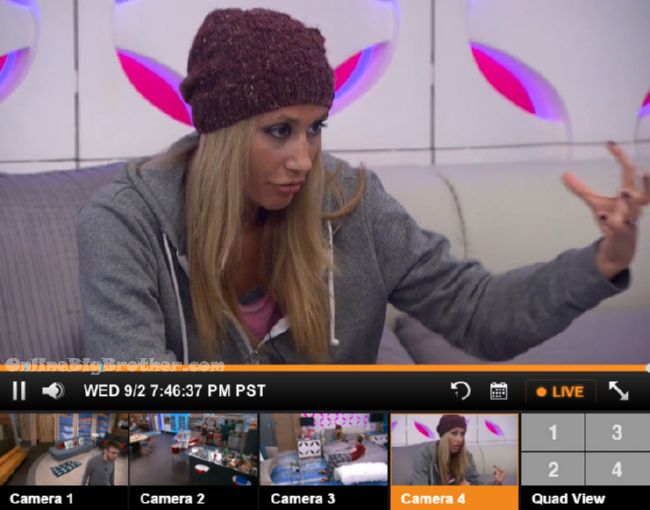 7:38pm HOH Vanessa and Jmac
Vanessa saying if they flip the vote it will be Meg, James, Austin, Liz vs them.
She stresses taking Julia oput is a bad idea
Vanessa – other than James us three win the most comps.. they are leery of it they are scared.
Vanessa says she';s made money reading people that is what she can does and she's reading that James and Meg will team up with ASuint and LIz and take them out.
Vanessa says that Meg told her if James wins HOH she will make him put Meg up in place of Vanessa.
Vanessa- so who will they put up.. Not Asuint
Vanessa- One week too early to break up the twins
Vanessa – Austin and the twins are not targeting you
Vanessa says Jmac and Steve are standing in Austin's way to win this game. Says Austin will only work with Jmac for the 5 minutes he needs him
Vanessa – Austin prefered to put his own people up over James
Vanessa hammers why they cannot vote out Julia..
Jmac just YA YA YA through this conversation
Jamc – ya that makes a lot of sense we should vote Meg out.. now that the comp is random
VAnessa – I'm a professional gambler we are the targets
Vanessa wants to name the three of them 'We're revenge of the nerds"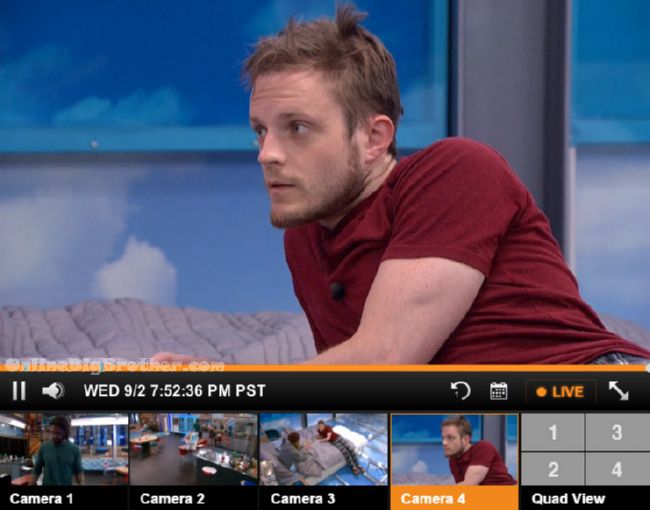 Vanessa goes on about her, Jamc and Steve being awkward and nerdy they are different that James, twins and Austin. They are not the social ones. Points out that her and Jmac can "FAKE IT" but Steve can't.
Vanessa – Julia is our Ideal to go to final 4 with
Jmac – ya ya ya, Yeah, right, Yeah, right, right … mmhhhmmm. mmhhhmmm…. mmhhhmmm… .Yup….. right …. mmhhhmmm… mmhhhmmm. … ohh ya … mmhhhmmm.. ya.. ya.. yeah..ya.. ya.. ya.. ya .. mmhhhmmm… mmhhhmmm…, right"
Vanessa speaking
Jmac – "mmhhhmmm, really.. OK … .. OK … yeah.. OK… so… uh.. mmhhhmmm.."
Vanessa spaeking
Jmac – OK..OK.. you don't have to tell me anything .. mmhhhmmm… mmhhhmmm… mmhhhmmm.. mmmmhhhhmmm… mmhhhmmm.. mmhhhmmm.. right… mmhhhmmm.. mmhhhmmm.. mmhhhmmm..yeah.. that's true.. mmhhhmmm.."
Vanessa – you know how many combinations of HOH's it's over 600
Vanessa speaking
Jmac – "crazy, yeah.. mmhhhmmm..mmhhhmmm.. mmhhhmmm.. mmhhhmmm… mmhhhmmm.. yeah yeah.. His back wasn't against the weall.. mmhhhmmm.. yeah.. right..
Jmac – "you run all the scenarios they all have shitty sides to them.. there's nothing I can come with that is better than what you're saying"
Vanessa says if they plan on doing something different she doesn't want to be left out of eh loop
Vanessa – I'm not a shitty person
Jmac – I know I know
Vanessa – I've put so much thought in it dude.. from every angle
Vanessa says taking out Julia without Austin's blessing is a risky move.
Vanessa says she's the dorky DJ Jmac and Steve are funny they'll win AFP.
Vanessa – James winning is the worst scenario is James winning we can't control him he's got a game long history of working with Austin and Liz.
Vanessa says Austin isn't going to try and win HOH "I watch Austin in the game.. He's a powerful player in teh game and being able to predict what he's doing is valuable"
Vanessa says Austin to split up the girls
If you've enjoyed the spoilers please consider a donation using the drop down box below. Simon and I work 24/7 all season long to keep you updated on everything that happens inside the Big Brother house.
ALLIANCES:
"Goblins/Gremlins" = James and Meg
"The Generals" = anyone allied with Becky
"SOS" (Students of Sound) = Steve and Vanessa
Rockstars = Steve and Jmac
AUS-Twins = Austin, Julia and Liz
"Austin's Angels" = Austin, Liz, Julia, Vanessa
"Brass Tacks" = Gobins and Austwins
The new "Brass Tacks" = Aus-Twins, Meg, James + Vanessa
"Freaks and Geeks" "The Scamper Squad" = Aus-Twins, Vanessa, Steve
"The new Freaks and Geeks minus Vanessa" = Austin, Liz, Julia, Steve, Johnny Mac
"The Authority" = Austin, Liz, Julia, Steve
[polldaddy poll=9046808]