Head of Household Winner – Dani
Have nots – Da'Vonne, David, Ian
Nominations – David Tyler and Kevin
Power of Veto Players are –
POV Host: –
Power of Veto holder –
Power of Veto Ceremony –
Powers – Christmas, Dani, David
Live feeds —-> Grab your Live feeds here. Try it free.
Rank the houseguests —-> Big Brother 22 Ranking
Powers
David – Saves on nominee. HOH picks a replacement. Person he picks can't be renom. Used during Nom ceremony after the HOH picks.
Christmas – blocks someone from being a renom. During Veto ceremony after Veto is played
Dani – can pick a outgoing HOH to be able to play in the next HOH competition.

8:25pm – 8:49pmThe feeds switch to the kitty pound.. When the live feeds return we learn that David activated his Disruptor Power which allowed him to remove himself off the block. As HOH, Dani then had to select a replacement nominee. She nominated Tyler to sit with Kevin on the block.
The house guests are in the kitchen hugging David and Tyler. Cody – holy f**king sh*t! In the bathroom. David and Kevin. Kevin – You think it was Tyler that use it? David – I don't know! Maybe! Kevin – did you use it? David – no. That's why I didn't want to be around anybody.. I was like f**k this! I'm tired. I was over it. Enzo comes out of the washroom. David – did you use it? Enzo – no! I don't have any powers. Nothing! What about you did you win? No?! David – I'm crying. Enzo – don't worry about it .. you got it Yo! That's it!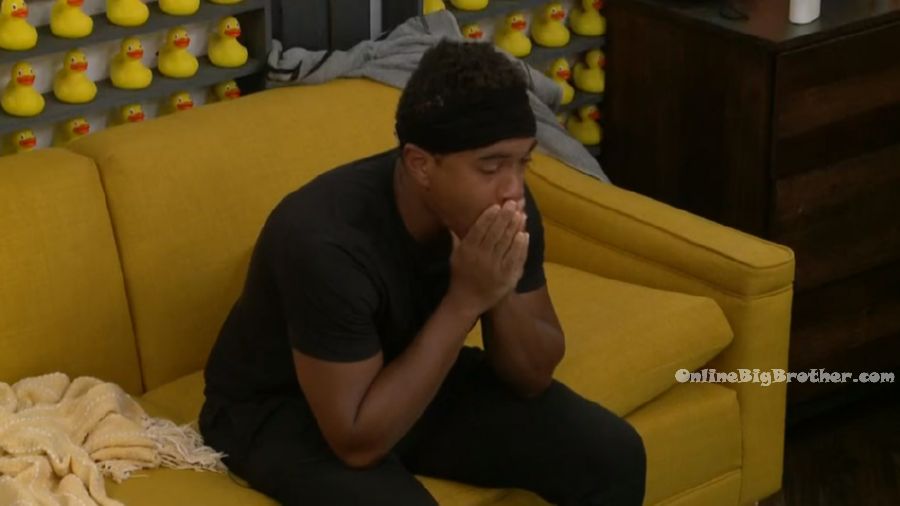 HOH room. Dani – why couldn't I get that freakin power?!!? Mine freaking sucks! Tyler joins Dani. Dani – I am freaking out! No no like for real. Hear me out. I swear on everything I don't want you gone. I swear! I can't put up Ian. Ian will freak the hell out. Turn on everyone. I don't know what to do. Tyler – I just don't know if our alliance is going to.. Dani – you can win the veto. Tyler – yeah I know but I don't know what The Comity is going to think about you. Dani – I will keep you. I am telling you .. you can win the veto and we will all keep you. I swear on everything. Tyler – was I going to be your replacement nom? Dani – NO! I didn't know what to do. I swear on everything all I wanted to do was keep the noms the same. I didn't know what to do. And you're literally the strongest player in the house. Like we can win this. Tyler – I am glad I get to play. Dani – I feel horrible. Tyler – its okay. Dani – this sucks and I can't stop crying. Tyler – its okay. Dani – I didn't know what to do. Tyler – no I get it. The house knows that I did some sh*t against you. You know what I mean. It makes sense. Dani – you can win the veto. Tyler – but then you have to name another replacement. I am just worried Memphis and Christmas don't know what is going on with us you know. Dani – Christmas is going to kill me right now. Tyler – I am just worried they're going to think the comity is not together anymore you know what I mean? Dani – I didn't mean to break up the band. I swear on everything I don't wnat you to go home. Let go out and win the veto. Tyler – but what if we do win the veto and you have to put up a replacement? Dani – then maybe I talk Enzo into being the replacement.. no one will ever vote him out. Tyler – yeah. Dani – I thought it was Kevin.. (who used the power) he was smiling the whole time and David was crying. Tyler – he can cry on command. Dani – Cody, Enzo, Nicole, Christmas, Memphis .. you only need four. You're staying in the house even if you're still on the block. Lets shake on it. They shake. Tyler – I thought you were going to have to nominate two. What if Kevin wins the veto.. Kevin is a competitor too! Dani – oh my freaking god! I don't know what to do!? Tyler – DaVonne? Ian? Enzo? Dani – I feel like garbage ..especially after we shook on it today!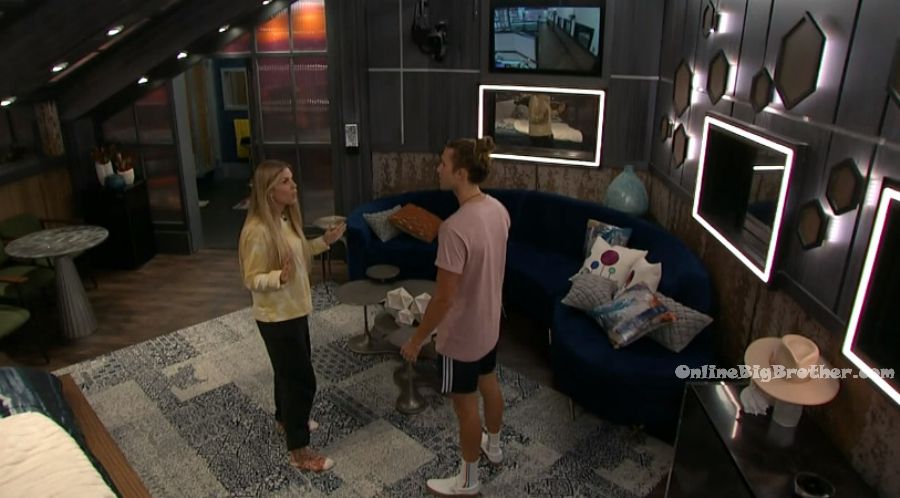 Backyard. Memphis, Cody and Enzo.
Enzo – THE DISRUPTOR!! YO! He's (David) trying to be cute. Cody – yeah like someone used it on him BRO! Enzo – exactly! Come on YO! Cody – lets not play this game. Like bro I'm safe for the week. If you had that power would you tell anybody. Enzo – he is trying to be cute! Why is he lying!? Cody – if you used it, you used it on your self. Like someone else used the power on him?! Enzo – now you look even dumber! Why wouldn't they keep that for themselves. He's such a rookie yo! He just made himself more of a target! He is bad player yo! Just say you won it and used it .. you were on the block. You won the comp .. just say you won it. That is so amature YO!! You're just making it worse on yourself! Memphis – I feel like I'm in the twilight zone yo! Enzo – and now what happens if Tyler has a power!? Man that sucks for Dani. Memphis – now Tyler is going to win the veto. Enzo – the only thing is if Tyler wins the POV .. then what the f**k!?
9:12pm Lounge room. David and Tyler.
Tyler – no one put me up besides Dani. David – why did Dani put you up? Tyler – because of all the sh*t I was doing that I told you about because Bay ran back and told her. I am just happy that I am on the block now because I probably would have been after. Now at least I can play in the veto. This is good. David – I wish I could pick Dani as Havenot. Tyler – oh you can't choose outgoing? Yeah you can. David – She won that thing. Tyler – oh yeah you're right. David – I am mad.. I am happy that I am safe .. I am mad that you're up. I'm mad that I just got put up today. Tyler – this is the best thing ever .. its like you won the veto. If I am still up there against Kevin .. will you vote to keep me? David – yeah. Tyler – if you tell me that and then vote me out .. I won't vote for you in jury. You know that right?! David – Kevin already came and asked me because there there was a mix of emotions. Tyler – its fine, whatever man. I get it. Kevin is coming to you out of necessity not because he wants to play the game with you. I am happy you're safe and you can't even be put back up. That's a dope power. David – I swear it was you. Tyler – I will be a bigger target than you .. and a shield .. so I hope you and other people will think that way too. Maybe you'll even play in the veto tomorrow. I don't expect you to use it .. I expect you to throw it though. They hug and leave the room.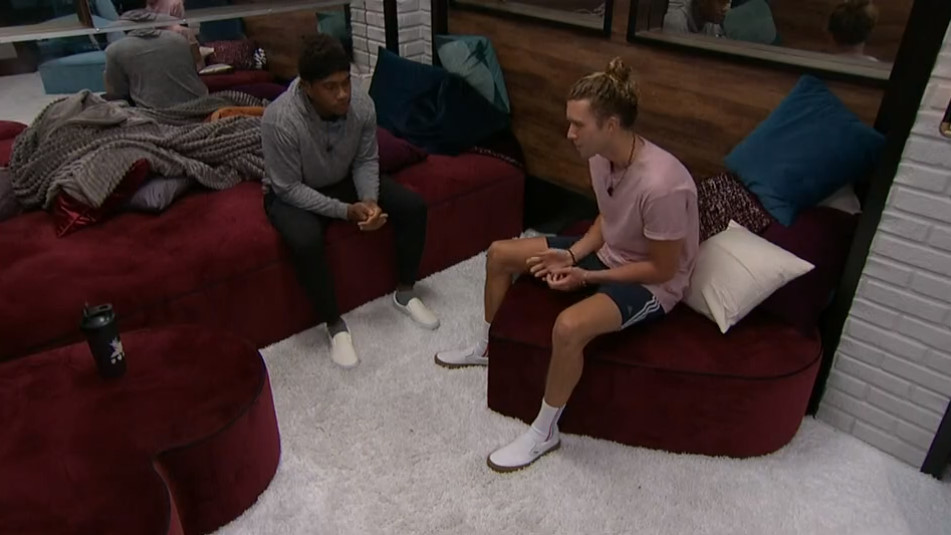 9:50pm Cody, Memphis, Nicole, Tyler, Ian, Christmas are all sitting around the backyard couches chatting about the power / veto tomorrow.
HOH room. Enzo and Dani.
Enzo – he (David) tried to play it off.. Dani – he came up to me and asked me if I used it. Enzo – Yeah he did it to me too. I'm like come on BRO! Get the f**k out of here! Dani – you're a bad actor! Enzo – its like a POV . you won the comp .. you used it. Dani – its not going to make you a bigger target like everyone is happy for you. Enzo – everyone hates you now! Dani – I know!!!! Enzo – everyone hates you BRO! Dani – what are you doing!?!! And now you're still like doing it to me?! BRO get the f**k out of here with that sh*t! No one is going to use it on someone else. Dani – get this Tyler goes did you use it .. if you did that is the best move in big brother history. I'm like NO .. but if I make it to the final two I am going to say I did. Enzo – that's it .. F**K IT! Dani – because David is denying it. Like what are you doing!?! Enzo – you were the last one to come down stairs .. you start crying before anything even happens.. Dani – and he was acting all pissed off after the ceremony. Enzo – everyone now hates you. You should have heard Memphis .. he was outside yelling goodbye buddy!!! You won your first competition. Dani – Memphis is so the villain. So don't repeat this to anyone but I want Tyler to stay. He was the best case to win the veto. You should have seen everyone's faces like please don't pick me. If he (Tyler) wins the veto.. I have to pick a fourth person. It has to be a pawn. Enzo – who would you pick? Ian? Dani – Ian would crap himself. I think I would try to get Christmas to volunteer again. Here is the bigger problem.. what if Kevin wins what do I do!? Enzo – put up Day! She hasn't won anything. Stop reading the bible and win something.
10pm – 10:35pm HOH room. Dani and Enzo. Cody joins them. They laugh about how David is lying about using it on himself. Cody – he is going into the diary room acting like he has the whole house wrapped around his finger. Enzo – he is insulting my intelligence. Dani – I know I am crazy but I don't want Tyler to go. Like honestly I want Tyler to stay. We have the votes no matter what and Kevin has to go home. Cody – so we're not going to backdoor Tyler!? Dani – do you want to get Tyler out!? Cody – no I am just kidding. Enzo – we have till Thursday to figure it out. Dani – if Tyler wins .. we have to put a pawn up.. and I want Christmas to offer herself again. If Kevin wins .. He (Enzo) said put up Day and tell her she is the pawn. Enzo – everyone hates Memphis on the outside world so don't be protecting him for anything. He is definitely hated. They talk about how Memphis went up to David tapped him hard on the shoulder and said you popped your cherry buddy! Good job! They talk about how he's mean to David. They talk about how Ian and Tyler said on Davids package he said that he taught himself to cry on demand. Ian, Nicole and Tyler join them.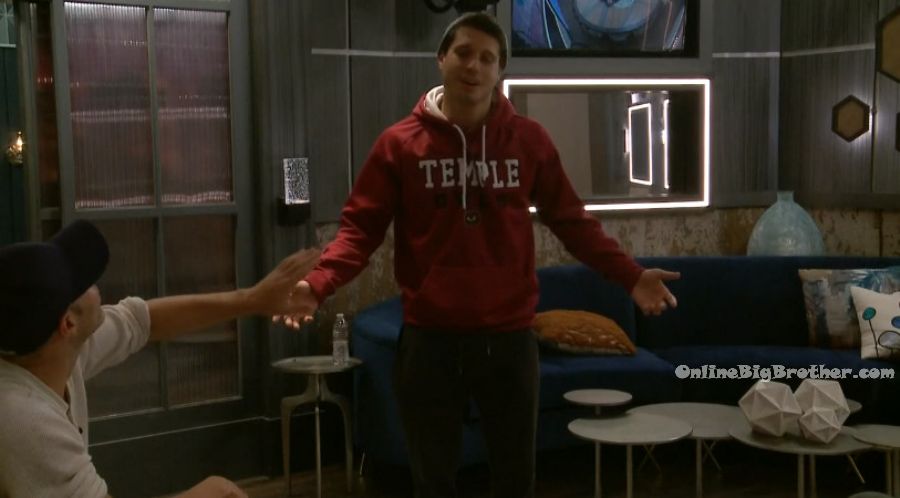 11:15pm Hammock. Cody and Nicole.
Cody – Tyler said when he came out here that at least I get to play in the veto and I'm not just the backdoor option. The thing is he was saying a lot of sh*t that brought that on. He kept saying to her if you want to backdoor me, I understand. If you to put me up, I understand. If you keep saying that over and over again .. its like why don't you do that. Nicole – right. It just makes him look guilty.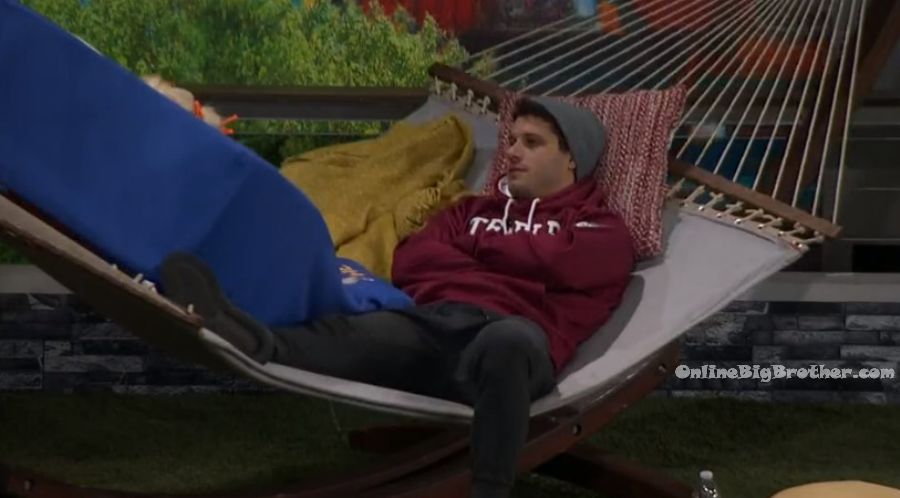 11:50pm Nicole comes out of the diary room and says that her slopitard punishment is over. Nicole and all the house guests head out to the backyard. Nicole takes off her costume and jumps into the pool..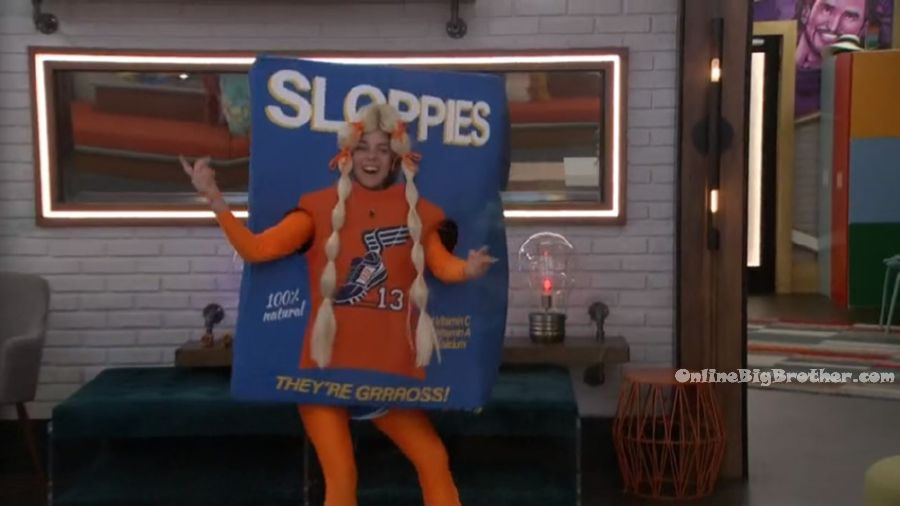 12am Cody and Tyler are playing corn hole in the backyard.
Show your support by making a donation.
If you're enjoying our live feed updates this season, please consider donating.
Any amount is greatly appreciated! Your donations go directly to paying the fees required to run this site.