POV Holder:
McCrae
Next POV
Aug 31st
POV Used
POV Ceremony
Sep 2nd
HOH Winner:
GM
Next HOH:
Sept 5th
Original Nominations:
Amanda and McCrae
Current Nominations:
Last Evicted Houseguest
Aaryn
Have Nots
7:23pm backyard Spencer and MCcrae
McCrae tells him that he's positive that JUDD is working with Elissa and he's pretty sure GM has something two. McCrea doesn't think GM will be nominating Elissa. McCrae ads that JUDD just told him he will not be talking to GM tonight to get Elissa put up. Spencer is nervous to thinks they might put him up.
Spencer agrees tells him to not think of this as the end of the world. Everyone in the house like McCrae losing Amanda might be alright for him.
Spencer tells him he's targeting Elissa this next week if he wins the HOH.
McCrae says he's positive Amanda is going home
MC – "I feel like we're all f***, you, me and Andu"
Spencer – 'why dude.. if that is the cause and Amanda does go home we still have the numbers.
S – 'Don't get discouraged and don't get rattles if Amanda walks out the f*** door'
MC – 'Veto is what i'm worried about'
MC – we're even f*** if I get HOH
Andy joins them asks why they would be f** if McCrae wins HOH
MC explains if he won HOH put up Elissa and GM and JUDD won the veto he would have to put up either Spencer and Andy.
Andy groans.
Big Brother 15 N*de flashback times here
7:43pm backyard Andy and Spencer
Andy's suggests that next week if he wins HOH he will put McCrae and GM up and when POV is played they will put up ELissa. Andy is getting worried that JUDD will not use the veto ensuring Elissa stays.
Spencer – "McCrae and JUDD is the best bet.. Worst case scenario we gotta exterminate McCrae'
Andy – 'I'll just tell Ginamarie.. YOU have to use it.. do you think she would'
Spencer – 'ya' Spencer points out how half the exterminators want Elissa gone first the other half want McCrae.
Andy say they cannot have McCrae and Elissa on the block together because JUDD and GM will vote out McCrae.
Spencer – 'it's gotta be Elissa vs an exterminator'
8:02pm Backyard Spencer and MC
Andy joins them says Amanda Is cooking, Elissa and GM are painting their nails and JUDD is sleeping.
Spencer – 'Good I'm happy when JUDD is sleeping'
MC agrees they know JUDD isn't scheming.
Spencer leaves. Andy tells him if Amanda leaves the two of them can win it. McCrae – 'The biggest hurdle is Elissa.. we need to get her out'
8:27pm HOH Spencer and GM
GM – what's going on
S – nothing
GM – let me tell ya what's going on
GM – 'Amanda is pretty much begging for her life.. literally.. She's trying to get rid of ELissa.
S – I've heard her whole argument about it'
GM – 'actually McCrae is thinking about using the veto on AManda'
He keeps hounding me, 'I'm not going to tell him who I am putting up I don't have to tell him anything'
GM – 'If I tell him I'm putting up Elissa he'll use the veto on Amanda.. He thinks he has the votes to stay but he's mistaken
S – 'McCrae won't use the veto on Amanda no matter what'
They agree Amanda is the right choice to get rid of this week. GM brings up how Amanda and McCrae say she will be a target next week.
GM – 'I have Andy, Spencer and JUDD.. and I pretty much have ELissa.
Spencer – 'Right now that Jury house is sitting there with their mouths watering waiting for Amanda'
S – 'you send her to the jury house and you make it to the final 2 you win half a million dollars'
GM – 'just getting rid of her'
S – 'ya everyone in Jury hates her f*** guts'
GM points out Amanda is trying to make her feel bad, 'maybe people should feel bad for me because I have a broken foot'
GM says she's with the exterminators till the end 100%, 'you have my word my balls you can take Nick's hat'
Spencer – 'There may be a time tonight that me, Mcrea, Andy and Amanda come up here saying put Elissa up.. just know it's all bullsh!t.. I'm trying to get out of it'
GM talks about Amanda's campaigning- "it was like a soap opera up here.. Ginamaria PLEASE."
S – 'She didn't care when she was scheming out Nick our Aaryn'
GM – 'I gotta protect my f*** squad'
GM – 'I told McCrae yesterday'
GM 'Who wants some fu*** tuna.. this package says it's 100 calories that's all i've eaten today' (See image) GM tells him she is not wavering with her decision to take out Amanda this week.
Spencer thinks they should just tell AManda flat out they are not putting Elissa up it will avoid a lot of conversations.
Spencer tells her that JUDD is trying to get McCrae evicted but Spencer thinks AManda will come after GM whereas McCrae will go after Elissa.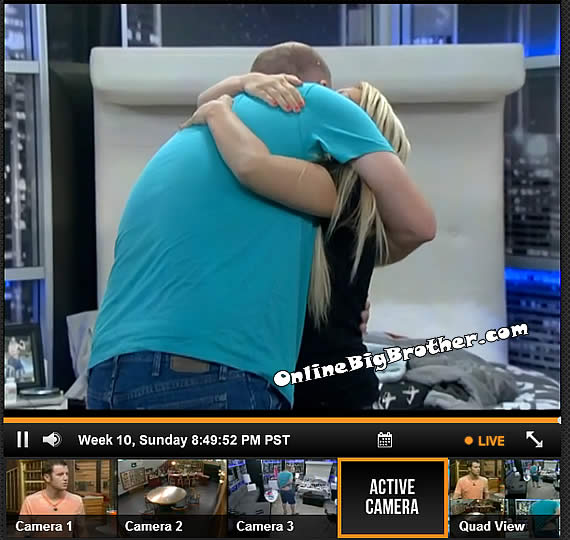 8:51pm HOH GM and Spencer He tells her if Elissa asks say that Amanda and McCrae are trying to get her put up but Spencer doesn't want that to happen so he is volunteering to go up to make sure Amanda goes. Spencer adds if Amanda and McCrae ask say he was talking to her and trying to get Elissa put up.
9:00pm Backyard
Andy says the funniest veto ceremony was when production told Helen to redo the "Are you ready for the veto ceremony' line because she sounded too cheerful.
9:01pm JUDD and GM kitchen
GM tells him they want Elissa up more than JUDD. JUDD says they were trying to get him to talk GM into putting up Elissa. JUDD – 'I told them i'm not in any position'
JUDD – 'who's it going to be… Spencer'
GM – YA
They head up to the HOH where GM fills him in on what McCrae and Amanda are saying. JUDD says he's going to act upset make Amanda and McCrae think he's going up.
GM laughs – "Do that"
JUDD says it would be so awesome if McCrae used the veto on Amanda. GM – 'It would be so awesome'
JUDD – 'you know if we got him to do that what kinda HUGE move that would be'
GM – 'He's considering doing that'
9:17pm bathroom MC and Amanda
Amanda – 'I'm going home.. or to the Jury house'
Amanda says she was begging GM pleading with her to put up Elissa.
9:41pm Elissa and GM studying dates
GM gives her a bit of a pep talk.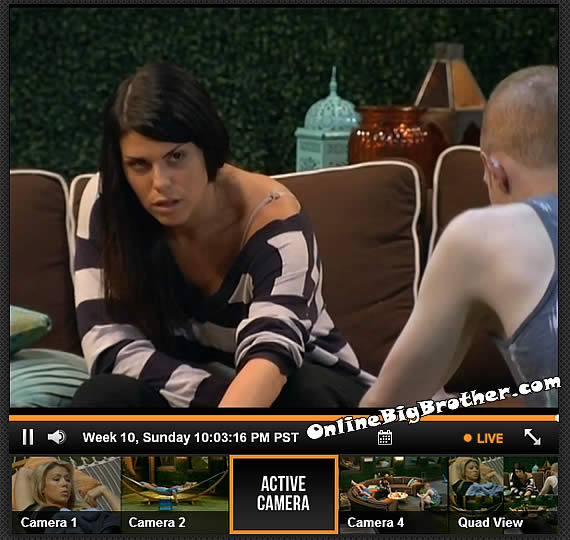 9:56pm Backyard McCrae, Amanda, Andy
Amanda tells Andy something shady is going on.
Amanda – 'Poopy said every single person was coming after me and mcrae beside you'
Amanda – 'how did she know'
Andy – 'I just don't want to believe that'
Amanda – 'She said GM is working with Elissa and JUDD'
Amanda says Spencer is offering himself up as a pawn.
Amanda says when something that doesn't make sense is going on it means you don't know w
Amanda – 'Spencer is playing both side.. he's going up tomorrow'
Amanda says it's going to be Elissa, JUDD, GM and Specner against Andy and McCrae. Amanda adds that JUDD is lying to straight to her, "He's whispering right now with her.. He's working with Elissa.. does he think i'm stupid'
Amanda – 'If I leave do not trust any of them it's you two' (Mc and Andy)
Andy – 'I don't want to give up with Spencer'
Amanda – 'He's a lying F****"
Amanda – 'Even if she puts up JUDD we still don't have the numbers..'
AManda says Elissa knows Amanda is trying to get her nominated she should be freaking out but instead she's calm, "She knows she's safe this week"
10:09pm GM, Amanda, McCrae HOH
GM – 'I decided I will not be putting her up as a replacement nominee'
Amanda – 'you are going to put up Spencer'
GM – 'one or another'
Amanda says she knows GM is putting Spencer up no need to deny it.
A – 'why won't you put her up if you are not working with her'
GM says she is not working with Elissa she is making this move strictly on her own for her own game.
A – 'The only reason You would not put up ELissa and Spencer is that you Elissa, spencer, JUDD are all working together'
Amanda brings up how the entire house knows Amanda is trying to get Elissa as the replacement. Elissa is walking around calm and happy she knows she's not going up because she's working with GM.
Amanda says JUDD and Elissa are downstairs whispering together if that isn't a worry for GM than she must be working with them.
Gm – 'I'm looking you straight on my life that I am not working with Elissa'
MC – 'cross your heart '
GM – 'I cross my heart hope to die swear on the bible (10:12pm image cam1)
They shake.
GM says for her game the biggest threat to her is Amanda and McCrae.
Amanda doesn't believe GM, She reminds GM all the nasty things Elissa said about GM.
Amanda is crying asks her why did she get Amanda/McCrae hopes up.
GM says it's difficult making these decisions she was considering putting ELissa up.
Amanda – 'It's difficult to send that f*** b1tch home'
Amanda – 'it's nothing person there is something going on that I don't know of it.. there's some alliance that I have no idea about'
Amanda brings up Elissa calling GM a psychopath because of how she talked about NIck, Amanda adds that Elissa put up Nick and Aaryn.
GM says she tried to get Elissa out earlier in the season but it never worked out (Amanda was trying to keep Elissa safe early on)
Amanda says it's 100% obvious that she is going home this week. Amanda thinks the vote is going to be McCrae/Andy voting to evict Spencer and JUDD/Elissa voting to evict Amanda.
Amanda – you are sending me home
GM – 'If that is what you think fine..'
Amanda accuses GM of doing Elissa's dirty work. Amanda says her plan last week was to backdoor ELissa and it didn't work out. So now Elissa is getting GM to do what she couldn't.
GM – 'For game wise you this is what I have to do Amanda.. '
Amanda asks if Aaryn will like that GM had the chance to get Elissa out and she got out Amanda.
Amanda Leaves.. GM says she wishes them both the best of luck inside and outside the house.
GM tells McCrae when she goes he will be better off.
GM asks him what he is going to do with his veto.
McCrae -'I think I have to use it on myself'
10:51pm Backyard Amanda, JUDD, Spencer and Elissa
Whether or not all those girls hate me in jury I now have the opportunity to tell them everything I did was for game
Amanda says Candice wanted her out since the first day she mentioned Howard's name
Jessie was taken out because she tried to flip the house on Amanda 50 times
Helen was coming after her and tried to flip the house
Amanda really wanted Aaryn to stay in the house but it came down to who she trusted more Aaryn or Andy and Andy has been with them since week one.
ELissa leaves, McCrae joins
Amanda – 'It's over'
Amanda – 'I wasn't playing the game this is me'
JUDD – 'you played a great game'
Spencer – 'Ya'
JUDD doesn't respect the players that are on here to just be on TV he respects the players like Amanda who came here to play. (Amanda told them that she was on the show for the money she was on it because she loves the game)
Elissa comes back
JUDD – 'I was mad as hell at Helen.. '
Amanda – 'you were blindsided'
JUDD – 'I knew when Aaryn wouldn't look at me that I was scree"
Amanda – 'Being blindsided sucks' She adds when her and McCrae were put up it had destroyed all her confidence in the game.
GM joins them. Elissa tells Amanda to tell them all about her moves this season, 'I liked it. it was like listening to a movie'
Amanda says she applied online and did a skype interview. When they asked her who her favorite players were she said Evil Dickl an rachel.
Elissa – 'Really'
Amanda says she really liked Britney's DR sessions.
Elissa – 'they make you think… was it really her"
Amanda – 'Yeah editing is a huge… ' Feeds cut.
ELissa says she wishes she had studied up more about the competition, "Like Aaryn did"
11:25pm Backyard talking about who the MVP votes were
Elissa says there is no way America would vote her up over Amanda, Jessia and Candice. McCrae explains that all of people that didn't like ELissa will vote for Aaryna and Kaitlin but they were already on the block.
Elissa still doesn't think America would have voted her up. She thinks the previous Evicted houseguest was the person that got to pick the nominations.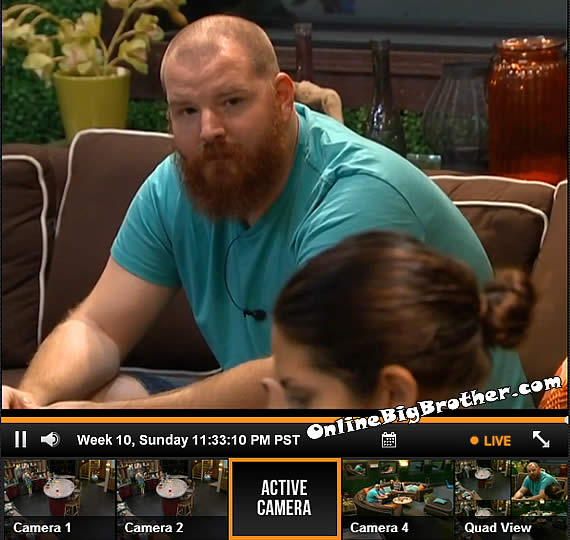 11:33pm Backyard Specner, Amanda and McCrae
Spencer says Amanda played a amazing game she should be proud of what she has done.
Spencer – 'Everyone in this house Sans one deserves to win this game'
Amanda – 'It burns me that she is going to make it longer than me'
Spencer – 'Look at it this way i'm lasting longer than you and you played a much better game'
JUDD joins them. Amanda goes back to saying it makes no sense that GM is not putting up ELissa. She knows she' smissing something which she'll have to wait until after the show to see. JUDD thinks they are all going to be surprised by things after rte show.
11:57pm
Amanda impersonating what Candice and Jessie will say to her when she walks into the Jury house. Elissa jokes that everyone in the jury hates Amanda. Amanda thinks they will be alright with her. They might raise their voices a bit at first for TV value.
Amanda thinks Jessie will come out yelling calling her a b!tch and saying how McCrae won't be l!ck!ng Amanda's pu$$* he will be liking Ginamarie's
GM – 'No no no My pu$$y is only for Nick.. Sorry Spencer'
12:10AM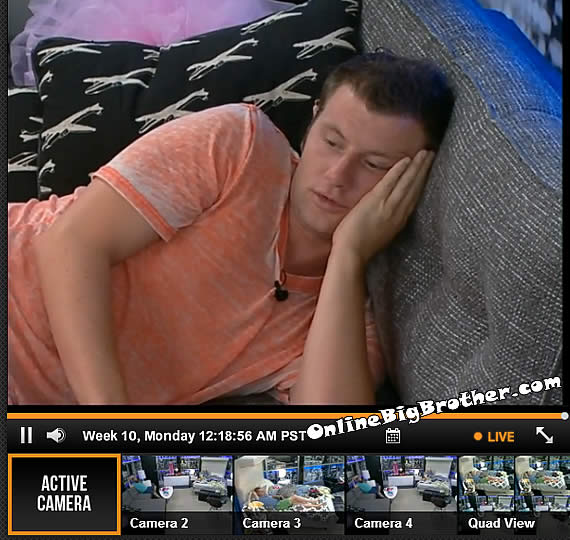 12:20AM HOH Spencer, JUDD and Andy
Spencer says he's nervous about going up he doesn't want to look like a lawon. Andy says they would all look like LAwon if they voted Him out over Amanda. JUDD reassures Spencer that him and Elissa are locked to vote out Amanda.
JUDD – 'I feel good about the exterminators.. I've never felt this good before in this game.
Share it YO!!
Tweet