POV Holder:
McCrae
Next POV
Aug 31st
POV Used
POV Ceremony
Sep 2nd
HOH Winner:
GM
Next HOH:
Sept 5th
Original Nominations:
Amanda and McCrae
Current Nominations:
Last Evicted Houseguest
Aaryn
Have Nots
5:00pm Andy and Spencer
Andy says he talked to GM and she wants Amanda gone this week she going to tell McCrae tonight Elissa is not going up.
They both agree they do not trust JUDD any more. Andy mentions how he sees him talking to ELissa every morning and he's feeling she doesn't trust him anymore.
Andy says he needs to get Elissa out the biggest danger for him and Spencer is if Elisa win the HOH puts Andy and McCrae up. Andy adds if McCrae wins the Veto Spencer will be the replacement nominee.
Spencer is on board with getting Elissa out Asap. They also agree JUDD needs to go before GM. Spencer does voice concern about GM's ability to win competitions.
Spencer – 'I may be a fool but you are the only person I have a final 2'
Andy – 'same'
Andy wonders how JUDD got back in Elissa's good graces because he was so awful to her when he left.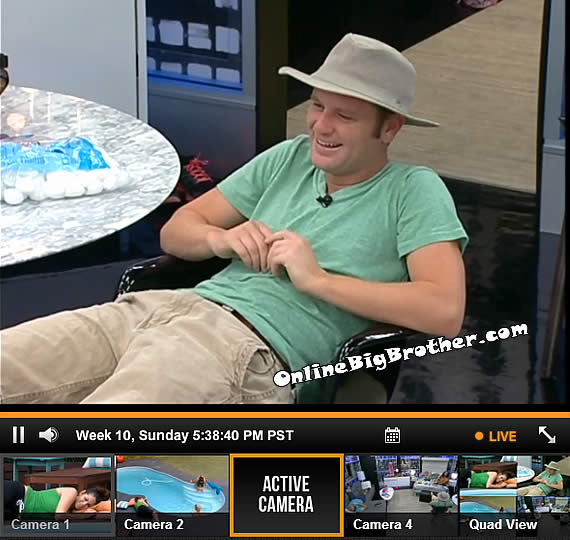 5:20pm HOH Andy, Spencer and McCrae
Andy suspect there is an alliance between GM, ELissa and JUDD. Spencer and McCrae can both see that.
McCrae explains what he's been telling GM. If she put up Elissa he'll use the veto on himself but if she doesn't he'll use the veto on Amanda. Andy says if ELissa goes up Elissa will go home.
McCrae says keeping Amanda in the game is good for GM because Amanda will always be a target, 'She'll always go up' McCrae lists off some of the points to Keep Amanda. Nothing we haven't heard before.
MC – "I said one thing that Poopy wanted was to have ELissa walk out that door'
Andy says everyone wants Elissa out.
JUDD joins them. They start talking about Survivor.
They start talking about Big Brother Canada and how Suzette got HOH and a veto. JUDD says Canada voted her to have a veto and she answered the phone and got HOH. Andy said Suzette had a a lot of fans. JUDD laughs – 'Canada love Suzette'
Andy wonders if Helen really was a cut throat b!tch or a sweet nice person. Spencer thinks she a bit of both, nice at home but a b!tch at work.
They're having a good laugh about Aaryn's nickname 'poopy'. Spencer points out how much Aaryn hated being called that at first.
Spencer – 'I called her poopster.. my ex girlfriend use to call me that'
JUDD tells them about being paddled at school. The teacher would give you a choice stay for detention or get the paddle. McCrae says he would take the detention. JUDD say no way the paddling.
McCrae leaves
JUDD asks them what McCrae is talking about. Andy says McCrae just want ot know what GM is doing.
JUDD says he planted a seed in McCrae to use the veto on Amanda. JUDD -'If that works it's good for us if not oh well'
Andy -' they have no clue about what's going on'
JUDD – ' ya.. i'm going downstairs'
Andy – ' you talked to Elissa.. you know where her head is at'
JUDD – ' no… she's oblivious'
5:57pm Girl chat around the pool Boys chat in the HOH
6:05pm Amanda and McCrae
A – Anything new with you
MC – no
A – do you think it's a lost cause
MC – hmmm I dunno.. we have to try
A – you talk game with anyone
MC – Andy and Spencer
McCrae explains that Andy and Spencer told him they have his back if Amanda leaves.
A – you think they want me gone
MC – I dunno there is something weird going on
A – they are not trying very hard.. maybe they just don't want blood on their hands.
JUDD joins them says he has the feeling he's going up. AManda – 'you always have that feeling'
Amanda is confused why was Elissa so happy when JUDD came back because Elissa and Helen were plotting against JUDD.
JUDD – 'I have no idea.. I shunned both of them when I left'
Amanda – 'I know that is why i'm confused'
HUDD and McCrae
JUDD – whats Spencer and Andy thinkin
MC – They think they are going up
JUDD – Both of them
MC – ya
Andy, JUDD and Spencer join them. JUDD asks McCrae for a Minnesota Folk lore. MC tells them about paul bunyan and how he created all the lakes in Minnesota. Everytime he took a step he crated a lake..
6:46pm HOH Amanda and GM
Amanda wants to know what GM is thinking about for replacement nominations. GM says she talked to MCCrae she told him she will make her decision by tonight.
GM says she told him he won the veto fair and square and he should do what will benefit him the most.
GM – 'I'll tell you for sure if it's going to be Elissa' GM adds that if it's not Elissa it will be either Spencer or ELissa.
Amanda says if it's Spencer she will go if it's JUDD or ELissa she will stay and they would go.
Amanda asks if the vote is a tie would GM keep her. GM – "HHmmmm"
Amanda – 'you can be honest with me GM.. part of the reason I was so upset was because I felt blindsided'
GM apologizes says she never meant to blindside her. SHe adds that she'll let her know tomorrow after the replacement nominee has been set what she would do in a Tie.
GM says she's all alone in this game. Amanda says she's not they have Amanda and McCrae. GM says Andy is also their friend.
Amanda tells her it breaks her heart to vote out Aaryn.
Amanda – 'There is 5 people in this house that want Elissa up as a replacement nomination and only 1'
Amanda offers GM everything in the game. She will let GM pick her nominations.
Amanda – 'I'm pleading with you Please give me a chance'
Amanda – 'We would do anything for you.. Me, McCrae, Andy.. '
Amanda – ' I will not be a threat to you'
Amanda – 'this house would be so peaceful without her.. please send her home.. you know that this entire game she's looked down at all us'
Amanda – 'When I was walking around as bubby I did that for all the times she bullied you, Aaryn and me'
A – 'I'm begging you.. it would be a life changing move for me and for you'
I swear on everything on my life I will not be coming after you mccrae will not be coming after her.. on my life i'm begging you.. let me help you and lets get rid of this disease in this game.. she's had an unfair advantage since day one'
Amanda points out that Elissa will win the America's player thats already 25 htousands
Elissa joins them, Amanda leaves.
GM says AMAnda and McCrae want to know who is going up. GM isn't telling them anything.
GM – 'she almost doing a Aaryn.. basically saying she will do anything to save her'
GM reassures her she is not putting Elissa on the block. GM adds that McCrae and Amanda need to be separated this is their chance. GM doesn't want to tell them who is going up. Once they find out they will start campaigning to the other people spreading lies and GM doesn't want that.
Elissa asks if Amanda is trying to get Elissa nominated. GM says no she just wants to know who is going up.
Elissa – 'You know for you and me it's best for us to work together'
GM – 'ya'
GM – 'She saying that everyone is going to put us together..'
Elissa – 'She's delusional'
You can re-watch ever second on the feeds using the flashback feature.. It's just like a DVR and is super easy to use. click this link for a Free Trial —> Subscribe to the Big Brother Live Feeds
Share it YO!!
Tweet