POV Holder:
McCRAE
Next POV
Aug 31st
POV Used
POV Ceremony
Sep 1st
HOH Winner:
GM
Next HOH:
Sept 5th
Original Nominations:
Amanda and McCrae
Current Nominations:
Last Evicted Houseguest
Aaryn
Have Nots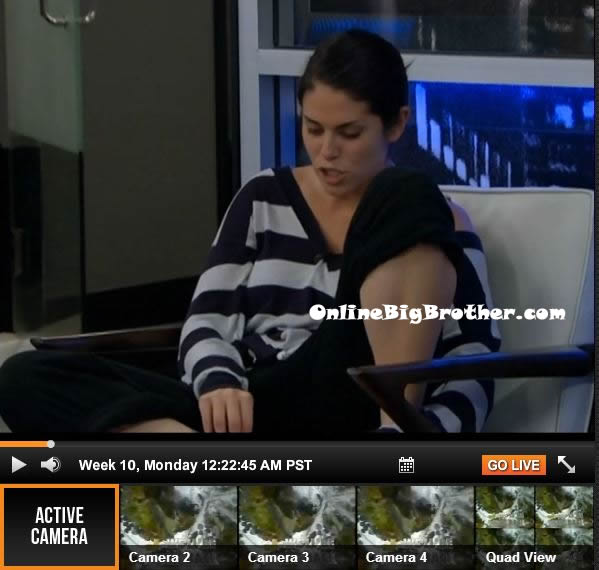 12:20am – 1am Up in the HOH room – Spencer, McCrae, Andy and Judd are talking. Amanda joins them and says how big of a nasty bit*h is that girl (Elissa)? Is she not the biggest f**king bit*h? Spencer comments that Amanda was being the nicest version of yourself. Amanda says she was being the biggest bit*h in the entire world. Andy asks what happened? Spencer says there were digs, she's digging. Judd says I though you were nice. Amanda asks I was nice to her right? Judd says yeah. Amanda says she was just saying mean nasty, like she was digging! Andy asks like what, what did she say? Spencer says she is just saying like what Ginamarie should have told her in her nomination speech and what she is going to say in her goodbye. You're the biggest manipulator and sh*t, just. Amanda says and that everybody hates you in the jury house. Amanda says I was just ignoring her and just kept talking to Judd. Judd says yeah I think she is drunk. Amanda says when she gets drunk she is a bit*h. Judd says she needs to go to bed. Amanda says yeah she's drunk I guess. Judd says she is going to get a penalty nom. Amanda says yeah she needs to go to bed. Amanda then says no give her more alcohol, let her get a penalty nomination. Big Brother calls Amanda to the diary room. Gina and Elissa join them. Judd asks Gina when she is getting married. Gina says once Nick puts a ring on it. Elissa asks am I being called to the diary room to apologize for the way I acted? Big Brother cuts the feeds. Elissa leaves and the other comment on how drunk Elissa is. Judd says he told Elissa she is about to get herself a penalty nom and she got mad at me. Judd asks you don't think McCrae will do that do you? (Use the veto on Amanda) Big Brother cuts the feeds. They talk about Amanda's campaigning to stay. Andy says bit*h don't know she is about to be exterminated.
Big Brother 15 Live Feeds: FREE 2 DAY TRIAL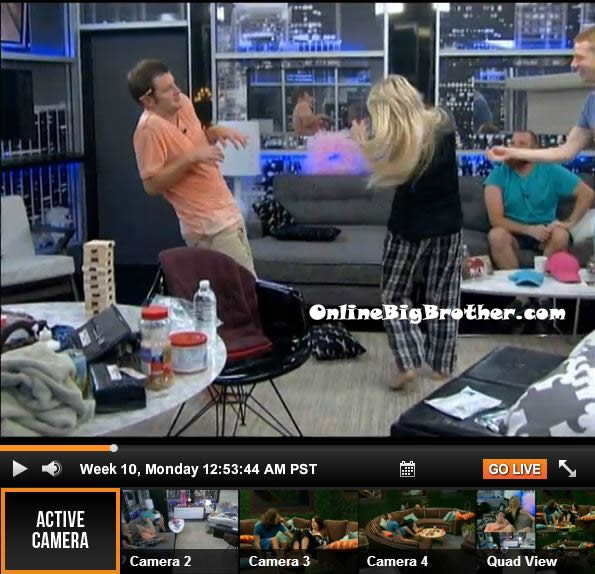 12:50am – 1:30am Meanwhile on the backyard couch – Amanda and McCrae are talking. McCrae says that if they bring Elissa any farther in this game, we will only vote for Elissa in the end. Amanda says it's going to be weird leaving. McCrae asks are you excited? Amanda says no the complete opposite, I am devastated. I can't believe I can't do anything about it either. McCrae says it is either Gina's dumbest move or smartest. Amanda and McCrae head over to the hammock and lay out in it. Amanda tells McCrae that once I am going people aren't going to target you anymore. Unless there is that 4 alliance. You should put up Elissa and Judd, if one of them come down put up Gina. All you have to rely on is that Spencer is being loyal. You need to get rid of Elissa, Judd and Gina. Judd is the most dangerous, then Elissa and then Gina. McCrae talks about his mom and how she see what's going on. Amanda asks does she see how much I love you? McCrae says yeah. Judd, Andy and Spencer join them. They talk about random things.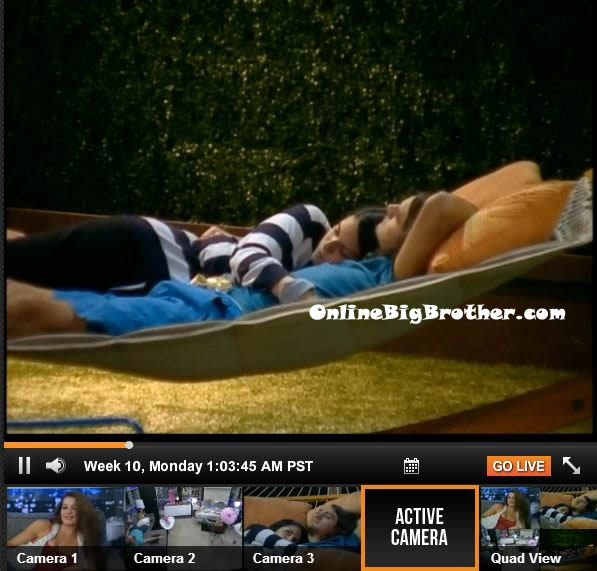 1:35am Elissa asks Gina if she is going to go back outside. Gina says no I am going to lay down. Elissa says I am going to stay up till 4am. Elissa says Andy is calling me lamo, he says I'm the new Jessie. Elissa and Ginamarie are in the HOH room talking about how the Veto meeting will be early tomorrow. Elissa leaves to go back outside. Judd comes up and joins Gina. They talk about random things. Elissa and Andy then join them.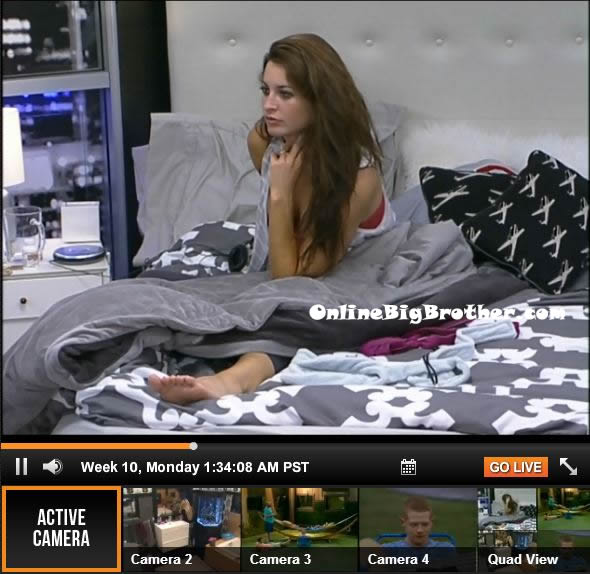 2am – 3:25am Amanda, McCrae and Spencer talk about how Elissa f**ked up their game. Spencer says the only person we said cannot get HOH was Elissa, and then Gina. They talk about the HOH competition. Spencer tells Amanda you know I want you to be here. I think you are all-star material. Amanda says and she is f**king up my game. Amanda, McCrae and Spencer head over to the couch. Amanda says she wants to go to Ginamarie and tell her she knows the only reason her and McCrae are on the block is because we are in a relationship and she is jealous. Spencer says I would not go tell her that. Amanda says and after Nick see's this he is going to think that you are such a crazy lunatic that he will never want to speak to you ever again. Judd and Andy join them. Spencer tells Amanda that she is in the top 3 hottest girls in the house. Amanda says hey, I've always been in the top 3 hottest in the house. Spencer says well pajama sweat pants don't really do anything for me. Amanda says well they do for McCrae. Spencer says well McCrae smells like mustard soup most of the time. Spencer says well he has a tie for a belt, so lets not use him as a metric for what is sexy. Everyone heads inside except for Spencer and McCrae. Spencer says he trusts and wants to move forward with McCrae. They talk about how the moving company fell apart. Amanda comes out and they all heads inside. In the bathroom – McCrae talks to Amanda about his conversation with Gina. Amanda tells him she loves him. We will just be apart for 2 weeks. McCrae says I am sorry. Amanda says even if you wanted to use it on me I wouldn't let you. McCrae says I would beg for you to use it on me. Amanda says the worst case scenario is he leaves and comes to jury and we f**k like bunnies but that's not going to happen you're not coming to jury. Amanda tells McCrae if he gets the $50,000 he can take her on vacation, we will go to Europe! Amanda tells him I love you, don't be scared. Amanda and McCrae head to bed.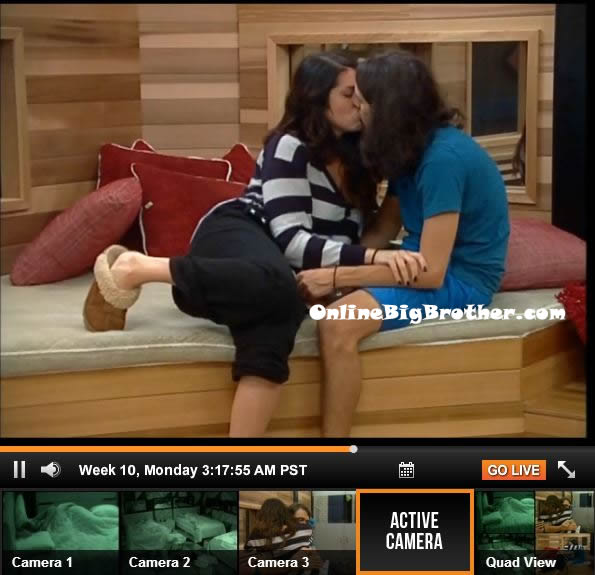 5:50am All the house guests are still sleeping..
8:20am Big Brother wakes up the house guests..
Use the Big Brother Live Feeds to FLASHBACK to SEE what they can't show you on TV:
BB15 N!p Sl!ps / N*des
Share it YO!!
Tweet