POV Holder:
?
Next POV
?
POV Used
?
POV Ceremony
?
HOH Winner
?
Next HOH
May 7th
Nominations:
?
Have Nots
Canada gets to vote
POV Players
?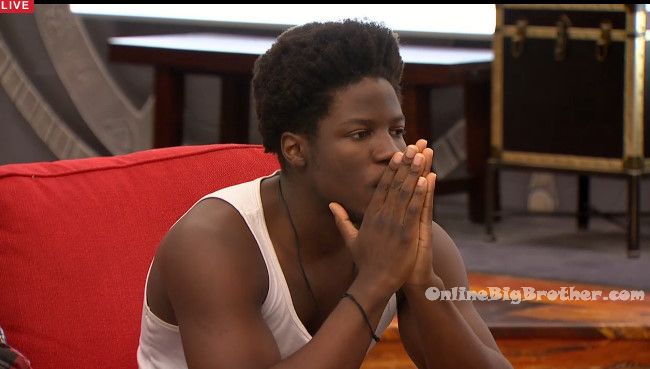 11:15am Big Brother blocks the feeds.
11:50am – 12:25pm When the live feeds return all the house guests are in the living room talking about reality tv shows like Bachelor pad. Sarah says that she watched 1 episode from the Canadian version of the Bachelor. None of the others watched the Canadian version. The conversation turns to talking about how recognizable past house guests are if you see them in real life. Zach says he saw Talla and thought she looked familiar but wasn't sure who she was so he googled her and said yup that's Talla. Sarah says the HOH comp will definitely be today. Pili asks what about havenots its already Thursday. Sarah says maybe after they're picked. Brittnee says I really thought we were going to be able to ask him stuff. He said I can't talk game. Britt says "REALLY EMMETT!!" Bruno says "I told him his girlfriend is a smoke show!" Brittnee says he is my type! Ya'll want to know who my type is! That's it! Sarah says I was like Buddy! Buddy yo! Pili says great day 50! Britt says he seems like a pretty chill guy. I'm glad he wore the cowboy hat! Bruno says he's a stud! Bruno says hopefully they bring Jillian in here too man! Britt says I would get a kiss on the cheek from her too. Britt says I like that he said that Willow did them proud .. because that's what she wanted and they live close together.
(Emmett is likely hosting their HOH competition today.)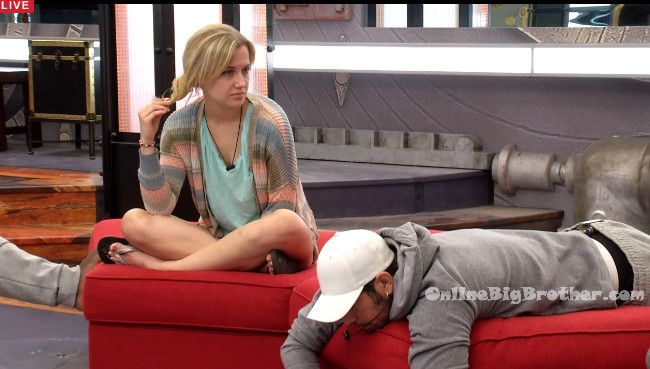 12:35pm Outside the bathroom – Bruno and Zach are talking. (Zach doesn't have his mic on) Bruno tells Zach the next one is probably the most important one, not this one. They're going to take each other over us bro. If they get a chance they're going to strike. Zach goes to get his mic and comes back. Bruno says that once Sarah goes we'll be good. Sarah is the number 1 on my list. Zach says Sarah and B have to go on the block. Bruno says she knows I'm gunning for her. I don't even know why she tries. Zach says this next HOH is huge.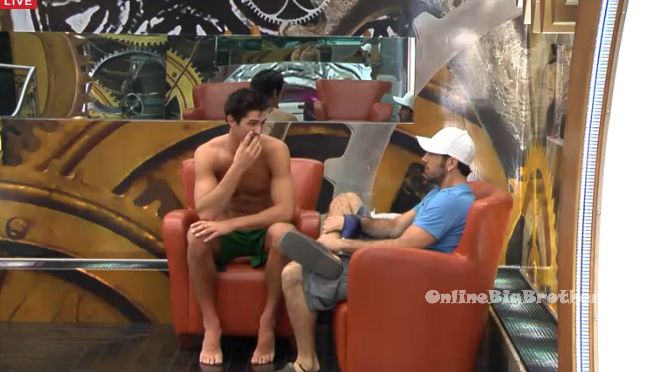 12:45pm Godfrey tells Bruno I know if Zach or Ash win HOH they're putting us up for sure bud. Godfrey says he is trying to get out big players. Bruno says I am ready to take him out whenever. Godfrey says if a girl wins you know he is going to get them to .. you know how he works if a girl wins he makes a big move on their HOH. Godfrey says if I win I am putting up Zach and Ash. Ash is guaranteed to be second place. She hasn't done anything. Bruno says I will tell you right now if I win you three are safe. I still need him out. I just needed that shield. If I didn't win the veto it would have been me. Godfrey says I am going to try and convince Peels to throw it. Britt joins them. Bruno says I know Sarah wants me out but I'm not going for her. You are 100% safe. I am not going after her (Sarah) as long as she keeps her mouth shut! Godfrey says he (Zach) could win every veto from here on out. Bruno says I am seriously going for them (Zach & Ash) this week if I win. Ash joins them. I don't want Sarah, its the dumbest move. She scared the sh*t out of me yesterday. Britt says I just hope this works out because if that was the only opportunity.. Bruno says I am telling you I am going for him. Bruno leaves. Godfrey says if I sit next to him I am losing.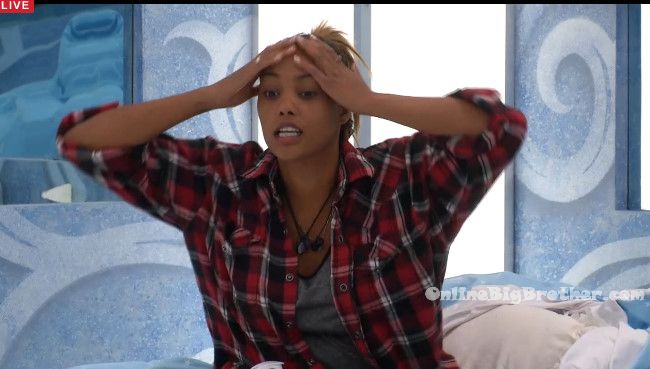 1pm Big Brother blocks the feeds.
2:15pm Still blocked .. the HOH competition is happening now..
3:30pm Still blocked
4:25pm Still blocked
5:10pm Still nothing.
5:40pm Nothing yet..
6:25pm Its looking like another 8hr comp…
7pm Still not back yet!
Here are a few new photos from the jury house before the casualties of the triple eviction arrive:

Also this photo was posted by BBCAN that shows Willow going at Bruno after he used the veto on Zach: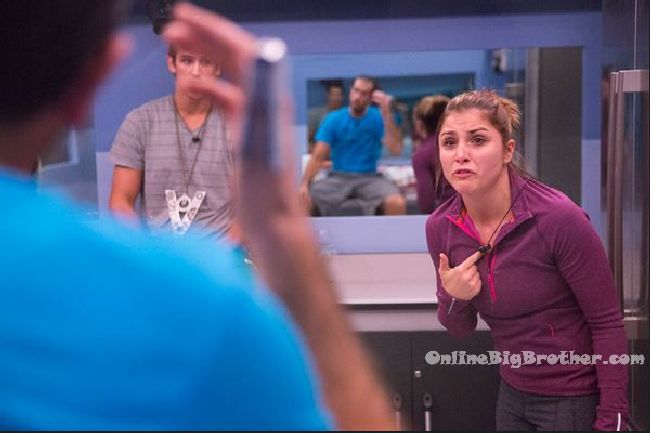 If you are outside Canada and want to watch the FREE Big Brother Canada Live feeds sign up for a VPN service here https://www.hidemyass.com/vpn/r16399/. It's safe to use, easy to set up, and cheap. Need to know more check out this post explaining how to set it up.
[polldaddy poll=8849979]