Big Brother 15 Live Feeds: FREE 2 DAY TRIAL
Spoilers
1) McCrae and Spencer are nominated
2) Andy has HOH and POV
3) If Andy uses the POV whoever he uses it on will have the single vote to evict. If Andy does not use the POV GM has the single vote to evict
4) McCrae will be going home tonight.
5) During tonight's show the first part of the final HOH is played. It is usually endurance.
12:18pm When the Big Brother Live Feeds return from being blocked for the last hour – Spencer is in bed with his taking a nap with his sunglasses on. McCrae is in the bathroom taking a shower and Andy is up in the HOH room packing up his stuff to leave the HOH room. He doesn't want Big Brother to lock the HOH door if he leaves for too long so he piles all of his stuff on the chess board outside the HOH room door. Andy takes his stuff down to the rainbow room and tells Ginamarie that he is happy to be back with his old roommate. Andy comments that Spencer will be all alone in the other room.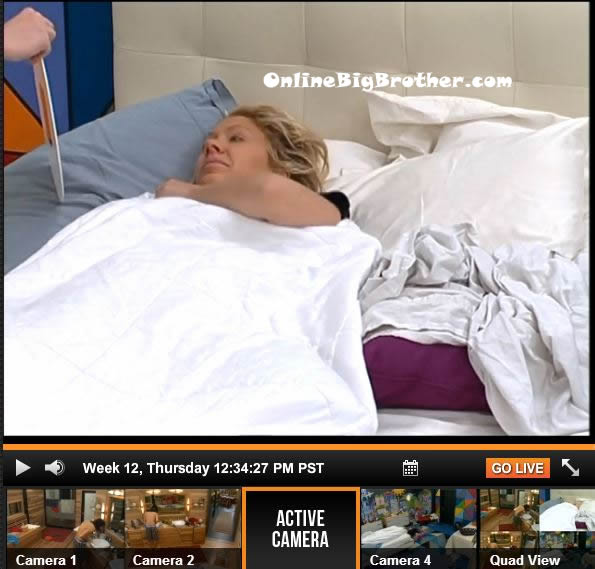 Andy puts the Amanda's fly in front of Ginamarie's face and scares her. Ginamarie says that she almost punched it. Andy tells her and Spencer that he will be calling a meeting in a few minutes. (To tell McCrae about the Exterminator's Alliance and how they will be evicting him tonight.) Spencer asks if he can take a shower first. Andy says sure. Ginamarie talks to Andy. She says that she just can't wait to sit down with Nick and talk to him. She wants him to tell her everything. Like if he was really a pro skater. Ginamarie says I just hope he remembers my name.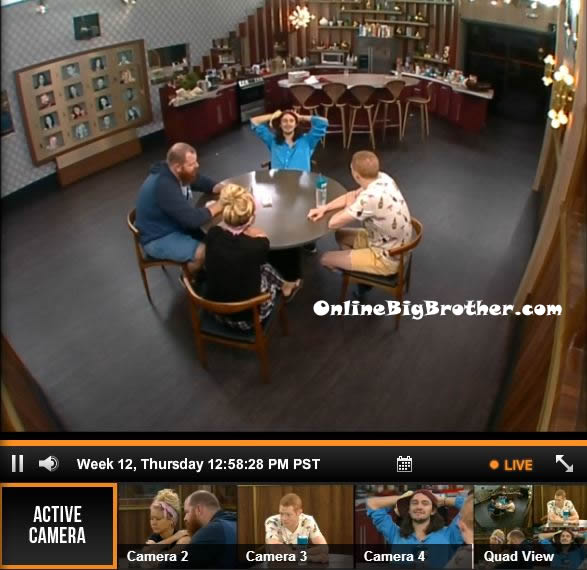 12:50pm – 1:20pm In the kitchen the final four are standing around. Andy asks so its a veto meeting not and eviction right. Spencer says I think it will be both. Andy says lets all sit at the table. Andy says here is the deal. You wanted to know what's up and here it is. 3 weeks ago we formed an alliance while sitting outside. From then we decided who would go and when. Andy tells McCrae when Judd was pissed off about his cuts he was actually pissed off about losing the veto. Andy tells McCrae that he voted out Amanda and framed Elissa for it. McCrae says I knew it. Spencer, Gina and McCrae explain the events leading up to today and the moves they've made. McCrae says I knew it. McCrae says he didn't really realize Andy would be apart of it but then after the vote he could read it on Andy's face. McCrae says that he is now glad he gave the goodbye message he did to Elissa because he says he told her he knew it was Andy that voted out Amanda and not her. They tell McCrae how they orchestrated the whole Andy / Elissa vote to get Amanda out. McCrae says F**K! McCrae says he wished he had put up Andy instead of Elissa. Andy tells McCrae that they all love him and wanted him to know. McCrae says I knew that sh*t was going down! F**K ME! They tell McCrae that they had to split up McCrae and Amanda. McCrae says he never planned to take Amanda to the final two. McCrae says Amanda was right the whole f**king time to suspect something was going on. I am so f**king pissed off at myself!! They tell McCrae that his best bet would have been keeping Judd. McCrae says f**k! Gina asks is there anything you would want to tell us. McCrae says no, you guys know everything! Andy says it was so easy for us to meet. Elissa would go to bed early and you and Amanda would curl up in bed together. We would sit outside for hours late at night talking. McCrae says he wants to go yell at the Diary Room. Andy asks what do you want to go talk to DR about? Big Brother cuts the feeds. When the feeds come back – McCrae talking about how pissed Amanda is going to be. Andy talks about how he pulled Judd aside immediately after her came back. McCrae says he knew something was up when Andy stopped telling them information about Judd. Andy, Ginamarie and Spencer talk about how they could trust Judd the least which is why he had to go. McCrae says I should have won (the HOH and veto comp), f**k! I am always going to regret the number I wrote down. F**K!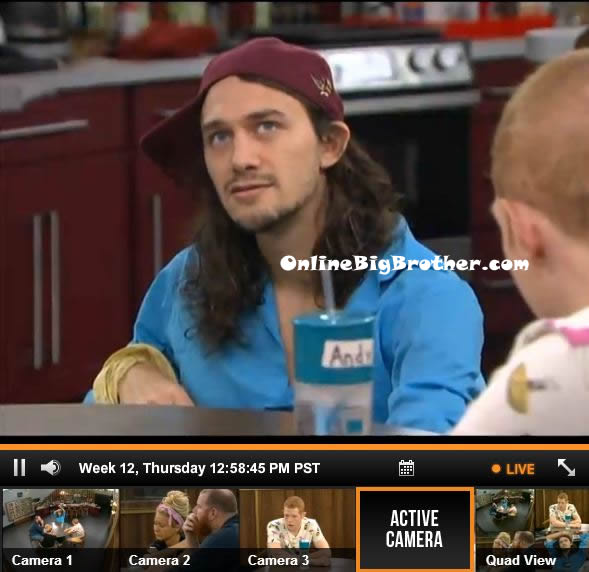 1:20pm McCrae wishes that Judd had just told him. Andy says we were so scared of Judd revealing it to you and lighting a fire in you. McCrae says that would have been the fire he needed. Andy asks McCrae if he suspected they were all working together. McCrae says no not all of you. Not Judd. I didn't see all of you together so I didn't think you were but that doesn't mean anything. McCrae says now I have to apologize to Elissa. F**K! McCrae leaves the kitchen and then comes back. McCrae says he knew something was up with Andy after Judd came back and would always tell Amanda something was up. McCrae says dude that's crazy! AGH I wish I would have just trusted myself and gone with my gut! Spencer says Amanda was blood thirsty for Andy. McCrae says she is f**king smart! F**K! They talk about how Ian Terry (BB14) knew about it and McCrae wishes he could have told him. Spencer says Ginamarie putting both of you up was the biggest move in the entire game. McCrae says f**k, I f**ked up so bad. Spencer says I hope no part of your brain thinks this is moving company revenge because it isn't. Gina says this isn't revenge for Nick either. McCrae says the only person I am pissed off at is myself. McCrae says f**k it better be an all stars season next season. How many comp wins does poopy (Aaryn) have? Andy says 5. McCrae says I'm tied with her for 5 wins. Spencer says Andy has 4 wins now. They tell McCrae that they wanted to tell him out of respect for him. McCrae says yeah I would have been so pissed if I had found out after.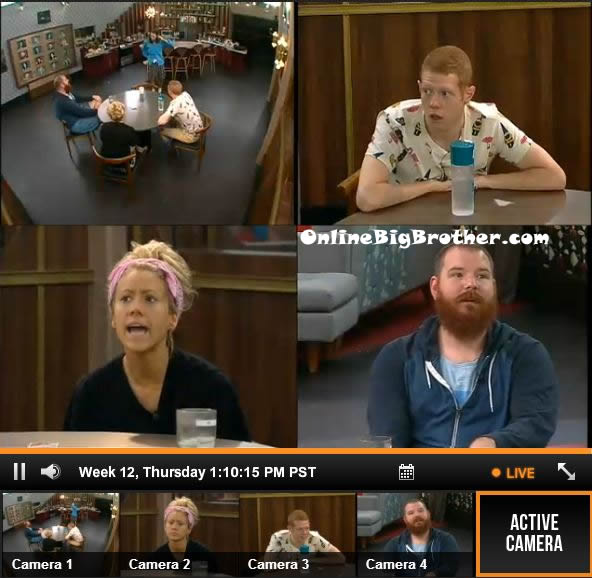 2:05pm – 2:20pm They continue to talk about the past events leading up to today. McCrae says god, I am the dumbest motherf**ker! McCrae asks should I shave for being voted out. They tell him no, he looks bad a$$ not shaven. McCrae says I just don't want to look like a scrub. McCrae keeps saying F**K! Andy asks what do you think Amanda did to my organ shirt when she found out. McCrae says he doesn't think she will do anything to it. Spencer says I told Andy I would buy him 20 of them. Andy laughs about how he gave up a shirt and Elissa gave up a diamond ring. McCrae says Yeah that's what I thought too. McCrae comments that Judd told him he had more tricks up his sleeve but never said anything. Andy says wouldn't it be funny if they told us we're now going till the 25th. McCrae says f**k 4 more hours.. McCrae tries to take the Bathroom occupied sign and big brother tells him to stop that! McCrae goes and puts it back.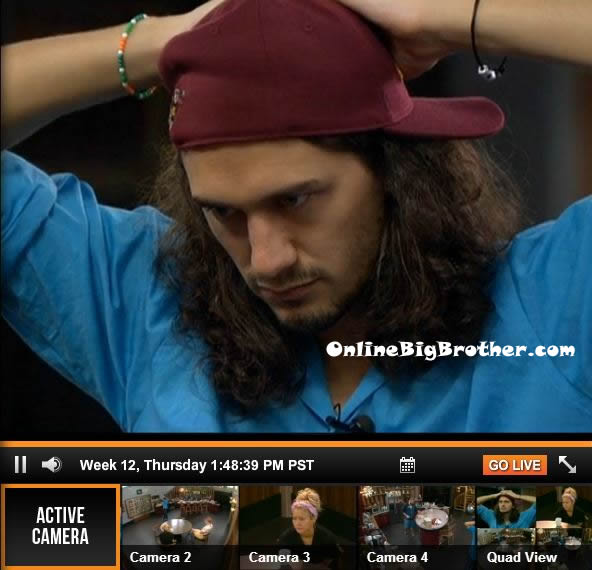 2:30pm – 2:45pm McCrae gets called to the diary room. Spencer, Andy and Ginamarie talk about how McCrae is probably talking in the diary room about what just happened. Andy says I want to know what this HOH tonight is going to be like. They wonder if it will be like the BBQ one where they had to run back and forth. Spencer says I really hope Marilyn's parents have been watching the season and know why she loves me now. Andy says I am so excited to meet each of your families. Spencer says you all know where I am at with Marilyn and wanting to move forward with her. I think going on a trip with her and my mother would be a great bonding experience for them since they already get along so well. Spencer says 5 days left that's crazy!
2:40pm – 3:10pm McCrae comes out of the diary room and looks unhappy. Andy gets called into the diary room. Spencer asks McCrae if he has any questions or anything he wants to ask him. McCrae says no. Spencer says my goodbye message and our talk last night was 100% honest. McCrae says thanks. I pretty much knew from the conversation last night that I was going home. Spencer tells McCrae that he thinks the world of him. You will have a lot of opportunities after this. McCrae says F**k and leaves the room. Spencer gets called to the diary room. Andy tells McCrae I hope you don't take any of this personally. McCrae says no. Andy says I just knew I was playing for 3rd with you two. Andy says I trusted you more than anything. McCrae says take this for what you will – but you did tell me the only way you would be a bitter jury member is if you got stabbed in the back. Andy says I think I have a pretty compelling case to win. McCrae says I don't think I will be a bitter jury member but I can't forget that. Andy says if I make it to the final 2, I have a pretty compelling case against them. McCrae says I think they have a pretty compelling case too. Like Spencer can say that the pawn goes home but that he never did despite that and got the record for it. Andy says that he feels like he, McCrae, Amanda and Helen were pulling all the strings in the beginning. Andy says he feels like he almost played a game similar to Dan's last year, where he would do whatever it took. Andy says he hopes that people can take the personal out of it and take it for just being a game. McCrae says in the beginning he was the one wanting all the guys out because he didn't want to compete against them.
Big Brother 15 Live Feeds: FREE 2 DAY TRIAL
3pm – 3:20pm McCrae goes through the kitchen and swats at the flies. He says the exterminator's didn't do anything about the flies. Andy and Ginamarie tell McCrae how they had names for them. McCrae was the ant and Amanda was the black widow spider. Andy says but you were our favorite. McCrae says F**K! Andy says part of us wished it would have been someone else so that we could have been mean about telling someone else about the exterminator alliance. Andy asks McCrae I am just curious would you have taken me to the final 2? McCrae says Yeah. Andy says I was just so unsure about what you would do. McCrae comments that he might be a bitter jury member. Andy says I won when I needed to win and did what I had to do to get to this point. McCrae says yeah. Andy says I know I have an up hill battle still. Andy says I prayed on the fact that Amanda was so loyal.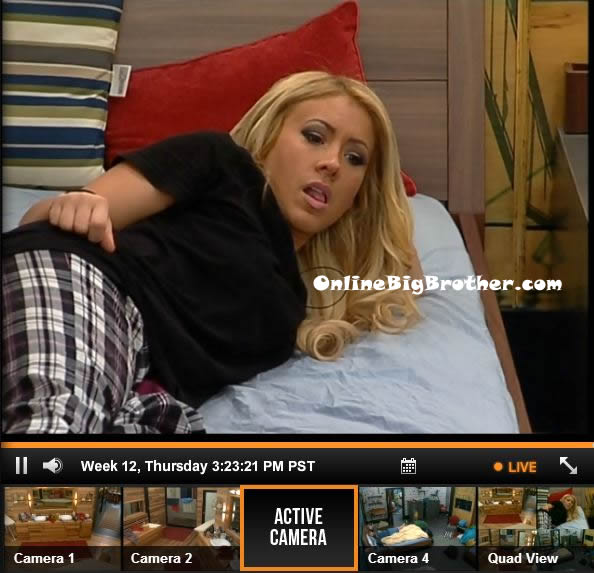 3:25pm The live feeds switch to TRIVIA to block the feeds while they get ready for the Live Eviction episode tonight..
If you enjoyed the site this season please consider a donation.